By Lambert Strether of Corrente.
Trade
"Chinese President Xi Jinping, delivering a major speech at the annual Boao Forum for Asia in Hainan, China, promised to reduce tariffs on autos, strengthen protection of intellectual property and mount a drive to boost imports as part of 'a new phase of opening up' that coincides with the 40th anniversary of economic reform initiated by Deng Xiaoping" [Politico]. "Xi did not mention President Donald Trump by name in his remarks, or Trump's threat to impose tariffs on Chinese goods. But he repeatedly seemed to be offering an alternative vision of global development to Trump's more nationalist model."
"Trepidation over trade is starting to overshadow joy over job growth in the factory sector. Manufacturing has added nearly 300,000 positions since the November 2016 election in one of the strongest such stretches in decades, [but] factory owners warn their strong run could be undercut if the escalating rhetoric flowing between the U.S. and China leads to higher levies" [Wall Street Journal]. "Companies like Wisconsin generator maker Generac Holdings Inc. say tariffs could raise the costs of its parts and materials, endangering demand and jobs. Companies say retaliatory tariffs targeting American agricultural producers could also echo across supply chains, driving down commodity prices and undercutting demand for farm equipment."
Politics
2020
Gravitas:

Guy at a town hall in Sacramento on Thursday: "If a corporation or a corporate lobbyist wants to give you money for a campaign, will you tell them, 'Thanks, but no thanks'?"

Kamala Harris: "Well, it depends. It depends."

Guy: "Wrong answer." #KamalaHarris @SenKamalaHarris

— Eric J (@EricJafMN) April 9, 2018

If the Democrat donor class averaged $27, wouldn't that solve a lot of problems?
2018 Midterms
"2018 campaigns are not ready for Robert Mueller" [McClatchy]. "Interviews with two dozen political strategists reveal that there is very little planning underway for the possibility that Mueller will make significant news this year, potentially in the middle of a campaign cycle that history suggests will already be difficult for the president's party. 'It's something on everybody's minds,' said one Republican strategist working on races in Tennessee, who like many sources interviewed for this story requested anonymity to discuss internal campaign strategy. "There's an unknown there. That's certainly a fear.'"

"Democrats' Best Recruitment Tool? President Trump" [New York Times]. "There is perhaps no better illustration of Mr. Trump's impact on the midterm campaign than in the soaring number of Democratic House candidates running for their party's nomination in the primaries…. The filing period has not even ended in some states, and there are far more Democratic hopefuls than at any time in the last quarter-century, according to data from the Center for Responsive Politics, which tracks political donations… Beginning with the Women's March on the day after Mr. Trump's inauguration, women have been at the forefront of the opposition to his presidency. And that activism is reflected in the historic number of female candidates on the ballot." I don't understand the continuous focus on women candidates as such, regardless of their political beliefs and policy proposals. The current nominee for head of the CIA is a woman, and a torturer. Should she be confirmed, even if she did have to torture twice as many people as a man would have?

"Exclusive: As elections near, many older, educated, white voters shift away from Trump's party" [Reuters]. "Older, white, educated voters helped Donald Trump win the White House in 2016. Now, they are trending toward Democrats in such numbers that their ballots could tip the scales in tight congressional races from New Jersey to California, a new Reuters/Ipsos poll and a data analysis of competitive districts shows…. 'The real core for the Republicans is white, older white, and if they're losing ground there, they're going to have a tsunami,' said Larry Sabato, a University of Virginia political scientist who closely tracks political races. "If that continues to November, they're toast.' … 'I'm a moderate Republican, and yet my party has run away from that,' Camm said. "So give me a moderate Democrat.'" Note that the Democrat Party is giving no institutional support to expanding the electorate. They don't want those votes (and this would be a good project for DSA to take up).

KY-06: "In key Kentucky House race, healthcare anxieties loom large" [Reuters]. "Andy Barr, a Republican lawmaker representing central Kentucky, won his last three elections promising to repeal and replace Obamacare. This year, his Democratic challengers for Congress in Kentucky's sixth district are betting that message will ring hollow. Democrats believe that voter concerns over rising medical costs and Republican plans to cut Medicare and Medicaid will assist them in their fight to retake the House and are urging candidates to emphasize the issue, particularly in swing districts. Republican strategists are encouraging their candidates to focus more on the economy in November's election. When they do talk about healthcare, many Republican candidates, including Barr, are warning voters that a Democratic majority would usher in socialized medicine." No such luck.
Realignment and Legitimacy
"Pompeo asks Clinton for advice as he preps for confirmation battle" [Politico]. "But now that Pompeo faces a tough confirmation process to become secretary of state himself, he has reached out to Clinton and Kerry, as well as every other living occupant of the office, to ask for guidance. Clinton, for one, has been willing to help."

Mike Pompeo, welcome to the #resistance.

— Atrios (@Atrios) April 10, 2018

How unity works in Florida:

— KelisePolarBear (@KelisePolarBear) April 10, 2018

Idea: The DCCC stops doing oppo on progressive candidates. Idea: The DNC accepts the recommendation of its own Unity Reform Commission and reduces — the ask was too litte, wasn't it? — superdelegates?

"Cardi B's Money Moves" [GQ]. "'I love…,' begins Cardi B—… Cardi finishes her sentence. '…Franklin Delano Roosevelt." She nods, agreeing with herself. 'Yes.'

"First of all," continues Cardi B, "he helped us get over the Depression, all while he was in a wheelchair. Like, this man was suffering from polio at the time of his presidency, and yet all he was worried about was trying to make America great—make America great again for real. He's the real 'Make America Great Again,' because if it wasn't for him, old people wouldn't even get Social Security."

I didn't know he started Social Security.

Yikes!

"Yes," she says, nodding. She has baby-doll features: big eyes, round face, minimal chin. "Yes, from the New Deal. It was a system to get us back from the world Depression—then, on top of that, while he was president there was a fucking war going on. World War II was going on. So all this shit going on in the United States, while recouping the country from an economic tragedy, making sure that America won the war—and his wife? I would say she was almost like Michelle Obama. She was such a good humanitarian, and we both got the same birthday, October 11th."
Interesting article….
Stats Watch
Wholesale Trade, February 2018: "Wholesale inventories rose 1.0 percent in February with January revised higher to 0.9 percent. Year-on-year, February inventories were up a very sizable 5.5 percent but trailing sales which were very strong at 6.8 percent" [Econoday]. "Wholesale data include early builds this year for machinery and electrical goods and also primary metals, all of which are part of the capital goods group and at the heart of business investment." And but: "The improvement this month in the headline data was mostly in durable goods. Overall, I believe the rolling averages tell the real story – and they declined this month" [Econintersect]. "Inventory levels remain elevated but below recessionary levels. To add to the confusion, year-over-year employment changes and sales growth do not match."
Producer Price Index (Final Demand), March 2018: "There is a little more inflation at the wholesale level, including for primary metals, but the acceleration is modest" [Econoday]. "There are hints right now of building capacity stress tied to longer delivery times and lack of highly skilled labor but the pressures are still modest and as yet aren't raising the heat on the Federal Reserve to pick up its rate hike path." And: "The Producer Price Index marginally grew year-over-year" [Econintersect]. "The PPI represents inflation pressure (or lack thereof) that migrates into consumer price."
NFIB Small Business Optimism Index, March 2018: "Small business optimism cooled more substantially than expected in March after approaching 45-year highs in February" [Econoday]. "[T]he retreat from February's exuberant optimism was broad-based, with 8 of the 10 components of the index posting declines, including plans to increase capital outlays, down 3 points to a net 26 percent… It was employment that registered the only gains, reversing February's weakening in the two components as plans to increase employment rose 2 points to a net 20 percent and current job openings rose 1 point to a net 35 percent. … Overall, while the March survey results are less optimistic than expected, small business owners are continuing to ride a 16-month long wave of optimism largely fueled by the promise and then implementation of corporate tax cuts, the push towards deregulation, and other business-friendly policies of the current administration in Washington." And: "The small business optimism index reached its 16th consecutive month in the top five percent of 45 years of survey readings" [Econintersect]. And: "Usually small business owners complain about taxes and regulations. However, during the recession, "poor sales" was the top problem. Now the difficulty of finding qualified workers is the top problem" [Calculated Risk].
Shipping: "Seats are pretty easy to come by these days at meetings of the Postal Board of Governors. The U.S. Postal Service's board has been empty since December 2016, leaving Postmaster General Megan Brennan and her deputy to run the largest civilian employer in the country after Walmart Inc." [Wall Street Journal]. "The empty seats have left the USPS with a leadership shortage… as it comes under a critical spotlight, with President Donald Trump aiming barbs at the Postal Service over its dealings with a major customer, Amazon.com Inc. But other big shipping customers like catalog mailers say the vacuum at the top is 'a huge problem,' with agreements set to expire and Board approval needed to renew the discounts in their deals. Mr. Trump has three nominees before Congress, but there's no push at the White House or in Congress to get them delivered."
Shipping: "Survey – shipowners shun scrubbers in advance of 2020 low-sulphur rules" [The Loadstar]. "66% of respondents told Drewry that [more expensive low sulphur fuel oil (LSFO)] was the intended solution for their vessels come 1 January 2020, whereas only 13% were intending to retro fit scrubbers [exhaust gas cleaning systems] to their ships and just 8% were considering LNG as an option."
Shipping: "Robotics at a tipping point revisited – Piece picking robots" [Logistics Management]. Interesting round-up… "What's changed in the last few years is the low cost of computing, powerful but lower priced sensors, Microsoft opening up the Windows API – it's core set of application programming interfaces – and 'a lot of new open source codes that has enabled new libraries to classify and utilize data.'" But: "Digital Supply Chain Expectations Outpace Reality, Says New Study" [Logistics Management]. "The survey of more than 200 manufacturing organizations found that 51 percent of respondents believe their [digital supply networks (DSN)] maturity is at least "above average" compared to competitors, yet only 28 percent have started implementing DSN solutions." Acronym emergence ("DSN") means the consultants are moving in…
The Bezzle: "At some point San Francisco-based Shyp claimed a valuation of $250m; at the end of March the portal that had started out offering a simple worldwide shipping solution to small merchants ended its four-year run and shut down its operations" [The Loadstar]. Impressive. "Karl-Heinz Legler, general manager for Rutherford Global Logistics, regards the exclusive focus on price and capacity as a major shortcoming of the digital forwarder concept. Digital platforms or forwarders are good for finding lower rates, but lack operational insights and can leave the shipper stranded if something goes awry, he argued."
The Bezzle: "Research paper alleges big airlines use earnings calls to collude, reduce seats" [Francine McKenna, MarketWatch]. "The top management of U.S. airlines could be using their quarterly earnings calls to communicate with each other and coordinate restricting demand on competitive routes, according to new research. A working paper from economics professors Gaurab Aryal and Federico Ciliberto, and Ph.D candidate Benjamin T. Leyden, all of the University of Virginia, published by the Becker Friedman Institute at the University of Chicago, concludes that when legacy carriers communicated about capacity discipline to investors in a given quarter, the average number of seats offered in an origin-destination market decreased by 1.45% in the next quarter. The effect is entirely driven by the legacy airlines, the researchers write. Although the size of the effect decreases as market size increases, in smaller markets the reduction in the number of seats available is substantial, a drop of 4.21%."
Concentration: "Approval for Bayer, Monsanto Merger Could Plow US Farmers Under" [247 Wall Street]. "The $60-billion deal that allows Bayer to acquire Monsanto Co. reportedly received antitrust approval late Monday from the U.S. Justice Department after the two companies agreed to dispose of additional, as-yet unspecified assets…. [Agriculture analyst Mark Connelly of CLSA Americas] estimates that if Bayer-Monsanto were one company today it would get one-third of the money farmers spend on seed and pesticides. DowDupont Inc. would get one-quarter of all spending on seeds and pesticides. That's two companies hauling in nearly 60% of the revenues…. Trump's promise that U.S. farmers will be 'better off than they ever were' probably rings a bit hollower now than it did when he made it Monday."
The Bezzle: "Uber buys Jump Bikes and enters the electric bike sharing business" [Los Angeles Times]. "We're committed to bringing together multiple modes of transportation within the Uber app — so that you can choose the fastest or most affordable way to get where you're going, whether that's in an Uber, on a bike, on the subway, or more." [Uber CEO] Khosrowshahi said in a blog post…. 'We're excited to begin our next chapter and to play a significant part in the transition of Uber to ," Jump Bikes founder and Chief Executive Ryan Rzepecki said in blog post Monday. 'Joining Uber presents us with the opportunity to realize our dreams faster and at a much larger scale.'" Hmm.
The Bezzle: "People must retain control of autonomous vehicles" [Nature]. "[D]eep-learning algorithms are inherently unpredictable. They are built on an opaque decision-making process that is shaped by previous experiences. Each car will be trained differently. No one — not even an algorithm's designer — can know precisely how an autonomous car will behave under every circumstance. No law specifies how much training is needed before a deep-learning car can be deemed safe, nor what that training should be. Cars from different manufacturers could react in contrasting ways in an emergency. One might swerve around an obstacle; another might slam on the brakes. Rare traffic events, such as a truck tipping over in the wind, are of particular concern and, at best, make it difficult to train driverless cars. Advanced interfaces are needed that inform users why an autonomous vehicle is behaving as it does." I'm guessing the UI/UX for such interfaces won't be easy to develop, and I would bet there's no funding for it right now. This is a must-read.
Five Horsemen: "Seattle sluggers Amazon and Microsoft carry on thrashing the S&P, while the Silicon Valley sisters huddle in close proximity to the S&P index" [Hat Tip, Jim Haygood]. (Haygood writes, Thursday evening: "Can't update tomorrow, but here are Five Horsemen as of 7 pm tonight, along with the regular Mania-panic index based on today's closing values")
NakedCap Mania-Panic Index: "The mania-panic index edged up to 32 (worry) on Monday's modest gain in the market" [Hat Tip, Jim Haygood]. (The NakedCap mania-panic index is an equally-weighted average of seven technical indicators derived from stock indexes, volatility (VIX), Treasuries, junk bonds, equity options, and internal measures of new highs vs new lows and up volume vs down volume … each converted to a scale of 0 to 100 before averaging, using thirty years of history for five of the seven series.)
Facebook Fracas
Well, well:
Ok, some dirt on the behind the scenes maneuvering by Facebook. First, very quickly after Zuckerberg publicly endorsed the #HonestAds Act, Facebook lobbyists were apparently on the hill privately disclaiming that and saying they want significant changes to the bill.

— Matt Stoller (@matthewstoller) April 10, 2018
"Why Twitter and Google aren't supporting the Honest Ads Act as Facebook endorses it" [McClatchy]. "Facebook and Twitter hired lobbyists last year that listed the Honest Ads Act under specific lobbying issues, according to public disclosure forms, but Google, Twitter and Facebook have all been focusing more lobbying on issues such as data privacy and cybersecurity. Twitter and Google are not facing the same public image problem as Facebook and therefore don't feel the need to bolster that image politically, Drutman said." Concentration and monopoloy power just don't seem to be on the agenda. It's almost as if liberals and conservatives share a common neoliberal consensus.
MMT
MMT in the heartland:
Don't just Burn it, take a flame thrower to it and bury the ashes – Burn the Debt Clock! with special guest economist Stephanie Kelton | Eclectablog: https://t.co/5GiSBYUAj8 via @Eclectablog @LOLGOP @StephanieKelton

— Amy Hunter (@amy10506) April 10, 2018
Interesting venue: A long-established progressive Democrat blog at the state level.
Gunz
"Report: This Not A Gun" [The Onion (RH)]. News you can use!
Gaia
"Ecology's remote-sensing revolution" [Nature].
Class Warfare
"Jeremy Corbyn's Nazi Death Cult" [Consent Factory]. "Hard as it is to get our minds around, what we've been living through since 2016 is not a battle between left and right. It's a battle over sovereignty. Since the end of the Cold War, global capitalism has been dissolving national sovereignty and replacing it with supra-national sovereignty … corporate supra-national sovereignty. A lot of people, on both the left and the right, are not real happy with how that is going and are resisting the only way they know how to, by reasserting their national sovereignty. The global capitalist ruling classes cannot allow this rebellion to continue, not when it leads to events like the Brexit, the election of Trump, and the destabilization of the entire Western neoliberal order."
"Washington State Penitentiary hunger strike continues" [Seattle Times]. "The hunger strike began Easter Sunday and prison officials said Thursday that about 1,315 inmates in six housing units in the penitentiary's West Complex were refusing their meals…. Inmates involved in the strike are protesting the quality of the food, which consists mainly of meals prepared at food processing centers in Spokane and Connell run by Correctional Industries, a division of the Department of Corrections."
"The Price of Innocence" [The Marshall Project]. Neoliberalism 101.
News of The Wired
"Harvard Study: Clearing Your Mind Affects Your Genes And Can Lower Your Blood Pressure" [WBUR] (original). n = 13. "[P]eople who meditated over an eight-week period had a striking change in the expression of 172 genes that regulate inflammation, circadian rhythms and glucose metabolism. And that, in turn, was linked to a meaningful decrease in their blood pressure. The study is small, and it didn't include a comparison group of non-meditators. So it doesn't count as absolute proof that meditation lowers blood pressure by altering gene expression. But its authors hope it will be seen as a milestone on the long road to convincing skeptics of the power of meditation to promote health and reverse disease…. In the face of often-withering criticism from his Harvard colleagues, ["Relaxation Response" author Dr. Herbert Benson has insisted that the mind plays a critical role in the body's health and disease states." Is it reasonable to believe that the mind would not have evolved in nature without playing some such role?
"When do you know you're old enough to die? Barbara Ehrenreich has some answers" [Guardian]. Interesting… "Ehrenreich, an atheist, finds comfort in the idea that humans do not live alone in a lifeless universe where the natural world is devoid of agency (which she describes as the ability to initiate an action)."
"The Secret Determinant of Your Survival in Catastrophes" [Ian Welsh]. "The people who live, in good times and bad, tend to be the people who other people want to live. When established authority collapses, groups that already exist but aren't dependent on that authority tend to take over; and yes, organized groups with guns tend to matter. Want to live? Make it so you living is what other people want." More news you can use!
"No one is an island" [Science]. "My final step in becoming a full member of the Christmas Island community was to give something back."
* * *
Readers, feel free to contact me at lambert [UNDERSCORE] strether [DOT] corrente [AT] yahoo [DOT] com, with (a) links, and even better (b) sources I should curate regularly, (c) how to send me a check if you are allergic to PayPal, and (d) to find out how to send me images of plants. Vegetables are fine! Fungi are deemed to be honorary plants! If you want your handle to appear as a credit, please place it at the start of your mail in parentheses: (thus). Otherwise, I will anonymize by using your initials. See the previous Water Cooler (with plant) here. Today's plant (TH):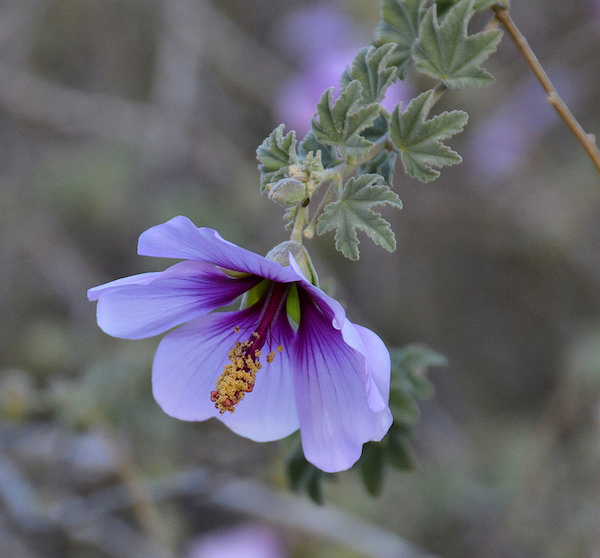 TH: "This looks like some sort of Rose of Sharon—the flower does anyway, the leaves, not so much. I'm not finding hibiscus that have these leaves either, so not sure exactly what it is but it's planted all over the Terranea Resort in Rancho Palos Verdes, California."
* * *
Readers: Water Cooler is a standalone entity not covered by the NC fundraiser. So do feel free to use the dropdown and click the hat to make a contribution today or any day. Here is why: Regular positive feedback both makes me feel good and lets me know I'm on the right track with coverage. When I get no donations for five or ten days I get worried. More tangibly, a constant trickle of small donations helps me with expenses, and I factor that trickle in when setting fundraising goals. So if you see something you especially appreciate, do feel free to click the hat!