By Lambert Strether of Corrente.
Trade
"China Says US Trade Talks Currently 'Impossible'" [Industry Week]. "'Up to now, Chinese and U.S. officials have not held any negotiations on the trade dispute,' foreign ministry spokesman Geng Shuang told reporters during a regular press briefing. 'Under the current conditions, it is impossible for the two sides to have any negotiations on this issue,' Geng added."
"China's Apparel and Textile Imports Jump 22.2% in February Amid Tariff Threats" [Sourcing Journal]. "Trade war or not, U.S. apparel and textile imports from China surged 22.2% in February to 2.54 billion square meters equivalent (SME) compared to a year earlier, according to the Commerce Department's Office of Textiles & Apparel…. With China still by far the top supplier of apparel and textiles to the U.S., all top 10 countries posted increases in imports except India, the second largest supplier for the category, which saw its shipments fall 0.8% to 404.7 million SME. Cambodia, the ninth largest supplier, posted a gain of 22.4% to 96.9 million SME, and the eighth largest supplier, South Korea—with which the U.S. just renegotiated a free trade agreement—saw imports increase 17.5% to 135.4 million SME."
"The Trump administration is looking to use tougher environmental rules to erect new trade barriers. The White House is considering taking the action, known as a "nontariff barrier," to stem imports of foreign-made cars…, to make the automobiles more expensive than U.S.-made cars" [Wall Street Journal]. "The idea is to have the Environmental Protection Agency and other agencies laws like as the Clean Air Act to subject cars made overseas to strict emissions-standards testing and reviews when entering the U.S. The rules could effectively require more expensive technology on some foreign cars or subject those cars to more expensive hurdles that can be billed to the manufacturer or importer."
"Farmers' Anger at Trump Tariffs Puts Republican Candidates in a Bind" [New York Times]. "While the battle for control of the House will be waged in large part in the suburbs, rural districts in Southern Illinois, Iowa, Arkansas and Missouri could prove important. And control of the Senate could come down to Republican efforts to unseat Democrats in North Dakota, Indiana, Missouri and Montana — all states staring down the barrels of a trade war's guns."
"Intense seems to be the word of the moment in the NAFTA talks as trade negotiators from the U.S., Canada and Mexico continue work in coming weeks to try to reach a preliminary deal. But it's looking less likely the three countries will be able to announce a deal in principle in time for the April 13-14 Summit of the Americas in Peru, which the leaders of the three NAFTA nations are set to attend" [Politico].
Politics
2020
UPDATE "U.S Senator Bernie Sanders and Jackson Mayor Chokwe Antar Lumumba Town Hall Meeting 'Examining Economic Justice 50 Years Later' (video) [News Missippi, Facebook]. So you can judge for yourselves. If there's a transcript, I can't find it. Sloppy!

UPDATE "Obama says Sanders' supporters helped undermine Obamacare" [Reuters]. "'In the 'dissatisfied' column are a whole bunch of Bernie Sanders supporters who wanted a single-payer plan,' Obama said in the interview. 'The problem is not that they think Obamacare is a failure. The problem is that they don't think it went far enough and that it left too many people still uncovered,' Obama said." And this is a problem why, exactly?
2018 Midterms
"RBC recently sat down with political ad experts who made the case that, despite increased spending on digital, and to some extent cable as well, TV station spending is expected to increase more than 10% from the amount spent in the 2014 midterms" [247 Wall Street]. CBS, Comcast, Disney, Sinclair…

"The DCCC's Long, Ugly History of Sabotaging Progressives" [In These Times]. "The DCCC's funding structure incentivizes candidates who can cough up—or pull in—big sums. Much of the DCCC's purse is filled by the dues Democratic House members pay every election cycle. A spreadsheet leaked to Buzzfeed in 2014 detailed some of these dues: $450,000 to $800,000 for House leadership and $200,000 to $500,000 for committee members and chief deputy whips. As a 2017 report from Issue One, an ethics watchdog group, put it, these dues act as "committee taxes," forcing lawmakers to fundraise if they want to sit on or chair powerful committees, and making fundraising skills—not experience or knowledge—the most important qualification." Seems rather like the sale of seats, to me.

"Running to the Middle Does Nothing": Can the Bernies Catch the Blue Wave?" [Vanity Fair]. ""The Bernie crowd went all in against Ralph Northam last year in the Virginia governor Democratic primary—and lost," says Congressman Hakeem Jeffries, a New York Democrat. "And Northam, the more centrist candidate, went on to victory in the general in November, so it's obvious the Democrats chose the most appropriate candidate. The progressive agenda should absolutely be respected as important to the future of our nation. But it remains to be seen how potent a force the left will be in primarying Democrats. And I think we're close to being able to say that the swing to the left has been overhyped and is not electorally effective."

"Notes on the State of Politics" [Larry Sabato's Crystal Ball]. "On the Senate front, Democrats are defending 26 seats (including two independents who caucus with Democrats from Maine and Vermont) while the Republicans, even with the addition of a special election in Mississippi, are still only defending nine. In the gubernatorial races, it is the Republicans defending 26 seats while the Democrats are defending just nine. This imbalance, which disadvantages Democrats in the Senate and Republicans in the gubernatorial races, could lead to an election where Democrats make significant gains in governorships but struggle to make up any net ground in the Senate, where Republicans hold a razor-thin 51-49 majority."

"Republicans Seize on Impeachment for Edge in 2018 Midterms" [New York Times]. "As Republican leaders scramble to stave off a Democratic wave or at least mitigate their party's losses in November, a strategy is emerging on the right for how to energize conservatives and drive a wedge between the anti-Trump left and moderate voters: warn that Democrats will immediately move to impeach President Trump if they capture the House…. Democrats are divided on how to respond to the charge. Many top officials in the capital fear it is a political trap that would distract from their core message and possibly even boomerang to harm them in November. (Mr. Schumer himself has said he thinks impeachment is premature at the moment.) But other more progressive figures see impeachment as a rallying cry of their own to galvanize the left's anti-Trump base." Holy moly, this is breathtaking. The entire spectrum of liberal Democrat opinion got together behind the notion that Trump is a "Russian puppet" and yammered about it daily for a solid year. And if they're right, Trump ought to be impeached. So, suddenly Democrats are saying that "Russia Russia Russia!" isn't their "core message"? And the Times swallows that without a blink? (And note the persistent confusion between liberals and the left.)

WV-03: "West Va.'s 3rd District Is not a Simple 'Trump Country' Race" [Daily Yonder]. "A West Virginia congressional district that gave Donald Trump a 50-point margin of victory in 2016 seems an unlikely place for a competitive midterm race. But an open seat in the state's rural Third District has generated a crowded primary ticket, with seven Republicans and four Democrats, including the immediate past chairman of the state Republican Party and a populist state senator who attracted national attention during the West Virginia teachers strike…. Four Democrats are also running, including charismatic populist Richard Ojeda, a U.S. Army veteran who unsuccessfully ran against Rahall in the 2014\ primary before winning election to the state Senate in 2016…. Ojeda's no-holds-barred approach to politics, regular engagement on Facebook Live, outspoken support of teachers during the statewide #55strong strike and personal story have elevated his profile to the point where he's been the focus of stories in national and international publications that include Politico Magazine, the Guardian, and the New Republic." Hmm.

FL: "Florida Senate: Scott Announcement Puts Race in Toss Up Column" [Cook Political Report]. "In one of the most anticipated announcements of the cycle, Republican Gov. Rick Scott confirmed today that he will challenge Democratic U.S. Sen. Bill Nelson in November. Scott's decision puts the contest into the Toss Up column….. Scott does have a number of strengths, not the least of which is his personal money and his willingness to spend it. He spent roughly $75 million on his first race and an estimated $22 million on his re-election bid. There is little doubt that he will spend heavily on the Senate race. Scott's other asset is his discipline. He stays relentlessly on message. …. Nelson was the last Democrat elected statewide when he was re-elected in 2012. It doesn't help that Nelson hasn't had a competitive race since 2000. He won this open seat in 2000 with 51 percent; he was re-elected in 2006 with 60 percent and in 2012 with 55 percent."

FL: "Rating Change: Florida Senate Shifts to Toss-up" [Inside Elections]. "Of course Democrats are confident in Nelson's re-election. But this will be a race unlike any other that the senator has faced. Scott, who is personally wealthy, could not only invest tens of millions of dollars of his own money into the campaign, but also utilize national fundraising contacts as former chairman of the Republican Governors Association…. Nelson is a part of a Democratic class which had the good fortune to run in 2006, a great Democratic year, and 2012, when President Barack Obama had his re-election machine running full throttle…. Democrats probably have to re-elect Nelson to have a realistic chance at the majority. Re-electing all of their own senators and taking over Arizona and Nevada is the most viable path. If Democrats end up losing Florida, then they'd have to compensate by winning a more Republican state such as Tennessee, Texas, or Mississippi."
New Cold War
"The Case and Curiosity Of Roger Stone" [Jonathon Turley]. "Even if Stone received early word of the Wikileaks release, it would not necessarily be a crime for Trump, his campaign, or Stone himself." A very funny column from an unexpected source.
Realignment and Legitimacy
UPDATE "Rallying Nation" [WaPo]. "One in five Americans have protested in the streets or participated in political rallies since the beginning of 2016. Of those, 19 percent said they had never before joined a march or a political gathering."

UPDATE "Outsourcing Our Struggle to Political Saviors" [Ghion Journal]. Well worth a read: "I woke way past midnight and realized that I left the little clothes that I had unattended. I rushed to the laundry room expecting my donated jeans and shirts to be strewn around the floor. To my greatest surprise, not only were my clothes not on the floor, someone had taken laundry out of the washer, put them in the dryer, neatly folded my clothes and put them in the corner with a note that read "God bless you" on top of them. This one solitary act of love did more for me than all the religious lectures I've been treated to in my life. To this day I don't know who folded my clothes; an act of goodwill performed for the sake of the receiver instead soothing the ego of the giver changed the trajectory of my life. Change happens not in a big bang but in incremental acts that go unnoticed until a critical mass of people say enough to the status quo." You lose until you win…

UPDATE Speaking of violating norms:

Sen. Kamala Harris (D-CA) laughs hysterically after joking about killing President Trump during an appearance on The Ellen Show. pic.twitter.com/Tx74ImWXTO

— Josh Caplan (@joshdcaplan) April 5, 2018

See also "On Mocking Dying Working Class White People." I'm not used to hearing liberal Democrats openly call for the death of their opponents, but I suppose I'll have to get used to it…

"The Perpetual Helldump" [Medium]. "Much less attention is paid to the "groundlings" of the process: the mixture of true believers and hard ideologues and enraged new converts and the bored and the NEETs and internet culture war veterans who actually do the retweeting, check the "new" section on subreddits for good material, and turn tricky political arguments into an easily digested tribal memes for the normies. Maybe some of these people are paid operatives, or Russian trolls, or what-have-you, but the process certainly doesn't need them. Most will just be happy to be playing for the team." Very interesting history of this important and little-known milieu.

"The Moscow Midterms" [FiveThirtyEight]. Deck: "How Russia steal our next election." Body: "While Americans are well-acquainted with Russian online trolls' 2016 disinformation campaign, there's a more of Russian interference in the coming midterms. The Russians hack our very election infrastructure, disenfranchising Americans and even altering the vote outcome in key states or districts. Election security experts have warned of it, but state election officials have largely played it down for fear of spooking the public. We still the extent to which state election infrastructure was compromised in 2016, nor how compromised it will be in 2018." There's a very simple litmus test for good faith on in articles like this: Does the author support hand-marked paper ballots, hand-counted in public? If they don't, all you have is "security experts" talking their book. As here. Points for "Moscow Midterms," though. That might even go viral [gags].

"Secretive Kansas Starts to Open Up" [Governing]. "It would be hard to find an American government more secretive than the one in Kansas. More than 90 percent of the bills that become law are introduced by anonymous sponsors, while administrative agencies, as a matter of policy, block many records from examination by the public or even lawmakers. Kansas is one of only four states that don't require public notice of regular public meetings. It's also one of two, along with Arkansas, that don't require minutes to be kept at those meetings." Amazing.

UPDATE More excellent PR from DSA:


Today is the first day that DSA Big Trucks Caucus is actually getting to work with a big truck. The homeowner is helping us by dumping loads of debris into the dumpster with his tractor pic.twitter.com/f7y6jry2lL

— Tacit Ronin ? (@sp0ka) April 7, 2018





Concrete material benefits…
Stats Watch
Employment Situation: "Weather Adjusted Employment" [Calculated Risk]. "After the employment report is released, the San Francisco Fed has a model that shows weather adjusted employment. See: Weather-Adjusted Employment Change…. The San Francisco Fed estimates weather reduced March employment by about 100,000 jobs."
Employment Situation: "The March Jobs Numbers Show the Economy Is Sound, but Far From Invincible" [New York Times]. "This report wasn't as bad as the headline numbers might suggest, but it does take a bit of the shine off the idea that the economy in 2018 is in some period of extraordinary growth. The soft numbers are evidence that the United States is not in some radically different economic position than it has been for the last several years. Rather, there has been gradual improvement underway for many years that continues apace."
Commodities: "U.S. coal shipments, which have grown to account for some 16% of the global export market, had been tipped to fall in 2018 as Australian exports recovered. But Macquarie analysts now say cuts to Aurizon rail routes could push U.S. exports up to some 60 million tons, their highest in about six years" [Wall Street Journal].
Retail: "Questions over internet sales taxes have hovered in Washington for several years without congressional action. Amazon says it collects sales taxes on its own inventory in all 45 states that have this type of tax and has voluntarily started collecting taxes in some municipalities. Still, many small retailers on Amazon's marketplace don't collect sales taxes outside of the states where they are based. Any changes to the broader national rules on tax collections could be aimed at Amazon but also would hit those online sellers" [Wall Street Journal].
Shipping: "In Pennsylvania, drivers face criminal charges over unpaid toll bills" [Freight Waves]. Companies, not drivers. "In October 2016, PA turnpike published its list of two dozen companies that owe more than $20,000 each in unpaid tickets to the agency which alone accounts for over $1.5 million. This includes one company from New Jersey, which has racked up an astonishing $678,000 in unpaid bills on more than 7,600 trips on the Pennsylvania highways…. Along with these top offenders, a lot of other companies have repeatedly been violating the toll gates, consciously driving their vehicles past the turnpike's cashless E-ZPass lanes without a transponder in place for payment. … This has led to a massive surge in unpaid bills, which over the past three years has stacked up to nearly $18 million in debt…. The authorities contend that going cashless helps drivers as it does not require them to stop or slow down at toll kiosks, but on the flip side, poses a problem of toll collection from serial offenders."
Shipping: "Logistics companies are boosting payrolls almost as fast as companies are shipping goods. Truckers added 6,700 workers last month, giving the sector its strongest quarterly job growth since 2012" [Wall Street Journal]. "The payroll gains are part of broader moves by transportation operators to shore up capacity in line with growing shipping demand. The Cass Freight Index measuring U.S. domestic road and rail shipping jumped 11.4% in February and the index for freight spending grew at an even faster rate, signaling that companies are paying more to rush goods to markets. Broader national hiring wasn't as strong, with just 103,000 jobs added in March. But that still signals a growing economy, and should be enough to keep shipments and transport payrolls growing this spring."
Shipping: "The Robots are Coming to the Warehouse Dock" [Logistics Management]. "The dock presents some interesting complexities that aren't necessarily present on the warehouse or DC floor, where automation has been around for years and only getting more advanced and prevalent every year. 'The dock is a dynamic place that requires more than just a fulfillment robot that can traverse the [Distribution Center (DC)] floor,' [John Santagate, IDC's service robotics research director] points out. 'On the dock, robots have to be able to pick up pallets, cases, or boxes and then put them on some sort of conveyance system that pulls them off the truck. That's a lot more complex than other use cases.'" Hence, exoskeletons. 'Made by companies like Sarcos Robotics, which plans to introduce a powered industrial exoskeleton suit in 2019, these advanced products will help reduce the number of workplace injuries and accidents that cost U.S. employers more than $60 billion annually, according to the U.S. Bureau of Labor Statistics (BLS)."
Infrastructure: "Pothole crushing invention is game-changer: What it teaches us" [Des Moines Register]. "Nuisances of epic proportion, potholes are a global problem. About $3 billion is wasted annually in the U.S. repairing pothole damage to vehicles. Great Britain estimates the cost to repair all potholes in the country would exceed $20 billion. More than 3,000 people are killed each year in India in pothole-related accidents. Despite the painful annoyance, gigantic costs, and even loss of life, pothole repair technology has been about as frustrating as the potholes themselves. Road crews toil away, pouring asphalt into broken concrete, which is an expensive and a temporary solution at best. Thankfully, an architecture and technology firm in Istanbul, Turkey, named Dahir Insaat has a far more innovative approach. Their invention is a fully contained pothole-crushing powerhouse. The large truck uses artificial intelligence, Internet-enabled sensors, machine learning and advanced robotics to stamp out potholes like garden flies."
Gentlemen Prefer Bonds: "Bad Omen for Markets From First Signs of Yield Curve Inversion" [Bloomberg]. "The forward curve of a closely watched proxy for the Federal Reserve's policy rate has slightly inverted, signaling investors are either pricing in a mistake from central bankers or end-of-cycle dynamics, according to JPMorgan Chase & Co. The inversion of the one-month U.S. overnight indexed swap rate implies some expectation of a lower Fed policy rate after the first quarter of 2020, the bank's strategists including Nikolaos Panigirtzoglou, wrote in a note Friday."
Five Horsemen: "All five horsemen are bouncing Monday morning after Friday's shellacking" [Hat Tip, Jim Haygood]. (Haygood writes, Thursday evening: "Can't update tomorrow, but here are Five Horsemen as of 7 pm tonight, along with the regular Mania-panic index based on today's closing values")
NakedCap Mania-Panic Index: "The mania-panic index backpedaled to 30 (worry) as stocks sank on Friday" [Hat Tip, Jim Haygood]. (The NakedCap mania-panic index is an equally-weighted average of seven technical indicators derived from stock indexes, volatility (VIX), Treasuries, junk bonds, equity options, and internal measures of new highs vs new lows and up volume vs down volume … each converted to a scale of 0 to 100 before averaging, using thirty years of history for five of the seven series.)
Rapture Index: Closes unchanged [Rapture Ready]. Record High, October 10, 2016: 189. Current: 183.
Facebook Fracas
"Apple, Amazon and Google Also Are Bracing for Privacy Regulations" [Wall Street Journal]. These companies would far rather talk about privacy than concentration. "Monopoly" is such an ugly word…
"Facebook suspends another data analytics firm after CNBC discovers it was using tactics like Cambridge Analytica" [CNBC]. "Facebook is suspending a data analytics firm called CubeYou from the platform after CNBC notified the company that CubeYou was collecting information about users through quizzes. CubeYou misleadingly labeled its quizzes "for non-profit academic research," then shared user information with marketers. The scenario is eerily similar to how Cambridge Analytica received unauthorized access to data from as many as 87 million Facebook user accounts to target political marketing."
"Mark Zuckerberg Says He's Not Resigning" [The Atlantic]. Check the picture: Zuckerberg is up there with Bill Clinton, in the Famous Lip-Biters rankings. "[Facebook] is also opening a new academic research program, as it searches for outside scrutiny from experts…. Under that program, the company will give a committee of steering academics unprecedented access to Facebook—sitting side by side with their data scientists, a spokesman told me—and identify major research questions about the social network…. Both the committee of academics and their research grants will be funded by a group of independent foundations, including the Hewlett Foundation, the Omidyar Network, and the Charles Koch Foundation." The Charles Koch Foundation. Yeah, that's the ticket.
"Mark Zuckerberg says the world is much more divided than he ever expected" [World Economic Forum]. Another photo of Zuckerberg biting his lip. "There are 'lots of different issues and things that help bind people together,' Zuckerberg said, including a well-functioning economy and the jobs it provides. To help boost economic opportunity around the world, he said, Facebook is working to spread the internet — and the opportunity for new jobs and connections it brings — to underserved communities. Of course, that would also lead to more new Facebook users."
UPDATE "Facebook's Targeting System Can Divide Us on More Than Just Advertising" [ACLU]. "Facebook had grouped users as white, Black, or Latino based on what they had clicked, and this targeting had allowed the movie 'Straight Outta Compton' to be marketed as two completely different films. For Black audiences, it was a deeply political biopic about the members of N.W.A. and their music, framed by contemporary reflections from Dr. Dre and Ice Cube. For white audiences, it was a scripted drama about gangsters, guns, and cops that barely mentioned the names of its real-life characters. From the perspective of Universal Pictures, this dual marketing had been wildly successful. 'Straight Outta Compton' earned over $160 million at the U.S. box office. When we saw this news in 2016, it immediately raised alarm bells about the effect of such categories on civil rights."
Our Famously Free Press
""Thank God you're not in newspapers": Local TV is doing way better than you'd think, a new report suggests" [Nieman Labs]. " Television stations' websites are the dominant local news source in many smaller markets, [The Knight Foundation] found: "Of the 22 markets initially analyzed (excluding New York City and Washington, DC with its three national newspapers), newspaper websites came out on top in 14 of the markets, and television websites came out on top in eight. Of the 37 smaller markets analyzed, numbers 25 to 205, television websites came out on top in 23, newspapers came out on top in 13, and radio came out first in one."
"Why The New York Times Tesla Model 3 Review Is Nonsense" [The Drive]. "When the Times is foolish enough to conflate "driverless", "self-driving", "semi-autonomous" and "semi-driverless", people who don't know better might start believing Tesla Autopilot actually is an autonomous system. Despite a flurry of Twitter criticism, the New York Times didn't resolve its total lack of automotive expertise, it doubled down with the most irresponsible and inaccurate Tesla Autopilot article yet from a mainstream publication, 'With Tesla in a Danger Zone, Can Model 3 Carry It to Safety?'" The Tmies completely butchers Tesla's so-called "Autopilot" feature…
Guillotine Watch
Welcome to Versailles:
Whether your budget is $2.5m or even just $900K, we've got an open house for you https://t.co/qEiujYwS0P

— Washingtonian (@washingtonian) April 6, 2018
Class Warfare
"West Virginia Teachers Learned from 1970s Miners" [Labor Notes]. "But the West Virginia labor history I remember was more recent: the decade-long wave of wildcat strikes in the 1970s and the victories of the Miners for Democracy. That's part of the teachers' heritage, too as near to some as a retired dad, if he survived the Black Lung. In fact, those no-holds-barred wildcats, against both the coal bosses and utterly corrupt—even murderous—union leaders were a big part of the reason Labor Notes was founded, in 1979. Through the 1970s miners kept on with … .These strikes were often provoked by safety hazards—caused by mechanization and speedup—and miners didn't have time to wait for the grievance procedure. In one big wildcat in 1975, half the UMW's members were on strike. In 1977, wildcats added up to 2.5 million worker days." Touchingly, Bill and Hillary crossed a picket line on their first date, in 1971.
"Outside Disneyland, a Reminder for Governments to Be Careful What They Wish for" [Governing]. "Every one-company town struggles with how to negotiate the needs and wants of the local economy's 800-pound gorilla. In Anaheim, that struggle boils down to one simple question: Can a city built around the Magic Kingdom ever say no to the demands of the Mouse?"
"Cybernetic History in Das Netz" [Continental Drift]. "Das Netz provides a filmic approach to the "ontology of the enemy" that the historian of technology, Peter Galison, has identified at the origins of cybernetics.13 By focusing on the German bombers of the Battle of Britain and the response they elicited from Norbert Weiner, the film lets us see and feel how the victors of World War II internalized the aggressive science that informed the Nazi war machine. This rarely explored psychic drama could have been the subject of the entire documentary: the exchange of a deadly will to power between the two contenders for world hegemony.14 What both Dammbeck and Galison suggest is that the characteristic relations of this dialectical combat have been inscribed into the very circuits of cybernetic devices. But the film takes one step further than this, by analyzing the cultural and political articulations of postwar economic liberalism and thereby leading us onward to the more intricate and disorienting predicaments of the present. It shows how a command-and-control logic focused on the ontology of the enemy was transformed into its seeming opposite: the "open systems" of today's supposedly borderless world society." Dense, but very very interesting, especially for those of us who read Bateson back in the 70s.
News of The Wired
"The Crystals That May Have Helped Vikings Navigate Northern Seas" [New York Times]. "If the Vikings oriented their ship with calcite, cordierite or tourmaline at least every three hours, the model showed, they had a 92 to 100 percent chance of getting within sight of Greenland. These are "surprisingly large success rates" for navigating in overcast conditions, the authors noted. The key to sunstone navigation is polarization, a process that filters light rays so they can only move in one plane. Sunlight starts out oscillating in multiple planes, but atmospheric particles create concentric rings of polarized light around the sun, even on cloudy days. Though some animals, like ants and crickets, can detect these patterns, polarization is practically indiscernible to the naked human eye…. The study's authors hope to settle the score with the ultimate test: a round-trip voyage between Norway and Greenland, navigated by sun compass and sunstones."
"Hidden medical text read for the first time in a thousand years" [Phys.org]. "To recycle the limited material available for parchment, 11th-century scribes scrubbed and replaced the original text with layers of , and then wrote a book of psalms on top of the original text. Earlier studies had revealed traces of the text beneath the hymns, but it was difficult to read the original translation of Galen – both texts were written in similar ink and the underlying text had been well-scrubbed."
"For decades, Western culture touted self-esteem. It got the most important thing wrong" [Quartz]. "As research from Angela Duckworth suggests, struggling builds character. Failure breeds wisdom and maturity. We need to fail and experience discomfort, and over time, build a track record of demonstrated success. Once you've proven to yourself that you can perform in front of a crowd or run a marathon or ask a person out on a date, it's a lot easier to have confidence the next time you face a big challenge."
* * *
Readers, feel free to contact me at lambert [UNDERSCORE] strether [DOT] corrente [AT] yahoo [DOT] com, with (a) links, and even better (b) sources I should curate regularly, (c) how to send me a check if you are allergic to PayPal, and (d) to find out how to send me images of plants. Vegetables are fine! Fungi are deemed to be honorary plants! If you want your handle to appear as a credit, please place it at the start of your mail in parentheses: (thus). Otherwise, I will anonymize by using your initials. See the previous Water Cooler (with plant) here. Today's plant (LR):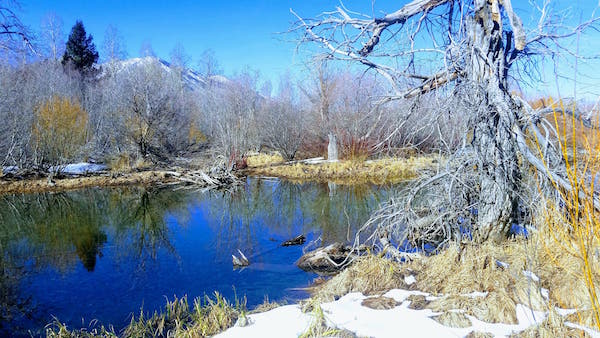 LR writes: "Taken by my daughter in law at midday at the end of winter. The colors were quite remarkable and you can see the effect of the minimal snowpack in the Sierra mountain range."
* * *
Readers: Water Cooler is a standalone entity not covered by the NC fundraiser. So do feel free to use the dropdown and click the hat to make a contribution today or any day. Here is why: Regular positive feedback both makes me feel good and lets me know I'm on the right track with coverage. When I get no donations for five or ten days I get worried. More tangibly, a constant trickle of small donations helps me with expenses, and I factor that trickle in when setting fundraising goals. So if you see something you especially appreciate, do feel free to click the hat!