By Lambert Strether of Corrente.
Readers, I need help with a SQL JOIN. Five years ago, I could have written what I want easily, but I can't take the time to re-acquire my chops. If you have SQL skills and wish to help, please contact me using the address below and I will show you what I want. One query will do it. Thanks! –lambert
Trade
"Donald Trump praises Xi Jinping's 'kind words' in fresh sign of trade detente" [Hong Kong Free Press]. "President Donald Trump on Tuesday praised the 'kind words' from Chinese leader Xi Jinping and pledged 'great progress' in the looming trade dispute between the world's largest economies. Still, the White House also admonished China to take concrete action on US complaints about unfair trade practices."
"The Trump administration is hoping to minimize the domestic impact of its more-aggressive trade policies. Whether the proposed help to the farm belt will reach more broadly across agricultural supply chains remains an open question, as the White House considers an aid package that could climb into the billions of dollars. The WSJ's Bob Davis, Siobhan Hughes and Jesse Newman write the plan could tap Depression-era programs like the Commodity Credit Corp., which was created in 1933 to stabilize farm incomes. Still, many farm groups say they aren't looking for price supports and other help, and would prefer unimpeded trade with China" [Wall Street Journal].
"These California counties have the most to lose in a China trade war" [McClatchy]. "But an analysis by experts at the Brookings Institution, a non-partisan D.C. think tank, finds that California – and the West Coast, more broadly – have far and away the most jobs on the line in the tariff tit-for-tat between Washington and Beijing… Los Angeles has the highest number of jobs at risk of any county across the country, with about 40,000 people working in industries that could be affected by Chinese tariffs. King and Snohomish counties in Washington state are close behind, each with about 39,000 jobs that could be affected. Ventura, Fresno, San Diego, Kern, Alameda, Napa, Sonoma and Monterey counties in California and Yakima County in Washington also rank in the top 25."
Politics
2018 Midterms
"How Retirements Like Paul Ryan's Are Shrinking Republicans' Built-In Advantage in the House" [New York Times]. "The retirements are so consequential because they deprive the party of the advantage of incumbency. Even in wave election years, incumbents generally win re-election in districts that tilt somewhat toward their party. Most Republican incumbents represent such districts, in part because of partisan gerrymandering and the tendency for Democrats to cluster in urban districts and 'waste' votes. It's a different story without the advantage of incumbency. In a wave year, the president's party struggles to retain open seats in competitive districts, even those that tilt toward their party. Often, a retirement is the difference in whether a race is competitive at all."

"Fewer GOP members mean more power for House Freedom Caucus to pick Ryan successor" [McClatchy]. "Freedom Caucus members generally come from deeply conservative districts, which are unlikely to flip even if Democrats enjoy a strong election season as history and current polling suggests."

"Five Americans explain the burst of enthusiasm for Democratic candidates and causes" [WaPo]. "[Kae Jae Johnson] got a job late last year with Black Leaders Organizing for Communities, a Wisconsin-based activist group. She and three other organizers have knocked on more than 8,000 doors in two Milwaukee Zip codes that have mostly black residents and some of the city's highest poverty rates. They ask voters what issues matter most to them and encourage them to vote in every election. Her message: 'These little races are important to win the big races.'" Oddly, the reporter doesn't ask what those issues are.. .

"First-time, liberal candidates are flooding the Democratic primaries" [WaPo]. "According to an analysis of political donor networks, this year's Democratic candidates are the most liberal in decades. Hundreds of newcomers registered to run, setting up primary scrums in competitive districts and eventual challenges to Republicans for rarely contested seats…." For some definition of "liberal"….

FL: "Nelson, 75, lacks flamboyance. But Pete Mitchell, the senator's former chief of staff and longtime campaign manager, said the senator stacks up well against the workmanlike Scott. He said Nelson has used positions on the commerce and armed services committees to lobby for Florida's 20 military bases, develop early 5G wireless networks in Florida, and push for the reauthorization of NASA funding, among other economic priorities" [McClatchy]. "'Bill's a workhorse, not a show horse," said Mitchell, who believes Nelson's economic work in the Senate offsets Scott's successful jobs-themed approach to politics. 'He's accomplished a great deal.'" I dunno….
2016 Post Mortem
"Full transcript: Former communications director for the Hillary Clinton campaign Jennifer Palmieri on Recode Decode" [Recode].( Palmieri, you will recall, thought that Russians were going to hijack her limo, which shows you the level of elite hysteria we're dealing with.) Interesting read from the technical perspective….
New Cold War
"Teacher Walkouts Threaten Republican Grip on Conservative States" [New York Times]. Great to see the liberal Democrats all-in for teachers in the Red States. Oh, wait…

"The Curious Case of The Andrew McCabe Legal Defense Fund" [Jonathon Turley]. "[T]he money was raised before donors could know the full account of the allegations against McCabe. Moreover, McCabe can use this money for any legal needs as he enters private life."

"Wheeler: Russia may be meddling in Portland politics" [Portland Tribune]. Damn. What's that high-pitched "woo woo" sound?
Realignment and Legitimacy
"The Centrist Demons Are at It Again" [Splinter News]. "[The Serve America Movement (SAM)], it turns out, is this year's model of the ever-elusive Centrist Third Party." It's a cookbook….
Stats Watch
Chain Store Sales, March 2018: "Chain stores are reporting mostly higher sales results in March which is no surprise given this year's early Easter which pulled April sales forward" [Econoday]. "Chain store sales correspond with roughly 10 percent of retail sales. Chain store sales are an indicator of retail sales and consumer spending trends. There is no official composite number for each month's sales, merely sales figures for individual chains."
Jobless Claims, week of April 7, 2018: "Jobless claims decreased 9,000 in the April 7 week to 233,000 but are still trending slightly higher in what may be, at least possibly, a negative signal for the labor market" [Econoday]. "One factor that will limit the effect on expectations is that April, because of Easter shifts, can be a difficult time for adjustments."
Import and Export Prices, March 2018: "Import prices came in below expectations at no change in a March report where flat is really the only description" [Econoday]. "The dollar may be falling but the inflationary effect on import prices has been limited. The 3.6 percent year-on-year rate for import prices is the highest since April last year but increases underway have been marginal. The decline in the dollar, down about 10 percent last year and down several percentage points so far this year, has yet to dramatically raise import prices, the result perhaps of discounting among foreign sellers who are protecting their market share." And but: "Because of backward revisions – the year-over-year import and export prices were little changed from where we thought we were last month" [Econintersect].
Bloomberg Consumer Comfort Index, week of April 8, 2018: "The consumer comfort index jumped 8 tenths in the April 8 week to 58.0 and a new 17-year high" [Econoday].
Employment situation: "Still looking like it's been going downhill for over two years" [Mosler Economics]. Handy chart:

Housing: "A change to California's housing supply law could spur a big expansion in home building" [Los Angeles Times]. "The legislation, Senate Bill 828, from state Sen. Scott Wiener (D-San Francisco), would require cities and counties to rezone land in their communities to permit many more homes than are currently in their plans. Under the bill, local governments could have to double the amount of land made available for condominium and apartment complexes, and zone even more parcels for residential development in an effort to address a shortage of homes in the state that Wiener has estimated stands at 4 million."
Commodities: "Impact of electric cars in medium-term copper demand 'overrated', experts say" [Mining.com]. "Increasing disposable income in emerging economies, as well as the adoption of greener technologies, rather than a touted electric cars boom, will drive most of the expected increased demand in copper during the next five years, CRU analyst Robert Edwards said. 'Electric vehicles (EVs) are a great long-term story, but demand is only expected to be around 1.5% of world refined copper consumption this year, and even five years out is unlikely to be anything more than 3%,' he told investors and miners attending this week's World's Copper Conference in Santiago, Chile. While is true that electric cars use about four times more copper than gasoline-powered vehicles, their global adoption won't be explosive, as some may think."
Shipping: "Ocean freight must tackle 'the criminality of cargo misdeclaration'" [Lloyd's Loading List]. "With , the ocean freight sector needs to tackle 'the criminality of misdeclaration' of the hazardous materials often associated with causing or exacerbating what can turn into fatal events, insurance specialist TT Club now argues." Every 60 days seems like rather a lot. "[TT Club's risk management director Peregrine Storrs-Fox] said a lack of knowledge about the hazardous nature of the commodities being packed into a container may be the case in a minority of circumstances, or poorly packed material not correctly treated given its dangerous characteristics. But he added: 'Rather more sinisterly, there is too much evidence that dangerous cargoes are misdeclared due to a premeditated attempt to avoid the added costs and complexity that accrue from transporting such consignments by land or sea in compliance with regulations. '"
Shipping: "Anti-money laundering rules killing one in eight shipping deals, says M&M" [Llloyd's List]. "Norwegian shipping boutique Maritime & Merchant Bank is canning up to 15% of loan applications under 'know your customer' stipulations, with attempts to set up deals via trust companies almost certain to be rejected."
The Bezzle: "The Never-Ending Self-Driving Car Project" [Wired]. "Either way, people want to know when autonomous vehicles will get here, when they will be ready. Here's the unsatisfying but correct answer: never." There's a good deal more, but the author — rather like an autonomous vehicle — just doesn't know when to stop.
The Bezzle: "4 Ways Uber Wants to Expand Its Services" [Governing]. "'We are starting a strategy where we are going to double down on Uber becoming more than just a ridesharing company. … Our view is we are going to be the predominant Point A to Point B transportation platform,' said Jahan Khanna, Uber's head of product for mobility, at an event in Washington, D.C. 'In order to be successful in doing this, we can only do it in a spirit of true partnership with cities, a spirit of true partnership with transit agencies.'" "Predominant…"
The Bezzle: "Tesla Workers Claim Racial Bias and Abuse at Electric Car Factory" [Bloomberg]. "On a fall evening in 2015, Owen Diaz went to drop off food for his 20-year-old son Demetric, whom he'd helped find a job at the same Tesla Inc. factory where Owen operated elevators. As he turned the corner, the two African-American men allege in a lawsuit, Owen saw Demetric's supervisor condemning his black subordinates with curses and slurs: 'All you f-cking n-ggers," they heard him say. "I can't stand you motherf-ckers.'… [U]nlike other former Tesla workers' allegations of race and sex discrimination, the electric car giant hasn't been able to keep this one out of court. . Their case has entered discovery, with depositions scheduled to start later this month. A federal trial is scheduled to start in 2019."
The Bezzle: "Tesla Was Kicked Off Fatal Crash Probe by NTSB" [Bloomberg]. "The National Transportation Safety Board told Tesla Inc. on Wednesday that the carmaker was being removed from the investigation of a fatal accident, prior to the company announcing it had withdrawn from it, according to a person familiar with the discussion… The unusual move followed public statements by the company blaming the driver of a Tesla Model X who died in a March collision, in apparent violation of agency protocols. The NTSB guards the integrity of its investigations closely, demanding that participants adhere to rules about what information they can release and their expected cooperation. These so-called parties to investigations must sign legal agreements laying out their responsibilities."
Mr. Market: "Dow up 300 points as market perceives Trump tweet as Syria de-escalation" [MarketWatch]. "Geopolitical concerns continued to move markets after Trump on Wednesday signaled in a tweet that a missile attack on Syria wasn't far off, saying, 'Get ready, Russia.' But early Thursday, a fresh tweet from Trump sounded less bellicose, as the president posted: 'Never said when an attack on Syria would take place. Could be very soon or not so soon at all!'"
Fodder for the Bulls: "Update: Predicting the Next Recession" [Calculated Risk]. The bottom line: "[N]o recession in the immediate future (not in 2018)."
Five Horsemen: "All of the Five Horsemen but Facebook were on the upswing in late morning trading" [Hat Tip, Jim Haygood].
NakedCap Mania-Panic Index: "The mania-panic index remained unchanged at 39 (worry) after yesterday's mild decline" [Hat Tip, Jim Haygood]. (The NakedCap mania-panic index is an equally-weighted average of seven technical indicators derived from stock indexes, volatility (VIX), Treasuries, junk bonds, equity options, and internal measures of new highs vs new lows and up volume vs down volume … each converted to a scale of 0 to 100 before averaging, using thirty years of history for five of the seven series.)
Facebook Fracas
"When the business model *is* the privacy violation" [Freedom to Tinker]. "In such cases, laws and regulations should avoid loopholes that companies might exploit by building narrow technical measures and claiming to be in compliance [with privacy regulation]. [4]" And footnote [4]: "As an example of avoiding the hashing loophole, the 2012 FTC privacy report is well written: it says that for data to be considered de-identified, 'the company must achieve a reasonable level of justified confidence that the data cannot reasonably be used to infer information about, or otherwise be linked to, a particular consumer, computer, or other device.' It goes on to say that 'reasonably' includes that might be available." So, an FTC matter…
Health Care
"How single-payer healthcare became the biggest policy flashpoint in California's race for governor" [Los Angeles Times].
Health Care
"I am morally offended by the idea of self-censoring. I want to live in a world in which patents can share their stories, publicly, if they wish to. (Naturally, if one wants to keep things private, one should.) I think it's healthy and normalizing. Nobody should feel they need to live in the shadows. Doing so feeds the erroneous notion that our experiences with poor health are ugly, shameful ones" [The Incidental Economist]. "Sometimes I know what the morally right thing to do is. It's the thing that if I don't do it, I could not live with myself. What I wrote to my friend is, I'd rather be dead than to feel I cannot speak my mind."
Gunz
"This Parkland teacher left his gun in a public bathroom. It was loaded, BSO says." [Miami Herald]. "Not the most normal sight: a gun left in the bathroom stall. But that's exactly what went down on Sunday in a men's room at the Deerfield Beach Pier. The circumstances of how the Glock 9mm got there are unusual. According to the Broward Sheriff's Office, the weapon was left by Sean Simpson. If his name sounds familiar, he's the teacher at Marjory Stoneman Douglas who said he'd be willing to arm himself while on duty." s
The 4120
"End the NYPD war on marijuana" [New York Daily News]. "[L]ocking up people for the mere possession of marijuana was a big deal in the department. Some of my colleagues would purposely lock residents up at the end of their shift so that they could generate guaranteed overtime for the next eight hours, without consequence." The same happens in Chicago. "Supervisors would turn a blind eye to these low-level arrests in the name of increasing arrest numbers. I always frowned upon the practice of locking up people for low-level offenses that did not make a dent in serious crime in the community. Throughout my career, I tried to hold my officers to a higher standard and make sure that the arrests they made focused on bringing down violent crime. But the system is the system, and it can overwhelm even the best intentions."
Black Injustice Tipping Point
"A History of Denial" [New York Review of Books]. Well worth a read:
The disaster that the unbridled slave trade inflicted on [the Kingdom of Kongo] is emblematic of slavery's effects on the economic and political development of Africa as a whole. From the earliest times, the scarcest resource of African kingdoms had been people. Population growth in Africa was severely depressed compared to other parts of the world because of the many life-shortening diseases and parasites that were endemic to its tropical climate. Beyond Africa's historic challenge of underpopulation, its vastness made it difficult for kingdoms to get people to settle in one place, especially against their will. Africans had always practiced slavery among themselves, but slaves were usually war captives and the victors typically sought to absorb them quickly, through marriage, military service, or the manumission of their children. Without such assimilation the risk of flight or rebellion was too great.

By some estimates, the Kongo kingdom and its immediate region lost a third of its population to the European slave trade. Between 1500 and the late 1800s, tropical Africa altogether lost roughly 18 million people to the slave trade, most of them in their prime reproductive years. This impact is better understood if one considers that the population of the continent remained stagnant at 50 million between 1700 and 1850 instead of doubling, as some demographers believe it might have without slavery's heavy toll.
Guillotine Watch
"Koch Bodyguards Got Police Badges From Same Tiny Town as Mercer" [Bloomberg]. "Bodyguards for the family of billionaire industrialists Charles and David Koch used police badges from a tiny New Mexico town that authorized them to carry concealed weapons in all 50 U.S. states, according to documents seen by Bloomberg News. The Lake Arthur police department that awarded the badges for volunteer service is the same one that for years provided a similar perk to Robert Mercer, the 71-year-old New York hedge fund manager and a key financial backer of President Donald Trump… The arrangement with Lake Arthur illustrates how a 2004 federal law, enacted to improve the safety of the nation's police officers by allowing them to carry weapons off-duty, has come to be used by some of the nation's wealthiest people to arm themselves or their private security forces." Proverbs 28:1….
Class Warfare
"In Racine County, neatly maintained homes and dream houses are being designated 'blighted' to make way for Foxconn" [Belt Magazine]. "In the evening of March 20 a full room of Racine County residents assembled to make and hear public statements before the board of the Community Development Authority of Mt. Pleasant, Wisconsin. One item was on the agenda: the board's first step in the designation of some 3,000 acres of agricultural land, farm houses and scattered, neatly maintained single-family homes as "blighted." It would be the final step for the local authorities — vital cogs in the Foxconn-booster leadership chain that runs from local Tea Party officials, to Governor Scott Walker, and all the way up to President Donald Trump — to fulfill the promise to Taiwanese tech giant Foxconn to obtain and then turn over the land for their proposed industrial complex. Some of the homeowners who had received eminent domain notifications back in October held property that came under the well-established protocols for roadway easements as rural roads would be expanded into four-lane or more highways to accommodate Foxconn. But many were well off these grids…. Robby Jensen, his voice breaking with emotion, pointed at the board as he said, 'The Village is telling us our land is worthless, while at the same time you're telling Foxconn it's the best property in the world. I don't know how any of you guys can sit here and do this.'" Ka-ching.
"A Worker Shortage Is Forcing Restaurants to Get Creative" [New York Times]. Wait, let me think… "With low profit margins leaving little room to do what most businesses do in tight labor markets — increase wages — restaurant owners are having to find other ways to attract and hold onto workers…."
"As Teachers Plan More Protests, Kentucky Governor Signs Pension Bill" [Governing]. "With a controversial pension reform bill now signed into law and Gov. Matt Bevin's veto of bills covering the state budget and tax overhaul, public educators are again gearing up to make their voices heard in the state Capitol. Fayette County's public schools are joining the school districts of Garrard, Bullitt, Scott, Christian and Trimble counties in closing Friday, which is when state legislators return to Frankfort to begin the final two days of their 2018 session. Educators hope to implore them to override the Bevin vetos.
"Association of a Negative Wealth Shock With All-Cause Mortality in Middle-aged and Older Adults in the United States" [Journal of the American Medical Association]. " In this prospective cohort study that included 8714 adults aged 51 to 61 years at study entry, participants who experienced a negative wealth shock during the 20-year follow-up compared with those with continuous positive wealth had a significantly increased risk of mortality (hazard ratio, 1.50)."
"Richard Meier Removed as Life Trustee from The Architectural League of New York" [Architectural Digest]. "Due to sexual harassment allegations that surfaced last month, Richard Meier has been removed from the Architectural League of New York, with the League's board having revoked his "life trustee" title, a statement released by the nonprofit stated today. Nine women have now come forward with sexual harassment allegations against the Pritzker Prize-winning architect, who is currently on a six-month leave of absence from his firm. Meier's firm, Richard Meier & Partners Architects, is a member of the League Circle, a group of prestigious firms who consistently support the league." Nippersmom: "Richard Meier was a leader of the modern movement, and is one of the most celebrated architects of his generation. My generation studied his work in architecture school, as I am sure have the generations that followed."
News of The Wired
"The Alice and Bob After Dinner Speech" [John Gordon, by invitation of Professor James Massey]. Fun with crypto….
"Tom Lehrer At 90" [Gödel's Lost Letter and P=NP (blennylips)]. Lehrer: "Political satire became obsolete when Henry Kissinger was awarded the Nobel Peace Prize." But everything old is new again:
And how gorgeous and expressive black and white photography can be!
* * *
Readers, feel free to contact me at lambert [UNDERSCORE] strether [DOT] corrente [AT] yahoo [DOT] com, with (a) links, and even better (b) sources I should curate regularly, (c) how to send me a check if you are allergic to PayPal, and (d) to find out how to send me images of plants. Vegetables are fine! Fungi are deemed to be honorary plants! If you want your handle to appear as a credit, please place it at the start of your mail in parentheses: (thus). Otherwise, I will anonymize by using your initials. See the previous Water Cooler (with plant) here. Today's plant (TH):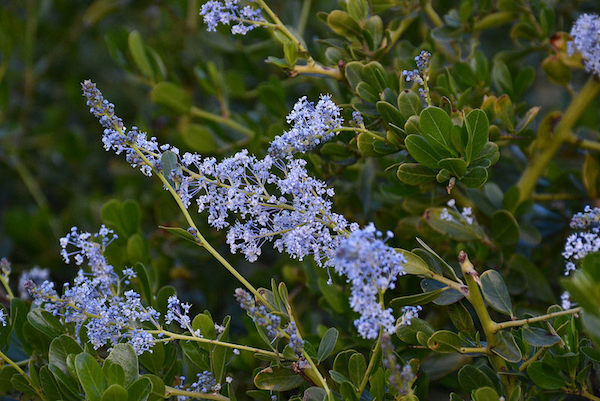 TH writes: "Ceanothus (California Lilac) in Rancho Palos Verdes, California."
* * *
Readers: Water Cooler is a standalone entity not covered by the NC fundraiser. So do feel free to use the dropdown and click the hat to make a contribution today or any day. Here is why: Regular positive feedback both makes me feel good and lets me know I'm on the right track with coverage. When I get no donations for five or ten days I get worried. More tangibly, a constant trickle of small donations helps me with expenses, and I factor that trickle in when setting fundraising goals. So if you see something you especially appreciate, do feel free to click the hat!