By Lambert Strether of Corrente.
Readers, thanks to all of you who stepped forward in response to my call for SQL help! –lambert
Trade
"All Tariffs, All the Time" [Logistics Management]. "[Chris Rogers, research director for global trade intelligence firm Panjiva] explained to me that it stands to reason that imports might start trending down as a result of tariffs, but that will depend on whether (a) U.S. producers suddenly become economic, in which event imports will fall as consumers buy American or (b) whether Chinese manufacturers "country hop" their production to another country in which case imports stay the same or (c) whether customers simply end up paying more for the same products, which again would mean import volumes stay the same. 'It will probably be a mixture of the three, of course, but overall I would say we will see a decline,' he said. With tariffs now formally a true talking point in industry circles, the subsequent impacts on the supply chain figure to be significant. Specifically how remains to be seen, but, in any event, it figures to be quite the ride." I suppose this is the logic of import substitution, but it's nice to see it laid out in plain language.
"The brewing U.S.-China trade war is compounding problems for companies that peddle used paper, milk jugs and metal. China is the top customer for the vast quantities of recyclable waste generated by the U.S., [but] a 25% tariff on U.S. scrap aluminum and other recent Chinese restrictions on imported waste are sending the recycling industry into a tailspin. U.S exports of scrap plastic to China dropped 80% from October to January, and prices for mixed aluminum scrap dropped by about 15% over the past month, crumbling profit margins for processors and brokers that sell the material to China. Analysts say Chinese companies may end up buying more scrap aluminum from cheaper sources in Europe" [Wall Street Journal].
Politics
2020
If you want to see what an…. I'm struggling with for the right word here, so I'll use honorable — what an honorable politician looks like, here are two examples. Clue stick: they're not talking about pee tapes or book tours:

President Trump has no legal authority for broadening the war in Syria. It is Congress, not the president, who determines whether our country goes to war, and Congress must not abdicate that responsibility. https://t.co/wHnwrXsyxj

— Bernie Sanders (@SenSanders) April 11, 2018

Or:

.@realDonaldTrump has sworn up and down that he won't support bad trade deals. He pulled out of the TPP after he was elected – but now he wants back in. It's a ridiculous reversal & a slap in the face to the hard-working Americans Trump promised to fight for. TPP is a lousy deal. https://t.co/9hXka7WiN2

— Elizabeth Warren (@SenWarren) April 12, 2018

The one unequivocally good thing Trump has done, and he backtracks. (I see this is in Links, but I had to say this, and make the parallel.) Note that Trump's current positions on both these policy issues — war, trade — are unpopular with that portion of Trump's base who are not highly educated, wealthy suburbanites. So we don't hear a whisper about them from the liberal Democrat leadership. What courage!
2018 Midterms
"GOP breaks the glass as House outlook darkens" [Politico]. "Republicans are rushing to shore up congressional seats deep in the heart of Trump country as they come to an alarming realization: In this midterm election, few GOP lawmakers are safe…. Party officials say they've learned the lessons Democrats failed to heed during the 2010 House GOP takeover. That year, a number of Democratic-held seats once thought to be safe became endangered just before the election, giving the national party little time to mount a rescue campaign…'It's the first time I've witnessed the national party coming and building that kind of infrastructure during a blue-moon election cycle,' said Paul Shumaker, a veteran North Carolina-based GOP strategist who's working on several congressional races in the state."

"Three Turnout Wild Cards: Guns, Impeachment, and SCOTUS" [Charles Cook, Cook Political Report]. "What could build Republican intensity and turnout to something comparable to what seems to be forming for Democrats? There seems to be three possibilities: guns, impeachment, and a Supreme Court vacancy… For the electorate as a whole, Trump today is a net liability, but to the extent that the Left pushes impeachment and Republicans can amplify that threat to conservatives, we could see the energy levels of the two sides come more into balance, something that can make a real difference, particularly when pollsters screen down to sample just likely voters." 206 days is a long time in politics.

"Can a President Preaching Change Lead a Party of Incumbents?" [Inside Elections]. "I have long argued that on the most fundamental level, all elections are choices between continuity and change… [D]uring the first week of March this year, only 28 percent said they were satisfied, while 68 percent were dissatisfied. Those numbers demonstrate how different the political environment was in 2002, and how dissatisfied voters are now. Given that, the question is: As the midterms approach, can Republicans reclaim the banner of disruption (without creating voter fatigue), or is the GOP, which controls the House, the Senate and the White House, automatically the party of continuity, even with Trump in the Oval Office and leading his party? Right now, the answer doesn't look like a close call, which is why Trump and the Republicans are in such deep trouble in the fight for the House." "Change vs. more of the same" is a well-worn trope, but nonetheless valid for all that; that's surely a good way to look at election 2016. The issue is that voters keep voting for change (2006, 2008, 2010, 2014, 2016) and change doesn't happen (except slowly, incrementally, inevitably for the worse, as has been the trend for the entire neoliberal era, starting in the mid-70s).

UPDATE WI-01: Bryce doesn't support #MedicareForAll, no matter what he says. That's unfortunate. From his campaign site:


What the hell does this mean?

"Medicare for All would lower costs for families and businesses by giving the government greater negotiating power with health insurance companies and untying health insurance from employment."

This is not #MedicareForAllhttps://t.co/y3C3Dhzw5A

— Scap? (@scapelliti) April 11, 2018
New Cold War
"Comey feared making Clinton an 'illegitimate president'" [New York Post]. Quote:

[COMEY:] It is entirely possible that, because I was making decisions in an environment where Hillary Clinton was sure to be the next president, my concern about making her an illegitimate president by concealing the restarted investigation bore greater weight than it would have if the election appeared closer or if Donald Trump were ahead in all polls… But I don't know.

This headline is deceptive (as are others like it). Comey didn't "fear" anything. "It is entirely possible" that he "feared." It is entirely possible that this paragraph is a mish-mash of bureaucratic bafflegab.

"James Comey Has a Story to Tell. It's Very Persuasive." [Michiko Kakutani, New York Times]. No doubt! "Until his cover was blown, Comey shared nature photographs on Twitter using the name "Reinhold Niebuhr," and both his 1982 thesis and this memoir highlight how much Niebuhr's work resonated with him."

"The 11 most eye-opening lines in James Comey's 'A Higher Loyalty,' ranked" [Chris Cilizza, CNN]. "But it is absolutely telling about the state of Trump's marriage that he was asking the FBI director to prove the falsehood of the 'pee tape' to his wife — almost certainly because she wouldn't believe him." "Almost certainly" is doing a lot of work in that sentence. On the bright side of the Syria Crisis: Surely if the "pee tape" existed, Putin would already have arranged for its release?

UPDATE "'I honestly never thought these words would come out of my mouth, but I don't know whether the current president of the United States was with prostitutes peeing on each other in Moscow in 2013,' Comey told ABC's George Stephanopoulos. 'It's possible but I don't know'" [Politico]. Extracting the meaningful parts from the bafflegab: "… I don't know…. I don't know." Well, if it sells books…..

Torture advocate John Brennan, Hero of The Republic:

Your kakistocracy is collapsing after its lamentable journey. As the greatest Nation history has known, we have the opportunity to emerge from this nightmare stronger & more committed to ensuring a better life for all Americans, including those you have so tragically deceived. https://t.co/eC6LATH2Gd

— John O. Brennan (@JohnBrennan) April 13, 2018

Who's "we," here?
Imperial Collapse Watch
The pre-launch menu of @AthertonKD 's coming restaurant "All Options Are on The Table" pic.twitter.com/qnQbzItsBh

— Ben Chia (@benbenchia) April 12, 2018
Realignment and Legitimacy
"Billionaire vs. Billionaire: A Tug of War Between 2 Rogue Donors" [New York Times]. "Tom Steyer, a former hedge fund investor based in California, is the biggest individual donor on the Democratic side. His Republican counterpart is Richard Uihlein, an elusive packaging supplies magnate from Illinois."

"Explaining Support for Trump in the White Working Class: Race vs. Economics" [Larry Sabato's Crystal Ball]. "While whites without college degrees did experience far more economic distress than those with college degrees, economic distress itself appeared to have little relationship with opinions of Trump. Instead, the main explanation for the class divide in opinions of Trump among whites appeared to be differing views on race relations. White college graduates were much more likely than whites without college degrees to hold liberal views on the significance of racial discrimination in American society and opinions on the significance of racial discrimination were strongly related to opinions of Trump's performance." Hmm. I read this twice, and of course I have priors (absent class consciousness, there's no way to experience class except through ascriptive identities, so no duh). That said, it seems to me that the move from "economics" to "economic distress" in the headline is a pretty slippery one, and divorcing education from class is pretty slippery too. And readers will recall that I've taken a far more granular approach….

"Trump Didn't Break the Speakership, It Was Already Broken" [Amy Walter, Cook Political Report]. "[T]o make the Ryan a 'victim' of Trump-ism misses a central point: the GOP speakership was broken long before Donald Trump became president. And, the party had moved more in Trump's direction – on everything from immigration to its disdain for 'elitism'–before Trump ever became president… To be sure, Trump is ultimately responsible for pursuing a partisan agenda and for exacerbating the already deep partisan divide. He could have chosen to take a different path that would have re-written and redefined the currently ossified partisan coalitions in Washington. He could have tried to expand and grow his narrow base. Instead, almost everything Trump does, says, and Tweets is designed to cater to that base. But, it's also true that the current rules of the game – pass what you can with only GOP votes – had been established long before Trump came to town."

What the Christian Right did:

Chicago DSA is running members for Local School Councils! We are looking for poll watchers and phone bankers.

Poll watchers will be at schools to observe to make sure the elections are running correctly and fairly, and track voting commitments.

— Chicago DSA ? (@ChicagoCityDSA) April 12, 2018

Please kill me now:

Trying to get tickets to our next event, Homeland at Hayden Center? Don't despair–a waiting list for general admission tix has been enabled. Please add your name–additional seats will be available as we get closer to April 23rd. https://t.co/mwtdlAt8Dl

— Hayden Center (@mvhaydencenter) April 13, 2018

That's perjurer and torture advocate Michael Hayden. Now he has a Center with his name on it. Fancy that!
Stats Watch
Consumer Sentiment, April 2018 (Preliminary): "Consumer sentiment came in below the low estimate, at 97.8 for the preliminary April index" [Econoday]. "The decline in current conditions hints at trouble for April consumer spending and may be, like weekly jobless claims, an early negative signal on the month's labor market." And: "University of Michigan consumer sentiment index slips to 3-month low on trade-war fears" [MarketWatch]. "The decline wasn't big but was shared across most age and income groups, the University of Michigan said. The moves made by President Trump on trade—imposing tariffs on steel and aluminum and identifying possible levies on Chinese goods—were mentioned spontaneously by nearly a third of respondents, nearly all negatively."
JOLTS, February 2018: "Job openings fell back 2.8 percent in February to 6.052 million but still remain well out in front of hirings" [Econoday]. "Lack of available labor could be an increasing factor that holds back business expansion. Useful comparisons for this report are the ." And: "Job openings are near the highest level since this series started, and quits are increasing year-over-year. This was a solid report" [Calculated Risk].
Real Estate: "E-commerce tenants continue to absorb U.S. industrial real estate properties, says CBRE" [Logistics Management]. "Tight market conditions for United States-based warehouses and distribution centers continues to get even tighter, according to data issued by industrial real estate firm CBRE in its U.S. Industrial Availability Index, which was released this week. The availability rate in the first quarter dipped six basis points to 7.3%, which CBRE said marks the 31st consecutive quarter that availability has declined. And on an annual basis, the availability rate dropped 20 basis points annually. CBRE explained that the market for U.S.-based warehouses, distribution centers, and other industrial facilities continues to see demand outpace new supply, with occupiers, largely in the form of e-commerce players, securing these facilities."
Shipping: "Container shipping sector challenges and opportunities are laid out in AlixPartners report" [Logistics Management]. "The financial health of the sector was a key theme in the report, with AlixPartners stating that the Altman Z-score, a formula for predicting the likelihood of a bankruptcy (a rating of less than 1.81 suggests financial distress), for the container shipping sector is at 1.44. That reading is less than optimal but represents an improvement over 2016's 1.10, which is a historical low. And ." So the container shipping sector hasn't really recovered either.
Shipping: "More truckers are piling into the growing business of delivering bulky goods to consumers' homes, drawn by booming online furniture sales and the chance to get more of their retail customers' shipments" [Wall Street Journal]. "The work imposes higher service demands on carriers that may be more accustomed to hauling truckloads of goods to warehouses than hiring drivers for "white glove" installation service in hard-to-access residential streets. And although the sector is growing, with the market expected to hit $12 billion over the next decade, it's a small fraction of the overall $676 billion trucking market."
The Bezzle: "Thiel-Backed Autonomous Car Supplier Slashing Cost, Scaling Up" [Bloomberg]. "Luminar Technologies Inc., the self-driving sensor startup backed by billionaire Peter Thiel, is rolling out a cheaper-to-make version of its laser technology and ramping up production to supply the key component for autonomous vehicles. The startup released a new sensor platform Thursday that reduces the cost of its most expensive part from tens of thousands of dollars to $3. This will make Luminar's light detection and ranging devices, or lidar, viable for vehicles sold to consumers, once produced in high volumes, according to Chief Executive Officer Austin Russell."
Infrastructure: "The bill to repair U.S. roadways is coming due, as lean state budgets and heavy traffic take their toll on highways. Mississippi Gov. Phil Bryant is closing more than 100 bridges there this week, citing 'extreme peril to the safety of persons and property.'…. Many of the spans are in rural areas where the cost of repairing them could overwhelm the local tax base" [Wall Street Journal]. "The problem is nationwide, with nearly 9% of U.S. bridges deemed "structurally deficient" by the federal government….. With President Donald Trump's $200 billion infrastructure plan getting little traction in Congress, there's not much help coming from Washington." I say write 'em off. They're not "dynamic" or "moving forward" (although, to be fair, who'd want to move forward over a collapsing bridge?)
Infrastructure: "Texas is making billions from oil and gas drilling, but counties say rural roads are being destroyed" [Texas Tribune]. "Texas leads the nation in both oil and natural gas production. In the 2017 budget year, the oil production tax brought the state more than $2 billion in revenue, while the natural gas production tax brought in a little less than $1 billion. But none of that tax money goes to fixing roads in the areas where the production is occurring…. until there's a permanent legislative fix, some rural leaders say the state is enjoying a free lunch at the expense of local property tax owners who have to pay for the damage to their roads — often through higher property taxes." Yeah, and?
The Fed: "Fed's minutes got it wrong, says Bullard: Not all members see need for higher interest rates" [MarketWatch]. "The statement in the minutes of the Fed's March meeting that 'all participants' thought further interest-rate hikes were likely to be needed was puzzling, according to St. Louis Fed President James Bullard. Bullard, one of the most dovish Fed officials, said Friday that he had argued at the meeting that the Fed could leave its interest-rate target alone. 'I'm not quite sure the source of the statement' that all members were looking for higher rates, Bullard told reporters after a speech in St. Louis."
Fodder for the Bulls: "06 April 2018: ECRI's WLI Growth Index Rate Decline Continues" [Econintersect]. Fodder because: "Even with the continuing decline in this index, the forecast is for modest growth six months from today."
Five Horsemen: "The Fab Five are mixed as an opening gain in the S&P 500 evaporated by late morning" [Hat Tip, Jim Haygood].
NakedCap Mania-Panic Index: "The mania-panic index rose to 43 (worry) as stock indexes gained yesterday" [Hat Tip, Jim Haygood]. (The NakedCap mania-panic index is an equally-weighted average of seven technical indicators derived from stock indexes, volatility (VIX), Treasuries, junk bonds, equity options, and internal measures of new highs vs new lows and up volume vs down volume … each converted to a scale of 0 to 100 before averaging, using thirty years of history for five of the seven series.)
Health Care
""Is curing patients a sustainable business model?" Goldman Sachs analysts ask" [Ars Technica]. "Analyst Salveen Richter and colleagues laid it out:"
The potential to deliver "one shot cures" is one of the most attractive aspects of gene therapy, genetically engineered cell therapy, and gene editing. However, such treatments offer a very different outlook with regard to recurring revenue versus chronic therapies… While this proposition carries tremendous value for patients and society, it could represent a challenge for genome medicine developers looking for sustained cash flow.
Well, at least they're honest about it.
Class Warfare
"Indiana Teachers 'Go Green' To Track Member Sign-Up" [Labor Notes]. "What will happen to public sector unions after the Supreme Court rules on the Janus v. AFSCME case this spring? Indiana teachers are already there. Slammed by a "right to work" law in 1996 and a new barrage of attacks in 2011, the teachers experienced what many unions are afraid of—a big drop in membership. But the Indiana State Teachers Association didn't roll over and give up after that. The union developed a tracking system called "Go Green" to help local leaders get membership back up. It's working. The first year of the program, the union narrowed its deficit between existing members lost to retirement and new members gained. The second year, it broke even. The third year, statewide membership increased. This is in a legal environment that's worse than right to work."
"Tech Upheaval Means a 'Massacre of the Dilberts'" [Bloomberg]. "[Bank of England Governor Mark Carney] has even more global topics on his mind. He used a speech in Toronto to address the impact of technology and how workers and the very social structure of the developed world needs to adapt. He said there are a lot of "routine cognitive jobs," at risk, in what he termed a "massacre of the Dilberts" — a reference to the satirical American comic strip about office workers. Technology and the fourth industrial revolution are having untold impact, he said, and [1] The effect of automation is just one part of the change and examples of the seismic shift can be seen in finance, where many "unglamorous" data entry jobs have already been transformed. Drawing examples from his own experience, he said the disruption to the labor force will be intense and could last for some time…. While ultimately , Carney said that will require imaginative solutions by companies, governments and policy makers in terms of training and social change." [1] Totally, just like the benefits of globalization were evenly shared. [2] This hasn't been true for forty years. What planet is Carney from? I thought Canadians were supposed to have retained some contact with reality. Oh, and what the Dilberts will need is a union.
News of The Wired
Happy Friday the 13th.
"PowerHammer: Exfiltrating Data from Air-Gapped Computers through Power Lines" [arXiv.org].
"Building a Text Editor for a Digital-First Newsroom" [Times Open]. I suppose…
Because I am a life-long Gilbert & Sullivan fan. Shot:
(lyrics). Chaser:
(lyrics).
* * *
Readers, feel free to contact me at lambert [UNDERSCORE] strether [DOT] corrente [AT] yahoo [DOT] com, with (a) links, and even better (b) sources I should curate regularly, (c) how to send me a check if you are allergic to PayPal, and (d) to find out how to send me images of plants. Vegetables are fine! Fungi are deemed to be honorary plants! If you want your handle to appear as a credit, please place it at the start of your mail in parentheses: (thus). Otherwise, I will anonymize by using your initials. See the previous Water Cooler (with plant) here. Today's plant (RH):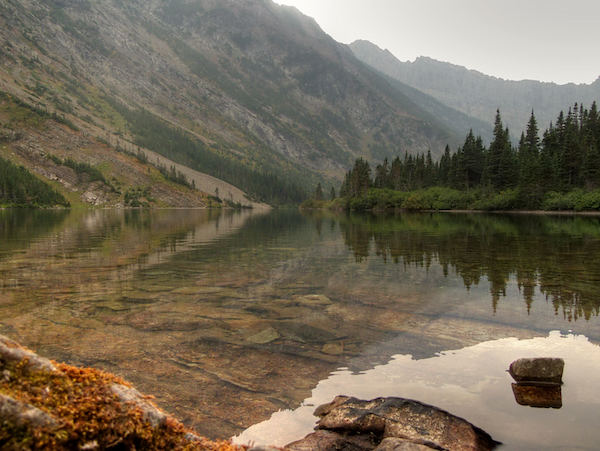 RH: "Bertha Lake, Waterton Lakes National Park, Alberta, Canada." Eat your heart out, Ansel Adams! And also Leonardo da Vinci, for the sfumato….
* * *
Readers: Water Cooler is a standalone entity not covered by the NC fundraiser. So do feel free to use the dropdown and click the hat to make a contribution today or any day. Here is why: Regular positive feedback both makes me feel good and lets me know I'm on the right track with coverage. When I get no donations for five or ten days I get worried. More tangibly, a constant trickle of small donations helps me with expenses, and I factor that trickle in when setting fundraising goals. So if you see something you especially appreciate, do feel free to click the hat!