By Lambert Strether of Corrente.
Patient readers, thanks for all the helpful hints about sinus problems; it looks like medication knocked this one back, so I can avoid going to a doctor (generally, a good thing in my mind). And I will have to go in search of a neti pot. This Water Cooler will be a bit light, but I should be back in form tomorrow. –lambert
* * *
Trade
"American suppliers to ZTE Corp. are bracing for big revenue losses from the U.S. moves against the Chinese telecommunications giant. Big tech firms like semiconductor behemoth Qualcomm Inc. and niche companies such as Acacia Communications Inc., a Massachusetts-based maker of fiber-optic networking components, are among U.S. companies affected as national-security and trade issues flare up between the U.S. and China." [Wall Street Journal]. "U.S. chip makers sold about $1.5 billion worth of products last year to ZTE, an example of the extensive supply chains that are a foundation of electronics manufacturing/
Politics
2020
NY: Ouch:

The more I think about the MTA and signal malfunctions the more I think Andrew Cuomo is one big signal malfunction. And the IDC. And Simcha Felder. All those press releases and promises that he knows cant get through, just one big 8-year strategic, purposeful signal malfunction.

— Zephyr Teachout (@ZephyrTeachout) April 25, 2018

Putting this under 2020 because Cuomo might actually think he can run for President…
2018
"Midwestern Democrats Want The National Party To Stop The Trump-Russia Talk" [BuzzFeed]. "The Democratic National Committee's drumbeat of messaging on Trump and his relationship with Russia is wearing thin with some Democrats in purple states — particularly in the Midwest, where people on the ground say voters are uninterested and even turned off by the issue. The suit exposes a gap, they say, between the party's strategy nationally and what Midwest Democrats believe will win elections in their state. 'The DNC is doing a good job of winning New York and California,' said David Betras, the Democratic county party chair in Mahoning County, Ohio, home to Youngstown. 'I'm not saying it's not important — of course it's important — but do they honestly think that people that were just laid off another shift at the car plant in my home county give a shit about Russia when they don't have a frickin' job?' Trump and Russia, Betras said, is the 'only piece they've been doing since 2016. [Trump] keeps talking about jobs and the economy, and we talk about Russia.'"

"Poll: Fewer voters say they're noticing paycheck increases from tax law" [The Hill]. "The [Politico] April survey found that 22 percent of registered voters reported seeing paycheck increases, while 55 percent said they hadn't noticed a bump and 23 percent didn't know or didn't have an opinion. When the news outlet asked about paycheck increases in early March, 27 percent said they noticed bigger paychecks, 50 percent said they didn't and 23 percent didn't know or didn't have an opinion. The April poll found that Republicans were more likely to say they noticed an increase in their paychecks than Democrats…. Republicans say those trends mean that they need to step up their messaging efforts."

"Trump-State Senate Democrats Raise More Than GOP Challengers" [Bloomberg]. "The 10 Democratic incumbents running in the November election from states won by President Donald Trump raised a combined $24.4 million in the first three months of the year, while the Republicans with at least $50,000 in their bank accounts in those states — 20 in all competing in eight contested primaries — raised $9.4 million, a Bloomberg analysis of filings this week with the Senate Office of Public Records shows."

AZ-08: "GOP Holds House Seat in Deep Red Arizona, But It's Way Too Close for Comfort" [New York Magazine]. "[A]n underwhelming win for the GOP in a district they should have swept."
Realignment and Legitimacy
"Kirsten Gillibrand Unveils A Public Option For Banking" [HuffPo]. "Sen. Kirsten Gillibrand (D-N.Y.) is introducing legislation Wednesday that would require every U.S. post office to provide basic banking services, an ambitious step aimed at improving the lives of Americans with limited financial resources." Good for her.

"Here's a look at Maine's first ranked-choice voting state ballots" [Bangor Daily News].

"Pelosi rejects litmus test on abortion" [The Hill]. Remember when Sanders supporting Heath Mello was such a scandal? Boy, Pelosi's in trouble now!
Stats Watch
All the interesting stats were yesterday! So here they are:
Consumer Confidence, April 2018: "The consumer confidence report is showing no wear from high levels" [Econoday]. "Details are very positive led by yet another very low reading for jobs-hard-to-get…. in a result that will help lift expectations for strength in the April employment report. Another important reading is a decline in income pessimism as only 6.0 percent see their incomes falling which is a 17-year low."
S&P Corelogic Case-Shiller HPI, February 2018: "Low supply of available homes for the sale is a key factor behind strength in housing prices" [Econoday]. "Six percent rates for home-price appreciation were a solid fixture of the 2017 economy and a 6 to 7 percent rate appears to be the outlook for 2018." Oooh, "wealth effect" (as if a house were wealth).
FHFA House Price Index, February 2018: "The FHFA house price index, like Case-Shiller data also released this morning, shows extending strength in home prices" [Econoday]. "Price traction is strongest out West with the Pacific up 10.3 percent year-on-year followed by the Mountain region at 9.0 percent. Growth is strong across all 9 regions in the survey with the Middle Atlantic in the rear but at a still respectable 4.8 percent rate. Low supply is a major factor behind price appreaction, which proved last year to be solid source of household wealth."
New Home Sales, March 2018: "The risk of volatility is always lurking in new home sales, a report where sample sizes are low and revisions often extreme. The revisions in today's report are fortunately on the upside and strongly so" [Econoday]. "There's more strong news as the sales gain, like in yesterday's existing home sales report, didn't come at the expense of discounting as the median price rose."
Richmond Fed Manufacturing Index, April 2018: "The Richmond Fed Manufacturing Index dropped sharply" [Econoday]. "The Richmond Fed Manufacturing Index dropped sharply… breaking a 17-month long string of expansion in manufacturing in the Fifth District by posting the first negative reading since September 2016. The sharp decline follows a 13-point plunge in March and came as a negative surprise to most analysts, whose consensus expectations were for a slight improvement… The declines in business owners' assessments of current conditions were also reflected in significant declines in their expectations for nearly all business categories in the next six months, yet these expectations still remained very optimistic and well within expansionary territory."
State Street Investor Confidence Index, April 2018: "Global institutional investors continued to regain confidence and further increased their holding of equities in April" [Econoday]. "State Street noted that the global increases in equity holdings by institutional investors despite the recent challenges of heightened volatility and trade war fears reflects a general confidence in risky assets and echoes the strong start to the first quarter earnings season. Given recent somewhat disappointing economic data for Europe, the sharp gain for this region is particularly notable."
Chemical Activity Barometer: "April 2018 Chemical Activity Barometer Rate Of Growth Slows" [Econintersect]. "The Chemical Activity Barometer (CAB) slipped 0.1 percent in April to 121.6 percent on a three-month moving average (3MMA) basis. This follows six consecutive monthly gains and a dip from the barometer's highest point since modeling began. The Chemical Activity Barometer (CAB) slipped 0.1 percent in April to 121.6 percent on a three-month moving average (3MMA) basis. This follows six consecutive monthly gains and a dip from the barometer's highest point since modeling began." And: "This appears to be a leading indicator for industrial production" [Calculated Risk]. "The year-over-year increase in the CAB has been solid over the last year, suggesting further gains in industrial production in 2018."
Shipping: "March trucking volumes are mixed, reports ATA" [Logistics Management]. ""Despite a softer March and February, truck freight tonnage remains solid as exhibited in the year-over-year increase of 6.3%," said [American Trucking Association (ATA)] Chief Economist Bob Costello in a statement. 'While I expect the pace of growth to continue moderating in the months ahead, if for no other reason than year-over-year comparisons will become more difficult as tonnage snapped back in May of 2017, the levels of freight will remain good going forward.'"
Shipping: "The last-mile for delivery of online purchases may not have to end at the home. Amazon.com Inc. is starting to bring packages right to the car, using a deal with General Motors Co. and Volvo Cars to give its couriers access to potentially millions of vehicles in 37 U.S. mark" [Wall Street Journal]. Very convenient, since that's where so many of us sleep.
Manufacturing: "Some big U.S. manufacturers may be casting a shadow over the recovery in the industrial sector. Caterpillar Inc. executives say a strong first quarter could be a 'high-water mark' for the year, and 3M Co. says rising costs for transportation and raw materials are raising concerns at the company. … [B]oth companies plan to raise prices to offset the hit to profits from higher expenses, a sign of the growing pressures across the economy as rapidly growing demand adds strains to some supply chains. Caterpillar's outlook comes after the construction and farming equipment manufacturer saw a 31% surge in first-quarter sales, as dealers across North America boosted inventories to meet growing demand for construction equipment. The manufacturer says its sales outlook remains bright, but the company doesn't expect its cost increases to slow down either" [Wall Street Journal].
The Bezzle: "'OK, I'll say it: bitcoin is a scam,' says the former CEO of PayPal and Intuit" [MarketWatch]. Bill Harris: "It's a colossal pump-and-dump scheme, the likes of which the world has never seen… the losers are ill-informed buyers caught up in the spiral of greed. The result is a massive transfer of wealth from ordinary families to internet promoters."
The Bezzle: "San Francisco Is Fighting the Scooter Trend With Poop and Vandalism" [Motherboard]. Innovative! Lots of disruption going on here:
Fascinating to watch the war on SF sidewalks right now. Bird scooters placed in the middle of sidewalks, people putting stickers over the unlock codes, Jump bikes with slashed tires… pic.twitter.com/8nMXhzaCzy

— Andrew Crow (@AndrewCrow) April 11, 2018
Mr. Market: "We must heed warnings from the 1970s bear market" [Financial Times]. Shorter: Now would be a good time to buy gold.
Mr. Market: ''Big bear market' for stocks lasting several months appears to have begun" [MarketWatch]. Wellies, this is from a market timer based on a "key technical indicator." Readers?
Our Famously Free Press
"MSNBC's Joy Reid Claims Her Website Was Hacked and Bigoted Anti-LGBT Content Added, a Bizarre Story Liberal Outlets Ignore" [The Intercept]. "How, then, did [these these viciously bigoted posts] end up on her blog under her name? According to Reid, she was the victim of 'hackers': somehow, nefarious disinformation agents managed to hack not her blog (which is now deleted), but rather the Wayback Machine and its digital archive. They penetrated the Wayback Machine and then, according to Reid, added some anti-gay content." That Reid would throw the Internet Archive, which is an extremely valuable public resource, under the bus to preserve her reputation, such as it is, is concerning.
"The Internet Archive Trashes Joy Reid's Dubious Claim That Hackers Made Her Look Homophobic" [Splinter News]. This is a good wrap-up.
"Addressing Recent Claims of "Manipulated" Blog Posts in the Wayback Machine" [Internet Archive]. "When we reviewed the archives, we found nothing to indicate tampering or hacking of the Wayback Machine versions. At least some of the examples of allegedly fraudulent posts provided to us had been archived at different dates and by different entities."
Oops:
We have rescinded our Straight for Equality in Media award honors to @JoyAnnReid. Our statement here: https://t.co/jBLXiZqCyJ

— PFLAG National (@PFLAG) April 24, 2018
I don't have time to check this archive, but, readers, perhaps some of you do….
The wayback isn't the only archive service.
There's more out there…just waiting to be found.

The internet is forever.https://t.co/f5tHT8HRDm

— Queef Whisperer?️ (@queefagain) April 25, 2018
* * *
"You never see that point of view in mainstream press." [New York Times]. "[M]ost major publications lack a proudly socialist voice, or anything like it — someone arguing for single-payer health care, a sweeping crackdown on Wall Street, a return to a top tax rate above 80 percent and the like. This absence is a mistake, multiple readers argued. The media, as one reader put it, should include 'points of view taken for granted as just and necessary by hundreds of millions of citizens in other countries. You know, backwaters like France, Germany, Sweden, Norway, Japan?'"
Class Warfare
"Neoliberalism: The Movement That Dare Not Speak Its Name" [Philip Mirowski, American Affairs Journal (KF)]. Grab a cup of coffee, this long-form piece on history of "The Neoliberal Thought Collective" is excellent. "The hallmark of the neoliberal thought collective was that they more or less accepted the inherited image of an addled and befuddled populace, but thoroughly rejected any appeals to a scientific technocracy to instill some discipline in the masses. For them, the discombobulation of the masses was not a reason for despair, but rather the necessary compost out of which a spontaneous order might blossom.18 The primary way this would come to pass was through acknowledgement that "the market" was an information processor more powerful and more efficacious than any human being was or could ever be. The cretinous and nescient would propose; the market would dispose. In effect, the NTC believed if only the masses could learn to subordinate their ambitions and desires to market dictates, then their deficient understandings and flawed syllogisms could be regarded as convenient expedients smoothing the path to order, rather than as political obstacles to be overcome, as in the technocratic orientation of postwar social sciences. And, conveniently, the neoliberals would mobilize numerous institutional structures to nudge the people down that path."
"Between Obama and Coates" [Catalyst]. "Coates's critique of the New Deal centers on two of its most well-documented deficiencies: the exclusion of disproportionately black agricultural workers from coverage under the Social Security Act (1935) and the explicit exclusion of blacks from Federal Housing Administration (FHA) and Veterans Administration (VA) mortgage policies. According to Coates, these examples highlight the limitations of universalism, while demonstrating a history of white plunder of black bodies. The realities, however, are far more complicated. As Coates correctly notes, exclusion of agricultural and domestic workers from Social Security coverage placed 65 percent of African American workers beyond the reach of the SSA's old-age retirement coverage in 1935. Drawing on the work of political scientist Ira Katznelson, Coates ultimately attributes the exclusion of agricultural and domestic workers — "jobs heavily occupied by blacks"— from the Social Security Act to southern Democrats' desire to infuse Jim Crow into federal policy. Though there is little doubt that southern Democrats argued passionately against extension of Title I Social Security benefits to African Americans, the contention that racism was the principal impetus behind the SSA's exclusion of agricultural and domestic workers is hard to defend. The most obvious problem with the claim is that it ignores the fact that the majority of sharecroppers, tenant farmers, mixed farm laborers, and domestic workers in the early 1930s were white."
News of The Wired
"Why I'm Quitting Google, Amazon, Microsoft, Facebook, and Apple for a Month" [Motherboard]. "Despite my total dependence on these products, however, I also have a deep-seated distrust of the companies behind them." Quite a bill of particulars:
Amazon's success is built on the labor of its nearly 600,000 underpaid and overworked employees, huge tax breaks, and the total invasion of our personal space with spy-ready products like Alexa. Facebook harvests user data and allows nearly anyone to target you with advertisements, a business model which resulted in an epidemic of fake news, political ad targeting in the US and Britain, and allegedly fueling genocide in Myanmar. Google is a military contractor that has more data on us than any company in the world and uses its products to target us with ads while aggressively avoiding taxes. Apple's flagship products are built on the suffering of its contractors in the developing world, from the children dying in cobalt mines in Congo to the Foxconn factories in Shenzhen, where nets hang over the courtyards of labor barracks to stem the rising tide of worker suicides. And finally there's Microsoft, a company slapped with landmark antitrust suits in the US and Europe that has cooperated with Chinese censorship and handed over user data to the NSA for its infamous PRISM program to spy on US citizens. In short, I found myself a hypocrite. On the one hand, I was staunchly opposed to many of the business practices that made these companies into the globe-striding behemoths they are today. On the other hand, I was a sucker for the total convenience their products provided."
I wonder what Thoreau would have thought of "convenience" as a value.
One for humanity:
A man was threatening to jump off an overpass so these truckers parked underneath to break his fall https://t.co/z1nklJGOwO pic.twitter.com/1dmLm4V6CV

— CNN (@CNN) April 25, 2018
* * *
Readers, feel free to contact me at lambert [UNDERSCORE] strether [DOT] corrente [AT] yahoo [DOT] com, with (a) links, and even better (b) sources I should curate regularly, (c) how to send me a check if you are allergic to PayPal, and (d) to find out how to send me images of plants. Vegetables are fine! Fungi are deemed to be honorary plants! If you want your handle to appear as a credit, please place it at the start of your mail in parentheses: (thus). Otherwise, I will anonymize by using your initials. See the previous Water Cooler (with plant) here. Today's plant (TH):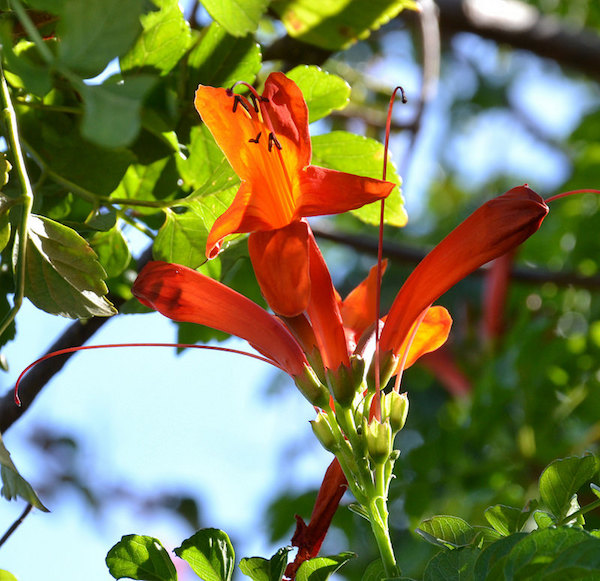 TH writes: "After being in our house for 12 years, I finally know what this plant in our front yard is; a trumpet honeysuckle. I'd never heard of a scent-silent (not a scientific term) honeysuckle. The birds and bees adore it, so perhaps their senses are more acute and they would disagree with me that there's no detectable aroma." I understand that in the South, honeysuckle is a pest, but in Maine, you actually have to grow. I used to have three varieties, but winter killed one.
* * *
Readers: Water Cooler is a standalone entity not covered by the annual NC fundraiser. So do feel free to make a contribution today or any day. Here is why: Regular positive feedback both makes me feel good and lets me know I'm on the right track with coverage. When I get no donations for five or ten days I get worried. More tangibly, a constant trickle of small donations helps me with expenses, and I factor that trickle in when setting fundraising goals. So if you see something you especially appreciate, do feel free to click the hat!

To give more, click on the arrow heads to the right of the amount.
If you hate PayPal — even though you can use a credit card or debit card on PayPal — you can email me at lambert [UNDERSCORE] strether [DOT] corrente [AT] yahoo [DOT] com, and I will give you directions on how to send a check.