By Wolf Richter, a San Francisco based executive, entrepreneur, start up specialist, and author, with extensive international work experience. Originally published at Wolf Street
4.73% now. 5% in a few weeks. Then 6%.
The average interest rate for 30-year fixed-rate mortgages with conforming loan balances – $453,000 or less – and a 20% down-payment jumped to 4.73% for the week ending April 20, from 4.66% in the prior week, according to the Mortgage Bankers Association. This was the highest rate since September 2013. So far in 2018, this measure of the average mortgage rate has risen half a percentage point (chart via Trading Economics):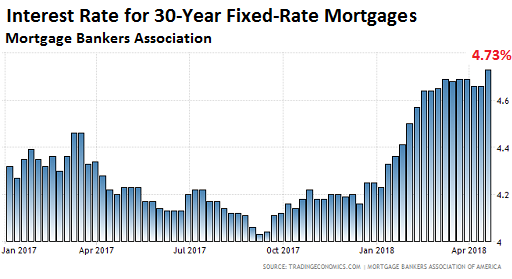 And since mid-2016, mortgage rates have now risen a full percentage point.
Points – these pesky upfront fees, such as origination fees, that are usually plowed into the mortgage balance – rose 3 basis points during the week to 0.49% of the mortgage amount.
If the average mortgage rate rises to 4.81% — at the pace the average rate has been increasing, this might happen in a few weeks or less – it will be the highest since 2011 (chart via Trading Economics):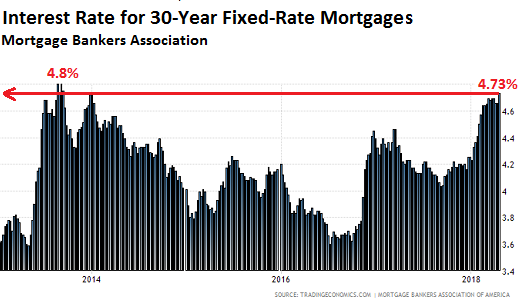 If the average mortgage rate rises to 5.2% — perhaps in the second half of this year — it will be the highest since 2010. And 5.5% would take mortgage rates back to levels not seen since 2008 (chart via Trading Economics):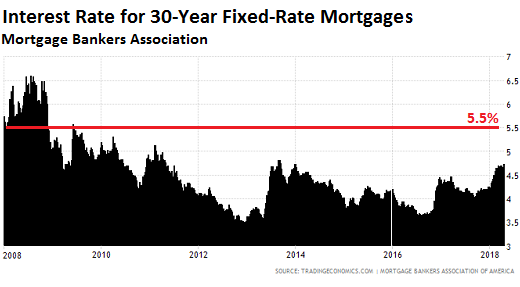 But there is a difference between those higher mortgage rates now and the same rates back then: Home prices! Depending on the metro area, home prices have surged over those years, while incomes have not, and now the free lunch – the combination of rising home prices and falling mortgage rates – is over.
Since 2010, the last year when mortgage rates where at 5% for a significant amount of time, home prices as measured by the nationwide Case-Shiller home price index have surged 33%: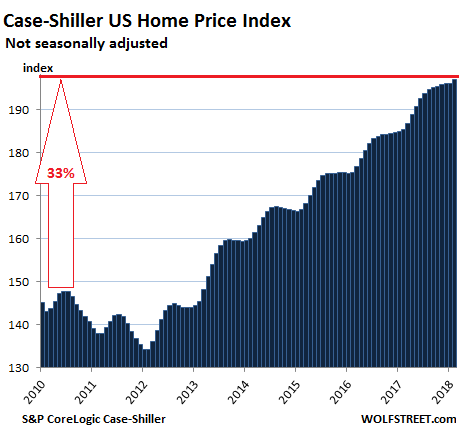 Fearing even higher mortgage rates in the future, home buyers are rushing to take out mortgages while they still can: the Mortgage Bankers Association's Purchase Index, which tracks the number of purchase mortgages (as opposed to refis) that were originated during the week increased 11% compared to the same week a year ago.
The pain threshold for the US housing market is at 6% (average 30-year fixed-rate mortgage, as measured by the MBA, conforming, with 20% down). That's my story, and I'm sticking to it. There may well be a cold-shower effect at around 5% that will sober up some home buyers. But pain will set in at around 6%. People have forgotten what a 6% mortgage feels like though that's still a historically low rate. And they've never had to finance homes at these sky-high prices at 6%. That'll be the new thing. And something will have to give.
And so everything spikes. Read…  Update on the Most Splendid Housing Bubbles in the US