By Lambert Strether of Corrente.
Trade
"German Chancellor Angela Merkel will meet with President Donald Trump at the White House today for the second time, a visit that will represent, among other things, a last-ditch attempt to persuade the U.S. president not to impose tariffs on steel and aluminum imported from the European Union next week" [ ].
"NAFTA Nations to Meet Again, Mexico Says Deal 'Possible' in Days" [Industry Week]. "U.S. Trade Representative Robert Lighthizer met for a third straight day Thursday with Canadian Foreign Affairs Minister Chrystia Freeland and Mexican Economy Minister Ildefonso Guajardo, with talks resuming Friday. Freeland on Thursday noted 'significant progress" on the key issue of rules for cars, while Guajardo cautioned they are juggling many 'highly complex' issues." Of which–
"The U.S. has proposed an auto rule of origin [for NAFTA] that would require 30 percent of a car to be built by workers that earn $15 per hour, but as of Thursday afternoon U.S. officials wanted to push that number to 35 percent, Dias said, adding that Canada was 'kicking around' how to support the wage proposal. The proposal would effectively push out Mexico, where average wages are significantly lower" [Politico].
"US farmers say chlorine-washed chicken should be part of a UK free trade deal" [BBC]. Roger Johnson, president of America's National Farmers Union:: "Let's be transparent about it and let the consumers make the decision. There's a lot of fear-mongering that happens around these kinds of things: 'Oh my god, we don't want to be eating chlorine, that's a gas that kills people'. You know what – water is a liquid that drowns people; it doesn't mean we don't drink it." Attaboy.
Politics
2018
"Democrats Flip 40th Legislative Seat in Trump Era, This Time in New York" [Governing]. 40 down, 960 to go, although this one may end up being more significant: "Democrats also retained two state Senate seats, giving the party a 32-to-31 numerical advantage over Republicans in the state's upper house, though one Democrat who caucuses with Republicans will continue to deny them a working majority." New York has its Blue Dog problem, too, I see.
Realignment and Legitimacy
Honestly, I feel I need to move beyond yellow waders to the full moon suit…. Anyhow…

So what's the issue here?

6) Enable Trump's nominees to get confirmed
7) Talk about Russia to the exclusion of almost everything else

— Walker Bragman (@WalkerBragman) April 27, 2018

"Koch Network Has an Unlikely Spokesman in New Ad: Chuck Schumer" [Bloomberg]. So I guess the Kochs aren't really fascists, either. Good to know.

"Who Ruined Illinois?" [Governing]. " But over the last two decades, public confidence, financial stability and economic growth in Illinois have all suffered. During that time, Illinois has had four governors: two Republicans and two Democrats. George Ryan came first, starting in 1999, and despite substantial achievements in Springfield, erased the public's trust in state government with a corruption scandal that landed him in prison. Rod Blagojevich swept into power in the wake of Ryan's scandal, promising reform and renewal, but exited in disgrace after an FBI arrest and subsequent impeachment trial, leaving a state woefully unprepared for the Great Recession. Illinoisans breathed a sigh of relief when Pat Quinn stepped in, but the relief died quickly, as a major tax increase failed to steady Illinois' finances, and low-level patronage scandals undercut his reputation as a reformer. Rauner capitalized on Quinn's unpopularity and defeated him in 2014. But Rauner saw his own standing collapse last year when rank-and-file GOP lawmakers abandoned his cause after a two-year budget standoff." Ryan and Blagojevich…. Welcome to the Third World….

"The myth of an ending: why even removing Trump from office won't save American democracy" [Vox]. A delayed, and sane, response to Adam Davidson's latest weirdly triumphalist rant in The New Yorker.

"Why the left shouldn't take yes for an answer" [Paul Waldman, The Week]. I agree. Whatever the left manages to claw from the talons of the liberals and the conservatives, the attitude should not be gratitude, but "What have you done for me lately?" This, however:

As I've argued before, there won't ever be a point at which they say, "Good job, Democrats — now you've given us what we asked for, and we're satisfied," because the belief that the party isn't liberal enough is a core part of their political identity. That's not to mention the fact that once you've said the party has gone far enough left, you lose some of your ability to pull it even farther.

Waldman seems to conceive of liberal and left as a continuum. As readers know, I think there is a discontinuity. Liberals put the market first; that's why (for example, ObamaCare is structured as it is, and why all the liberal bait-and-switch fake Medicare proposals are structured as they are. The left, I urge, puts the working class first. You don't join the left by becoming more liberal.
Stats Watch
GDP, Q1(a) 2018: "A sharp rise in service spending helped keep first-quarter GDP in the respectable range, at an annualized 2.3 percent rate and 3 tenths above Econoday's consensus" [Econoday]. "Business spending also helped the quarter, contributing 8 tenths of a point with strength here including both structures and equipment. But residential investment, after spiking in the fourth quarter, couldn't pull its weight and contributed zero to the latest quarter. Inventories, which had been too low relative to demand, are a welcome positive in the report… Price readings are a negative surprise in the report, with the chain-weight GDP price index rising at only a 2.0 percent rate which is well short of expectations for 2.4 percent. It was a moderate quarter for the economy especially for the consumer whose spirits waned a bit despite the big tax cut and continuing strength in the labor market…." And: "IMPORTANT NOTE: In the GDP report, real residential investment was unchanged in Q1. But residential investment (RI) as a percent GDP actually increased in Q1! How can that be? The answer is that the price index for residential investment increased sharply in Q1 (up 8.5% annualized). The large increase in the residential investment price index follows what we are hearing from home builders – that material costs have increased sharply (the tariffs haven't helped, but other prices are up too). This hurts both builders and home buyers" [Calculated Risk]. And: "There is also something seen here for higher wages and for a benefit of lower taxes. The Commerce Department showed that current-dollar personal income rose by $182.1 billion in the first quarter, versus an increase of $186.4 billion in the fourth quarter, but personal current taxes decreased by $40.1 billion in the first quarter compared with an increase of $50.1 billion in the fourth quarter" [MarketWatch]. And: "The big disappointment was the slowdown in consumption growth to only 1.1% annualized, from 4.0% in the final quarter of last year. That was partly due to the drop back in motor vehicles spending, following a post-hurricane spike at the end of last year. Nevertheless, with labor market conditions strong and the tax cuts boosting disposable incomes by 6.1% annualized in the quarter, the outlook for consumption remains positive" [Paul Ashworth, MarketWatch].
Consumer Sentiment, April 2016 (Final): "still down noticeably from March's 14-year high" [Econoday]. "Comparing the flash with today's final reading implies a roughly 100 pace for the sentiment index in the last two weeks of the month, a very solid pace consistent with other consumer confidence readings which, in contrast to sales however, have been holding at or near record highs."
Employment Cost Index, Q1 2018: "The isolated hints of emerging price pressures now include employer costs" [Econoday]. "This report is a red flag for next week's FOMC meeting and will certainly be cited, along perhaps with recent acceleration in average hourly warnings, as an indication of tightness in the labor market, conditions that point to the risk of wage-push inflation."
Real Estate: "First-quarter rents hits records in key Pennsylvania corridors, Cushman says" [DC Velocity]. "Industrial rents in the important northeast and central Pennsylvania regions rose to a record $4.81 per square foot in the first quarter as vacancy rates dipped to a record 4.8 percent, according to a report issued yesterday by real estate services giant Cushman & Wakefield…. The regions' industrial markets are key feeders for goods distribution throughout the densely populated Northeast and mid-Atlantic markets via Interstates 78 and 81. The new low in vacancies was triggered by 4.8 million square feet of "absorption," which is defined as new square footage being leased. This was more than double the 2.3 million square feet of absorption reported in the 2017 period, Cushman said. The Lehigh Valley sub-market continues to lead in new construction with nearly 7.7 million square feet of building underway, Cushman said." Lehigh Valley is PA-07, a district we're tracking, so in some small part, the 2018 midterms may be a referendum on the quality of those warehouse and trucking jobs (as well the construction of the new warehouses).
Retail: "Chinese smartphone sales suffer biggest decline ever" [CNN]. "Smartphone shipments in China have suffered their biggest decline ever, plummeting more than 21% in the first quarter of 2018 compared with the same period last year, according to a new report from research firm Canalys…. 'We forecast … the Chinese market in 2018 will have an overall decline,' said Jia [of Canalys]. That would mean back-to-back years of contraction."
Shipping: "U.S. Bank Freight Payment Index shows strong Q1 freight shipment and spend growth" [Logistics Management]. "First quarter freight spend and shipment levels each saw sequential and annual gains, according to the most recent edition of the U.S. Bank Freight Payment Index, which was issued this week from Minneapolis-based U.S. Bank. This report, which was initially launched in the third quarter of 2017, is comprised of data on freight shipping volumes and spend on both a national and regional basis. The report's data is based on the actual transaction payment date, highest-volume domestic freight modes of truckload and less-than-truckload and is seasonally- and calendar-adjusted. Its historical data goes back to 2010….. American Trucking Associations Chief Economist Bob Costello, whose analysis and commentary is featured in the report, wrote that motor carriers are having extreme difficulty finding qualified drivers, which is constraining capacity and elevating driver compensation."
Shipping: "The Blockchain on the High Seas" [Bloomberg]. The writer seems exasperated: "Oh fine fine fiiiiiiiine of course you know that the word isn't "website," it is "blockchain." The idea is not that you'd go to A.P. Moeller-Maerk A/S's website and fill out a form that Maersk would use to track your container; it's that you'd go to Maersk's website and fill out a form that Maersk would use to track your container on the blockchain. Sorry sorry sorry I will try again. The idea is that you'd go to a website maintained by some sort of industry-wide consortium, and you'd fill out a form, and rather than that form's data living in a proprietary database maintained by Maersk or even by the industry-wide consortium, it would live in a shared database maintained (on the blockchain!) by the shipping industry collectively, which might make the database more secure and reliable and adaptable and trustworthy, and perhaps more likely to be used. A national customs agency, for instance, might be happier approving shipments on an auditable open blockchain than in the proprietary database of a particular shipping company. That is the idea. The reality is of course that each shipping company has hired a technology company to build its own proprietary cargo-tracking website." Of course.
Apparel: "More Recycling Can't Fix The Fundamental Flaws With Fast Fashion" [Fast Company]. "Imagine if every piece of clothing you own could be recycled into fully new garments when they were worn out, or when you grew bored of them. This concept, called circularity, has become the buzzword du jour in fashion circles. But it's usually an abbreviated definition of circularity that think tanks and policy papers endorse. A more comprehensive "circularity" would look at the amount of clothing produced and the full life-cycle costs of a garment, from eliminating the industry's reliance on petroleum-based plastics and coal-powered plants to the toxic dyes, sweatshop assemblies, and massive shipping footprint required to make our clothing. Instead, the circularity conversation in the fashion industry tends to focus primarily on reducing waste and, more specifically, recycling clothing."
Apparel: "Miuccia Prada: The Vogue Interview" [Vogue]. "It would take the rest of the world 10 years to feel the same way about the Prada backpack. It wasn't until the early 1990s, when recession and grunge had put paid to 1980s excess, that it became one of the first It-bags. By 1994, Prada had graduated to using nylon for clothes, creating a seminal autumn/winter collection that treated it like cashmere or silk. It was a watershed moment, which some critics dubbed the fashion equivalent of Marcel Duchamp's unveiling of Fountain, in 1917. Just as that urinal sculpture changed what could be considered art, Prada's nylon challenged the very notion of what she describes as "the traditional, conservative idea of luxury". It no longer had to be about thread count, or how many crystals were sewn on to an object. Luxury could be abstract. It could be an idea." Yeah, that's the ticket. Who cares about fabric?
Manufacturing: "Airbus Earnings Stalled by Lack of A320 Engines" [247 Wall Street]. "There are currently 60 A320neo gliders parked at the Airbus facility in Toulouse and Hamburg waiting for engines to be delivered. The company shipped just 35 of a planned 90 in the first quarter. If Airbus is going to meet its projected annual delivery total of 400, those engines had better begin arriving in reasonable numbers…. Engine-maker Pratt & Whitney, a division of United Technologies Corp. (NYSE: UTX), has begun shipping new geared turbofan engines for the A320neo, and CFM International, a joint venture between General Electric Co. (NYSE: GE) and Safran, is still working on catching up on deliveries for the Leap-1A engine Airbus also uses on the A320neo."
Tech: "How Microsoft Convinced Clueless Judges To Send A Man To Jail For Copying Software It Gives Out For Free" [TechDirt]. "There are lots of reasons to hate on Microsoft, but this one is one of the most sickening examples I've seen. Anyone at Microsoft who had anything to do with this should be ashamed."
Tech: "Facebook Finds It Harder to Get More People to Log On" [Bloomberg]. "Facebook's first-quarter revenue rose 49 percent, an acceleration of the company's pace of growth from the prior two quarters, the company said Wednesday. And Facebook delivered a 45.5 percent operating profit margin, which was lower than its recent performance but still impressive in light of a significant increase in spending. Growth also accelerated in the average revenue Facebook generates from each user…. A more immediate and concrete worry is the signal that Facebook isn't as much of a draw as it used to be. For the third consecutive quarter, the company posted an all-time low rate of increase in the number of people who log into the social network at least once a day. The number of daily users rose 12.9 percent in the first quarter from a year earlier. That's large for Facebook's scale, but the growth rate had been 17 percent to 18 percent as recently as the middle of 2017."
Tech: "Zelle, the Banks' Answer to Venmo, Proves Vulnerable to Fraud" [New York Times]. Dark says on the bank tech front.
The Bezzle: "Tesla Contract Workers Pressured To Accept Debit Card For Pay Instead Of Check: Lawsuit" [Jalopnik]. "Tesla contract workers aren't receiving legally required overtime pay or mandated work breaks, according to a new lawsuit filed in California state court. The employees faced "pressure" from a temp agency that hires workers at Tesla's California factory to take a debit card to accept their compensation, rather than a traditional pay check, the suit claims…. Nezbeth-Altimore specifically alleges that Balance Staffing "pressured" its employees at Fremont to accept a debit card as pay instead of a physical check. While possibly more convenient, but the feds have said workers can't be forced to use so-called payroll cards. And workers who use debit cards could also be hit with fees and surcharges for withdrawing their payment at an ATM."
The Bezzle: "There Are Holes In Elon Musk's Plans To Tunnel Through L.A. With Boring Co." [Forbes]. Lots of detail for tunnel mavens. "Any Boring Co. system is years away, so true the cost to build and operate one is a mystery, as is the number of people who would opt to use it."
Mr. Market: "Why investors should dread the month of May—especially this year" [MarketWatch]. "The coming midterm elections, particularly as campaigning begins to ramp up for the November vote, is widely seen as a potential political risk for markets. Goldman Sachs recently wrote that they were 'one reason to expect that current elevated levels of uncertainty will persist in coming months.'"
Five Horsemen: "Apple has fallen to last place as Amazon tries once again to exceed a share price of 1,600" [Hat Tip, Jim Haygood].
NakedCap Mania-Panic Index: "The mania-panic index improved to 55 (complacency) as the VIX volatility index dropped to a recent low of 16.24" [Hat Tip, Jim Haygood]. (The NakedCap mania-panic index is an equally-weighted average of seven technical indicators derived from stock indexes, volatility (VIX), Treasuries, junk bonds, equity options, and internal measures of new highs vs new lows and up volume vs down volume … each converted to a scale of 0 to 100 before averaging, using thirty years of history for five of the seven series.)
Gaia
"Cell by Cell, Scientists Map the Genetic Steps as Eggs Become Animals" [Quanta]. Fascinating; if our age is nothing else, it's a golden age of science (though sorry, string theorists). "The results revealed, at a previously impossible resolution and scale, the genetic and developmental trajectories that embryonic cells follow to their eventual fates in fully differentiated tissues. Surprising new insights emerged as well: Many biologists, for example, believed that embryonic cells always followed branching paths toward maturity that committed them irrevocably to certain fates. But the new data indicates that cells can, in effect, sometimes 'loop back' to follow a different path, and that cells with different developmental histories can sometimes end up as the same type of cell." That's amazing!!!
"My Review of David Holmgren's 'RetroSuburbia'" [Resilience (drumlin woodchuckles)]. "A couple of years ago, David and I debated publicly his 'Crash on Demand' paper, where he declared that 'an argument can be mounted for putting effort into precipitating that crash, the crash of the financial system'. I disagreed, arguing that we needed to be very careful what we wish for. What I love about 'Retrosuburbia' is that the concerns that underpinned that paper are still present here, but beautifully couched in an utterly practical, utterly convincing vision for the suburbs." Sounds like I should dig out that paper… (Holmgren is one of the founders of permaculture, if I have the apostolic succession correct.)
Big Brother Is Watching You Watch
"Security researchers can turn Alexa into a transcribing, always-on listening device" [Boing Boing]. "Checkmarx researchers including Erez Yalon have created a 'rogue Alexa skill' that bypasses Amazon's security checks: it lurks silently and unkillably in the background of your Alexa, listening to all speech in range of it and transcribing it, then exfiltrating the text and audio of your speech to the attacker."
"Electronic Monitors: How Companies Dream of Locking Us in Our Homes" [In These Times]. "Despite the law-and-order offensive of President Donald Trump and Attorney General Jeff Sessions, the momentum for decarceration and ending cash bail continues to grow. This is cause for optimism. However, decarceration may not ultimately mean freedom. In many cases, welcoming arms are waiting for those coming out of prison gates, ready to strap plastic GPS shackles around their ankles. The number of electronic monitoring (EM) devices in the United States has more than doubled in the past decade. This means decarceration may presage a massive shift of the costs of incarceration onto families and communities, and the transformation of the nation's correctional system from public control to private companies. "
Class Warfare
"Highlights from Thursday's historic teacher walkout across Arizona" [Arizona Daily Star]. "Arizona teachers marching to the state Capitol are breaking into occasional chants along the route in downtown Phoenix, including their signature "Red for Ed." … Employees at courthouses and office buildings stood on the steps of their buildings to watch Thursday. Families took breaks on benches and shady street corners as temperatures climbed."
"Worker compensation rising at fastest pace since 2008, ECI finds" [MarketWatch]. "The cost of employing the average American worker is rising at the fastest pace in a decade, offering more proof firms have to fork over better pay and benefits to attract talent in a period of extremely low unemployment. The employment cost index rose 0.8% in the first quarter, a tick above the MarketWatch estimate. The cost of worker compensation in the form of pay and benefits climbed to yearly rate of 2.7%, the biggest gain since 2008." Not exactly a make-good for a decade of agony.
News of The Wired
Externalities:
With voice assistants often answering with Wikipedia, it is rebuilding its architecture to make sure to "maintain a critical internet" because Alexa or Google Home may not tell you if a fact is "citation needed" or "disputed". – @krmaher#FutureofFact

— Quartz (@qz) April 26, 2018
You'd think the enormously profitable monopolies that leverage Wikipedia would help out with a little funding.
* * *
Readers, feel free to contact me at lambert [UNDERSCORE] strether [DOT] corrente [AT] yahoo [DOT] com, with (a) links, and even better (b) sources I should curate regularly, (c) how to send me a check if you are allergic to PayPal, and (d) to find out how to send me images of plants. Vegetables are fine! Fungi are deemed to be honorary plants! If you want your handle to appear as a credit, please place it at the start of your mail in parentheses: (thus). Otherwise, I will anonymize by using your initials. See the previous Water Cooler (with plant) here. Today's plant (ChiGal):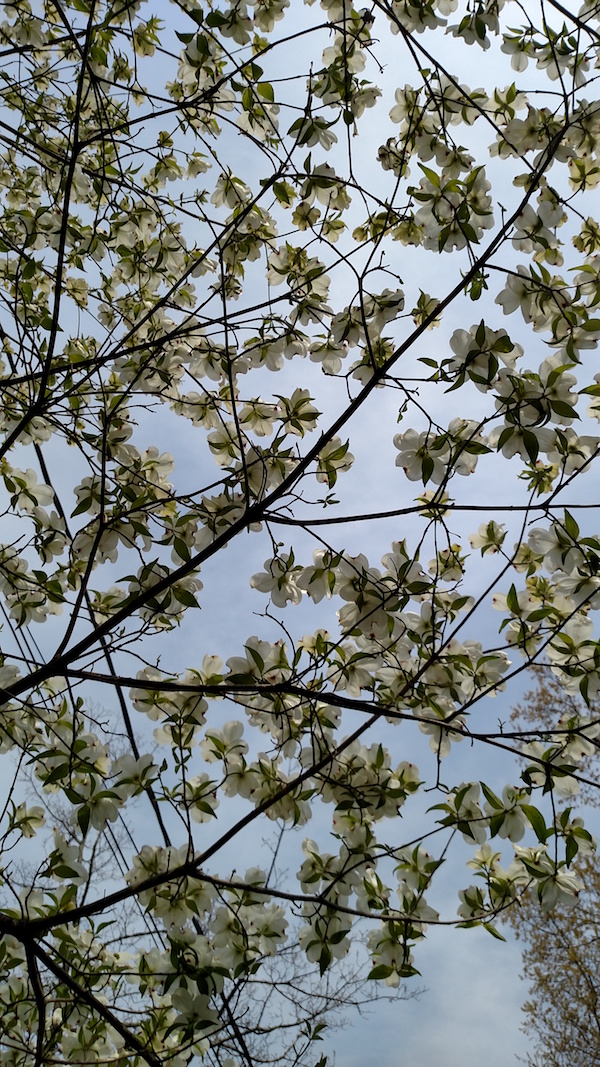 This is a great moment, when you look up at trees against the sky, and you realize the branches and twigs are no longer bare.
* * *
Readers: Water Cooler is a standalone entity not covered by the annual NC fundraiser. So do feel free to make a contribution today or any day. Here is why: Regular positive feedback both makes me feel good and lets me know I'm on the right track with coverage. When I get no donations for five or ten days I get worried. More tangibly, a constant trickle of small donations helps me with expenses, and I factor that trickle in when setting fundraising goals. So if you see something you especially appreciate, do feel free to click the hat!

To give more, click on the arrow heads to the right of the amount.
If you hate PayPal — even though you can use a credit card or debit card on PayPal — you can email me at lambert [UNDERSCORE] strether [DOT] corrente [AT] yahoo [DOT] com, and I will give you directions on how to send a check.