By Lambert Strether of Corrente.
Dear Readers,
I put this request up in Links, but on the off-chance that anybody has had an inspiration between 7:00AM and 2:00PM, I'm putting it up again–
I will be in NYC for one evening, Saturday June 2. Yves wants to do a meetup, but it turns out the usual haunts (or at least the ones she's gotten to so far, Ten Bells has not responded) are booked, and they indicated that Saturday nights book up way in advance.
Any reader ideas re place in Manhattan that could accommodate 40-50 people where we don't have to rent a room? We might consider a deposit, but not a large one (the one at Ten Bells is pretty modest).
–lambert
Trade
"Ross Says U.S. to Extend Duty Relief to Some Allies, Not All" [Bloomberg]. "Ross, in an interview in Washington with Bloomberg late Saturday, declined to identify which nations would be spared from the tariffs. He said the announcement will be made right before the May 1 deadline for the duties to kick in. The secretary indicated on Friday that nations have been asked to accept import quotas in return for tariff-free access of the metals into the U.S…. So far, South Korea is the only nation to be spared from the duties after reaching a deal to revise its bilateral free trade agreement with the U.S., which was already under way."
"The EU has already made clear it plans to retaliate if it is not granted a permanent exemption from the tariffs, generating a list of U.S. exports last month ranging from peanut butter to yachts that would be hit with new punitive duties" [Politico]. "But member nations are working with the Trump administration to find a compromise. U.K. Prime Minister Theresa May spoke separately over the weekend with both German Chancellor Angela Merkel and French President Emmanuel Macron — both of whom traveled to the White House last week to speak with Trump about the tariffs — about the "vital importance" of the steel and aluminum industries and their concern over the effects tariffs would have."
Politics
2018
"The Best of Rust Belt Campaign Ads" [Belt Magazine]. "'Look, we all know that juggling fire alone can't outweigh millions of dollars in TV commercials, but you can,' Biss says to the camera, his monotone delivery and expressionless face making the need for a gimmick obvious."

"If Democrats Are Doing so Great, Why Don't They Have a Bigger Lead on Generic Ballot?" [Cook Political Report]. "But, If a so-called "blue wave" is about to hit in 2018, why isn't the generic ballot showing a bigger margin for Democrats? The latest Real Clear Politics average shows Democrats with a 6.5 percent lead. The FiveThirtyEight.com average has Democrats with a 6.9 percent lead. If Democrats are cruising to victory in the fall, why does the generic not look more like it did over the summer when it showed Democrats with a double-digit lead?… Republicans are 'coming home.' Even in a terrible year for the GOP, they are not going to perform much worse in the national vote than 43-44 percent."

"Exclusive: Democrats lose ground with millennials – Reuters/Ipsos poll" [Reuters]. "The online survey of more than 16,000 registered voters ages 18 to 34 shows their support for Democrats over Republicans for Congress slipped by about 9 percentage points over the past two years, to 46 percent overall. And they increasingly say the Republican Party is a better steward of the economy….. Although nearly two of three young voters polled said they do not like Republican President Donald Trump, their distaste for him does not necessarily extend to all Republicans or translate directly into votes for Democratic congressional candidates."

UPDATE "The Daily 202: The Intercept breaks open Democratic squabbles as midterm elections approach" [WaPo]. "Squabbles." "In Washington's popular memory, Emanuel was a whiz who helped the party win again by recruiting centrist candidates in swing seats. In the Intercept's own view, shared widely on the left, Emanuel's version of the party was unsustainable and unpopular, suppressing more left-wing candidates whose agendas might have excited voters in favor of good-on-paper candidates who lost. The Intercept's Hoyer story included an important digression about how the second-ranking Democrat in the House 'regularly invites corporate lobbyists for weekly lunches' and raised 'corporate cash' for the party in 2006."

UPDATE "Pelosi defends party intervention in Democratic primaries" [WaPo]. On the Intercept's Tilleman story: "'I don't know that a person can tape a person without the person's consent and then release it to the press,' Pelosi told reporters at her weekly news conference. 'In terms of candidates and campaigns I don't see anything inappropriate in what Mr. Hoyer was engaged in — in the race as to who can make the general election.'" We're an empire now, and when we act, we create our own reality…

UPDATE "Trump's Tariffs Could Weaken the GOP's Grip on Congress" [Bloomberg]. "According to data compiled by Bloomberg measuring which U.S. congressional districts rely most on soybeans for economic activity, far more GOP than Democratic districts will suffer [from Chinese retaliatory tariffs]… But party affiliation alone doesn't capture the extent to which Trump voters stand to be hurt: Of the 30 districts most reliant on soybeans, Republicans represent 25 and Democrats 5; all voted for Trump in 2016. 'It's like he's microtargeting policy to screw his own supporters,' says a frustrated GOP strategist." I see the logic, but November is a long way away. Gotta give China credit for hitting where it hurts, though.

"Democrats' 2018 impeachment dilemma, explained" [Vox]. So, liberal Democrats have spent every waking moment for the last two years explaining why Trump, a "Russian puppet," in Hillary Clinton's felicitous phrase, is a traitor. Heck, the DNC filed a stunt lawsuit making that very point! If they're right, then Trump ought to be impeached. What Vox's explainer doesn't explain is (a) how the Democrats explain to their base that they're not impeaching a Russian puppet, and (b) how they explain to other voters what they were doing for the last two years. I mean, it's almost like they were never serious, right?

"Meet the little-known 'big fish' megadonor setting the tone for GOP primary races" [WaPo]. "Richard Uihlein, a wealthy shipping-supplies magnate from Illinois who shuns the spotlight, has risen to become one of the most powerful — and disruptive — GOP donors in the country. For years, Uihlein has given money to isolated races in the service of his anti-union, free-market and small-government views. But he has dramatically increased his giving this cycle, pouring $21 million into races from Montana to West Virginia to ensure more conservative victories in the upcoming midterm elections, Federal Election Commission records show."

UPDATE WV: "Democratic super PAC meddling in GOP primary in West Virginia" [Washington Examiner]. "A Democratic super PAC is meddling in West Virginia's Republican Senate primary to boost Don Blankenship, an energy executive convicted of conspiracy to violate mine safety standards who is viewed as the weakest challenger to incumbent Sen. Joe Manchin, D-W.Va." Because the Pied Piper strategy worked out so well in 2016….

MN: "Former George W. Bush ethics lawyer ditches GOP, to seek U.S. Senate in Minn. as Democrat" [Star-Tribune]. So liberal Democrats rehabilitating George W. Bush has worked out very well for them.

IN: "GOP candidates' circular firing squad ahead of Indiana Senate primary" [NBC News]. "GNAW BONE, Ind. — Drunken driving, self-dealing and false advertising." Best byline ever. More: "Those are just some of the charges voters here are sifting through in a brutal three-way Republican primary that will determine who gets to take on Sen. Joe Donnelly, D-Ind., in November."
2016 Post Mortem
"One Seattle man's quest to cancel his $10.48 monthly donation to Hillary Clinton's nonprofit" [Seattle Times]. "Corey Koscielniak admits that $10.48 is "a really small amount" over which to get frustrated. But Koscielniak's decision to cancel a recurring monthly donation of that sum to Hillary Clinton's nonprofit organization Onward Together turned into an odyssey that's lasted several weeks. The organization's webpage didn't allow him to cancel, and a phone call to the group didn't seem to resolve things. The situation prompted Koscielniak to file a complaint with the Washington state Attorney General's Office. The experience also gave the 29-year-old Clinton voter a brush with the opaque world of nonprofit, quasi-political organizations that disclose little about their operations. As for the trouble to cancel his donation and lack of disclosure, 'I don't expect it from anyone, corporation or not,' said Koscielniak, who added that he doesn't have a chip on his shoulder about Clinton herself. ',' he added." Yes, there does seem to be a contradiction there….
Realignment and Legitimacy
"United States of Apathy" [Philip Kearney]. This is a neat cartography site:

I'm not 100% certain that "abstention from voting" and "apathy" are the same thing. Still, it's interesting that "Nobody" wins the Electoral College going away.

UPDATE "As the first and probably only stretch of complete Republican control of government nears its end, a grim melancholy has crept over many regular Republicans, who are wondering why they have so little to show for it. They have temporarily let up on enforcing regulations on pollution, labor law, and campaign finance, as every Republican administration does. And they have given wealthy people a large tax cut, as every Republican administration also does. But these measures are easily reversed and will not leave much of an imprint on the role of government in American life. Is this all there is?" [Jonathon Chait, New York Magazine]. If the Democrats actually wanted to govern…

"The Infiltrator and the Movement" [Jacobin]. "Managing, keeping tabs on, and even crushing political threats to the status quo is a steadfast feature of most modern capitalist states. It's crucial for the Left to understand how political infiltration has functioned historically in the UK, and draw out the strategic lessons this history might contain." This article is about the UK, but given the especially close ties between the intelligence community and liberal Democrats, this is something to watch out for in the United States as well. (That's why I'm a strong advocate of platforms; takes the personalities out of it.)

"Pa. gerrymandering's surprise co-conspirators: Democrats" [Philadephia Inquirer]. "More than one in three Democrats in the state House voted for the 2011 map. Most were from the Philadelphia and Pittsburgh areas, where incumbent Democrats in Congress were largely protected under the new lines." I'm shocked. Excellent article.
Stats Watch
Personal Income and Outlays, March 2018: "Core inflation is suddenly very near the Federal Reserve's target, at a year-on-year 1.9 percent in March for a 3 tenths gain for this which is the most closely watched of all inflation indicators" [Econoday]. "But the gain reflects an easy comparison with March last year when a plunge in wireless service prices pulled readings down. The monthly gain for the core relative to February this year is only a modest 0.2 percent…. Income data are subdued in today's report…. The year-on-year core reading for this report is a shot across the bow for this week's FOMC meeting where no action is expected." And: "The increase in personal income was slightly below expectations, and the increase in PCE was at expectations" [Calculated Risk]. "PCE growth was weak in Q1, however inflation is now near the Fed's target." And but: "The savings rate declined and remains near 21st century lows" [Econintersect]. "Consumer spending growth is higher than income growth year-over-year. The backward revisions are driving this analyst crazy."
Chicago PMI, April 2018: "Increasing indications of capacity stress now include the prices paid index of the Chicago PMI report" [Econoday]. "The slowing in orders is probably welcome for this sample where signs of capacity stress, beyond prices, also include delivery times which continue to lengthen and where tie-ups in steel shipments are a factor. Steel is not moving into inventories, at least yet as inventories posted their lowest reading since August. Other indications in today's report include a 6-month low for employment."
Dallas Fed Manufacturing Survey, April 2018: "Activityy.. remains robust in the Dallas Fed manufacturing sector as does production" [Econoday]. "This report has flashed signs of unsustainable growth making less severe strength a welcome outcome."
Pending Home Sales Index, March 2018: "Existing home sales have been struggling to move higher and today's pending home sales index points to only subdued improvement" [Econoday].
Retail: "Freight Costs Weighing on Earnings at Consumer-Goods Makers" [Wall Street Journal]. "Some companies and analysts expect the pressure on shipping, which began late last year, to extend into the spring, when the seasonal growth in volumes of produce, food and beverages could place additional strain on already-tight trucking capacity."
Retail: "LTL industry seeing strongest growth in nearly 10 years, C.H. Robinson chief says" [DC Velocity]. "The less-than-truckload (LTL) industry is experiencing its strongest growth in nearly a decade, with manufacturing and e-commerce activity pushing LTL carriers to deliver more small shipments moving in the last mile and in the "middle mile" between distribution centers, the chairman and CEO of broker and third-party logistics (3PL) provider giant C.H. Robinson Worldwide Inc. said today. At the same time, LTL capacity remains tight because carriers have not added much equipment… LTL carriers have been less affected than their truckload brethren by the driver shortage, because LTL drivers are generally paid better and their shorter-haul runs allow for a better work-life balance, thus minimizing turnover."
Shipping: "U.S. e-commerce logistics costs expected to keep heading in one direction: up" [Logistics Management]. "E-commerce logistics costs in the U.S. now accounts for 6.9% of total U.S. logistics costs, which is ahead of 2016's 5.2% tally. Making these figures even more significant is that based on data from the U.S. Census Bureau, when it first tracked e-commerce sales in 1999, e-commerce represented a mere 0.6% of total retail sales. What's more, [supply chain consultancy Armstrong & Associates] found that over the last five years, e-commerce logistics costs have a compound annual growth rate of around 15%, with the expectation that it will remain at the level or head further up. Taking that a step further Armstrong said it estimates that U.S. e-commerce logistics costs are expected to increase at an 18.8% rate per year through 2020."
Shipping: "Investment in Amazon Logistics will grow, as outsourcing goes on… for now" [The Loadstar]. "Amazon plans to retain its current mix of outsourced and in-house logistics operations – for now. But it will continue to invest in its own transport capabilities, to cater for growth. In an earnings call last week, as Amazon announced its first-quarter results, CFO Brian Olsavsky told analysts the company was growing its own teams. 'We have a great group of carriers that we use globally … But we're also growing our teams and capabilities to ensure that we can keep up with increased volume on our own, particularly around the holiday season.'"
Shipping: "Freight Railroads Get Boost from Tight Trucking Markets" [Wall Street Journal]. "Rail is typically cheaper, but slower, than long-haul trucking. With spot-market trucking prices up as much as 30% year-over-year, shippers looking to shave costs off less time-sensitive shipments are increasingly turning to intermodal service, where carriers move goods long distances by rail and truck…. U.S. railroads posted a 6.5% increase in intermodal traffic in March, according a report from the Association of American Railroads, making the month 'easily the best' March in history."
Shipping: "House passes FAA reform with language pre-empting state rules on driver rest, meal pay" [DC Velocity]. "The House of Representatives today overwhelmingly approved a five-year Federal Aviation Administration (FAA) re-authorization bill that includes an amendment to federally pre-empt state laws requiring commercial truck drivers operating in interstate commerce to be paid for meal and rest times. The bill passed by a 393-13 margin. The Senate must now pass its version of FAA reform, which also includes the federal pre-emption amendment"
Shipping: "Maersk CEO Calls For End to Shipping Subsidies" [Wall Street Journal]. "AP Moller-Maersk Chief Executive Soren Skou is calling for governments to withdraw their financial support for container shipping lines, saying subsidies and other backing are causing overcapacity and profit-crushing price reductions across the maritime industry…. Without pointing the finger at any one nation, [Skou] said companies are building ships that were 'not needed, for companies who were not profitable and who do not have a profitable business model,' he added."
The Bezzle: "Fraudulent claims made by IBM about Watson and AI" [Roger Schank]. "They are not doing 'cognitive computing' no matter how many times they say they are… It would be nice if IBM would tone down the hype and let people know what Watson can actually do and stop making up nonsense about love fading and out thinking cancer. IBM is simply lying now and they need to stop…. AI winter is coming soon." And not a moment too soon.
The Bezzle: "He Drove a Tesla on Autopilot From the Passenger Seat. The Court Was Not Amused." [New York Times (KW)]. "The police said that Mr. Patel had switched on the car's semiautonomous driving function while it was in motion, and then hopped into the passenger seat — 'leaving the steering wheel and foot controls completely unmanned.'… The authorities consulted a Tesla engineer who said Autopilot features were "intended to provide assistance to a 'fully attentive driver.' … In its investigation into the death in Florida, the National Highway Traffic Safety Administration concluded that the crash had not resulted from a flaw in Tesla's systems, but found that Autopilot lacked safeguards to prevent its misuse."
The Bezzle: "Wells Fargo unit will pay $9.5 million to settle financial adviser suit" [MarketWatch]. "Wells Fargo Advisers LLC will pay $9.5 million to 2,200 California financial advisers who charged that the brokerage had failed to pay their commissions in a timely manner and reimburse them for expenses… The financial advisers – current and former employees – will receive, on average, a net $2,700." Penny ante stuff. Wells Fargo is just crooked all the way through, isn't it?
The Bezzle: "The new food: meet the startups racing to reinvent the meal" [Guardian]. "The most famous "alt-protein" product so far is the Impossible Burger, an entirely plant-based patty that has an uncanny resemblance to meat and is now served in more than 1,000 restaurants in the US, usually at around $15. The key meaty ingredient in the Impossible Burger – the "blood" – is a hemeprotein found in the roots of soy plants. But the way it is produced for the burger shows how the new food tech companies are harnessing techniques first developed for biomedical uses. The DNA for the hemeprotein is encoded by genetic modification into a yeast, which is then brewed. The protein, identical to the soy original, is then separated and no GM material ends up in the burger."
The Bezzle: "Thousands of Women Say LuLaRoe's Legging Empire Is a Scam" [Bloomberg]. "LuLaRoe makes colorful, patterned clothes—lots of chevrons, stripes, geometric shapes—in benign, loose-fitting styles young mothers might wear to playdates or on a Starbucks run. Mark and DeAnne Stidham say they founded it as a way for women to stay at home and still support their families. Unlike the old Tupperware party days, most of LuLaRoe's "independent fashion consultants" sell on Facebook…. In the past year the company has faced more than a dozen lawsuits. The largest, a proposed class action, calls LuLaRoe a pyramid scheme focused on recruiting consultants and persuading them to buy inventory rather than actually selling clothing. Since the lawsuits were filed, consultants have fled LuLaRoe by the thousands. Many say the company owes them millions of dollars in promised refunds. Women have garages, closets, guest rooms—and, in one case, a farm shed—filled with LuLaRoe clothes they say they can't sell."
Infrastructure: "Unions look for jobs to go with their infrastructure investments [Pensions & Investments]. "As they push for more infrastructure spending, some unions also are flexing their financial muscle to make a direct connection between union jobs and where $500 billion in union pension assets are being invested… All 14 building trades unions will insist that their pension funds are invested in a fiduciary manner that also provides work opportunities for members, [Sean McGarvey, North America's Building Trades Unions president] said."
Fodder for the Bulls: "May 2018 Economic Forecast: Improves Again" (this is Econintersect's proprietary forecast) [Econintersect]. "Much of the forward looking coincident data is pointing to a static growth economy – this forecast is in opposition to this view. Even though not in our forecast, we remain concerned about the HISTORICALLY HIGH elevated spending to income ratios which paints a picture of a consumer spending all of its income – with little room for additional spending or ability to weather rainy days (or say hurricanes and earthquakes). Note that the quantitative analysis which builds our model of the economy does not include personal income or expenditures data sets. Another data point – the relationship between retail sales and employment marginally improved and is near negative territory. Historically, when this ratio is in negative territory it indicates a slowing economy. Note that neither employment nor retail sales are part of our economic model. Econintersect checks its forecast using several alternate monetary based methods – and the checked forecasts show economic growth. Our 6-month employment forecast indicates an improving trend line in the rate of employment growth."
Honey for the Bears: "The new stock-market fear: Signs that a period of harmonious global growth is crumbling" [MarketWatch]. "It was just three months ago that stock-market investors were being swept up by a euphoria pinned to the idea of economic expansion taking hold harmoniously across the globe—a dynamic that hadn't occurred since the 1980s, and one that was expected to extend into 2018. However, less than midway through the year and some market participants are already spotting cracks in the notion of so-called synchronized global growth, with some fearing that a whiff of stagflation is starting to permeate. Stagflation is typically described as persistently high inflation and high unemployment, combined with weak economic demand."
Rapture Index: Closes down 1 on earthquakes. "There has been no major quakes [sic] in recent days" [Rapture Ready]. Record high, October 10, 2016: 189. Current: 181.
Gaia
"Can genes change the way languages evolve?" [Quartz] (original). "What the study found is the kind of subtle genetic effect that would lead to tiny, non-discernible differences over the course of millennia. Think of it as just one more factor leading to outcomes like whether a language tends, in a very slow way, toward short, snappy sounds or relatively long ones. Indeed, any genetic influence on a given language will be far less apparent than the cultural factors that have normally been the subject of linguistics research. The effect of Roman conquest is obvious across dozens of languages. The evolution of metaphors is easy enough to track. But if this finding holds up, theories of linguistic evolution will have to be updated to include the original natural selector, genes."
Our Famously Free Press
"When newsrooms fight their owners" [KBZK]. "The Denver Post's editorial board has made no secret of what it thinks about its hedge fund owners. 'As vultures circle' the newspaper 'must be saved,' the board wrote earlier this month. The Post had just been ordered to cut dozens of staff even though its parent company, Digital First Media, is profitable, according to the editorial. The board argued that the problem could be at Alden Global Capital, the New York-based hedge fund that owns most of Digital First and its dozens of newspapers. 'Denver deserves a newspaper owner who supports its newsroom,' the editorial board wrote. 'If Alden isn't willing to do good journalism here, it should sell The Post to owners who will.'"
Neoliberal Epidemics
"The Exide plant in Vernon closed 3 years ago. The vast majority of lead-contaminated properties remain uncleaned" [Los Angeles Times]. "As part of a soil cleanup planned for thousands of properties surrounding the closed Exide Technologies battery recycling plant in Vernon, state regulators detected lead outside Perez's home at hazardous levels — above 1,000 parts per million. Nearly two years later, it hasn't been cleaned. Such predicaments are common across a swath of southeast L.A. County, according to data released last month by California regulators undertaking the largest such cleanup in state history." Two, three, many Flints.
Class Warfare
"How success breeds success in the sciences [Phys.org]. "A small number of scientists stand at the top of their fields, commanding the lion's share of research funding, awards, citations, and prestigious academic appointments. But are they better and smarter than their peers? Or is this a classic example of success breeding success—a phenomenon known as the 'Matthew effect'?… The term "Matthew effect" was coined by sociologist Robert Merton in the 1960s to describe how eminent scientists get more recognition for their work than less-well-known researchers—the reference is to the New Testament parable that, to those who have, more will be given…. Previous attempts to study this phenomenon have yielded inconclusive results, in part because it is hard to prove that differences in achievement don't reflect differences in work quality. To get around the quality question, De Vaan and his co-authors took advantage of special features of the main science funding organization in the Netherlands, IRIS, which awards grants based on a point system. Everyone whose application scores above the point threshold gets money, while everyone below is left out. The authors zeroed in on researchers who came in just above and just below the funding threshold, assuming that, for practical purposes, their applications were equal in quality. First off, they found the benefits of winning an early-career grant were enormous. Recent PhDs who scored just above the funding threshold later received more than twice as much research money as their counterparts who scored immediately below the threshold. The winners also had a 47 percent greater chance of eventually landing a full professorship. "Even though the differences between individuals were virtually zero, over time a giant gap in success became evident," De Vaan notes. De Vaan says that two main mechanisms may explain the Matthew effect in science funding. First, winners achieve status that can tilt the playing field in their direction when it comes to funding, awards, and job opportunities. The second is participation, meaning that successful applicants continue seeking grant money, while unsuccessful applicants often give up, withdrawing from future competition."
"There's No Such Thing As 'Suburbia'" [The American Conservative]. "I realize there's a question we should probably answer or at least discuss more often: what is 'suburbia'? As the saying goes, know your enemy. There's no one answer to that question. The original meaning of 'suburb' is mainly geographic—a suburb is a smaller, less densely populated settlement outside of a city. It can be a smaller city, a town, a residential outgrowth, or a sprawling 'census-designated place.' But there's also the post-World War II definition of 'suburb' that refers to bedroom communities, commercial sprawl strips, and places like Levittown—suburbs in the geographic sense to be sure, but also 'suburbia' in the sense of an automobile-dependent development pattern distinct from towns and cities….. [T]here are different versions of suburbia, reflecting tweaks in zoning, economics, and time of construction. Midcentury suburbs that grew out of older pre-World War II settlements, like Massapequa Park, New York, or North Plainfield, New Jersey, are as different from the exurban fringes of Bozeman, Montana, or Leesburg, Virginia, as any of them are from true towns or rural countrysides. And perhaps the sprawling commercial wastelands that surround Interstate exits deserve their own special category."
This is not "make work."
Courtesy of the WPA ~1938 pic.twitter.com/su68kYLyqn

— Paul Knox #MedicareForAll (@popsknox) April 30, 2018
Wish my town had one!
News of The Wired
"Facebook's Internet.org has connected almost 100M to the 'internet'" [TechCrunch]. That people might identify Facebook's crippled version of "the Internet" with the real Internet disgusts me.
"Civilization Is Built on Code" [Nautilus]. "The word 'code' derives from the Latin codex, meaning 'a system of laws.' Today 'code' is used in various distinct contexts—computer code, genetic code, cryptologic code (such as Morse code), ethical code, building code, and so forth—each of which has a common feature: They all contain instructions that describe a process. Computer code requires the action of a compiler, energy, and (usually) inputs in order to become a useful program. Genetic code requires expression through the selective action of enzymes to produce proteins or RNA, ultimately producing a unique phenotype. Cryptologic code requires decryption. Ethical codes, legal codes, and building codes all require processes of interpretation in order to be converted into action."
"A Landslide of Classic Art Is About to Enter the Public Domain" [The Atlantic (CL)]. "A Google spokesperson confirmed that Google Books stands ready. Its software is already set up so that on January 1 of each year, the material from 95 years earlier that's currently digitized but only available for searching suddenly switches to full text."
* * *
Readers, feel free to contact me at lambert [UNDERSCORE] strether [DOT] corrente [AT] yahoo [DOT] com, with (a) links, and even better (b) sources I should curate regularly, (c) how to send me a check if you are allergic to PayPal, and (d) to find out how to send me images of plants. Vegetables are fine! Fungi are deemed to be honorary plants! If you want your handle to appear as a credit, please place it at the start of your mail in parentheses: (thus). Otherwise, I will anonymize by using your initials. See the previous Water Cooler (with plant) here. Today's plant: (local to oakland):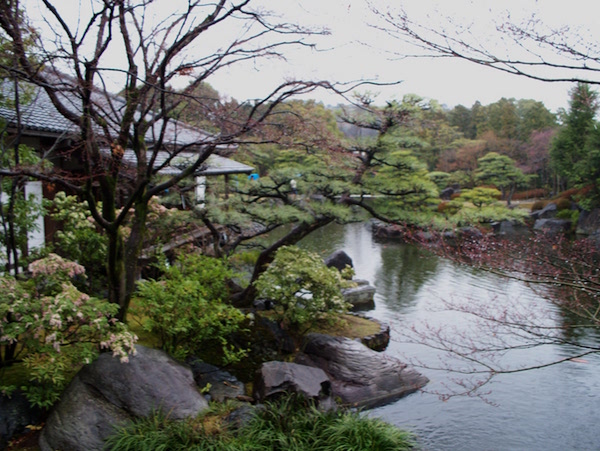 local to oakland organized their recent trip to Japan around visits to gardens. What a lovely idea!
* * *
Readers: Water Cooler is a standalone entity not covered by the annual NC fundraiser. So do feel free to make a contribution today or any day. Here is why: Regular positive feedback both makes me feel good and lets me know I'm on the right track with coverage. When I get no donations for five or ten days I get worried. More tangibly, a constant trickle of small donations helps me with expenses, and I factor that trickle in when setting fundraising goals. So if you see something you especially appreciate, do feel free to click the hat!

To give more, click on the arrow heads to the right of the amount.
If you hate PayPal — even though you can use a credit card or debit card on PayPal — you can email me at lambert [UNDERSCORE] strether [DOT] corrente [AT] yahoo [DOT] com, and I will give you directions on how to send a check.