By Lambert Strether of Corrente.
Readers, I accidentally published the following cryptic list at the end of Water Cooler, twice:
pyramid
river
foreigners
One reader thought it was a cry for help; another proposed that it was a haiku. In fact, it was a do-list for me, some bite-size essays that weren't post-worthy, but that I wanted to say. So, as partial penance for publishing an open thread on Monday, I've written them up. Each starts with the reminder word, in italic, like "Foreigners:
Trade
"China is firing back at the Trump administration's latest trade penalties by setting far bigger targets for U.S. goods. Beijing says it will place 25% tariffs on some $50 billion worth of critical American exports, including soybeans, airplanes and autos" [Wall Street Journal]. "…[T]he tariff rate and the sum of goods match an earlier White House proposal that would hit a broader range of goods, including dishwashers, medical equipment and machine tools. The new volleys sharply ramp up the severity of the trans-Pacific trade skirmish and heighten the stakes for both countries. The high-profile targets also raise the pressure on Beijing, leaving China few further options in a trade fight. The U.S. could take months to trigger its tariffs while China didn't set timing on its retaliatory measures."
Handy chart of our imports from China [MarketWatch]: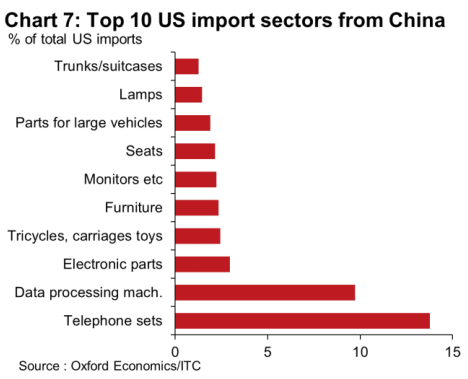 They're selling us opium, aren't they?
"The Hidden Economic Rationale Of China-Europe Rail" [Forbes]. "If we look at the where the highest frequencies of trans-Eurasian trains depart from in both China and Europe we often find massive high-tech (or other) industrial zones. These trains are linking cities such as Chongqing, Chengdu and Zhengzhou — the new arteries of China's manufacturing empire — with Duisburg, Hamburg and Warsaw — Europe's industrial giants. These are the places where the ideal cargo for these trains is manufactured: high value, heavy weight electronics and machinery. These are products which the clients often want to get to their destinations as soon as possible and are valuable enough to make the extra $1,000 per container that they cost over ocean shipping more or less inconsequential — an additional thousand bucks means little when the value of the container is measured in seven figures."
Politics
2020
"Sorting Through the 2020 Democratic Primary Already (Quietly) Underway" [Cook Political Report]. "Finally, there is the matter of ideology. On a scale of moderately liberal to very liberal, is the Democratic Party's center of gravity closer to the left of center, like Biden and Hillary Clinton, or much further to the left like Sanders and Warren? Right now, the midpoint of the party would seem to be closer to the latter." I disagree, vehemently, and I think my worksheets (here, here, here) show that Cook is wrong. I think the center of gravity is shifting left, that the liberal Democrat nomenklatura is doing everything it can to prevent that (Blue Dogs), and that they will lose (see the mini-essay on "River.")
2018 Midterms
TX: "In Texas, Ted Cruz Is Facing an Unusual Challenge: A Formidably Financed Democrat" [New York Times]. "'It's kind of Ann Richards-level enthusiasm, in the crowds he gathers,' said Harold Cook, a Democratic strategist in Austin and former executive director of the Texas Democratic Party, referring to the outspoken Democrat who served as Texas' governor from 1991 to 1995 before losing to George W. Bush. 'I haven't seen a response like Beto O'Rourke is getting in a very long time. Beto has got that thing, that star-power deal that you can't predict in advance.'" Really? Beto and Ann Richards in the same league? Can Texas readers comment?

WI: "Walker warns of Dem wave in Wisconsin after liberal wins state judicial race" [The Hill]. "'Tonight's results show we are at risk of a #BlueWave in WI. The Far Left is driven by anger & hatred — we must counter it with optimism & organization,' Walker tweeted. "'Let's share our positive story with voters & win in November.'" Whatever the #BlueWave may be, it's not "far left."

WI-08: "How to make it as a maverick from Trump country" [McClatchy]. "Gallagher, of Wisconsin, has cemented his image as a rising star — one with an unusually independent reputation in today's Republican Party. In an era of intense political tribalism, Gallagher is the rare House member from a strongly pro-Trump district who has broken sharply with the White House over a range of issues, including the firing of ex-FBI Director James Comey and the Russia-related investigations. Even more rare: he has done it—so far—without sparking crippling conservative backlash."

FL-27: "Donna Shalala Won't Discuss Working for Lennar During Housing Bust, Profiting Off Health-Care Work" [Miami New Times]. I'm shocked.
New Cold War
Foreigners: For a long time, inspired by memories of psychologists who related the rise of the Nazis to German methods of toilet training, I mocked conservatives by placing their concerns about borders under the heading of "sphincter control." Now, however, I find liberal hysteria over "Russians" or even "foreigners" just as disconcerting, just as worthy of being mocked, and by placing it under the same heading. What a time to be alive.

Pyramid: Over the last couple of years, we've run through several warmongering and fearmongering narratives, and it has occurred to me that they all have the same shape: An inverted pyramid. At the top of the narrative, widening out, there's a vast construct of speculation and hysteria and "connecting the dots," with a lot of people busily working away, building the next "story." But the origin of the narrative, what would be the apex were not the entire pyramid uneasily balanced upon it, is very, very small: A few putative facts that we cannot verify, supplied by access journalists working with the intelligence community. This is true of the Skripal story; the apex is the nature of the poison, which we were unable to examine, and which the OPCW ought to be able to examine, with the UK government is not letting it do. This is also true of the Russian collusion story; the apex there is the report from the 17 [sic] intelligence agencies, where again access journalists working with the intelligence community supplied the facts, if facts they were. In each case, although the base of the enormous inverted pyramid has grown to enormous size, the apex remains the same size, as small and fragile as ever. The Iraq WMD stories had the same shape. Perhaps there is a heuristic here.
Realignment and Legitimacy
"Google Workers Urge C.E.O. to Pull Out of Pentagon A.I. Project" [New York Times]. "Thousands of Google employees, including dozens of senior engineers, have signed a letter protesting the company's involvement in a Pentagon program that uses artificial intelligence to interpret video imagery and could be used to improve the targeting of drone strikes…. 'We believe that Google should not be in the business of war,' says the letter, addressed to Sundar Pichai, the company's chief executive. It asks that Google pull out of Project Maven, a Pentagon pilot program, and announce a policy that it will not 'ever build warfare technology.'" Democrats are really behind the curve on militarism, aren't they?

"Hax Philes: Talking politics in a bipartisan relationship" [WaPo]. Interesting comments from readers.
Stats Watch
ADP Employment Report, March 2018: "ADP sees no let up for strength in the monthly employment report" [Econoday]. "The employment report has proven strong to robust over the last five reports, and if March makes for a sixth straight strong result then ADP may start getting new believers in its accuracy." And but: "This month the rate of ADPs private employment year-over-year growth remained in the tight range seen over the last year" [Econintersect]. "ADP employment has not been a good predictor of BLS non-farm private job growth."
Purchasing Managers' Services Index, March 2018: "New orders remain strong but did ease in March, pulling down the services PMI" [Econoday]. "Prices, as in other anecdotal surveys, are accelerating with higher input costs increasingly being passed through to customers."
Factory Orders, February 2018: "The book on February's factory sector, the month before tariffs on metals hit, is now closed" [Econoday]. "Excluding aircraft as well as other transportation equipment, orders managed only a 0.1 percent increase vs January's 0.4 percent rise…. Yet there is definitive strength in the February report as orders for core capital goods (nondefense ex-aircraft) surged 1.4 percent with shipments for this reading also up 1.4 percent. The latter is a direct input into GDP and will help the first-quarter showing for business investment…" And but: "The data in this series is noisy so I would rely on the unadjusted 3 month rolling averages which declined but remains in a long term improvement trend" [Econintersect].
Institute For Supply Management Non-Manufacturing Index, March 2018: "Unusual strength eased a bit in March for ISM's non-manufacturing sample as the index came in near expectations" [Econoday]. "The employment result is strong as is once again the breadth of this report, underscored by the industry score which shows 15 reporting monthly growth and only 2 reporting contraction." And: "This suggests slightly slower expansion in March than in February" [Calculated Risk]. And but: "Both services surveys [ISM and Markit Services] are in expansion – but their intensity of growth were different" [Econintersect].
MBA Mortgage Applications, week of March 30, 2018: "Purchase applications for home mortgages fell a seasonally adjusted 2 percent in the March 30 week, shrinking the year-on-year gain" [Econoday].
Consumer Spending: "Why Consumer Spending Growth Is Slowing" [Wall Street Journal]. "Weak consumer spending in recent months has puzzled Wall Street. The answer may lie with cautious Main Street lenders [a story Mosler would agree with. –lambert]. "[I]n a recent note, Cantor Fitzgerald strategists pointed to another possible cause, saying that tightened lending standards by credit card, auto and other lenders may be squeezing consumer finances. Since 2011, the Federal Reserve's quarterly senior loan officer survey had consistently found a net loosening of credit standards on consumer loans and credit cards. That began to shift at the end of 2016, though. More respondents said they tightened standards than not in four of the past five quarterly surveys."
Commodities: "Bahrain discovers offshore oilfield 'containing 80bn barrels'" [BBC]. "By comparison, neighbouring Saudi Arabia, the world's top oil exporter, has 266bn barrels of proven reserves."
Commodities: "Miners, commodities hit as US-China trade war heats up" [Mining.com]. "Copper, which is seen as a barometer of global economic conditions due to its multiple uses in manufacturing, transportation, construction and power sector, fell 2% on the London Metal Exchange to $6,668.5 a tonne."
Shipping: "FMCSA moves to exempt mirrorless truck from federal regulations" [Freight Waves]. "Stoneridge believes the [MirrorEye] system meets the requirements under National Highway Traffic Safety Administration (NHTSA)'s standards which are cross-referenced by the [Federal Motor Carrier Safety Regulations (FMCSRs)] and 'would maintain a level of safety that is equivalent to, or greater than, the level of safety achieved without the exemption because CMS meets or exceeds the performance requirements for traditional mirrors.' Indeed, the cameras give more coverage. What happens when they fail?
Shipping: "With unemployment at a nearly two-decade low, the grueling downsides of life behind the wheel make recruitment tough, casting a grim demographic cloud over the business. The average age of a for-hire long-haul trucker rose from 42 years old in 2002 to 49 in 2014, according to the American Trucking Associations. Training schools can end up being costly for recruits, and that may have to change if companies want to build a pipeline of drivers that meets shipping demand" [Wall Street Journal].
Capital Spending: "[C]ombined U.S. and Canadian planned capital spending declined 36 percent in March compared to February. March spending for the two nations totaled $32.28 billion compared to February's $50.65 billion. The research organization reported 254 planned U.S. and Canadian projects in March" [Industrial Reports] ."Planned U.S. project spending dropped by 41 percent in March with $27.76 billion in planned investment compared to the February total of $42.44 billion. Canadian planned investment fell to $4.52 billion in March compared to $8.21 billion in February. Projects in both nations ranged in value from $1 million to $2 billion."
Tech: "Fifty (or Sixty) Years of Processor Development…for This?" [Electronic Engineering Journal]. "'Dennard Scaling and Moore's Law are dead, Now what?'– a 4-act play by Dr. David Patterson." With this chart: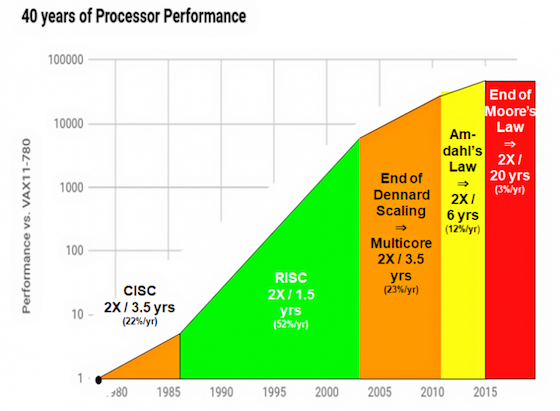 I don't see the death of Moore's Law as having entered conventional wisdom. Has nobody sent flowers?
The Bezzle: "Tesla produced 2,020 Model 3 cars in the past seven days, missing its goal of making 2,500 vehicles a week by the end of March" [Wall Street Journal]. "Delaying that milestone adds more pressure for Tesla to meet its already-delayed target of building Model 3s at a rate of 5,000 a week by the end of June. The efforts have become a kind of test bed for whether an automotive supply chain can be built beyond the long-established factory networks of big car manufacturers. That leaves Tesla in a make-or-break period where it must prove it can handle mass production or face severe financial consequences."
The Bezzle: "It's Wheelmageddon": San Francisco Is Being Overrun by Tech's New Favorite Toy" [Vanity Fair]. No, it's not "Tech's New Favorite Toy." It's another squillionaire's bright idea: "The sudden epidemic is primarily the work of former Lyft and Uber executive [of course it is] Travis VanderZanden, who founded Bird, the dockless electric-scooter start-up that's taken over the sidewalks and streets of Los Angeles, and more recently San Francisco and Washington. VanderZanden, who has raised $100 million in a bid to create the Uber of electric scooters, is facing stiff competition from Jump, an electric-bike brand, and LimeBike scooters. But Bird, in a potentially flawed strategy to win venture-capitalist hearts and minds, seems to be focusing most intently on the Silicon Valley crowd." Externalities: "Just witnessed someone on a Bird scooter slam into a group of pedestrians at high speed on a sidewalk. Terrifying!! How is this safe @BirdRide ?? Do we have to treat our sidewalks like roads now?"
Mr. Market: "Stock Rotation Comes to Emerging Markets" [Bloomberg]. "It isn't just a technology selloff in emerging markets. It's a full-fledged rotation away from cyclical stocks and into defensive ones. Let's bust that jargon: Companies whose fortunes are closely tied to economic growth, such as those making car parts, have fallen out of favor in the past month. Firms whose products are in demand regardless of economic cycles (no matter what, people will shave) are rallying in their stead."
Mr. Market: "A Fascinating Way To See Bubbles Within The Stock Market" [Business Insider]. A new charting method: "It shows the sector composition of the S&P 500 by market cap since 1974. As you can see, sector bubbles manifest when they suddenly explode as a percentage of the S&P 500. The dotcom bubble is very prominent, represented by the ballooning info tech sector stocks. The credit bubble appeared much more gradually as seen in the rise of financial sector stocks."
Five Horsemen: "Amazon, the market's Great White Hope, sinks lower as trade war bites" [Hat Tip, Jim Haygood].
NakedCap Mania-Panic Index: "The mania-panic index improved to 23 (worry) on yesterday's Amazon-led rebound." [Hat Tip, Jim Haygood]. (The NakedCap mania-panic index is an equally-weighted average of seven technical indicators derived from stock indexes, volatility (VIX), Treasuries, junk bonds, equity options, and internal measures of new highs vs new lows and up volume vs down volume … each converted to a scale of 0 to 100 before averaging, using thirty years of history for five of the seven series.)
Facebook Fracas
"Exclusive: Facebook CEO stops short of extending European privacy globally" [Reuters]. "Zuckerberg told Reuters in a phone interview that Facebook was working on a version of the law that would work globally, bringing some European privacy guarantees worldwide, but the 33-year-old billionaire demurred when asked what parts of the law he would not extend worldwide. 'We're still nailing down details on this, but ,' Zuckerberg said. He did not elaborate." So we can take that as a "No"?
"Can We Be Saved From Facebook?" [Matt Taibbi, Rolling Stone]. "It's our collective misfortune that this perhaps silliest-in-history supercorporation – a tossed-off hookup site turned international cat-video vault turned Orwellian surveillance megavillain – has dragged us all to the very cliff edge of modern technological capitalism. We've reached a moment in history where many companies are more powerful than even major industrialized nations, and in some cases have essentially replaced governments as de facto regulators and overseers. But some of those companies suck just a little too badly at the governing part, leaving us staring into a paradox. The Russians call this situation a sobaka na sene, a dog on the hay. Asleep in the manger, the dog itself won't eat the hay. But it won't let you eat it either."
"Facebook Scans What You Send Other People on Messenger App" [Bloomberg]. "The Messenger scanning systems 'are very similar to those that other internet companies use today,' the company said."
Health Care
"OPINION | Is a for-profit health system our best choice?" [Citizen Times]. "As a retired physician whose practice was 97 percent supported by Medicare, I was able to experience directly the joy of practicing under a nonprofit single-payer insurer. I was able to focus on the needs of my patients without concern for their ability to pay. I now refer to myself as "The Last Happy Doctor" to demonstrate the demoralizing effect of for-profit insurance on the practice of medicine." From Asheville, NC, by a PNHP member. PNHP has been really good at getting local doctors to publish editorials and letter like this, not that the national media ever notices.
"Medicaid Expansion Uncertain as Maine's Deadline to Fund It Passes" [Governing]. "Attorney General Janet Mills said Tuesday she has found a funding source for expanding Medicaid in Maine, which could snuff some arguments against expansion but is sure to cause ongoing controversy about her authority to spend the money." With tobacco settlement money. LePage, bless his heart, is correct that this is a "gimmick." OTOH, if people get care because of it…
Water
"For millions of Americans, lack of access to water isn't just a drought problem" [Los Angeles Times]. "Water poverty affects nearly 1.6 million people in the United States, but it remains a stubbornly invisible crisis. Before widespread solutions can be rolled out, however, we need to know who exactly is getting by without the taps and the toilets the rest of us take for granted. But such granular data simply doesn't exist."
"State OKs permit letting Nestle draw more water in west Michigan" [Detroit News]. "State officials on Monday cleared Nestle Waters North America for a permit to increase groundwater withdrawals 60 percent from a west Michigan aquifer, a move denounced by environmentalists." Life in in the colonies! And:
The state department acknowledged most of the more than 80,000 public comments opposed the permit, "but most of them related to issues of public policy which are not, and should not be, part of an administrative permit decision," [DEQ Director C. Heidi Grether] said. "We cannot base our decisions on public opinion because our department is required to follow the rule of law when making determinations."
We ran into the same issue with permitting on the landfill. I'm not sure what the resolution is, particularly when the permitting tends to be locked in before opposition builds.
Class Warfare
"Interview: Reviving the Poor People's Campaign" [Labor Notes]. "Leaders of today's Poor People's Campaign have spent the last year traveling and building local coalitions in cities around the country. Led by the Rev. Dr. William J. Barber II and Rev. Liz Theoharis, the Campaign's aim is to launch a new movement with 40 days of mass actions, including civil disobedience, at 30 state capitols, beginning May 13. Information on getting involved locally is at poorpeoplescampaign.org." This:
[Rev. Nelson Johnson] I envision a movement as streams flowing toward each other. A river doesn't have to ask permission to get to the ocean, it develops the power to carve a new highway through the landscape. That is a movement, you can't manage that.
River: This is the metaphor I've been using and I'm glad I'm not the only one. I wrote:
I am with Sanders that "elections come and go." Last night, a friend said to me things now remind them of flooding on the Missisippi or the Ohio, which were a regular news story in my childhood in the midwest; nightly reports of the height the water reached, the river "cresting," having reached "flood stage," and the volunteers with sandbags, and the decision about which towns to save, and which to abandon to the water. That flood will overwhelm whatever went on in both convention halls. I've seen three headlines about the Clinton speech, and they each used the phrase "Moment of Reckoning." I think that's true, but not necessarily in the way Clinton thinks. Until the power imbalance between capital and labor is addressed, I'm long sandbags.
I may sound pessimistic in the worksheets I've been doing, but I'm really not; nothing either major party is doing — including what the Democrat leadership is doing to squander its "wave" — affects the "mass of water upstream" to the slightest degree.
"Do Weak Labor Laws Actually Spur More Teacher Strikes?" [Governing]. "In the states currently striking, strikes are technically illegal and can cost a teacher his or her job. But, [Agustina Paglayan, a fellow at the Center for Global Development] says, 'teachers know that will never happen. They can't fire every teacher in the state.' 'The teachers unions [in the striking states] are not especially strong, compared to most other states on the coast, for example. And it's very interesting that we're getting these sort of wildcat, organized, Facebook-facilitated strikes in a way we've never seen before,' says Nat Malkus, director of education policy at the conservative American Enterprise Institute. 'What does it say about this situation that we're seeing workers get a ton of traction without, or even in spite of, the unions?'" That's a good question!
"Short staffing leads to long waits for Social Security disability hearing decisions" [WaPo]. "Staffing and service issues have plagued Social Security for years, and President Trump's proposed budget for fiscal 2019 would make things worse. The disability hearing process can be particularly vexing because there are too few administrative law judges, who hear appeals, and they have too few support staff members." Neoliberal sabotage with privatization the goal; the same old playbook.
News of The Wired
Words fail me:
@GenMhayden @ScharSchool @mvhaydencenter Excited for another informative and enlightening event! pic.twitter.com/fWRsVYXDLY

— Highly Enriched Coliente (@MuyColiente) April 3, 2018
That Hayden and his ilk are styling themselves as enabling brave truthtellers… I'm gobsmacked. These people have lost their minds.
* * *
Readers, feel free to contact me at lambert [UNDERSCORE] strether [DOT] corrente [AT] yahoo [DOT] com, with (a) links, and even better (b) sources I should curate regularly, (c) how to send me a check if you are allergic to PayPal, and (d) to find out how to send me images of plants. Vegetables are fine! Fungi are deemed to be honorary plants! If you want your handle to appear as a credit, please place it at the start of your mail in parentheses: (thus). Otherwise, I will anonymize by using your initials. See the previous Water Cooler (with plant) here. Today's plant (Bob):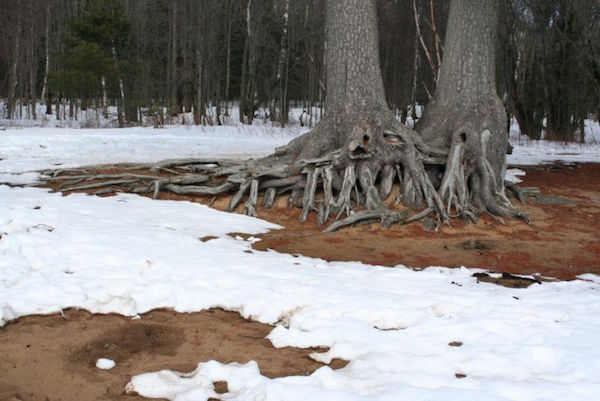 Bob challenges: "Guess that tree… from the roots!" Cf. Matt 7:16.
* * *
Readers: Water Cooler is a standalone entity not covered by the NC fundraiser. So do feel free to use the dropdown and click the hat to make a contribution today or any day. Here is why: Regular positive feedback both makes me feel good and lets me know I'm on the right track with coverage. When I get no donations for five or ten days I get worried. More tangibly, a constant trickle of small donations helps me with expenses, and I factor that trickle in when setting fundraising goals. So if you see something you especially appreciate, do feel free to click the hat!