We pointed out in an earlier post on the growing concerns about trade that "free trade" has worked out well for those on the top of the food chain and not well at all for those at the bottom. In other words, when the press depicts less educated workers as stupid for favoring tariffs, they are conveniently ignoring the fact that "free trade" has been a big weapon used successfully against them in a class war.
We've repeatedly pointed out that in a lot of industries, offshoring and outsourcing did not lower total production cost, particularly when you factor in the risk of a more rigid production system and the lost of critical manufacturing know-how. However, it was quite effective in transferring income from direct factor labor to the managerial classes.
That does not mean that tariffs, or more accurately, tariff brinksmanship to pressure China to make concession, will help them. But they are correct to recognize that the changes of the last two decades haven't helped them and to want something different.
And it is also not crazy to recognize admitting China to the WTO despite it not meeting the entrance criteria was a big accelerant to the decline of manufacturing jobs. Key sections from a 2017 Wall Street Journal article, How the China Shock, Deep and Swift, Spurred the Rise of Trump:
What happened with Chinese imports is an example of how much of the conventional wisdomabout economics that held sway in the late 1990s, including the role of trade, technology and central banking, has since slowly unraveled….

Both presidential candidates aimed much of their criticism at 1994's North American Free Trade Agreement, which boosted imports from Mexico. Even then, though, the real culprit was China, economists now say.

Many U.S. factories that moved to Mexico did so to match prices from China. Some of the new Mexican factories helped support U.S. jobs. For example, fabrics made in the U.S. are turned into clothing in Mexico for sale globally by U.S. companies….

A group of economists that includes Messrs. Hanson and Autor estimates that Chinese competition was responsible for 2.4 million jobs lost in the U.S. between 1999 and 2011. Total U.S. employment rose 2.1 million to 132.9 million in the same period.
Note that this recap neglects to factor in population growth. The jobs to population ratio was 46.9% in 1999 versus 42.7% in 2011. Adding back those jobs lost to China wouldn't have brought employment back to 1999 levels. relative to the population, but remember we also had the crisis, plus the earlier Boomers were starting to retire, so that would reduce somewhat the size of the pool interested in working.
And in an Institute of New Economic Thinking panel last October, Berkeley economics professor Brad DeLong explained how the Ricardian fairy tale that is drummed into those who have some contact is unrealistic and a more accurate view of liberalized trade shows it favors the rich:
In that case, we cannot escape the conclusion that comparative advantage is the ideology of a market system that works for the interest of the wealthy. For comparative advantage is the market economy on the international scale, and the market economy is, via the Negishi weights that it assigns to the social welfare function that it actually maximizes, is a collective human device for satisfying the wants of the well off, and the well off are those who control the scarce resources that are useful for producing things for which the rich of the world have a serious jones.
Pia Malaney is Co-Founder and Director of The Center for Innovation, Growth and Society (CIGS) and Senior Economist at the Institute for New Economic Thinking, pointed out that Serious Economists understood the costs of more open trade even though they pretended not to: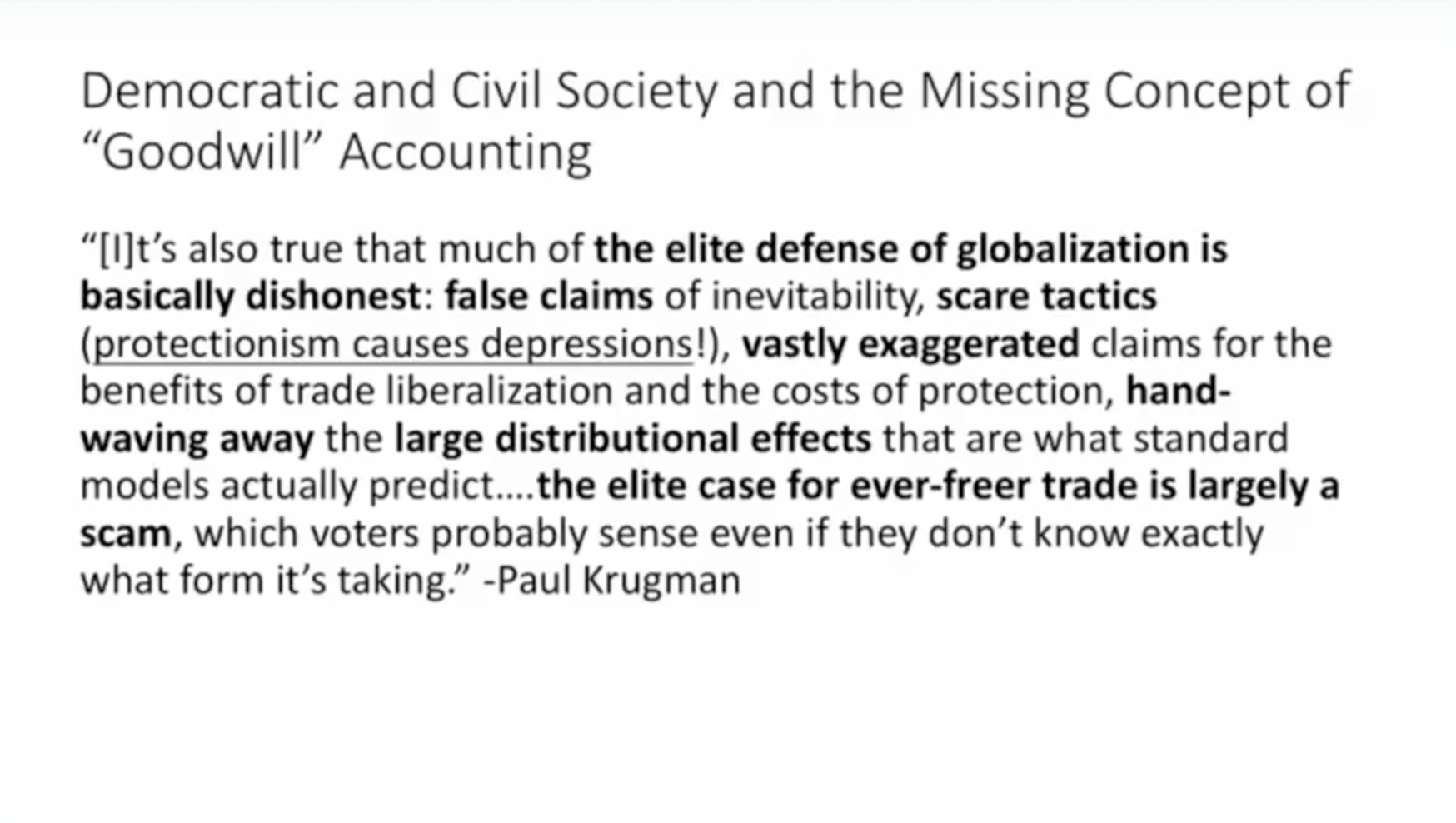 Specifically, as most of you probably know, the Samuelson-Stopler theorem would give you good reason to expect that less educated workers in the US would take a hit with more open trade. As Harvard economics professor Dani Rodrik wrote in 2008:
The Stolper-Samuelson theorem is a remarkable theorem: it says that in a world with two goods and two factors of production, where specialization remains incomplete (plus a few more technical assumptions), one of the two factors–the one that is "scarce"–must end up worse off as a result of opening up to international trade. Not in relative terms, but in absolute terms. But the theorem is also quite limited in its applicability. It applies only to a case with two goods and two factors, and so its real world relevance is always in question.

But there is a version of the theorem that is remarkably general and powerful. It says that regardless of the number of goods and factors, at least one factor of production must experience a decline in real income from trade as long as trade induces the relative price of some domestically produced good(s) to fall (and as long as the productivity benefits from trade are restricted to the traditional, inter-sectoral allocative efficiency improvements, about which more later). All that this result requires is a very mild assumption, namely that goods be produced with varying factor intensities (i.e., use different combination of factors). The stark implication is that someone will lose, even if the nation as a whole becomes richer…

The theorem does not identify who exactly will lose out. The loser in question could be the wealthiest group in the land. But if the good in question is highly intensive in unskilled labor, there is a strong presumption that it is unskilled workers who will be worse off. And before you curse economic theory, note that this is really accounting–not economics at all.
Rodrik goes on to argue that this might not be as absolute as it seems, since if manufacturers could increase total factor productivity in response to import competition, they could afford to preserve or even increase worker wages even if the prices for their products fell. But Rodrik pointed out that analysis of firm-level efficiency was pretty dodgy, and you could see the same results by the virtue of the least efficient firms going out of business, which would still hurt overall employment. Moreover, as we pointed out back then, companies were crimping on worker pay even before the crisis. The early 2000s recovery saw labor get a markedly lower share of total income growth than in any post-WWII expansion. And the proportion going to profits versus compensation got even worse after the crisis.
So the bigger point is economists had very good reason to anticipate that more open trade would hurt the US working classes, but they either pointed chose to ignore that or rationalized it in various ways. At worst, they'd take a short-term hit and would get a new job and might have to acquire some skills….as if that were all that easy if you are supporting a family, and/or older, and employers won't give you credit for training in later life.
Another example of "economists should have known better" is the Lipsey-Lancaster theorem. From ECONNED:
Already, in 1956, R. G. Lipsey and Kelvin Lancaster published "The General Theory of the Second Best," also known as the Lipsey-Lancaster theorem.

Recall that the situations that economists stipulate in theoretical models are idealized, usually highly so. Consumers are rational and have access to perfect information. There are no transaction costs. Goods of a particular type are identical. Capital moves freely across borders. Using these assumptions, or similar ones, the model is then shown to produce a global optimum. This highly abstract result is then used to argue for making the world correspond as closely to the model as possible, by lowering transaction costs (such as taxes and regulatory costs) and reducing barriers to movements of goods and capital.

But these changes will not produce the fantasy world of the model. Doing business always involves costs, such as negotiating, invoicing, and shipping. Capital never moves without restriction. Buyers and sellers are never all knowing, and products are differentiated. Despite the pretense of science, it is a logical error to assume that steps that realize any of the idealized assumptions individually move the system closer to an optimum state. The Lipsey-Lancaster theorem examines this thinking and proves it to be false.

The article shows, first in narrative form, then with the required formulas, that if all the conditions for the ideal state cannot be met, trying to meet anything less than all of them will not necessarily produce an optimum. Partial fulfillment of equilibrium conditions may be positively harmful, forcing the economy to a less desirable state than it was in before. Thus simple-minded attempts to make the world resemble hypothetical optimizing models could well make matters worse.

In general, outcomes at least as good as any "second-best" reality can result from a wide variety of different policy choices. So, while abusing rarified economic models to grope toward a unique hypothetical ideal can be harmful, many different messy policy choices can lead to improvements over any current, imperfect state. There is no one, true road to economic perfection. Trudging naively along the apparent path set forth by textbook utopians may lead followers badly astray, despite the compelling simplicity of the stories they tell.

Consider an example: one area where economists are in near universal agreement is that more open trade is ever and always a good thing; those who question this thesis are dismissed as Luddites. Since economists believe that open trade is better, it follows that they favor reducing tariffs and other barriers (note: they are willing to make some exceptions for developing economies).

Yet in the early 1990s, concern in the United States rose as more and more manufacturing jobs went overseas. Indeed, the tendency has gone ever further, as entry-level jobs in some white-collar professions like the law have now gone abroad. Indeed, in software, some experts have worried that there are so few yeoman positions left in the United States that we will wind up ceding our expertise
in computer programming to India due to the inability to train a new generation of professionals here.

How did economists react? The typical responses took two forms. One was that there would be job losses, but based on the model, the effect would not be significant. The other was that since the net effect would be positive, the winners could subsidize the losers. Since mechanisms to do so (more progressive taxes to fund job retraining, assistance to move to regions with better job prospects) have not been implemented on a meaningful scale, this is cold comfort to those who were on the wrong side of this deal. And as we will see, the naive stance of the United States in trade policy against countries, like China and Japan, that pursue mercantilist policies designed to maintain trade surpluses, led to persistent U.S. trade deficits.
In other words, even though economists will often point out that the debates in advanced courses and colloquia acknowledge the problems with the models taught in undergraduate programs, that is no defense. Mainstream economics, which serves as the foundation for policy-making, is if anything more simplified than that. The fact is that the version of economics bandied about in the political sphere isn't grounded in scholarship. It's propaganda that's treated with more respect than it should be because its purveyors toss out equations when challenged.