By Lambert Strether of Corrente.
Readers will recall that a near-allergic reaction to the word "innovation" is one of my crotchets, and this article from Modern Health Care — "Only two payment models from the CMS Innovation Center have survived, GAO says" — confirms me in all my priors. First, I'll look back to when the [cough] Innovation Center was started; next, I'll look at the GAO report, and finally I'll look at the implications of the Center's failure for neoliberalism, at least in heatlh care. First, from Modern Health Care:
Eight years into its existence, CMS' Center for Medicare and Medicaid Innovation has recommended further development of only two of the 37 the center has created, with testing completed on 10 of them, according to a new report by the U.S. Government Accountability Office.

The Affordable Care Act set aside $10 billion for the Innovation Center's activities for fiscal 2011 through 2019 and $10 billion per decade beginning in fiscal 2020.

By Sept. 30, 2016, the last period for which data are available, $5.6 billion of its initial $10 billion appropriation had been spent….

The report is silent as to what fault the agency found with the other 35 models. Generally, to be candidates for continuation models must produce savings and maintain or improve quality of care.

A CMS spokesman did not immediately return a request for comment.
What do we mean by "model"? Let's turn to the FAQ at CMS, and I'm gonna have to quote some indigestible slabs of bureaucratic prose here:
The Innovation Center develops new and service delivery models in accordance with the requirements of section 1115A of the Social Security Act. Additionally, Congress has defined – both through the Affordable Care Act and previous legislation – a number of specific demonstrations to be conducted by CMS.

The Innovation Center also plays a critical role in implementing the Quality Program, which Congress created as part of the Medicare Access and CHIP Reauthorization Act of 2015 (MACRA) to replace Medicare's Sustainable Growth Rate formula to for physicians' and other providers' services. In this new program, clinicians may earn incentive by participating to a sufficient extent in . In Advanced APMs clinicians accept some risk for their patients' quality and cost outcomes and meet other specified criteria.

The Innovation Center is working in consultation with clinicians to increase available to ensure that a wide range of clinicians, including those in small practices and rural areas, have the option to participate.

Our Innovation Models are organized into seven categories…
And clicking through to the linked PDF we find:
. APMs can apply to a specific clinical condition, a care episode, or a population. This is a broad definition of an APM….

All APMs and payment reforms that seek to deliver better care at lower cost share a common pathway for success: providers, payers, and others in the health care system must make fundamental changes in their day-to-day operations that improve quality and reduce the cost of health care. When health care providers encounter new payment strategies for one payer but not others, the incentive to change is weak. When payers align their efforts, the incentive to change is stronger, and the obstacles to change are reduced.
So, broadly, the CMS "Innovation" Center was a $10 billion-dollar effort to fix health care by dickering with payment systems, because markets. What could go wrong? And things started out looking so good. From Reuters, in 2010:
CMS innovation center to improve care, payment efficiency

The agency that runs Medicare and Medicaid on Tuesday established a new center it says will drive ideas on how to improve patient care in and out of hospitals, while streamlining payment systems.

CMS Administrator Donald Berwick said on Tuesday new models for care delivery and payments will help drive down costs across the health care system.

Berwick — who has been a source of controversy for comments made in favor of the British publicly funded health system[1] — on Wednesday will try to sell lawmakers on the virtues of the new innovation center and other Medicare reforms when he testifies in front of the Senate Finance Committee.

Medicare reform is a main plank in the health reform legislation championed by President Barack Obama.

"I think everyone's really interested in getting better efficiency in the system," said Amy Thornton, a health policy analyst who follows CMS for Washington Research Group.

"(The center) really could be a big highlight of the health reform bill."
Five years on, the bloom seemed to be coming off the rose. (All the material I can find from NEJM is paywalled, sadly.) In 2015, Modern Healthcare commented on one of the Innovation Center's projects, Accountable Care Organizations (ACOs):
Successful Pioneer ACO journey leaves faint trail for followers

Touting $380 million in savings from the Affordable Care Act's first test of accountable care, Medicare says the pilot did well enough to expand. But .

Dr. Patrick Conway, head of the CMS Innovation Center, and his colleagues announced the savings this week in JAMA. They detailed medical spending for Medicare patients who received care from 32 accountable care organizations during the first two years of the Innovation Center's Pioneer ACO program.
PNHP's Kipp Sullivan expands on why the source of the savings is unclear:
The problem is the failure of ACO proponents, including CMS, to define "ACO." L&M [on whose research the JAMA article was based] summarized the problem on page 1 of their report:

The ACO "treatment" under investigation is not a prescribed set of activities or interventions. Rather, it is in which provider organizations attempt to reduce expenditures below a set target while maintaining high quality metrics in exchange for bearing risk for reducing expenditures.

It's hard to imagine a definition more devoid of meaning. Let's begin with the lead noun, "arrangement." Is it possible to choose a more abstract word? What does it mean to say "provider organizations" are "in an arrangement" and, once in, they "attempt to reduce expenditures while maintaining high quality metrics"? How do they "attempt"? We don't know. We don't know because ACO proponents have never set forth a "prescribed set of activities or interventions," as L&M put it so precisely.

The refusal of ACO proponents to state clearly what it is ACOs are supposed to do means ACOs are under no obligation to employ any particular intervention, to hire any particular type of staff, to follow any particular protocol, or to focus on any particular type of patient. And that in turn means contractors such as L&M, researchers such as Dr. Guterman, and reporters such as Melanie Evans (the author of the Modern Healthcare article) can't make any sense of the outcomes of the Pioneer [ACO] program.
In other words, the ACO "model" was not defined with precision such that it could serve as object of study. In fact, it's not clear that this could ever be done, for any CMS "model." Benjamin L. Howell, Patrick H. Conway, and Rahul Rajkumar write in Jama, "Guiding Principles for Center for Medicare & Medicaid Innovation Model Evaluations":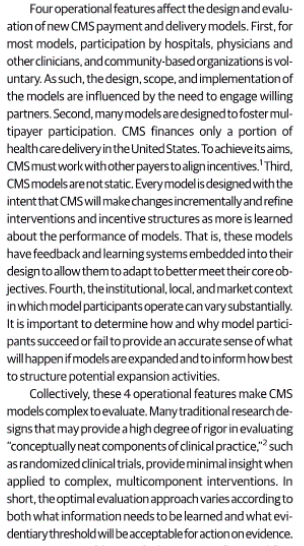 "CMS models are not static" is, I think, another way of saying that the results of CMS model testing cannot be replicated. At which point, one might ask, why are we even running these studies? Why don't we look sixty miles north of Burlington, Vermont and hire some Canadians to tell us what to do? I think you know the answer to that question.
And now we arrive at the present day, and the GAO report, "CMS INNOVATION CENTER Model Implementation and Center Performance" (PDF). Page 6:
The Innovation Center Implemented 37 Models That Test Varying Delivery and Payment Approaches, and Obligated over $5.6 Billion
And:
The Innovation Center used evaluation results in recommending two models be certified for expansion. According to Innovation Center officials, the evaluation of each model adequately demonstrated that the delivery and payment approach tested reduced Medicare spending while maintaining or improving quality of care. Based on these results, the Innovation Center formally requested that CMS's Office of the Actuary analyze the financial impact of a potential expansion of each model. The two models were:

• Pioneer ACO. Pioneer ACO tested an ACO delivery and payment approach that gave providers an opportunity to be paid a relatively greater share of savings generated, compared to participants in other ACO models, in exchange for accepting financial responsibility for any losses. In year 3 of the model, ACOs that met certain levels of savings in the first two years could elect to receive a portion of their Medicare fee-for-service payments in the form of predetermined, per beneficiary per month payments.

• YMCA of the USA Diabetes Prevention Program (Diabetes Prevention Program). The Diabetes Prevention Program applied a lifestyle change program recognized by the Centers for Disease Control and Prevention to reduce to the risk of Type 2 diabetes for atrisk Medicare beneficiaries. The Diabetes Prevention Program was a part of the Health Care Innovation Awards Round One model.
(Given the weaknesses of the Pioneer Valley ACO model results described above, one can only wonder how weak the results of the other "innovations" were. One might also, less charitably, wonder if the entire enterprise was concocted to put over the ACO idea, ACOs being HMOs, rebranded and uglier. Footnote 22: "The Office of the Actuary conducted its assessments [to certify the models for expansion] prior to the availability of final evaluations for both models.")
Beyond noting that only 2 of the 37 "Innovation" Center models were worth expanding, GAO assessed the Center by the three goals it had set up for itself. Page 54 et seq:
Goal 1: Reduce the growth of healthcare costs while promoting better health and health care quality through delivery system reform This goal has three performance measures that focus on ACOs. As shown in table 3, the Innovation Center has reported in achieving the targets set. For the remaining measure—the percentage of ACOs that shared in savings—the center during either of the two years for which data were available. …
(As a sidebar, see note [2] where I pick apart some bafflegab re: Goal #1.)
Goal 2: Identify, test, and improve payment and service delivery models. This goal has one performance measure, which identifies the number of models that currently indicate (1) cost savings while maintaining or improving quality or (2) improving quality while maintaining or reducing cost. As of September 30, 2016, the Innovation Center reported that four [of 37] section 1115A model tests have met these criteria (see table 4).
Goal 3: Accelerate the spread of successful practices and models. For this goal, the first performance measure focuses on the number of states developing and implementing a health system transformation and payment reform plan. The second measure focuses on increasing the percentage of active model participants who are involved in Innovation Center or related learning activities. As shown in table 5, the Innovation Center reported meeting its target for the first measure for both fiscal years 2015 and 2016, but not meeting its target for the second measure.
And concluding, with the woo-woo noises at last becoming audible:
Looking forward, officials told us that the Innovation Center has developed , and is in the early stages of refining the methodology and applying it broadly across the portfolio in 2018. As part of the development efforts, the Innovation Center expects to utilize .
Whatever that means. Since we don't know what a model is, what on earth is the use of creating a portfolio of them?
* * *
Philip Mirowski has an excellent intellectual history of "the neoliberal thought collective" in the current issue of American Affairs; I recommend you read it in full. I'll pull out just one quote:
While it is undeniable that neoliberals routinely disparage the state, both back then and now, it does not follow that they are politically libertarian or, as David Harvey would have it, that they are implacably opposed to state interventions in the economy and society. Harvey's error is distressing, since even Antonio Gramsci understood this: "Moreover, laissez-faire liberalism, too, must be introduced by law, through the intervention of political power: it is an act of will, not the spontaneous, automatic expression of economic facts." From the 1940s onward, as they conceive it.
You will note that this is exactly what the Innovation Center is doing. And you will note the results after a decade and $5 billion dollars of spending: 35 of its 37 exercises of state power turned out to be meritless, and of the remaining two, one (ACOs) is both intellectually suspect and — if one is the suspicious sort — the horse that was picked to win anyhow. This is a terrible track record.
It may be that there are areas of human endeavor — one thinks of the military, the church, the family, teaching, "the communism of everyday life," as I believe Graeber puts it — where the market is either not present at all or doesn't dominate. When one looks at the exceptionally bad results of our health care system, at least if "health" "care" be the standard for judging, it's hard to believe that health care, which is, at its heart, a social relation between patient and caregivers (doctors, nurses, etc.) is not one such area. Neoliberal drunks are looking for their keys to health care under the lamp-post of the marketplace ("the streetlight effect"), and they're not doing very well, are they? Perhaps they should be led gently away, and we should, as I've said, simply ask the Canadians to tell us what to do. Why not learn from success?
NOTES
[1] See Berwick's speech to the NHS here. For example: "[P]lease don't put your faith in market forces. It is a popular idea: that Adam Smith's invisible hand would do a better job of designing care than leaders with plans can do. I do not agree. I find little evidence anywhere that market forces, bluntly used, that is, just consumer choice among an array of products with competitors' fighting it out, leads to the health care system that you want and need." Oh, and awful reporting by Reuters; Britain's NHS isn't a "publicly funded" health care system, like Canadian single payer. Rather, British medical personnel are — or were, until the Tories began sawing across the NHS's windpipe with a dull knife — public servants, employed by the government. #MedicareForAll advocates are, by world standards, centrist.
[2] Page 28:
According to officials, when results fall short of targets, they examine the causes and make appropriate adjustments to the program [so there's no baseline]. Officials stated that the missed target was driven by the high growth in the number of ACOs that were new—and therefore would not yet be expected [expecte why and by whom?] to achieve a level of savings in which they could share—and not by ACO performance deficits [except the savings are the metric for performance, so no]. As a result, officials decided that no adjustments were required to the Medicare Shared Savings Program or other ACO Models to help improve performance. However, as shown in table 3, the Innovation Center set a target for 2016 that was lower than the 2015 target [lowering the bar!]. For 2017, the Innovation Center lowered the expectation for growth compared to previous years, setting a target that was 1 percent higher than the 2016 target. Moving forward, CMS believes [cf. 2 Corinthians 5:7] that as more ACOs gain experience, more will share in savings [let us know how that works out].