Yves here. I know a lot of readers are basic income fans, but any program is not even going to dimly approach what you'd like to see. As long the odds are of getting a public service program are, they are infinitely higher than getting a universal basic income. For starters, it would be obviously far too inflationary to be implemented. It would either provide for token benefits or be a welfare variant, targeting only very narrow populations. By contrast, a Job Guarantee would not be inflationary because it would add to the output of the economy.
In addition, as one reader pointed out, consumers do not have power but producers do. Public service jobs would produce constituencies for those services, be it for more day care, for people to read to the blind, to build and repair infrastructure, to create and maintain parks and other public amenities, to paint murals, and so on. And the US did this very successfully in the Great Depression, as Marshall Auerback described:
The government hired about 60 per cent of the unemployed in public works and conservation projects that planted a billion trees, saved the whooping crane, modernized rural America, and built such diverse projects as the Cathedral of Learning in Pittsburgh, the Montana state capitol, much of the Chicago lakefront, New York's Lincoln Tunnel and Triborough Bridge complex, the Tennessee Valley Authority and the aircraft carriers Enterprise and Yorktown. It also built or renovated 2,500 hospitals, 45,000 schools, 13,000 parks and playgrounds, 7,800 bridges, 700,000 miles of roads, and a thousand airfields. And it employed 50,000 teachers, rebuilt the country's entire rural school system, and hired 3,000 writers, musicians, sculptors and painters, including Willem de Kooning and Jackson Pollock.
By contrast, not only is a [non] Universal Basic Income guaranteed to be skimpy and patchy, it's going to be vulnerable to backlash, as its precursors, such as the Speenhamland system and LBJ's War on Poverty were.
Finally, people need structure to their lives and a place in society. Not having a job or socially legitimate role, like being a full-time parent or elder carer, and being a dependent, particularly for men, is a negative from a mental health perspective. I can tell you that the opprobrium that merely self-employed people who don't have a visible business (as in an office or shop) is palpable, because people assume you are unemployed. Being low on the status totem pole is bad for your health, and even more so in a highly stratified society. And at least in America, with both high income inequality and weakening social bonds, retiring earlier appears to have a longevity cost.
By Josh Owens, a content director at OilPrice. Originally published at SafeHaven
While it lasted, Finland's social experiment that gave 2,000 unemployed people nearly $700 a month with zero strings attached was a decent take home for those who enjoyed its benefits over the 15 months—but the authorities say it's not working and are moving to wind it down by 2019.
In January 2017, Finland became first country in Europe to launch a universal basic income program, randomly choosing 2,000 individuals without jobs, aged 25 to 58, and giving them a fixed monthly income of $685 without the usual condition that they actively seek employment.
It was a unique social experiment that its advocates hoped would help reduce poverty, boost employment and cut down on crime.
One year and one quarter later, the government is scrapping the program though the country's social benefits agency, KELA, has requested an extension.
The government holds that the program, experimental in nature, was only intended to run for an initial two years.
As of last November, Finland had 213,000 unemployed people—largely unchanged since from the year before. Panic set in in 2015 when unemployment rates hit a 17-year high of 10 percent, prompting calls for welfare reform. Since then, it's hovered around 8.4-8.8 percent, none of which can directly be attributed to the latest social experiment, however, as the unemployment rate lowered before the launch of the program.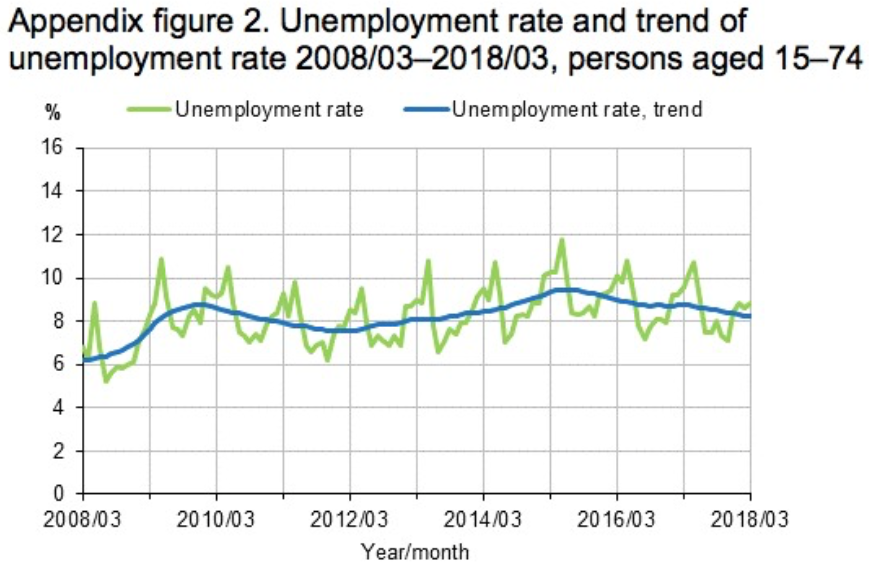 Change was already on the books back in December, when Finnish parliament introduced legislation requiring the unemployed to receive training or work at least 18 hours in a three-month time period in order to qualify for unemployment benefits. Its advocates argue that not enough time has passed to call the experiment a success, or failure.
"Two years is too short a period to be able to draw extensive conclusions from such a big experiment. We should have had extra time and more money to achieve reliable results," one expert involved in the project told media.
Indeed, 15 months into it and it's not possible to get a handle on whether crime has been reduced as a result, or whether getting a stable monthly income incentives anyone to seek gainful employment.
And it's not only Finland dabbling with this social experiment. A few other countries have also tried their hand, or are preparing the groundwork, for universal basic income (UBI) projects.
The Dutch city of Utrecht also launched a UBI program in early 2017 with 250 Dutch citizens receiving about $1,100 per month. It's a micro-scale experiment designed to determine what would happen in society if the entire country set a standard income for all its citizens.
The ideas was to enable the beneficiaries of the pilot program to volunteer, study and work on community improvements rather than spending all their time simply trying to survive. In other words, the goal is to make citizens more productive at the end of the day—and better contributors to society.
And there's an additional incentive to 'volunteer', and this is yet another element of the experiment, which is largely psychological. There are two groups of 'volunteers' in the program—one of which gets paid an $161 up front and has to give it back if they don't end up volunteering, and another that gets paid at the end of the month only if they've volunteered.
The Canadian province of Ontario is also getting into UBI this spring, having earmarked some $19 million to pay individual nearly $17,000 annually in cities where manufacturing job losses have taken their toll on society. That's double the amount they currently get through welfare.
The oldest UBI-style program we're aware of is in Kenya, which launched a pilot project through the GiveDirectly charity in 2016. The program is also experimental, treating different groups of villages differently, but looking more towards the long-term. While the handouts are much lower, in this case, it's village-wide, all adults in 40 villages receiving the equivalent of about $22 a month for 12 years. Other groupings of villages receive similar amounts for fewer years, or an entire two-year allotment up front.
At the end of the day, it's about what motivates people to do more, and what happens when the playing field is equalized.