Dear patient readers,
Your humble blogger is fried due to dealing with some emotionally taxing and unproductive situations plus having some stuff that also takes time and $ that I can't put off. So forgive the lack of original posts.
'Trucker wall' helps prevent man from jumping to his death BBC
Researchers measure a record concentration of microplastic in Arctic sea ice PhysOrg (Robert M)
Cheap 3-D printer can produce self-folding materials PhysOrg. Robert M: "Ikea will love this if it can be scaled up."
Is Facebook replaceable? Tech investor launches bid to 'start the process' Guardian
Bitcoin is the greatest scam in history Recode. One of two lead stories as of this hour.
North Korea
From DMZ to Seoul, hope and concern as summit approaches Asia Times
. @yvessmith, @MkBlyth, @Ian_Fraser, @AnnPettifor, @StephanieKelton, this is MUST WATCH & retweet TV. Counsel in Australian Banking Royal Commission skewers "financial advisor" impersonating client to pension firm & advising strategy that would have lost her $500,000 https://t.co/eiE0XbeeOA

— Steve Keen (@ProfSteveKeen) April 25, 2018
Emmanuel Macron's risky role as Donald Trump's best friend DW
Trump-Macron bromance conceals minimal movement on French demands Politico
Facebook post connected to suspect in van rampage cites 'incel rebellion' Globe & Mail (Dr. Kevin). Help me. This story treats 4Chan as a source of analysis..
This man, believed to be Minassian's relative, was escorted out by court officials and was crying in the front row during the hearing. He said "sorry" when asked if he had anything to say to the people of Canada and softly said "no"when asked if there were warning signs. @ABC pic.twitter.com/dm6whWGEbt

— Tom Llamas (@TomLlamasABC) April 24, 2018
Brexit
Man now desperate for Brexit news after day two of 'rich woman fires out quite large baby Daily Mash
TSB
TSB crisis: Customers still struggling despite CEO claiming online banking is 'up and running' – live updates Guardian

.@TSB is up and running for some, but the bank has limited the number of people who can get into their accounts at any one time. Have you had access to your account yet? https://t.co/gT5fKn1s8s#TSBdown #TSB pic.twitter.com/8za7rDkc95

— Which? Money (@WhichMoney) April 25, 2018

Richard Smith sent more sightings. Not pretty.

Afraid not. I got in a few minutes ago, but it did not work properly. Then 'server error' before I could log out. Goodness knows what I will find later…#tsb https://t.co/UsiZJ8BKaQ

— Sarah Ludford #FBPE (@SarahLudford) April 25, 2018

#TSB really? pic.twitter.com/RnFi0fYsET

— Claire Reeves (@minakate) April 25, 2018

Richard again: "These two indicate programming/design errors of a type that any programmer/designed is supposed to anticipate, long before they even get to testing:"

Come on @TSB It's not funny anymore #TSB #Banking #CustomerService #PoorShow pic.twitter.com/Dld9k5DG7G

— Mikey McKenna (@m8kna) April 25, 2018

#tsb Managed to finally log in put can't get my money out!! pic.twitter.com/vx8NVI7noo

— Larry Houke (@LarryHouke) April 25, 2018
New record as Britain goes three days without coal power ITV (Kevin W)
Cladding tests after Grenfell Tower fire 'utterly inadequate' Guardian (Kevin W). Deadly in both senses of the word.
Syraqistan
Qatar govt. must send troops to Syria or lose US support and be toppled – Saudi FM RT. Kevin W: "Could you imagine if the US military moved out of that big base – and then the Chinese military moved in?"
Big Brother is Watching You Watch
Tariff Tantrum
Trump Transition
Trumpism Without Trump Politico. UserFriendl: "​Starts off bad, but has a decent critique of why both parties failed against Trump.​

Third federal judge issues strongest order yet backing DACA NBC. I have to confess not to have followed the Trump legal arguments. It seems cruel and economically unproductive to toss out people who grew up in the US through no fault of their own and by all accounts are every bit as good citizens as Americans in their peer group. But procedurally, I thought Congress was supposed to set immigration policy, and the Dems in the Obama Administration dropped the ball.

Trump Administration: What Else Can We Fuck Up? Hey, Let's Work to Drive Teen Pregnancy and Abortion Rates Back Up! The Stranger (Chuck L)

GOP anxiety grows over Trump's Iran decision The Hill

Mulvaney's Advice to Bankers: Up Campaign Donations to Diminish Consumer Watchdog New York Times. UseFriendly: "ROFL Thank you Scotus for Citizens United and ​McDonnell v. U.S., We now have federal officials publicly requesting bribes."

Trump gives cover for VA pick to withdraw nomination The Hill

Kushners, Needing Funds for N.J. Project, Got Web-Lender Loan Bloomberg
Bernie Sanders has conquered the Democratic Party The Week (UserFriendly)
Why the DNC Is Fighting WikiLeaks and Not Wall Street Norman Solomon, Truthdig
Centrist Elites: Please Save Democracy From Democracy Ian Welsh (Randy K)
Kill Me Now
Why Hillary Clinton Isn't Just Going to Go Away Vogue (Li)

"ORGANIZATION DON'T MEAN SHIT": INSIDE THE BEGINNING OF THE END OF THE CLINTON CAMPAIGN Vanity Fair. To help you recover if you had the intestinal fortitude to read the Vogue piece.
Express Scripts targets Amgen, Lilly migraine drugs in pricing shift Reuters. EM: "Snippet, and see if you can spot the wrong-homophone usage":
Express Scripts told Reuters it is pressing them to forego the usual strategy of setting a high U.S. list price, then lowering the cost for health plans through hefty rebates. It is also seeking a refund if the drugs don't work within a defined timeframe.The shift could help Express Scripts and other pharmacy benefits managers (PBMs) bring prices down, and deflect growing criticism of their role as "middlemen" in the drug supply chain.

The Trump administration and members of Congress have demanded that PBMs pass on more of the rebates they receive to consumers outraged over rising costs at the pharmacy counter. Many Americans now have health plans with higher deductibles or co-payments, making them responsible for more of their medical costs.
Foreclosure defense attorney Mark Stopa draws praise, criticism at penalty hearing Tampa Bay Tribune (Chuck L)
Patent 'Death Squad' System Upheld by U.S. Supreme Court Bloomberg (Kevin W)
'Facebook in PR crisis mode', says academic at heart of row BBC (David L)
Treasuries' March Above 3% Faces Challenge From Slumping Stocks Bloomberg
Class Warfare
Bernie Sanders to announce plan to guarantee every American a job Washington Post (UserFriendly)

Mind the Gap Slate

Public Service Employment: A Path to Full Employment Levy Economics Institute (UserFriendly)

Just as expected, the mainstream left is circling the wagons today and out in full force on Twitter with its anti-Job Guarantee talking points. Gotta make sure nobody tries to do anything bold.

— Scott Fullwiler (@stf18) April 24, 2018

How IBM Is Quietly Pushing Out Older Workers ProPublica. Ahem, this is years-old news. I heard of this from a 57 year old IBM employee who was "offered" a posting in Brazil at a fraction of her current pay and no way to go back to the U (unlike most foreign assignments, which are secondments where the worker is contemplated to come back to the US or another foreign assignment and therefore has expat subsidies and moving/transport arrangements for the posting and the end of the gig). She quit, as was clearly the plan. They apparently have moved to being less covert about how they get rid of older employees.

Automation, skills use and training OECD. New big study on how many jobs will be lost to automation by 2025.
Antidote du jour (Robert H). Story here.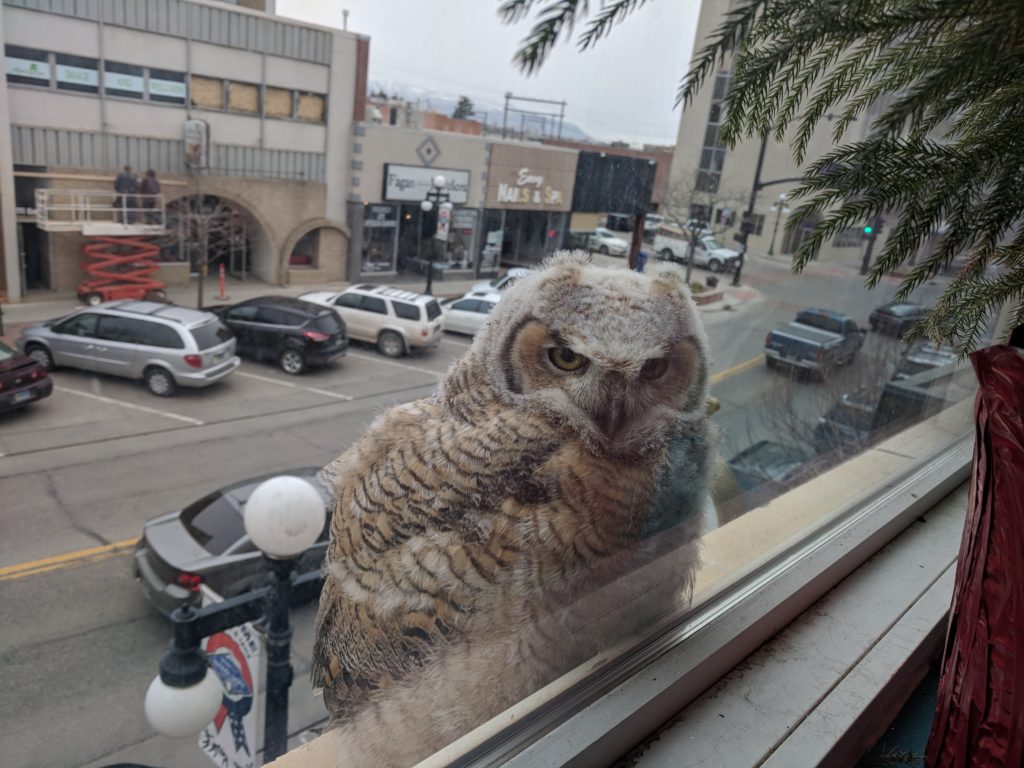 And a bonus, but this is a part way to an anti-antidote, since many of the animals had sad endings. I'm not very good about having pets die. But they went to great lengths for many of them.
The paraplegic possum, the cross-eyed cat, and the fish that can't swim, via @theatlvideo https://t.co/mJmZDLzFZK

— The Atlantic (@TheAtlantic) April 25, 2018
See yesterday's Links and Antidote du Jour here.