By Gaius Publius, a professional writer living on the West Coast of the United States and frequent contributor to DownWithTyranny, digby, Truthout, and Naked Capitalism. Follow him on Twitter @Gaius_Publius, Tumblr and Facebook. GP article archive  here. Originally published at DownWithTyranny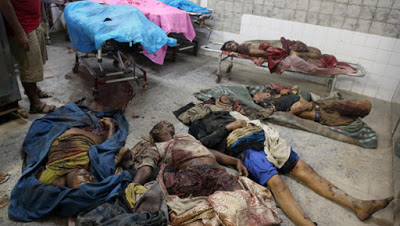 Yemen civilian deaths amid Saudi Arabia-led war rise as U.S. Senate approves arms deal with Saudis (source). The Houthis are predominately Shia-led. Saudi Arabia, Sunni-led, with major U.S. support, is killing them.
Two data points to keep in mind as you contemplate the next Middle East escalation — or rather, as you contemplate the effects of the escalation while others contemplate the escalation itself. You and your preferences are not a factor in their contemplation; they will wage war when and as they choose.
First this, from Pentagon chief James Mattis at the end of February 2018 via Newsweek (h/t Twitter friend Boris Dirnbach):
Now Mattis Admits There Was No Evidence Assad Used Poison Gas on His People

Lost in the hyper-politicized hullabaloo surrounding the Nunes Memorandum and the Steele Dossier was the striking statement by Secretary of Defense James Mattis that the U.S. has "no evidence" that the Syrian government used the banned nerve agent Sarin against its own people.

This assertion flies in the face of the White House (NSC) Memorandum which was rapidly produced and declassified to justify an American Tomahawk missile strike against the Shayrat airbase in Syria.

Mattis offered no temporal qualifications, which means that both the 2017 event in Khan Sheikhoun and the 2013 tragedy in Ghouta are unsolved cases in the eyes of the Defense Department and Defense Intelligence Agency.
Regular readers of our reports were alerted to this deception as early as last April. Among the many pieces presenting contrary evidence was this one.
Next this, from NJ Star-Ledger columnist Paul Mulshine on Trump's recent about-face on war with Syria (via email from Kevin Fathi):
Trump's getting awful advice from the foreign-policy swamp

On Sunday I got a call from Mike Doherty. The current state senator and former U.S. Army officer was livid about President Trump's about-face on Syria.

"In the 2016 campaign, his major promise was ending these stupid foreign wars," said the Warren County Republican. "If he breaks that promise with his base, I think he's finished."

As of early last week, Trump sounded like he was sticking to his promise to pull U.S troops out of Syria. On Tuesday, he met with his generals in what was supposed to be a private meeting on the issue.

On Wednesday, leaks from that meeting were widely reported in the press. The reports said his call for a rapid withdrawal of troops from Syria "faced unanimous opposition from the Joint Chiefs of Staff, the Pentagon, the State Department and the intelligence community."
There are two points made above. One, Trump's about-face reportedly occurred as a result of "unanimous opposition from the Joint Chiefs of Staff, the Pentagon, the State Department and the intelligence community."
And two, note the other point made by Mike Doherty, the New Jersey state senator quoted above: "In the 2016 campaign, his major promise was ending these stupid foreign wars," said the Warren County Republican. "If he breaks that promise with his base, I think he's finished."
In other words, in one Republican's opinion (who, by the way, was "the first prominent politician in New Jersey to back Trump" according to the same article), Trump breaking his stop-stupid-wars campaign pledge will hurt him with his base. (I'm less certain of that than Doherty is, but we'll see. There are certainly other such rumblings on the right.)
Finally, the proposed escalation in Syria could put us in direct, armed conflict with the Russians. From former Green Beret Pat Lang as quoted in the article:
I got an assessment of just how dangerous when I talked with another former Army officer with whom I like to discuss current events.

"This time it could easily get out of hand," said Pat Lang, a former Vietnam Green Beret who later spent a couple decades in the Mideast. (See this debunking of the co-called "white helmets" on his site.)

Back in 2013 the war was mainly between the Syrian government and the rebels. Now Russia is a major supporter of the Syrian government.

"The Russians have made it very clear that if we attack Syria again that they're going to fight our attack," Lang said. "There will be a war between the United States and Russia over Syria."
From the linked report, here's that Russian statement:
Russian U.N. Ambassador Vassily Nebenzia said on Monday that Moscow has warned the United States of "grave repercussions" if it carries out an attack against Syrian government forces over reports of a deadly chemical weapons attack.
If no one backs down, U.S. and Russians troops and pilots could start killing each other in Syria.
About the Self-Styled, PR-Created White Helmets…
The nicely named "white helmets" (could they hope for a better brand?) are suspected of lying-with-an-agenda by many of those not in favor of this war. This means, of course, they're praised on corporate-owned cable news.
More critically, Rick Sterling writes this, from a longer piece at Robert Parry's Consortium News (emphasis added):
Not only do they only operate in rebel-controlled areas but they are a source of propaganda about the war, indeed their very existence is an element in the larger propaganda campaign to rally international support for a "regime change" war in Syria. The "White Helmets" brand was conceived and directed by a New York-based marketing company named "The Syria Campaign," which itself was "incubated" by a larger politically oriented marketing company called Purpose.

Along with managing the online and social media promotion of the White Helmets, the Syria Campaign has parallel efforts in support of "regime change" in Syria. One of these efforts has been to criticize United Nations and humanitarian relief organizations that supply aid to displaced persons living in areas protected by the Syrian government.
If that's true, it's damning, both for them and those who, for their own reasons and interests, promote them. Which means they're praised on corporate-owned cable news.
Conclusions
From all this we can conclude:
• Defense Secretary James Mattis, knowing the evidence for the Trump's 2017 Tomahawk missile strike was ginned up, still wants war with Syria.
• The entire foreign policy and military establishment also wants war — the Joint Chiefs, the State Department and the nation's security services, presumably the CIA, DIA and FBI among them.
• We will indeed end up fighting Russians if Trump keeps his word and the Russians keep theirs.
• That fact seems to stop no one on our side.
In other words:
• The world just got less safe.
• The bipartisan DC establishment pretty much wants it that way.
Questions
Will Democrats — or enough of them — join with Trump to make the war "bipartisan"? Remember, Clinton was the hawk in the Obama administration. Reports she wanted a wider Syria war are not hard to find.
At what point will our widening war come home, a war against Shia Islam, fought, among other reasons, to fulfill the desires of Israel and Saudi Arabia? In other words, when will Americans, us and our elites, reap what we sow?
And finally, will Rachel Maddow weep tears of joy at the thought of a shooting conflict with Russia, or will she suddenly fly above the fray, waving careful flags of high-minded caution, after lighting the fires that caused it? ("That is not it at all," I hear her say, "that is not what I meant, at all.")
Stay tuned. The American people may not favor this war — though I can't see the unwashed (those of us with non-political lives) being much opposed. Yet should it come home, they'll surely pay most of the price — and no doubt be thanked for their service after their deaths by those in the safe seats at corporate-owned cable news.