Dear patient readers,
I will be in NYC for one evening, Saturday June 2. Yves wants to do a meetup, but it turns out the usual haunts (or at least the ones she's gotten to so far, Ten Bells has not responded) are booked, and they indicated that Saturday nights book up way in advance.
Any reader ideas re place in Manhattan that could accommodate 40-50 people where we don't have to rent a room? We might consider a deposit, but not a large one (the one at Ten Bells is pretty modest).
–lambert
* * *
Wooden Shigir idol found to be over twice as old as Egyptian pyramids Phys.org (CL).
T-Mobile and Sprint agree all-stock merger FT. Now we'll see what the regulators say.
Half of TSB online banking customers still locked out of accounts Telegraph. Wait, I thought they'd called in IBM?
TSB: How it all went so wrong for the bank BBC
Crackdown plan on Scottish limited partnerships BBC (Richard Smith). Richard Smith: "Fame at last!"
Staff shortages 'threaten' crackdown on shell firms The Herald (Richard Smith). Richard Smith: "Truncated quote makes it sound like I'm praising my own tenacity…I meant the UK and international reporting!'
The World Bank should be defunded Bill Mitchell (UserFriendly).
Are European Companies Ready for Life Without Draghi? Wolf Street (EM).
Financial regulators turn their sights on banks' use of cloud FT
It's a Tech War, and It Costs a Fortune Bloomberg (JT McPhee).
How US home loan agencies became rental powerhouses FT
Brexit
Germans don't really worry about Brexit and want EU to be uncompromising Handelblatt

Support grows for cross-party plans to prevent 'no deal' Brexit Guardian
Amber Rudd resigns hours after Guardian publishes deportation targets letter Guardian. Windrush.
Weaponising Paperwork LRB. More Windrush.
'It's a hacker's paradise out there' BBC. Seems like PR for a new British security firm, but worth reading for that reason alone.
North Korea
Syraqistan
China?
China's Economic Numbers Have a Credibility Problem Bloomberg. Still germane

'Forget the Facebook leak': China is mining data directly from workers' brains on an industrial scale South China Morning Post
Durian sparks fear of gas leak in Melbourne library The Star
Trump Transition
Michael Hayden: The End of Intelligence NYT(HM). HM: "An NYT op-ed by Michael Hayden, soliloquying from the Bridge of the Starship Baloney. What is worse than the author and the piece are the comments. The Reader's Pick section is usually where I go for decent pushback from the readership. This time the comments section was flooded by nothing but Trump Derangement Syndrome gushers."

Federal 'turf war' complicates cybersecurity efforts The Hill. Ambition must be made to counteract ambition….

How a Pentagon Contract Sparked a Cloud War Defense One (KW).
Democrats in Disarray
Bernie Sanders "would have won" and Bernie bros are a myth, says campaign manager in new book Vice. Jeff Weaver.

How Clintonites Are Manufacturing Faux Progressive Congressional Campaigns Counterpunch

Booker, Sanders want to promise every American a job. Some Democrats are skeptical. WaPo
The Church Left is Proving My Point Benjamin Studebaker
Our Famously Free Press
The Truths Michelle Wolf Spoke that Launched a Thousand Howls The Ghion Journal (UserFriendly).

For the sake of journalism, stop the White House correspondents' dinner Margaret Sullivan, WaPo
Imperial Collapse Watch
Why the F-35 Isn't Good Enough for Japan The Diplomat

Pentagon Classifies Study of F-35 Jet's Challenges in Pacific Bloomberg

Germany, France Agree to Build New Fighter Jet Together WSJ. "The Pentagon's newest combat aircraft, the radar-evading F-35 Joint Strike Fighter made by Lockheed Martin Corp., has been a hot seller in Europe. The U.K., Norway, Italy, the Netherlands and Denmark are among the countries that have committed to buying the plane. Finland and Belgium are among others considering purchases of the plane that cost around $100 million each."
Guillotine Watch
How to Live in San Francisco Without Spending Any Money WSJ. "'The entire S.F. economy is V.C. subsidized,' said Mr. Yu, who last year co-founded a blockchain technology startup called Stream. 'It's a historical world of excess.'"
How a Packet of Anonymous Surveys From Women Employees Blew Up the Executive Ranks at Nike Willamette Week (KW).
Class Warfare
Labor 2030: The Collision of Demographics, Automation and Inequality Bain & Company (AF).

Georgia Bus Drivers Joined the School Uprising and Paid a Price The Intercept
Electronics-recycling innovator is going to prison for trying to extend computers' lives Los Angeles Times
Commons, Community, Economy, Environment Philosopher
Antidote du jour (via):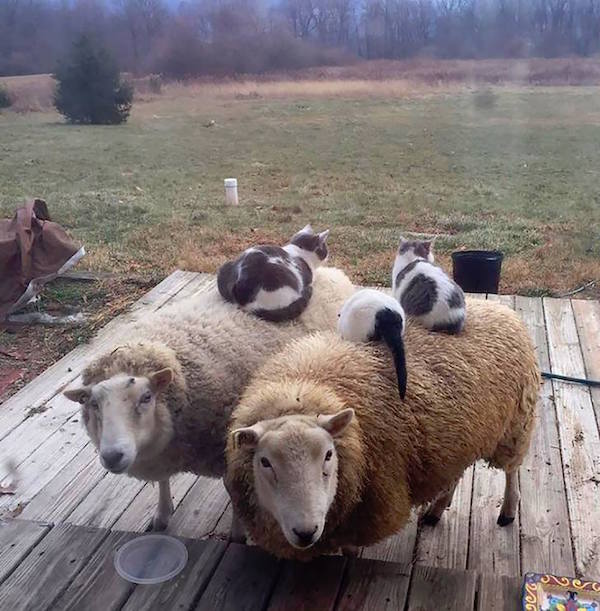 Bonus antidote:
"Tiger cub doesn't know how it feels about its new otter friends" pic.twitter.com/1XMHjJsghD

— Fluff Society (@FluffSociety) April 30, 2018
See yesterday's Links and Antidote du Jour here.