By Lambert Strether of Corrente.
Cars are made of stuff. Software is made of bytes. While I don't say that Silicon Valley squillionaire Tesla boss Elon Musk has stuff and bytes confused in his mind, it is true that the unexpected materiality of the automobile is causinge his company problems, and may be enough to sink it. Further, broadening focus from Tesla to the industry, the tendency of electric vehicles (EVs) to dematerialize — by catching on fire — will pose problems for (publicly funded) local governments that nobody seems to be thinking about. I'll show the first by looking at Tesla's attempt to automate the final assembly process; and the second by looking at a recent Tesla battery fire.
Automating Final Assembly at Tesla
Elon Musk has a master plan:
In 2006 Tesla CEO Elon Musk published a 'top secret masterplan' on Tesla's website. It was low on detail but the groundbreaking electric car company has stuck to it. Tesla, it said, was going to '[1]create a low volume sports car, [2]use that money to develop a medium volume car at a lower price and [3]use that money to create an affordable, high volume car'.
In Silicon Valley terms, Musk was going to create a manufacturing process that scaled, a process where the only requirement to solve capacity problems is a frictionless capital injection for bandwidth or servers (as opposed to, say, hiring and training workers). But now we see that Tesla's process not scaling; that's why Tesla keeps not making Musk's projections. A report from Bernstein analysts Max Warburton and Toni Sacconaghi (noted at NC here, and then at Business Insider ("The Robots Are Killing Tesla") explains why. Musk hoped to achieve the third phase of his master plan ("high volume") through hyper-automation, including automating final assembly. It's not working. Quoting Warburton and Sacconaghi (via Twitter):
We've noted Elon Musk's claims about reinventing auto production with interest. He's talked about manufacturing being "a competitive advantage," about "the machine that builds the machine," [Wired] and about "manufacturing as the product." He has said "…, otherwise you drop to people speed. So there will be no people in the production process itself. People will maintain the machines, upgrade them, and deal with the anomolies." These are bold claims. They have been accompanied by Tesla's huge capital investments in the last two years… We've noticed reports of hundreds of multi-axis Kuka robots being purchases for Fremont (467 reported in just one batch — we believe the total is far greater). We've watched as Tesla bought outright a German automation design company (Grohmann) to help it with its task.

[A]s Tesla has struggled to ramp Model 4 — and as the company has sought to optimistically discuss its assembly line design — we've rather belatedly figured out what's going on. The reason Tesla spent all this money, the reason it bought Grohmann, and the reason it can't build Model 3's are all linked. Tesla has tried to hyper-automate Model 3 production. And like every historic attempt at high automation in the industry, it's struggling.
In fact, Tesla's automation attempt is not only struggling; Warburton and Sacconaghi predict it will fail. Here is why:
[Tesla] has also tried to automate final assembly…. Tesla's approach to automation rings alarm bells. If we look at the history of the auto industry, we can see that attempts to automate final assembly haven't worked. Many OEMs have tried it in the past — such as Fiat, VW, and GM. They have all failed, often spectacularly. Anyone familiar with automobile assembly knows this…. .

[A]utomation is expensive — and usually proves far less effective, highly inflexible, and creates quality problems further down the line.

In welding, mistakes and inconsistences go unrecognized — but the machine powers on and builds cars with the wrong geometry or bad spot welds in key locations. These are only found later — when for instance the windscreen is inserted, or a door re-attached. Have you wondered why Tesla doors don't align, or hoods don't fit, or windscreens are prone to cracking? Now you have your answer.
In final assembly, robots can apply torque consistently — but they don't detect and account for threads that aren't straight, bolts that don't quite fit, fasteners that don't align, or seals that have a defect. Humans are really good at this. Have you wondered why Teslas have wind noise problems, squeaks and rattles, and bits of trim that fall off? Now you have your answer.
It's the materiality — the bad welds, crooked bolts, misaligned fasteners, defective seals — that hyper-automantion cannot handle. Warburton concludes: "[A]utomation in final assembly doesn't work." High-tech manufacturing expert Roger Bohn agrees:
Fundamentally, Tesla has a product design and production process that are "not manufacturable." That is, the product tolerances are considerably tighter than the process variation. The result is that they produce lots of junk that must be scrapped or reworked. They can partially reduce process variation by stopping more often to adjust machines, but this causes downtime and creates "bottlenecks."
All this means that Tesla can't remove people from the production line. That means that Tesla can't make Musk's projections. What that means, we'll see.
As a sidebar, it's worth noting that Tesa had the same issues with its battery manufacturing plant. CNBC in January:
Tesla's problems with battery production at the company's Gigafactory in Sparks, Nevada, are worse than the company has acknowledged… according to a number of current and former Tesla employees.
Here is a description of the materiality of the battery-making process:
What does it take to make a Model 3 battery? Each battery pack contains four modules. And each module contains seven bandoliers, or cooling tubes with a row of lithium-ion cells glued to each side. Those cells have to be precisely aligned.

Manual assembly works for some parts of battery production, like bolting down and gluing the "clamshells," or outer structures that hold a battery pack together.

But bandoliers are . Cells can be pushed a bit too high or low, or otherwise drop out of alignment, as they're squeezed against the glue on a cooling tube and packed into modules.

A current Gigafactory engineer recalled that in December, factory workers were manually "slapping bandoliers together as fast as they possibly could," generating in the process.

Once the machines in the factory were able to crank out bandoliers as fast or faster than the manual laborers, Tesla began sending Panasonic workers back to their employer, sources said.

Today, Tesla is winding down manual assembly as at the Gigafactory, a hopeful sign.

But one engineer who works there cautioned that the automated lines still can't run at full capacity. "There's no redundancy, so when one thing goes wrong, everything shuts down. And ."
Now, I can believe that in fact battery production will scale, simply because they are orders of magnitude less complex than cars. Still, it's telling that we have the same issues at both hyper-automated assembly lines. It's almost like management has a gigantic blind spot, because the same problem keeps happening….
Battery Fires as an Externality
From Tesla's doomed quest for struggles with hyper-automation, let's turn to a recent Tesla incident that points up a difficulty for the electric vehicle industry as a whole: The death of Apple Engineer Wei Huang in his Tesla, and the subsequent battery fire. ABC News describes the incident:
Huang was traveling at freeway speeds on the split along the Highway 101 and state Highway 85 junction, lost control and struck the middle barrier causing his vehicle to catch fire, according to the CHP. A Sig-Alert was issued at 9:29 a.m., the time that the CHP was notified of the crash.

After Huang's Tesla hit the median, it landed in the second left-most lane of southbound Highway 101 and was hit by a white Mazda and consequently struck again by a gray Audi traveling in the adjacent lane, CHP officials said.
(Most of the coverage has focused on whether Tesla's autopilot was at fault; Tesla has blamed a damaged safety barrier for the extent of the impact.) Here is an image of the Tesla after the crash: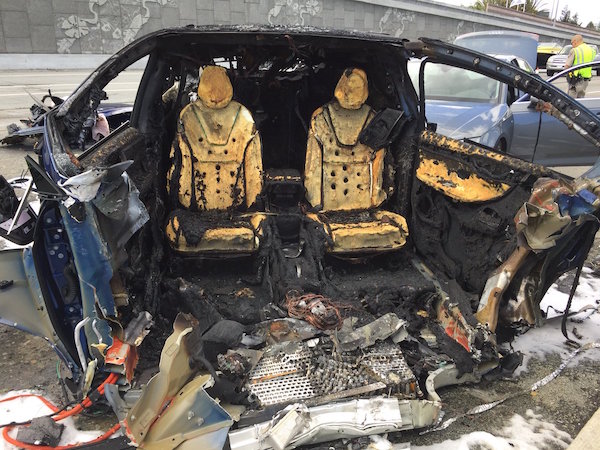 (One can only conclude that Tesla — and the entire EV industry — dodged a bullet, in public relations terms; there are no charred bodies strapped in the seats.)
And here is a video of the fire:
A Good Samaritan at the scene of the Tesla Model X car crash described the car to be "actively emitting full flames from the battery bank." https://t.co/n78v5ekcgV pic.twitter.com/EVGqKJnhcR

— NBC Bay Area (@nbcbayarea) March 24, 2018
Finally, here's a shot of the battery compartment, breached in the crash, after the fire was put out: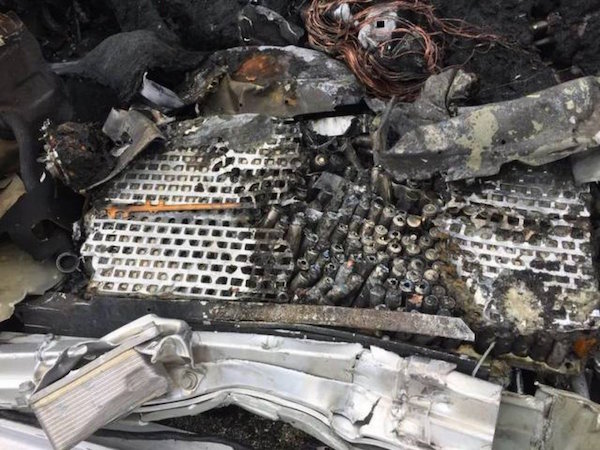 (In this image, you can clearly see the how Tesla constructs its "floor-mounted lithium-ion high voltage battery" out of many small individual cylindrical batteries, unlike (say) GM. Here are two Reddit threads for battery mavens, and an infographic on Tesla's design choices.)
Now, I'm not arguing that there's anything wrong with Tesla's battery design (though one can't help but wonder if quality assurance problems at Tesla's GigaFactory were somehow involved). Instead, I'd like to focus on what the emergency crews and the firefighters had to do to put out the fire. From the Mountain View Voice:
Emergency fire crews arrived at the crash shortly after 9:30 a.m., and found that the front end of the Tesla had "substantial damage," exposing the vehicle's lithium ion battery and causing it to catch fire, according to Mountain View Fire Chief Juan Diaz. Electric vehicle fires are typically put out by blasting a large quantity of water — 3,000 gallons — directly on the battery to bring down the temperature of the cells, which can overheat and reach temperatures of up to 900 degrees, he said.

Diaz said the department was put in a difficult situation. Fire crews had 500 gallons of water at the scene, but getting any more would have required running 2,000 feet of thick fire hose across Highway 101, which would have been catastrophic for traffic in both directions, Diaz said. But letting the car continue to burn on a busy highway, destroying the battery, would have been a bad choice as well, he said.

"In the middle of the Highway 101 freeway, that's not something we want to do," he said. "And it's not good for the environment with the byproducts of combustion."

and , Palo Alto-based Tesla, to assist in getting the battery's temperature under control. Diaz said , and that subsequent showed that the battery was no longer unstable.

that removed the Tesla all the way to the impound yard out of an abundance of caution, Diaz said. Car batteries are capable of reigniting for 24 hours after cooling.

The challenging situation was made worse by the significant damage caused by collision itself. Diaz said that Tesla vehicles are built to be very safe, with features to help first responders deal with lithium ion batteries that ignite, but in this case [1]. This is the first time the department has dealt with this kind of problem, Diaz said, and he commended his department's response to the dangerous situation.
(The story doesn't mention something an observer noted: "Small explosions within the body of the #Tesla just now as technicians remove damaged batteries.")
Catastrophic automobile accident happen all the time; I doubt very much that the crash that killed Huang is in any way unusual, even though it involved multiple vehicles. What was unusual in this case — what demand special, indeed unique handling — was the presence of an electric vehicle, which required (1) six times the amount of water normally used, (2) the presence of an engineer from the manufacturer (luckily close at hand in Palo Alto), (3) thermal imaging, and (4) a firetruck escort.
Further, if you RTFM, you will see that Tesla recommends that fire departments do even more than the Mountain View Fire Department did. From Tesla's Model X Emergency Response Guide (PDF), page 22:
A burning or heated battery releases toxic vapors. These vapors include sulfuric acid, oxides of carbon, nickel, lithium, copper, and cobalt. Responders should protect themselves with full PPE, including self-contained breathing apparatus (SCBA), and take appropriate measures to protect civilians downwind from the incident. Use fog streams or positive-pressure ventilation fans (PPV) to direct smoke and vapors.
So, (5) breathing apparatus, and (6) fog streams, whatever they are — like a rock and roll show? — or big fans. Also, besides (7) something to cut the "first responder loop" with (page 15), (8) "insulated tools" (page 21), and (9) "a large open area" (page 21):
Always advise second responders that there is a risk of battery re-ignition. After Model X has been involved in submersion, fire, or a collision that has compromised the high voltage battery, always store the vehicle in an open area at least 50 ft (15 m) from any exposure.
Presumably, you can't just stick a potentially flaming car in the parking lot behind the station, so you need a fenced off, lit-up "open area," possibly guarded.
Right now, there aren't very many crashes involving electric vehicles; there were 17 million new cars sold in 2017, of which 199,826 were EVs. Now, EVs may indeed catch on fire less often than gasoline-fueled cars, but when they do, it looks like substantially more resources from emergency responders and firefighters will be required to be on hand at all times, including equipment, training, and infrastructure[2] (besides potential medical issues for responders). So when the entire EV industry achieves scale, as it probably will — GM, after all, does know something about manufacturing — there were be considerable externalities. All this seems like rather a lot to expect of local governments, even the most beneficent.
Conclusion
The EV industry has two problems: First, it looks like Tesla's hyper-automated EV manufacturing process will fail (though the GigaFactory, being less complex, may succeed). Since there are other manufacturers who have more functional views of the role humans should play on the assembly line, likely the only people affected will be investors, short or long, in what is, after all, a vanity project for Elon Musk. Second, if the Huang fire is any indication, there will be significant externalities imposed on the public, especially their local governments, as EVs become ubiquitous, which the Silicon Valley trade press ignores. In each case, the materiality of the EV in the workplace — whether at the point of its assembly with human hands, or at the point of its disassembly through fire and rescue — is a key factor to examine.
NOTES
[1] Somebody should speak to Tesla's engineers about a design for disconnecting the battery that fails when most needed.
[2] We don't seem to know exactly why lithium-ion batteries catch on fire. MIT Technology Review, from coverage of a 2013 fire:
There is some real concern out there about the safety of lithium ion batteries, which is understandable because there have been well reported cases of lithium ion batteries catching fire. What's unnerving about many of these fires is that they seem to happen spontaneously.
Yes, that's unnerving indeed. More:
First, the fire illustrated once again how difficult lithium ion battery fires are to put out. Firefighters thought they had it put out, but it reignited. There are a couple of schools of thought among battery experts about why this happens.
"A couple of schools of thought." That's unnerving, too.
In a battery fire, the main thing that's burning is the liquid electrolyte, which burns best when it's exposed to air. One school of thought is that even in the absence of air there other oxidants within the battery that can create and sustain a fire. It's thought that the battery electrodes themselves can release oxygen, fueling the fire from within. If this is the case, all firefighters can do is to work to keep the fire from spreading and wait for the reactants to burn up.

Other research suggests that this isn't the case. Instead, what might happen is that even once the fire is put out, the cells stay very hot and keep releasing more electrolyte in the form of vapor. Once firefighters turn off the water and oxygen can once more come into contact the vapor, it can reignite.

It seems clear that we need to do more tests and learn the best ways to put out battery fires, especially as battery-powered cars proliferate.
It seems that in 2013, we don't really have a scientific basis for telling firefighters what to do. Are there battery mavens in the readership who can bring us up to date on this point?