Our mini-fundraiser for Water Cooler is on! As of this hour, 152CalPE donors — our goal is 275 –have already invested to support Water Cooler, which provides both economic and political coverage, to help us all keep our footing in today's torrent of propaganda and sheer bullsh*t. Independent funding is key to having an independent editorial point of view. Please join us and participate via Lambert's Water Cooler Tip Jar, which shows how to give via check, credit card, debit card, PayPal, or even the US mail. To give more, click on the arrow heads to the right of the amount. Thanks to all!
The IQVIA Institute published its 2017 recap, Medicine Use and Spending in the U.S. A key finding was the sharp fall in opioid prescriptions: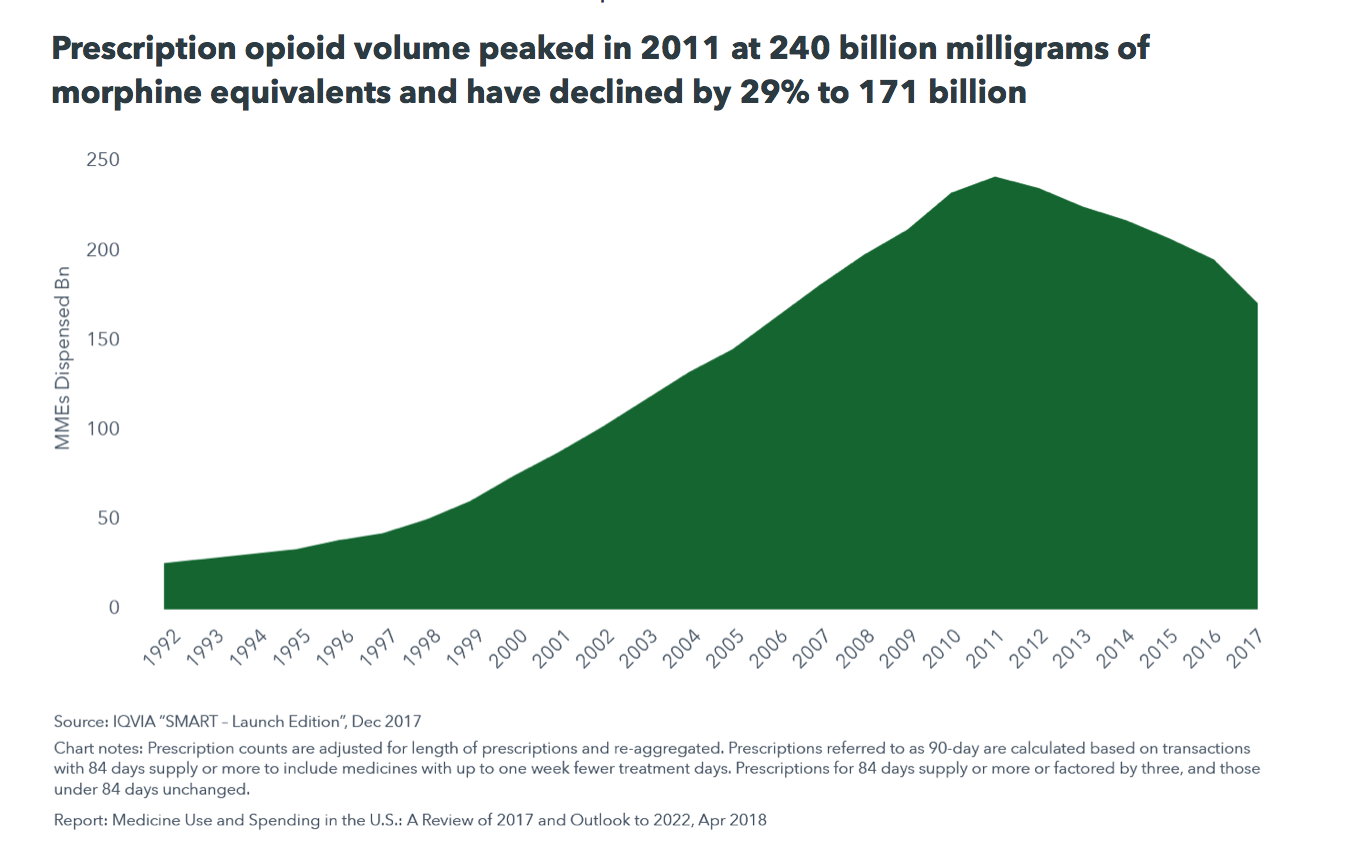 The report stated:
• Prescription opioid usage in the United States increased considerably from the mid 1990's to its peak in 2011, at 240 billion morphine milligram equivalents (MMEs). It is now declining rapidly; the largest single year change in 2017 was a decline of 23.3 billion MMEs, or 12.0%.
• Prescription opioid usage was about 22 pills or 134 MMEs per adult in 1992 and rose to a peak of 72 pills or 1,011 MMEs in 2011. Usage has since declined to 52 pills or 676 MMEs per adult.
• Decreases in prescription opioid volume have been driven by changes in clinical usage, which have been influenced by regulatory and reimbursement policies and legislation that have been increasingly restricting prescription opioid use since 2012.
However, even with the marked decline from the 2011 peak, opioid prescriptions are only back to their level in, say, 2006 or 2007. The increase in dosage, from 134 MMEs in 1992 to 676 in 2017, is an over five-fold increase that cannot begin to be explained by aging Boomers with creaky joints and higher rates of overweight and obesity.
It is important to understand the degree to which drugs, like stocks, are sold. Pharmaceutical sales are widely recognized as the most sophisticated. For instance, ex military personnel are highly sought after as detailmen (the in-person sales force) because they are both willing to comply with the requirement to stick strictly to the scripts for marketing various drugs yet also be aggressive and persistent. Detailmen are given highly structured pitches, with an elevator spiel rolling into a one-minute version that can then go to three minutes if the doctor will give that much time. A typical detailman will sell at most three drugs, so an MD will often have more than one rep from the same company calling on him. The detailmen will also have that doctor's prescription levels relative to that of his supposed peers, and the detailmen will try to depict him as remiss if his Rx level is lower than theirs.
Purdue Pharma, the maker of OxyContin, became the master of this game. From a must-read New Yorker story last year:
In the past, doctors had been reluctant to prescribe strong opioids—as synthetic drugs derived from opium are known—except for acute cancer pain and end-of-life palliative care, because of a long-standing, and well-founded, fear about the addictive properties of these drugs. "Few drugs are as dangerous as the opioids," David Kessler, the former commissioner of the Food and Drug Administration, told me.

Purdue launched OxyContin with a marketing campaign that attempted to counter this attitude and change the prescribing habits of doctors. The company funded research and paid doctors to make the case that concerns about opioid addiction were overblown, and that OxyContin could safely treat an ever-wider range of maladies. Sales representatives marketed OxyContin as a product "to start with and to stay with." Millions of patients found the drug to be a vital salve for excruciating pain. But many others grew so hooked on it that, between doses, they experienced debilitating withdrawal…

Andrew Kolodny, the co-director of the Opioid Policy Research Collaborative, at Brandeis University, has worked with hundreds of patients addicted to opioids. He told me that, though many fatal overdoses have resulted from opioids other than OxyContin, the crisis was initially precipitated by a shift in the culture of prescribing—a shift carefully engineered by Purdue. "If you look at the prescribing trends for all the different opioids, it's in 1996 that prescribing really takes off," Kolodny said. "It's not a coincidence. That was the year Purdue launched a multifaceted campaign that misinformed the medical community about the risks." When I asked Kolodny how much of the blame Purdue bears for the current public-health crisis, he responded, "The lion's share."
Perdue pitched OxyContin as a remedy for chronic but moderate pain, such as arthritis, when historically opiates were used for acute but short-term pain.
Purdue targeted less well educated doctors in areas where there were likely to be high levels of orthopedic injuries, such as factory towns. Purdue also presented the drug as providing 12 hour relief, when for many patients, pain returned after 8 hours. And Perdue knew that. What was their response? To tell doctors to prescribe higher doses. One doctor described this as a prescription for addiction.
Again from the New Yorker story:
Keith Humphreys, a professor of psychiatry at Stanford, who served as a drug-policy adviser to the Obama Administration, said, "That's the real Greek tragedy of this—that so many well-meaning doctors got co-opted. The level of influence is just mind-boggling. Purdue gave money to continuing medical education, to state medical boards, to faux grassroots organizations." According to training materials, Purdue instructed sales representatives to assure doctors—repeatedly and without evidence—that "fewer than one per cent" of patients who took OxyContin became addicted. (In 1999, a Purdue-funded study of patients who used OxyContin for headaches found that the addiction rate was thirteen per cent.)
Readers will no doubt point out that fentanyl and heroin are bigger causes of deaths than prescription opioids. But the prescription drugs are overwhelmingly the start of the path to addiction and abuse. From the Financial Times:
The decline suggests that policymakers are beginning to get to grips with a crisis that is killing more people each year than car accidents: 63,632 Americans died of a drug overdose in 2016, a 21.5 per cent increase on a year earlier, according to the Centers for Disease Control….

The number of overdose deaths caused by heroin has spiked because dealers are mixing the drug with fentanyl, a cheap and powerful synthetic opioid that is being smuggled from overseas. 

Even though the majority of overdose fatalities are caused by heroin laced with fentanyl, most victims became addicted to prescription painkillers before progressing to the illegal drug. Reducing the number of opioid prescriptions is therefore seen as a major step in stemming the crisis….

Dr Andrew Kolodny, who studies addiction at Massachusetts-based Brandeis University, said: "We are still massively overprescribing, even if this trend is in the right direction. We have a long way to go before we are at rational levels." 
While this is a step in the right direction, reducing the level of opioid abuse will not remedy a big underlying cause, namely, that large swathes of rural America have become dead ends for many people as jobs disappear and desperation rises. But at the same time, other policies are helping reduce the demand for opioids for pain relief. A new study published in JAMA found a significant reduction in opioid prescriptions in states that allowed for any use of medical marijuana, with the biggest declines in ones that legalized dispensaries.
But this reduction in opioid prescription levels is still far short of where we should be. From the close of the Financial Times account:
Dr Kolodny pointed to figures in the Iqvia report showing that at the end of 2017, almost 3m new patients a month were being prescribed an opioid painkiller. 

"If we are still prescribing at these levels, the opioid abuse crisis will never come to an end," he added.