By Lambert Strether of Corrente.
Readers, I need to add some material on Pennsylvania, so please check back. –lambert UPDATE 2:44PM All done!
UPDATE Oopsie, wrong HTML file! Replaced….
Trade
"NAFTA math may not add up to more U.S. auto jobs" [Reuters]. "New math to determine what qualifies as vehicle content, what limits apply to allow tariff-free auto imports and how long companies would have to comply under a new NAFTA agreement will likely not move the needle for Detroit automakers in particular, industry executives and supply chain experts said. Automakers are unlikely to uproot billions of dollars of investments in plants and supply chains. And those that cannot comply with standards for passenger cars could simply pay tariffs of around $800 to $900 per vehicle and buy low-cost parts from Asia to offset the cost, industry experts said."
"US Business Groups Bash Trump Tariffs as China Talks Intensify" [Industry Week]. "About 120 firms and industry groups are scheduled to testify at a hearing beginning Tuesday on the administration's plan to impose tariffs on $50 billion in Chinese goods. So many groups signed up that the U.S. Trade Representative's Office extended the hearing by two days until Thursday…. Companies including U.S. Steel Corp., Best Buy Co., and General Electric Co., as well as lobby groups such as the National Retail Federation, Consumer Technology Association and National Association of Manufacturers, are set to testify this week. While they're generally supportive of U.S. action to level the playing field on trade and investment with China, many want the talks to focus on resolving differences rather than the pursuit of tariffs." I'm not sure these companies are as nicey-nice when dealing with their suppliers….
"If Trump's ZTE tweets are any indication, the administration seems to be moving toward short-term dealmaking with China. The Wall Street Journal reported that the two sides are closing in on a deal that would trade U.S. relief for ZTE with China promising to back off tariffs on U.S. agricultural goods" [Politico]. "An administration official familiar with Mnuchin's thinking said the secretary, who has become Trump's point person in the talks, may view a cumulative number of smaller deals that accomplish some of the bigger asks the U.S. laid out during a recent trip to Beijing as representing systemic reform. But that may do little to satisfy the hard liners that want to see Beijing take real reforms."
"Exports from California Ports Surged in April on Trade Unease" [Wall Street Journal]. "Shipments from the biggest U.S. West Coast ports to Asia are picking up steam in a sign that companies are stepping up orders ahead of anticipated new trade restrictions. Loaded container exports from the neighboring ports of Los Angeles and Long Beach jumped 12% year-over-year in April from a year ago to 306,503 20-foot equivalent units, or TEUs, a shipping-industry measure of shipment volume. That made April the biggest month for exports at the largest seaport complex in North America since March 2017. 'Anxiety is driving the export trade,' said Jock O'Connell, an international trade economist based in California. China represents roughly half of the exports that move through Southern California's ports, Mr. O'Connell said."
Politics
2020
"Joe Biden: the liberal everyman spoiling for a fight with Trump as 2020 looms" [Guardian]. "Biden may have to jostle for position with Kamala Harris, Sanders and other senators, former attorney general Eric Holder [BWA-HA-HA-HA, please kill me now], ex-Virginia governor Terry McAuliffe, former New Orleans mayor Mitch Landrieu and Los Angeles mayor Eric Garcetti. Even so, Bob Shrum, a Democratic strategist and senior adviser to past presidential campaigns, said: "The most likely person, in my view, is Joe Biden. He has the broadest support in the party. He can speak across the constituencies and he's well liked. That's important.'" EIght-time loser Bob Shurm gives Joe Biden the Kiss of Death. So awesome

"In wide-open 2020 presidential field, Democrats are road-testing messages — and trying to redefine their party" [WaPo]. This pudding has no theme. –Winston Churchill

"Every Democrat Should Support Bernie Sanders's New Labor Bill" [New York Magazine]. Lol no.
2018
"The Numbers Say Dems Still Have an Edge—But Not a Huge One" [Charles Cook, Cook Political Report]. "The bottom line is that Republicans are in a very challenging situation in terms of House control, uphill but hardly impossible. In the Senate, Republicans have their worries, but they still have a decent advantage in terms of maintaining their majority." In other words, the polls are all over the place; this is a good review of them.

"Is the 2018 Democratic Wave Receding?" [Ed Kilgore, New York Magazine]. "There's no universally accepted definition of a "wave election," but every definition is usually characterized by party gains, not some arbitrary objective like control of one or both congressional chambers. The most frequently cited definition of a "wave" is from veteran election forecaster Stu Rothenberg: an election where there is a net gain or loss of 20 House seats. He doesn't include Senate seats in his definition at all, for the very good reason that only a third of that chamber is at stake in any given election, which means the partisan landscape can vary enormously. The one for 2018 is so bad for Democrats that actual losses this year are entirely consistent with a national "wave" that delivers the House gavel to Nancy Pelosi, as David Wasserman recently pointed out." (I use Rothenberg's rankings from Inside Elections for my worksheets.)

UPDATE "Rothenberg's Dangerous Dozen Open House Seats" [Stuart Rothenberg, Inside Elections]. "Yes, it's time for another of my 'dangerous dozen open House seats' columns, which I have been writing since shortly after the establishment of the Jamestown Settlement (or so it seems).This cycle's version has a plethora of seats to choose from, given the 38 Republican and 19 Democratic seats where an incumbent is not seeking re-election, either because he or she is retiring or running for a different office…. Here is my list, in descending order of vulnerability. The first 10 districts on the list look very likely to flip party control." Only 10?

UPDATE PA: "5/15 PoliticsPA Playbook" [Politics PA]. Huge link round-up, useful for Pennsylvanians voting today.

UPDATE PA: "Five Pennsylvania primaries to watch on Tuesday" [The Hill]. PA-07, hol moly. Lots of outside money, including Emily's List ($370,000), Tom Steyer ($100,000), "United Together" ($350,000),

UPDATE PA: Our Revolution endorsements:

Pennsylvania! Today's the day! You can cast your ballot for
☑️ @edwardsforpa
☑️ @Fiedler4Philly
☑️ @innamo
☑️ @KareemForPA
☑️ @jessforcongress
☑️ @SummerForPA
☑️ @mpinsley
today! Find your polling place: https://t.co/10I0nXIuHx pic.twitter.com/C8KYCUutwN

— Our Revolution (@OurRevolution) May 15, 2018

PA: "Pennsylvania Voters May Hold Key to Democrats' Hopes in November" [Bloomberg]. "Trump narrowly won Pennsylvania in 2016, but the state has two of the main ingredients that could benefit Democrats in this year's closest House races: suburban swing districts and an abundance of female candidates in a year when women are showing unprecedented levels of political engagement. Nine of the state's 18 House races are rated as competitive…. Twenty women, all but one of them a Democrat, are running in Pennsylvania's primary, in some cases against each other, to break into what is now an all-male congressional delegation. Of the 10 Democrats vying for the nomination in the strongly Democratic 5th District near Philadelphia, six are women." As I keep saying, the Daughters of the Confederacy instigated the myth of the lost cause." It's good that women are running, but gender, as Sanders says, is "not enough."
New Cold War
UPDATE "Two Colleagues Contradict Brennan's Denial of Reliance on Dossier" [RealClearInvestigations]. "

Former CIA Director John Brennan's insistence that the salacious and unverified Steele dossier was not part of the official Intelligence Community Assessment on Russian interference in the 2016 election is being contradicted by two top former officials. Recently retired National Security Agency Director Michael Rogers stated in a classified letter to Congress that the Clinton campaign-funded memos did factor into the ICA. And James Clapper, Director of National Intelligence under President Obama, conceded in a recent CNN interview that the assessment was based on 'some of the substantive content of the dossier.' Without elaborating, he maintained that 'we were able to corroborate' certain allegations. These accounts are at odds with Brennan's May 2017 testimony before the House Intelligence Committee that the Steele dossier was 'not in any way used as the basis for the intelligence community's assessment' that Russia interfered in the election to help elect Donald Trump. Brennan has repeated this claim numerous times, including in February on 'Meet the Press.'

" Hmm. Factional infighting in the intelligence community?
Realignment and Legitimacy
"The Danger of Constant Impeachment Talk" [Larry Tribe, Wall Street Journal]. "The 2016 presidential election was the first campaign in American history marked by credible threats of impeachment against whoever won. This was partly because both Donald Trump and Hillary Clinton had long been shadowed by charges of corruption, criminality and conspiracy. But it also reflected a more unnerving development: the emergence of a permanent presidential impeachment campaign." After two solid years of yammering "Russia! Russia! Russia!' and "Impeach! Impeach! Impeach!" the Democrats have decided they need to pivot to… something, and so you see this story, and other stories about what exactly to pivot to. (Pelosi actually resurrected Schumer's lomg-forgotten "Better Deal," which is pretty amazing when you consider relations between Senate and House.

"Va. election officials assigned 26 voters to the wrong district. It might've cost Democrats a pivotal race." [WaPo]. "Last year's race for state delegate in Newport News went down in Virginia history for its razor-thin margin. Republican David E. Yancey won on Election Day by 10 votes; Democrat Shelly Simonds beat him by a single vote in a recount. Then, a judicial panel declared a tie, so officials picked a name out of a bowl to determine a winner, and it was Yancey. Now, a review of voter registration records and district maps by The Washington Post has found more than two dozen voters — enough to swing the outcome of that race — cast ballots in the wrong district, because of errors by local elections officials… The misassigned voters lived in a predominantly African American precinct that heavily favored Democrats in the fall, raising the possibility that they would have delivered the district to Simonds had they voted in the proper race." Eesh. Where do these people think they are? Brooklyn?

"Democrats in a New York County Refuse to Pledge Loyalty to Candidates Just Because Party Endorses Them" [The Intercept]. "A county Democratic committee in New York voted down an extreme proposal on Tuesday night that would have required all members to pledge loyalty to candidates endorsed by the state, local, or national party." Loyalty to what? Honestly, I've been taking a look at the Democrats institutionally in my worksheet series, and I'm damned if I can say what the "Democrat Party" really is.

UPDATE "The American Renaissance Is Already Happening" [David Brooks, New York Times]. "People who read this column know my political ideology: I'm a Whig. If progressives generally believe in expanding government to enhance equality, and libertarians try to reduce government to expand freedom, Whigs seek to use limited but energetic government to enhance social mobility…. There's a promising effort called the Modern Whig Party trying to revive the movement, but until last week I was under the impression that there were basically only 24 of us left. And then I read James and Deborah Fallows's book, 'Our Towns.' Now I realize that Whigs are the most important political force in America today. It's just that the people who are Whigs don't call themselves Whigs and they are all on the local level. Over the past five years, the Fallowses piloted their own small plane to dozens of cities, from Eastport, Me., to Redlands, Calif. They found that as the national political climate has deteriorated, small cities have revived. As the national scene has polarized, people in local communities are working effectively to get things done. Their book is a group portrait of 42 of these success stories. To anybody with a Whig mind-set, the tales have a familiar ring." I wonder how Eastport is doing on life expectancy…
Stats Watch
Retail Sales, April 2018: "Consumer spending was weak in the first quarter and the first look at the second quarter is no better than moderate" [Econoday]. "Details throughout the report are mixed: furniture, which offers a reading on housing demand, extended recent strength with a 0.8 percent gain but restaurants, and their indication on discretionary spending, fell 0.3 percent but following a sharp gain in February. Apparel sales, which have been mixed, surged 1.4 percent but sales at department stores, which have been very weak, managed only a 0.2 percent gain. Building materials rose 0.4 percent in another positive sign for residential investment while nonstore retailers, the report's strongest component, posted a solid 0.6 percent gain." And: "The increase in April was at expectations, and sales in February and March were revised up" "[Calculated Risk]. But: "The unadjusted data shows that this month's softness wiped out last month's improvement in the rate of growth" [Econintersect]. "The relationship between year-over-year growth in inflation adjusted retail sales and retail employment do not correlate."
Business Inventories, March 2018: "Business inventories came in lower than expected in March, at no change which is just below Econoday's low estimate" [Econoday]. "Today's report will trim back inventory contribution to the second estimate of first-quarter GDP but will be offset by this morning's upward revisions to March and February retail sales which will help improve the contribution from consumer spending. For the second quarter, today's report points to healthy conditions for the nation's inventories which are ready to rise to meet continued strength in underlying demand."
Empire State Manufacturing Survey, May 2018: "Awkward imbalances are smoothing out this month for Empire State's manufacturing sample" [Econoday]. "New orders have been very strong in this report and picked up the pace in May's report with a 7-point gain to 16.0. Unfilled orders did…. The 6-month outlook rebounded nearly 13 points to 31.1 and, though it still remains 13 points below March, the gain suggests that the sample is adjusting to tariff disruptions, whether immediate or in their assessment of longer term effects. The factory sector was a main driver of the economy going into March's tariffs on steel and aluminum and this leadership, based at least on this report, seems to remain in place." And: "I am not a fan of surveys – and this survey jumps around erratically – but has been relatively steady for the last year. Key internals in the report improved" [Econintersect].
Housing Market Index, May 2018: "Sentiment among the nation's home builders is strong and moving higher this month" [Econoday]. "Home-builder confidence has been leveling in contrast to new home sales and permits which are both accelerating."
Consumer Expectations: "April 2018 Consumer Expectations: Rising Inflation" [Econintersect]. "The Federal Reserve Bank of New York's Center for Microeconomic Data released the April 2018 Survey of Consumer Expectations, which finds modest increases in short- and medium-term inflation expectations. Households' year-ahead expectations of spending and home price growth also increased."
Consumer Debt: "Consumers Skip More High-Rate Auto Payments Than During Crisis" [Bloomberg]. "The delinquency rate for subprime auto loans more than 60 days past due reached the highest since 1996 at 5.8 percent, according to March data, the most recent available from Fitch. That compares with default rate of around 5 percent during the financial crisis in 2008…. However, the volume of bond sales backed by these loans are likely to remain the same because banks and credit unions, many of whom are more risk-averse, don't turn most of their loans into securities."
Commodities: "Shale-drilling supply chains are spreading out as oil prices rise. Transport bottlenecks at the Permian Basin in the U.S. are sending the fracking business to more far-flung oil fields in Oklahoma and North Dakota where land is cheaper and pipeline capacity has improved. The WSJ's Rebecca Elliott reports that pipeline construction in the Permian hasn't kept up with explosive growth, and labor and materials constraints are also weighing down profits. The expansion will push demand for tight transport operations to reach the new drilling sites. U.S. rail carloads of crushed stone, sand and gravel—much of which is frac sand—were up 8.6% in April and already are on pace for a record this year" [Wall Street Journal].
Retail: "The stores that have thrived amid the retail apocalypse" [MarketWatch]. "A record-breaking 12,000 retail stores are expected to close this year, according to data analysis firm Cushman & Wakefield, due to Americans' love affair with the convenience of e-commerce… Despite the recent retail carnage, many mom-and-pop shops have found a way to thrive. These small retailers are maximizing new shopping trends to encourage strong sales and customer interactions by pairing websites and storefronts in complementary ways." "Many." No numbers in this story, heartwarming though it is.
Transportation: "Pedestrian Deaths Are Rising. One Big Reason? SUVs" [Governing']. "'Pedestrians have a higher risk of death or serious injury when they are struck by an SUV compared to a car,' says Jessica Cicchino, one of the authors of the IIHS report. 'SUVs are higher off the ground than cars, they're stiffer, and they have blunter geometry in the front compared with the more sloping front ends of cars. These features of SUVs can lead to more injuries of all types when a pedestrian is struck by an SUV, especially injuries to the chest and head.'… But it looks like SUVs will continue to gain popularity in the coming years. Ford Motors has announced plans to phase out U.S. sales of nearly all of its cars by 2020; the only models it will continue to sell are the Mustang and a soon-to-be-released Focus Active. In two years, the company predicted, almost 90 percent of the Ford portfolio in North America will be trucks, utilities and commercial vehicles. Other big automakers are making similar shifts."
Transportation: "AAR about-face on longer trucks traced to short-line influence, shipper group says" [DC Velocity]. "The Association of American Railroads' (AAR) recent move to oppose any legislation allowing longer twin-trailers to operate on the National Highway System was not influenced by its core membership of Class I railroads but by short-line and regional carriers that have fought changes to the 36-year-old law, an advocacy group supporting longer combination vehicles said today."
Tech: "Apple hit with class action suit over MacBook, MacBook Pro butterfly switch keyboard failures" [Apple Insider]. "According to the filing, "thousands" of MacBook and MacBook Pro owners have experienced some type of failure with Apple's butterfly keyboard, thus rendering the machine useless. Specifically, the suit claims the design is such that small amounts of dust or debris impede normal switch behavior, causing keystrokes to go unregistered…. The suit seek damages, legal fees and demands Apple not only publicly disclose the keyboard design flaw, but pay to remedy or replace defective units. The latter demand includes reimbursement for the purchase of replacement laptops." I'd consider calling this suit frivolous, if I hadn't heard repair technicians talk about how Apple has crapified its laptops' innards over time.
The Bezzle: "Uber will no longer force victims of sexual assault into arbitration" [CNN]. "The rideshare company said Tuesday it will no longer force into arbitration passengers who allege that they have been sexually assaulted or harassed by drivers — something Uber says was previously required under its terms of service…. The change comes two weeks after CNN reported the results of its investigation, which found at least 103 Uber drivers in the United States who have been accused of sexually assaulting or abusing their passengers in the past four years. The drivers were arrested, are wanted by police, or have been named in civil suits related to the incidents. It was the first time that numbers have been put to the issue…. [T]he numbers suggest that there may be many more overall incidents of sexual assault than the 103 cases found in the investigation."
The Bezzle: "Vomit, booze and nudity: Can you stop dodgy neighbourhood Airbnb rentals?" [ABC Australia]. "Neighbours of a luxury beachfront mansion-turned party house in Adelaide's south say they are at tipping point after three cars were set on fire outside the property on Sunday morning."
The Bezzle: "As A Rare Profitable Unicorn, Airbnb Appears To Be Worth At Least $38 Billion" [Forbes]. "Airbnb allows bookings at listings in more than 18,000 cities across 191 countries – a scale that it was able to achieve over just a few years because of its role as just an intermediary (or broker) connecting people looking to rent out a living space, and those looking for a place to stay. As Airbnb does not require investment in any real estate – unlike many hotel companies such as Hyatt – its growth is purely dependent on the number of hosts and guests it can attract on its platform. The company makes money by charging the host as well as the guest a percentage of the booking cost as a service fee. Currently, the company charges hosts a service fee of 3% of the booking amount, while the service fee for guests ranges from 0-20% of the booking amount. However, the biggest hurdle to Airbnb's growth is restrictions imposed by legislative bodies, municipalities as well as communities on the use of lodgings in a particular locality for short-term rental purposes. Over recent years, though, Airbnb has done well to engage with a number of stakeholders to push regulations and rules which are aimed at making short-term renting easier. A key factor that separates Airbnb from a bulk of the multi-billion dollar startups ("unicorns") is that it is now cash flow positive, and has seen a positive EBITDA figure for the past two years." So they have deep pockets, then?
The Bezzle: "In a recent paper, we analyzed affiliate marketing on YouTube and Pinterest. We found that on both platforms, only about 10% of all content with affiliate links is disclosed to users as required by the FTC's endorsement guidelines" [Freedom to Tinker]. "Amazon's terms and conditions seem contradictory to their Program Policies. On the one hand, Amazon binds its participants to the FTC's endorsement guidelines but on the other, Amazon severely constrains the disclosures content creators can make about their participation in the program. Further, researchers are still figuring out which types of disclosures are effective from a user perspective."
The Bezzle: "To Understand the Future of Tesla, Look to the History of GM" [Harvard Business Review]. "In all of his companies, Elon Musk has used his compelling vision of a future transformed to capture the imagination of customers and, equally important, of Wall Street, raising the billions of dollars to make his vision a reality. Yet, as Durant's story typifies, one of the challenges for visionary founders is that they often have a hard time staying focused on the present when the company needs to transition into relentless execution. Just as Durant had multiple interests, Musk is not only Tesla's CEO and product architect, overseeing all product development, engineering, and design. At SpaceX (his rocket company) he's CEO and lead designer overseeing the development and manufacturing of advanced rockets and spacecraft. He's also the founder at Boring Company (the tunneling company) and cofounder and chair of OpenAI. All of these companies are doing groundbreaking innovation, but even Musk only has 24 hours in a day and seven days in a week."
The Bezzle: "Tesla's Fundraising Options Get Thornier" [Wall Street Journal]. "The time for Tesla Inc. to raise cash is fast approaching, say many analysts and investors, but the company's fundraising options are fraught with complications."
The Bezzle: "Musk Fires Back Over 'Super Messed Up' Crash Coverage" [Industry Week]. "A woman in South Jordan, Utah inadvertently rammed her black Model S into a fire department truck stopped at a red light at a speed of 60 mph. The Autopilot system, which uses sensors to assist in detecting nearby objects, was engaged, though drivers to always pay attention. The 28-year-old woman later admitted that she was looking at her phone at the time of the crash." "Are required"? How, exactly?
The Bezzle: "Tesla Is Seeing an Exodus of High-Profile Executives" [The Street]. "Matthew Schwall, who had been the director of field performance engineering at Tesla, has left the company to join rival Waymo… '"He [Schwall] joins a long list of Tesla Autopilot executives who have (mostly) gone to Google/Waymo…' says auto industry analyst Anton Wahlman. Schwall's departure comes hot on the heels of Tesla's senior vice president of engineering Doug Field deciding to step away from the company to spend more time with his family [snicker]" [The Street]. "With Tesla trying to ramp production of its Model 3 in the hopes of reaching profitability later this year, the exits of top engineers should be a concern for investors…. Keep in mind, Tesla only has three executives on its management team. The last thing it needs to witness is what looks to be a talent exodus under that thin team."
Concentration: "Pentagon used contracts that could suppress competition, watchdog finds" [Federal Times]. "Forty percent of Pentagon contracts were indefinite delivery, indefinite quantity contracts, which potentially limit competition, a government watchdog agency reports. Of the contracts, three-quarters were made to a single contractor, rather than multiple contractors, according to a Government Accountability Office report published Friday. GAO relied on data from 2015 through 2017 for the report…. The report comes as Defense Department officials defend their decision to award a potentially multibillion-dollar cloud contract — Joint Enterprise Defense Infrastructure — to a single vendor. In this case, they pointed to the current state of the commercial marketplace, existing acquisition laws and battlefield requirements as critical components. Also last month, the U.S. Air Force selected Lockheed Martin to design and prototype a new hypersonic cruise missile, as part of a broad Pentagon push to kick-start America's hypersonic arsenal — a single IDIQ contract worth as much as $928 million."
Five Horsemen: "Amazon is down 2 percent in early trading as US retail sales weaken" [Hat Tip, Jim Haygood].
NakedCap Mania-Panic Index: "The mania-pania index gained a tick to 67 (complacency) as new highs exceeded new lows yesterday and the put-call ratio receded to 0.88" [Hat Tip, Jim Haygood]. (The NakedCap mania-panic index is an equally-weighted average of seven technical indicators derived from stock indexes, volatility (VIX), Treasuries, junk bonds, equity options, and internal measures of new highs vs new lows and up volume vs down volume … each converted to a scale of 0 to 100 before averaging, using thirty years of history for five of the seven series.)
Rapture Index: Closes unchanged [Rapture Ready]. Record High, October 10, 2016: 189. Current: 183. Let's see if events in Jerusalem give this index a bump next week.
Black Injustice Tipping Point
"This allegedly wasn't the first time this white Yale student called the cops on a person of color" [CNN]. "This week's incident at the Ivy League university in Connecticut is among several in recent weeks in which a white person has called police on people of color over seemingly harmless acts. The cases have happened at a Philadelphia Starbucks, a Nordstrom Rack in Missouri, Colorado State University, an LA Fitness in New Jersey, an Airbnb in California and a golf course in Pennsylvania." Missed the golf course one….
Gunz
"Mittelstand guns: Made in Germany, fired in America" [Handelsblatt]. "Mowing down school kids, concertgoers and other innocent people is a quintessentially American homicidal tradition that annually devours more lives than terrorism. For many of the sick, angry assailants, the weapon of choice is a military-style, semi-automatic assault rifle, purchased over the counter and made in Germany, where such assault-type weapons are banned for civilian use. German gunmakers Heckler & Koch and Sig Sauer are major suppliers of semi-automatic assault rifles designed to rapidly fire ammunition that can kill or maim people. While their primary customers for these guns are armies, the firms have also tapped into lucrative markets in the civilian sector, especially in gun-obsessed America."
Gaia
"Extreme weather event attribution science and climate change litigation: an essential step in the causal chain?" [Journal of Energy & Natural Resources Law]. From the abstract: "As climate-related loss and damage mount, there is growing interest in the role of law in dealing with the complex and multi-scalar problem of climate change… [This article] is an interdisciplinary and cross-jurisdictional analysis of the emerging science of extreme weather event attribution (which analyses the human impact on extreme weather events), and the implications this new science may have for the law, litigation and the scope of the duty of care of a range of actors. We suggest that the science of event attribution may become a driver of litigation, as it shifts understanding of what weather is expected and, relevantly for law, foreseeable. This may have an impact on the duties of government actors as well as private parties."
"How earthquakes are induced" [Science]. "Both for fluid injection in the midwestern United States and for gas extraction at the Groningen field, a spectrum of evidence underscores the central role of preexisting faults and their stress level before subsurface human activities. Mitigation strategies to limit induced earthquakes that solely rely on operational parameters, such as the injected or produced volume, can be used as a first approximation, but much added value lies in subsurface characterization of fault populations and ambient stress. In the case of poor prior knowledge of the subsurface, continuous monitoring of seismicity can help illuminate unmapped faults. For this exercise, recent advances in artificial intelligence should be key to optimize real-time earthquake detection and location during operations. The state of stress along these preexisting faults can be defined by hydromechanical modeling, calibrated by measurements that are independent of operational parameters, as, for example, surface deformation derived from InSAR."
Police State Watch
"Lawrence County, Tenn. sheriff and captain arrested, sheriff accused of using inmate labor for personal gain" [WHNT]. "[Special Agents with the Tennessee Bureau of Investigation and investigators with the Tennessee Comptroller of the Treasury] say they uncovered evidence that from 2015 through 2017, Sheriff Brown allowed inmates to be used for labor by various county employees at their personal residence, or for personal business. Investigators say Sheriff Brown used his position to circumvent the bond process for some arrested individuals, releasing them from jail without requiring them to pay for the secured bond as ordered by a judge."
Class Warfare
"The tyranny of optimization" [The Week]. "To say something like 30 seconds wasted in a day adds up to 125 misspent minutes over the course of a work year and to an untold number of weeks or even months of vanished productivity when multiplied across thousands of employees is nonsense. Human activity doesn't work that way. One person's action or inaction is not an undifferentiated input that combines coolly and mechanically with identical inputs from hundreds of others. We are all different people doing different things at different times. The fact that we are able to coordinate our actions in order to accomplish the infinite number of things our bizarre species gets up to is remarkable enough." Capitalism: lol no.
"Puerto Rico: The Teacher Uprising the Media Is Ignoring" [Labor Notes]. "First they said 305 schools were to be closed, then they lowered that to 283, now it's 266. There are 1,100 schools on the whole island. They want to shut down almost a third of the schools…. They want to convert 10 percent of the schools to charters in August. They will base those decisions on the standardized testing which begins on Monday."
"Robots may be taking on more tasks, but researchers say that doesn't necessarily include killing jobs. As companies automate more jobs…. the increased productivity is spurring demand for positions that rely on decidedly human attributes like creativity and judgment. Auto-parts manufacturer Robert Bosch GmbH is hiring more workers to test parts after it boosted output by moving one step—pulling hot parts from an oven—over to machines" [Wall Street Journal]. "The new jobs often require different skills, and overall gains in job creation may not help individuals like Asian garment and footwear workers whose jobs are threatened by sophisticated 'sewbots.' But in Europe, automated manufacturing has given rise to new job categories, including workers who test and repair assembly-line robots or design combined human-robot workflow like those used in a growing number of logistics facilities."
News of The Wired
"The singularity is not near: The intellectual fraud of the "Singularitarians'" [Corey Pein].
"AI recreates activity patterns that brain cells use in navigation" [Nature]. "The collaboration with neuroscientists has inspired AI research, says DeepMind researcher and study co-author Andrea Banino. 'But right now it is purely basic research into making intelligent algorithms, and not about applications,' he says." "Right now" is donig a lot of work, there…….
"A Chemist Shines Light on a Surprising Prime Number Pattern" [Quanta]. "in three new papers — one by Torquato, Zhang and the computational chemist Fausto Martelli that was published in the Journal of Physics A in February, and two others co-authored with de Courcy-Ireland that have not yet been peer-reviewed — the researchers report that the primes, like crystals and unlike liquids, produce a diffraction pattern…. The main advantage of the prime diffraction pattern, said Jonathan Keating of the University of Bristol, is that 'it is evocative' and 'makes a connection with different ways of thinking.' But the esteemed number theorist Andrew Granville of the University of Montreal called Torquato and company's work 'pretentious' and 'just a regurgitation of known ideas.'" Infinite are the arguments of mages….
"Time travellers welcome at Hawking's memorial service" [Phys.org]. "The world-renowned cosmologist's three children Robert, Lucy and Tim are offering up to 1,000 free tickets to the public through a ballot system, run by the Stephen Hawking Foundation. Applicants need to give their birth date—but eagle-eyed fans of the man who dedicated his life's work to unravelling the mysteries of the universe spotted that it can be any day up to December 31, 2038. London travel blogger IanVisits was among those who noticed the quirk that allows people born more than 20 years into the future to apply. 'Professor Hawking once threw a party for time travellers, to see if any would turn up if he posted the invite after the party,' he wrote. 'None did, but it seems perfect that the memorial website allows people born in the future to attend the service.'"
* * *
Readers, feel free to contact me at lambert [UNDERSCORE] strether [DOT] corrente [AT] yahoo [DOT] com, with (a) links, and even better (b) sources I should curate regularly, (c) how to send me a check if you are allergic to PayPal, and (d) to find out how to send me images of plants. Vegetables are fine! Fungi are deemed to be honorary plants! If you want your handle to appear as a credit, please place it at the start of your mail in parentheses: (thus). Otherwise, I will anonymize by using your initials. See the previous Water Cooler (with plant) here. Today's plant (TH):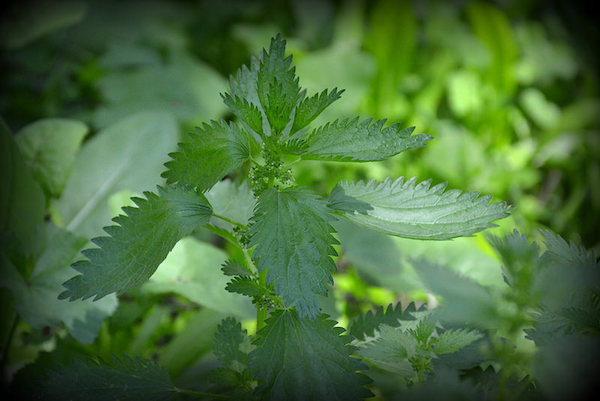 TH writes: "This Stinging Nettle is just one of the many weeds that popped up after the rains in the little Peppperwood Park next to Rancho Palos Verdes' City Hall." I had stinging nettles in my front garden, and at first I rather liked them, but they were too invasive even for me!
* * *
Readers: Water Cooler is a standalone entity not covered by the annual NC fundraiser. So do feel free to make a contribution today or any day. Here is why: Regular positive feedback both makes me feel good and lets me know I'm on the right track with coverage. When I get no donations for five or ten days I get worried. More tangibly, a constant trickle of small donations helps me with expenses, and I factor that trickle in when setting fundraising goals. So if you see something you especially appreciate, do feel free to click the hat!

To give more, click on the arrow heads to the right of the amount.
If you hate PayPal — even though you can use a credit card or debit card on PayPal — you can email me at lambert [UNDERSCORE] strether [DOT] corrente [AT] yahoo [DOT] com, and I will give you directions on how to send a check.