By Lambert Strether of Corrente.
Trade
"The big figure overhanging today's meeting is the record $375 billion U.S. trade deficit with China racked up during Trump's first year in office. When the two sides met two weeks ago in Beijing, the United States pressed China to reduce that by $200 billion over the next year in exchange for tariff relief. An administration official told our colleague Andrew Restuccia that China has countered by proposing to buy $150 billion worth of U.S. goods, but also cautioned that talks were still very much in flux" [Politico].
"Higher wages for Mexican auto workers could provide the key to a new North American Free Trade Agreement. The latest White House plan to overhaul the trade pact would set minimum pay at car factories at roughly $16 an hour, about double what workers at Mexico's auto assembly plants earn and some four times the wage at parts plants. …[T]he proposal comes as the U.S., Canada and Mexico resume talks in Washington this week, and as the Trump administration seeks more support to gain an agreement in the next few weeks. U.S. negotiators have struggled to write rules without granting special privileges to the U.S. or explicitly singling out Mexico. Its plans are gaining traction in Detroit, but some foreign auto makers say some rules would penalize their operations, including their plants in the U.S>" [Wall Street Journal]. Eliminating capital's ability to arbitrage the price of labor power over international borders? Not the first proposal one would expect from a Republican administration. I'm sure there's a catch. But what is it?
Politics
2020
"A Boring Presidential Nominee? Bring It, Democrats" [Bloomberg]. On outsider candidates: "Trump won the nomination narrowly, by historical standards. He took advantage of dysfunction in the Republican Party that doesn't appear to be present among Democrats. And he benefited from a Republican openness to non-politicians (or new politicians) that goes back a while, with presidential candidates such as Herman Cain, Steve Forbes, Pat Buchanan and others all running fairly serious races – something that's happened far more rarely on the Democratic side. Could that openness spread to the Democrats? I've learned never to say never. Still, it seems unlikely to me that Democratic party actors, who universally have nothing but scorn for Trump, will decide to emulate the Republicans who nominated him. "

"Burlington, Vermont, Says "No" to F-35s, Setting Off a Chain Reaction" [Truthout]. "Notwithstanding lockstep support by the Vermont political and commercial establishment, the plan to base the fighter bombers in Burlington was shaken up in March when citizens voted to cancel the basing. While the vote was a major step toward revoking the plan, a bit more than a democratic vote of the people may be needed in view of the enthusiasm for F-35 basing that Burlington Mayor Miro Weinberger, US Sen. Patrick Leahy and commercial real estate developers continue to display, notwithstanding the serious harm the basing will impose on thousands of families." C'mon, Bernie. Get out front on this.
2018
"The Democrats' Drive for 25 in the House: An Update" [Larry Sabato's Crystal Ball]. "This piece revisits a proposed path to a Democratic House majority we sketched out in early February. Overall, the Democrats' odds in the districts mentioned have largely but not universally gotten . The California primary on June 5 looms as the most important date in the battle for the House between now and the November election. The Democrats' odds of retaking the House majority remain about 50-50." If you like handicapping in a "paths to victory" format, which those of you who remember my 2016 coverage will remember that I do, this is well worth a read. Still, "a little better." Only a little? By now?

PA: "PoliticsPA Playbook: Primary Election Results" [Politics PA]. "In a bad night for Allegheny County incumbents, Democratic state Reps. Dom Costa and Paul Costa, and Republican state Sen. Randy Vulakovich all lost to primary challengers. ." Not happy with this coverage in the slightest. The victors — the only candidates to defeat incumbents in PA, to reword Politics PA's coverage slightly — were all DSA-backed, were all women, one black, and one of them wore a [family blogging] nose-ring. "DSA-backed" plus a trailing space is — let me break out my calculator, here — only 11 characters. Would it have killed PA Politics to add that potentially salient fact?

PA: "A Democratic-Socialist Landslide in Pennsylvania" [The New Yorker]. "One of the D.S.A.'s tactics has been to target small races in order to build local power, in a way that Republicans have traditionally done better than Democrats: deploying armies of volunteers to knock on tens of thousand of doors, over months rather than weeks; crunching numbers to forge specific goals; and breaking down demographic data to reach specific voters. These methods allowed three political unknowns to wage a remarkably sophisticated insurgency within their own party." This is a must-read. Note, however — here my cynicism and paranoia kicks in 00 the bios; one might think of these candidates aspirational 10%-ers manqué. Then again, you can't start anywhere except where you are….
New Cold War
"Trump Tower transcripts show how one reckless meeting led to probe" [Jonathan Turley, The Hill]. "The public will have to reach its own conclusions on the Trump Tower meeting but it is now more likely to find enlightenment in the writings of a 14th century Franciscan friar than from partisans in Congress. William of Ockham is famous as the source of "Ockham's razor," the principle that when presented with competing possible solutions to a problem, one should select the answer that makes the fewest assumptions. There is an obvious explanation for the Trump Tower meeting, and it is ." Linking to this because Turley is one of the few writing on this topic to have retained his sanity, unlike (say) Larry Tribe, who has disgraced himself.
Realignment and Legitimacy
"The Dangerous Side of Democrats Viewing Demography as Destiny" [National Review]. A conservative response to Damon Linker's article in The Week. "[T]he Left [the author has liberals confused with the left] is simultaneously crowing about the decline of the white voter while scolding any white voter who racializes their politics. A message that essentially declares, "Ha! White people your time is over!" and "It's racist for you to care" is unsustainable outside progressive academies or corporations. The answer isn't for politics to strive to ignore race. To ignore the role of race and racism in American history (or the American present) is to ignore reality. But I can think of few developments more destructive than doubling-down on racial identity as the defining strategy for coalition-building. Given the fact that American demographics are hardly changing at the same rate in every community, this is a recipe for Balkanization and division far more than it's a recipe for Democratic dominance…. The more I look at each party's long-term strategy for political dominance, the more I'm convinced that they're not just fatally-flawed, they depend on assumptions of voter behavior and interests that will further polarize and destabilize our politics. Linker writes that 'liberals risk actively antagonizing (and hence galvanizing against them) what will remain for some significant time to come the single-largest demographic group in the United States.' He calls that foolish. I choose a stronger word. It's dangerous for the continued health of a united, multi-ethnic republic." The author says "each party's long-term strategy." But only mentions one party.

"On Neoliberalism" [Stumbling and Mumbling]. "If neoliberalism is a system rather than an ideology, what role does ideology play? I suspect it's that of post-fact justification…. I don't, however, want to get hung up on words: I'd rather leave such pedantry to the worst sort of academic. What's more important than language is the brute fact that productivity and hence real incomes for most of us have stagnated for years. In this sense, our existing economic system has failed the majority of people. And this is true whatever name you give it."

"Michigan State's Endowment Is $2 Billion, Nassar Victims Will Get $500 Million" [247 Wall Street]. "Michigan State has settled suits that involved sex abuse by Larry Nassar, a sports doctor. The amount agreed upon to compensate approximately 300 women was $500 million. The university has an endowment of $2 billion, so the settlement is equivalent to a quarter of that. No one has stated publicly where the money will come from. Much of the university's endowment is restricted, so it may not be available to cover payments. Much of the fund is devoted to research projects. Another portion is used for scholarships and incentives to hire and retain faculty. That does not leave much, if any money, for the $500 million settlement." Puts a whole new set of connotations on #MeToo…
Stats Watch
Leading Indicators, April 2018: "A rise in the factory workweek and a still favorable rate spread in the bond market (short rates lower than long rates) are the leading positives in April's index of leading economic indicators" [Econoday]. "Though still solid, gains in the LEI have been easing back which the report notes lowers the chances that economic growth will accelerate later this year." But: "Because of the significant backward revisions, I do not trust this index" [Econintersect].
Jobless Claims, week of May 12, 2018: "A strong May employment report is in the cards based on unemployment claims" [Econoday]. "Employers are holding onto their employees as never before in what is very convincing evidence that the labor market is at, or very near, full employment." If the operational definition of "full employment" is what's happening to the workers at Meridian's magnesium plant (see below), then I think the definition of "full employment" needs to be rethought. Full of what? A question that answers itself, once asked…
Philadelphia Fed Business Outlook Survey, May 2018: "A 45-year high for new orders tops a May Philly Fed report that is one of the strongest on record" [Econoday]. "Signs of overheating are easy to find especially selling prices which jumped nearly 7 points to a very hot 36.4 and the highest reading since May 1981. Input prices slipped back slightly but remain extremely elevated at 52.6. Another sign of stress comes from delivery times which, at 18.5, are among the very highest in the report's 50 years of data. And the sample is hiring, at 30.2 which is up more than 3 points and the second highest on record…. The results from small sample surveys, such as the Philly Fed where a month's responses may total no more than 100, have to be taken cautiously. But there is little question that overheating is a risk for Philly's sample and by extension, perhaps, for the whole of the factory sector where order growth is nearing a 10 percent clip." And: "Consider this a much stronger report than last month as key elements strongly improved" [Econintersect]. Remarkably unqualified for Econintersect.
E-Commerce Retail Sales, Q1 2018: "The pace of online shopping picked up in the first quarter" [Econoday]. "But year-on-year growth slowed slightly…. As a percentage of total retail sales, e-commerce rose 4 tenths to 9.5 percent."
Debt: "NY Fed Q1 Report: "Total Household Debt Rises for 15th Straight Quarter, Led by Mortgages, Student Loans" (charts) [Calculated Risk]. "There is still a larger than normal percent of debt 90+ days delinquent [but] the overall delinquency rate decreased."
Shipping: "Boeing 747s Are Back From the Dead" [Bloomberg]. "Demand is strongest for used 747s originally built as freighters, since they have hinged noses that flip open to load oversize cargo such as oil-drilling equipment. Lease rates have rebounded for the aircraft, while the number of stored models has shrunk to the point where almost every airworthy plane is spoken for, according to George Dimitroff, head of valuations for Flight Ascend Consultancy. The resurgence is even starting to extend to cargo-haulers converted from passenger jumbos, which are heavier and can load only via doors carved into the side. Once written off as dead, the converted 747 freighters have shown new life over the last nine months, Dimitroff said. While it's not quite a comeback, lease rates have climbed for older models."
Shipping: "Maersk sets course for cost-cutting programme after unveiling first-quarter losses" [The LoadStar]. Maersk Line will cull unprofitable services, cut capacity and reduce feedering in an urgent bid to stem losses caused by a toxic mix of low freight rates and soaring fuel costs. The refocused Maersk Group recorded an net loss of $239m in the first quarter across its Ocean, Logistics & Services, Terminals & Towage and Manufacturing & Others business divisions. Chief executive Soren Skou said the result was 'unsatisfactory' and that 'a number of short-term initiatives are being implemented to improve profitability.'
Shipping: "Maersk revenue up 30% YOY in Q1; ocean volume lagging" [Freight Waves]. "Tellingly, the photograph on the cover of Maersk's interim Q1 report (see above) depicted Maersk's first block train, which left China's Hubei Province on October 28, 2017, and arrived on time in northern France 20 days later, after a journey by rail of 6,720 miles. Maersk's containers never touched a ship, and made the Eurasian journey in roughly the same transit time a ship would take from Shanghai to Rotterdam. The publicity photo on the cover of the report functions as a piece of visual rhetoric supporting Maersk's new identity as an 'integrated global container transport' company and its determination to seek more growth and wider margins on inland logistics services."
Shipping: "Maersk warns on trade risks as disappointing first quarter earnings hit share price" (interview) [Reuters]. Chief Executive Soren Skou: "We have to admit that the Americans have taken a number of initiatives recently that have caught us by surprise."
Manufacturing: "Ford Resuming Output of F-Series After Supplier Fire" [Industry Week]. "Production of F-Series pickups will restart first at Ford's Dearborn, Mich., factory on Friday, then at plants in Kentucky and Missouri on Monday. The automaker said all three factories will be at full production by Monday and it has rebuilt its supply chain for key magnesium parts used in the trucks and in sport utility vehicles including the Lincoln Navigator and Ford Explorer, according to a statement…. To get production up as quickly as possible, Ford airlifted an 87,000-pound die to a Meridian plant in the U.K. on a Russian-built Antonov An-124 Ruslan, one of the world's largest cargo planes. The massive die, used for stamping parts, made the trip from Eaton Rapids to Nottingham, England, in 30 hours, with necessary import documents secured two hours before the plane touched down. Normally, it would take 10 days for such a move, according to the company." Hmm. That's not going to be so easy after Brexit. And I wonder if the (Chinese-owned) plant in Michigan is still a hellhole? Read on–
Manufacturing: "Michigan auto parts plant explosion highlights brutal conditions in supplier industry" [World Socialist Web Site]. "In recent years [Meridian] has been cited for more than half a dozen safety violations, including several incidents where workers suffered serious burns. Two more were injured during the explosions earlier this month. Workers report a hazardous environment in which untrained people are routinely assigned to dangerous jobs… With 400 employees, the factory is the largest employer in the town of 5,000 people. The work force has a high rate of turnover and poverty level pay. Thirty-six percent of workers have four years or less and another 45 percent have between five and nine years. An assembly line worker makes just $11.67 per hour, a fork lift driver $12.84 and an assembler gets a mere $13.74… The low wage regime confronting auto parts workers is the outcome of a long process in which the UAW has collaborated with the major car companies and auto parts suppliers to drive down wages."
The Bezzle: "Too Clever By Half" [Epsilon]. "Every truly disruptive discovery or innovation in history is the work of coyotes. It's always the non-domesticated schemers who come up with the Idea That Changes Things. We all know the type. Many of the readers of this note ARE the type…. Financial innovation is always and in all ways one of two things — a new way of securitizing something or a new way of leveraging something…. Finding new ways to trade things (securitization) or new ways to borrow money on things (leverage) is what financial innovation is all about, and there are vast riches awaiting the clever coyotes who can come up with a useful scheme on either…. The biggest market disasters happen when both leverage and securitization get mixed up with the same clever scheme, as when new ways of leveraging and securitizing U.S. residential mortgages were developed in 2001, resulting in the creation of a $10 trillion asset class that utterly collapsed during the Great Financial Crisis… Many of the coyotes involved with this classic example of financial innovation gone awry are (professionally) dead. At the very least careers were permanently derailed, and entire coyote institutions, like Bear Stearns, were taken out into the street and shot in the head by animal control officers were merged into healthier financial institutions by government regulators as a necessary measure for systemic stability. I miss Bear Stearns. The world is a poorer place for Bear Stearns not being in it." This is awfully funny, and talks about real coyotes and real racooons — in the Connecticut suburbs, naturally — and, also naturally, blockchain. I'd be interested to know what any non-domesticated schemers in the readership think of it.
The Bezzle: "JPMorgan launches crypto strategy months after Dimon 'fraud' warning" [Financial News]. "The US bank has just moved Oliver Harris, the head of an in-house scheme to develop new financial technologies, into a role looking at the use of cryptocurrencies across its corporate and investment bank, according to people familiar with the matter. London-based Harris, who has been leading JPMorgan's Fintech and In-Residence programme since 2015, moves at a time when large US investment banks are exploring the risks and rewards of digital monies and the distributed ledger — or blockchain — technologies that underpin them."
The Bezzle: "Tesla May Need $10 Billion in Funding by 2020, Goldman Says" [Industry Week]. "Goldman joins a growing chorus of investors and analysts who see additional financing as not only wise, but vital. Moody's Investors Service, which downgraded Tesla's credit rating further into junk in March, expects Tesla will need to raise about $2 billion to offset cash burn this year and account for debt maturities through early 2019. CreditSights has a similar expectation, though that could be less if the company follows through on its production targets or borrows through its bank credit line."
The Bezzle: "U.S. Army, Uber sign research agreement" [U.S. Army]. No, not the Duffel Blog. "The joint work statement focuses on research to create the first usable stacked co-rotating rotors or propellers; this is a concept for having two rotor systems placed on top of each other and rotating in the same direction."
Tech: "Apple as a Service, Part 1: Entering a Period of Greater iPhone Visibility" [247 Wall Street]. Interesting series: Parts 2, 3, and 4. I want my [family bloggins] MagSafe connector back. That's not a service.
Five Horsemen: "Yesterday Standard & Poors identified the top three performers in the Five Horsemen chart — Amazon, Microsoft, and Apple — as having contributed sixty percent of year-to-date return of the S&P 500 index" [Hat Tip, Jim Haygood]. "Narrow leadership." No problem there!
NakedCap Mania-Panic Index: "The mania-panic index bounced to 63 (complacency) as VIX dropped to 13.42 and the put-call ratio receded to 0.89" [Hat Tip, Jim Haygood]. (The NakedCap mania-panic index is an equally-weighted average of seven technical indicators derived from stock indexes, volatility (VIX), Treasuries, junk bonds, equity options, and internal measures of new highs vs new lows and up volume vs down volume … each converted to a scale of 0 to 100 before averaging, using thirty years of history for five of the seven series.)
Health Care
"Medical Mystery: Something Happened to U.S. Health Spending After 1980" [New York Times]. One word: Neoliberalism. More: "For spending, many experts point to differences in public policy on health care financing. "Other countries have been able to put limits on health care prices and spending" with government policies, said Paul Starr, professor of sociology and public affairs at Princeton. The United States has relied more on market forces, which have been less effective." And how a neoliberal translates that: "This willingness to pay more has in turn made the United States an attractive market for innovation in health care." It's true. Single payer is not "innovative." It's all been done before. It is only simple, rugged, and effective.
"Vermont becomes first state to permit drug imports from Canada" [Politico]. "Vermont Republican Gov. Phil Scott Wednesday signed legislation making his state the first to legalize importing prescription drugs from Canada, an idea President Donald Trump's top health officials oppose that's also drawn fierce opposition from the pharmaceutical industry…. Several steps remain before the Vermont program would take effect. The state would be required to submit a certification request to the federal government by July 2019."
Gaia
"Hurricane season is expected to bring at least 14 named storms in 2018" [MarketWatch]. "Colorado State University is forecasting 14 named storms, including seven hurricanes and three major hurricanes. North Carolina State University is forecasting 14 to 18 named storms, seven of which are expected to grow to hurricane strength, and three to five of which may become major hurricanes, defined as Category 3 or higher."
Class Warfare
"The 9.9 Percent Is the New American Aristocracy" [The Atlantic]. "So what kind of characters are we, the 9.9 percent? We are mostly not like those flamboyant political manipulators from the 0.1 percent. We're a well-behaved, flannel-suited crowd of lawyers, doctors, dentists, mid-level investment bankers, M.B.A.s with opaque job titles, and assorted other professionals—the kind of people you might invite to dinner. In fact, we're so self-effacing, we deny our own existence. We keep insisting that we're 'middle class.'" Yves linked to this, but let me throw in the additionals comments that (1) "the 10%" wasn't a misnomer after all, (2) we also need a way to refer to the aspirational 10%-ers in the 90%, (3) yes, this is the Democrats' base, and (4) we might consider thinking of of credentials, or the set of social relations and skills required to acquire credentials generationally, as a property interest.
"College May Not Be Worth It Anymore" [New York Times]. "They found that for Americans born into middle-class families, a college degree does appear to be a wise investment. Those in this group who received one earned 162 percent more over their careers than those who didn't. But for those born into poverty, the results were far less impressive." Note that these intergenerational effects are effects that class, at least with set membership functions as understood by Marx in Volume III, Chapter 52, of Capital — "the identity of revenues and sources of revenue" — does not offer an instantly obvious account of these intergenerational effects.
"Companies Can't Hold the Line on U.S. Wages Much Longer" [Tim Duy, Bloomberg]. Ten years out from the last crash, and surely closer than ten years to the next crash, when a proper level of discipline will be restored. Anyhoo: "so-called real wage growth, which is what workers get after taking into account the Fed's preferred measure of inflation, decelerated to an estimated 0.6 percent rate in April… Using headline measures of the consumer price index, the news is even more disappointing, with average real wages up just 0.2 percent from a year ago… It is unlikely that companies can hold the line on wages – and depress real wage growth – when low unemployment encourages workers to quit their jobs in search of a higher salary. The Fed expects this as well, which is why faster wage growth alone will not prompt an acceleration in the pace of rate hikes. The surprise would be if wage growth didn't accelerate. Such an outcome would call into question both the durability of consumer spending and the viability of the Fed's expected rate path." So the headline is deceptive…
"Almost Half Of US Families Can't Afford Basics Like Rent And Food" [CBS]. "The economy may be chugging along, but many Americans are still struggling to afford a basic middle-class life. Nearly 51 million households don't earn enough to afford a monthly budget that includes housing, food, childcare, healthcare, transportation and a cell phone, according to a study released Thursday by the United Way ALICE Project [here]. That's 43% of households in the United States…. 'Despite seemingly positive economic signs, the ALICE data shows that financial hardship is still a pervasive problem,' said Stephanie Hoopes, the project's director." That's not a bug…..
News of The Wired
"Mice With 3D-Printed Ovaries Successfully Give Birth" [Smithsonian]. "As Katherine Kornei at Science reports, the researchers used a 3D printer to build the scaffolding of the organs, weaving layers of gelatin to create tiny (15 x 15 millimeter) ovaries on glass slides. They then tested the scaffolds by embedding a follicle—the tiny sacs composed of hormone-secreting cells that contain the maturing eggs."
"10 Things You Don't Know about Yourself" [Scientific American]. "Psychological research shows that we do not have privileged access to who we are. When we try to assess ourselves accurately, we are really poking around in a fog. Princeton University psychologist Emily Pronin, who specializes in human self-perception and decision making, calls the mistaken belief in privileged access the 'introspection illusion.' The way we view ourselves is distorted, but we do not realize it. As a result, our self-image has surprisingly little to do with our actions." AA: "Self-knowledge avails us nothing." Because it's not knowledge?
"A New World's Extraordinary Orbit Points to Planet Nine" [Quanta]. Pluto having been demoted. "[David Gerdes, an astronomer at the University of Michigan] and his colleagues spotted the new object in data from the Dark Energy Survey, a project that probes the acceleration in the expansion of the universe by surveying a region well above the plane of the solar system. This makes it an unlikely tool for finding objects inside the solar system, since they mostly orbit within the plane. But that is exactly what makes the new object unique: Its orbit is tilted 54 degrees with respect to the plane of the solar system. It's something Gerdes did not expect to see. [Konstantin Batygin and Michael Brown, the astronomers at the California Institute of Technology], however, predicted it…. Batygin notes that the new object fits so perfectly with their model that it almost looks like one of the data points in their simulations. ",' he said." No false modesty there!
* * *
Readers, feel free to contact me at lambert [UNDERSCORE] strether [DOT] corrente [AT] yahoo [DOT] com, with (a) links, and even better (b) sources I should curate regularly, (c) how to send me a check if you are allergic to PayPal, and (d) to find out how to send me images of plants. Vegetables are fine! Fungi are deemed to be honorary plants! If you want your handle to appear as a credit, please place it at the start of your mail in parentheses: (thus). Otherwise, I will anonymize by using your initials. See the previous Water Cooler (with plant) here. Today's plant (PM):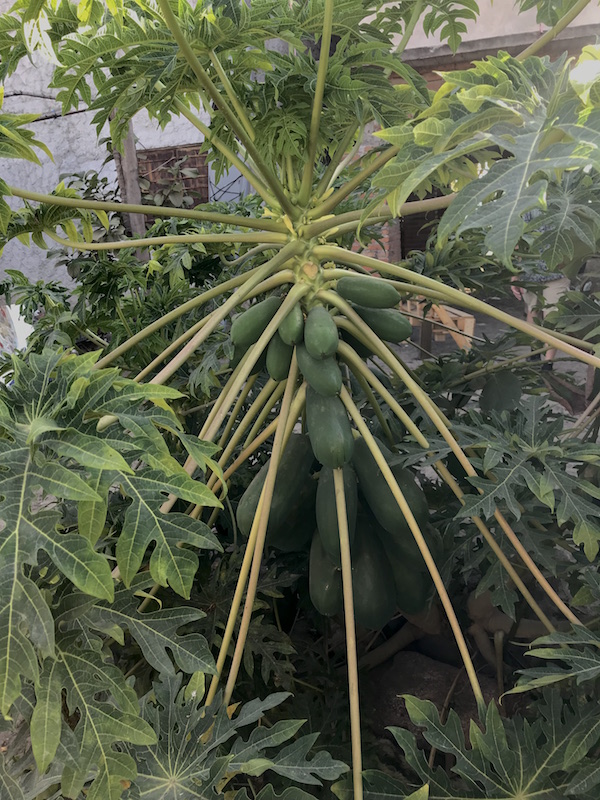 PM First mail: "Papaya in the backyard." Second mail: "Neglected to add that the backyard is in Mazatlan."
* * *
Readers: Water Cooler is a standalone entity not covered by the annual NC fundraiser. So do feel free to make a contribution today or any day. Here is why: Regular positive feedback both makes me feel good and lets me know I'm on the right track with coverage. When I get no donations for five or ten days I get worried. More tangibly, a constant trickle of small donations helps me with expenses, and I factor that trickle in when setting fundraising goals. So if you see something you especially appreciate, do feel free to click the hat!

To give more, click on the arrow heads to the right of the amount.
If you hate PayPal — even though you can use a credit card or debit card on PayPal — you can email me at lambert [UNDERSCORE] strether [DOT] corrente [AT] yahoo [DOT] com, and I will give you directions on how to send a check.