By Lambert Strether of Corrente.
Trade
"Mexican negotiators don't expect North American trade talks to wrap up this week after all. The likelihood that an early rewrite of the North American Free Trade Agreement won't be done this week extends the uncertainty for companies with complex cross-border supply chains" [Wall Street Journal]. "[T]he countries are divided over issues such as a U.S. demand for a minimum level of North American content to be sold without tariffs in the U.S. Mexican officials also are frustrated by U.S. demands for the pact to sunset in five years, which Mexico's Economy minister says would add uncertainty for auto makers while asking that they 'change their entire business model.'"
Politics
2020
"Vice President Joe Biden's 5 ideas for helping America's middle class" [Brookings Institution]. A real yawner, except for the last idea: "Vice President Biden's fifth theme address innovation and entrepreneurship, which he characterized as 'at the heart of the American economy.' But, 'so many Americans are being left out' because, among other reasons, three-quarters of venture capital goes to four U.S. cities. He proposed, for example, a race-to-the-top plan that would induce states more friendly to investors." I dunno. Enterprise zones? Is that what this means?
2018
Please check back in a few minutes for more on Pennsylvana. –lambert UPDATE 2:40PM Done!

"2018 House Overview: The Expanding Playing Field" [Inside Elections]. "With six months to go before Election Day and their national generic ballot lead slipping to 5 points in the Real Clear Politics average, Democrats are still likely to have a good night in the House. It's less clear whether Democrats will have a great night or an historic one. One thing is clear: Democrats are on the offensive in the House. After our latest round of ratings changes, we have 68 Republican seats rated as vulnerable compared to just 10 vulnerable Democratic seats." Here are the ratings; at a quick scan, it's apparent that "vulnerable" isn't the same as changing from, say, Tilt-R to Toss-up. I'll have to update the worksheet…

"Democrats bet on net neutrality voters in 2018" [Axios]. Yesterday, it was the Better Deal (after we heard nothing about that for a year). Today, it's net neutrality. Whatever.

First the numbers and the charts:

UPDATE 'Pennsylvania Primary Election Results" [New York Times].

UPDATE "Primary election results: Pennsylvania, Idaho, Nebraska, Oregon" [Vox].

Now the identity politics headlines:

UPDATE PA "Women sweep to victory in House primaries" [Politico]. Let's just hope they're not Daughters of the Confederacy. A wrap-up (omitting Sanders-backed Greg Edwards, oddly, or not).

UPDATE PA-07 "Primary Results: Democratic Women Prevail In Pennsylvania Contests" [NPR]. "The messy Democratic primary [in PA-07] showcased the competing factions the party had to overcome as it tries to flip such districts. Northampton County District Attorney John Morganelli attracted attention as the most conservative Democrat on the ballot. An immigration hard-liner who opposes abortion in most cases, Morganelli had deleted tweets slamming progressive groups and praising President Trump, CNN reported. EMILY's List, which backed Wild, and billionaire environmentalist Tom Steyer's NextGen America both went on the attack against Morganelli. The Rev. Greg Edwards had the backing of Sen. Bernie Sanders, I-Vt., and claimed the progressive mantle, but he finished in third place."

Now the political economy headlines:

UPDATE PA "Socialist-backed candidates score primary victories across Pennsylvania" [FOX]. "Four candidates backed by the Democratic Socialists of America won primary races Tuesday night for Pennsylvania's legislature, sparking supporters to declare the movement is on the rise… All four winners were female candidates running as Democrats for state House seats, including two from the Pittsburgh area, Summer Lee and Sara Innamorato. Lee and Innamorato in the heavily Democratic districts southeast and north of Pittsburgh, respectively, and are running unopposed by Republicans in the November elections. The two other Democratic and DSA-backed winners in the Pennsylvania races Tuesday night were Elizabeth Fiedler and Kristin Seale in the Philadelphia area, another Democratic stronghold. Fiedler is also running unopposed, while Seale, who won by roughly 1 percentage point, faces Republican incumbent Rep. Christopher Quinn, according results from the Pennsylvania Department of State. All four women defeated male incumbents in the races." Impressive.

UPDATE PA "Socialist-Backed Candidates Sweep Pennsylvania State House Primaries" [HuffPo]. "According to Arielle Cohen, co-chair of Pittsburgh DSA, it reflects a revival of the socialist-leaning economic left in the wake of Sen. Bernie Sanders' (I-Vt.) 2016 presidential bid. 'It feels like a monumental shift,' Cohen said. 'We won on popular demands that were deemed impossible. We won on health care for all; we won on free education.

UPDATE PA "Progressives Score Major Victories in Pennsylvania Primaries" [Daily Beast]. "John Fetterman, the burly, bearded mayor of Braddock, Pennsylvania, won the primary for lieutenant governor, knocking off Democratic incumbent Mike Stack. Fetterman, who ran a strong Senate challenge in 2016, will now join Gov. Tom Wolf's ticket in November. 'I'm just coming at this in a low-key, overwhelmed, humbled place,' Fetterman reportedly said as he accepted the nomination. 'I just want to take our message of 'All places matter,' and I'm so honored by the people of Pennsylvania to be the nominee for lieutenant governor of Pennsylvania." Recently, Sen. Bernie Sanders (I-VT) endorsed Fetterman and campaigned on his behalf." "All places matter." Ouch!

* * *

UPDATE "Interview with Levi Sanders: On Running for Congress and More" [Progressive Army]. Levi Sanders: "When three people own more wealth than half the rest of the country, we have a major problem!" Lead with that.

UPDATE "Why Democrats can't win the 'respect' of Trump voters" [Paul Waldman, WaPo]. "But the mistake is to ignore where the belief in Democratic disrespect actually comes from and to assume that Democrats have it in their power to banish it… It's more than an industry, actually; it's an industry, plus a political movement. The right has a gigantic media apparatus that is devoted to convincing people that liberals disrespect them, plus a political party whose leaders all understand that that idea is key to their political project and so join in the chorus at every opportunity." Waldman seems to consider "Trump voters" as an essentialist category, ignoring the fact that, at the margin, Obama voters who flipped to Trump cost Clinton the election. (Why not try to win them back?)
Realignment and Legitimacy
"In recent cycles, it's been common around the country for more than 40 percent of seats to be left uncontested. This year is different. States where filing deadlines have passed have seen more Democratic candidates sign up than any time since at least 1982. "Thank you, Donald Trump," says Andrea Dew Steele, president and founder of Emerge America, which recruits and trains Democratic women candidates" [Governing].

"CIA Nominee Wins Panel Endorsement, Clearing Way for Confirmation" [Wall Street Journal]. #TheResistance, apparently, doesn't extend to resisting torture. Good to know. To be fair, Haspel had to torture twice as many people as any man would have*. And plenty of liberal Democrats would love to have Assange tortured (or, since they're liberals, have somebody else torture him). So there's a bright side. NOTE * A member of the NC commentariat invented that one-liner, so hat tip to you, whoever you are!

UPDATE "Doug Jones to oppose Haspel as CIA chief" [The Hill]. BWA-HA-HA-HA!!!! This is the crassest example of "Revolving Hero" I've ever seen! Doug, sweetie, you're doing amazing.

"Is There an American Center Anymore?" [RealClearPolitics]. "Seattle City Council unanimously passed a $275 'head tax' for every employee of companies making over $20 million in the city. This tax is not the reason for my believing that political polarization can be reversed. The reaction to the tax from two companies widely recognized as to the left of America's diminishing political center, Amazon and Starbucks [!!!], is the reason. Amazon Vice President Drew Herdener expressed the company's disappointment by the 'City Council decision to introduce a tax on jobs.' Herdener went on to say that the city 'does not have a revenue problem – it has a spending efficiency problem.' Starbucks spokesperson John Kelly said the city 'hasn't been accountable enough to prove it can use the [additional tax] money wisely.' " Oddly, or not, both the Starbucks and Amazon spokesholes seem to believe that government should be accountable to them.
Stats Watch
Industrial Production, April 2018: "Unequivocal strength is the message from industrial production which rose" [Econoday]. "The standout gain in the manufacturing comes from business equipment where volumes rose 1.2 percent and which point to second-quarter strength for business investment. Production of consumer goods is right behind with a 0.9 percent gain. And the gains in manufacturing come despite a step back for vehicle production which fell 1.3 percent. Showing no tariff effects are construction supplies which rose 0.3 percent in the month…. Manufacturing in this report may finally be coming alive, joining the host of small sample surveys which have long been reporting strength and moving perhaps in line with acceleration underway in the factory orders report. Though tariff effects are a wildcard, manufacturing looks to be an outstanding contributor to this year's economic growth." And: "There was significant revision to the existing data over the last 6 months. Overall the year-over-year growth of the seasonally adjusted data was reduced by 1%. The best way to view this is the 3 month rolling averages which improved. Industrial production is in a long term upward trend" [Econintersect]. "Manufacturing employment rate of growth is accelerating year-over-year." And: "Industrial production increased in April to 107.3. This is 23% above the recession low, and 2% above the pre-recession peak" [Calculated Risk].
Housing Starts, April 2018: "Despite headline declines, the housing starts and permits report for April is mostly positive" [Econoday]. "b[B]ehind all the volatility in the numbers is a housing sector that continues to climb at a solid rate, reflected in year-on-year change that shows total starts up 10.5 percent and permits up 7.7 percent." And: "As I've been noting for a few years, the growth in multi-family starts is behind us – multi-family starts peaked in June 2015 (at 510 thousand SAAR)" [Calculated Risk]. "[N]ow I expect a few more years of increasing single family starts and completions."
Atlanta Fed Business Inflation Expectations, May 2018: "The jump higher in April did not hold in May as business inflation expectations fell back" [Econoday].
Shipping: "Shippers and consignees, small carriers and owner-operators, with ELD in place, are now able to ride the wave above of this detention-based focus and should actually be able to price properly, be paid properly, and get compensated when [plays] take place" [Logistics Management]. "The net effect should be based on shippers really understanding the value of the time, as opposed to mileage. The biggest thing ELD have brought to light in my opinion is that whether a truck is inside or outside of the dock, the minutes count the same. Those minutes are being managed efficiently now, but that has not always been the case. Now, exterior inefficiencies that affect the loading and unloading of truck drivers across America are given the same level of importance as interior inefficiencies affecting forklift drivers and warehouse workers, and that has been a long time coming. These things reflect the reality of freight….so nothing is able to be sub-priced below market or subsidized through activities outside of hours of service. It allows people to be paid fairly for the work they are doing, and I think that is a good thing for the job of the truck driver and a good thing for the industry."
Shipping: "Italian shipping non-performing loans up for sale top $1bn" [Splash 247]. "As of today in Italy there are roughly $1bn of shipping-related non-performing loans (NPLs) up for sale, according to Fabrizio Vettosi, managing director of the private equity fund Venice Shipping & Logistics. Speaking at a conference in Italy, Vettosi added that banks have already dismissed some. Furthermore he added that "the banks has already dismissed some $1.6bn of NPLs in recent years, drastically transforming the landscape of the Italian shipowning scene. Key buyers to date have mainly been speculative financial investors such as Taconic Capital, Attestor Capital, Pillarstone, Goldman Sachs, Deutsche Bank and Bain Capital."
Commodities: "Coal prices are climbing on strong demand from China, and boosting U.S. rail traffic. U.S. export prices for electricity-generating coal have soared 16% during what is usually a seasonal lull in the business… helped by rising demand in China and export restrictions from some global suppliers" [Wall Street Journal]. "Chinese thermal-coal imports were up more than 50% year-over-year in March, as power plants there burned more of the commodity despite Beijing's efforts to support local miners by restricting suppliers from overseas. South Africa is among major producers that have limited exports because of high local demand, and prices for Australian thermal coal also are soaring. Demand is improving coal business at U.S. railroads, which saw coal carloads tick up 2.4% in April, when average weekly shipments reached the highest level since last October."
Transportation: "Recreational vehicles are flying off the lots even as domestic auto sales sag. " [Wall Street Journal]. "U.S. RV shipments jumped 17% last year and hit a new monthly record in March, shipping more than 50,000 units during a typically slow season for RV sales. The boom has pushed manufacturer Thor Industries Inc.'s backlog up 34% in the most recent quarter, one of its best ever. Rivals like Winnebago Industries Inc. also report strong growth even as investors raise concerns about inventory and the impact from steel and aluminum tariffs. The resurgence has led to labor shortages in manufacturing strongholds like Elkhart, Ind., where workers at RV assembly and parts plants can earn as much as $90,000 a year." I wonder how many of those RVs are retirement homes.
Tech: "Connected Cars Hit the Brakes" [Bloomberg]. "Almost 6 million cars with embedded telematics were sold worldwide in the first quarter, just 1.5 percent more than in the year-earlier period. Some manufacturers may be hesitant to increase their offerings until they can gauge the effect of hostile trade rulings on suppliers and data-privacy regulations on consumers."
Tech: "One of the most jaw-dropping moments from its keynote this week was Google's demonstration of a technology that lets its Assistant make appointments over the phone, mimicking real human speech to do so. It was genuinely impressive tech, as the AI chat bot responded to a real human in ways that seemed almost too fluid to be true — and indeed, Google later clarified that the Assistant only works for now in highly specialized encounters"* [The Week] "But the problem with the demo was clear: The Assistant tried to mimic human speech and thus represented an attempt to fool the person on the other end of the phone. Google even added in 'uhhs' and 'umms' into its speech patterns to make its voice assistant seem more believable. Yet conflating human and digital speech without clearly demarcating between the two raises a host of ethical questions — not least is . This is to say nothing of the moral effects of a world in which humans and digital assistants are indistinguishable." NOTE * The algo doesn't work, so control the inputs.
Tech: "Exclusive: NSA encryption plan for 'internet of things' rejected by international body" [WikiTribune]. "An attempt by the U.S. National Security Agency (NSA) to set two types of encryption as global standards suffered a major setback on Tuesday, after online security experts from countries including U.S. allies voted against the plan, for use on the 'internet of things.'… source at an International Organization for Standardization (ISO) meeting of expert delegations in Wuhan, China, told WikiTribune that the U.S. delegation, including NSA officials, refused to provide the standard level of technical information to proceed. The vote is the latest setback for the NSA's plan, which was pruned in September after ISO delegates expressed distrust and concerns that the U.S. agency could be promoting encryption technology it knew how to break, rather than the most secure." Crazy talk!
Mr. Market: "Italy's markets spooked as antiestablishment agenda fuels fears of 'new crisis'" [MarketWatch]. "Italian bonds and stocks were sent sharply lower on Wednesday, with investors spooked by a draft proposal from Italy's two main populist parties to radically change the country's relationship with the rest of Europe. The 39-page draft, obtained by Huffington Post Italia and published late Tuesday, outlined plans by the 5 Star Movement and the League to ask the European Central Bank to forgive €250 billion ($294 billion) of Italian debt and renegotiate Italy's contribution to the European Union's budget. The proposal also included a suggestion for new rules within the eurozone to allow member states to leave the monetary union."
Five Horsemen: "The Fab Five are mixed in early trade, with all remaining below their highs of last Friday" [Hat Tip, Jim Haygood].
NakedCap Mania-Panic Index: "The mania-panic index receded to 60 (complacency) as the put-call ratio soared to 1.11 in yesterday's selloff, indicating a rush toward downside protection" [Hat Tip, Jim Haygood]. (The NakedCap mania-panic index is an equally-weighted average of seven technical indicators derived from stock indexes, volatility (VIX), Treasuries, junk bonds, equity options, and internal measures of new highs vs new lows and up volume vs down volume … each converted to a scale of 0 to 100 before averaging, using thirty years of history for five of the seven series.)
Net Neutrality
UPDATE "Senate Democrats Poised for Small Victory on Net Neutrality" [Roll Call]. "So Wednesday's expected win on a joint resolution that would upend the effort by the Federal Communications Commission to reverse Obama-era regulations on net neutrality will be cause for mild celebration. The Senate voted, 52-47, in favor of a motion to proceed to the measure under the expedited rules of the Congressional Review Act, with the chamber expected to pass the resolution mid-afternoon. With the measure facing certain opposition in the House, it will be little more than a symbolic victory for the Democrats. It could, however, be yet another issue to motivate their voters to head to the polls in November." Yes, symbolic actions will do that [nods vigorously].
Big Brother Is Watching You Watch
"US cell carriers are selling access to your real-time phone location data" [ZD Net]. "Four of the largest cell giants in the US are selling your real-time location data to a company that you've probably never heard about before…. little is known about how LocationSmart obtained the real-time location data on millions of Americans, how the required consent from cell user owners was obtained, and who else has access to the data. Kevin Bankston, director of New America's Open Technology Institute, explained in a phone call that . He called that loophole 'one of the biggest gaps in US privacy law.'"
Class Warfare
"Why Robots Won't Inherit the Plant" [Industry Week]. "According to research from the Boston Consulting Group, robots perform about 10% of tasks in a typical factory. They expect that number to rise to 25% by 2025—a fast growth pace, but hardly enough to lead to human obsolescence in manufacturing. Human beings—good old flesh and blood—are , and will remain that way for many years. This despite the almost daily headlines that proclaim robots are extending their dominion over one facet of humanity or another. According to the headlines from April alone, humans are slated to be obsolete in retail, food delivery, assembling Ikea furniture, and student counseling. I no longer believe these predictions. I don't expect the role of humans to materially change inside the factory any time soon." "The primary creator of value inside the factory." The Bearded One would approve. Well worth a read.
"Drone Pilots' $2,000 Paydays Drop 90% in 'Race to the Bottom' [Bloomberg]. "Three years after federal regulators began allowing commercial drone flights, the fever to cash in has turned into a pitched battle for business. Prices for collecting airborne data have plummeted amid a flood of competition equipped with cheap, hi-tech aircraft that practically fly themselves. That's pressuring operators, while handing customers new opportunities for affordable drone inspections, pictures and other services."
News of The Wired
"How the Enlightenment Ends" [Henry Kissinger (!), The Atlantic]. "Users of the internet emphasize retrieving and manipulating information over contextualizing or conceptualizing its meaning. They rarely interrogate history or philosophy; as a rule, they demand information relevant to their immediate practical needs. In the process, search-engine algorithms acquire the capacity to predict the preferences of individual clients, enabling the algorithms to personalize results and make them available to other parties for political or commercial purposes. Truth becomes relative. Information threatens to overwhelm wisdom." Oddly, or not, Kissinger overlooks the business inventives that cause search companies to "nudge" "users of the Internet" to act this way. Speaking for myself, I, as an Internet user, have always prioritized "contextualizing or conceptualizing," which is why the crapification of search is a concern, even a grief, to me.
"Twitter Inc. is turning to greater automation in its battle against abuse on its platform, saying its software will start automatically demoting response posts that it determines are likely to disrupt or disturb users' conversations" [MarketWatch]. "The change, which will roll out over the coming week, isn't designed to deal with accounts or messages that violate Twitter's content policies, which the company says it already takes action against. Instead, the new approach targets accounts that Twitter says exhibit signs of 'troll-like behavior' and that 'distort and detract from the public conversation on Twitter.'" If this were a law, instead of an opaque algo on a for-profit platform that nominally functions as a public utility, it would be called "The Blue Check Protection Act of 2018." And where the hell is the edit button users have been screaming for? Just give us three minutes to correct typos, @jack. That's all we ask!
"Tales From The Loop — Review" [Gnome Stew]. For gamers or those who want insight into gaming, but this is Simon Stålenhag and I like his work a lot.
Too bad this is on paper:
Charming visualization made by a dad and his 7 year old son shows a map and timeline of the world's tallest building. Source: https://t.co/dzuzmkuc61 pic.twitter.com/E4N7ag9bH4

— Simon Kuestenmacher (@simongerman600) May 13, 2018
I love the combination of maps and timelines.
Ow! My eyes!
Have you checked the children? pic.twitter.com/XGUpMOYZLF

— 70s Dinner Party (@70s_party) February 26, 2018
* * *
Readers, feel free to contact me at lambert [UNDERSCORE] strether [DOT] corrente [AT] yahoo [DOT] com, with (a) links, and even better (b) sources I should curate regularly, (c) how to send me a check if you are allergic to PayPal, and (d) to find out how to send me images of plants. Vegetables are fine! Fungi are deemed to be honorary plants! If you want your handle to appear as a credit, please place it at the start of your mail in parentheses: (thus). Otherwise, I will anonymize by using your initials. See the previous Water Cooler (with plant) here. Today's plant (BLCKDGRD):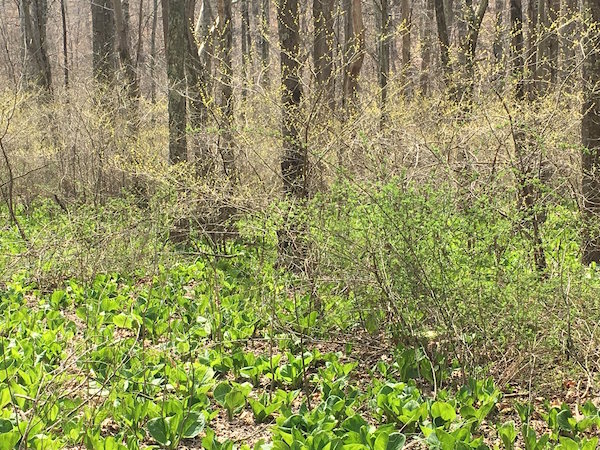 BLCKDGRD: "Green's back!" And a wonderful feeling it is!
* * *
Readers: Water Cooler is a standalone entity not covered by the annual NC fundraiser. So do feel free to make a contribution today or any day. Here is why: Regular positive feedback both makes me feel good and lets me know I'm on the right track with coverage. When I get no donations for five or ten days I get worried. More tangibly, a constant trickle of small donations helps me with expenses, and I factor that trickle in when setting fundraising goals. So if you see something you especially appreciate, do feel free to click the hat!

To give more, click on the arrow heads to the right of the amount.
If you hate PayPal — even though you can use a credit card or debit card on PayPal — you can email me at lambert [UNDERSCORE] strether [DOT] corrente [AT] yahoo [DOT] com, and I will give you directions on how to send a check.