By Lambert Strether of Corrente.
Trade
Moar sorghum:
Amazing maps. A ship carrying sorghum from Texas to China literally did two gigantic U-Turns due to ongoing changes in the trade situation https://t.co/ettxsBlszf pic.twitter.com/VGHxyzESmu

— Joe Weisenthal (@TheStalwart) May 23, 2018
In each case, it's not the the elites are old; it's that they're fools:
Currently making the rounds on Chinese social media:

Young Chinese vs. old Americans during 2018 trade talks
Young Western reps vs old Qing envoys at the signing of the 1901 Boxer Protocol

A lot changes in one century. pic.twitter.com/lfi0hWhf9K

— ian bremmer (@ianbremmer) May 22, 2018
"Senate panel overwhelmingly approves amendment blocking Trump on ZTE" [The Hill]. "The Senate Banking Committee approved an amendment in an overwhelming and bipartisan 23-2 vote that would block Trump from easing sanctions on ZTE without first certifying to Congress that the company is complying with U.S. law." So the Republicans can, er, resist Trump. If they want to.
Politics
And so, dear readers, I turn to you: What sourcing would you suggest for tracking electoral work on the left? Especially sourcing that isn't liberal Democrat?[4] And sourcing that doesn't make stuff up, no matter how important "the cause"? Is everything — heaven forfend — on Facebook or YouTube or podcasts? Maybe dedicated State House reporters doing round-ups, if there are any left? Are there still political blogs, just low-circulation ones I don't know about? Help!
2020
"Bernie Sanders to Seek Reelection to U.S. Senate" [Seven Days]. "According to campaign spokesperson Arianna Jones, Sanders plans to seek the Democratic nomination in Vermont's August primary. If he wins, she said, he would 'respectfully' decline the nomination and run as an independent in the general election. Sanders would, however, accept the endorsement of the Vermont Democratic Party. 'That is what he has done in the past, and that is what he looks forward to happening in 2018," Jones said, referring to Sanders' 2006 and 2012 Senate runs." Which drives Democrats nuts, because it sucks all the oxygen out of their race.

"Clinton To Keynote State Democratic Convention" [State of Politics]. "Clinton, a former U.S. senator representing New York, will also endorse Gov. Andrew Cuomo for a third term as he faces a Democratic primary challenge from actress and education advocate Cynthia Nixon." Please kill me now.
2018
NY: "President Trump, Gov. Cuomo have had 'tremendous' amount of donors in common" [New York Daily News]. "Anthony Scaramucci, who was briefly Trump's communications director, in 2010 was the finance chairman of "Republicans For Cuomo" while former New York City Mayor Rudy Giuliani, who is on Trump's current legal team, co-chaired Cuomo's transition committee on public safety in 2010. Trump Treasury Secretary Steven Mnuchin has given Cuomo's gubernatorial campaigns $15,000. He also gave another nearly $13,000 to Cuomo's attorney general campaigns, records show.Among the other joint donors are hedge fund manager John Paulson, billionaire businessman Nelson Peltz, and businessman Ronald Perelman."

CA: "Bad news for Dems: Trump's rating is rising where it counts in California" [San Francisco Chronicle]. "All that talk of a Democratic blue wave sweeping congressional races in California could be for naught if a new poll is on target: It shows President Trump's approval rating surging to 50 percent in Orange County, site of four tight races that could determine if Republicans hold the House…. One reason for the Trump uptick in the OC is that the number of voters who believe the country is on the right track has grown 10 percentage points over the past two months, [Republican pollster John Thomas] said." So, a Republican state poll. One…

GA: "Stacey Abrams Wins Big in Georgia and Now Has a Shot at Becoming 1st African-American Female Governor in U.S. History" [The Root]. "'We needed to show that we can turn out low-propensity voters' said a local activist who works in voter turnout. ;We targeted counties and precincts that usually had 2 or 3 percent African-American turnout, and we jumped it up to 10 or 12 percent. That's good news [true!*] and donors need to hear our efforts are working.'" Wait, what? "The donors"? Are the donors running the Democrat Party? NOTE * And not done before now why?

CT: "How a Stunning Upset at a Congressional Convention Led to Calls for a Vote-Tampering Investigation" [The Intercept]. Wait, what? Connecticut is run by liberal Democrats. How can this be? Very good from The Intercept.
Our Famously Free Press
From the Department of Then We'd Actually Have to Do Real Reporting:

If Trump is intentionally having aides misspell his tweets to own the libs, don't you think it's time you stop reporting on him misspelling his tweets like it's actual news? https://t.co/aICKA2SoP1

— Ⓐ ☭?? Smells Like Guillotine Spirit ☭☭☭☭ ☭ ☭ ☭ (@punksandwitch) May 22, 2018
Realignment and Legitimacy
"Feds Seized a Fortune From #Resistance Icons Accused of Boosting Online 'Ponzi Schemes'" [Daily Beast]. Ed and Brian Krassenstein. And speaking of scams:

"Since gullibility is unobservable, the best strategy is to get those who possess this quality to self-identify. An email with tales of fabulous amounts of money and West African corruption will strike all but the most gullible as bizarre," says Cormac Herley, principal researcher with Microsoft Research.

"It will be figured out by anyone savvy enough to use a search engine…. It won't be pursued by anyone who consults sensible family or friends, or who reads any of the advice banks and money transfer agencies make available. Those who remain are the scammers' ideal targets."

Now, I know that people do they best they can where they are, so it's unfair of me to generalize about every #Resistance member. That said, I would urge that much of #Resistance twitter has self-identified for gullibility, and the Krassensteins, though not Nigerian prices, have spotted this, and capitalized on it.

"Two-Party Problems" (podcast) [Slate]. Interview with the author.
Stats Watch
Purchasing Managers' Index Composite Flash, May 2018: "The PMI's service sample popped back up to its prior highs while the manufacturing sample inched up to yet new highs" [Econoday]. "Price pressures in both samples are evident with input costs rising at the fastest rate in nearly five years in pressure the report attributes in part to metal and especially steel prices. Positives in today's report are gains in the 6-month outlooks which, together with the overall results, hint at acceleration underway for the second-quarter economy."
Architectural Billings: "Architecture firm billings strengthen in April" [American Institute of Architects]. "Overall, the AIA's Architecture Billings Index (ABI) score for April was 52.0 (any score over 50 is billings growth), which indicates the business environment continues to be healthy for architecture firms despite continued labor shortages, growing inflation in building materials costs and rising interest rates. The ABI also revealed that business conditions remained strong at firms located in the West, while billings softened slightly at Midwest firms…. The Architecture Billings Index (ABI), produced by the AIA Economics & Market Research Group, is a leading economic indicator that provides an approximately nine to twelve month glimpse into the future of nonresidential construction spending activity."
New Home Sales, April 2018: "Month after month the new home sales report shows its volatility behind which, however, slight strength is evident" [Econoday]. "Until supply begins to build at a better pace, sales of new home homes will lack acceleration. Residential investment, where new home sales are a major piece, proved flat in the first quarter though improvement in the second quarter, however limited, does look like it's underway." And: "New home sales for April were reported at 662,000 on a seasonally adjusted annual rate basis (SAAR). This was below the consensus forecast, and the three previous months were revised down" [Calculated Risk]. "This is on track to be close to my forecast for 2018 of 650 thousand new home sales for the year; an increase of about 6% over 2017. There are downside risks to that forecast, such as higher mortgage rates, higher costs (labor and material), and possible policy errors." And but: "This month was better than last month – and the rolling averages improved. The seasonally adjusted data underwent its annual revision" [Econintersect]. "This data series is suffering from methodology issues which manifest as significant backward revision. Home sales move in spurts and jumps – so this is why we view this series using a three month rolling average."
Shipping: "Inflation is coming to the US economy on an 18-wheel flatbed" [CNBC]. "Freight marketplace DAT keeps track of supply and demand in the freight industry through a bulletin board that matches companies with loads to be delivered to the vehicles that will take the goods to the marketplace. The measures are in the spot market, where vendors that don't contract their deliveries find drivers for their products. Recent readings show demand for vehicles skyrocketing, a sign that generally points to inflationary pressures building up in the supply chain."
Shipping: "Truck Driver Shortage: Is it Self-Inflicted?" [Trucks.com]. "There's more to driver shortage numbers than meets the eye…. Nationwide, the median hourly wage for U.S. heavy and tractor-trailer truck drivers is $19.36, or about $40,260 a year, according to the Bureau of Labor Statistics…. At those levels, average hourly pay for truck driver jobs falls below the national average for March 2016, which is $21.37 for production and nonsupervisory employees in private, nonfarm jobs, according to the BLS." Start there. Read the story for the wage structure and the working conditions, whcih are both awful.
The Bezzle: "Google Removes 'Don't Be Evil' Clause From Its Code of Conduct" [Gizmodo]. About time.
The Bezzle: "There are 143 tech billionaires around the world, and half of them live in Silicon Valley" [Recode]. "One difference between Silicon Valley and other sectors, though, is that some of the wealth in tech is in illiquid startup stock. For instance, there's a legitimate debate as to whether someone like Uber founder Travis Kalanick should've been called a real-life billionaire before that money was actually accessible when he sold some of his shares."
The Bezzle: "Tesla isn't shipping its $35,000 Model 3. That's a problem if Elon Musk wants the company to appeal to a mass market." [Recode]. "Two years ago, Elon Musk unveiled Tesla's first mass-market vehicle — the Model 3, starting at $35,000 — inspiring hundreds of thousands to deposit $1,000 to get on the waiting list. But the company still isn't shipping those entry-level, $35,000 models en masse. Over the weekend, Elon Musk tweeted that Tesla will be shipping a more expensive version of its Model 3 starting at $78,000 before it ships the affordable mass-market car the public was promised." So Elon took the deposits and then didn't build any cars?
The Bezzle: "Why the U.K. Is Making Bank Bosses Pay for Mistakes" [Bloomberg]. "The U.K.'s effort to hold top bank officials personally accountable when things go wrong on their watch is turning out to have some teeth. Just ask Barclays Plc boss Jes Staley. Regulators in mid-May ripped a chunk out of his wallet — and left his reputation in tatters — for attempting to find out the identity of a whistle-blower. Staley is the first top manager to be ensnared by new rules known as the Senior Managers and Certification Regime. They will soon be applied to the rest of the financial-services industry, putting thousands of managers on notice that they, too, could see a bite taken out of their bank accounts and their careers damaged." Why the parallel structure? Something wrong with the criminal justice system?
Five Horsemen: "Facebook and Microsoft sport modest gains in late morning trade" [Hat Tip, Jim Haygood].
NakedCap Mania-Panic Index: "The mania-panic index gained a tick to 66 as the put-call ratio hovered at a relatively low 0.83" [Hat Tip, Jim Haygood]. (The NakedCap mania-panic index is an equally-weighted average of seven technical indicators derived from stock indexes, volatility (VIX), Treasuries, junk bonds, equity options, and internal measures of new highs vs new lows and up volume vs down volume … each converted to a scale of 0 to 100 before averaging, using thirty years of history for five of the seven series.)
Big Brother Is Watching You Watch
"Potential Spy Devices Which Track Cellphones, Intercept Calls Found All Over D.C., Md., Va." [News4]. "The News4 I-Team found dozens of potential spy devices while driving around Washington, D.C., Maryland and Northern Virginia….. The device, sometimes referred to by the brand name StingRay, is designed to mimic a cell tower and can trick your phone into connecting to it instead….. [T]he I-Team found them in high-profile areas like outside the Trump International Hotel on Pennsylvania Avenue and while driving across the 14th Street bridge into Crystal City. The I-Team got picked up twice while driving along K Street — the corridor popular with lobbyists…… Every cellphone has a unique identifying number. The phone catcher technology can harness thousands of them at a time."
Dear Old Blighty
"Here are seven new uses for Britain's defunct pacer trains" [City Metric]. See picture, note caption: "Editor's note: This article originally failed to note that all the pictures were of model trains, because the editor is an idiot. Anyway, we've now corrected it [due to Twitter]. Enjoy." The model railroader: "For me this one tweet has lead to so much joy. Thank you very very much for asking." Model railroaders so rarely get to p0wn anyone…
Gaia
"Sperm can pass trauma symptoms through generations, study finds" [The Verge]. "A group of European researchers have discovered that early life traumatic events can alter a non-genetic mechanism governing gene expression in the sperm cells of adult mice. And they think that this finding, published today in Nature Neuroscience, explains why the offspring of these mice exhibit the same depressive-like behaviors that their parents do…. People who experience early childhood trauma, like abuse or war, often exhibit a number of hormonal imbalances. The mechanisms involved are poorly understood, but most scientists agree that traumatic events alter gene expression, which then causes misregulations in a number of biological processes. But whether these changes can actually be passed down to offspring is a controversial question, because it would imply that acquired traits — traits that aren't actually encoded in DNA, but rather arise following certain experiences — are somehow being passed down through generations." In other words, Lamarckism has something to be said for it.
Class Warfare
"McDonald's workers file sex harassment claims" [AP]. "The legal effort was organized by Fight for $15, which campaigns to raise pay for low-wage workers. The legal costs are being covered by the TIMES UP Legal Defense Fund, which was launched in January by the National Women's Law Center to provide attorneys for women who cannot afford to bring cases on their own…. In addition to New Orleans and St. Louis, charges were filed by workers in Chicago, Detroit, Los Angeles, Miami; Orlando, Florida; Durham, North Carolina, and Kansas City, Missouri."
Life's little ironies:
Postscript: Who cowrote Epic System's cert petition asking SCOTUS to eviscerate federal labor rights? That would be @neal_katyal, liberal hero of the travel ban litigation. https://t.co/TcR7JOb0TH pic.twitter.com/k2FA8jS17L

— Mark Joseph Stern (@mjs_DC) May 21, 2018
I don't think Elon Musk's new candy business will be unionized:
No, UAW does that. They want divisiveness & enforcement of 2 class "lords & commoners" system. That sucks. US fought War of Independence to get *rid* of a 2 class system! Managers & workers shd be equal w easy movement either way. Managing sucks btw. Hate doing it so much.

— Elon Musk (@elonmusk) May 22, 2018
"The 7 biggest BS jobs in America" [David Graeber, New York Post]. "Almost every large corporation seems to be full of managers managing managers, flunkies, box tickers, data analysts, strategic-vision coordinators or people who are paid to answer the phone once or twice a day but spend the rest of the time playing fruit mahjong or updating their Facebook profiles. Government is hardly better. But trying to make government more like the private sector actually seems to make this worse. Yet no one wants to talk about it. If all these people were just allowed to go home and learn knitting, or how to play the mandolin, the world would be a far happier place." The Jobs Guarantee would help here: We could pay college deans, for example, to knit, allowing them to retain their dignity, while making this a better world.
"Britain's royal wedding: Recasting the monarchy in the age of identity politics" [WSWS] (JN). "Recent surveys by polling agency YouGov show that, despite the wall-to-wall coverage, about half of the UK's 66 million people are wholly indifferent to today's wedding."
News of The Wired
"What's in a food truck?" [WaPo]. Excellent reporting from WaPo, amazingly enough: "Start-up costs for a food truck average about $100,000, far lower than the several hundred thousand required for even a tiny brick-and-mortar place in the D.C. area, Tipton said. Some trucks get on the road for far less." Cheaper than a taxi medallion? But subject to "disruptive innovation" in the same way?
"Using APIs to get economic data with Python — list of Jupyter notebooks" [BD Economics]. This looks pretty neat. I did a little work in Python, a decade or so ago, before the PHP brain damage set in with Drupal….
The original tweet:
By 35, you should have twice your salary saved, according to retirement experts: https://t.co/QoVA6EFpHJ

— MarketWatch (@MarketWatch) May 12, 2018
The responses are still going strong:
By 35, you should know that the Oxford comma is essential for clear, correct, and accurate writing.

— Jen Heemstra (@jenheemstra) May 21, 2018
It's a galaxy brain-level visual pun*:
Wearing watches on top of your head seems to be counterproductive pic.twitter.com/7hJhAI1t6G

— Philip Lewis (@Phil_Lewis_) May 22, 2018
*

* * *
Readers, feel free to contact me at lambert [UNDERSCORE] strether [DOT] corrente [AT] yahoo [DOT] com, with (a) links, and even better (b) sources I should curate regularly, (c) how to send me a check if you are allergic to PayPal, and (d) to find out how to send me images of plants. Vegetables are fine! Fungi are deemed to be honorary plants! If you want your handle to appear as a credit, please place it at the start of your mail in parentheses: (thus). Otherwise, I will anonymize by using your initials. See the previous Water Cooler (with plant) here. Today's plant (TH):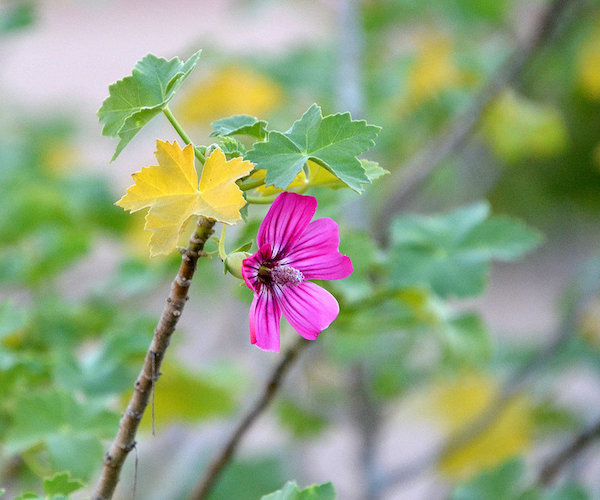 TH writes: "Rose Mallow (Hibiscus lasiocarpus). The 43 acre Madrona Marsh Preserve, in Torrance, California, maintains a Garden behind their visitor center (across the road from the Marsh Preserve) where the focus is plants that grow on the nearby Channel Islands, of which this is one."
* * *
Readers: Water Cooler is a standalone entity not covered by the annual NC fundraiser. So do feel free to make a contribution today or any day. Here is why: Regular positive feedback both makes me feel good and lets me know I'm on the right track with coverage. When I get no donations for five or ten days I get worried. More tangibly, a constant trickle of small donations helps me with expenses, and I factor that trickle in when setting fundraising goals. So if you see something you especially appreciate, do feel free to click the hat!

To give more, click on the arrow heads to the right of the amount.
If you hate PayPal — even though you can use a credit card or debit card on PayPal — you can email me at lambert [UNDERSCORE] strether [DOT] corrente [AT] yahoo [DOT] com, and I will give you directions on how to send a check.