By Lambert Strether of Corrente.
Readers, I got wrapped round the axle on Politico's Sanders hit piece, so I will be back in a bit with a more complete Water Cooler. In the mean time, talk amongst yourselves. Here's a link I was going to file under Wired: How to Have Lucid Dreams. Any lucid dreamers in the commentariat? Working on the assumption that we're in fact lucid when awake? –lambert UPDATE 4:40PM Done.
Trade
Politics
2020
"Trump tries to amass local army for 2020" [Politico]. "President Donald Trump is amassing an army of political insiders for 2020 — all without leaving the White House. The Trump administration has hosted 14 "state days" over the past few months, inviting county commissioners of both parties to come through for tours and meet senior administration officials, including Vice President Mike Pence." Smart.
2018
Here we go again:

who me? just reading up on the Dems new 'a better deal' and look at this, workers will have 'the freedom to negotiate a better deal.' that's so great. it's like giving us 'access' to healthcare. whoa, these sure are some sweet ass better deals up in this mother fucker pic.twitter.com/wn4lqSWeoO

— beth, an alien (@bourgeoisalien) May 22, 2018

If the Democrats were serious about "A Better Deal," they would have been cranking out talking points on it since the day it was launched.

Maybe Schumer and Pelosi's brain trust looked at the polls? Or their internal polling gave the same result?

CBS News poll: 72% of Democratic-leaning voters prefer their candidates "to promote a progressive agenda"; just 28% say it's more important "to oppose Donald Trump's agenda."https://t.co/MV3BljqNW6 pic.twitter.com/kmkbBUHoX6

— Sahil Kapur (@sahilkapur) May 20, 2018

I don't get it. What does a "progressive agenda" have to do with Russia?

Brazile on message, right on cue:

All too often, our democracy has been sacrificed in backroom deals made between so-called representatives of the people and special interests. @HouseDemocrats are fighting to put an end to it. #ABetterDeal

— Donna Lease Brazile (@donnabrazile) May 21, 2018

"There Will Be a Backlash": Will the Bernie Democrats Risk the House?" [Vanity Fair]. "Working under the radar, national Democratic groups can certainly pull some levers that help particular candidates, and may even flip some purple districts. Ellen Zeng, the Democratic political director at With Honor, a super PAC that supports veterans running for office, candidly described to me how party committees will direct money, facilitate valuable endorsements, share research with chosen candidates, and train up their staffs in order to tip the scales. But there is only so much they can do to guide's democracy's hand. When party leaders have tried to be more publicly forceful about imposing their will, it has almost always backfired." So, the Democrat brand is so toxic, leadership has to work in secret?

"House Ratings Changes: GOP Fortunes Improve in Four Districts" [Cook Political Report]. "California's June 5 primary is the single highest-stakes primary of the year. With two weeks to go, Democrats are still at some risk of getting "locked out" by the top-two primary in several key districts, particularly the 39th, 48th and 49th CDs. Our newest ratings place all three of those seats in Toss Up, although it's possible those districts could shift back in Democrats' favor depending on the primary results… Overall, there are eight Republicans retiring from districts Hillary Clinton carried in 2016. In the past 25 years, in situations when a president's party has sought to defend an open seat two years after that president failed to carry it, the party has batted zero for 23 trying to keep it in their column. That should be bad news for the GOP in the seats of retiring Reps. Ed Royce (CA-39) and Darrell Issa (CA-49), but the top-two primary could throw them a lifeline."

CA: "California's primaries are the most unpredictable in America" [The Economist]. "[I]n 2010 Californians approved a "top-two" primary system, in which all voters receive the same ballot and can choose anyone they like. The two most popular candidates move on to the general election…. In theory, top-two primaries encourage candidates to appeal to lots of voters, not just the ideological purists who turn up for ordinary primary elections… One clear result of top-two primaries is that they have led to non-partisan general elections. That happened in 2016 when Barbara Boxer retired, leaving open her seat in the US Senate. Kamala Harris, a Democrat, went on to defeat Loretta Sanchez, a fellow Democrat. This year's governor's race may set Gavin Newsom, a Democrat and former mayor, against Antonio Villaraigosa (ditto). The reform now threatens to produce weird results. When many Democratic or Republican candidates pile into a race (as Democrats in particular are doing this year) they threaten to split the party vote and allow two finalists from the other side." So, short form, the Democrats rigged elections so that two Democrats would end up competing, but now that's coming back to bite them? I'm crying.

TX: "Texas Democrats look to single-payer in congressional races" [Politico]. "Across the country, many Democrats are trying to minimize internal battles on health care. But Democrats in this deep red state have also watched closely races where single-payer advocates have upset centrist primary opponents. And some believe that moving left on health care will mobilize new voters in primaries —and offer a shot at winning come November…." Politico then helpfully conflates #MedicareForAll with the sort of faux "path to" program supported by Beto O'Rourke. Anyhoo: "More than half the Democratic challengers who won the first round of primary voting outright include single-payer health care in their campaign platforms. None of the nine Democratic incumbents do."

PA: "UE-Backed Candidates Oust Establishment Democrats in Pennsylvania Primary" [United Electrical]. "Two UE-backed candidates, both women in their 30s, made history and shook up Pittsburgh's political establishment by winning primary elections on May 15th against incumbent state legislators. Both of the defeated incumbents are members of the Costa family which has, until recently, played an outsized role in Democratic Party politics in Pittsburgh. Speaking to the UE Eastern Region, Local 610 President Antwon Gibson described the Costas as 'a family of politicians who don't do anything for working people.' No Republicans have filed to run in either district." I focused on the DSA endorsement. Here's another factor.
2016 Post Mortem
"Hillary Clinton Pulls Out 'Russian Hat' To Jab Trump During Yale Speech" [Talking Points Memo]. Clinton: "I see, looking out of [sic] you, that you are following the tradition of over-the-top hats, so I brought a hat too. A Russian hat. Look, I mean, if you can't beat 'em, join 'em." Some staffer — or, more likely, several staffers working at odds, if Shattered is any guide — worked hard to create this moment.
Realignment and Legitimacy
"We're starting to see this more and more frequently around the country– right-wing groups backing New Dems, Blue Dogs and other faux-Dems from the Republican wing of the Democratic Party in Democratic primaries. It's revolting… especially whenBen Ray Luján, chair of the DCCC is very much a part of it. almost every candidate endorsed by the DCCC this cycle is from the Republican wing of the Democratic Party. It was horrifying yesterday when the bodies of the dead students in Texas weren't even counted yet and Democrats had two contend with the DCCC's recruitment of NRA allies– like Jeff Van Drew (NJ), Ann Kirkpatrick (AZ), Anthony Brindisi (NY), Paul Davis (KS) and Elaine Luria (VA). Establishment Democrats have been accusing progressives of not being 'real Democrats'" [Down with Tyranny].
Stats Watch
Richmond Fed Manufacturing Index, May 2018: "Manufacturing activity in the Fifth District saw robust growth in May, with the Richmond Fed Manufacturing Index rising sharply to 16 after plunging into contraction territory with a minus 3 reading in April" [Econoday]. "Weakness was registered in capital expenditures, which fell 12 points to 19, finished goods inventories, down 7 points to 8, and services expenditures, down 5 points to 11. The strong May rebound in the Richmond Fed manufacturing Index joins manufacturing surveys from the Empire State and the Philly Fed regions reported for the month last week, all indicating robust strength in the manufacturing sector. " And: "The important Richmond Fed subcategories significantly accelerated – and are now back into expansion, It seems last months report was an anomaly" [Econintersect].
Retail: "Women Are Ditching High Heels in Favor of Sneakers at a Rapid Pace" [Footwear News]. "In a few short years, sneakers have progressed from a gym staple to an accessory fit for the royal wedding reception, and nowhere is this shift in attitudes more evident than in sales of women's shoes.
In 2017, the women's leisure sneaker category soared 37 percent to $2.3 billion in the U.S., outpacing the men's and kids' segments and leading the overall category to a high of $9.2 billion, according to The NPD Group Inc.'s Retail Tracking Service.
The surge in interest in athleisure has left other shoe silhouettes to languish, however: Sales of high heels (shoes with heels 3 inches or higher) fell 12 percent in the same period, relinquishing market share in the $12 billion dress, casual and evening shoe market. High heels now account for less than 20 percent of that market, down from more than half in 2011."
Shipping: "Trucking Growth Is Up Year-over-Year In April 2018" [Econintersect]. "I tend to put heavier weight on the CASS index which continues to show strong rate of growth improvement year-over-year. Part of the problem with ATA data is its poor presentation and lack of transparency. It should be pointed out that the trucking movements are improving YoY."
The Bezzle: "Tesla Model 3 Falls Short of a CR Recommendation" [Consumer Reports]. "These problems keep the Model 3 from earning a Consumer Reports recommendation. The Tesla's stopping distance of 152 feet from 60 mph was far worse than any contemporary car we've tested and about 7 feet longer than the stopping distance of a Ford F-150 full-sized pickup… CR's experience with the Model 3's braking is not unique. Car and Driver, in its published test of a Model 3, said it noticed "a bizarre amount of variation" in its test, including one stop from 70 mph that took 'an interminable 196 feet.'" So, blistering acceleration but unable to stop. Oopsie. Musk says this can be fixed with firmware. We'll see. Tesla controls, however, will be harder to fix: "Another major factor that compromised the Model 3's road-test score was its controls. This car places almost all its controls and displays on a center touch screen, with no gauges on the dash, and few buttons inside the car. This layout forces drivers to take multiple steps to accomplish simple tasks. Our testers found that everything from adjusting the mirrors to changing the direction of the airflow from the air-conditioning vents required using the touch screen. These types of complex interactions with a touch screen can cause driver distraction because each act forces drivers to take their eyes off the road and a hand off the steering wheel." Does driving a car with a touch screen strike anybody else as a stupid idea? Sure, Level 5 autonomy is just around the corner, so there won't be any drivers at all, but until that happy day comes?
The Bezzle: "Squaring Venture Capital Valuations with Reality" [Will Gornall and Ilya A. Strebulaev, NBER]. From the abstract: "We develop a valuation model for venture capital-backed companies and apply it to 135 U.S. unicorns – private companies with reported valuations above $1 billion. We value unicorns using financial terms from legal filings and find reported unicorn post-money valuation average 50% above fair value, with 15 being more than 100% above. Reported valuations assume all shares are as valuable as the most recently issued preferred shares. We calculate values for each share class, which yields lower valuations because most unicorns gave recent investors major protections such as a IPO return guarantees (14%), vetoes over down-IPOs (24%), or seniority to all other investors (32%). Common shares lack all such protections and are 58% overvalued. ." Oopsie.
Tech: "Microsoft, Google: We've found a fourth data-leaking Meltdown-Spectre CPU hole" [The Register]. "A fourth variant of the data-leaking Meltdown-Spectre security flaws in modern processors has been found by Microsoft and Google researchers…. So far, no known exploit code is circulating in the wild targeting the fourth variant…. Starting in January, most leading browser providers deployed mitigations for Variant 1 in their managed runtimes – mitigations that substantially increase the difficulty of exploiting side channels in a web browser. These mitigations are also applicable to Variant 4 and available for consumers to use today.
Five Horsemen: "The Fab Five are mixed in early trading with small changes" [Hat Tip, Jim Haygood].
NakedCap Mania-Panic Index: "The mania-panic index strengthened to 65 (complacency) as 191 new 52-week highs in Monday's session made the highest total since January" [Hat Tip, Jim Haygood]. (The NakedCap mania-panic index is an equally-weighted average of seven technical indicators derived from stock indexes, volatility (VIX), Treasuries, junk bonds, equity options, and internal measures of new highs vs new lows and up volume vs down volume … each converted to a scale of 0 to 100 before averaging, using thirty years of history for five of the seven series.)
Facebook Fracas
"Amazon Pushes Facial Recognition to Police. Critics See Surveillance Risk." [New York Times]. "In late 2016, Amazon introduced a new online service that could help identify faces and other objects in images, offering it to anyone at a low cost through its giant cloud computing division, Amazon Web Services. Not long after, it began pitching the technology to law enforcement agencies, saying the program could aid criminal investigations by recognizing suspects in photos and videos." I keep saying I've gotta order that Nixon mask.
"Predatory behavior runs rampant in Facebook's addiction support groups" [The Verge]. This is a must read, it's horrible, much worse than the headline. Note that the leader of the central "support group," Affected by Addiction, "spoke at the Facebook Communities Summit, where Mark Zuckerberg unveiled his plan to get a total of 1 billion people into 'meaningful groups.'"
Health Care
"For Future Health Policies, Trump Administration Adds a Rural Focus" [Governing]. "There are many ways in which rural America has fallen behind the rest of the country. The health care gap, however, has the potential for the most tragic consequences. Rural America has higher rates of suicide, obesity and alcohol abuse. People who live there have a lower life expectancy and are more likely to die of potentially preventable causes like stroke, cancer and heart disease. Exacerbating these problems, only 10 percent of the country's doctors practice in rural areas. Finding mental health care is even harder — 61 percent of rural Americans live in a federally-designated Mental Health Professional Shortage Area. The Trump administration wants to close these gaps and hopes to do it by easing the regulations on rural providers." Liberals: But they're racists. And so round and round we go, with no offer of a universal concrete material benefit by either party.
Class Warfare
"Report on the Economic Well-Being of U.S. Households in 2017" (PDF) [Board of Governors of the Federal Reserve System]. "This report describes the responses to the fifth annual Survey of Household Economics and Decisionmaking (SHED). The survey is designed to enhance our understanding of how adults in the United States are faring financially… Altogether, the survey findings provide a snapshot of people's financial lives in late 2017. It is consistent with the national economic expansion. It is also a complex story of variation among different groups in the country and remaining areas of economic vulnerability…. . This is an improvement from half of adults in 2013 being ill-prepared for such an expense. Over one-fifth of adults are not able to pay all of their current month's bills in full. Over one-fourth of adults skipped necessary medical care in 2017 due to being unable to afford the cost." If this be "overall improvement," gawd help us when we run into real problems.
"Dark factories: labour exploitation in Britain's garment industry" [Financial Times]. Fast fashion: "Part of Leicester's garment industry has become detached from UK employment law, 'a country within a country', as one factory owner puts it, where '£5 an hour is considered the top wage', even though that is illegal. Doshi (not his real name) says he has worked in places with blocked fire escapes, old machines and no holiday or sick pay. There are garment factories that follow the law, but a 'perceived culture of impunity', as a 2018 government report puts it, has created a bizarre microeconomy where …. And while some retailers blame unethical factory owners, the factories say retail's relentless push for cheap prices makes it impossible to improve. As a result, what should be a good news story for people like Doshi has become a cautionary tale about how the reshoring of manufacturing jobs can go wrong when the government fails to enforce its own laws. Perhaps the strangest thing about this labour exploitation is that it is an open secret. Central government knows; local government knows; retailers know."
"The 'Black Hole' That Sucks Up Silicon Valley's Money" [The Atlantic]. "Many, including Mark Zuckerberg, Elon Musk, and Larry Page, have signed the Giving Pledge, committing to dedicating the majority of their wealth to philanthropic causes. But much of that money is not making its way out into the community. There are many reasons for this, but one of them is likely the increasing popularity of a certain type of charitable account called a donor-advised fund. These funds allow donors to receive big tax breaks for giving money or stock, but have little transparency and no requirement that money put into them is actually spent. Donor-advised funds are categorized by law as public charities, rather than private foundations, so they have no payout requirements and few disclosure requirements. Because they're categorized as public charities, donors can give a higher share of their income to these funds than they could to a private foundation, which can help them avoid taxes. And wealthy residents of Silicon Valley are donating large sums to such funds."
"How Rightwing Groups Wield Secret 'Toolkit' to Plot Against U.S. Unions" [PortSide]. "The anti-union marketing drive is the brainchild of the State Policy Network (SPN), a coast-to-coast alliance of 66 rightwing think tanks that has an $80m war chest to promote Donald Trump-friendly regressive policies such as low taxes and small government. The group is funded by such billionaire conservative donors as the Koch brothers and the Walton Family Foundation that stems from the Walmart fortune…. The Guardian has now obtained what SPN is calling a "toolkit" of advice to its followers on how to go about fomenting 'union reform' – a euphemism for draining unions of members and cash. The 'toolkit' sets out four 'tactics' for depleting their power – 'effective union reform', in its language… The SPN blueprint sets out how to acquire the private details of union members through state freedom of information laws so that opt-out propaganda can be targeted directly at them. It says: 'Access to lists of union members is essential to this project. The most common means of obtaining lists is through requests made under state public records laws.'"
"Mapping Income Polarization in the United States" [IMF Blog]. "In our study Hollowing Out: The Channels of Income Polarization in the United States, we show that middle-income households have shrunk as a proportion of the population since the 1960s. Those earning between 50 percent and 150 percent of the median income represented just 48 percent of total households in 2016, compared with 58 percent in 1968." Handy map: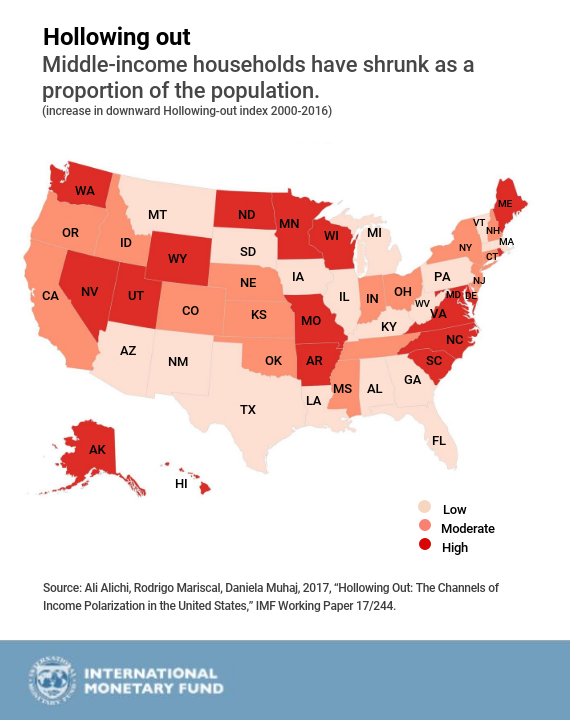 I'd sure like to see that map reworked at the county level.
News of The Wired
"Fun with SQL: Recursive CTEs in Postgres" [CitusData]. Hoo boy. Fuzzy sets, and we might have something. Readers?
* * *
Readers, feel free to contact me at lambert [UNDERSCORE] strether [DOT] corrente [AT] yahoo [DOT] com, with (a) links, and even better (b) sources I should curate regularly, (c) how to send me a check if you are allergic to PayPal, and (d) to find out how to send me images of plants. Vegetables are fine! Fungi are deemed to be honorary plants! If you want your handle to appear as a credit, please place it at the start of your mail in parentheses: (thus). Otherwise, I will anonymize by using your initials. See the previous Water Cooler (with plant) here. Today's plant (Bugs Bunny):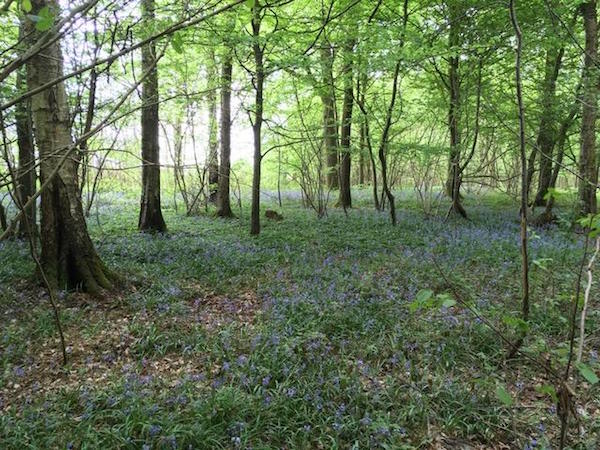 Bugs Bunny writes: "Took some photos in the woods today. Springtime in Normandy near Lyons-la-Forêt. We've been having lovely weather." What an inviting patch of sun!
* * *
Readers: Water Cooler is a standalone entity not covered by the annual NC fundraiser. So do feel free to make a contribution today or any day. Here is why: Regular positive feedback both makes me feel good and lets me know I'm on the right track with coverage. When I get no donations for five or ten days I get worried. More tangibly, a constant trickle of small donations helps me with expenses, and I factor that trickle in when setting fundraising goals. So if you see something you especially appreciate, do feel free to click the hat!

To give more, click on the arrow heads to the right of the amount.
If you hate PayPal — even though you can use a credit card or debit card on PayPal — you can email me at lambert [UNDERSCORE] strether [DOT] corrente [AT] yahoo [DOT] com, and I will give you directions on how to send a check.