By Lambert Strether of Corrente.
Patient readers, I have to add in a few more primaries and a little bit more political material. –lambert UPDATE 2:30PM Done.
Trade
"The NAFTA nations' top trade officials will resume high-level talks today as pressure mounts for them to land a preliminary deal in the next couple of weeks. On Sunday negotiators from the U.S., Mexico and Canada resumed technical talks in Washington to discuss a number of thorny issues, including on automotive rules of origin, a sunset clause, dispute settlement and the seasonal produce proposal, Mexico's chief negotiator Kenneth Smith Ramos said in a series of tweets over the weekend" [Politico].
Politics
2020
Remember Cloobeck?

The guy who said he'd cut off all funding for Democrats who move even one step to the Left. No surprise at all to see him with Booker. https://t.co/XVl5urrpXg

— Kamala Harris is a Cop (@BethLynch2020) May 6, 2018
2018
"Pelosi Says Democrats Have Cash and Environment to Win House" [RealClearPolitics]. " House Democratic leader Nancy Pelosi said Sunday that House Democrats have the fundraising, the issues and the political atmosphere on their side to win back the majority in November. These factors, and an activated party base that's helped Democrats win in special elections across the country this year are the 'small droplets of water' that create a wave, Pelosi said headlining a county Democratic Party banquet in Des Moines. 'This is not going to be big margins,' she said. 'It is going to be small margins in many places.'" Yes. If the Democrats got big margins, they'd have to govern. Can't have that.

UPDATE "Wrong-way Democrats: Will a "blue dog" blue wave pave the way for future disaster?" [Salon]. "On the other hand, the party's core political functionaries remain wedded to a backward-looking and demonstrably failed model. Despite polling that suggests strong swing-district support for a progressive economic agenda, the Democratic Congressional Campaign Committee is trying to win with a bevy of "me too" GOP-lite candidates. That may well work in the short run, as it did most dramatically in the wave elections of 2006 and 2008, but could set the party up for further failure in office and deeper disillusion down the road." That's not a bug…

UPDATE "Vulture Capitalist Ken Langone Wants To Combat Bernie By Financing The Republican Wing Of The Democratic Party" [Down with Tyranny]. "This cycle, understanding the ramifications of the coming blue wave, Langone is donating to centrist Democratic PACs in an attempt to shape the character of the Democratic majority. He's working diligently to save the House for the Wall Street and corporate elites. On Friday, the Wall Street Journal's Alexandra Wolf reported that when Langone saw Bernie's rallies (on TV of course) during the 2016 presidential campaign, he was 'shocked by the number of young people there….'" I tried to find a photo of Booker and Langone, but nothing yet…

Primaries tomorrow, Tuesday May 8 (a non-exhaustive list):

UPDATE IN-09: "Meet the Democrats Looking to Unseat Hollingsworth" [Nuvo]. "It's a shame Liz Watson and Dan Canon are running for the same congressional seat in Indiana's 9th District. Decent Democratic candidates are hard enough to find in Indiana, so excellent ones are downright mythical. Canon and Watson are both excellent candidates, and either one will be a formidable challenger to Republican Trey Hollingsworth in the fall…. Canon sincerely believes our state can be a catalyst for national change, that Indiana Democrats can pressure "safe blue-district" Democrats by advocating for ambitious but much-needed reforms such as a guaranteed jobs program. He's been endorsed by The People for Bernie Sanders, Political Revolution, the Democratic Socialists of America's Louisville and Southern Indiana chapters, and Justice Democrats. Watson is a Bloomington native and the former labor policy director and chief labor counsel for Democrats on the House Committee on Education and the Workforce. She's been responsible for dragging the Democratic Party toward more pro-labor policy positions. She led the policy development for the $15 minimum wage in the House while Sen. Bernie Sanders and his staff led that policy development in the Senate. So far, 28 labor unions have endorsed Watson, and it's easy to see why….As Canon told me, 'This isn't Bernie versus Hillary,' by which he meant this isn't a primary between the social-democratic and neoliberal wings of the Democratic Party. Both Watson and Canon care about the right things; both probably agree on nine out of 10 policies. If your reaction to the current political situation is 'this is bullshit,' then you're probably for Canon. If your reaction to it is 'this is ridiculous,' then you're probably for Watson."

NC-09 (Likely R): "Political fireworks in NC's 9th Congressional District" [Anson Record]. "McCready launched his campaign a year ago and has proven his ability to both raise money and put together an organization. He fits the district, too. His background in finance suits the country clubbers who make up southeast Charlotte and western Union County, while his standing as an Iraq War vet appeals to the patriotic voters in the rural counties that surround Fort Bragg. Meanwhile, on the Republican side, incumbent Robert Pittenger and his opponent, Mark Harris, are busy wrapping themselves around Donald Trump. Polls show Pittenger in the lead, but his embrace of Trumpism may hurt him with the button-down suburbanites he needs to win. If Harris manages to pull off an upset, he's probably too conservative to win in a general election. McCready's primary opponent, Christian Cano, has been relentlessly attacking McCready on social media and in forums. According to Cano, McCready hasn't passed enough Democratic litmus tests and he's a "DINO." Cano called McCready a "coward" and says he considers McCready a Republican. Cano's a small tent Democrat, a guy who believes that only people who think just like him deserve consideration. He believes there's a big enough Democratic base to overcome the conservative nature of the district. He couldn't be more wrong. To win in districts like NC-09, Democrats need to win back Democratic voters and conservative-leaning independents in the rural counties who have been voting Republican for years and they need to win business conservatives in southeast Charlotte and western Union County where almost half the voters reside. McCready has a shot at both those sets of voters. Cano, with his dogmatic approach to politics, couldn't reach either even if he raised enough money to communicate with them. Cano represents a threat to the blue wave he likes to hashtag." Guess which candidate the DCCC is backing? That's right. The militarist with the finance background who appeals to country clubbers. No polling that I can find, of course.

NC-13 (Likely R): "Local Democrats tell DCCC to butt out of the 13th Congressional primary" [Triad City Beat]. "Democratic Party delegates for North Carolina's 13th Congressional District passed a resolution today requesting that the DCCC, the House Democrats' fundraising arm, stay out of the primary election as voters select a nominee to challenge Republican incumbent Ted Budd in the state's most heavily contested congressional race. The resolution approved today by the NC 13th District Democrats during their annual convention at GTCC's Jamestown campus called support by the Democratic Congressional Campaign Committee 'a disruptive and undemocratic force,' while calling on the state party to 'demand that the DCCC support of candidates during the primary election process be forbidden.' who is running in the 13th district, to its "Red to Blue" list shortly after she announced her campaign in December 2017. The committee describes 'Red to Blue' as "a highly competitive and battle-tested program at the DCCC that arms top-tier candidates with organizational and fundraising support to help them continue to run strong campaigns." Manning's fundraising totals — $530,000 before filing had even begun — prompted two prospective African-American candidates, Bruce Davis and Beniah McMiller, to bow out of the race. Manning faces one opponent in the Democratic primary — Adam Coker, a long-haul truck driver who has been campaigning almost continuously since early 2017. To date, Manning has raised $1.3 million, compared to $54,475 by Coker."

OH-12 (Likely R): "The next House special election Republicans are terrified they might lose" [Vox]. "The Democratic primary isn't nearly as dramatic. Democrats think they have a few viable candidates: Danny O'Connor, the Franklin County recorder who has the endorsement of former Gov. Ted Strickland and Rep. Tim Ryan (D-OH) and is raising the most money; Zach Scott, a former Franklin County sheriff with strong name recognition; and John Russell, a local farmer with ties to area progressive grassroots groups." The DCCC doesn't have a dog in this fight, or if they do, they're backing them covertly, and not as part of the Red-to-Blue program.

UPDATE WV Senate: "Blankenship surging on eve of West Virginia Senate primary" [Politico]. "Particularly concerning to Republicans is Blankenship's TV spending. Over the final six days of the race, the self-funding coal baron is set to spend over $640,000 on commercials, according to media buying totals — more than Jenkins and Morrisey combined. Blankenship has spent over $2.5 million on TV ads in total, far more than his rivals. Senior Republicans say they are also distressed that Jenkins and Morrisey spent nearly all of the campaign savaging each other. Further complicating matters is that a Democratic super PAC, Duty and Country, convinced that Jenkins would pose a formidable challenge to Manchin, has invested $1.8 million targeting him in an effort to keep him from winning the GOP primary. The bloodbath could ultimately benefit Blankenship, who has faced far fewer incoming attacks." Oh, the Pied Piper strategy. What could go wrong?

May 15:

PA-10 (Likely R): "Congressional Candidate Burns Assault Rifle in New PA-10 Ad" [Politics PA]. "10th Congressional candidate George Scott launched his first ad of the Democratic primary that will peak interest among many, it features him burning an assault rifle. The ad demonstrates Scott's 'commitment to ending gun violence by burning an assault rifle in a bonfire' according to a release from the campaign. 'I've served in the Army all over the world. And I was trained to use guns like these. But Donald Trump's loyal soldiers like Scott Perry exploit God and guns to score political points,' Scott says in the ad. "

PA-10: "Ding Launches First Ad in PA-10 Primary" [Politics PA]. "Ding's first ad tells the story of his two-year investigation that analyzed the effects of COX-2 inhibitor drugs. He found that products such as Vioxx caused kidney damage and heart arrhythmia, and that the drug maker was aware of these risks and did not alert the public. These drugs were eventually pulled from the market, due in part to Ding's research. 'I have spent my public health career fighting against corrupt drug companies that put profit over people.' said Ding. 'I will take that fight to Washington to tackle the most pressing public health issues facing our country. I spent my career fighting to protect families, and right now we need to fight Donald Trump for all our families," Ding says in the ad.' Ding is running against George Scott, Robert Howe, Shavonnia Corbin-Johnson in the primary.

Comment: Google News is becoming ever more miserably inadequate and crapified. They only supply a limited number of stories, and unbelievably you can't even filter by date.

* * *

MN: "Richard Painter tests the limits of the anti-Trump campaign" [Minnesota Post]. "Minnesota might see the candidate most opposed to President Donald Trump running anywhere in the country this midterm election year. That candidate is not a staunchly progressive Democrat, but someone who once worked in a Republican White House: Richard W. Painter, the University of Minnesota law professor and frequent cable news talking head who has made himself into an unlikely hero of the anti-Trump #Resistance. After saying he was exploring a bid for U.S. Senate in March, Painter announced on April 30 that he'd officially be running as a Democrat against incumbent DFL Sen. Tina Smith, who was appointed by Gov. Mark Dayton to fill the seat vacated by Al Franken in January. Painter, once the chief ethics counsel in the George W. Bush White House, has emerged as a prominent critic of the Trump administration — and an eager one. To his 460,000 Twitter followers, Painter supplies a constant feed of scathing tweets about Trump, covering everything from special counsel Robert Mueller's investigation into his camp's ties with Russia to the president's business interests; the ethical lapses by cabinet members to Stormy Daniels' legal maneuvering. The 57-year old Harvard and Yale-educated lawyer, clad in his uniform blue blazer and maroon-and-yellow tie, is also a constant presence on MSNBC, delighting liberal audiences as he shouts down Trump surrogates and right-wing pundits." But he's not even a Democrat….
2016 Post Mortem
UPDATE "Hillary Clinton Thought About Moving to New Zealand After Losing Election to Trump" [Newsweek]. "Clinton recalled how her Kiwi friends suggested she move to New Zealand at a talk on Monday. 'And I appreciated the offers. Gave them some thought,' she said at an event organized in Auckland by The Growth Faculty with ticket prices starting at NZ$195 ($135) and soaring to $595 ($415) for special seats." At least Peter Thiel could afford to attend…

UPDATE "Live: Former US Secretary of State Hillary Clinton in NZ" [New Zealand Herald]. Live blog: "Clinton referred to 2016 as 'the perfect storm,' talking about anger among voters 'the information warfare waged from within the Kremlin' and a media that focused on her emails as the most important story. She said it was clear Russian agents had used YouTube and social media to plant stories intended to target Clinton. She said Russia was still doing what it could to turn Americans against each other." Clinton is exhibiting extraordinary, Sanders-level message discipline. How strange that she can't do this on policy when campaigning but only in defeat. (To be fair, Clinton, on the trail, is quite disciplined about insulting people she regards as unlikely to vote for her.)
Realignment and Legitimacy
"Watch Live: Sanders Joins Philly DA Larry Krasner for Roundtable Discussion on America's 'Broken' Criminal Justice System" [Common Dreams]. "Denouncing a criminal justice system that 'incarcerates 2.2 million people and disproportionately incarcerates people of color,' Sen. Bernie Sanders (I-Vt.) joined Philadelphia District Attorney Larry Krasner, author and professor Keeanga-Yamahtta Taylor, and Civil Rights Corps litigation director Premal Dharia for a roundtable conversation on possible solutions to America's mass incarceration crisis.'There can be no debate, whether you are a conservative or liberal or something in between, that we have a broken criminal justice system,' Sanders said during the discussion, moderated by Daniel Denvir, host of 'The Dig' podcast."
Stats Watch
There are no interesting official stats today.
Employment Situation: Handy chart [Mosler Economics].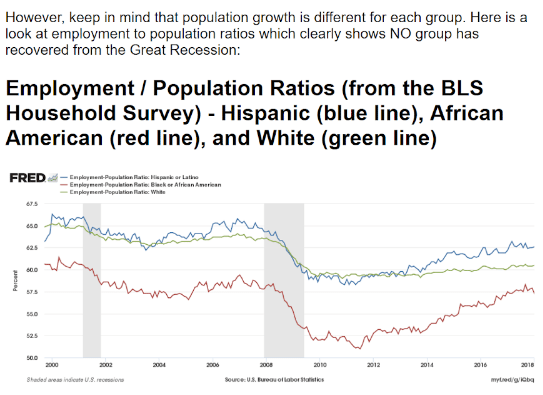 Construction: "Here is another monthly update on framing lumber prices. Early in 2013 lumber prices came close to the housing bubble highs – and now prices are well above the bubble highs" [Calculated Risk]. "There is a seasonal pattern for lumber prices. Prices frequently peak around May, and bottom around October or November – although there is quite a bit of seasonal variability. Rising costs – both material and labor – will be headwinds for the building industry this year."
Commodities: "China lithium top player boosts investment in emerging Australian miner" [Mining.com]. "Sichuan Yahua Industrial Group, one of China's largest lithium hydroxide and carbonate producers, is injecting further funds into emerging Australian lithium producer Core Exploration (ASX:CXO) as Chinese companies continue to aggressively try securing supply of the key ingredient needed for making the batteries that power electric cars…. With demand for EVs set to skyrocket in the next decade, Chinese companies have inked several deals in the past year to secure steady lithium supplies with mine developers in Australia, South America, Canada and Africa."
Commodities: "Meteoric Resources adds Lorrain Cobalt Project to portfolio" [Finfeed]. "The strategic acquisition bolsters MEI's dominance in the prolific cobalt-silver belt in Ontario. The region is historically the most productive cobalt mining camp in Canada, having produced 50 million pounds of cobalt and 600 million ounces of silver over a 60-year period. However, this is an early stage play… Exploration at the project will begin immediately, with MEI geologists mobilising on site this week to commenced detailed mapping and undertake a comprehensive rock chip sampling program, which will include sampling from historical shafts and pits."
Commodities: "Oil prices have surged above $70—here are 4 key reasons behind the rally" [MarketWatch]. "Supply concerns surrounding the possible reinstatement of sanctions on Iran aren't the only reason for the climb in U.S. benchmark oil prices above $70 a barrel to their highest levels since late 2014. The Organization of the Petroleum Exporting Countries' efforts since the start of last year to curb global production have had the biggest influence on crude values, along with growing demand for oil and Venezuela's output woes."
Commodities: "Nestle and Starbucks Set Deal to Expand Their Coffee Empires" [247 Wall Street]. So now Nestle's coffee will taste burnt?
The Bezzle: "New MIT System Lets Self-Driving Cars Go Almost Anywhere" [Forbes]. " a team from MIT's Computer Science and Artificial Intelligence Laboratory (CSAIL) developed a way for autonomous cars to read and anticipate their local surroundings rather than relying on gigabytes of 3D map data. The framework is called MapLite and it combines GPS using only the most basic topographic maps from OpenStreetMap [i.e., not Google Maps] with LIDAR and IMU sensors that monitor road conditions…. While systems like MapLite could open up more roads to autonomous cars, it's still a long road to be on par with human drivers. The researchers say their system can't account for major changes in elevation, so mountain roads are a no-go for now."
The Bezzle: "artist visualizes the lengthy terms of services of large corporations like facebook and instagram" [Design Boom]. "pointing out that these terms are actual legal contracts between the user and the online service provider, yarovinsky's 'I agree' project visualizes the contractual obligations users agree to when subscribing for a free or paid service/app. according to the designer, the average person reads at a rate of 200 words per minute while a standard 'terms of service' agreement contains 11.972 words which means that even if a user did attempt to read the terms before agreeing to them, it would take approximately 60 minutes. the terms were printed using standard legal contract font size and typeface, and hung on the academy's gallery space, while the project is on show during aalto university's visualizing knowledge conference in finland." No, there aren't any initial caps in the original because design. Anyhow, here they are (via):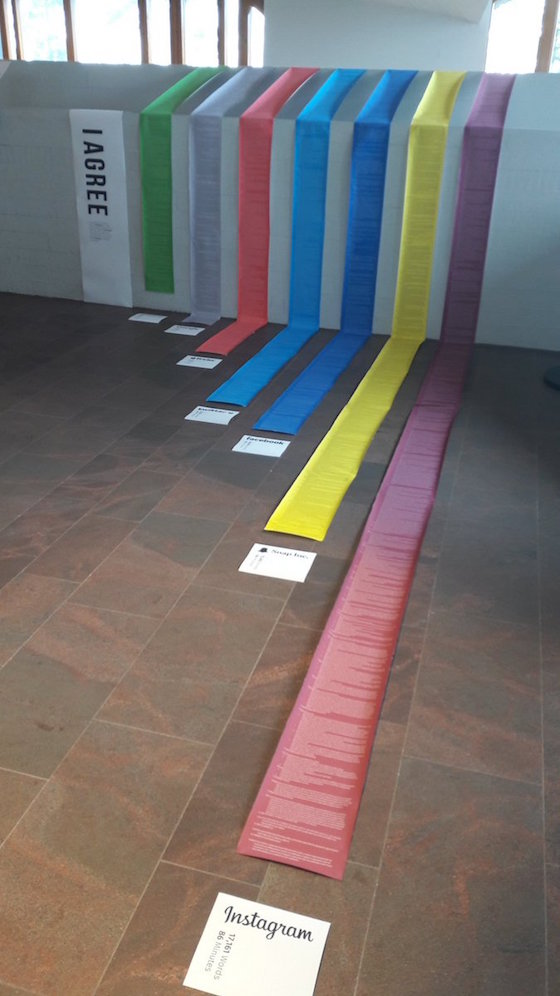 Coincidentally, Stoller remarks:
4. Then there's the 2014 WhatsApp purchase. When FB bought WhatsApp, the FTC warned Zuckerberg than changing WhatsApp terms of service without opt-in consent was a deceptive practice. He did it anyway in 2016. No response from the FTC. That is a break-down of the rule of law.

— Matt Stoller (@matthewstoller) May 4, 2018
Five Horsemen: "Apple spikes higher as Amazon shares again challenge the $1,600 ceiling" [Hat Tip, Jim Haygood].
NakedCap Mania-Panic Index: "The mania-panic index rose to 51 (complacency) after Friday's up session" [Hat Tip, Jim Haygood]. (The NakedCap mania-panic index is an equally-weighted average of seven technical indicators derived from stock indexes, volatility (VIX), Treasuries, junk bonds, equity options, and internal measures of new highs vs new lows and up volume vs down volume … each converted to a scale of 0 to 100 before averaging, using thirty years of history for five of the seven series.)
Rapture Index: Closes up 2 on earthquakes. "A huge quake hits Hawaii" [Rapture Ready]. Record High, October 10, 2016: 189. Current: 183. Biggest jump in a long time.
Gaia
"Volcanoes Line West Coast and Alaska" [247 Wall Street]. Not the most impressive headline, but with handy map of "threat levels." And yikes:
uploading this here so you guys actually understand how insane this whole thing in hawai'i is pic.twitter.com/RmZY4cJdSo

— nahloo | nalu (@OGNahloo) May 5, 2018
"America's Last-Ditch Climate Strategy of Retreat Isn't Going So Well" [Bloomberg]. "After two vicious floods [on the Susquehanna River], Sidney, N.Y., decided to pull back from the river. Seven years later, things haven't turned out as planned… As Sidney keeps missing its twin goals of emptying a neighborhood that can no longer be protected and building a new one on dry land, the risk increases that more people will drift away, taking Sidney's future with them. The delays also tarnish the model this village was supposed to provide the rest of the country. Instead, Sidney underscores how hard it is to overcome the U.S. disaster policy's emphasis on rebuilding in place. 'I was hopeful that a project like this could show something could change,' Johnson-Bennett says. Does she think it worked? 'No,' she replies after a pause. She's been sitting for more than an hour at the McDonald's up the hill from the village, talking about an unlikely effort to prove the government didn't have to keep repeating the same mistakes. For the first time, she sounds defeated."
Jobs Guarantee
"Smile" [Interfluidity]. "Let's get this part out of the way. I'm for [the JG], if it's well implemented. What about a UBI? I'm for that too, if it's well implemented. Do we need both? Well, they do complement each other: Pairing a job guarantee with a UBI would mitigate the risk that the "guarantee" would transmogrify under political pressure into a punitive workfare program. Pairing a UBI with a job guarantee would mitigate the risk that we neglect the broader project of integrating one another into a vibrant society, that we let a check in the mail substitute for human engagement. If we could get both a UBI and a JG, that'd be great. (Of course, if we did get both, we'd want the numbers to be different than either as a standalone.) However, I am not so worried about an embarrassment of riches. We'll be fortunate to get one, either one, implemented well enough not to subvert its purpose. I see no reason not to advocate both."
Neoliberal Epidemics
"Women With Breast Cancer Delay Care When Faced With High Deductibles" [New York Times]. "Women who had just learned they had breast cancer were more likely to delay getting care if their deductibles were high, the study showed. A review of several years of medical claims exposed a pattern: Women confronting such immediate expenses put off getting diagnostic imaging and biopsies, postponing treatment…. And they delayed beginning chemotherapy by an average of seven months, said Dr. J. Frank Wharam, a Harvard researcher and one of the authors of the study, published earlier this year in the Journal of Clinical Oncology. 'Slight delays added up to long delays,' Dr. Wharam said. While the study did not look at how the women fared after treatment, cancer doctors warn that even short gaps between diagnosis and treatment can affect the outcome. Survival rates are higher for patients with some cancers if they are treated early. 'What we see here is an of sharing costs,' said Dr. Ethan Basch, the director of cancer outcomes research at UNC Lineberger Comprehensive Cancer Center, who was not involved in the study." Really? Unintended? Actuaries are that dumb? It looks like a case of Rule #2 of Neoliberalism, to me.
Guillotine Watch
Now would be a good time to buy gold (1):
This restaurant in NYC serves a $1,000 gold wings developed by a friend of the Kardashians ? pic.twitter.com/oPVQKk1zLy

— FOOD INSIDER (@InsiderFood) May 3, 2018
Now would be a good time to buy gold (2):
This burger comes with a 24-karat gold bun ? pic.twitter.com/lxsoT8cwsi

— FOOD INSIDER (@InsiderFood) May 6, 2018
Class Warfare
"AI will spell the end of capitalism" [Feng Xiang, Washington Post]. "If AI rationally allocates resources through big data analysis, and if robust feedback loops can supplant the imperfections of 'the invisible hand' while fairly sharing the vast wealth it creates, a planned economy that actually works could at last be achievable." I think "rationally" is doing a lot of work, there.
"The black-white wealth gap is fueled by student debt" [MarketWatch]. "Indeed, the study [here] finds that the gap in student debt held by black and white borrowers grows by 6.8% each year. As a result, black young adults hold 10.4% less wealth on average than their white counterparts due to differences in student-loan debt."
"Warren Buffett's mortgage companies set up to cater to white clients" [Reveal News]. "But as they've become major players in cities across America, Berkshire Hathaway's affiliated mortgage companies have followed a consistent pattern. Government lending data reviewed by Reveal from The Center for Investigative Reporting shows the companies direct their lending toward white borrowers and white neighborhoods, even in population centers such as Philadelphia where a majority of residents are people of color…. Legal experts said Berkshire Hathaway's mortgage companies were carrying out the very practices outlawed by the Fair Housing Act, a 50-year-old law that banned racial discrimination in lending, by locating their branches in white neighborhoods, employing mortgage consultants who – from their websites – appear to be overwhelmingly white and lending mostly to white borrowers. … "It sounds to me like they are intentionally avoiding doing business with people of color," said Allison Bethel, director of the fair housing clinic at the John Marshall Law School in Chicago…. The figures were especially stark for Trident, which placed all of its 55 loan centers across Delaware, New Jersey and Pennsylvania in majority-white neighborhoods, Reveal's analysis found. The analysis also showed 92 percent of the company's conventional home loan applications came from borrowers in majority-white neighborhoods. When Trident did lend in neighborhoods where the majority of residents were people of color, most of the loans still went to whites. Berkshire Hathaway's mortgage business has the hallmarks of one that could be prosecuted for "failure to serve" under the Fair Housing Act, according to Eric Halperin, a former federal prosecutor who oversaw fair lending cases during President Barack Obama's first term."
Bertie Wooster has been doing very well:
Yeesh, more than half of total wealth in each of Europe's big three economies is inherited (via https://t.co/qhbq2orZOs): pic.twitter.com/zCIw5siaf7

— Cardiff Garcia (@CardiffGarcia) May 6, 2018
"Capitalism and the constitution of the self" [Carl Beijer]. "There is little doubt on the liberal-left that power and ideology work to impose socially-constructed identities upon us from the moment we are born, and that these identities can become a deeply rooted, psychologically entrenched part of the way that we see ourselves. Should we be surprised, then, to discover that capitalism does this too – by blurring, from the very beginning, the cognitive line between our selves and our property? …. To the extent that capitalists really think of their property as in some sense an "extension of their persons," they will presumably act with the same instinctive irrational violence that you would expect if they were personally in danger. If there's anything to this, then Lacan may provide us with the germ of an explanation for the frequent failure of left argumentation to foster class consciousness. The psychological compulsion to defend and rationalize the self is not something that you can persuade people to stop doing; neither logic nor appeals to conscience are going to get people to abandon a right to property that they see as a fundamental part of who they are."
Farming — a.k.a. peasanting — is hard work:
I'm still so annoyed at that "the rural poor should grow their own food!!" take. Humanity has done that. It's called subsistence farming. It doesn't have…a great track record for keeping people alive and fed.

— Louisa ??? (@LouisatheLast) May 4, 2018
Permaculture, no-till, it's still risky…
News of The Wired
"Liz Phair on 'Girly-Sound,' what guys don't get about "Exile in Guyville" & what changed after Trump" [Salon]. I got off the popular music train in the mid-80s, which in retrospect was a terrible mistake, because I missed a lot. Since this is a family blog, I would include the YouTube, but Phair's material is spectacular and "still germane," as we say.
I don't think our systems are actually this bad:
If you hate a company definitely don't use a special Unicode character in your name on their billing portal. Their backend systems from 2004 are definitely built to handle emojis and zalgo text and won't immediately crash the entire business. https://t.co/olKQKtH5R8

— SwiftOnSecurity (@SwiftOnSecurity) May 4, 2018
Car repair mavens take note. Epic thread:
Oh so let me tell you about my fucking car repair yesterday

— Gravis McElroy (@gravislizard) May 7, 2018
* * *
Readers, feel free to contact me at lambert [UNDERSCORE] strether [DOT] corrente [AT] yahoo [DOT] com, with (a) links, and even better (b) sources I should curate regularly, (c) how to send me a check if you are allergic to PayPal, and (d) to find out how to send me images of plants. Vegetables are fine! Fungi are deemed to be honorary plants! If you want your handle to appear as a credit, please place it at the start of your mail in parentheses: (thus). Otherwise, I will anonymize by using your initials. See the previous Water Cooler (with plant) here. Today's plant (TH):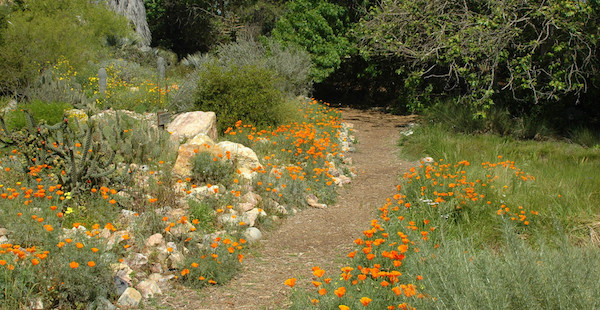 TH: "California Orange Poppies (state flower) line a path at the 'Environmental Nature Center' in Newport Beach, California. The center was developed over time by the High School that it borders, and various volunteer groups. Their (accomplished) mission was to create a xeriscape of native plants." What an inviting garden path!
* * *
Readers: Water Cooler is a standalone entity not covered by the annual NC fundraiser. So do feel free to make a contribution today or any day. Here is why: Regular positive feedback both makes me feel good and lets me know I'm on the right track with coverage. When I get no donations for five or ten days I get worried. More tangibly, a constant trickle of small donations helps me with expenses, and I factor that trickle in when setting fundraising goals. So if you see something you especially appreciate, do feel free to click the hat!

To give more, click on the arrow heads to the right of the amount.
If you hate PayPal — even though you can use a credit card or debit card on PayPal — you can email me at lambert [UNDERSCORE] strether [DOT] corrente [AT] yahoo [DOT] com, and I will give you directions on how to send a check.