By Lambert Strether of Corrente.
Trade
"U.S. seeks $200 bln cut in China trade imbalance" [MarketWatch]. "The U.S. handed China a lengthy list of demands on trade, ranging from immediately cutting a trade imbalance by $100 billion a year to halting all Chinese government support for advanced technologies, according to a document sent to Beijing before talks this week…. To address the trade relationship, the U.S. document offered an eight-point plan to Beijing and called for China to change its policies within a year or two. It also said the U.S. was ready to negotiate on the proposals."
"Here's What the U.S., China Demanded of Each Other on Trade" [Bloomberg]. Synopses of the eight-point US plan (there seem to be more than eight points) and of the Chinese counter-proposal. This is interesting, from the US: "The document also calls on China to take no retaliatory action in response to actions taken or to be taken by the U.S." The Chinese equivalent seems to be the more specific: "Not to initiate any Section 301 investigation against China in the future."
Politics
2020
"Is James Comey a Secret Beyoncé Fan?" [The Cut]. He's running, isn't he? Please kill me now.
2018
"Before They Make Gains, Dems Need to Look in the Mirror" [Charles Cook, Cook Political Report]. Democrats: lol no. Cook: "It is not clear that Democrats fully understood why they lost the last presidential election and why their congressional gains were so paltry—picking up just two Senate and six House seats, far fewer than expected…. [I]t might not be an accident or random chance that the three most popular governors in America are moderate Republican governors in very Democratic states—Charlie Baker in Massachusetts, Larry Hogan in Maryland, and Phil Scott in Vermont. Could it be voters are seeking moderation, checks and balances? As Democrats seek to win power this year and to recapture the White House in 2020, the question of pragmatism versus self-indulgence is a real and important one. A bit of self-reflection rather than just scapegoating might be in order."

"House: Democrats Risk Disaster in California's Top Two Primaries" [David Wasserman, Cook Political Report]. Skipping the horserace material to pull this out: "DCCC Chair Rep. Ben Ray Lujan and House Democrats are operating in a much different media environment than the one 2006 DCCC Chair Rep. Rahm Emanuel faced. In 2006, activist blogs were a relatively new political phenomenon and it was easier to maneuver behind the scenes. In 2018, jilted campaigns routinely leak damaging audio to The Intercept and social media, not DC, makes or breaks candidacies." First, my Old Eschatonian school tie says that it was activist blogs that convinced the Democrat leadership to oppose Bush's attempt after 2004 ("I have political capital and I intend to spend it") for a Grand Bargain on Social Security, and that this was key to the Democrat victory in 2006, since, for once, the Democrats were managed to position themselves as supporting universal concrete material benefits. Second, the Blue Dogs that Rahm put in place in 2006 — few of whom survived, because fake Republicans tend not to survive — ended up gutting whatever positive programmatic impulses the Obama administration had. Third, if Wasserman thinks that a Democrat party that isn't democratic — that determines its Presidential candidates in smoke-filled rooms, and its Congressional candidates through string-pulling in back rooms — isn't a disaster in and of itself, then I want some of what he's smoking.

VA-10: "VA-10 Preview: Democrats Fight to Take on Most Vulnerable GOP House Incumbent" [Cook Political Report]. "There are six Democrats on the ballot in the June 12 primary, but there are four with the resources and appeal to be contenders in the expensive DC media market: state Sen. Jennifer Wexton, former Obama Department of Veterans Affairs official Lindsey Davis Stover, anti-human trafficking activist Alison Friedman and Iraq/Afghanistan Army veteran Dan Helmer. A month out, Wexton is the substantial frontrunner." (Helmer, interestingly, is a "CIA Democrat." So perhaps there are worse things than having been a Democrat state rep.)

NY Governor: "Cuomo leads Nixon by double digits in New York governor's race" [CNN]. "Cuomo is 22 points ahead in this latest survey… Before she announced her run, Nixon was trailing Cuomo by a whopping 47 points."

NY Governor: "As Primary Season Heats Up, the Left Battles the Left" [Governing]. "Four years ago, Cuomo beat back a challenge from Zephyr Teachout, an underfunded law professor who nonetheless took just over a third of the primary vote. The final result may not have been close, but Teachout performed better than any challenger had against a sitting governor since New York first instituted gubernatorial primaries. Although she can't match his fundraising, Nixon has the potential to put a bigger scare into Cuomo than Teachout did, says Doug Muzzio, a pollster at Baruch College. Last month, Nixon won the endorsement of the progressive third party Working Families, meaning she'll not only challenge Cuomo in the September primary, but likely remain on the ballot in November."

NY Governor: "Bernie supporters push for registration overhaul to vote in state primary" [New York Post]. "New York Democratic Party activists who backed Bernie Sanders for president in 2016 — and now support Cynthia Nixon for governor over Gov. Cuomo — have drafted a resolution to force the state Democratic Committee to pass a rule allowing independent or "nonaligned" registered voters to vote in the 2018 Democratic primary for governor, on Sept. 13."

NY Governor: "Cuomo, borrowing from Churchill, vows to lead citizens' armada to block offshore drilling" [Politico]. "'I'm going to commission the citizen fleet from throughout the state to go out and interfere with their federal effort just as Winston Churchill did in Dunkirk,' Cuomo said. 'If you think I'm kidding, I'm not, and I'm going to lead that citizen fleet.'"

NY-27: "Fake Green Party Candidate Exposed as Having Ties to Republican Congressman" [Daily Beast]. "Michael Zak petitioned to run under the Green Party ticket in New York's 27th congressional district, a seat currently held by Rep. Chris Collins. Zak's candidacy petition listed as the official contact person Ross Kostecky, a local Republican operative who interned on Collins's 2009 campaign for Erie County, New York executive, The Daily Beast has found."
2016 Post Mortem
"PR boss Jennifer Palmieri: 'We reduced Hillary to a female facsimile of a male president'" [Guardian]. Palmieri: "Right up until 19 December that year, when the president was formally elected by the electoral college: 'I held out hope that we would fight on. I thought there was a chance the Republicans would stop it.' She allows a bleak smile. 'I thought maybe they would make Paul Ryan president.'" Palmieri, let us recall, thought the Russians were going to hijack her limo. And see here on the electoral college and faithless electors.

"Hillary Clinton: Big Business Is 'Disrupting Our Democracy'" [Fortune]. "How does one go about fixing that imbalance and regaining people's trust? Clinton, a Democrat, gave a tongue-in-cheek, "simple, partisan answer:" Change the majority Republican Congress in the November 2018 mid-term elections." Uh huh.
Realignment and Legitimacy
"Bernie Sanders Camp Says Ending Superdelegate 'Debacle' Key to Defeating Trump in 2020" [Newsweek]. "[Nina] Turner, who took over [Jeff] Weaver's post at Our Revolution in June, said 're-establishing faith' among Democrats will be key if the party wants a shot at turning out voters in 2020 and defeating President Donald Trump. 'We have to show voters—registered Democrats as well as independent voters who lean our way—that we recognize our faults and our failings and that we're willing to correct them,' Turner said. 'We're saying to millions of voters that the process is open, and we'll commit to a more robust debate and contest than we had in 2016." DCCC delenda est.

"Actually, National Democrats Should Interfere in Primaries" [Elaine Kamarck, New York Times]. "No other political parties in democracies in the world have abdicated their leadership role as much as America's have, weakening themselves and their ability to govern in the process. Party leaders have essentially given away the most important power they have — to determine who can run and win under the party's banner. This power now rests exclusively with primary voters." Exclusively? Reallly?
Stats Watch
Employment Situation, April 2018: First sentence: "Wage pressures may not be going up right now, but given the solid pace of job growth and the dwindling labor force, they may be appearing soon" [Econoday]. Second sentence: "Nonfarm payrolls rose 164,000 in April which is on the low side of expectations but revisions, at a net 30,000 gain in March and February, help make up the difference." Conclusion: "Right now, however, the mix is a good one: inflation-free expansion of the labor market. Other data include a downtick in the labor participation rate, to a lower-than-expected 62.8 percent to further highlight tight conditions, and also a noticeable pickup in manufacturing hours which, together with the gain in manufacturing payrolls, points to increasing acceleration for the factory sector." It's almost like there's some power greater than the invisible hand… (Although good news in the factory secton!) And: "[U]nemployment in the U.S. has fallen to one of the lowest levels of the post-World War II era, the result of a historically long jobs expansion that shows little evidence of slowing. The jobless rate fell to 3.9% in April from 4.1% a month earlier" [Wall Street Journal]. And but: "The headline jobs number at 164,000 for April was below consensus expectations of 190 thousand, however the previously two months were revised up a combined 30 thousand. With the revisions, this was close to expectations" [Calculated Risk]. "Wage growth was about as expected in April, however hourly wages for March were revised down." But: "April 2018 BLS Jobs Situation Is A Little Chaotic" [Econintersect]. "The headline seasonally adjusted BLS job growth was again significantly below expectations. This month's data is so chaotic – I would not look too deeply at the internals…. The household and establishment surveys were not in sync – which means if you believe the establishment's survey's employment growth, then it is hard to believe the unemployment rate. The year-to-date employment is running slightly below the pace of last year."
Capital Spending: "Small Decline in Combined U.S. & Canadian Industrial Spending" [Industrial Reports]. "Research by Industrial Reports, Inc. shows combined U.S. and Canadian planned capital spending slipped .78 percent in April compared to March. April spending for the two nations totaled $31.50 billion compared to March's $32.28 billion. The research organization reported 254 planned U.S. and Canadian projects in April. Planned U.S. project spending dropped by 29 percent in April with $19.60 billion in planned investment compared to the March total of $27.76 billion. Canadian planned investment jumped to $11.90 billion in April from March's $4.52 billion. Projects in both nations ranged in value from $500,000 to $7.5 billion."
Capital Spending: "Why you should pay attention to this, and not to the unemployment rate" [Rex Nutting, MarketWatch]. "Everyone is talking about employment today, (which makes sense since it's "Jobs Friday") but I'd like to talk about another economic statistic that's more important for the long run: Capital spending…. The good news is that corporations are increasing their investments again after a slump in 2015 and 2016. Over the past year, real business investment has increased at a 6.1% annual rate, according to the Bureau of Economic Affairs in the Commerce Department. It's a good number, but nothing jaw-dropping. The bad news is that net investment is very weak by historical standards. Companies have loads of cash, but little is going back into the business. This dismal trend may be about to change for a very good reason: Businesses are reporting that strong demand is running up against the economy's capacity (including imports). Supply chains are tight, and prices are rising for goods and services in short supply. The natural response by profit-maximizing companies would be to expand their capacity rapidly to meet demand, and to some extent that seems to be happening." According to an analysis by equity strategist Jonathan Golub of Credit Suisse, capital spending by large companies in the S&P 500 index SPX, +1.06% is on pace to increase 20% year-on-year, based on the companies that have already reported their first-quarter earnings. But Golub cautions against seeing the pickup in capex as a broad trend. It's concentrated in just a few sectors and in stocks 'with higher [return on equity] opportunities,' he wrote in a note to clients. Two-thirds of the dollar increase in the first quarter comes from just 10 companies: Alphabet, General Motors, AT&T, Verizon, Walmart, Amazon, Microsoft, Intel, Micron, and Charter Communications."
Shipping: "Exclusive: UPS weighs strategy to deliver bulky goods to boost growth" [Reuters]. "United Parcel Service Inc (UPS.N) is in talks with at least one U.S. trucking firm to launch an in-home delivery service for large, heavy goods such as couches and treadmills, as the world's largest package deliverer looks to cash in on one the fastest growing segments of online retail."
Shipping: "Truck factories are trying to accelerate production to cope with the biggest backlog in orders in more than a decade. Fleet owners ordered more than 35,000 heavy-duty trucks last month, a step back from the first quarter's red-hot ordering pace but still enough to keep manufacturers rushing to build the vehicles" [Wall Street Journal]. "The order backlog reached some 205,000 units at the end of April, more than double the order book of last September and the biggest since May 2006, according to ACT Research. ACT's Kenny Vieth says the "backlog-to-build ratio" recently hit 7.2 months, leaving plenty of work for manufacturers well into the fourth quarter."
Shipping: "Anheuser-Busch orders up to 800 hydrogen-electric Nikola semi-trucks" [DC Velocity]. "In announcing the largest deal to date for heavy-duty trucks powered by hydrogen fuel cells, St. Louis-based Anheuser-Busch cited the Nikola One trucks' range of 500 to 1,200 miles per refueling stop, 20-minute refueling time, and zero-emission operation…. Nikola leases its vehicles at a rate of 90 cents to $1 per mile in a package that covers the vehicle, fuel, warranty, and maintenance. It also includes replacement parts such as tires and wiper blades. Its leasing arrangements are managed by rental and leasing giant Ryder System Inc., which serves as Nikola's exclusive distribution and maintenance provider." Interesting material on Nikola v. Tesla.
The Bezzle: "The most important last mile for Blue Apron Holdings Inc. may lead to a grocery store. The meal-kit pioneer has started selling its boxed-up fare at Costco Wholesale Corp. in a shift away from its business model as a delivery company" [Wall Street Journal]. "The decision is an admission that competition in the business has grown too strong and the costs to win and keep customers are too great to go it alone…. It also signals that the logistics hurdles are proving too great to overcome over the long haul. Blue Apron has struggled to fix problems at a New Jersey warehouse that executives were counting on to support rapid growth. First-quarter results show the company appears to be turning a corner, and getting shelf space at a retailer may provide a better logistics and financial recipe." For this, an IPO?
Fodder for the Bulls: "March 2018 Leading Index Review: Continued Average Growth Forecast" [Econintersect]. "Most of the leading indicators are based on factors which are known to have significant backward revisions – and one cannot take any of their trends to the bank… At this point, Econintersect continues to see NO particular dynamic at this time which will deliver noticeably better growth in the foreseeable future – and the majority of the indicators are forecasting a near average rate of growth which has been seen since the end of the Great Recession."
The Fed: "The Case for Central Bank Electronic Money and the Non-case for Central Bank Cryptocurrencies" [Federal Reserve Bank of St Louis]. "We characterize various currencies according to their control structure, focusing on cryptocurrencies such as Bitcoin and government-issued fiat money. We then argue that there is a large unmet demand for a liquid asset that allows households and firms to save outside of the private financial sector. Central banks could offer such an asset by simply allowing households and firms to open accounts with them. Finally, we conclude that a central bank will not issue cryptocurrencies in the sense of a truly decentralized and permissionless asset that allows users to remain anonymous."
Five Horsemen: "Apple soars to a record on news that Buffett was buying" [Hat Tip, Jim Haygood].
NakedCap Mania-Panic Index: "The mania-panic index fell to 47 (worry) after yesterday's sharp intraday drop" [Hat Tip, Jim Haygood]. (The NakedCap mania-panic index is an equally-weighted average of seven technical indicators derived from stock indexes, volatility (VIX), Treasuries, junk bonds, equity options, and internal measures of new highs vs new lows and up volume vs down volume … each converted to a scale of 0 to 100 before averaging, using thirty years of history for five of the seven series.)
The 420
"Maine Lawmakers Override Veto, Clear the Way for Recreational Marijuana" [Governing]. "Maine lawmakers overrode Gov. Paul LePage's veto of an adult-use marijuana regulatory bill Wednesday, putting the state on track to regulate a retail market that has been in limbo since voters legalized recreational marijuana use in 2016…. This year's bill, sponsored by Rep. Teresa Pierce, D-Falmouth, will set an effective tax rate of 20 percent on marijuana products, give Mainers priority for commercial licenses, and set health and safety standards for the market. It won't open before LePage leaves office in early 2019." Good thought to give Mainers priority, although I imagine ginormous out-of-state corporations are already trying to figure out how to work through straws.
Gaia
Sending a message:
Does anyone else see what I am seeing this morning on Iowa 4 in soil temps? Who are they trying to flip off? Got to be a bad sensor at 75 degrees? #plant18 pic.twitter.com/F9s2TpnumD

— Keith Gehling (@Grainstate) May 3, 2018
Jobs Guarantee
"4 big questions about job guarantees" [Dylan Matthews, Vox]. "The single most encouraging study on the idea of a job guarantee comes from India, whose National Rural Employment Guarantee Scheme is meant to offer a permanent, guaranteed source of income for rural farmers during the dry season. A group of economists — UC San Diego's Karthik Muralidharan and Paul Niehaus and the University of Virginia's Sandip Sukhtankar — conducted a randomized experiment and found that the program raises earnings for low-income households by 13.3 percent, mostly because it bid up wages in the private sector. It also increased employment in the private sector, amazingly."
"Can a Federal Jobs Guarantee Help Democrats Defeat Trump in 2020?" [Newsweek]. "Democrats eyeing a run at toppling President Donald Trump are coalescing around a federal jobs guarantee they hope will propel them to the White House in 2020. In doing so, they are aiming squarely at winning back the voters who gave up on the party two years ago as they bought into Trump's pledge to provide for the 'forgotten men and women.'…. When researchers at Civis Analytics, another progressive data analytics firm, narrowed the data by voting pattern, they found that 56 percent of those who went from voting for former President Barack Obama in 2012 to Trump in 2016 supported a jobs guarantee, and 58 percent of nonvoters looked favorably on the idea as well." Idea: Instead of trying to flip Trump's base (wealthy suburban Republicans) why not try to flip Trump's margin (working class voters, many of whom voted for Obama). Clintonites: lol no.
"The Job Guarantee and the Wilted Liberal Imagination" [Democracy]. "[S]kepticism about government's ability to perform complicated tasks is a common refrain in job guarantee criticism…. This attitude and the pessimistic presumptions underneath it are immensely frustrating, and the person who best explained that frustration was… Matt Yglesias, when he tweeted that 'If they didn't already exist, public libraries would strike people as the most outlandish left-wing idea.' This is also true of the post office (a public program to send any letter or package anywhere in the country for relatively little money), the national parks system (50+ government parks spanning 84 million acres), and a million other government achievements we all take for granted. But more relevant to the job guarantee and the Kliff, Drum, et al. criticisms: the Works Progress Administration and related agencies during the 1930s. To employ millions of people and do many good things, they performed exactly the sort of complicated administrative and logistical work that is today declared impossible."
"We Work" [James Galbraith, The Baffler]. "On this issue, I'm an ex-skeptic. I was deeply involved in the full employment debates of forty years ago; I had the staff role—it was considered minor at the time—of drafting the monetary policy provisions of the original Humphrey-Hawkins Full Employment Bill. I've remained a resolute believer in the possibility and benefits of full employment, but my first published article, in Working Papers for a New Society back in 1978, was titled "Why We Have No Full Employment Policy." It was about how hard getting there would be, including how hard to have the government serve as "employer of last resort." I held that position for many years, but I've changed my mind. Here's why the job guarantee deserves a better rap…. Against the job guarantee [Dean] Baker makes three points. First, that it will cost too much and be too hard to implement. Second, that it will upend the private labor market. Third, that it will provoke inflation and a harsh response from the Federal Reserve. The first is untrue. The second is a good thing. The third is a combination of unlikely and irrelevant—or to put it another way, an admission of impotence and a call for preemptive surrender."
Guillotine Watch
Who are these people?
Inside the boho-style Bahamas wedding of Victoria's Secret model Shanina Shaik and DJ Ruckus, complete with a private jet arrival, 2 custom gowns, and 'truckloads of tequila' https://t.co/Vv71oPiwQB pic.twitter.com/Srbh8mC9x8

— Business Insider (@businessinsider) May 3, 2018
Class Warfare
"Silicon Valley's Rigged Game of Life" [The New Republic]. "The Silicon Valley that [Corey] Pein uncovers is not unlike dystopian visions we are accustomed to seeing in science fiction. Like any of number of fictional futures, from Metropolis to Altered Carbon, it is a society where the wealthy in live in glistening towers in the clouds, surrounded by technologies of luxury and convenience, looking down on an underclass that cannot afford basic necessities. As Pein shows, the world where a handful of billionaires own more wealth than the majority of the world's population is not just the stuff of fantasy, it's the world we're living in…. A 2012 Harvard Business School study showed that 95 percent of VC-backed startups fail. The idea that Silicon Valley is a land of opportunity, Pein points out, is based on only five percent of reality. As Live Work Work Work Die shows, most success stories are not entirely the result of dreams realized in the open market."
"Study: overhyped media narratives about America's fading white majority fuel anxiety" [Matthew Yglesias, Vox]. "The very same census report projects that as far out as 2060, 68.5 percent of the population will be white. It's just that a reasonably large share of the white population will be partially descended from Latin American immigrants. A further 6.2 percent of the population will belong to "two or more races," with a large share of those likely identifying at least in part as white. The difference here is between an exclusive and inclusive definition of whiteness."
News of The Wired
Up to a point, Lord Copper:
Took 28 years to realise that no matter what the meeting is about, if you randomly chime in with 'it's just about finding that balance' people will always agree.

— Adam Hess (@adamhess1) March 21, 2018
Heroic transport workers:
China is unsurpassed at making hair-raising U-turns. pic.twitter.com/JXpNfVF4aK

— Chris Buckley 储百亮 (@ChuBailiang) March 25, 2018
* * *
Readers, feel free to contact me at lambert [UNDERSCORE] strether [DOT] corrente [AT] yahoo [DOT] com, with (a) links, and even better (b) sources I should curate regularly, (c) how to send me a check if you are allergic to PayPal, and (d) to find out how to send me images of plants. Vegetables are fine! Fungi are deemed to be honorary plants! If you want your handle to appear as a credit, please place it at the start of your mail in parentheses: (thus). Otherwise, I will anonymize by using your initials. See the previous Water Cooler (with plant) here. Today's plant (JG):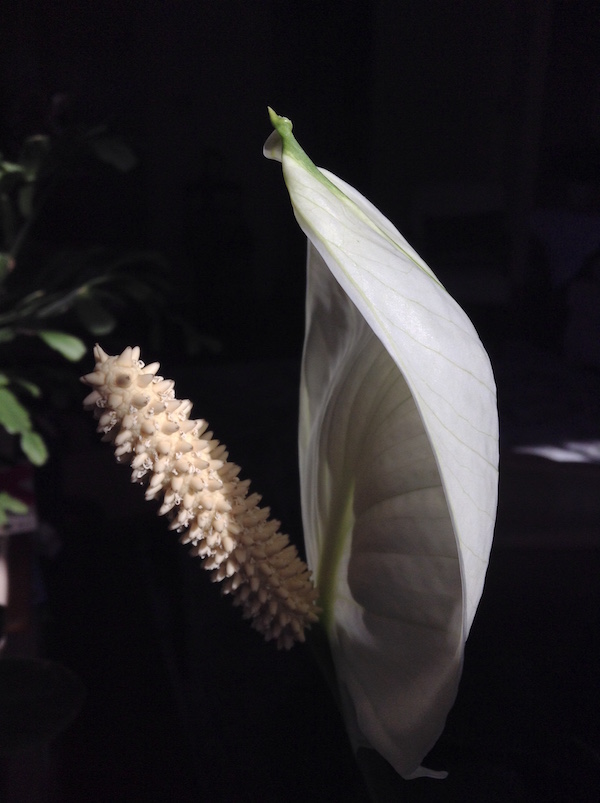 JG writes: "This peace lily flower is from about one month ago. Another one is opening now."
* * *
Readers: Water Cooler is a standalone entity not covered by the annual NC fundraiser. So do feel free to make a contribution today or any day. Here is why: Regular positive feedback both makes me feel good and lets me know I'm on the right track with coverage. When I get no donations for five or ten days I get worried. More tangibly, a constant trickle of small donations helps me with expenses, and I factor that trickle in when setting fundraising goals. So if you see something you especially appreciate, do feel free to click the hat!

To give more, click on the arrow heads to the right of the amount.
If you hate PayPal — even though you can use a credit card or debit card on PayPal — you can email me at lambert [UNDERSCORE] strether [DOT] corrente [AT] yahoo [DOT] com, and I will give you directions on how to send a check.