As Winter Warms, Bears Can't Sleep. And They're Getting Into Trouble. New York Times (furzy)
Dumb tourists keep throwing 200-million-year-old dinosaur fossils into a Utah reservoir BGR (Kevin W)
Man Allegedly Used Change Of Address Form To Move UPS Headquarters To His Apartment NPR (Kevin W)
Pentagon revised Obama-era report to remove risks from climate change – The Washington Post (furzy)
MIT and newly formed company launch novel approach to fusion power MIT News (UserFriendly)
Teens Cyberbully Themselves As A New Type Of Self-Harm NPR (UserFriendly)
Hospitals in US sound alarm on impending chemotherapy shortages Financial Times
David Goodall, Australia's oldest scientist, ends his own life aged 104 Guardian. Kevin W: "His last words were: 'This is taking an awfully long time!'"
Japan has found a 'semi-infinite' deposit of rare earth minerals, enough to supply the world for centuries to come Financial Post
As Walmart Swallows Flipkart, the Dream of an Indian Alibaba is Dead The Wire (J-LS)
Why selling their vote is a rational choice for a large segment of voters in India Scroll (J-LS)
Trump's 'America First' agenda on drug pricing could backfire around the world Politico (furzy)
As US Dollar & Interest Rates Rise, All Heck Breaks Loose in Emerging Market Currencies Wolf Richter (EM). This is a bigger deal than Wolf lets on. The Turkish lira has also plunged. Krugman and other Serious Economists have been sounding alarms. The US may wind up backing off on Fed rate increases because it might break too many emerging economies.
China?
US-China Secret Trade Negotiations Are Not Going So Well Real News
Canada sued over years of alleged experimentation on indigenous people Guardian. Ugh.
Brexit
Deadlocked Theresa May postpones key Brexit votes Financial Times. Wowsers. She's going for brinkmanship with Commons to the softer Brexit faction: "Take my hard Brexit deal or crash out." That of course assumes she surmounts her wee Irish border problem…

Brexit is a national crisis. We need a compromise solution Guardian (vlade)

Scende in campo la generazione Erasmus. Una conversazione con Andrea Venzon, presidente di Volt L'Espresso. Google Translate: The Erasmus generation takes the field. A conversation with Andrea Venzon, president of Volt. And this is a Brexit story…

Great initiative by @VoltEuropa. It's so encouraging to witness youngsters building a progressive, pan-European movement that connects, involves, and engages Europeans and aims at revolutionizing the way politics is done. Check out their project https://t.co/BH8YQ9mFwp

— Guy Verhofstadt (@guyverhofstadt) April 14, 2018
Syraqistan
Big Brother is Watching You Watch
Alexa and Siri Can Hear This Hidden Command. You Can't. New York Times. Lambert flagged this yesterday, but be sure not to miss it.

Chinese Tech Giant on Brink of Collapse in New U.S. Cold War New York Times. Bill B:

Don't ask yourself "is this device secure?" But rather, 'which intelligence
services have access?" State-sponsored subversion didn't end with Snowden.

Judge says CIA emails to journalists don't have to be released to public McClatchy
Trump Transition
Trump's latest shot at the press corps: 'Take away credentials?' CNN (furzy)

To understand Trump-team leaks, look at the leakers' motives Christian Science Monitor

Bolton pushing to eliminate White House cyber job Politico (furzy)
CNN poll: Democrats' 2018 advantage is nearly gone CNN (Marshall Auerback). Wave that wave goodbye.
Unveiling slogans of #RealDemocrats for 2018 pic.twitter.com/OAhjtWkHVn

— ?IPM ?????? (@IPM_Prime) May 9, 2018
'Vote for the homo, not the Cuomo: memorable political slogans Guardian (Dr. Kevin)
Black Injustice Tipping Point
A Young Black Man Was Choked By Police at a Waffle House After Prom — A Cell Phone Video Captured What Happened Time
Tesla battery reignited days after fiery crash in Mountain View Mercury News (Kevin W)
Kill Me Now
Win a trip to meet Bill, Hillary, and Chelsea Clinton! Clinton Foundation. Lambert: "Shut up, Chelsea. You're never going to be a Senator."

Elon Musk wants to launch the same rocket to orbit twice in a single day Quartz (J-LS). Per above, he needs to figure out how to run a car factory first.
When banks abandoned American Samoa, the islands found a solution nobody had used in a century Washington Post
Shameful Mess at CalPERS Need to be Exposed! Tony Butka, LA CityWatch. He's behind on the messes, but this is still a good recap as of the day before yesterday.
The gender disparity is particularly striking given that some men and women define what constitutes "sex" differently, as in some women have stronger form definitions. Recall the prototypical Mormon girls, who consider anything other than vaginal intercourse (including anal sex) not to be sex.
Luckily, the fix was quick and easy!

So here it is, the celibate Millennial population, answering @mattyglesias ' question about just how many of these people are out there! The answer? A lot, and it's rising. pic.twitter.com/kgoAfC1AKL

— Lyman Stone (@lymanstoneky) May 3, 2018
Class Warfare
Antidote du jour. Tracie H: "Jellyfish at the Long Beach, California, Aquarium of the Pacific."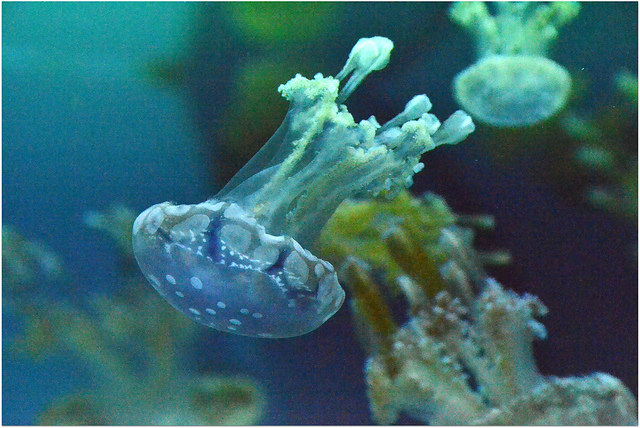 And a bonus antidote:
See yesterday's Links and Antidote du Jour here.