Can White Canvas Bags Reduce Deer-Vehicle Collisions? Cool Green Science (Dr. Kevin)
Japanese rail company has apologised after a train left a station 25 seconds early, the second such case in months. BBC (Dr. Kevin)
Can Humans Live Well without Pillaging the Planet? Scientific American (David L). "Can" does not equal "will".
Mysterious rise in banned ozone-destroying chemical shocks scientists Guardian (Dr. Kevin)
Someone, somewhere, is making a banned chemical that destroys the ozone layer, scientists suspect Washington Post (Dr. Kevin)
NASA Satellites Detect Seriously Weird Changes in Earth's Freshwater Inverse (David L)
Senate Votes To Protect Net Neutrality, But What's Next? SafeHaven
Preventing an AI Apocalypse Project Syndicate (David L)
Censorship
Twitter Is Going To Limit The Visibility Of Tweets From People Behaving Badly BuzzFeed. Policing for conduct is hard and is worth doing but I have my doubts re the extent of civility problems on Twitter (then again, I'm not Caitlin Johnstone…. and she could be a prime target of this policy, since you can give someone negative points by blocking their account)
North Korea
U.S. Brushes Off Pyongyang's Tough Talk, Proceeds With Planning for Summit Wall Street Journal
Italy's populists seek collision course with Brussels Politico
Brexit
Lords inflict 15th defeat on government over EU withdrawal bill Guardian

Sterling tracks Brexit customs union reports Financial Times

Britain will tell EU it is prepared to stay tied to customs union beyond 2021 Telegraph.
Big Four accountancy firms plan for forced break-up Financial Times
New Cold War
It's the End of the World, and I Feel Terrible TruthDig

To pay for a 'Russia first' agenda, Putin takes ax to military spending Christian Science Monitor. Shane: "From last week, but still germane. Interesting account on Putin working to cement his domestic legacy, contrary to allegations by hypocritical US neocons of Russian imperial designs."
Syraqistan
Gaza shootings: When I was 14 Guardian (Dr. Kevin)

Israel, Like the Nazis, Values "Postenpflicht" by Publius Tacitus Sic Semper Tyrannis (Chuck L)

Can Palestinians be Killed? Can Israelis Kill them? Or do they only "Die"? Juan Cole (Randy K)

Get Ready for the New Middle East Battlefield: The Golan American Conservative (guurst)

Total Stops Iran Gas Project as Risk From Sanctions Too High Bloomberg (Kevin W)

On the Iran deal:

Looking at latest decisions of @realDonaldTrump someone could even think: with friends like that who needs enemies. But frankly, EU should be grateful. Thanks to him we got rid of all illusions. We realise that if you need a helping hand, you will find one at the end of your arm.

— Donald Tusk (@eucopresident) May 16, 2018

OPCW report on the events of 4 February 2018 in Saraqib, Idlib OPCW. EM:

Couple key snips, bolds mine – the first is no slight of the OPCW's work, just, to use a legal phrase, "goes to possible bias on the part of the witnesses, your honor. "Quote:

Through liaison with representatives of several NGOs, including Same Justice/Chemical Violations Documentation Center of Syria (CVDCS), the Syrian Civil Defence – also known as White Helmets – (SCD) and the Syrian American Medical Society (SAMS), the FFM contacted witnesses and confirmed their willingness to provide testimony and potential evidence. Furthermore, the FFM coordinated with the NGOs to organise movement of the witnesses.
…
6.2 The Syrian Arab Republic replied with a three-page summary report attached to classified Note Verbale No. 23 dated 12 March 2018. In this summary report, the Syrian Arab Republic shared with the Secretariat the following:
(a) Saraqib had not been under the control of the Syrian Government for a long period of time, including the time of the incident; and
(b) a technical analysis of the alleged incident based on open-source media.

So the upshot seems to be that somebody with access to a helicopter flew it in an area long-controlled by rebels and dropped a couple tanks of industrial liquid Cl near a populated area.
Tariff Tantrum
EU Wants to Boost LNG Imports From US in Exchange of Lifting US Aluminum Tariffs Sputnik (Kevin W)
From Politico's European daily e-mail:
ON (UN-)CONDITIONALITY: President Jean-Claude Juncker told EU leaders behind closed doors in Sofia on Wednesday night about the state of play and preliminary outcome of recent talks between Trade Commissioner Cecilia Malmström and her U.S. counterpart Wilbur Ross. On the condition that there's going to be an unconditioned exemption for the EU from U.S. tariffs on steel and aluminum, here's what the European Commission is ready to offer Trump, according to two EU officials and a diplomat …

1. Tariffs: The Commission is ready to engage in a scoping exercise to eliminate reciprocal tariffs on industrial products (not agriculture); which may also involve liberalizing  government procurement rules. The aim is to conclude these discussions by September.

2. LNG: "We would be working to deepen our energy relationship, notably in the area of liquified natural gas," one official said.

3. Product safety: The EU would engage in "voluntary regulatory cooperation" of both sides. Don't count on a resurrected TTIP (not even in a "light" version of that trade agreement), but "on an ad-hoc basis," the EU will reduce its regulatory burdens (perhaps adding ammunition to America's argument that they effectively serve as trade barriers).

4. WTO: The EU would engage together with the U.S. in "meaningful WTO reforms," as one official said. That looks like an attempt to do three things in one: accommodate Trump's anger about the World Trade Organization, keep the WTO functional by finding a solution to the current blockage of its appellate body and give Trump something to brag about.
Trump Transition
Giuliani: If Mueller subpoenas us, we will challenge it The Hill

Mueller aside, Trump now faces legal peril from a host of sources Christian Science Monitor (furzy)

The man who leaked Michael Cohen's financial info did so because other information on Trump's lawyer mysteriously disappeared Business Insider (Dr. Kevin)

U.S. judge refuses to dismiss ex-Trump aide Manafort's criminal case Reuters. EM: "Very differently-toned ruling than in the other (Alexandria) indictment, where it should be noted that judge Ellis has yet to issue a ruling, pending the FBI's supplying the unredacted version of key memo he asked them for." Moi: I recall this judge being visibly hostile to Manafort on some early rulings, to the degree it might set up an appeal if she kept it up.

Some questioning of the math here in the thread where this was debated (hat tip Scott), since this was apparently officers' wives and of the Air Force, the most conservative service. But still a very visible image of the lack of diversity. No gay married men, or apparently they are not deemed photo-worthy.

The WH hosted military spouses today. Our armed forces are 40% non-white. The odds that — BY CHANCE — a group of 52 military spouses would contain no people of color are lower than 100 trillion to 1. So, umm…. pic.twitter.com/zi6XzmzYBd

— Ronald Klain (@RonaldKlain) May 11, 2018
The Daily 202: The far left is winning the Democratic civil war Washington Post UserFriendly: "ROFL"
Time to Regulate Proxy Advisory Firms RealClearPolicy (UserFriendly)
LuxLeaks verdict sets 'strong precedent', says acquitted exPwC whistleblower Antoine Deltour International Tax Review (Adrien)
Tesla bursts into flames after fatal crash in Switzerland (PHOTOS) RT (Kevin W)
Wells Fargo Employees Altered Information on Business Customers' Documents Wall Street Journal. This never stops, does it?
Guillotine Watch
New York surpasses London on luxury housing market index Financial Times

The true cost of the royal wedding that the rich and powerful don't want you to see The Canary (Chuck L)
Class Warfare
Antidote du jour. Eddie M: "Handsome little skinker:"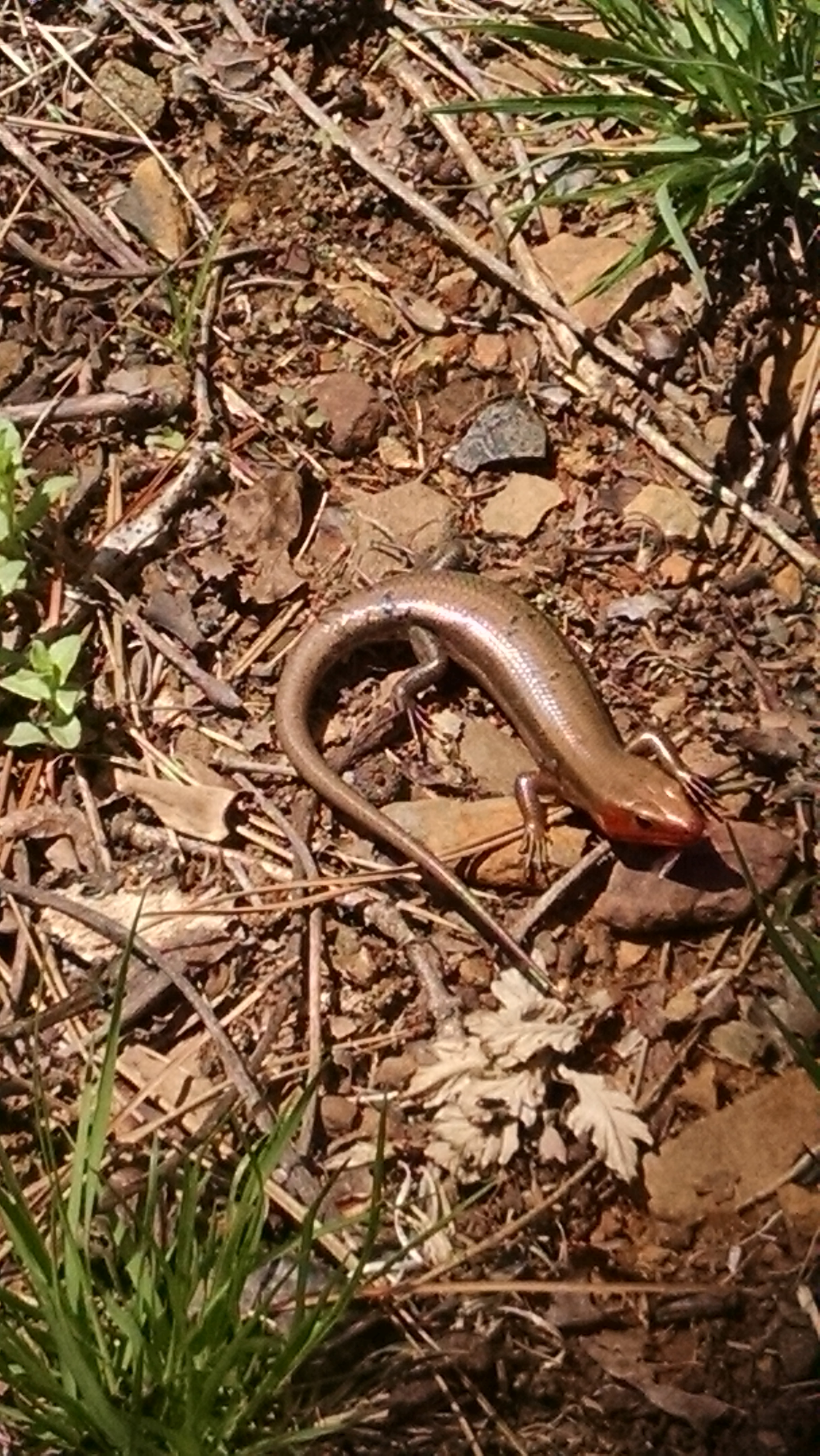 And an anti-antidote, this one from Lambert. But this guy has no idea what a cat that decides to get its way looks like. My former cat Blake was capable of terrorizing adult men and cleaning women and when he got old and cranky, would pee on the floor near my desk WHEN I WAS SITTING THERE to let me know he was mad that I'd been out of town.
So my cat fucking full on just walked in and dunked a fucking dead mouse in my fucking glass of wine and honestly I'm livid pic.twitter.com/Z8AvB5zcUA

— Mr tambourine man (@JonoScooter) May 5, 2018
See yesterday's Links and Antidote du Jour here.