Tom Wolfe, Author of 'The Right Stuff' and 'Bonfire of the Vanities,' Dies New York Times. I really liked A Man in Full, once I got past the first 50 pages. Bonfire of the Vanities didn't do as much for me….maybe because I'd seen a lot of the environment first hand.
Think chimpanzee beds are dirtier than human ones? Think again PhysOrg
Should nations close the high seas to fishing? Rethink (J-LS)
Pentagon to lift ban on Democrats serving in the military Duffel Blog
A tiny satellite bound for Mars just snapped a photo of Earth that will make you feel puny and insignificant Business Insider (Kevin W)
Rent-a-Rifle: Chicago Art Installation Imagines Urban Weapons Sharing Sputnik (Kevin W)
Astroboffins spy the most greedy black hole yet gobbling a Sun a day The Register
Dutch researchers uncover dirty jokes in Anne Frank's diary PhysOrg. Chuck L: "So she was a down-to-earth kid, like most of us who weren't too warped by some ideology or other."
Greenland ice cores track Roman lead pollution in year-by-year detail ars technica
Online Ad Revenue Overtakes TV For the First Time SafeHaven
Censorship
Twitter will hide more bad tweets in conversations and searches The Verge

Zuckerberg again snubs UK parliament over call to testify TechCrunch
North Korea
A senior North Korean official said Pyongyang isn't interested in a summit with the U.S. focused solely on denuclearization and accused Washington of trying to "impose on our dignified state the destiny of Libya or Iraq."
India wants to maximise renewables production with solar-wind-hybrid plants Quartz (J-LS)
Brexit
Theresa May's Brexit customs plans could be illegal Business Insider

Scottish parliament decisively rejects EU withdrawal bill Guardian
Carillion's demise spurs call for action against Big Four Financial Times
And for a brief break from our usual programming: Video: Holly & Phil lose it over Royal Wedding swimsuits Metro UK (J-LS)
New Cold War
U.S. fighter jets intercept Russian bombers in international airspace off Alaska Reuters (EM)
Syraqistan
Gaza violence: Israelis and Palestinians in fierce exchanges at UN BBC

Netanyahu Announces Day Of Mourning For Fence Damaged In Yesterday's Conflict and IDF Soldier Recounts Harrowing, Heroic War Story Of Killing 8-Month-Old Child The Onion

The internet is offended at The New York Times' description of deaths and violence amid protests on the Gaza border Business Insider (BL)

Forgiveness in the Face of Israel's Great Global Arrogance and Cruel Indifference Towards the Palestinians Veterans Today. Judy B:

IMHO: A review of history — biblical and otherwise — is always helpful, and this article is excellent in this regard.

But this conclusion with a call for "forgiveness" is a copout. It's a sit down/sit out posture while Palestinians continue to be killed, tortured, raped, mutiliated by bestial Zionists.

It is white supremacist arrogance to call for the non-white victim to forgive the white sinner while the sinner continues to commit atrocities against said victim.

The Russian-Israeli-Iranian conundrum in Syria Asia Times (BL)

Europe stares down Trump over Iran Politico. Also from the Politico daily European e-mail:

The College of Commissioners today will be looking at options to help ease the burden of America's secondary sanctions on EU companies, particularly small and medium-sized ones, which have less exposure to the U.S. market. Bottom line: Brussels is taking this seriously. There are three options, according to EU diplomats Playbook spoke to.

1. More EU investment into Iran, and the means to facilitate that via the European Investment Bank.

2. That old policy of disregarding any U.S. (secondary) sanctions.

3. Paying for Iranian oil in euros instead of dollars. "The oil sector is crucial for Iran and there are to be euro payments for oil transactions," one diplomat told Playbook. Energy Commissioner Miguel Arias Cañete is due to travel to Iran later this week.

Yves here. Please note the significance of paying Iran in euros does not have anything to do with "petrodollars." It is entirely about moving money to and from Iran without using the dollar clearing system. Any financial institution transacting in dollar (unless by happenstance the transaction gets netted within the same financial institution) uses dollar clearing systems. The banks on that system have large intraday exposures to each other. The only way they are willing to do that is the Fed effectively backstops the ultimate end of day settlement. Foreign banks either have to have a US regulated entity (usually a branch bank chartered in NY) or else have a bank like that as a correspondent (which if you operate dollar transactions at any meaningful scale, costs more and is cumbersome). Remember when Benjamin Lawsky threatened to yank the New York banking license of Standard Chartered for doctoring wired to hide that it was trading with Iran? Or when Paribas was fined nearly $9 billion for violating US sanctions against North Korea, Iran and Sudan? That is what this is about.

The US will no doubt attempt to take the view that its sanctions extend to non-dollar operations of foreign banks. It is hard to see how they go beyond huffing and puffing, however, absent specific cases of whistleblowers who supplied records.
Big Brother is Watching You Watch
Police facial recognition system 'risks damaging public trust' Daily Mail (JTM)

Angry nurses want Mark Zuckerberg's name removed from a San Francisco hospital South China Morning Post (J-LS)

Google Employees Resign in Protest Against Pentagon Contract Gizmodo (Judy B)
Trade Traitors
Liu's conundrum will be to square the circle in Washington Asia Times

WTO ruling on Airbus paves way for US sanctions on EU Financial Times

Ruling on Airbus Subsidies Could Escalate Trade Tensions With Europe New York Times (Kevin W)
Imperial Collapse Watch
The Pentagon Can't Account for $21 Trillion (That's Not a Typo) TruthDig (J-LS)
Trump Transition
China Contributing $500 Million to Trump-Linked Project in Indonesia National Review. Missed this for yesterday….

Volcker Rule Revamp Adds to Trump's Steady, Bit-by-Bit Deregulation Bloomberg

Rand Paul asks Haspel if she knows of any CIA surveillance of Trump Politico (J-LS)
Memo: Elizabeth Warren steals show at 2020 audition The Hill
Health Care
Medical Mystery: Something Happened to U.S. Health Spending After 1980 New York Times. David D: "Read the comments. 1980 and Reagan. Greed is good uber alles."

U.S. joins whistleblower case against Insys over kickbacks Reuters (EM)
Due to lots of international news today, I am leaving the recap and commentary on the US primaries to Lambert. But don't let that stop you from chatting now.
Judge Posner Chastises District Court's 'Laziness'… And He's Got A Point Above the Law (J-LS)
Calif. Climate Plaintiffs Did Not Mislead Bond Investors, Former SEC Official Says Climate Liability News
Investors wake up to insecurity of assets after broker fails Financial Times. A UK issue, but still ugly.
Turnaround Veteran Jay Alix Sues Consulting Giant McKinsey Wall Street Journal. Embarrassingly managed to miss this Gretchen Morgenson story last week. Steve Lubben of the bankruptcy mavens at Credit Slips thinks the case has merit.
Why Rising Gasoline Prices Won't Cut into Consumer Spending Wolf Richter (EM)
Class Warfare
Among highlights–average hourly net compensation is $10.87 if you only deduct vehicle expense, Uber commissions and fees, and mandatory Social Security/Medicare payments; it is $9.21/hour if you deduct the cost of the modest benefits package a low wage worker at a traditional company would get. This is below the minimum wage level in 13 of Uber's 20 largest markets.

Early in the NC Uber series I citied similar studies of actual earnings of drivers of traditional taxis, which were in the $12-17 hour range in 2015 dollars. This study confirms the point that Uber's business model always depended on forcing driver compensation below historic levels, and in many cases below minimum wage.

In her newsletter today, Alison Griswold of Quartz notes (1) that there is now a reasonably consistent body of evidence about actual Uber driver compensation – previous studies paid for by Uber didn't deduct vehicle and other obvious costs affecting net compensation, but if you make those deductions (and recognize that Uber has been taking an increasingly bigger cut of passenger fares in order to shore up its P&L) the bottom line numbers are all similar (2) Driving for Uber in most cities probably doesn't pay as well as working at McDonalds.
Antidote du jour. From crittermom:
Living in a city for the first time in my life, I'm happy to find some nature still around me. This was my first sighting of what I later determined to be a Great Plains Skink that honored me with some photo ops…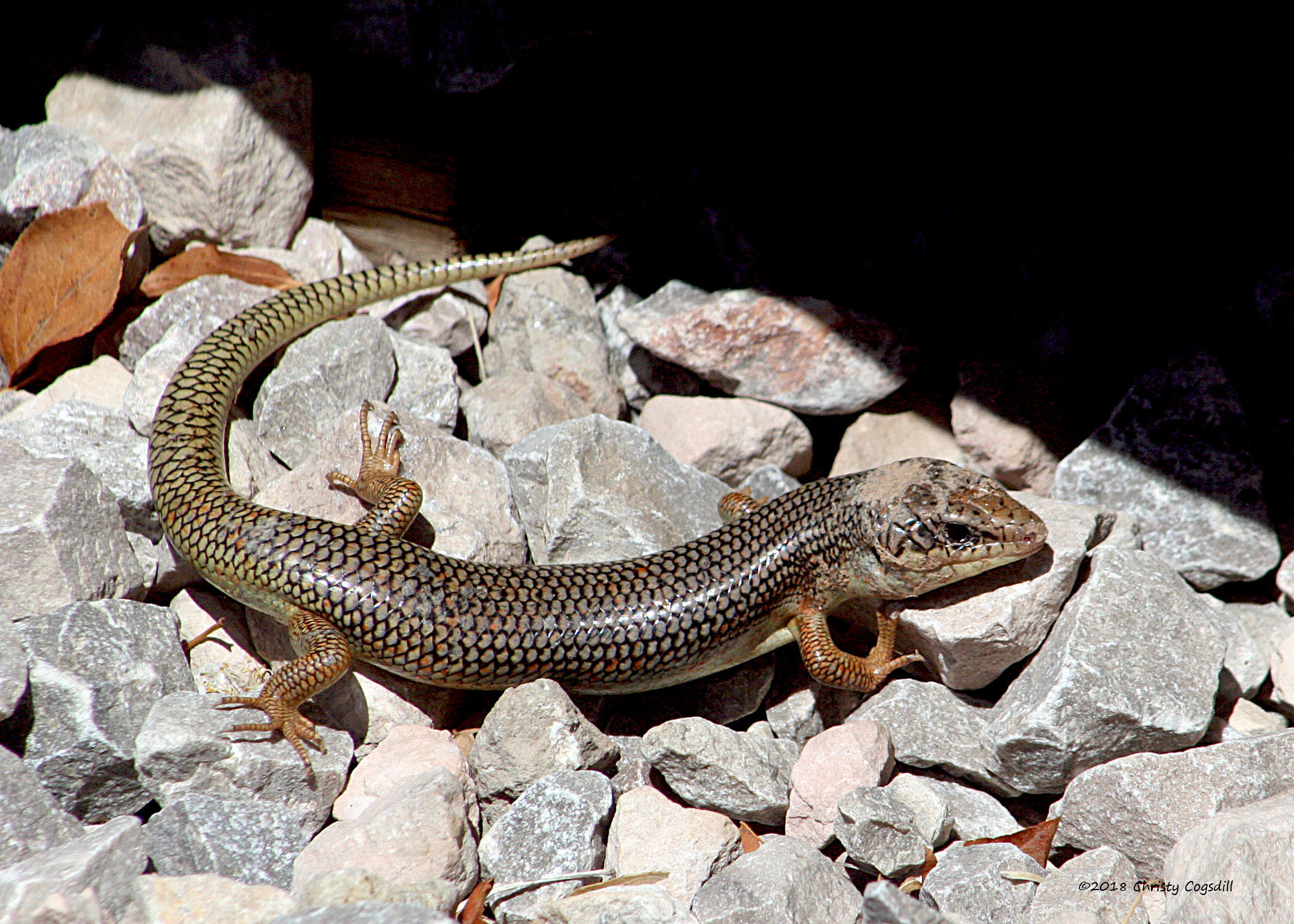 And a bonus from Bill B in California:
We encountered a plump short-haired calico during a neighborhood patrol this evening. It has extra street credibility due to a missing tip of its left ear. Boldly challenging smaller dogs with an arched back.

Despite that it had a remarkably good temperament, issuing a vocal greeting to us and eagerly running up for petting and hand fed meal supplements (I sometimes carry cat treats on the off chance).

Have no idea who it belongs to. The locals claim that it just hangs out. Its winning attitude may account for the poundage as it appears to have a sizeable fan club.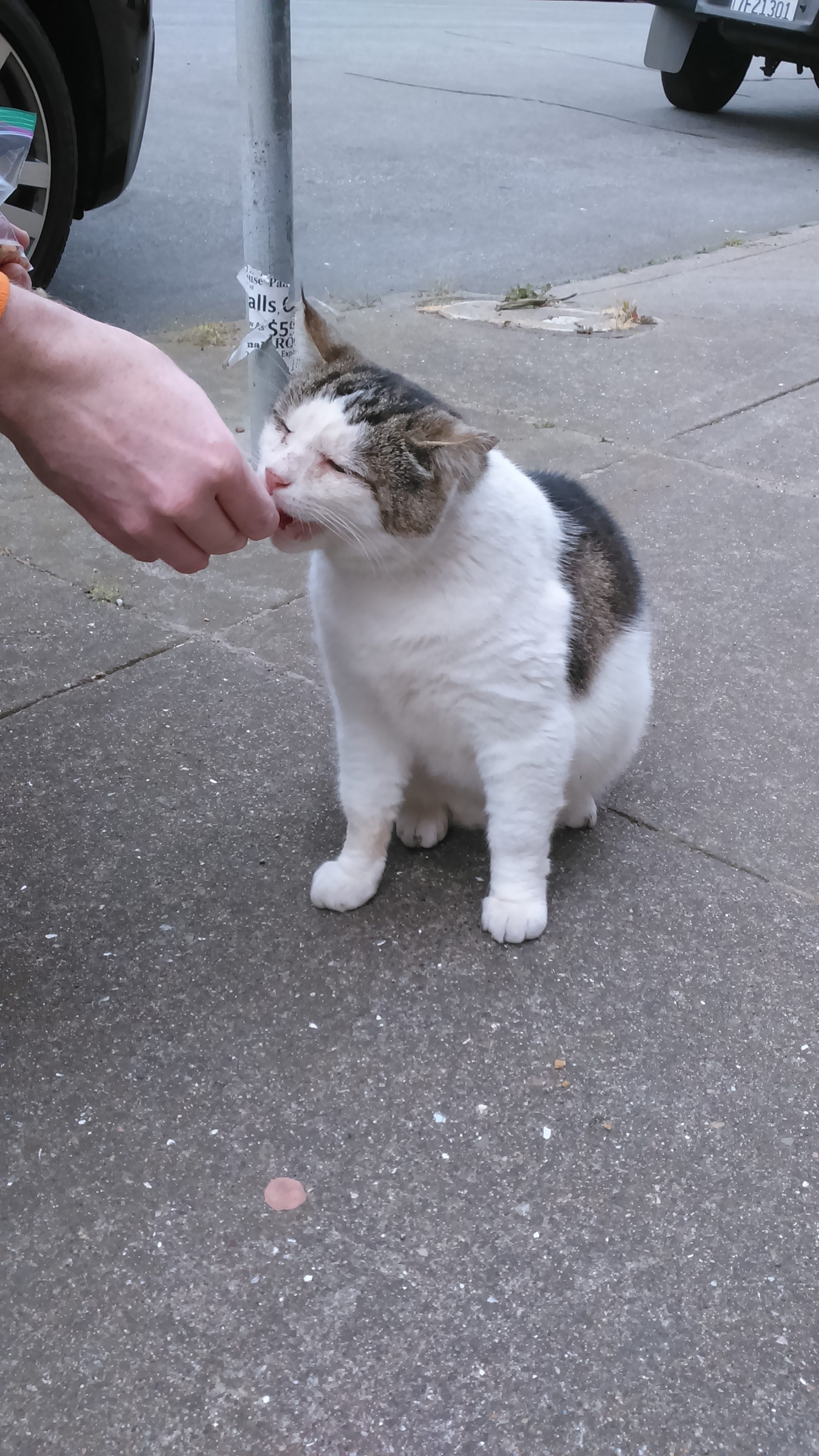 Finally:
Wild goats are said to be causing trouble for road users, businesses and locals in Ennis https://t.co/amoyJGD56u pic.twitter.com/cPJJZDM7yy

— RTÉ News (@rtenews) May 9, 2018
See yesterday's Links and Antidote du Jour here.