By Lambert Strether of Corrente.
Patient readers, as usual when I assault another worksheet on the Democrat House races, I'm late with Water Cooler. I apologize to those of you who structure your days around it, but it can't be helped. OTOH, when I return in an hour or so, I'll have some happy news. In the meantime, talk amongst yourselves! –lambert UPDATE 4:21PM All done!
Trade
"As Trump Tariffs Bite, Firms Dangle Cash Prizes in Lobbying Push" [Industry Week]. "The Commerce Department has been flooded with almost 19,000 requests so far to have products excluded from Trump's steel and aluminum tariffs."
"The fury from Trump and his advisers seemed to be linked to Trudeau's closing press conference on Saturday where he reiterated his commitment to retaliate against U.S. steel and aluminum tariffs. He also repeated his position that Canada would never accept a sunset provision in NAFTA" [Politico]. "Trudeau made clear on Saturday that Canada would in no way agree to a sunset clause in NAFTA 2.0, which it believes is a back-door way for the U.S. to encourage business investment in America instead of in Canada…." Oh.
"The pointed and sometimes personal verbal missiles flying between the Canadian and U.S. won't change formal policies in the near term. But Mr. Trudeau is pledging to impose retaliatory tariffs in response to new U.S. steel and aluminum levies, and the European Union also looks like its moving forward with new levies, making a peaceful conclusion to the verbal battle seem still more distant" [Wall Street Journal].
"China may be weaving a rebound in U.S. cotton despite trade tensions across the Pacific. After years of stockpiling the fiber, China is re-emerging as a major consumer of American cotton, buying up futures contracts covering more than 360,000 bales of U.S. cotton for 2019-2020" [Wall Street Journal]. "That's enough to make 400 million T-shirts…, and more than China has booked in data going back some 20 years. China's buying decision will likely drive up prices in a market where investors believe the country's big cotton stockpiles have long capped pricing. It will also drive up the country's import volumes as the Trump administration is calling for Beijing to buy more goods from the U.S." That's rather a lot of T-shirts.
Politics
2020
"Donald Trump is wooing black voters and killing the Democratic party" [USA Today]. "You're delusional if you think Donald Trump's decisions to pardon boxer Jack Johnson and commute Alice Johnson's sentence aren't part of a greater plan…. In Detroit, and other urban areas – where we can't get more than 14% to 20% of registered voters to turn out for a municipal election — and where many people still love Kanye West (though he thinks slavery was a choice) or R. Kelly (who is avoiding jail by inexplicable means) — Trump may be resonating…. [F]earing little, he's now working on his re-election campaign. Oh, you missed that? Most people did. When Trump announced, it was barely a blip on the national radar. He announced it while being federally investigated and waving off charges that his family is benefiting from his being in office. He had raised $10 million by April. And the NAACP didn't march. And the Urban League didn't put out a statement. And in Detroit, no one said a word. While the Democratic Party is sleeping, focused on winning November's midterms rather than uniting behind a single 2020 candidate to challenge Trump, the president is wooing black voters with the help of Kim Kardashian, who's married to the Mad Rapper and has 60 million Twitter followers, many of whom are black."

"Are There Clues About The 2020 Democratic Primary In 2018's Contests?" [FiveThirtyEight]. Julia Azari: "The fact that the DCCC — rather than ideology or policy — has become a point of argument in Democratic circles and in stories about the primaries illustrates the legitimacy problems that parties now face. Who the f even knew what the DCCC was in 2006? (Full disclosure/self-promotion: I am writing a book about party weakness right now, which emphasizes very long-term and slow-moving processes, including the erosion of party legitimacy.)"

"Myth and Measurement — The Case of Medical Bankruptcies" (letter) [David U. Himmelstein, Steffie Woolhandler, and Elizabeth Warren [New England Journal of Medicine]. "Although they acknowledge the limitations of their analysis, the authors assert that their results 'suggest that medical factors play a much smaller role in causing U.S. bankruptcies than has previously been claimed.' Yet medical bills account for a majority of unpaid debts sent to collection, and many other studies confirm that illness often inflicts financial suffering. Debtors' self-reports do have limitations. But hospitalization is only part of the story, and understanding medical bankruptcy requires multiple forms of empirical investigation, including asking debtors about their histories. Characterizing debtors' self-reports as 'myth' is demeaning to people struggling with health care costs, and artificially narrowing the definition of medical bankruptcy does not improve understanding of its causes." More here.
2018
"House Ratings Changes: Democrats Breathe a California-Sized Sigh of Relief" [Charles Cook, Cook Politcal Report]. "Tuesday's results don't change our overall outlook of a Democratic gain between 20 and 40 House seats (they need 23 for control). But we are changing our ratings in five districts: three in Democrats' direction and two towards Republicans."
Obama Legacy
"Witnessing the Obama Presidency, from Start to Finish" [The New Yorker]. "More than any modern President, Obama had a keen sense of the limits of American power—and of his own. But , disasters possibly averted, hard realities accommodated. The story of what didn't happen isn't an easy one to tell." No it's not. For all its technical flaws, The Big Short was a fine narrative about how Obama never took the decision to send the crooks to jail.
Realignment and Legitimacy
"Supreme Court Rules That Ohio May Purge Voters From Registration Rolls" [Governing]. "The Supreme Court made it easier Monday for states to remove occasional voters from the rolls, upholding an Ohio law that drops voters who fail to cast a ballot and do not respond to several notices." Sounds like legalized caging, to me. But–

"Judge blocks plan to purge Indiana voters before November election" [Indianapolis Star]. "A federal judge in Indianapolis has blocked state election officials' plans to purge voters before the November election because they may be registered in another state…. "The court's decision ensures that duly registered voters will not be improperly kicked off the rolls based on flawed Crosscheck data," Sophia Lakin, attorney with the American Civil Liberties Union's Voting Rights Project, said in a statement…. The Indiana ruling may have been undercut Monday when the U.S. Supreme Court ruled 5-4 that Ohio did not violate federal laws by purging voters who haven't voted and failed to return residency confirmation notices."

"Why More White Americans Are Opposing Government Welfare Programs" (interview) [NPR]. "Americans generally tend to think of 'racism' as a stable characteristic of individuals, not something that can be prompted or change in response to changing circumstances or social trends. Since we're highlighting the way that changing perceptions of the social world influence whites' racial attitudes, we wanted to use a term ["racial resentment"] that emphasized that these attitudes can change over time, which feelings of resentment more clearly communicates."

"Amid heated SF mayor contest, pressure mounts to repeal ranked-choice voting" [San Francisco Examiner]. Seems like Democrat moderates and consultants have issues with it. Probably worth keeping, then!

"Ranked choice's role a wild card in primary" [Portland Press Herald]. "The big unknown is how voters' use of ranked-choice voting could affect the outcomes of the Republican and Democratic primaries for governor. … Ranked-choice voting has already shifted the dynamics in the Democratic race, and created a buzz in the process. … Last week, two of the progressive Democratic competitors – Eves and Sweet – launched a joint video and canvassing effort in hopes of using the ranked-choice system to rise above the perceived front-runners, Janet Mills and Adam Cote."
Stats Watch
No official statistics from Econoday today.
Housing: "Tax Reform: Do Loan Application Data Show A Change In Demand?" [Econintersect]. "In the short run, taxes affect the economy primarily through their impact on demand by changes in disposable income and tax subsidies or penalties. To observe if there have been any effects on housing demand, we used CoreLogic Loan Application data through March 2018 in high-cost areas and compared the recent trend with the average of the prior four years (Figure 3a). We then did a similar comparison in the non-high-cost areas (Figure 3b). We didn't observe any meaningful change in purchase loan application trends compared to earlier years in both high-cost and non-high-cost areas. Perhaps, it is too early to detect the impact."
Retail: "Anyone looking for the toughest battleground in e-commerce these days should probably follow the money. The latest funding round for the payment business owned by Alibaba Group Holding Ltd.'s chief Jack Ma shows enormous investor interest in the financial underpinnings of online transactions" [Wall Street Journal].
Manufacturing: "Rolls-Royce 787 Engine Woes Widen as Fault Found in Variant" [Industry Week]. "Rolls-Royce Holdings Plc's engine-durability crisis worsened as the company revealed it has detected new issues that will require extra repair shop visits on a further batch of turbines that power Boeing Co.'s 787 airliner…. The engine maker is set to slash 4,000 jobs as part of the plan in a bid to cut costs and increase profits, the Sunday Times reported, without saying where it got the information. The cull could concern middle management and back-office staff." That should help…
Shipping: "The hottest commodity in the Permian Basin, beyond the shale oil that is changing America's energy landscape, may be truck drivers. Demand for drivers for the U.S. oil patch is soaring as pipelines fill up and companies pay heavily to get their goods to market" [Wall Street Journal]. "The surging transportation needs in the Permian come as the trucking industry nationwide is struggling to hire and retain drivers, and may be drawing some drivers away from conventional truckload services. One company says it has raised driver pay twice in the last three months, and equipment costs are also jumping. That's undermining economic calculations for the crude, and some energy companies say the transport costs are starting to affect their production decisions."
Shipping: "Murphy's law of freight" [Splash 247]. "In shipping, digital schedule and excel charts matter, but other things matter more. Information is the very base of the process – it is what you begin with. And at this point, we appreciate all the helpful tools that tech-savvy influencers propose. But the deeper you get to logistics, the more you appreciate your human senses; ability to react spontaneously, experience enriched by many successes, and more importantly failures, your common sense, that helps you to make the right decisions under pressure. But the most important human factor is your relationships. Machines will not be able to possess it any soon, if ever. Because when your own perspective fails and your own knowledge is not enough, there are people around you. People who will support you with their creative ideas, with their various viewpoints, and with their simple preference based on your friendship. This is what logistics is, in the end." Maybe. I can see an AI-driven support line working successfully to discourage retail customers from actually getting help ("Press H for Hell", "Press W for Wait") because what, after all, can one customer do? I'm not sure that scales to a shipping container.
Supply Chain: "Home Depot Sets $1.2 Billion Supply-Chain Overhaul" [Wall Street Journal]. "Home Depot Inc. plans to spend $1.2 billion over the next five years to speed up delivery of goods to homes and job sites as the rise of online shopping resets consumer expectations. The home improvement retailer will add 170 distribution facilities across the U.S. so that it can reach 90% of the U.S. population in one day or less…. Home Depot sales rose 4.2% in the first quarter, lower than analysts had expected. Gardening-supply sales took a hit from unseasonably cool weather in March and April [and May and June!], but the rest of the retailer's business performed ahead of expectations during the quarter."
The Bezzle: "Do VCs really add value? — Founders say sometimes." [Hackernoon]. "One of the starkest contrasts [in our survey] is the way each group scored how impactful and helpful the VC has been for portfolio companies on a scale of one to ten. On a scale of 1 to 10, the average VC scored themselves a 7 while founders perceived them as a 5.3 — a 32% difference… In closing, VCs and portfolio founders generally have the same ambitions — to build an amazing company. Personal chemistry between the founder and VC matters the most, and the tangible value-add VCs think they provide is discounted by founders." Amazing…
Five Horsemen: "In late morning trade, the Fab Five are mixed in a flat market" [Hat Tip, Jim Haygood].
NakedCap Mania-Panic Index: "The mania-panic index remained unchanged at 67 (complacency) after Friday's mild market gain." [Hat Tip, Jim Haygood]. (The NakedCap mania-panic index is an equally-weighted average of seven technical indicators derived from stock indexes, volatility (VIX), Treasuries, junk bonds, equity options, and internal measures of new highs vs new lows and up volume vs down volume … each converted to a scale of 0 to 100 before averaging, using thirty years of history for five of the seven series.)
Rapture Index: Closes down 1 on drought. "Drought conditions have declined with spring rains" [Rapture Ready]. Record High, October 10, 2016: 189. Current: 180.
Health Care
"Would a Single-Payer System Require Painful Sacrifices From Doctors?" [New York Times]. "Single-payer health care systems deliver better outcomes at much lower cost than those that rely primarily on private insurance, as we do in the United States…. In sum, although the switch to a single-payer system would entail lower payments to service providers like doctors, it would also affect their frames of reference and conditions of employment in offsetting ways. International happiness studies offer no reason to conclude that, once it has been fully implemented and absorbed, the switch would require truly significant sacrifices by most American health care providers." Putting it less politely than the author does: "Doctors for whom greed outweighs the Hippocratic Oath would suffer." Lambert: As they should, and as their prey has patients have.
Class Warfare
"Five Lessons from the History of Public Sector Unions" [Labor Notes]. "As public sector unions contemplate losing key rights under the law, it's worth remembering that for much of their history, such unions organized with no rights at all. It wasn't till 1958 that New York became the first city to authorize collective bargaining for city employees. Wisconsin did the same for state employees in 1959, and federal workers got bargaining rights in 1962. Yet as early as 1940, a book titled One Thousand Strikes of Government Employees described strikes dating back to the 1830s, when workers at U.S. Navy shipyards stopped work multiple times to press demands for better wages and conditions."
"Don't Let Them Eat Cake" [Boston Review]. "Is there a meaningful distinction between Jack Phillips, 'an expert baker and devout Christian,' as Justice Anthony M. Kennedy described him, and the company he owns, Masterpiece Cakeshop, a limited-liability company? The Supreme Court's 7–2 ruling in Masterpiece Cakeshop, Ltd. v. Colorado Civil Rights Commission suggests not. … [I]n terms of the relationship between capital and labor, the decision was anything but narrow. The Court's majority opinion, written by Kennedy, is remarkable for its uncanny and unproblematic conflation of Phillips, the baker, and his business, the bakery. By insisting that the key issues in the case are Phillips's artistic expression and his religious liberty, the Court was silent on the question of how a company can possess these rights. It did so by assuming not only that corporations are people, but that the cakes made by Masterpiece Cakeshop are produced by Phillips alone, when in fact we know that the bakery has other workers."
"UPS should risk short-term Teamsters strike to gain flexibility, analyst says" [DC Velocity]. "[Investment firm] Wolfe Research LLC, which has followed the transportation sector for years, said it's unlikely the Teamsters will strike UPS. However, it added that the Atlanta-based company should not only prepare for it but perhaps embrace it as a means to an end. The Teamsters and UPS are negotiating a new collective bargaining agreement to replace the current five-year pact that expires July 31. Scott H. Group, Wolfe's lead transport analyst, said in a note that 'this is a really important labor contract for UPS to get right if it wants to start leveraging strong e-commerce growth.' Group said that UPS 'needs significantly more labor flexibility' in the upcoming contract, and that taking a strike should be considered if it leads to 'long-term labor flexibility and thus better operating leverage for shareholders.'"
"What It's Like to Be Part of Bird's Scooter-Charging Workforce In Atlanta" [MogulDom]. "One might think that to maintain a city-wide flock of Birds, the company must employ a full team in each city it launches in. But, in the age of gig jobs and on-demand work, they've figured out a different solution. The company employs a contract workforce, officially called "chargers" but also informally known as Bird 'hunters,' that seek out the scooters at night, capture them, bring them home to charge them and then drop them back off the next day. Bird pays $5-$20 per scooter…. Shahid has not experienced safety concerns as a charger, but he has had issues attempting to track down scooters that appeared on the app, but weren't present when he showed up in real life. He suspects many are sitting in private apartments or yards. 'This is the kind of messed up thing about it that really angers me — sometimes when I go to get one, probably like 25 percent of them are either in someone's apartment or they're just not there,' he says. 'I'm pretty sure they're using the chargers to just verify that, yes, it's not there.'"
"US Intergenerational Mobility: An International Perspective" [The Conversable Economist]. "[I]t seems plausible that in the US, higher education is acting in part as a way of passing economic success between generations. As a result, the US is not making full use of the talents of many of its citizens."
News of The Wired
"This Thing For Which We Have No Name" (interview) [Edge] Rory Sutherland: "Math may be an obstacle to good thinking because it's actually constraining. We have a perfectly good thing called words and grammar, which can describe very complex concepts. Regret, for example—maybe you can't mathematically express it very easily but it patently affects human behavior. The fear of regret is clearly fairly influential in affecting how people behave. I would argue that from my advertising perspective, one of the reasons people pay a premium for brands isn't because they're objectively better, it's because they're less likely to be terrible."
"Suffering, not just happiness, weighs in the utilitarian calculus" [Aeon]. "The utilitarian take on the problem of evil is half-right. Suffering ultimately outstrips our goals and beliefs. To claim otherwise is heartless. But it's wrong to think that the problem of evil brushes aside God or the goodness of nature. When we refuse to accept a fundamental dimension of suffering, we suffer worse. There's an immense mystery at the heart of being human: the paradox of opposing and accepting suffering. To abandon either side of the paradox is the real problem of evil."
* * *
And now for the happy news: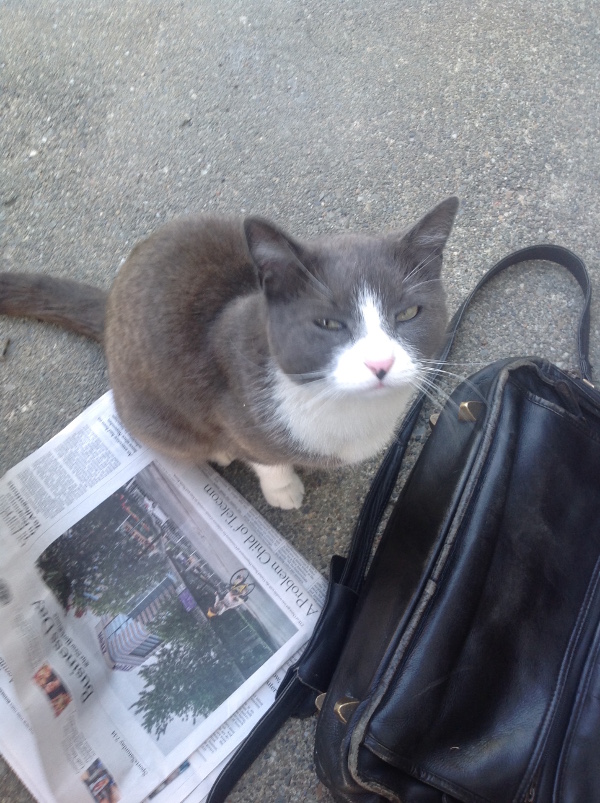 Last year's cat, Franklin, has re-appeared. In the winter, Franklin lives across the street, but takes up residence for the summer under the church porch behind my desk. Franklin is certainly fed already by one household, and what's wrong with that?
* * *
Readers, feel free to contact me at lambert [UNDERSCORE] strether [DOT] corrente [AT] yahoo [DOT] com, with (a) links, and even better (b) sources I should curate regularly, (c) how to send me a check if you are allergic to PayPal, and (d) to find out how to send me images of plants. Vegetables are fine! Fungi are deemed to be honorary plants! If you want your handle to appear as a credit, please place it at the start of your mail in parentheses: (thus). Otherwise, I will anonymize by using your initials. See the previous Water Cooler (with plant) here. Today's plant (Carla):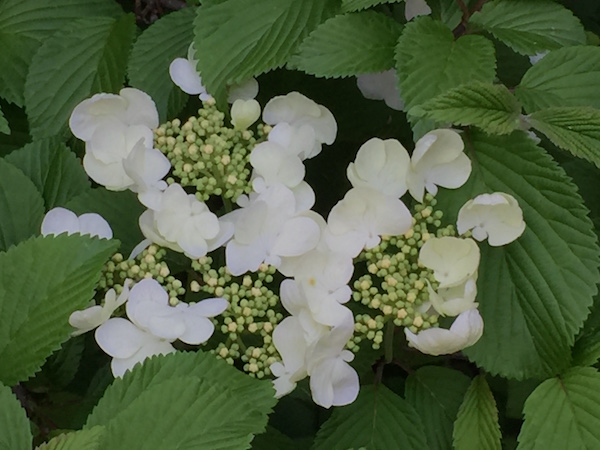 It's a Viburnum!
* * *
Readers: Water Cooler is a standalone entity not covered by the annual NC fundraiser. So do feel free to make a contribution today or any day. Here is why: Regular positive feedback both makes me feel good and lets me know I'm on the right track with coverage. When I get no donations for five or ten days I get worried. More tangibly, a constant trickle of small donations helps me with expenses, and I factor that trickle in when setting fundraising goals. So if you see something you especially appreciate, do feel free to click the hat!

To give more, click on the arrow heads to the right of the amount.
If you hate PayPal — even though you can use a credit card or debit card on PayPal — you can email me at lambert [UNDERSCORE] strether [DOT] corrente [AT] yahoo [DOT] com, and I will give you directions on how to send a check.