By Lambert Strether of Corrente.
Trade
"[O]ther top officials in the Trump administration are taking steps to move past a raucous weekend and show [Candada, the] United States' closest ally that business as usual is continuing between the two nations" [Politico]. "Agriculture Secretary Sonny Perdue on Friday heads to Canada, where he will meet with his counterpart, Lawrence MacAulay, and sit for a meeting and photo-op designed to showcase the strength of ongoing cooperation between the two countries on agriculture. The trip, which was announced Monday, has been in the planning stages for weeks, a USDA spokesperson noted. But the warm overtures between the two ag leaders stand in stark contrast to the rhetoric from the White House over the weekend. On trade, U.S. Trade Representative Robert Lighthizer and Canadian Foreign Minister Chrystia Freeland on Sunday discussed the ongoing NAFTA renegotiation in a phone call that her office characterized as 'productive and cordial.'"
"The Canada outburst by Trump will make it harder for a final NAFTA deal to be struck, said Eric Miller, president of Rideau Potomac Strategy Group. And with the threat of tariffs on automobiles now hanging in the air, neither Canada nor Mexico are likely to be willing to make any compromises in the talks, he added" [Politico]. "'We're probably looking at a 75 percent chance that the NAFTA talks fall apart. I don't know how much can be done in the short term to move this process forward,' he said. Trump's desire to hit auto imports with tariffs may be seen by Trump as a way to 'make Canada and Mexico scream uncle,' Miller said. But with Trudeau up for reelection by October 2019 and Mexican presidential front-runner Andrés Manuel López Obrador not wanting to begin his term bowing to Trump, the 'political space is limited,' he added." Note that Rideau runs through Ottawa, so… Unmentioned is the sunset clause, which seems like a good idea to me, though five years — presumably the initial negotiating position? — is way too short. We'd be planning for the sunset negotiations while the ink was still wet on the deal!
"Billions in U.S. solar projects shelved after Trump panel tariff" [Reuters]. "President Donald Trump's tariff on imported solar panels has led U.S. renewable energy companies to cancel or freeze investments of more than $2.5 billion in large installation projects, along with thousands of jobs, the developers told Reuters. That's more than double the about $1 billion in new spending plans announced by firms building or expanding U.S. solar panel factories to take advantage of the tax on imports. The tariff's bifurcated impact on the solar industry underscores how protectionist trade measures almost invariably hurt one or more domestic industries for every one they shield from foreign competition."
Politics
2020
"New York's top ethics enforcement agency slammed as 'toothless lapdog' for exonerating ex-Cuomo aide" [NY Daily News]. At least they could put Teachout's name in the headline….

UPDATE "Democratic donors push Mark Warner to enter 2020 race as moderate alternative to Warren, Sanders" [CNBC]. Normally I'm not a "worse is better" accelerationist, but this is very, very tempting….
2018
"Numbers Show House GOP Still in Deep Trouble" [Cook Political Report]. "Republicans are 10 points behind Democrats on the closely-watched generic congressional ballot, while the president's numbers—albeit improved — are still really bad and underwater. Democrats have a substantial advantage in intensity going into this midterm election, and respondents said, by a very wide margin, that they prefer voting for a candidate that would provide a check on Trump. In short, people see things as getting better, but Republicans — particularly in the House — are still in deep trouble…. Republicans are 10 points behind Democrats on the closely-watched generic congressional ballot, while the president's numbers—albeit improved — are still really bad and underwater. Democrats have a substantial advantage in intensity going into this midterm election, and respondents said, by a very wide margin, that they prefer voting for a candidate that would provide a check on Trump. In short, people see things as getting better, but Republicans — particularly in the House — are still in deep trouble."

UPDATE "Democrats test liberal messages in midterm House elections" [Associated Press]. "It's not one size fits all, with every candidate checking every box wanted by the activists driving the opposition to President Donald Trump and the GOP Congress, and Democratic voters typically aren't tapping the most liberal choices in targeted districts. But, taken together, the crop of nominees is trending more liberal than many of the "Blue Dog" Democrats swept away in Republicans' 2010 midterm romp." In other words, I'm to say that liberal Democrats don't have core principles. They do. Messaging-testing. 146 days before an election.

UPDATE "Democrats turn to Hollywood for messaging help" [Politico]. "DNC Chairman Tom Perez, several House members and other top elected officials have already met with the group, formed by members of the entertainment industry in the wake of the 2016 election, that participants liken to a TV writers' room, complete with producers of such programs as "Veep." The existence of the group and details of the meetings have not been previously reported. The group has discussed targeted voter-registration programs with visiting Democrats, as well as the party's framing of issues ranging from abortion rights to gun control…" In other words, voter registration is something you think about 146 days before an election. It's not a core party function, because for reasons Thomas Frank gives in Listen, Liberal! the Democrat base in the 10% doesn't want to expand the base. Hence the appeal to suburban Republicans.

UPDATE "California DNC Member Suggests Superdelegate Reform Is Part Of Russian Plot" [HuffPo]. Hoo boy. Hollywood could never come up with messaging like that!

UPDATE "Inside Obama's secret meetings with 2020 contenders" [Politico]. "Barack Obama has in recent months met with at least nine prospective 2020 Democratic presidential candidates, including Bernie Sanders, Elizabeth Warren, Joe Biden and Deval Patrick, pulling them in for one-on-one sessions at his Washington office. All the meetings were arranged quietly, without even some close advisers to the people involved being told of the conversations, in part because of how much Obama bristles at his private meetings becoming public knowledge… On the road and over the phone, major donors and other panicked Democrats have been pushing him to take on a bigger public role in the fight against Trump. He has demurred on that — for now — keeping to his plan of waiting until the fall to begin making endorsements and campaign appearances. In private, it's a different story. He's urged donors to contribute to the Democratic National Committee. And he's been eager to bring in many of the people he sees as key players in grappling with the crisis the party is in, as well as leading it to whatever comes next. His staff is building out his plan to start endorsing and hitting the campaign trail in the fall, with an emphasis on down-ballot races." Blue Dogs take heart….

ME-02: "Democrats Look for a Mainer to Take on Poliquin" [Roll Call]. "For Democrats, winning in Maine is also about proving the party can reconnect with white, working-class voters who swung to President Donald Trump in 2016." No it isn't. Nobody is saying that. All white, working class voters are racist. Get with the program! "Democrats held the 2nd District in northern Maine for 20 years before Poliquin flipped the seat when it opened in 2014. Despite heavy spending against him, he won by an even bigger margin in 2016 when Trump picked off an electoral vote from the district. The former state treasurer faced the same candidate in both congressional races: former state Sen. Emily Cain, who's now the executive director of EMILY's List in Washington [failing upward]. Although Cain lived and worked in the district, and Democratic ads touted her as "one of us," she wasn't born in Maine and didn't grow up there." And she was also from Orono, a university town. …. "Democrats recruited state House Assistant Majority Leader Jared Golden, a Marine veteran who served in Iraq and Afghanistan. The Leeds native, a former committee staffer to GOP Sen. Susan Collins, represents part of Lewiston-Auburn, an old mill town on the Androscoggin River that makes up the major population center of the district… Golden has raised the most money and has the backing of organized labor and local political leaders. He's one of the young veterans running for office who's been mentored by Massachusetts Democratic Rep. Seth Moulton. But St. Clair, despite not dipping into his own personal resources, is benefiting from late outside spending that could tip the race in his favor. But no matter who wins the primary, unseating Poliquin is still a tall order. No incumbent has lost the 2nd District since 1916. Golden and St. Clair both ended the pre-primary reporting period with about $100,000 — a drop in the bucket compared to Poliquin's $2.4 million war chest." So, we get a choice between a Blue Dog and a guy with a name like "Lucas St. Clair."

ME-02: "St. Clair's monument work gives him edge in 2nd District Democratic primary" [Editorial Board, Bangor Daily News]. "The park plan was met with strong opposition; groups formed specifically to oppose it. St. Clair took over the job of working to convince Mainers that a national park was a good idea…. In August 2016, then-President Barack Obama declared more than 87,000 acres that the foundation had donated to the federal government as the Katahdin Woods and Waters National Monument. In its first year, the monument drew 30,000 visitors to the area near Patten and Millinocket, despite state and federal efforts to diminish the monument. Inns reported big increases in bookings, new businesses have opened and the region's stagnant real estate market perked up. It was the biggest economic development boost the region had seen after several area mills shut down. St. Clair's determination to see this project through, and willingness to meet face-to-face with staunch opponents and to hear and react to their concerns, are solid preparation for serving in Congress, where negotiation and compromise are needed more than ever." So if jobs are your issue, St. Clair has actually created them, unlike Golden (or Cain). Odd.

ME-02: "Democratic primary: The fight for Bruce Poliquin's seat" [Lewiston Sun-Journal]. "Democrats sense an opportunity to upend a Republican member of Congress in Maine's sprawling, scrappy 2nd District, the poorest and least diverse east of the Mississippi River. With pockets of unemployment and a raging opioid problem, U.S. Rep. Bruce Poliquin's turf is rural, white and less educated than three-quarters of the districts in America — all characteristics of places where the GOP has done well in recent years. It's the only district in New England that supported Donald Trump in the 2016 presidential election…. A noteworthy aspect of their primary is that it will be the first congressional matchup in American history to rely on ranked-choice voting to determine the winner. What that means is that every Democratic voter in the 2nd District will have the option of selecting a first, second and third choice in the race."

ME-02: "Effort to undermine Bruce Poliquin in Bangor is working, poll claims" [Lewiston Sun-Journal]. "A sustained advertising campaign in the Bangor area that battered Republican U.S. Rep. Bruce Poliquin for his votes in favor of the GOP's tax cut plan and against the Affordable Care Act cut deeply into the two-term lawmaker's favorability ratings. The case study on the potential impact of highlighting a swing district congressman's votes took place over a 10-month period that began in August. Clarity Campaign Labs, hired by two groups aligned with Democrats, surveyed the Bangor media market before and after a prolonged, $620,000 campaign to zing Poliquin for his record on health care and taxes. … At the start of the experiment, the pollsters found that Poliquin got a thumbs down from 38 percent of voters in the Bangor media market — which makes up about half the voters in the sprawling 2nd District — while 28 percent approved of him. By the end of the publicity campaign that highlighted his votes on the ACA, sometimes called Obamacare, and his support for a $1.5 trillion tax cut, Poliquin had 25 percent approval and 45 percent disapproval." Holy moly, $620,000! That's real money in Maine!

NY-14: "Glenn Greenwald Interviews Democratic Primary Challenger Alexandria Ocasio-Cortez of New York" [The Intercept]. "[Alexandria Ocasio-Cortez's] primary challenge against Crowley has sparked substantial excitement within her district and then media attention throughout the country. The 28-year-old educator, organizer for Bernie Sanders, and self-described democratic socialist of Puerto Rican heritage produced a video about her life and the reasons she's running that went massively viral. Unseating an entrenched congressional incumbent is one of the hardest and rarest feats in U.S. politics — especially an incumbent with the funding and stature of Crowley."

CO-06: "While Colorado's 06 (Tilt-R) district is unlikely to flip D in 2018, I thought I'd forward this in case the special interest data is of use in your prognosticating. Good luck, and thanks for doing the heavy lifting with the worksheets" [NC commenter Meeks]. That's a good link (though I'm not really prognosticating).

Readers, I welcome district reports like this one from NC commenter Meeks. Please send them to me in email — the more linky goodness, especially local linky goodness, the better — with the district (e.g., "CO-06") first in the subject line so I am unlikely to miss it. From Figure 1, "The Path to 23," in the latest primary worksheet:

Although I welcome all reports, including reports from states with colorful political traditions, like Pennsylvania, New York, and California, I'd especially welcome reports listed in this graphic, and especially from the districts numbered 18-31 in the figure, because it seem to me that those are the districts where the battle for the House will be one or lost.
Health Care
Savvy move from Pelosi:

It was an honor for @BlueShieldCa to meet with @NancyPelosi to talk about quality, affordable health care. Neither we, nor she, will stop fighting for health care for all. pic.twitter.com/tKYfsHtvFr

— Kimberley Goode (@kcgoode219) May 24, 2018

Always "fighting for," never winning… That's our Democrats! Honestly, I can't imagine who would think this constantly repeated "fighting for" verbiage is compelling, except perhaps a Democratic consultant looking for a jobs guarantee. Meanwhile, the Republicans are all about 1 Samuel 18:25.
Realignment and Legitimacy
"The Constitutional Crisis Is Now" [Robert Reich, The American Prospect]. "If [Trump] refuses to accept the results [the 2020] election, as he threatened to do if he lost the 2016 election, he will have to be forcefully removed from office." This is lunacy. In 2016, liberal Democrats floated the idea that "faithless electors" in the Electoral College should not appoint Trump — based on information from the "intelligence community" that the public was not allowed to see. From that day to this, liberal Democrats haven't accepted the results of 2016, which is what the "Clinton won the popular vote" amounts to. Is the inability to look in the mirror a 10%-er deformation professionnelle?

"The Democratic Party unraveling is not good for America" [Ed Rogers, WaPo]. "The Democratic Party is not functioning as an umbrella organization or even a coalition. Instead, activists from Tom Steyer to George Soros to Planned Parenthood are operating independently*, doing things a political party otherwise would. These independent actors are pushing pet causes. Traditional party building isn't one of them. Campaign finance reform and communication technologies have empowered wealthy individuals and collateral groups while at the same time inhibiting parties and individual campaigns. I say this not to kick the Democratic Party while it is down but because I believe in the two-party system…. We need reforms that empower parties and candidates and diminish the influence of deep-pocketed plutocrats and narrowly focused interest groups." Rogers is a veteran of the Reagan and Bush White Houses, but he's not wrong. NOTE * Maybe. When you start thinking, it's hard to know where the boundaries of the Democrat Party really are. For example, are journalists who propagate Brock talking points in the party, or not? My instinct is to say that they are, but how is an institution with fluid boundaries like that to be named and categorized? Or how about an organization like Emily's List, ostensibly independent, but directing donors only to Democrats? (And Donna Shalala, but not Alexandria Ocasio-Cortez. Or Cynthia Nixon. Or Zephyr Teachout. Really, Emily's List? Really?)

UPDATE "One-time Ohio congressional district candidate arrested while streaming incident live on Facebook" [WHIOTV-7]. This is Sam Ronan, who ran for DNC chair and had good things to say about election rigging. The odd thing about this story, and everything I've seen on the Twitter, is that he was arrested at his house, and nobody is saying why the cops were there in the first place. Readers?

UPDATE "Maine Supreme Judicial Court rules ranked-choice voting unconstitutional" [Bangor Daily News]. From May, still germane: "In a unanimous, 44-page opinion issued Tuesday, the Maine Supreme Judicial Court's seven justices agreed with Attorney General Janet Mills, Secretary of State Matthew Dunlap and Republican legislators that the system violates a provision of the Maine Constitution that allows elections to be won by pluralities — and not necessarily majorities — of votes." The political establishment really, really hates RCV.
Stats Watch
Consumer Price Index, May 2018: "Consumer prices are moving incrementally higher in results for May that hit Econoday's consensus across all four readings" [Econoday]. "Though the 2.2 percent yearly rate for the core is moderate, it is the highest rate since February last year." And: "Energy prices and medical care commodities were the main driver for year-over-year inflation. Core inflation is now above 2.0 % year-over-year" [Econintersect]. And: "Overall, these measures are close to the Fed's 2% target. This was at the consensus forecasthj" [Calculated Risk].
NFIB Small Business Optimism Index, May 2018: "The Small Business Optimism Index rose 3 points in May to 107.8, the second highest level in the 45-year history of the survey which easily exceeded the range of analysts' forecasts and the consensus" [Econoday]. "A result of the qualified labor shortages was higher worker compensation, where reports rose 2 points to a net 35 percent of all firms, a record for the 45 years of the survey…. Record levels of optimism by small business owners on several fronts and the highest inflation pressures in 10 years as owners raise price to offset higher compensation costs bolsters the case for a tighter monetary policy by the Fed." And but: "Concerns about labor quality are second highest in history" [MarketWatch].
Consumer Expectations: "May 2018 Consumer Expectations: Consumers Slightly Less Optimistic about Household Finances" [Econintersect]. "The Federal Reserve Bank of New York's Center for Microeconomic Data released the May 2018 Survey of Consumer Expectations, which shows short- and medium- term inflation expectations remained unchanged…. Households' expectations about income, earnings and spending growth all declined, along with year-ahead expectations about household financial situations and credit availability."
Commodities: "Commodities rallying, outperforming equities in 2018" [FreightWaves]. "After years in the doldrums, commodities are finally having their day. When equities markets underwent a correction in January, commodities escaped the worst of the pain, rallying on strong projections for global growth in demand: just because large corporations suddenly seemed overvalued compared to their earnings did not mean that people would stop using oil, copper, wheat, and nickel. Traditional havens like gold have also performed well against equities."
Retail: "Smartphone sales are slowing and here are two key reasons why" [CNBC]. From February, still germane: "Anshul Gupta, research director at Gartner pointed to the lengthening of the replacement cycle as one cause…. Consumers are also increasingly unimpressed with the frequency and diversity of new models. A lack of innovation and incremental benefits are failing to entice new buyers to the market, a better camera and better connection quality is no longer enough for potential purchasers to reach into their pocket." And the dopamine cycle gets exhausting after awhile…..
Real Estate: "Landlords Are Practically Giving Malls Away" [Bloomberg]. "As they battle the rise of e-commerce, U.S. mall owners are trying to clear their books of fading centers so they can focus on the most-profitable ones. That's proving difficult, with just a shallow pool of investors who are willing to take on a declining mall and even fewer who would pay what the landlords want. Only about $3 billion of retail real estate changed hands in April, a 27 percent drop from a year earlier. …. Landlords sitting on mediocre malls in hopes of getting a higher price at a later date may be missing their window, according to St. Juste. All indicators point to lower values in the future, he said." The Bangor Mall is less than mediocre. Too bad we've essentially salted the earth with that enormous asphalt parking lot…
Shipping: "Descartes Datamyne sheds new light on U.S. port industry" [Logistics Management]. "[L]ogistics managers are basing many of their sourcing needs on the ever-shifting scenario of pending tariffs and duties…. The new report is designed to give shippers entering contract negotiations a window into where specific commodities are destined, and which ports are providing the best intermodal connections. NVOs and the carriers themselves are seeking the same information on their partners and competitiors. 'Since ports are often a focus point of micro and macroeconomic changes, fluctuations in volume and commodities are a key indicator of industry developments,' says [Brendan R. McCahill, Senior Vice President of Trade Data Content at Descartes Datamyne]."
Transportation: "How Drivers and Autonomous Trucks Could Work Together to Move Freight" [Transport Topics]. "Some autonomous truck developers, including Uber's Advanced Technologies Group, envision unmanned piloted by local and regional drivers." We call it "a train." But read on—
Transportation: "[T]he number of boxcars in North American operations has declined dramatically over the years, leaving fewer of the cars nearby for the shippers that still use them" [Wall Street Journal]. Railroad management would rather run enormous unit trains of hydrocarbons, grain, or containers. No boxcars needed for that! So maybe the robot trucks will eat their lunch after all!
Supply Chain: "Amazon.com Inc.'s year-old acquisition of Whole Foods is helping reshape food sales and distribution across the U.S. Food retailers, manufacturers and other suppliers are fundamentally changing their selling strategies, … leading grocery chains to accelerate planned investment in online delivery and pickup services" [Wall Street Journal]. "Whole Foods' main distributor, United Natural Foods Inc., has seen a flood of business while dozens of supermarkets have struck deals with online delivery service Instacart Inc. Big chains including Kroger Co. and Walmart Inc. have slowed store growth to deploy capital toward technology. The enormous data grocery sales generate could lead to still-bigger changes. So, the day that my tastes change, do I have to keep the food I don't want? How is returning perishables going to work, anyhow?
The Fed: "Fed decision expected to drive bond market, overwhelming trade and North Korea" [MarketWatch]. "In a week marked by drama surrounding global trade and geopolitics, bond investors are focusing on the basics. They say the two-day Federal Reserve policy meeting that concludes Wednesday will be the focus for market participants, overshadowing President Donald Trump's moves escalating tensions with trade partners and allies in the Group of Seven nations and his Tuesday summit meeting with North Korea leader Kim Jong Un."
Five Horsemen: "Amazon is a fraction below a record high in late morning trade" [Hat Tip, Jim Haygood].
NakedCap Mania-Panic Index: "On yesterday's mild gain the mania-panic index drifted up to 69 (complacency), as the CBOE put-call ratio fell to a serene 0.74, its lowest level since January" [Hat Tip, Jim Haygood]. (The NakedCap mania-panic index is an equally-weighted average of seven technical indicators derived from stock indexes, volatility (VIX), Treasuries, junk bonds, equity options, and internal measures of new highs vs new lows and up volume vs down volume … each converted to a scale of 0 to 100 before averaging, using thirty years of history for five of the seven series.)
Gaia
"As Storms Worsen, Many Coastal States Aren't Prepared" [Governing]. "Eight out of the 18 hurricane-prone coastal states along the Gulf of Mexico and the Atlantic Coast are highly vulnerable, according to a new report from the Insurance Institute for Business & Home Safety (IBHS). The report, Rating the States: 2018, is the institute's third in six years. It evaluates the states on 47 factors that include whether residential building codes are mandated statewide, whether states and localities enforce those codes, and whether licensing and education are required of building officials, contractors and subcontractors. … Overall, the institute found "a concerning lack of progress" in the adoption and enforcement of updated residential building code systems across most of the states examined. … No state achieved a perfect rating based on the 100-point scale. But Florida, Virginia, South Carolina and New Jersey all received 90 or more points. Meanwhile New York, Maine, New Hampshire, Texas, Mississippi, Alabama and Delaware received less than 70 points. None of these eight states mandate statewide building codes."
"Solar Has Overtaken Gas and Wind as Biggest Source of New U.S. Power" [Bloomberg]. "Despite tariffs that President Trump imposed on imported panels, the U.S. installed more solar energy than any other source of electricity in the first quarter. Developers installed 2.5 gigawatts of solar in the first quarter, up 13 percent from a year earlier, according to a report Tuesday from the Solar Energy Industries Association and GTM Research. That accounted for 55 percent of all new generation, with solar panels beating new wind and natural gas turbines for a second straight quarter."
"Trees That Have Lived for Millennia Are Suddenly Dying" [The Atlantic]. "Of the 13 oldest known baobabs in the world, four have completely died in the last dozen years, and another five are on the way, having lost their oldest stems. … It's not just the baobabs, either. Around the world, the creaking deaths of ancient trees are testifying to the period of extraordinary environmental change that we are living through. 'In Wyoming, Idaho, and Montana, I've come across whole forests of trees that have died since 2001,' says [ Erika Wise from the University of North Carolina, Chapel Hill]. 'While they are not as old as the baobabs, they are 400 to 500 years old. The die-off has other immediate causes, like insects, but a 500-year-old tree has experienced a lot of insect outbreaks and lived through them. Something is pushing them over the brink this time around.'"
Health Care
UPDATE "Private equity's thirst for health care providers" [Axios]. "KKR's $10 billion deal to take Envision Healthcare private, along with Bloomberg's deep dive on the billing tactics of air ambulances, exemplifies private equity firms' appetite for buying health care providers that wield a lot of market power. The big picture: These companies are a leading source of surprise medical bills, which infuriate patients but are profitable for private equity owners. Emergency rooms and ambulances aren't real marketplaces — consumers can't stop and shop for the best price in the middle of an emergency."
Neoliberal Epidemics
"American toddlers are eating more sugar than the maximum amount recommended for adults" [Quartz]. "Sugar can affect our health at multiple stages in our development. Too much sugar during pregnancy adversely impacts child cognition, while excess sugar intake during adolescence has been associated with weight gain and cardiac risks, which include an increased risk of obesity and elevated blood pressure. Recent studies have also shown that excess sugar depresses the body's immunity, making kids more vulnerable to diseases and infections."
Class Warfare
"The Perfect Storm for the Manufacturing Workforce" [Industry Week].
Just as American manufacturing seems to be hitting its stride, the sector now faces the perfect storm when it comes to finding and developing the workforce of the future:

Baby boomers are retiring from all sectors at a rate of 10,000 a day in the United States, taking their institutional and technical knowledge with them into retirement.
The number of American youth with sufficient STEM education for a shop floor or R&D department is inadequate – and those who do have these skills typically do not entertain manufacturing as a career option, often favoring the tech sector.
In recent years, the opioid crisis has reached critical levels, and a new report by the MAPI Foundation shows .
So, whaddaya know, the elite deindustrializes the heartland, deaths of despair result, which has macro impact now that the elites want a rethink, after forty years. But they're the ones in charge!
"Consider the labor market. The U.S. has added so many jobs in the past five years that the unemployment rate has fallen to an 18-year low of 3.8%. And there's actually more job openings nationwide than the number of unemployed Americans looking for work" [MarketWatch]. "Great news for working Americans, but the tight labor market is forcing companies to increase pay even though employees are not much more productive at work. That's a recipe for inflation." So "great news for working Americans" is bad news to the Fed. That's clarifying….
"Frustrations over rising fuel costs and bigger changes in domestic shipping markets are boiling over in China. Truckers blocked roads with their vehicles in spotty strikes across the country, driven by frustrations over higher fuel costs, falling freight rates and digital apps that are squeezing profits. …[T]he protests are the latest in trucking operations around the world, including Brazil and Iran, that have flared as rising oil prices have pushed up the cost of fuel" [Wall Street Journal]. It would certainly be interesting if international working class solidarity developed along the supply chain, since truckers everywhere seem to have the same problems (as they would!).
News of The Wired
"The [subscription-based circulating libraries], which were found in fashionable watering holes like Jane Austen's fabled Bath, began as offshoots of bookselling. They became social gathering places that people subscribed to as soon as they got to their vacation destination. They weren't just for books, either—they held raffles and social events, and the subscription record books were a good place to figure out who was in town. If you lived in a rural area, though, you were probably out of luck. No businessman would set one up in an area that couldn't sustain it" [JSTOR]. "At the time, industrialization hadn't yet made printing affordable, so only the richest could afford books. Erickson points out that the average three-volume novel cost the equivalent of $100 at the time, which makes Darcy's extensive library even sexier. And since anyone with enough money for a subscription could use a circulating library, it became a way for women to gain knowledge without asking a man for permission to use his library or borrow his books."
"The Story Behind Susan Kare's Iconic Design Work for Apple" [Milanote]. Really great.
"The Lifespan of a Lie" [Medium]. "The [Stanford Prison Experiment] is often used to teach the lesson that our behavior is profoundly affected by the social roles and situations in which we find ourselves. But its deeper, more disturbing implication is that we all have a wellspring of potential sadism lurking within us, waiting to be tapped by circumstance. It has been invoked to explain the massacre at My Lai during the Vietnam War, the Armenian genocide, and the horrors of the Holocaust. And the ultimate symbol of the agony that man helplessly inflicts on his brother is [Douglas] Korpi's famous breakdown, set off after only 36 hours by the cruelty of his peers. There's just one problem: Korpi's breakdown was a sham. 'Anybody who is a clinician would know that I was faking,' he told me last summer, in the first extensive interview he has granted in years. 'If you listen to the tape, it's not subtle. I'm not that good at acting. I mean, I think I do a fairly good job, but I'm more hysterical than psychotic.'"
"OpenStreetMap Should Be a Priority for the Open Source Community" [Linux Journal]. "Although undoubtedly difficult, creating high-quality map-based services is a challenge that must be tackled by the Open Source community if it wants to remain relevant in a world dominated by mobile computing. The bad news is that at the moment, millions of people are happily sending crucial geodata to proprietary services like Waze, as well as providing free bug-fixes for Google Maps. Far better if they could be working with equal enthusiasm and enjoyment on open projects, since the resulting datasets would be freely available to all, not turned into corporate property. The good news is that OpenStreetMap provides exactly the right foundation for creating those open map-based services, which is why supporting it must become a priority for the Open Source world."
* * *
Readers, feel free to contact me at lambert [UNDERSCORE] strether [DOT] corrente [AT] yahoo [DOT] com, with (a) links, and even better (b) sources I should curate regularly, (c) how to send me a check if you are allergic to PayPal, and (d) to find out how to send me images of plants. Vegetables are fine! Fungi are deemed to be honorary plants! If you want your handle to appear as a credit, please place it at the start of your mail in parentheses: (thus). Otherwise, I will anonymize by using your initials. See the previous Water Cooler (with plant) here. Today's plant (TH):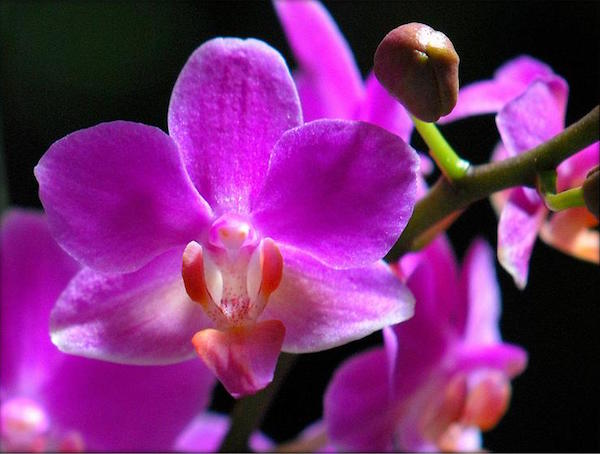 TH writes: "One of the many beautiful orchids found at Roger's Gardens, a nursery in Newport Beach, California."
* * *
Readers: Water Cooler is a standalone entity not covered by the annual NC fundraiser. So do feel free to make a contribution today or any day. Here is why: Regular positive feedback both makes me feel good and lets me know I'm on the right track with coverage. When I get no donations for five or ten days I get worried. More tangibly, a constant trickle of small donations helps me with expenses, and I factor that trickle in when setting fundraising goals. So if you see something you especially appreciate, do feel free to click the hat!

To give more, click on the arrow heads to the right of the amount.
If you hate PayPal — even though you can use a credit card or debit card on PayPal — you can email me at lambert [UNDERSCORE] strether [DOT] corrente [AT] yahoo [DOT] com, and I will give you directions on how to send a check.