By Lambert Strether of Corrente.
Trade
"Jobs, auto freight in crosshairs as Trump ramps up tariff talk" [Freight Waves]. "'While we understand that the administration is working to achieve a level playing field, tariffs are not the right approach,' said a statement this morning from the Alliance of Automobile Manufacturers. 'Tariffs on autos and auto parts raise vehicle prices for all customers, limit consumer choice and invite retaliatory action by our trading partners. Automakers support reducing trade barriers across the board and achieving fairness through facilitating rather than inhibiting trade.'… NAFTA trade, which includes automotive, generates $6.5 billion in revenue for the trucking industry and supports 46,000 U.S. truck jobs, according to Bob Costello, chief economist of the American Trucking Associations."
"Everett Eissenstat will leave his post at the White House next month, sparking more concern among free-traders who saw the former congressional trade counsel as a key bulwark against the hard-liners advocating for President Donald Trump to support tariffs and other trade restrictions" [Politico].
Politics
2020
"Biden leads 2020 Dem field in new poll" [The Hill]. "Almost one-third of registered Democratic voters back former Vice President Joe Biden for the party's 2020 presidential nomination, making him the front-runner in a new poll provided exclusively to The Hill. Biden is the clear leader in Harvard CAPS/Harris's June poll with support from 32 percent of Democrats polled. Hillary Clinton, the party's 2016 nominee, finished second with 18 percent of the vote, while her 2016 primary opponent, Sen. Bernie Sanders (I-Vt.), sits in third with 16 percent. Sen. Elizabeth Warren (D-Mass.) was the only other candidate to poll in double digits, with 10 percent of those surveyed backing her." • One poll. But the party decides. The part of me that enjoys Götterdämmerung would welcome a Biden run….

"Why Joseph Crowley's Defeat Should Scare Joe Biden" [Peter Beinart, The Atlantic]. "But Ocasio-Cortez's upset isn't only a story of succession. It's also a story of ideological succession. And if I were former Vice President Joe Biden mulling a presidential bid in 2020, that would worry me a great deal." • It really does seem like the only conceptual tools and mental categories liberal Democrats have come from identity politics. It's like watching a journeyman carpenter try to fix a plumbing problem. When all you've got is a hammer…

Then again: " I asked [Biden] whether this crisis in the democratic world makes him want to run for president in 2020. He said no" [WaPo]. • Perhaps Biden wants us to beg, and would reluctantly accept the nomination if it came his way….
2018
"Democrats' Competing Midterm Messages on the Economy" [RealClearPolitics]. "Some Democrats aren't clamoring for massive government giveaways. Instead, they argue that the recent tax cuts have produced less than advertised by the Trump administration. They point out that wages are not rising as fast as essential household items such as food, gas and prescription drugs. 'There's a lot of economic insecurity below the surface when voters start looking at their monthly bills,' said [the horrid] Celinda Lake, a leading Democratic pollster… This glass-half-full message is being used in swing districts where open opposition to President Trump is not necessarily a winner…. Right now, it's unclear whether the winning formula will entail doubling down on the progressive message or embracing a center-left platform – or whether neither one of them will work." • Which is a pretty amazing shift, given that the conventional wisdom mere days ago was that the "center-left" was the place to be…

PA: "The Two States of Pennsylvania" [RealClearPolitics]. "The two charts below track the last six years of switchers between the two major parties in the mostly suburban counties that surround Pennsylvania's two major cities. The first chart shows the four counties that surround Pittsburgh. As can be seen, Republicans are winning a larger percentage of party switchers in these counties than in the overall state…. The second chart shows the four counties surrounding Philadelphia. In addition to generally trending below the state average, it is notable how far the Republicans have fallen in the last two years. In all four counties, Democrats are now winning the majority of party switchers…. Overall what these data suggest is that in the western part of the state, Trump and the Republican Party remain popular and former Democrats want to join their cause. In the eastern part of the state, it seems that the love affair with the Republican Party that peaked in 2016 is now over. In short, Trump's base may well be shrinking: 'the number of people who identified as Republican were about 2 percentage points smaller than in 2017.'"

"Crowley surprise tops huge night for left" [The Hill]. "Crowley's loss is as stunning as then-House Majority Leader Eric Cantor's (R-Va.) primary defeat in 2014 — maybe more so, because while Cantor spent his fateful primary hobnobbing in Washington, Crowley had taken his challenge more seriously, actively campaigning for his own seat in a borough where he still runs the Democratic machine." • Continuing the trend of never putting the name of a left candidate — even a victor! — in the headline…

"Crowley's loss leaves gaping void for next generation of Democratic leaders" [WaPo]. • Best headline ever. But wait. Is there a better way to describe existing Democrat leadership than "gaping void"?
Realignment and Legitimacy
"See Public Records? Governments Are Making It Harder." [Governing]. "Many records that would ordinarily be made public escape examination when the organization that maintains them is not a direct part of government. That is, the records have been transferred to a nonprofit or for-profit organization, both of which may not have to comply with freedom of information laws." • One more reason public-private partnerships are an abomination…. .

* * *

"7th Circuit gives Trump temporary win on 'sanctuary' policy" [Politico]. "A federal appeals court on Tuesday temporarily narrowed the scope of a nationwide injunction against the Trump administration's attempt to withhold grants from so-called sanctuary cities." • Aren't "sanctuary cities" really a modern-day equivalent of the theory of nullification? John C. Calhoun in his "Fort Hill Address":

[CALHOUN:] The great and leading principle is, that the General Government emanated from the people of the several States, forming distinct political communities, and acting in their separate and sovereign capacity, and not from all of the people forming one aggregate political community; that the Constitution of the United States is, in fact, a compact, to which each State is a party, in the character already described; and that the several States, or parties, have a right to judge of its infractions; and in case of a deliberate, palpable, and dangerous exercise of power not delegated, they have the right, in the last resort, to use the language of the Virginia Resolutions, "to interpose for arresting the progress of the evil, and for maintaining, within their respective limits, the authorities, rights, and liberties appertaining to them."

"DOJ says Congress must fix immigration after judge's order" [Associated Press]. "U.S. District Judge Dana Sabraw in San Diego, an appointee of President George W. Bush, issued a nationwide injunction on future family separations, unless the parent is deemed unfit or doesn't want to be with the child. The judge's order also requires the government to provide phone contact between parents and their children within 10 days. Trump had already signed an order ending family separations and said families would be detained together. But Sabraw's order forces the administration to adhere to a timeline and quickly address families affected by the hardline policy embraced earlier this spring…. But it's unclear how legislation might enable Attorney General Jeff Sessions to continue the zero-tolerance policy without separating families or placing children in jail-like settings. The Obama administration at one point tried housing families in special detention centers while immigration judges reviewed their cases. But after a federal judge ruled the arrangement violated a long-standing agreement barring kids from jail-like settings, even with their parents. The government then began releasing families into the U.S. pending notification of their next court date — a policy Sessions and Trump have derided as 'catch and release.'… It's not clear how border authorities will meet the latest deadline."

"Opinion: If you want to start a business here, the U.S. should roll out the red carpet" [MarketWatch]. "Scholars of immigrant entrepreneurship theorize that immigrants have "intrinsic capabilities — risk propensity, high education, unique knowledge, or identity — that increases the likelihood of entrepreneurship compared to their host country counterparts," according to a Kauffman Foundation review of immigration research. Immigrants are twice as likely to start a business as native-born Americans, for example. Forty-three percent of the 2017 Fortune 500 companies were founded or co-founded by a first- or second-generation immigrant, according to the Center for American Entrepreneurship. Those 216 companies generated $5.3 trillion of revenue and employed 12.1 million workers worldwide last year, according to the CAE."

"House immigration bill will not include mandate on checking employees' legal status" [McClatchy]. "An effort to mandate that every employer use a system to check that their employees are working in the country legally was rejected by House leaders Tuesday — a strong signal that those pushing immigration reform do not believe it has enough support to be passed as part of a comprehensive immigration bill. The failure of the e-verify plan — which was eagerly sought by conservatives wary of the bill — means the House will instead vote on a plan that still includes a path to citizenship for 1.8 million Dreamers, people brought to the country illegally as children." • Can't interfere with the supply of cheap labor… .
Stats Watch
Durable Goods Orders, May 2018: "Disruption tied to a fire at an auto supplier not only pulled down the previously released manufacturing component of the industrial production report but it also helped pull down durable goods orders" [Econoday] (cf. Labor notes). "[B]arely making the consensus range are core capital goods… Turning to tariff-exposed readings, orders for primary metals slipped… A very strong reading comes from total unfilled orders… This report is and the metals results are , but there are many elements of strength and they point to a U.S. factory sector that is very solid going into what may prove a summer of trade disruptions." And but: " report as many groupings improved including defence aircraft. Still durable goods are up 10 % year-over-year which is nothing to sneeze at. This series has wide swings monthly so our primary metric is the unadjusted three month rolling average which declined" [Econintersect].
International Trade in Goods, May 2018: "Forget about tariffs and trade wars. Exports in May surged a convincing 2.1 percent to pull down the nation's goods deficit" [Econoday]. "This is a very healthy report and it may offer a signpost of the nation's trade performance going into a summer of cross-border discontent."
Pending Home Sales Index, May 2018: "The resale market has been flat and may be about, despite the strength for new home sales, to turn lower" [Econoday]. "These results underscore recent home-price updates including yesterday's Case-Shiller report that point to ebbing price appreciation for existing homes." And: "The rolling averages remain in negative territory. The data is very noisy and must be averaged to make sense of the situation. There is no signs of a surge in home sales, and the long term trends continue to be generally downward" [Econintersect].
Retail Inventories [Advance], May 2018: "Retail inventories, trying to keep pace with rising strength in retail sales, rose" [Econoday].
Wholesale Inventories [Advance], May 2018: "Wholesale inventories rose 0.5 percent in May which is 2 tenths higher than Econoday's consensus in what marks an upshift for a sector where underlying sales have been outpacing the inventory build" [Econoday]. "The result is positive both for the general economic outlook and also second-quarter GDP as well."
Small Business Optimism: "Small Business Optimism Highest In Years" [Federal Reserve Bank of Richmond]. "Optimism about future performance among employer firms reached its highest level in several years according to results from the "2017 Small Business Credit Survey: Report on Employer Firms" released last week. The report focuses on small employer firms, or businesses that have between 1–499 full- or part-time employees. …. The report found the share of firms reporting profitability, revenue growth and employment growth all increased from the 2016 survey. For the coming year, a net 66 percent of firms anticipate revenue growth and a net 44 percent expect to hire new employees. More firms received all of the financing requested, and a significant portion did not apply for credit because they already had sufficient financing."
Household Income: "May 2018 Median Household Income Upward Trend Continues" [Econintersect]. "New data from the monthly Current Population Survey (CPS) indicate that median annual household income was $61,858 for May 2018. Median household income in May of this year was higher than for any other month since January 2000 (series start), yet only 2.4 percent above the January 2000 estimate of $60,383 after adjusting for price changes… Income amounts in this report are before-tax money income and have been adjusted for inflation; income amounts are expressed in April 2018 dollars and have been seasonally adjusted, unless otherwise noted. The estimates in this report are based on the Current Population Survey (CPS), the monthly household survey that provides official estimates of the unemployment rate."
Commodities: "Global oil markets could get significantly tighter soon. The U.S. is taking an effective "zero tolerance" line on future Iranian oil exports, saying all countries must cut off oil trade with the country by Nov. 4 or risk sanctions. The WSJ's Ian Talley reports that's a tougher timeline than many crude buyers had expected and already has players in crude supply chains, from banks to refiners, moving to shut off dealings. That could reverberate across world tanker fleets that have been recovering somewhat this year after coping with excess capacity" [Wall Street Journal].
Shipping: "The emerging role for drones in the supply chain" [Logistics Management]. "The emerging use case – the one gaining traction at least for PINC [a provider of yard management systems]– is not necessarily the application that drone enthusiasts first envisioned. While there are companies using or piloting the use of drones to track their trailers in a yard, inventory of new automobiles in a storage location or high value assets in remote sites, there are impediments to broad based adoption of drone technology in the yard. 'The impediment is ,' [Matt Yearling, CEO of PINC] says. A second impediment is that the solution still requires not just the technology, but a certified pilot to oversee the drone. So, where is the action today? For PINC, 'the traction that we're seeing is using our drones inside the four walls of the warehouse for inventory control,' Yearling says." • Five (5) years after Jeff Bezos gave his "Octocopter" interview…
Infrastructure: "Building a technology supply chain in Wisconsin is growing more expensive for the state. Incentives offered by Wisconsin and its municipalities to Taiwan's Foxconn Technology Group since it announced a $10 billion megaplant there have gone up by nearly $1 billion, with programs such as a $134 million road improvement plan adding to the bill. …. [T]he ballooning costs underscore how expensive and unpredictable such big manufacturing projects can become for states and cities eager to attract new investments and jobs" [Wall Street Journal]. • And suicide netting doesn't come cheap.
Five Horsemen: "All of the Fab Five are bouncing today but none are at new highs" [Hat Tip, Jim Haygood].
NakedCap Mania-Panic Index: "The mania-panic index rose to 43 (worry) after yesterday's mild gain in the market" [Hat Tip, Jim Haygood]. (The NakedCap mania-panic index is an equally-weighted average of seven technical indicators derived from stock indexes, volatility (VIX), Treasuries, junk bonds, equity options, and internal measures of new highs vs new lows and up volume vs down volume … each converted to a scale of 0 to 100 before averaging, using thirty years of history for five of the seven series.)
Neoliberal Epidemics
"Breast Cancer Epigenetics Study Reveals Potential Drug Targets" [Genetic Engineering and Biology News]. "Cell lineages that culminate in mammary gland development may also lead to breast cancer. Although these lineages, as well as the stem cells and progenitor cells they comprise, have been subjected to extensive study, the perturbations of these lineages that increase the risk of breast cancer have remained obscure, frustrating the search for chemoprevention drugs. Consequently, scientists based at the Princess Margaret Cancer Center in Toronto took a closer look at mammary cell lineages. These scientists now report that the proliferation of mammary gland stem cells in response to progesterone is promoted by epigenetic proteins…. This global overview of mammary gland cells revealed that in response to progesterone, progenitor cells—particularly luminal progenitor cells—upregulate many of the epigenetic regulatory proteins responsible for modifying the cells' chromosomes."
Class Warfare
Janus:
"Supreme Court Deals Major Setback to Public Unions" [Governing]. "The 5-4 decision in the case from Illinois, Janus v. AFSCME, centered on whether government workers who don't want to belong to the unions that represent them should still have to pay for services the unions provide, such as contract negotiations or arbitration. On Wednesday, the high court ruled that those so-called 'agency' or 'fair-share' fees violated the First Amendment." • If a consequence of Janus is that unions have to stop funding the Democrat Party and start focusing on ***checks notes*** workplace organzing, is that so bad, really?
"JANUS v. AMERICAN FEDERATION OF STATE, COUNTY, AND MUNICIPAL EMPLOYEES, COUNCIL 31, ET AL." (PDF) [Supreme Court of the United States (slip opinion)]. ". Free-rider "arguments . . . are generally insufficient to overcome First Amendment objections," Knox, supra, at 311, and the statutory requirement that unions represent members and nonmembers alike does not justify different treatment. As is evident in non-agency-fee jurisdictions, unions are quite willing to represent nonmembers in the absence of agency fees. And their duty of fair representation is a necessary concomitant of the authority that a union seeks when it chooses to be the exclusive representative. In any event, States can avoid free riders through less restrictive means than the imposition of agency fees." • I think First Amendment law is due for a re-think. First the money is speech nonsense, now this. If you don't want to pay a union to represent you in collective bargaining, exercise your right to free speech by not working in a union shop! How hard is this? Also, agency relationships are all over the place. Since there's a now apparently a Constitutional right to be a free rider in agency relationships — lawyers, sorry for the brutal reframing — how many of those relationships will be affected? Say, in finance?
* * *
"Access to Consumer Bankruptcy" (PDF) [Pamela Foohey, Emory Bankruptcy Developments Journal]. "Over the past decade, each year, about a million households filed bankruptcy. This figure initially may loom large. But when compared to the one-third of Americans who have fallen behind on debt payments, the one in seven Americans who face debt collection calls every year, and the hundreds of millions of Americans burdened with debt, the figure becomes more significant for its seemingly relative fewness. Financial distress undoubtedly leads people to seek bankruptcy protection, but the path to filing is more complicated than mere finances. Indeed, on a purely financial basis, far fewer households than one might estimate would benefit financially from bankruptcy actually file. As with people's use of the legal system more generally, whether someone will file bankruptcy depends on a variety of factors often identified under the umbrella of "access to justice.'"
News of The Wired
"People with depression are more likely to say certain words" [Quartz].
'Mapping the "Big Minutes": Visualizing Sacred Harp's Geographic Coalescence and Expansion, 1995–2014' [Southern Spaces]. "After World War II, rural depopulation caused local singing networks to contract, while improved infrastructure facilitated travel. During this time, a publication known colloquially as the 'Big Minutes' grew out of the minutes pamphlets of a network of singings centered in Winston County, Alabama. Today the 'Big Minutes' are comprehensive: nearly all annual singings using the most common edition of The Sacred Harp disseminate their minutes through the volume…. These minutes for individual Sacred Harp singings are remarkable documents, providing a granular record of the musical taste and activities of each participant in this decentralized music culture." • With handy map. I love this style that combines a timeline with a map. It would have been fun to use a tool like this to map, say, Occupy events:
* * *
Readers, feel free to contact me at lambert [UNDERSCORE] strether [DOT] corrente [AT] yahoo [DOT] com, with (a) links, and even better (b) sources I should curate regularly, (c) how to send me a check if you are allergic to PayPal, and (d) to find out how to send me images of plants. Vegetables are fine! Fungi are deemed to be honorary plants! If you want your handle to appear as a credit, please place it at the start of your mail in parentheses: (thus). Otherwise, I will anonymize by using your initials. See the previous Water Cooler (with plant) here. Today's plant (TH):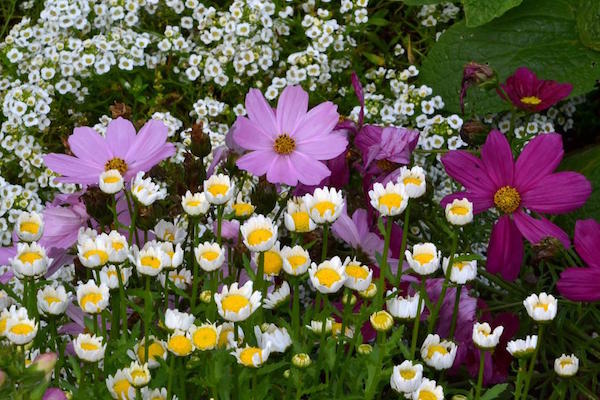 TH writes: "A little flower garden at the entrance of a housing development on Crenshaw in Palos Verdes, California." Similar theory to my front garden (photos in six weeks or so when the wildflowers, now sprouted, come in).
* * *
Readers: Water Cooler is a standalone entity not covered by the annual NC fundraiser. So do feel free to make a contribution today or any day. Here is why: Regular positive feedback both makes me feel good and lets me know I'm on the right track with coverage. When I get no donations for five or ten days I get worried. More tangibly, a constant trickle of small donations helps me with expenses, and I factor that trickle in when setting fundraising goals. So if you see something you especially appreciate, do feel free to click the hat!

To give more, click on the arrow heads to the right of the amount.
If you hate PayPal — even though you can use a credit card or debit card on PayPal — you can email me at lambert [UNDERSCORE] strether [DOT] corrente [AT] yahoo [DOT] com, and I will give you directions on how to send a check.