By Lambert Strether of Corrente.
Patient readers, I got a later start than I had hoped, because I had to put on my yellow waders and look at Nigel Farage. More shortly, though do note a topic of interest: The Brand New Congress immigration proposed policy I've already posted under "Realignment and Legitimacy." –lambert UPDATE 4:05 All done. I didn't mark updates, because there were a lot.
Trade
"The first round of tariffs on billions of dollars' worth of Chinese technology and other goods might not even be in place yet, but it's already time for round two: investment restrictions and export controls. The Treasury Department is expected by the end of the week to roll out its plans, which are aimed at protecting U.S. dominance in industries such as robotics and information technology where China, through its "Made in China 2025″ initiative, is trying to become the global leader" [Politico]. • So, we have an industrial policy?
"[M]ultinational corporations, like global monopolist Amazon and data-mining giants Facebook and Google, are trying to use NAFTA renegotiations to lock in new powers and protections on issues the original NAFTA did not even cover, such as e-commerce and internet governance. Their goal is to establish NAFTA rules that stop governments from creating new domestic policies to protect their citizens' privacy, personal data and security as new technologies emerge. These mega corporations have considerable sway over officials in all three NAFTA nations. As a result, under the guise of "modernizing" the 24-year-old agreement, officials from the United States, Canada and Mexico are negotiating new "digital trade" rules that mirror dangerous "electronic commerce" provisions that were included in the Trans-Pacific Partnership (TPP)" (PDF) [Public Citizen]. • It's like the clique of expensive lawyers and Sherpas who run these negotations have big stacks of boilerplate that they just shuffle around… Most of it bad
"U.S. manufacturers that use parts made abroad face tough choices in the face of sweeping tariffs coming into force next month. The efforts by companies sorting out the impact of the levies on imports offer a window into the complex connections of global trade…, where components made in one country get assembled in another and may even be transported and sold back into the first country" [Wall Street Journal]. "General Electric Co. fears higher costs for its $19 billion business making magnetic resonance imaging machines, many of which are assembled at U.S. plants. Nearly $1 of every $5 in components for the scanners is imported from China. Experts say the stakes are especially high for companies like GE that own the factories producing their imported parts since they face the costs of resetting supply chains while coping with factories that the tariffs have rendered economically unviable." • And GE was already in trouble…
"On Trade, Should Allies Treat the United States as a Rogue Nation?" [Council on Foreign Relations]. "Should U.S. allies consider the use of "smart sanctions" against U.S. President Donald Trump and his allies—sanctions that would target the president's assets directly rather harming U.S. consumers and businesses through tariffs? That the question is even being asked highlights the strange and perilous time in which we find ourselves… However tempting such an approach might be, though, it would be a huge mistake for Canada, Europe and other U.S. allies. The goal of their trade retaliation is not simply to force Trump to relent and remove the U.S. tariffs—the aim is to persuade the U.S. government to appreciate the harm that will come from abandoning the rules-based system for global trade that has been built, under U.S. leadership, since the end of the Second World War. So far, these countries have designed their retaliation to hew as closely as possible to international trade rules even as the United States is flouting those rules. Sanctions aimed at the Trump Organization directly would have the opposite effect."
Politics
2020
"Don Jr. storms the midterms" [Politico]. "Absent a visit from the president himself, a fundraiser or event with Trump Jr. is fast becoming red-state Republican hopefuls' favorite way to boast Trump's support…. The president's 40-year-old son, who remains a focus of special counsel Robert Mueller's Russia investigation, is using the trips to establish a political identity independent of his father's. It's fueling speculation that he's eyeing elected office himself someday, though allies say he's happy serving as a liaison to his father's base during the run-up to 2020 and building out a noncandidate role in Republican politics."
2018
"Primaries 2018: Can Grimm go from prison to Congress? Will Oklahoma OK pot?" [USA Today]. "Battles will also be settled between the establishment and activist wings of the Republican and Democratic parties as voters head to the polls for primaries in Colorado, Maryland, New York, Oklahoma and Utah, and for runoff elections in Missisippi and South Carolina."

"Polls of Senate Races Boost GOP Prospects for Retaining Control" [Bloomberg]. "The prospect of Republicans retaining control of the U.S. Senate are looking better, according to polls of races in Texas, Florida and Arizona by CBS News conducted by YouGov and published Sunday."" • One poll, so I probably shouldn't even link to it, and start following the averages…

"Reversal of fortune: Obamacare rate hikes pose headache for Republicans" [Politico]. "Obamacare premiums are once again poised to spike by double digits in 2019, causing heartburn for politicians as voters will head to the polls within days of learning about the looming hit to their pocketbooks. But unlike recent campaign cycles, when Republicans capitalized on Obamacare sticker shock to help propel them to control of Congress and the White House, they're now likely to be the ones feeling the wrath of voters."

"How soybeans — yes, soybeans — could impact the midterm elections" [CNN]. "But in southern Minnesota, where generations of soybean farmers and pork producers are already used to economic uncertainty, Trump's tough talk on trade has been demoralizing.

The same tariffs that Trump touted on Wednesday have left these growers as collateral damage in an escalating fight with China. Tariffs beget tariffs in the fight, and the Chinese have targeted both American staples, pushing down commodity prices and sinking farm values.

As Republicans and Trump eye Minnesota as a key state for 2018 and beyond, they run the risk that the same tough talk on trade that made Trump so popular in the state might backfire on some of his most loyal supporters." • And in September the harvest begins…

MO Senate: "Senate Candidate Josh Hawley at Stanford: an Academic Columnist with Big Ideas and Big Plans" [Medium]. • And the backing of squillionare Peter Theil…

CA: "California split: "Cal 3″ campaign epitomizes Golden State's pay-to-play initiative process" [Salon]. • Another squillionaire with bright ideas (Tim Draper)….

NY: "In Tuesday's primary, four New York Democrats face challenges on their left" [WaPo]. "'Who has New York been changing for?' Ocasio Cortez asked in a campaign video that drew national attention [and well it should have]. 'It's time we acknowledge that not all Democrats are the same; that a Democrat who takes corporate money, profits off foreclosure, doesn't live here, doesn't send his kids to our schools, does not drink our water, does not breathe our air, cannot possibly represent us.'… If the veterans win and their party snatches control of the House in November, New Yorkers would control some of the House's most powerful committees, including Appropriations, Foreign Affairs and Judiciary." • And to what purpose?

NY-14: "Alexandria Ocasio-Cortez Fights the Power" [The Nation]. " Though they nominally belong to the same party, Ocasio-Cortez represents an ascendant enthusiasm for economic justice that has helped make Senator Bernie Sanders the most popular politician in America. Crowley represents a status quo that seems to believe America's already pretty great, except for that one guy, Donald Trump." • Evil entered the world on January 21, 2017… .

NY-14: "Political Newcomer Shakes Up Congressional Primary in New York" [Wall Street Journal]. "[Ocasio's] campaign is interesting in that it's really centered on canvassing, which is necessary for a campaign like this," [Jessica Baldwin-Philippi, an assistant professor of communication and media studies at Fordham University] said." • If Ocasio wins, I'll be very surprised, but canvassing — one-on-one contact with real people, instead of Mook's algo — is the way forward, IMNSHO. DSA brakelights clinics are an even more powerful implementation of the same idea.

WV-03: "Candidates in WV's 3rd District race discuss policy issues" [Charleston Gazette-Mail]. "Carol Miller is running for Congress, but she won't say what she plans to do if she gets there. On a range of issues from health care, to the opioid epidemic, to energy policy, Miller, the majority whip in the state House of Delegates and Republican candidate in the 3rd District, said she'll figure it out…. When asked how to fix health care , Miller balked at the question. 'Do you really think I could give you an answer on that?' she said in a telephone interview. "I mean, it's been going on, and the ACA just complicated it even more.' … The Democrat running against Miller could hardly stand in starker contrast. For better or for worse, Sen. Richard Ojeda, D-Logan, leaves nothing to the imagination about his platform. He regularly hosts forums on social media where he takes questions in real time. 'I don't know everything, I am not a liar, I do live videos because I want to let people know where I stand, but I also let people know that if you disagree with me, I want you to come on there, let's debate,' he said. In an interview this week, he made no bones laying out his policy positions. He said he is opposed to repealing the ACA. Instead, he said the program should be fixed by offering a public buy-in option for Medicare to build more competitive .'" • Oh gawd. Ojeda's for a faux Medicare solution. I thought he was some kinda firebrand… But we're all neoliberals together!
Realignment and Legitimacy
"Immigration Platform Announcement" [Chardo Richardson, BrandNewCongress]. (Richardson is a Democrat candidate, endorsed by Brand New Congress and Justice Democrats, in FL-07, a district we are tracking.) • There's a lot to like in this proposal, which is worth reading in full. I don't question Richardson's good faith. But I have questions. First, if this proposal in its essence widely accepted in the migrant justice movement, why in the name of all that is holy doesn't it form part of the discourse? It's possible my Twitter feed is improperly curated, but this announcement is from February 15, 2018, and I don't see any sloganeering or signage or sound bites remotely resembling it. Second, this:

After endless struggles and setbacks, we as Americans have managed to unite hundreds of millions of people under a shared national identity. This should be a source of deep pride, but we must never forget that . We must always remember that the founding of a nation isn't a destination, but a stepping stone to deeper human unity. Towards that end, we must build deeper connections with other nations and peoples. As Martin Luther King, Jr. said: "No document from human hands can make these humans any less our brothers."

OK, take this as read. What is the role of the state? And is there any reason to be citizen of this or any state? For example:

Undocumented Americans currently pay $17.6 billion in taxes each year. Yet, in all but a few cities, they have no right to vote, and no undocumented American in the United States is able to vote in federal or statewide elections. This is taxation without representation, something our nation was founded in opposition to…. Therefore, undocumented Americans who pay their taxes should be able to vote in local, state, and federal elections.

If you cross out "Undocumented Americans" and write in "Non-citizens working in America," this passage becomes a little more problematic, surely? Now, I suppose I could extrapolate Richardson's proposal to an America where all you need to do in order to enter the country and stay — as long as you work — is identify yourself (no doubt biometrically). That would make America into a sort of enormous Mr. Lee's Greater Hong Kong, or, more to the point, a lot like the Roman Empire after the Edict of Caracalla. (Note that such a vision is not necessarily incompatible either with #MedicareForAll or with a #JobsGuarantee, believing as I do that there is a virtually infinite amount of work to be done and resources to be created). So I'm willing to listen, if this is what "open borders" means in practice, but I certainly don't see a case being made for it by Brand New Congress, Justice Democrats, DSA, or any other political entity I'm aware of (though since it's such a big country, and I'm one person, there may be migrant justice activists who have been proposing all this for years.

Finally, there's this:

Establish Legal Immigration Centers Around the World: It's time for us to finally be proactive about our immigration policy, not reactive. .

While compatible with a post-Edict of Caracalla vision, I don't see this suggestion playing electorally without a great deal of work. For example, I'm a US citizen, and in the depths of the Crash, I certainly would have welcomed being "recruited" by firms who could use my skills. Things worked out OK, but it was pretty sketchy for me, for awhile, in my flyover state, and I certainly wouldn't have welcomed a discovery that non-citizens were being "recruited," while I was not (H1B visas aside, of course, where non-citizens are already being "recruited," and for cheap labor, too). Not exactly building unity and deconstructing division, eh? I guess what I'm saying is that if you're going to appeal to the international working class, then you need to appeal — on both moral and pragmatic grounds — to the entire working class, and that includes U.S. citizens. "What's in it for me?" is a perfectly legitimate question the Democrat base asks itself all the time.Why not the rest of us?

"Donations, volunteering surge at border asylum-seeker center" [Associated Press]. "One by one, around Father's Day, the surge of Amazon boxes containing shirts, pants, underwear and many other items began arriving at an asylum-seeker rest center in the border town of McAllen, Texas…. "All of the sudden they started getting like a thousand boxes a day and then more and then more. And they had to come and secure space here and that filled up and they got another space and that filled up," said Natalie Montelongo, a native of nearby Brownsville who flew in from Washington, D.C., to volunteer at the center. She set up an Amazon wish list with items needed by the shelter and posted the link on social media. Now, the immigrant respite center run by Catholic Charities of the Rio Grande Valley has received so many boxes that it had to rent additional storage space."

* * *

"How did Gov. Paul LePage get elected? He was the beneficiary of Maine voters' famous independent streak" [David Warsh, Economic Principals]. "LePage won the GOP nomination in the Tea Party year of 2010, with 38 of the primary vote. Five months later he won the general election with 38 percent of all votes cast, defeating independent candidate Eliot Cutler by barely 7,500 votes. Cutler had been hoping to replace Gov. Angus King, who had served two unaffiliated terms. Democratic Party candidate Libby Mitchell trailed with 19 percent of the vote." • Warsh is just wrong. If Mitchell had thrown her votes to Cutler, as Democrat internal polling must surely have told her she should do, then Cutler would have won. It wasn't Mainers' "independent streak" that defeated Cutler and elected LePage; it was the Iron Law of Institutions operating in the sclerotic Democrat Party apparatus. (This post is about RCV, but I wanted to correct the record.)

"White Extinction Anxiety" [Charles Blow, New York Times]. "This is at the core: White extinction anxiety, white displacement anxiety, white minority anxiety." Nauseating, giving that life expectancy is actually (granted, on the average but especially for many whites). It's wonderfully clarifying to see what Stoller noticed immediately after 2016 — "On Mocking Dying Working Class White People" — make its way from the Democrat loyalist base into the Manhattan offices of the New York Times. Organic damage on a broad scale always has political effects, for good or ill; #BlackLivesMatter; #MeToo. For a much more extreme example, think of the trenches of World War I, and 30's Germany. Or for a more positive result, think of the UK's victory in World War II, followed by the introduction of the National Health Service.

Big Tent (1):

4.1 million workers are paid with a payroll card. Those without a bank account typically spend $40-$50 per month on ATM fees to access their own pay.

THIS IS CLASS WAR!

Join us on Saturday to canvass for postal banking in the Bronx: https://t.co/Xepwwq1V90 pic.twitter.com/qnDu86rEvy

— New York City DSA ? (@nycDSA) June 21, 2018

Big Tent (2);

?We are rolling out Nonviolent Direct Actions Trainings with The Ruckus Society and other coalition partners to #AbolishICE THIS WEEK across the boroughs… First up: BROOKLYN on TUESDAY! 6pm at Mayday Space. Sign up at https://t.co/lKDocbLhRN and come through! pic.twitter.com/uhoChr3sDQ

— North Brooklyn DSA ? (@nbkDSA) June 24, 2018

Occupation as a tactic. Thread:

A thread about occupation and barrier protests (OWS, NoDAPL, BLM street-blocking, the airport protests. and of course #OccupyICE )

Why they start, how they end

— Rich Puchalsky (@RichPuchalsky) June 20, 2018

Here it is:

All eligible Americans should have the opportunity to vote. Support teenagers who wish to vote in November's election but can't afford the proper ID. #TeenTheVotehttps://t.co/Z0Z3W53Dd2 pic.twitter.com/moL4ppaNaw

— Americans of Conscience Checklist (@AoCChecklist) June 22, 2018

First sentence: "All Americans…." Second sentence: "Support teenagers…." No doubt some Democrat apparatchik hit up somebody in the donor class for a grant to register a demographic they feel will help them win. All very well, unless you take the view that voter registration should be a core party function 24/7, and that the Democrat base should be expanded thereby. One-time, throwaway, vertical silo efforts like this don't cut it. Worse, they're a sign of bad faith, if you wish to believe that the Democrats wish to, or are capable off, serving the public.
Stats Watch
Chicago Fed National Activity Index, May 2018: "Manufacturing's unusual decline in May pulled the national activity index, at minus 0.15, into the negative column for the first time since January this year" [Econoday]. "Yet the results look skewed. Production indicators pulled the index down 0.29 points which ultimately reflects a sharp downturn in factory hours during the month, but this decline is tied to a fire at an auto supplier that disrupted the supply chain in the auto sector. Other factory indicators were mostly positive."
Dallas Fed Manufacturing Survey, June 2018: "A sharp rise in the general activity index as well as for inflation pressures contrast with slowing in production" [Econoday]. "A major indication that production may begin to reaccelerate is another increase in new orders which are at 29.6 and the highest level of the year. And strength in orders isn't hurting the company outlook which rose to 33.2 for the highest level in 12 years…. Though production is slowing this month and is a reminder of last week's downward pivots in the Philly Fed and manufacturing PMI, there are still plenty of indications in this sample consistent with very strong, and perhaps unsustainable, rates of growth. Much of this strength is coming from high oil prices which if they continue to climb could make for even greater strength in future Dallas reports." And: "This survey remains in positive territory with new orders improving and unfilled orders significantly improving – and both in positive territory. Even though this survey declined, our opinion is that this was a stronger report than last month" [Econintersect]. And but: "The single month index which is not used for economic forecasting which unfortunately is what the CFNAI headlines. Economic predictions are based on the 3 month moving average. The single month index historically is very noisy and the 3 month moving average would be the way to view this index in any event. There was insignificant revision to the last 3 months of data. In the table below, see the three month rolling average for the last 6 months – it shows an moderately growing economy" [Econintersect].
New Home Sales, May 2018: "Prices are weakening and are helping to give a lift to new home sales" [Econoday]. "Beneath all the volatility in this report is a new home market that continues to climb at a strong and perhaps unsustainable rate, moving from the 625,000 area to 675,000 so far this year. The drop in prices is also telling, suggesting moderation for what had been one of the strongest areas in the economy."
Retail: The U.S. Supreme Court's decision enabling states to collect sales tax from all online purchases may raise the profile of e-commerce logistics and delivery services. The court ruling's impact on digital commerce will take time to play out…. as states figure out if and how they will collect sales tax from out-of-state merchants. But online retailers eventually will lose a financial advantage they have over brick-and-mortar stores, particularly for big-ticket items like electronics and furniture" [Wall Street Journal]. "That edge has already diminished as online retailers, particularly Amazon.com Inc., have traded in the sales-tax advantage for fulfillment operations closer to customers. With new state sales taxes likely to narrow the price difference between store and online sales, online merchants may pitch customers more on the convenience of rapid delivery and turning to stronger warehousing and logistics operations that make it happen."
Shipping: "Truck orders are up but it may not all be for capacity expansion" [Logistics Management]. "There are some questions out there relating to the capacity imbalance in tandem with a heightened state of demand…. [W]hile truck orders are at a very healthy level, some industry stakeholders maintain they are for replacing existing capacity instead of adding new capacity. 'Based on what we have heard per CEOs of public truckload carriers, the majority of these new truck orders are for replacement and to address the issues of an aging fleet,' said Mike Regan, chief relationship officer for TranzAct Technologies…. Many people refer to this situation as 'what is the market clearing rate?' i.e. the rate at which I need to pay drivers in order to attract a sufficient number of drivers based on what the demand numbers look like or are likely to look like," said Regan…. Based on various industry estimates, the number is somewhere between $68,000-$72,000. 'But now the average driver median pay scale is in the mid $50,000s for drivers and the narrative that nobody wants to be a driver remains. My point is I can buy all the equipment I want, but if I cannot find drivers then the equipment is for naught and that supports the thesis that FTR and I have said that these class 8 sales cannot robustly expand capacity. What we are really looking at is replacement capacity, expanding by a single digit percent in the 5%-8% range."
Shipping: "In the first half of the year, retail imports shipped to major U.S. ports are expected to reach 10.2 million 20-foot equivalent units, a standard measure for container cargo—an increase of 3.8% over the same period last year, according to the National Retail Federation" [Wall Street Journal]. "Strong economic growth is pushing more goods through supply chains, straining U.S. logistics providers from truck fleets to warehousing operations. Volume also is surging as companies, anticipating the coming changes to U.S. trade policy, have ramped up orders for parts and products from their overseas manufacturers to reduce the financial impact of new tariffs."
Shipping: "UPS, Teamsters agree to cut use of rail, rely more on sleeper team drivers" [DC Logistics]. "The tentative five-year contract agreed to late last night by UPS Inc. and leaders of the Teamsters union's small-package division calls for a significant reduction in intermodal use in favor of expanding the number of two-person 'sleeper team' drivers operating over the road. Under the tentative agreement, UPS will switch 'many loads' currently moved by railroads to what the union, in a communiqué last night, referred to as a significant number of 'newly created' sleeper teams. UPS' sleeper teams will be paid at levels that far surpass what any teams receive elsewhere in trucking, the union said. The proposal would create 2,000 full-time Teamsters jobs, according to the union. Atlanta-based UPS has operated with over-the-road sleep teams for a number of years. Depending on the amount of converted volume, the provision could be a blow to the nation's railroads. UPS has long been one of the largest, if not the largest, individual users of intermodal services. The company would not comment on how much traffic moves via intermodal…. Sleepers are in higher demand now after the implementation of the electronic logging device (ELD) mandate, which requires strict adherence to driver hours-of-service regulations. Unlike a solo driver, who must pull off the road after 11 hours of continuous driving (with a 30-minute break after 8 hours), in a team one of the drivers can take the wheel after the other exhausts his or her available hours. The supply of available two-person teams is very tight, however." • Sleepers, wake…
Shipping: "The Wrong A-gender" [Splash 247]. "What if I told you that there was something you could do, which required no increase in capex or opex, and which could enable your company to outperform its competitors by up to 26% over the next six years. Interested? Good. Well here it is. Put me on your board. Actually it doesn't have to be me, although I'd like to think I'd be an excellent choice. It just has to be someone with two X chromosomes, or—as they are more commonly referred to—women. According to a six-year study of 2,360 companies by the Credit Suisse Institute those with women on their boards outperformed those without by up to 26%. So if you haven't got a woman on your board, get one. And if you've got a couple, get a couple more."
Supply Chain: "High tech logistics managers faced with new challenge: workforce slavery" [Logistics Management]. "[A]mong many of the new risks logistics managers must confront these days is that of forced labor. A recent report issued by KnowTheChain, a supply chain consultancy based in San Francisco focuses chiefly on leading Silicon Valley multinationals that often extoll their progressive 'human rights' policies. According to its 2018 Information and Communications Technology Benchmarks Report, the technology sector is guilty of widespread abuse. While 35 out of 40 companies have published a commitment to address forced labor in their supply chains, there is often a disconnect between the policies that companies have in place and evidence that those are effectively implemented."
Supply Chain: "Americans currently buy just 2% of their food online, typically packaged products with long shelf lives. Perishables delivery is much more developed elsewhere, and roughly 6% of food sales in the U.K. are online" [Wall Street Journal]. "Getting to that share in the U.S. will mean building much more logistics infrastructure—like the 20 new warehouses that will come in the Kroger-Ocado deal. That suggests competition in the grocery business may become more focused on distribution networks than on supermarket aisles."
The Bezzle: "How self-driving cars are poised to move into the mainstream and upend the automotive industry" [Business Insider]. "Self-driving cars are coming; , and adoption will just take off from there." • BWA-HA-HA-HA!!! Fooled ya. This is from "Mar. 2, 2017." Oopsie.
The Bezzle: "Vendors Left Gasping After Burst Bitcoin Bubble" [Sixth Tone]. "These days, business is sluggish for those selling cryptocurrency-cracking machines — especially in the city's bustling electronics hub, Huaqiangbei. Since the Chinese New Year in February, many shopkeepers in 71-story skyscraper SEG Plaza's packed electronics market have closed down or resumed their stabler — though less lucrative — gadget trades. Du's doors are still open, but the demand for these machines has declined sharply. 'In the past, it was normal to receive orders asking for over a thousand machines; now an order of 200 machines is considered a big deal,' a bespectacled Du told Sixth Tone. Prices currently range from 1,000 to 5,000 yuan ($160 to $780) — a drop of around 60 percent from last year, according to Du — but even this can't seem to bring in customers. 'We can barely cover our rent these days,' said Du, who runs a store called Node Technologies on the third floor of SEG Plaza. "In the past two weeks, we've sold fewer than 1,000 machines.'" • This is a very big deal.
The Bezzle: "Investors who paid attention to GE's accounting saw trouble coming" [Francine McKenna, MarketWatch]. "General Electric Co.'s decline over the last year feels, to paraphrase Hemingway, like it came slowly and then all at once, but investors who were paying attention to its financial reporting over the years shouldn't have been surprised…. GE's accounting issues date back years. They were evident under the high-profile Jack Welch and continued under his successor, Jeff Immelt, but the cult of personality around Welch likely discouraged anyone from questioning reports that he'd signed off on… It seems no one is giving the company the benefit of the doubt — anymore."
Transportation: "Flying Cars Are No Longer Science Fiction" [Safe Haven]. "For the first flying cars, we won't be pilots—we'll be passengers, and everything will be controlled by a complex GPS* system and a brand new air-traffic control concept…. Last week, the German government signed a letter of intent that effectively gives the greenlight for testing of the flying taxi in and around the Bavarian city of Ingolstadt, the hometown of Audi. Audi has teamed up with airplane maker Airbus and design house Italdesign to unveil Pop.Up Next, a reworked version of the two-seat autonomous vehicle concept, unveiled for the first time at last year's Geneva Motor Show…. When we'll start seeing commercial production, though, is anyone's guess. That depends on quite a few variables, starting with testing in Germany. Airbus and Italdesign believe it could be somewhere between seven and 10 years. For now, this project is about —and it's about fierce tech competition." • Between "seven and 10 years" reminds me "another three months" in software projects…. NOTE * The GPS had better improve on Google Maps, which is accurate to within meters, at least in the frontier and Third World areas where I travel.
Gentlemen Prefer Bonds: "File This Under Calling BS on Bankruptcy Fearmongering" [Credit Slips]. "As anyone familiar with bankruptcy would have predicted, the dire predictions of disaster for municipalities seeking bankruptcy protection have proven to be … let's just say exaggerated. Bloomberg is out with a notable story this morning on Jefferson County's healthy return to the bond market, carrying an investment-grade rating of AA–within five years of emerging from municipal bankruptcy. This squares with similar accounts of consumers rehabilitating their credit within two to four years of a chapter 7 liquidation-and-discharge (see, for example, here and here)."
Five Horsemen: "All of the Fab Five are down Monday morning as trade tensions intensify" [Hat Tip, Jim Haygood].
NakedCap Mania-Panic Index: "The mania-panic index recovered to 52 (complacency) on Friday's modest market gain" [Hat Tip, Jim Haygood]. (The NakedCap mania-panic index is an equally-weighted average of seven technical indicators derived from stock indexes, volatility (VIX), Treasuries, junk bonds, equity options, and internal measures of new highs vs new lows and up volume vs down volume … each converted to a scale of 0 to 100 before averaging, using thirty years of history for five of the seven series.)
Rapture Index: Closes unchanged [Rapture Ready]. Record high, October 10, 2016: 189. Current: 180. It's quiet. Too quiet.
Black Injustice Tipping Point
"Alexandria renames Jefferson Davis Highway to Richmond Highway" [WaPo]. About time.
Class Warfare
"How West Virginia Activists Organized a Solidarity Fund for the Uprising" [Labor Notes]. "During their two-week strike, West Virginia's salaried classroom teachers still got paid, because superintendents closed schools. The days missed were treated like snow days to be made up later. But workers paid by the hour or day—such as substitute teachers, teaching aides, bus drivers, and cafeteria workers—weren't getting paychecks. Few had much savings to fall back on. 'These folks were on the picket line and supporting the strike, but stood to not be able to pay their rent or heating bill,' said Stephen Smith of the West Virginia Working Families Party. So he and a few other local activists set up an online appeal to help cover lost wages. Seven thousand people from all over the country gave an average of $48 apiece, totaling $332,945."
"How Income Equality Helped Trump" [Wall Street Journal]. "Frenzied rhetoric about income inequality was a larger theme in Hillary Clinton's 2016 presidential campaign than in any previous American election." • Holy moly. Oh, Phil Gramm. Let me just skip this one. What was I thinking?
News of The Wired
"For God's Sake, Margaret: Conversation with Gregory Bateson and Margaret Mead" [Oikos]. Anybody remember CoEvolutionary Quarterly? I do.
The old urbanism:
It is time for a thread on traditional urbanism, or town planning 13th century style. I will dispel some myths of modern dis-urbanism. pic.twitter.com/wUbkEuGy9a

— Wrath Of Gnon (@wrathofgnon) July 7, 2017
Commercial art, but Manhattan by way of Van Gogh:
Jewels in the Sky, 1928 https://t.co/H8ONA2r9kl pic.twitter.com/H0J82h2odB

— son of an asylum seeker, father of an immigrant (@doctorow) June 14, 2018
Speaking of Rome:
An Interactive Map Shows Just How Many Roads Actually Lead to Rome https://t.co/7SCwqFCqme pic.twitter.com/xYGOZlVllM

— Open Culture (@openculture) June 24, 2018
I believe this is a Dad Joke, for some definition of "Dad":
The past, the present, and the future walk into a bar. Bartender: What will it have been?

— Nein. (@NeinQuarterly) June 23, 2018
* * *
Readers, feel free to contact me at lambert [UNDERSCORE] strether [DOT] corrente [AT] yahoo [DOT] com, with (a) links, and even better (b) sources I should curate regularly, (c) how to send me a check if you are allergic to PayPal, and (d) to find out how to send me images of plants. Vegetables are fine! Fungi are deemed to be honorary plants! If you want your handle to appear as a credit, please place it at the start of your mail in parentheses: (thus). Otherwise, I will anonymize by using your initials. See the previous Water Cooler (with plant) here. Today's plant (TH):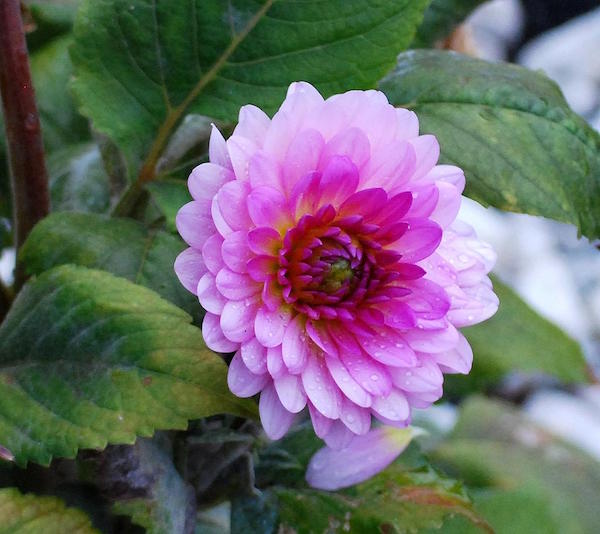 TH writes: "Dahlias are one of my favorite flowers. I've never noticed they have much of a scent, but they certainly are pretty!"
* * *
Readers: Water Cooler is a standalone entity not covered by the annual NC fundraiser. So do feel free to make a contribution today or any day. Here is why: Regular positive feedback both makes me feel good and lets me know I'm on the right track with coverage. When I get no donations for five or ten days I get worried. More tangibly, a constant trickle of small donations helps me with expenses, and I factor that trickle in when setting fundraising goals. So if you see something you especially appreciate, do feel free to click the hat!

To give more, click on the arrow heads to the right of the amount.
If you hate PayPal — even though you can use a credit card or debit card on PayPal — you can email me at lambert [UNDERSCORE] strether [DOT] corrente [AT] yahoo [DOT] com, and I will give you directions on how to send a check.