By Lambert Strether of Corrente.
Trade
Trade news is unusually rich and varied today.
"Lobbyists on K Street have earned business over the past several months from major U.S. companies looking for relief from President Donald Trump's waves of tariffs, but so far they have little to show for all that cash…. [S]ome of the biggest companies in the country are relying on large firms, trade associations and coalitions to try to help them change Trump's mind on steel and aluminum tariffs as well as duties and other investment restrictions on China. Lobbying shops are also helping clients petition the Commerce Department for special exemptions from penalties on steel and aluminum products" [Politico]. "Rather than drain the swamp, as Trump promised on the campaign trail, the uncertainty surrounding his administration has provided new avenues for Beltway lobby shops to fill their coffers. But lobbyists are nonetheless struggling to sway White House decisions, or even predict them, and they again risked looking feckless when Trump announced late last week that he was expanding tariffs to hit even the U.S.' closest allies."
"Here we go again: it appears that the United States is once again at risk of sparking a trade war on multiple fronts. The US's biggest trading partners, including Canada, Mexico, China, and the EU are all pushing back hard on the Trump administration's protectionist policies by imposing tariffs of their own" [Freight Waves]. "Mexico unveiled tariffs on American steel as well as a range of agricultural products, from pork legs and cranberries to bourbon and Tennessee sippin' whiskey. The European Union is levying tariffs on American yachts, cigarettes, and jeans. Canada published tables of American goods that it would subject to tariffs: steel products like rebar and pipeline tubes will be hit with a 25% duty while other commodities, ranging from ketchup, insecticide, plywood, postcards, and aluminum foil will get 10% tariffs." Then again–
"China Offers to Buy Nearly $70 Billion of U.S. Products to Fend Off Trade Tariffs" [Wall Steet Journal]. "China offered to purchase nearly $70 billion of U.S. farm and energy products if the Trump administration abandons threatened tariffs, according to people briefed on the latest negotiations with American trade officials."
"The China-backed plants like the one in Serbia along with sites in Indonesia, India, Brazil and other countries, add complications to the pitched debates over the Trump administration's plans to impose tariffs on overseas producers, including steel exports from U.S. allies. By owning production at foreign plants in Europe, India, Brazil and even North America, Chinese steelmakers aim to gain largely unfettered access to global markets, including American buyers, without the constraints of big tariffs or even the usual market considerations of supply and demand" [Wall Street Journal].
"The U.S. Congress probably won't have time to approve a new North American Free Trade Agreement this year, as Cabinet members from the three trading partners continue to negotiate changes to the pact, according to Senate Majority Whip John Cornyn" [Industry Week]. "Asked if the deadline for congressional approval of a new deal had run out, Cornyn said, 'yeah, I think so.' 'It looks like they are kicking it over to 2019,' he told reporters in Washington on Monday. "'I wish it had been handled earlier.'"
"Koch brothers finance campaign to oppose Trump's tariffs" [MarketWatch]. "Three organizations financed by conservative billionaire industrialists Charles and David Koch are launching a multimillion-dollar campaign against President Donald Trump's tariffs on imports. The groups said Monday that the multiyear initiative will include advertising, education of activists, lobbying, policy analysis and 'grass roots mobilization.' The groups — Freedom Partners Chamber of Commerce, Americans for Prosperity and The Libre Initiative — released a list of trade recommendations that focus on encouraging competitive markets and eliminating tariffs. The effort is an indication of the deep consternation among business groups — normally strong Republican allies — about the effect of the tariffs, which have angered foreign countries, rivals and allies alike. It also serves as a message to Republican lawmakers to hold their ground against tariffs."
"ISM's 'special questions' give manufacturing and non-manufacturing execs things to ponder" [Logistics Management]. "[O]ne question [docused] on tariffs and if they will raise the price of goods ISM member respondents, for manufacturing and non-manufacturing, produce and deliver to customers. On the manufacturing side, 73.9% of respondents said that they do believe tariffs will raise prices, with 26.1% saying they will not. Other tariff-related questions for manufacturing included: if you believe that tariffs will raise the price of your goods to your customers, by how much? The average increase was 5.4% with a median of 3.0%. And another one asked if tariffs will cause delays and disruptions in your supply chain? Nearly 60%-at 57.5%-said yes and 42.5% said no."
Politics
2020
"Patrick plans 2020 decision by end of the year" [Politico]. "Former Massachusetts Governor Deval Patrick is inching closer toward deciding on a 2020 presidential run. The former two-term Democrat plans to hit the campaign trail in a handful of races around the country this fall, which would 'help him sort it out by the end of the year,' said John Walsh, a close adviser who managed Patrick's 2006 insurgent gubernatorial campaign and later headed up his leadership PAC." Right now Patrick is parked at Mitt Romney's private equity firm, Bain Capital. So the country would be in good hands with Patrick, obviously.

If you like your coffee burnt:

There are already several dark horse candidates for '20. How about a dark roast candidate?https://t.co/TYr4AEN0px

— David Axelrod (@davidaxelrod) June 4, 2018

True, Zuckerberg does seem to be out of the running, so naturally some other squillionaire needs to step up, and no doubt Axelrod will be more than happy to service him.
2018
"What Voter Surge?" [Governing]. "Those who are predicting, expecting — or simply hoping for — a surge of voter turnout, especially among younger citizens, in this year's elections need to reflect on these sobering percentage figures: Oregon (34), Idaho (32), Illinois (25), West Virginia (24), Nebraska (24), Kentucky (23), Arkansas (22), Ohio (19), Georgia (19), Indiana (18), Texas (17), Pennsylvania (17) and North Carolina (14). These are the voter turnout rates for the 13 states that held party-nomination primary elections through May 22." The proferred solution — or, to my mind, palliative — is vote-by-mail.

"8 States Have Primary Elections on Tuesday. Here's What to Watch For." [New York Times]. "Eight states are holding primaries on Tuesday: Alabama, California, Iowa, Mississippi, Montana, New Jersey, New Mexico and South Dakota. It will be the busiest primary day of the year so far, as voters choose the candidates who will face off on Nov. 6." A district by district run-down.

CA: "Final California Primary Preview: High Stakes for House Democrats" [Cook Political Report]. "Democrats' route to the House majority runs through California more than any other state. Nationally, they need to win 23 GOP seats to win the chamber, and in California alone, there are seven Republican incumbents sitting in seats Hillary Clinton carried in 2016. Four of those seven seats include at least a piece of Orange County, which in 2016 voted for a Democrat for president for the first time since 1936…." Another good district by district run-down.

CA: "Blue wave? California tops list as midterm matchups form" [Associated Press]. "California tops a list of eight states holding primary contests on Tuesday. Democrats and Republicans from Montana to Alabama and Mississippi to New Jersey will pick their nominees up and down the ballot to face off this November for the inaugural midterm elections of Donald Trump's presidency. 'The California suburbs are the center of gravity for voters rejecting Republicans in the era of Trump,' said Democratic strategist Jesse Ferguson. 'When you combine the Democratic energy with the suburban independent voters who want nothing to do with a Trump Republican, you create a toxic combination for a Republican member of Congress trying to get re-elected.'" That's their story and they're sticking to it.

CA: "Today is crucial for Democrats in California's House races" [Los Angeles Times]. "The most pressing concern for Democrats is whether their wide, boisterous field of candidates means the party will be locked out of multiple races thanks to the state's top-two primary, which advances the two candidates with the most votes regardless of party…. Democrats have targeted 10 GOP-held seats here, including seven won by Democrat Hillary Clinton in the 2016 presidential election. California has as many potential pickup districts than the seven other states with primaries on Tuesday combined…. As of Monday evening, in nearly all of the targeted races, according to numbers provided by Political Data Inc., an election data firm. One exception was Issa's district, where a tight-knit group of activists hosted weekly protests outside the congressman's office and have spent months registering and talking to voters." Why on earth would these best practices be an "exception"…

Handy map of how districts have flipped in the past:

New: These cartograms show which party's presidential candidate won each 2018 House district from 2008 to 2016 https://t.co/D0b1hcSco6 pic.twitter.com/GrlrZjs8oX

— Stephen Wolf (@PoliticsWolf) June 5, 2018
New Cold War
"United States of America vs. Ron Rockwell Hansen" (PDF) [United States District Court, District of Utah]. I've always wanted a definition of "the intelligence community." Here is the government's. Interestingly, the FBI is part, which might seem obvious, but it's good that it's said:
Realignment and Legitimacy
"The Democratic Party is flying blind on economics" [Ryan Cooper, The Week]. Well worth a read. "I interviewed multiple Democratic congressional candidates. I reached out to dozens, attempting to get a decently wide range of perspectives and regions. Ultimately, eight candidates agreed to be interviewed, and while the sampling method is clearly less than scientific, it provides an interesting sort of ersatz focus group containing a decent mix of left-wingers and centrists. Not being quite sure what I was going to find, I asked fairly basic questions about economic, social, and foreign policy, focusing on broad disputes between the economic populist-dovish wing of the party and the neoliberal-war hawk wing. My major conclusion is this: The Democratic Party has developed a strong consensus on social justice issues like gay marriage, transgender rights, and police brutality. On foreign policy, it seems somewhere in the middle — not exactly favoring imperialist wars of aggression, but not terribly interested in a new paradigm either. But . On political economy, what up-and-coming Democrats believe and say depends largely on forces outside the party, and the candidates who are the clearest thinkers are the ones who have done their own reading and research." Additional commentary from Cooper here.

Or as a meme:

This is what Democratic establishment social justice looks like. pic.twitter.com/wEMNqao29B

— James Robinson (@Aintropy) June 4, 2018

"How Bill Clinton cleared a path for Donald Trump" [Dana Milbank, WaPo]. "To see the former president — now promoting a mystery he co-wrote with novelist James Patterson — sit down with NBC's Craig Melvin was to see how Clinton's handling of the Monica Lewinsky affair was a precursor of the monstrosity we now have in the White House: dismissing unpleasant facts as 'fake news,' self-righteously claiming victimhood, attacking the press and cloaking personal misbehavior in claims to be upholding the Constitution…. My perspective changed because of the #MeToo movement but also because of what followed Clinton's affair: He had only lied about sex, but the George W. Bush administration started a war under false pretense, and now Trump governs with utter disregard for truth." Wait, what? George Bush is a hero of the Resistance. How could he possibly have "started a war under false pretense[s]"?

"Bernie Sanders—So 2016? His Support Does Little for Candidates in 2018" [Wall Street Journal]. Honestly, expecting Sanders to have coat-tails when he's not even running for office is setting expectations pretty high. That said, most of the responses I've seen focus on the crowds Sanders drew, which is not the point: The point is what comes after Sanders the person, and nobody quite seems to have an answer to that.

"Conservative icon David Koch leaving business, politics" [Associated Press]. Koch, surveying smoking ruins: "My work here is done."
Stats Watch
Institute For Supply Management Non-Manufacturing Index, May 2018: "Higher costs tied to tariffs and the shifting outlook for trade are central concerns of ISM's non-manufacturing sample which once again shows month-to-month growth across all 18 sectors tracked" [Econoday]. "Rising backlogs are a consistent theme of all the small sample surveys including today's ISM as are rising input costs, both showing strong acceleration at already unusually high levels. Inventories are also rising and business activity is up. With tariffs in effect and trade questions in the background, May was a very strong month for the U.S. economy based on the host of small-sample surveys." And: "New orders, which are commonly referred to as the engine that drives manufacturing, saw a 2.5% increase to 63.7, with new orders now having shown growth for the 29th consecutive month. This increase stopped two months of sequential declines… Fifteen of 18 manufacturing sectors reported new orders growth in May" [Logistics Management].
Purchasing Managers' Services Index, May 2018: "Rising backlogs and a complementary increase in hiring, both running near 3-year highs, gave a surprising lift to the services PMI" [Econoday]. "All indications from the small sample reports like this one are pointing to May as a month of unusual strength." And: "Both services surveys are in expansion – and their intensity of growth and general trends match this month" [Econintersect].
JOLTS, April 2018: "For the first time in nearly 20 years of existing records, the number of job openings, at 6.698 million in April, is exceeding the number of unemployed actively looking for work" [Econoday]. "Today's report is a standout milestone of full employment that will capture the attention of monetary hawks whose focus is the risk of wage inflation." And: "Job openings are at the highest level since this series started, and quits are increasing year-over-year. This was a strong report" [Calculated Risk]. And but: "The headline seasonally adjusted view shows insignificant improvement in job openings. The unadjusted data analysis shows rate of growth decline. However, JOLTS non-adjusted job openings remain about average for what was seen in the last 3 years" [Econintersect].
Vehicles: "The BEA released their estimate of May vehicle sales this morning. The BEA estimated sales of 16.81 million SAAR in May 2018 (Seasonally Adjusted Annual Rate), down 1.8% from the April sales rate, and up slightly from May 2017" [Calculated Risk]. "This would make 2018 the sixth best year on record after 2016, 2015, 2000, 2017 and 2001."
Energy: "Gazprom to lend $2.5B for TurkStream construction" [Kallanish Energy]. "Russian state gas company Gazprom said Monday it will loan €2.14 billion ($2.5 billion) to its subsidiary South Stream Transport B.V. for construction of the TurkStream gas pipeline… South Stream is responsible for building the offshore section of the pipeline which will connect Russian gas fields to Turkey, for deliveries also in Europe. The subsidiary began work on May 7, 2017. The TurkStream gas pipeline will transport 31.5 billion cubic meters (Bcm) of gas across the Black Sea, and then further on land to Turkey's border with neighboring countries. The first string of the line will meet the Turkish demand, the second string will deliver gas to customers in southern and southeastern Europe."
Retail: "The book publishing industry has a real mystery on its hands. Book sales are ticking upward, and promising new titles give publishers reason for optimism in the beleaguered trade. But a critical mass-market distribution outlet, Barnes & Noble Inc., faces bleak prospects…, casting a cloud over publishers trying to reach customers with books that may not gain traction on Amazon.com Inc. and other online marketplaces" [Wall Street Journal]. "The riddle for publishers is that bookstores don't lend themselves easily to the nimble new omnichannel strategy that other retailers are touting."
Shipping: "'Paralysis by analysis does not exist in Greek shipping'" [Splash 247]. "A survey carried on the back page of this magazine shows readers overwhelmingly believe the Greeks are the best at reading shipping cycles. Among the top 10 shipowning nations, Greece garnered 64% of the votes. 'It's obvious — they actually are shipping professionals and not finance professionals — they know how to weather the storm better than most,' one reader responded. So what is it that sets the Greeks apart – and has let them continue to have the largest commercial fleet in the world for so long? David Glass, the Athens-based editor of Newsfront Shipping Publications, says the ability to read cycles comes down to the fact that the Greeks tend to be family businesses that are generations old. 'They don't see shipping as a way to make a quick buck,' Glass says. 'They don't look at the bottom line all the time, the majority are not listed, they just have to keep their mothers-in-law and uncles happy. A lot of decisions are taken around the family lunch table on a Sunday.'"
Shipping: "What is a ship registry or ship register..??" [Shipping & Freight Resource]. "In very simple terms, a ship register or ship registry gives a ship a nationality, a flag, an identity…. International Maritime Organisation (IMO) needed a method to enhance maritime safety, achieve pollution prevention and facilitate the prevention of maritime fraud.. Therefore in 1987, they adopted resolution A.600(15) which became mandatory on 1st January 1996. Under this resolution, each ship was assigned a permanent number (like a passport or ID document for people) for identification purposes. Irrespective of which flag the ship flies or trades under, this IMO number would remain unchanged and would be reflected on all the documents, certificates relating to the ship and will never be reassigned to another ship."
* * *
Holy moly. Tesla insiders who know how the shop floor actually works are finally talking:
The Bezzle: "Internal documents reveal Tesla is blowing through an insane amount of raw material and cash to make Model 3s, and production is still a nightmare" [Business Insider]. "Internal documents reviewed by Business Insider show that the company expects that as much as 40% of the raw materials used to produce batteries and driving units manufactured at Tesla's Gigafactory in Nevada need to be scrapped or reworked by employees before they are sent to Tesla's factory in Fremont, California, and assembled into Model 3s. The documents were dated in the first quarter…. Business Insider also reviewed . Some of it is flammable material used to create lithium batteries. Our source said some of these batteries presented a hazard as they're connected. Tesla said that was patently false, that all nonconforming materials are kept in a temperature-controlled room, and that they pose no safety threat." And then there's this:
Some machines in the Gigafactory have been turned off simply because they added more time to the manufacturing process than Musk liked when he observed them working on the Gigafactory floor.

An example: In May, Gigafactory employees turned off the "criticality" of the "genealogy" on a specific component in the Tesla battery pack, according to an internal email viewed by Business Insider.

In layman's terms, that means they bypassed putting a tracking system on that specific part (the bandolier) in that stage of the manufacturing process to speed things up.

It's common practice for automakers to create a genealogy for every part in a car. That way, if something goes wrong, the part's source manufacturer, production time, serial number, lot number, expiration date, and more can all be traced. It follows the part through its entire life in the manufacturing process before it gets to your car. This is especially important during recalls because it ensures that companies can locate potentially defective parts.

Now that's no longer the case for at least one part in the Gigafactory-made batteries. Tesla said they were being tracked by lot number because laser-etching the parts individually was causing them to be scrapped. The company did not provide Business Insider the number of parts in a lot or explain why that was the case. It said that while it would not get into internal procedures, .
"Make the process better" [lambert nods head vigorously]. But wait! There's more!
"Tesla's 'Hell': Fires, Accidents, Delays" [Daily Beast]. "The size of the Fremont workforce combined with the frantic pace of work and production has led to weaknesses in the plant's maintenance operation, two sources said. They described shutdowns and snafus that regularly cost valuable production time caused by lack of maintenance. Most dramatically, it has resulted in . Two former employees who worked in the paint shop told The Daily Beast that at least three fires have broken out at Fremont's paint operations since 2016. Lack of maintenance led to paint building up on paint-spraying machines and grounding straps, the sources said, and in at least one instance sparks ignited the paint and practically turned the paint sprayer into a flamethrower." A paint shop fire is just really, really bad. And then there's this:
One former employee who regularly worked in the paint shop also said that lack of maintenance caused paint buildup on a conveyor, . The accident caused an 8-hour shutdown of the paint line and required the draining of 80,000 gallons of coating in order to recover, the source said.
And some kind soul provided a picture of the Model S body upside down in the dip tank. I'd love to hear the conversations round the kitchen table when Fremont workers come home. "Hi, honey, how was your day?"
* * *
The Bezzle: About cash:
Fake News: The US is becoming cashless.
Reality: Cash in circulation at all denominations is rising.
Can trendy journalists and thinkers stop generalizing their use of cards to a society that keeps using more and more cash? pic.twitter.com/bNyUoCdN0t

— Aaron Klein (@Aarondklein) June 4, 2018
Mr. Market: "Transports, on a tear, could be flashing the all-clear sign for stocks" [CNBC]. "Transports' bullish behavior is bullish for the market, said Chris Verrone, head of technical analysis at Strategas Research Partners. 'In what has been an otherwise challenging market, the transports are still leaders here,' Verrone said Thursday on CNBC's 'Trading Nation.' He cited the group's ability to hold its 200-day moving average this year even when the broader market has faltered. Indeed, the Dow transport index hasn't breached its 200-day moving average to the downside since August."
Fodder for the Bulls: "A new economic indicator is saying there's no sign of a U.S. recession" [MarketWatch]. "We found Implied Relative Risk Aversion outperforms existing economic indicators once it is used in conjunction with them. A decrease in IRRA predicts an increase in economic growth because investors boost investments when they become less risk averse. Conversely, an increase in risk aversion points to a slowdown in growth because investors lower investments when they become more risk averse…. Implied Relative Risk Aversion is currently quite low, at 3.6 for May, after readings of 3.7 in April and March, implying that traders in the S&P 500 options market anticipate an increase in U.S. economic growth…. In contrast to other economic predictors, IRRA manages to forecast the future state of the U.S. economy more accurately because it is constructed by index option market prices. Option markets tend to attract more sophisticated investors than other markets on which the standard economic indicators rely because they offer leverage and they often enjoy smaller transaction costs. As a result, index option prices reflect the expectations of informed investors first before other markets' prices do, and hence they are more informative about the future state of the economy." Readers?
Fodder for the Bulls: "America Inc. Has a Record $2.5 Trillion Gift for Stock Investors" [Bloomberg]. "Between buybacks, dividends, and merger activities, companies are poised to plow $2.5 trillion into the stock market this year, according to UBS Group AG. The buying spree is equivalent to 10 percent of the S&P 500's market capitalization, easily outstripping prior records. The projection helps revive the bull case for stocks, which have flat-lined so far in 2018 amid trade tensions and higher bond yields. And it's no wonder U.S. equity leadership has remained so narrow*: the corporate flow comes largely from momentum shares such as technology companies, which have enjoyed the largest gains over the past year." NOTE * As Haygood as been relentlessly pointing out.
Honey for the Bears: "If the economy is so great, why are 78 million hustling for dimes?" [MarketWatch]. "For millions of Americans, the security and income of a steady 9-to-5 job is as far out of reach as it was during the worst of the Great Recession. Some, of course, have simply given up on finding any job, discouraged about their employment prospects after so many years out of work. Many others have resorted to scrambling for a buck here and a buck there, cobbling together a patchwork of irregular hours and side hustles." Yeah, so what's wrong with working on your personal branding? Handy chart: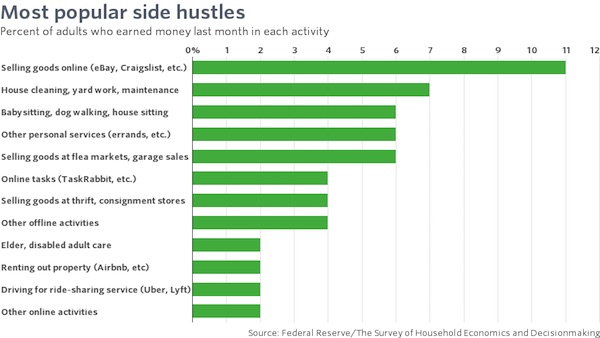 Five Horsemen: "Apple, Microsoft and Amazon are motoring to fresh records in late morning trade, as juggernaut Amazon once again blows the top off yesterday's chart" [Hat Tip, Jim Haygood].
NakedCap Mania-Panic Index: "Six of seven components in the mania-panic index improved on yesterday's market rise, raising the index to 63 (complacency)" [Hat Tip, Jim Haygood]. (The NakedCap mania-panic index is an equally-weighted average of seven technical indicators derived from stock indexes, volatility (VIX), Treasuries, junk bonds, equity options, and internal measures of new highs vs new lows and up volume vs down volume … each converted to a scale of 0 to 100 before averaging, using thirty years of history for five of the seven series.)
Health Care
"Court orders Maine governor to expand Medicaid" [Politico]. "Gov. Paul LePage's administration must file paperwork by next week to the federal government to adopt Obamacare's Medicaid expansion in Maine, a state Superior Court judge said Monday in a decision rebuking the defiant Republican governor. Obamacare supporters in April sued the LePage administration to force it to comply with the results of a November ballot initiative ordering the state to expand coverage to tens of thousands of low-income adults under the 2010 health care law. But LePage has insisted he won't adopt Medicaid expansion unless state lawmakers meet his conditions for funding the program."
Class Warfare
An interesting thread by Stoller that could be filed under Trade, but also under geopolitics, but I'm filing it under Class Warfare, for obvious reasons. CCP is "Chinese Communist Party":
This has been great for Wall Street but bad for the American middle class: lower wages, devastated rural communities, and an opioid epidemic. These are especially heightened problems in areas subjected to 'the China shock'. There used to be a lot of manufacturing in rural areas.

— Matt Stoller (@matthewstoller) June 5, 2018
The whole thread is well worth a read, agree or no (though I'm surprised at Stoller's use of the sloppy
"middle class." Most professionals have done very well for themselves from these policies — see Listen Liberal!.
"Where Evictions Are Most Common" [Governing]. "Nationally, Eviction Lab estimates suggest 2.3 percent of renters experienced a court-ordered eviction in 2016. But that's a significant undercount. More than twice as many evictions were filed that never led to a judgment. Other instances when tenants left after receiving notice or were paid to do so also aren't captured in court records. Desmond's research has found such informal evictions accounted for nearly half the total in Milwaukee." WIth handy map: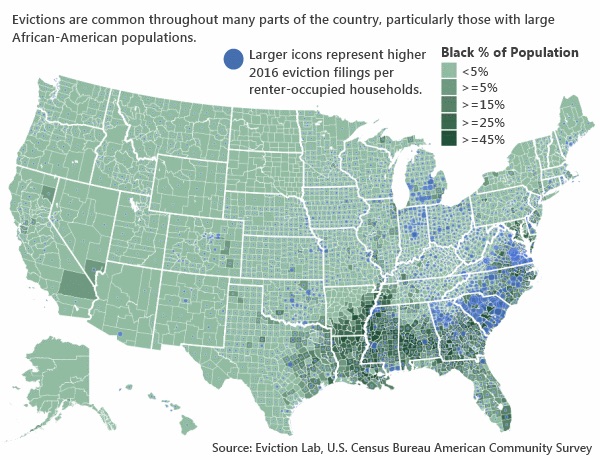 "Gold Diggers and White Niggers" [The Bollard]. "What does it mean when a white man calls another white man a 'nigger'? If the man yelling the slur is Jeffrey Carmine D'Amico, director of sales for Maine Media Collective, it means the other guy files a police report claiming you've violated the protection-from-abuse order imposed after you assaulted, terrorized and threatened his daughter. Or, as happened on another occasion, it means your landlord promptly evicts you from the room you're renting on Munjoy Hill. We'll return to these allegations, which D'Amico denies, later. More broadly, the use of that slur against another white man is an attempt to declare oneself socially superior and to wield the power that accompanies membership in the master class. The same can be said, in less vulgar terms, for Maine Media Collective's magazines (Maine, Maine Home + Design, Old Port) and the events it produces, like the Kennebunkport Festival. The publications and parties exist to provide opportunities for the wealthy to make business and personal connections with each other, and to declare, by one's presence, that you belong among the economic elite, the 'upper crust of Maine society,' as Portland Press Herald columnist Bill Nemitz recently described them." Well, some kinda crust, anyhow.
"Embattled Hoffa Offers Two-Tier, UPSers Push for a Better Deal" [Labor Notes] (from May 24, still germane). "In negotiations over the nation's largest union contract, a three-way battle is raging. UPS is demanding new givebacks, top Teamsters are offering them up, and rank and filers are organizing a grassroots network to push for better—and getting ready to vote down a bad deal, if necessary." Good! Two-tier is the worst; old codgers like me visibly pulling the ladder up after them.
"Union presence could benefit all workers at Boeing's North Charleston campus, experts say" [Post and Courier]. "South Carolina's right-to-work law guarantees employees don't have to join a union to keep their jobs, but Thursday's vote at Boeing Co.'s North Charleston campus will likely be felt throughout the workplace. Flight-line workers voted 104 to 65 in favor of having the International Association of Machinists represent them in collective bargaining. Employers typically raise wages and benefits for all workers — not just those covered by union contracts — whenever a labor union is successful in organizing part, but not all, of a business, a labor expert said." The MBAs at Boeing must be ticked, because moving the plant to South Carolina was a union-busting move.
News of The Wired
"Bringing iPhone apps to the Mac won't stop its slow march to the grave — the future is the smartphone" [Business Insider]. Not sure how I'm going to compose long-form pieces on the iPhone screen — or even the iPad — or how I'm going to edit a photograph. But who cares about content creators, anyhow? We have Disney for that!
"Ask HN: How did you transition from Mac to Linux?" [Hacker News].
* * *
Readers, feel free to contact me at lambert [UNDERSCORE] strether [DOT] corrente [AT] yahoo [DOT] com, with (a) links, and even better (b) sources I should curate regularly, (c) how to send me a check if you are allergic to PayPal, and (d) to find out how to send me images of plants. Vegetables are fine! Fungi are deemed to be honorary plants! If you want your handle to appear as a credit, please place it at the start of your mail in parentheses: (thus). Otherwise, I will anonymize by using your initials. See the previous Water Cooler (with plant) here. Today's plant (KS):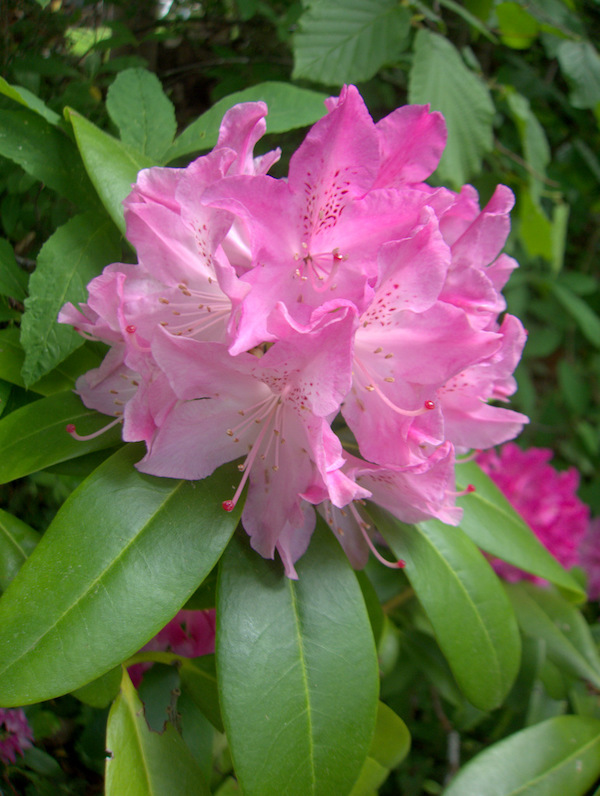 KS wrote: "These are just some flower photos I took in the yard today." It's 48° and rainy. The heat was on last night. There's nothing like this in my yard at all (though there might me, when I rip out the unwanted plants). Last year at this time, there were blooming, six-foot sunflowers in my yard. This year, though they did self-seed, they're less than a foot tall (and of course no flowers). Snarl.
* * *
Readers: Water Cooler is a standalone entity not covered by the annual NC fundraiser. So do feel free to make a contribution today or any day. Here is why: Regular positive feedback both makes me feel good and lets me know I'm on the right track with coverage. When I get no donations for five or ten days I get worried. More tangibly, a constant trickle of small donations helps me with expenses, and I factor that trickle in when setting fundraising goals. So if you see something you especially appreciate, do feel free to click the hat!

To give more, click on the arrow heads to the right of the amount.
If you hate PayPal — even though you can use a credit card or debit card on PayPal — you can email me at lambert [UNDERSCORE] strether [DOT] corrente [AT] yahoo [DOT] com, and I will give you directions on how to send a check.