By Lambert Strether of Corrente.
Readers, I seem to be all thumbs today, and my typing is slower than usual. So I'll add more material in a bit. –lambert UPDATE 2:45PM All done.
Trade
"New steel and aluminum tariffs are starting to hit American supply chains but not necessarily in the way the White House intends. U.S. firms that use the metals in manufacturing say the levies have led to higher materials prices, pushing them to charge more for their products. That's leading some customers to turn instead to foreign suppliers that use cheaper, tariff-free metals" [Wall Street Journal]. "[T]he fallout, while so far limited, illustrates how efforts to protect U.S. steelmakers can cause unintended pain for others in the manufacturing world. One Illinois-based fabricator says some customers have moved production to Europe and Canada because of higher raw materials prices. The tariff battles look like they're likely to grow: Key U.S. allies are pledging retaliation."
"Trump's tariffs are 'frankly insulting,' says Canadian PM Justin Trudeau" [MarketWatch]. "'The idea that the Canadian steel that's in military, military vehicles in the United States, the Canadian aluminum that makes your, your fighter jets is somehow now a threat?' Trudeau continued. 'Our soldiers who had fought and died together on the beaches of World War II… and the mountains of Afghanistan, and have stood shoulder to shoulder in some of the most difficult places in the world, that are always there for each other, somehow — this is insulting to them.'" Injured lackey whinges as imperial master turns on him…
Politics
2020
"Joe Biden steams into midterm campaigns as 2020 question looms" [NBC News]. No. Never, never, never, never, never. No.

"Trump delivers his promised 'jobs, jobs, jobs' — and a looming cloud" [New York Post]. The cloud: "At this point, the biggest cloud on the horizon is the specter of a trade war after Team Trump this week imposed tariffs on steel and aluminum from Europe, Canada and Mexico. Perhaps the president is convinced the economy is strong enough to hold up if this escalates into a series of tit-for-tats; maybe his advisers are sure America's trade partners will fold rather than fight."

UPDATE Yes:

Truck drivers deserve to be treated with respect and dignity, not like modern-day indentured servants. That is what we are here in California today to demand. pic.twitter.com/EsJmzsdSNB

— Bernie Sanders (@SenSanders) June 2, 2018

UPDATE No:

"We need a government that represents working families, not billionaires. The agenda is one that says health care is a right, not a privilege." – @SenSanders pic.twitter.com/cC0ZsctH6L

— Our Revolution (@OurRevolution) June 3, 2018

I hate the squishy, focus-grouped "working families," very much opposed to working class. "Working families" also erases people without families, and people with unorthodox families, which today's gig economy very much encourages. Sanders and Our Revolution shouldn't adopt language like this, and should minimize the time they spend hanging out with people who use it.
2018
"A Post-Memorial Day Status Report" [Cook Political Report]. "In a bygone political era, the symbolic end of summer — Labor Day — denoted the unofficial start of the campaign season. In our current era, one might be tempted to say that the symbolic start of summer — Memorial Day — now represents the campaign season kickoff, though American politics is in a state of perpetual campaigning…. But we've held at roughly 50-50 odds of a House flip for months. In a nutshell, Democrats have historical advantages: Since the Civil War, the president's party has lost ground in 36 of 39 midterms, with an average loss of 33 seats. In the shorter timeframe of the post-World War II era, the president's party has lost an average of 26 seats per midterm. The Democrats need to net 23 seats to win the House…. The Democratic lead in the House generic ballot polling average probably will need to be in the high single digits for Democrats to really feel good about their chances in the fall. The Democrats' edge is currently short of that, but it has been in that range for much of the rest of the cycle." (Keep in mind that the generic ballot is a proxy for electoral success. It's purely a zeitgeist indicator. Nobody checks the generic ballot numbers before heading off to the voting booth.

"The Party *Doesn't* Decide" [Amy Walter, Cook Political Report]. "Reformers come to the table with the best of intentions. And, there is a lot that needs to be updated and reformed in our political system. But, they often downplay — or fail to recognize — the unintended consequences of their actions. While I agree that there is a lot wrong with the current two party structure, I also think that party leaders appreciate the diversity of their party in many ways that are not relished today, namely that a candidate and member of Congress should be rewarded for sticking with the district's interests over the interests of the party." Twin assumptions, there: "District" is an adequate proxy for "voters," and "voters" are an adequate proxy for "citizens" (and, of course, that "citizens" are an adequate proxy for "residents," which raises other issues).

"If the Senate remains closely divided, perhaps it will be possible to convince a few Republicans to caucus with Democrats. If Republicans maintain their majorities, this outreach will be essential" [MarketWatch].

UPDATE CA-39, CA-48, CA-49: "Crowded Primaries Could Dash Dems' California Dreams" [RealClearPolitics]. A good review of the "top two" issues and the players. "Democrats at the national and state level insist they've done all they can to get Democrats through the jungle [top two] primary system. 'DCCC is proud to have invested in and opened up new territory for California Democrats ahead of next week's primary,' said Meredith Kelly, the group's communications director." Again, I think all DCCC-backed candidates should be asked this question: "The Memorandum of Understanding that you signed to get DCCC funding obligates you to spend four hours a day on the phone asking donors for money. Do you intend to keep your commitment?" Better wording welcomed!
2016 Post Mortem
Readers, I read Amy Chozick's Chasing Hillary while traveling yesterday. It's certainly a fun read, and a good companion to Shattered. I'll have a post on it in due course, but in the meantime, readers, have any of you read it? Your thoughts?
Obama Legacy
"Obama — Just Too Good for Us" [MoDo, New York Times]. "'Maybe we pushed too far,' the president continued. 'Maybe people just want to fall back into their tribe.'… So really, he's not acknowledging any flaws but simply wondering if we were even more benighted than he thought. He's saying that, sadly, we were not enlightened enough for the momentous changes wrought by the smartest people in the world — or even evolved enough for the first African-American president…. We just weren't ready for his amazing awesomeness…" I remember reading that jaw-dropping quote from Obama — I'd say that guillotining banksters would have "pushed too far," but definitely not prosecuting and jailing them — and I'm glad somebody else noticed it, too.
Realignment and Legitimacy
"Trump says he has 'absolute right' to pardon himself" [Associated Press]. Naturally, there's a Gilbert and Sullivan song for this:

"… And I, milords, embody the law." If only we'd given the intelligence community veto power over the appointment of the President…

"The Shame in Puerto Rico" [Editorial Board, New York Times]. "[W]hat Puerto Rico really needs to recover is the sort of generous, urgent and long-term assistance that would come with a recognition by the states that a great calamity has befallen their fellow Americans, that these people dying from a lack of the most basic services are their countrymen, their responsibility." If only there were a putatively demographics-driven party, looking for a message, that was focused like a laser beam on Latinx voters; Puerto Rico could have been part of their message! Too late now, of course… .

UPDATE More dirty money:

I used to be a Democratic Party bundler. It sickened me then. It horrifies me now-after nearly $1b lit on fire & 1200 seats lost-that we quadruple down on this outrageous fundraising strategy. All the DNC seems to know how to do is exploit leaders to raise money to..light on fire pic.twitter.com/nv02HNcyDe

— Nomiki Konst ??? (@NomikiKonst) June 2, 2018

I think Luke 21:1-4 should apply to the donor class. Perhaps money in sufficient quantity should be regarded as noise, and not speech?

UPDATE "Bill Clinton bristles at questions on Lewinsky, #MeToo" [ABC]. "Clinton is promoting his new fictional thriller, 'The President Is Missing,' with best-selling author James Patterson." Grifters gotta grift. And "Bill Clinton's 'Today' Show Interview About Monica Lewinsky Raises Questions" [Rolling Stone]. From the interview (in lieu of the transcript I can't find because Google sucks):

[Today host Craig Melvin] then asked if he ever apologized to Lewinksy.

"Yes," [Bill] Clinton said, "and . I left the White House $16 million in debt, but you typically have ignored gaping facts in describing this, and I bet you don't even know them….

When Melvin pressed Clinton about whether he had apologized to Lewinksy, he clarified that he had "apologized to everyone in the world," but that he has not talked to Lewinksy. When Melvin asked if Clinton felt like he owed her a private apology, he said said he didn't. "No, I do not," the former president stammered. "I have never talked to her. But I did say publicly on more than one occasion that I was sorry. That's very different. The apology was public."

I'll just leave that there.

UPDATE "Pressure mounts on MSNBC, Joy Reid after old blog reveals attack on Wolf Blitzer, AIPAC" [The Hill]. Reid can smear Sanders and Sanders supporters on a daily basis, no problemo, but attacking AIPAC?! ZOMG!!!!!!
Stats Watch
Factory Orders, April 2018: "Today's factory orders report closes the book on what was a solid April for manufacturing in a month when the headline — an aircraft-distorted 0.8 percent decline — definitely does not tell the whole story" [Econoday]. "The striking strength of April's report is capital goods especially given weakness in machinery data which, however, is being offset by strength in electrical equipment and computers." And: "US Census says manufacturing new orders declined. Our analysis shows the rolling averages improved" [Econintersect]. "According to the seasonally adjusted data, it was civilian aircraft which accounted for much of the decrease. The data in this series is noisy so I would rely on the unadjusted 3 month rolling averages which improved and remains in a long term improvement trend."
Manufacturing: "U.S. manufacturing expanded at a faster pace in May and order backlogs grew by the most in 14 years, even as price gains for materials continued to accelerate, the Institute for Supply Management said on June 1" [Industry Week].
Shipping: "Today's Pickup: truckload business booming, no warning signs yet" [FreightWaves]. "Freight markets are so strong, that even with an influx of cash from the Trump tax cuts, it's hard to find good acquisitions—potential targets have really high valuation expectations based on their wide margins in this climate. [Donald Broughton from the DAT Executive Symposium] reported that one anonymous executive said, 'We continue to focus on technology and automating process. The right thing to do at this part of the economic cycle. Everyone is obsessed with figuring out when the cycle ends but none of the traditional red light warning signs, not even yellow warning signs, are out there.' Several other executives said that they were focused on using technology to drive efficiencies internally and reduce transaction costs."
Shipping: "Logistics Hiring Surged in May on Growing Freight Demand" [Wall Street Journal]. "Logistics and freight transport companies went on a hiring spree in May, adding 18,700 jobs to keep pace with accelerating demand in the U.S. shipping markets. The surge last month gave the transportation and warehousing sector 73,000 new jobs since the beginning of 2018, the strongest annual hiring pace for logistics-focused payrolls since 2015…. The shift in consumer shopping patterns toward e-commerce requires heftier logistics infrastructure and more workers, said Evan Armstrong, president of logistics consulting firm Armstrong & Associates Inc. "As we need more e-commerce fulfillment centers to get goods closer to customers, as we need more capacity for last-mile delivery, that's impacting all parts of the supply chain," Mr. Armstrong said."
Supply Chain: "A supply-chain battle is on tap in one of America's entrenched distribution networks. Small brewers are squaring off against distributors and bar owners as craft beer's once-explosive growth cools…. and small manufacturers look for new ways to reach consumers" [Wall Street Journal]. "The craft brewers are trying to capitalize on a trend toward more direct sales, which grew 24.2% last year, even as general sales growth has tailed off. The brewers are bypassing a three-tier production, distribution and retail system that has held sway in the U.S. since prohibition, a closed-loop supply chain that craft brewers say favors producers of mass-market beer. Regulatory fights are underway in Texas and New Jersey, where craft brewers argue the big distributors are trying to preserve an edge based on the scale of their operations not the quality of their product."
Manufacturing: "What's Stopping the Smart Factory Revolution?" [Industry Week]. Elon wishes he knew. And there's that word… Anyhow: " Investment cycles in the manufacturing sector are extremely long. Robust processes and devices will not spring up overnight. Critically, the needed technologies—such as artificial intelligence, or AI—are not yet fully developed…. Should all of the AI wrinkles get ironed out—and eventually they will—smart factories still won't proliferate absent the optimal information governance. Three such governance issues include technical standards, cybersecurity/privacy, and spectrum allocation." So, short AI for now?
The Bezzle: "The Real Meaning of Tesla's Over-the-Air Brake Fix" [247 Wall Street]. "The week before, Consumer Reports failed to recommend the Tesla Inc. (NASDAQ: TSLA) Model 3 because the vehicle's braking distance did not meet the magazine's standards. Then Tesla pushed out an over-the-air (OTA) software fix to all its Model 3s and the car's braking distance was shortened by 19 feet, enough to meet the Consumer Reports standard and earn the magazine's recommendation… And while there's no argument that Tesla's OTA capability is cheaper and more convenient, the braking problem and its fix raise some important questions. The most difficult one for the company to answer may be why Tesla sells a vehicle with a problem that can be so easily fixed. Did the company not even consider braking distance during its testing? Apparently not. What does that say about the company's commitment to safety?…. A more important question may be whether Tesla owners (and more important for the company, potential Tesla owners) willing to exchange safety for convenience*. Perhaps 'safety' is the wrong word. 'Integrity' may be closer to the mark…. Does it matter now that the company has fixed the issue? Yes, it should matter." So, in essence, Elon snookered Consumer Reports, which should have been raising these questions (along with the rest of the trade press). Not good. NOTE * Rather, what about the people injured or killed by convenience-loving Tesla drivers? They had no part in the "exchange," eh?
UPDATE The Bezzle: "Youtubers with millions of followers are dropping out, citing stress and burnout from algorithm kremlinology" [Boing Boing]. "Youtube allows people — some of them not very nice — to earn incredible livings by performing stunts, playing videogames, creating sketches, anything that attracts an audience. But these superstars labor in a confusing and arbitrary workplace, governed by Youtube's secret and ever-shifting algorithm, which can downrank them to obscurity and penury in an instant, or 'demonetize' their channels, or punish them in other ways that are neither predictable nor even identifiable (it's often impossible to say whether a downtick in audience or earnings is 'organic' or some algorithmic punishment). These largely young people chase algorithmic approval with longer and longer hours, superstitious rituals and practices, and other desperate moves, all the while being jeered at and demonized by Youtube's notoriously cruel comment sections. It's not surprising, then, that so many of them have reached a breaking point, walking away from their channels, declaring themselves to be on the verge of mental exhaustion. It's the next stage in the evolution of online media, the crises that first manifested with anxious bloggers being downranked by Google search, then podcasters suffering the invisible forces that shuffled the Itunes podcast rankings, and now Youtube.'" Maybe I should file this under Class Warfare….
Five Horsemen: "Apple, Microsoft and Amazon — three of the four largest market cap stocks on the planet, along with Alphabet — are at record highs in late morning trade" [Hat Tip, Jim Haygood].
NakedCap Mania-Panic Index: "Friday's more than one percent rise in the S&P 500 index lifted the mania-panic index 8 points to 58 (complacency)" [Hat Tip, Jim Haygood]. (The NakedCap mania-panic index is an equally-weighted average of seven technical indicators derived from stock indexes, volatility (VIX), Treasuries, junk bonds, equity options, and internal measures of new highs vs new lows and up volume vs down volume … each converted to a scale of 0 to 100 before averaging, using thirty years of history for five of the seven series.)
Rapture Index: Closes down one on famine. "There has been a decrease in the reporting of famines around the world" [Rapture Ready]. Record High, October 10, 2016: 189. Current: 181. Remember that the Rapture Index is what the left would call accelerationist: Worse is better; i.e, more famines would be an indicator that the Rapture is closer, hence good. The slow downward drift of the Rapture Index strikes me as a bizarre, mirror-world analog to "complacency" in the NakedCap Mania-Panic Index.
Health Care
"'Medicaid-for-All' Rapidly Gains Interest in the States" [Governing]. "Six states — Iowa, Massachusetts, Minnesota, Missouri, New Jersey and Washington state — have active legislation to establish a Medicaid buy-in program. In four others, bills were proposed but stalled. New Mexico has set up a task force to study a Medicaid buy-in program, and Connecticut may do the same." Holy brand confusion, Batman! How on earth did "buy-in" become "for all"?
Gaia
"When facts are not enough" [Science]. "I am a climate scientist who has spent a lot of time trying to make climate science more accessible. I've authored National Climate Assessments and numerous outreach reports; I host a YouTube show called Global Weirding; I tweet; I've even promoted knitting patterns that display rising temperatures. Yet the most important step I've taken to make my science communication more effective has nothing to do with the science. As uncomfortable as this is for a scientist in today's world, the most effective thing I've done is to let people know that I am a Christian. Why? Because it's essential to connect the impacts of a changing climate directly to what's already meaningful in one's life, and for many people, faith is central to who they are."
UPDATE "Team discover how microbes survive clean rooms and contaminate spacecraft" [Phys.org]. "Despite extensive cleaning procedures, however, molecular genetic analyses show that the clean rooms harbor a diverse collection of microorganisms, or a spacecraft microbiome, that includes bacteria, archaea and fungi, explained Mogul. The Acinetobacter, a genus of bacteria, are among the dominant members of the spacecraft microbiome. To figure out how the spacecraft microbiome survives in the cleanroom facilities, the research team analyzed several Acinetobacter strains that were originally isolated from the Mars Odyssey and Phoenix spacecraft facilities. They found that under very nutrient-restricted conditions, used during spacecraft assembly. The work showed that cultures grew on ethyl alcohol as a sole carbon source while displaying reasonable tolerances towards oxidative stress. This is important since oxidative stress is associated with desiccating and high radiation environments similar to Mars." They grow in the cleaning solutions designed to kill them. That's so meta.
Facebook
"Facebook kills its Trending Topics feature" [Columbia Journalism Review]. Instead:
In place of the trending section, Facebook said in its blog post that it will be introducing several new experiments, including:

A "Breaking News" Label: The company says it's currently running a test with 80 publishers across North and South America as well as Europe, India and Australia that lets publishers place a "breaking news" indicator on their posts in News Feed, combined with breaking news notifications.
Today In: Facebook says it is experimenting with a new dedicated section on the site that is called Today In, which the company says will "connect people to the latest breaking and important news from local publishers in their city," as well as providing updates from local officials and groups.
News Video in Watch: As CJR reported after an interview with Facebook's Head of News, Campbell Brown, the site is also rolling out a new dedicated section in Watch, its video feature, that will provide live video news coverage and analysis provided by a range of media partners.

It remains to be seen whether the new"Breaking News&amp" category will become as clogged with questionable content as the old Trending Topics section was. Presumably Facebook is devoting considerably more resources to the new feature, but that isn't likely to stop certain news sites and publishers from complaining if their articles aren't highlighted and those from other news sites are.

Deciding what content is newsworthy is never an easy game for a platform to play, but Facebook is in that role whether it wants to be or not. Now it has to figure out how to live up to those commitments without starting another PR firestorm.
No. Stop it. Just stop it. Kill the algos. "The cheapest, fastest, and most reliable components of a computer system are those that aren't there." Make my friends' posts the news feed, in reverse chronological order. If it's important, my friends will tell me about it.
Our Famously Free Press
"After new death toll report Friday, Sunday TV ignores Puerto Rico" [Columbia Journalism Review]. "It probably doesn't help that mentions of Puerto Rico have been absent from in 2018." That's very bad, and the press should be ashamed, but it would be bad with any President.
Class Warfare
"Robots Take More Jobs at McDonald's" [247 Wall Street]. "McDonald's Corp. is solidifying a move to a more tech-integrated platform, according to its chief executive officer. Essentially, the golden arches is making a big bet on mobile and other tech platforms, which means replacing humans at its restaurants. Overall, the company plans to upgrade 1,000 stores with this technology every quarter for the next eight to nine quarters. The burger chain has been systematically adding self-service ordering kiosks and table service to its restaurants. Internationally, these kiosks and mobile ordering are already integrated, and the United States is just a little behind. But this will soon change." I wonder what Chris Arnade would think of this; an obvious move is to eliminate sit-down dining altogether, which would destroy McDonalds' function as a community center.
"Small Businesses Increasing Wages" [Industry Week]. "A seasonally adjusted net 35% of small business owners reported increases in labor compensation as owners try to attract needed employees and retain those already on board. Fifty-eight percent of respondents indicated they are hiring or trying to hire, up one point in the past month and five points since the March report. 'This month's jobs report demonstrates that small business owners' optimism is showing no signs of abating,' said NFIB CEO Juanita Duggan. 'They are increasing compensation at record levels and are continuing to hire.'"
"Bulls and Bears: Why central banks should stabilize the stock market" [Roger Farmer]. "The paper constructs a formal mathematical model to capture the idea that free trade in capital markets does not lead to optimal outcomes. We would all be better off if national governments were to regulate the capital markets through counter cyclical trades of debt for equity…. Most, if not all, stock markets movements are caused by contagious waves of self-fulfilling prophecies and we would all be better off if they were eliminated by treasury or central bank intervention." I read the post twice, and Farmer seems to confuse "national governments" with "central banks." I would agree with the proposition that — after the foreclosure debacle of 2007 onward, and today's tech bubble (Juicero) — that capital allocation in today's political economy is radically defective and should be put under democratic control, but that doesn't seem to be the conclusion that Farmer is drawing. Readers?
"Class, Race and the Progressive Army" [Progressive Army]. I have always been a "both/and" advocate, but identity politics (at least as practiced by liberals) has always been "either/or" and narrowly tailored to the imperatives of Democrat politics, and siloed (because donor driven) internal politics at that (the electoral equivalent of Conway's Law). No such thing, apparently, as "black working class," for example."
"There is a way to ensure that the impact of race on cities is made visible and addressed. It is embedded in the Equipt to Innovate framework developed jointly by the research team at Governing and the nonprofit Living Cities. The framework, which is used to assess cities on their capacity to grow and innovate, is anchored in seven key characteristics of high-performance government. But what makes it unique in its usefulness is having at its center a racial equity lens. We recently released the second annual Equipt to Innovate report, which you can find at governing.com/equipt" [Governing].
"U.S. Births decreased in 2017" [Calculated Risk]. "Births have declined for three consecutive years following increases in 2013 and 2014. With fewer births, and less net migration, demographics will not be as favorable as I was expecting a few years ago."
News of The Wired
UPDATE "The Psychology of Money" [Collaborative Fund]. "[F]inance is entertaining in a way other things – orthodontics, gardening, marine biology – are not. Money has competition, rules, upsets, wins, losses, heroes, villains, teams, and fans that makes it tantalizingly close to a sporting event. But it's even an addiction level up from that, because money is like a sporting event where you're both the fan and the player, with outcomes affecting you both emotionally and directly."
Mars is for wusses:
Microsoft has announced plans to acquire the sun, revealed in a conference call today. A spokeswoman cited benefits of sun ownership, predicting it will smooth the permitting process to install a Dyson sphere.
"Really the logical next step," said CEO Satya Nadella, "after GitHub"

— SwiftOnSecurity (@SwiftOnSecurity) June 3, 2018
* * *
Readers, feel free to contact me at lambert [UNDERSCORE] strether [DOT] corrente [AT] yahoo [DOT] com, with (a) links, and even better (b) sources I should curate regularly, (c) how to send me a check if you are allergic to PayPal, and (d) to find out how to send me images of plants. Vegetables are fine! Fungi are deemed to be honorary plants! If you want your handle to appear as a credit, please place it at the start of your mail in parentheses: (thus). Otherwise, I will anonymize by using your initials. See the previous Water Cooler (with plant) here. Today's plant (TH):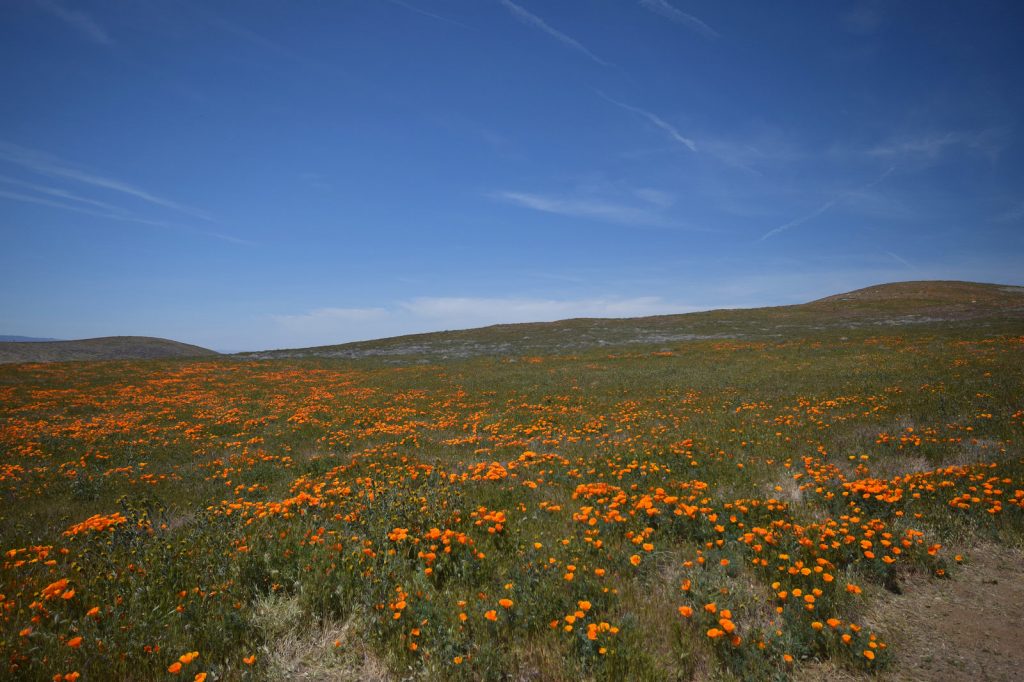 TH writes: "Antelope Valley California Poppy Reserve. These flowers depend on nature for their water. This (April 2017) was a fairly good rain year so I braved the 2.5 hour drive to see the wildflowers. Lancaster, California."
* * *
Readers: Water Cooler is a standalone entity not covered by the annual NC fundraiser. So do feel free to make a contribution today or any day. Here is why: Regular positive feedback both makes me feel good and lets me know I'm on the right track with coverage. When I get no donations for five or ten days I get worried. More tangibly, a constant trickle of small donations helps me with expenses, and I factor that trickle in when setting fundraising goals. So if you see something you especially appreciate, do feel free to click the hat!

To give more, click on the arrow heads to the right of the amount.
If you hate PayPal — even though you can use a credit card or debit card on PayPal — you can email me at lambert [UNDERSCORE] strether [DOT] corrente [AT] yahoo [DOT] com, and I will give you directions on how to send a check.