By Lambert Strether of Corrente.
Trade
"America's allies should respond to steel tariffs with targeted sanctions on the Trump Organization" [Vox]. "When China wanted to get Trump to let the Chinese tech conglomerate ZTE off the hook for repeatedly violating sanctions against North Korea, it didn't try to make concessions to the American people. It had a Chinese state-owned enterprise approve a huge loan to an Indonesian real estate project that will feature Trump-branded hotels, condos, and a golf course. America's democratic allies probably can't (and certainly shouldn't) bribe Trump and his family in this way, but they both can and should do the opposite: work together on a package of targeted sanctions narrowly designed to inflict pain specifically on the Trump Organization." Tactically, not such a bad idea, though the spectacle of an American journalist calling for foreign powers to retaliate personally against a President is a little unnerving.
"To Cut China Trade Gap, Invest in America" [Industry Week]. "There is nothing inherently wrong with trade deficits. But they're related to the U.S. economic restructuring that occurred in response to globalization. The real problem with that restructuring is in the distribution of the economic benefits of trade. Instead of taxing corporations that were offshoring their operations and using the proceeds to invest in American education, health, and physical infrastructure, successive governments handed the gains from trade to increasingly concentrated corporations and their increasingly wealthy shareholders." And then there is this tidbit: "Another, perhaps under-appreciated effect of information technologies was the regulatory arbitrage that they enabled. If company operations can be distributed, it makes sense to place revenue-generating activities in tax havens and to move corporate overhead, such as service centers, to lower-cost places like India and Ireland." Thank you, Silicon Valley!
"The next big question is: (when) will oil become a part of the US trade war with China?" [Splash 247]. "China being the largest importer of US crude oil in 2017, lifted its total oil imports (inclunding pipelines) to 8.4m bpd last year, up from 7.6m bpd in 2016. Q1 2018 shows imports now at 9.1m bpd."
Politics
2020
"Outgoing Starbucks Chairman Howard Schultz rips Democrats for veering too far left: 'How are we going to pay for these things?'" [CNBC]. By printing money, exactly the way we print money to fund losing wars, expensive weapons systems that don't work, and bailouts for criminal banksters. Why is this hard?

"Bernie Sanders' Revolution Isn't Carrying His Candidates Through The Midterms" [Talking Points Memo]. "'If a corporation like Disney has enough money to pay its CEO over $400 million in a four year period, it damn well has enough money to pay its workers at least fifteen bucks,' thundered the once and likely future presidential candidate, using his significant soapbox to tear into the Walt Disney Company on worker compensation to the delight of the thousands of union members gathered at a megachurch a short jaunt from Disneyland….. But he failed to mention even once the state's impending primary elections, in which many of the assembled unions are working hard to ensure Democrats get on the general election ballot — and whose outcomes will play an outsized role in Democrats' fight to win the House and stop President Trump's agenda."

"Bernie Sanders rallies with Black Lives Matter leaders in California to put a spotlight on mass incarceration" [Washington Examiner]. "The former Democratic presidential hopeful received a warm reception from supporters and activists at the packed Million Dollar Theater in Los Angeles on Saturday evening as he heartily criticized a "broken system" that disproportionately jails African Americans, Latinos and Native Americans. Activist Shaun King didn't mince words when introducing Sanders, alluding to the senator's political ambitions and touting Sanders' history of support for the civil rights movement. Sanders led the first-known sit-ins in Chicago, King said, fighting segregated housing and oppressive education practices. Sanders' day-long tour of southern California started with Disney workers fighting for a $15 minimum wage in Anaheim. Next, he stopped in Carson to speak with port truck drivers and warehouse workers calling on elected officials to "end the exploitative and illegal labor practices.'"
2018
"Tuesday Was a Good Day for Democrats" [Bloomberg]. "Strong Democratic challengers emerged in a handful of Republican-held districts, giving their party a chance to pick up at least three or four seats in the midterm election. Due to the peculiar California primary system, in which the top two finishers qualify for the November ballot irrespective of party, Democrats had feared that with multiple candidates in four competitive seats, two Republicans might prevail. It didn't happen."

"Women dominate in Tuesday primaries" [Politico]. "At least 601 women are expected to run for the House, Senate and governor this year — record-breaking numbers on all accounts. What remains to be seen is whether female candidates can translate that wave of enthusiasm into gains in November, as women remain vastly underrepresented in both Congress and at the statewide executive level." Hopefully they're not Gina Haspels or Daughters of the Confederacy. I've been asked to remind readers of this quotation from Sanders, so herewith:

[SANDERS:] [H]ere is my point — and this is where there is going to be a division within the Democratic Party. It is not good enough for somebody to say, 'I'm a woman, vote for me.' No, that's not good enough. What we need is a woman who has the guts to stand up to Wall Street, to the insurance companies, to the drug companies, to the fossil fuel industry.

In other words, one of the struggles that you're going to be seeing in the Democratic Party is whether we go beyond identity politics. I think it's a step forward in America if you have an African-American CEO of some major corporation. But you know what, if that guy is going to be shipping jobs out of this country, and exploiting his workers, it doesn't mean a whole hell of a lot whether he's black or white or Latino.

CA: "Stanford sex assault case judge recalled by Northern Calif. voters" [CBS]. "Northern California voters on Tuesday recalled a judge from office after he sentenced a former Stanford University swimmer convicted of sexual assault to a short jail sentence instead of prison. Voters opted to oust Santa Clara County Judge Aaron Persky. He was targeted for recall in June 2016 shortly after he sentenced Brock Turner to six months in jail for sexually assaulting a young woman outside a fraternity house on campus. Prosecutors argued for a 7-year prison sentence."

CA: "Democrats Avoid Lockouts in Key California Races" [RealClearPolitics]. "Democrats are breathing a sigh of relief after California's "jungle" [top two] primary Tuesday, as their candidates made the ballot in competitive races that will help determine the balance of power in the next Congress…. The focus of concern centered on a handful of Republican-held districts [CA-39, CA-48, CA-49] in Southern California that Hillary Clinton carried in 2016. Since Clinton was the first Democrat in 80 years to win Orange County, the party saw the area as fertile ground for pickups. Dozens of candidates signed up to run, prompting the national party to make a mad and expensive dash to help ensure Democratic contenders didn't splinter the vote and put two Republicans on the November ballot. The effort cost the Democratic Congressional Campaign Committee and outside groups millions of dollars and weeks' worth of headaches as the contests turned divisive and confusing for voters." "Divisive and confusing." In other words, there are actual elections? Contests?

NY: "Cynthia Nixon for Governor" [The Nation]. "Andrew Cuomo has consistently disappointed, often standing in the way of vital reforms. He's been a cheerleader for charter schools, a foe of campaign-finance reform, and the author of a series of austerity measures that balanced the state's budget on the backs of public servants and the poor rather than raising taxes on New York's burgeoning millionaire class. Far from confronting the culture of corruption that has long infected Albany, Cuomo has embraced it, most notably by deciding to abolish the Moreland Commission before it could finish its investigation. He let Republicans in the State Senate draw their own district lines and readily accepted contributions from the Koch brothers and other GOP mega-donors." Yes, Cuomo is a liberal Democrat….

NJ:

Democrats are not happy with @SenatorMenendez. He'll still win tonight, but this is a remarkable turn of events:

With 30% counted, a virtually unknown challenger named Lisa McCormick has 40.9% of the vote. She has no money and no organization. Clearly a protest vote.

— Ryan Hutchins (@ryanhutchins) June 6, 2018

Hard to see how Democrats can settle on a corruption message when they all rallied behind Menendez. And Cuomo, for that matter.
Obama Legacy
"Barack Obama was a writer before he became a politician, and he saw his Presidency as a struggle over narrative. 'We're telling a story about who we are,' he instructed his aide Ben Rhodes early in the first year of his first term. He said it again in his last months in office, on a trip to Asia—'I mean, that's our job. To tell a really good story about who we are'—adding that the book he happened to be reading argued for storytelling as the trait that distinguishes us from other primates" [The New Yorker]. The lead, by George Packer reviewing Ben Rhodes' new book. Shorter: Any problem can be solved with public relations. But we knew that. Thanks, George.
Realignment and Legitimacy
A worthy impulse, but depends on the defunct economist of choice, no?

"it's imperative that each and every citizen is activated as an economic theorist. Because if you don't believe that you have a duty to understand how the economy works, you can never be sufficiently energizied as an active political agent" @yanisvaroufakis @AnnPettifor

— Carolina Sundell (@CarolinaSundell) June 6, 2018
Stats Watch
International Trade, April 2018: "Helped by a dip in cellphone imports, the nation's trade gap narrowed sharply in April to a much lower-than-expected $46.2 billion. Cellphone imports fell $2.2 billion to pull down the consumer-goods deficit which narrowed by $2.8 billion in the month" [Econoday]. "Overall, exports rose 0.3 percent in the month to $221.2 billion with goods, led by a gain for industrial supplies and also food…. April's deficit is more than $1 billion narrower than March and far under the $53.1 billion monthly average of the first quarter. This points to a big net-export lift for second-quarter GDP." And but: "The data in this series wobbles and the 3 month rolling averages are the best way to look at this series. The 3 month averages are improving for exports and imports. And the trade balance improved" [Econintersect]. "The data is worse if one considers inflation is grabbing hold in exports and imports – and the headline numbers are not inflation adjusted."
Productivity and Costs, Q1 2018 (Revised): "A small downward revision to output and a small upward revision to hours worked pulled down the second estimate of first-quarter nonfarm productivity to an even more paltry 0.4 percent quarterly gain from 0.7 percent in the first estimate" [Econoday]. "This in turn lifts unit labor costs to 2.9 percent from the first estimate's 2.7 percent…. ." A punchbowl the size of a thimble… "And but: A simple summary of the headlines for this release is that productivity improved while the labor costs grew faster. However, year-over-year analysis shows both productivity and labor costs rising at the same rate" [Econintersect]. "I only look at year-over-year data – the headline compounding distorts the view. I have issues with the way productivity is determined… Productivity assessments even within a single company are very complicated, and are impossible to accurately forecast when one wants to discuss an entire sector or economy."
Leading Indicators: "This post is a review of the Philadelphia Fed's Leading Index and all major leading indicators – and their trends are generally indicating moderate growth" [Econintersect]. "At this point, Econintersect continues to see NO particular dynamic at this time which will deliver noticeably better growth in the foreseeable future – and the majority of the indicators are forecasting a near average rate of growth which has been seen since the end of the Great Recession."
MBA Mortgage Applications, week of June 1, 2018: "Purchase applications for home mortgages rose a seasonally adjusted 4 percent in the June 1 week. The increase broke a 5-week string of declines" [Econoday].
JOLTS: "Jobless Claims Are Still Pointing To US Expansion" [Credit Writedowns]. From May, still germane. "I have been tracking this data series as a macro indicator for directionality of growth for almost two decades now. And what I have found is that intial jobles claims do a very good job in warning of a slowdown…. What we are looking for is a meaningful uptick in the year-over-year change in initial jobless claims because this presages economic slowing and recession…. directionality piece captures economic slowdowns and not just recessions. When recession does come, the +50,000 indicator is usually flashing, but just. Basically, recession is right on top of us by the time we get to a 50,000 uptrick in weekly initial claims. But the change in the number of claims stops falling long before then. And while this directionality change gives plenty of recession false positives, it does a very good job of showing up economic slowdowns…. Right now, initial claims are not sending a signal of slowing."
Shipping: "'Inevitable that LNG will be the primary fuel source for marine transport': Peter Livanos" [Splash 247]. "[At the Posidonia conference,] Peter Livanos maintained: 'It is inevitable that LNG will be the primary fuel source for marine transport. We need to address the lifecycle of existing assets and bunkering infrastructure which is acting as a brake on adoption, but this should accelerate. The train has left the station and cannot be stopped.' George Procopiou was similarly bullish on gas prospects, telling delegates: 'The LNG shipping business is going through an evolution which is tracking the growth of the commodity and the services around it are becoming commoditised. Natural gas is becoming much more widely appreciated and used; we are in a macro growth trend, it will be one of the main energy sources of the future.'"
Shipping: "Truck Orders Soaring on Growing Freight Demand" [Wall Street Journal]. "The market for new heavy-duty trucks is growing at a nearly unprecedented pace this year as fleet owners and big-rig manufacturers race to keep up with accelerating U.S. freight demand. Trucking companies ordered 35,600 trucks in May, more than double the orders from the same month a year ago, according to preliminary figures by ACT Research. That leaves manufacturers with an order backlog of more than 200,000 trucks, or 8.4 months of production…. Truckstop.com, an online freight service that matches available loads to trucks in the sector's spot market, says it is seeing 500,000 to 600,000 loads a day posted on its system. The market usually carries about 250,000 available loads a day."
Shipping: "The squeeze in freight capacity is reaching the service sector. Order backlogs at a range of U.S. companies rose as delivery rates slowed in May, according to the Institute for Supply Management, as supply chain operations struggled to keep up with strong demand" [Wall Street Journal]. "[S]lowing rail service and trucking constraints have kept many businesses from getting the supplies they need on time. The ISM's main service-sector index rose but the order backlogs rose at a far faster rate, suggesting deliveries are slowing down. One business says 'supply is out of alignment with demand, which is causing many stockouts and shortages.' The problems are even hitting freight-focused operators: Truck maker Navistar International Inc. says it has been paying premium shipping prices to get parts from suppliers delivered as quickly as possible to keep assembly lines moving."
The Bezzle: "Muskification" [West Coast Stat Views]. "[Elizabeth] Holmes' attitude toward expertise could be considered another example of what we might call the Muskification of the modern CEO. Other traits include exaggerating claims far beyond the credible, putting style, particularly personal style, about substance, building a cult of personality associated with almost magical powers (and sometimes you can leave off the "almost")….. Likewise, the tendency toward exaggeration that borders on compulsive lying, taking reasonable estimates and routinely multiplying them by a factor of five or ten to make them sound even more impressive, is pervasive throughout the industry."
The Bezzle: "Some still-waiting Tesla Model 3 customers want their reservation money back" [Recode]. "Nearly a quarter of Tesla's Model 3 reservation deposits in the U.S. have apparently been refunded, perhaps to extended production delays. Tesla began accepting $1,000 deposits two years ago, with the expectation that customers would likely receive their vehicles in 2018; hundreds of thousands of people have reserved one. But as of the end of April, some 23 percent of all Model 3 deposits in the U.S. had been refunded."
The Bezzle: "A sea change is about to transform the way people and goods move through cities" [FreightWaves]. Cut through the bafflegab — Muskification? — about "innovation," and you come to this: "'I think we need local governments to let us test the vehicles,' Pamela Milligan, senior vice president of strategy and organization at mapping telematics company TomTom, said during a panel discussion that followed Papandreau's talk. 'But, you also need to have a global standard at some point. We don't even have a standard plug [around the world], but if we want to get to Level 5 autonomy and take the vehicles everywhere, we need a global standard.' Before a global standard is enacted, though, individual countries need to develop consistent standards, explained R.J. Scaringe, founder & CEO of electric vehicle company Rivian. Scaringe acknowledged that the lack of regulatory consistency and slow adoption of autonomous regulation on a state-by-state basis in the U.S. has allowed development of the technology, there still needs to be a more consistent framework." The International Standard for Organization (ISO) says that developing a standard takes an average of three years. I would bet that a standard for robot cars would take a solid decade, given the technical difficulties and the number of powerful players involved, every one of whom will say: "It's simple! Adopt our standard!" And from SAE, all we have is a classification system (the levels), not a standard.
Concentration: "The Guardian view on Amazon: not a normal monopoly" [Guardian]. "Commerce ought to reside in markets governed by regulations set by democratic political process not those chosen by the world's richest man, Amazon's founder Jeff Bezos."
Five Horsemen: "The Fab Five are flat to down in late morning trade" [Hat Tip, Jim Haygood].
NakedCap Mania-Panic Index: "Yesterday's mild advance lifted the mania-panic index to 66 (complacency). For perspective, at the S&P's last record high on Jan 26th, the reading was 85 (mania)" [Hat Tip, Jim Haygood]. (The NakedCap mania-panic index is an equally-weighted average of seven technical indicators derived from stock indexes, volatility (VIX), Treasuries, junk bonds, equity options, and internal measures of new highs vs new lows and up volume vs down volume … each converted to a scale of 0 to 100 before averaging, using thirty years of history for five of the seven series.)
Health Care
"Single-Payer or Bust" [Dissent]. "The question at its core is simple: should the Saskatchewan model be the standard progressive healthcare position—the one we demand of candidates seeking support from the left? Or, should we embrace alternative multi-payer models, perhaps a German or Dutch one? … A central argument for the multi-payer model of universal coverage—and today, the German, Swiss, and Dutch systems are typical examples—is that it offers a more gentle road to universality than single-payer….. The World Health Organization, for instance, sketches out the three dimensions of universal coverage: the percentage of the population "covered," the degree of cost-sharing (that is, out-of-pocket payments like co-pays or deductibles), and finally, the comprehensiveness of benefits. To these I would add a fourth element, of equity: to what extent does the nation offer a similar level of access to providers, hospitals, and other healthcare goods and services to all, regardless of economic means? It seems very unlikely that non-single-payer roads to universal coverage would, at least in the American context, achieve universality in all four of these domains." Well worth reading in full, especially for the Canadian history. I'm not sure that universality is the only goal; surely a goal of single payer is to break the political/economic power of the health insurance industry and Big Pharma? (In other words, a "non-reformist reform.") Because if that is not done, universality will be constantly undermined in any case?
"CMS says Obama-era safety efforts averted deaths, avoided costs. Hospital safety efforts begun under the Obama administration helped save 8,000 lives and almost $3 billion in health costs between 2014 and 2016, according to federal data released yesterday" [Politico]. "CMS in 2011 launched the Partnership for Patients campaign to improve care at the bedside, disseminate best practices and support initiatives like the agency's Hospital Improvement Innovation Networks. Meanwhile, the Affordable Care Act put in place penalties for hospital-acquired conditions, and private insurers and hospital systems also have ramped up quality improvement efforts in recent years. Combined with previous studies, researchers concluded that hospitals saved nearly $23 billion in costs, avoided nearly 2.5 million hospital-acquired conditions and averted 95,000 deaths by improving patient safety between 2010 and 2016."
"The $580 Co-pay" [The Marshall Project]. "In prison, seeing the doctor can cost up to a month's salary."
"Arkansas Pulls The Trigger On Nation's First-Ever Medicaid Work Requirement" [Talking Points Memo]. "Starting Tuesday, Arkansans on Medicaid have to prove that they've worked 80 hours over the previous month or that they qualify for an exemption. If they fail to do so, they'll be booted from the rolls after three months. … everyone enrolled in Medicaid has to document their work hours through an online portal created by the state — with no option to submit information in person, over the by phone, or by mail. According to the Census Bureau, Arkansas has the second-lowest rate of home internet access in the nation, only slightly above Mississippi."
Liberal single payer-opponent Andy Slavitt tees up another Grand Bargain debate:
In case you missed it: Yesterday the Medicare Trustees announced that Medicare is due to run out of funds 3 years earlier.

As someone who sat on the Trust Fund, here are the implications in a few tweets.

If interested in Medicare, feel free to follow.1/https://t.co/QtBzGqcqPB

— Andy Slavitt (@ASlavitt) June 6, 2018
Facebook Fracas
"Facebook's latest data lapse draws critique from lawmakers: 'Sure looks like Zuckerberg lied to Congress'" [Los Angeles Times]. "'Sure looks like [Facebook Chief Executive Mark] Zuckerberg lied to Congress about whether users have 'complete control' over who sees our data on Facebook,' Rep. David Cicilline of Rhode Island, the top Democrat on a House subcommittee overseeing antitrust issues, wrote on Twitter. 'This needs to be investigated and the people responsible need to be held accountable.' The New York Times reported that Facebook had struck deals with device manufacturers that allowed them full access to information about users and their friends. But Facebook contends those pacts were intended to help device makers create their own versions of Facebook apps, and the data mostly remained on phones that accessed it. That kind of arrangement was necessary before phone operating systems relied on app stores, it said."
Water
"One of L.A.'s oldest community gardens thrived for decades. Then the water wars began" [Los Angeles Times]. "More than 250 parcels are connected by a maze of trails and pipes and hoses. Avocado trees soar as high as 60 feet. Giant banana leaves, ratoons of sugar cane and bright orange guavas — set amid a jumble of sheds, trellises, fences and retaining walls — give the hill the look of a rural village carved from jungle. The community garden — thought to be the oldest in Los Angeles — grew quietly and off the grid, with unlimited water and little oversight. But now, in a time of drought, it faces an existential crisis after the city drastically cut its water supply."
Class Warfare
"Labor's New Terrain: Working On the Supply Chain Gang" [Labor Notes]. "A factory fire recently illustrated just how vulnerable are the supply chains at the heart of the global economy. The fire was at a single supplier—yet it forced Ford to temporarily halt production of the nation's bestselling truck, the F-150. Think how much leverage workers could have if we acted like the fire. This is exactly how large-scale organizing happened in the auto industry. In late 1936, members of the newly organized Auto Workers (UAW) struck several General Motors plants to win union recognition. A month later, GM still hadn't budged. But in February 1937, workers in Flint, Michigan, occupied Chevrolet Plant 4. In less than two weeks, one of the most powerful corporations on earth capitulated. What made the Flint plant occupation so much more powerful than the prior strikes? It was Chevy 4's strategic position: this single plant made all the engines for Chevrolet, and its occupation shut down GM plants throughout the country. The Flint victory set off a wave of sit-down strikes and union wins across the country. The introduction of just-in-time parts delivery has made today's supply chains even more vulnerable." Very important. Everybody's building big ships and boats…
"The stakes in the United Parcel Service Inc. contract talks with the Teamsters union are getting higher. Unionized employees voted overwhelmingly to authorize a strike if the negotiations don't produce an agreement by the time the current contract expires July 31" [Wall Street Journal]. "The vote provides a new tool to the International Brotherhood of Teamsters negotiators and that chances for a walkout remain remote. The sides have reached tentative agreement on some issues but have only recently begun discussing topics like pay and health benefits. Amid one of the tightest freight markets in years, and with peak shipping season on the horizon, the prospect of a strike at one of the nation's largest parcel carriers could
"It Keeps Getting Harder to Find People with the Necessary Skills for Restaurant Work" [Dean Baker, CEPR]. "It has become common for economists to cite the rise in the ratio of job openings to hires as evidence that employers can't find people with the necessary skills. This then leads to an argument that our problem is not a lack of jobs in the economy, but rather that workers don't have the skills that are in demand in today's economy. We then tell workers that they need more skills, rather than blame our policymakers for not generating enough demand. As I have been fond of pointing out, one of the sectors with the sharpest rise in openings to hires is the restaurant sector. I would not demean restaurant workers, it can be very demanding work (I did it for several years in my college days), but this is not an industry that is generally thought to demand highly skilled workers. "
News of The Wired
"How Instagram Threads Became the WikiHow for Gen Z" [The Atlantic]. "Webb researches solutions by watching YouTube videos, then condenses that knowledge down into short chunks of information that she bullets into threads. She says that and she has found that trusted makeup and fitness YouTubers provide better tips. Webb estimates that it takes her around 30 minutes to create a thread—more for ones that require extra research or watching longer video." Hmm.
"We still have no idea why humans speak over 7,000 languages" [Quartz]. "And so for the continent of Australia it appears that a small number of factors—limitations rainfall places on population density and limits on group size—might explain both the number of languages and much of the variation in how many languages are spoken in different locations…. But we suspect that the patterns of language diversity in other places may be shaped by different factors and processes."
* * *
Readers, feel free to contact me at lambert [UNDERSCORE] strether [DOT] corrente [AT] yahoo [DOT] com, with (a) links, and even better (b) sources I should curate regularly, (c) how to send me a check if you are allergic to PayPal, and (d) to find out how to send me images of plants. Vegetables are fine! Fungi are deemed to be honorary plants! If you want your handle to appear as a credit, please place it at the start of your mail in parentheses: (thus). Otherwise, I will anonymize by using your initials. See the previous Water Cooler (with plant) here. Today's plant (TH):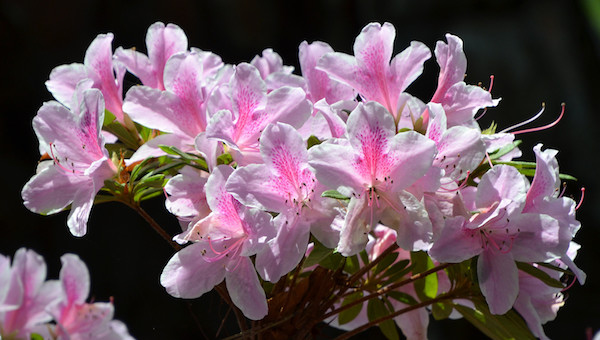 TH writes: "Pink Azaleas live under large conifers as part of the landscaping at the beautiful Wayfarer's Chapel on the California coast."
* * *
Readers: Water Cooler is a standalone entity not covered by the annual NC fundraiser. So do feel free to make a contribution today or any day. Here is why: Regular positive feedback both makes me feel good and lets me know I'm on the right track with coverage. When I get no donations for five or ten days I get worried. More tangibly, a constant trickle of small donations helps me with expenses, and I factor that trickle in when setting fundraising goals. So if you see something you especially appreciate, do feel free to click the hat!

To give more, click on the arrow heads to the right of the amount.
If you hate PayPal — even though you can use a credit card or debit card on PayPal — you can email me at lambert [UNDERSCORE] strether [DOT] corrente [AT] yahoo [DOT] com, and I will give you directions on how to send a check.