Dear patient readers,
Thanks so much for the suggestions re a Chicago meetup venue. Quite a few seemed very promising. Will report back soon!
Social climber: Raccoon scales St. Paul skyscraper, captures internet Minnesota Public Radio News (Chuck L)
Even the mayor is on the case:
Even wild animals know @cityofsaintpaul is a great place to reach for higher heights. We're working with staff & building owner to find a way to help #MPRraccoon without further endangering it or staff by scaring or making it feel threatened.

— Mayor Melvin Carter (@MayorCarter_) June 12, 2018
Daredevil raccoon makes it to roof of Minnesota skyscraper Guardian (Kevin W). He should get his own TV show, but he'd probably be happy with some chips or a slice of pizza. But I don't see how he scales the final run to the top.
Does the US have a pet tiger problem? BBC
Scientists wanted to understand how baobab trees live for thousands of years. Then the ancient trees started dying. Popsci (David L)
Africa's oldest and most unusual trees are mysteriously dying Independent (Kevin W)
Crisis on the High Plains: The Loss of America's Largest Aquifer – the Ogallala DU Water Law Review (guurst). From last month, still germane. Key section: "The Ogallala Aquifer supports an astounding one-sixth of the world's grain produce, and it has long been an essential component of American agriculture."
The end of net neutrality: The US ruling elite escalates campaign of internet censorship WSWS
Bitcoin's Collapse Accelerates, Falls to Lowest Since February Bloomberg
Researchers find IQ scores dropping since the 1970s MedicalXPress (Chuck L). If you want a simple explanation, how about television? Passive entertainment not only does nothing for skills or fitness, but watching more television is also correlated with higher levels of depression.
This Is What a Nuclear Attack in New York Would Look Like New York Magazine. JTM: "Sleep well, my pretties…"
China?
Senators See No Trump Pushback on Their Move to Kill ZTE Deal Wall Street Journal
North Korea
Brexit
Be sure to read the comments too:

… "The delays will not be at Dover, they will be at Calais," said Rees-Mogg, claiming that the French would have to conduct checks under EU law, but the UK would not as it would have taken back control of its borders."
WTF !!!?#LeaversAreLoonieshttps://t.co/rS1C8u3kA7

— Brexit Bin ?? ?? #FBPE (@BrexitBin) June 11, 2018

CBI chief: Car firms face Brexit extinction BBC. Um, we actually did call this one quite a while ago. Vlade:

Quelle surprise.

But you could still not make up the idiocies in the text. 'government said it was "focused on delivering a Brexit that works for the whole of the UK". Which is impossible.

From the CBI chief: '"If we do not have a customs union, there are sectors of manufacturing society in the UK which risk becoming extinct," Mr Dreschler said.' I'd have thought they would have enough cash to get explained to them the difference betwen SM and CU. Especially when 'He told BBC Radio 4's Today programme the car industry in particular would suffer unless we get "real frictionless trade".' I'm not even going to quote the Brexiter's idiotic responses (sorry, can't resist "the excessive regulation that is holding back our economy […] in bold innovation […] in finance")

And, BBC stands by w/o being able to tell the audience that both sides are spewing rubbish.

Theresa May's retreat closes door on a no-deal Brexit Financial Times. Clueless reporting by the pink paper (FWIW, Bloomberg takes up the same incorrect theme). Until May retreats on the Irish border issue, which was not what this article was about, a no-deal Brexit is the default scenario. As Richard North said Monday:

But the real issue is that we're headed for a "no deal" scenario. The logjam over Ireland has not been resolved and there are no indications that it will be. And, on that basis, it might be more appropriate for parliament to be pressing for the government to secure an agreement, rather than indulging in party games that makes its job even harder.

In all the torrent of verbiage that been devoted to this extraordinary day that was yesterday, not a single commenter seems to have observed that the government is being asked to concede something that it is not within its gift to offer – namely a role for Parliament in the talks with Brussels, should Mrs May's designated team find it impossible to get agreement on the UK proposals.

Read him in full: Brexit: who cares wins?. This is an important post by North, since he stays on point (sometimes he likes going on about regulatory or legal details, which is great in posts on that topic, but not on ones about the main chance, where they come off as overly long digressions). He does point out that the six month approval process in the EU timetable is generous and frantic negotiations might extend into January, but he sees no basis for that improving the odds of success given the UK refusal to hear the EU on key issues (most of all, being out of the EU means the UK will not have the same privileges as before), and lack of comprehension on others.
PwC fined millions over BHS audit BBC
Fall in fraud prosecutions linked to police and CPS cuts Financial Times (UserFriendly). Carillion alone makes this look like a false economy.
taly threatens to drop France summit over migration criticism Politico
Italy Summons French Ambassador in Row Over Migrant Ship Bloomberg
Daimler forced to recall Mercedes with defeat devices BBC. From yesterday, still germane.
Greece to recognise neighbour as North Macedonia Financial Times
New Cold War
John F. Kennedy and the Question of World Peace Sic Semper Tyrannis (JTM)
Big Brother is Watching You Watch
Router Vulnerability and the VPNFilter Botnet Bruce Schneier
Tariff Tantrum
Trump was right. The rest of the G7 were wrong George Monbiot, Guardian (PlutoniumKun). Hah, Lambert and I are of the same view…
Trump Transition
IMF Warns Of Doom And Gloom After G7 Circus SafeHaven

Rosenstein threatened to 'subpoena' GOP-led committee in 'chilling' clash over records, emails show Fox (furzy)

GOP will vote on immigration next week, sinking discharge petition The Hill

People with massive student debt hope Trump will let them declare bankruptcy CNBC (JTM). We've repeatedly criticized Elizabeth Warren, America's top bankruptcy lawyer, for saying absolutely nothing about rolling back the 2005 bankruptcy "reforms" that among other things, ended the ability to discharge student debt in bankruptcy. Student loans are a massive subsidy to colleges and universities, whose employees not only skew heavily Democratic, but whose professors often act in a quasi think tank capacity on behalf of Team Dem. Warren's cowardice on this issue is likely a manifestation of whose interests are served by this massive subsidy to higher education. And that also explains why Trump might actually deliver. It's a twofer: Team R wins votes from some of the student debt slaves who get relief, and the student loan program is presumably cut back in light of recognizing the losses on bad loans.

The disastrous German Emperor who was a doppelganger to Donald Trump: Kaiser Wilhelm Angry Bear
The Democratic Party's 2018 View of Identity Politics Is Confusing, and Thus Appears Cynical and Opportunistic Glenn Greenwald, Intercept
U.S. Tax Reform — The Slow-Motion Train Wreck Gathers Momentum Frank Hirth (Donald G)
Sanford defeated in primary defined by support for Trump The Hill
Republican Voters Embrace Trump-Style Candidates New York Times. Kevin W: "Because one is never enough."
Columbus Day to be Indigenous Peoples Day in Mankato Makato Free Press. Chuck L:
Mankato, MN, was the site of the largest mass execution in US history; 38 Sioux were hanged. Whenever we went to the Twin Cities from my home town near the Iowa border we drove by the commemorating monument in the middle of the small city. Now the highway goes on the other side of the Minnesota river and the monument has been replaced by an interpretive center.
Citi issues stark warning on automation of bank jobs Financial Times. From yesterday but noteworthy due to Clive's comment via e-mail when I expressed doubts about Citi's ability to cut IT and operations jobs, with my query being: "Sounds bonkers to me. Depends on what you mean by operations, I suppose, but IT???" His reply:
Regardless of which they might mean, they're just the latest to be taken in by this promise of a magic sparkle pony. I hate to break it to them, but any bulk, routine, repeatable task has already been automated. The low hanging fruit were picked and eaten a long time ago. There's a possibility of some more complex tasks being automate-able with AI or similar, but if they're complex, they're not high-volume processes, they're rarities or need high-touch interactions. Every attempt I've ever seen to do what Citi are suggesting has ended in failure.
Tesla lays off roughly nine percent of workforce TechCrunch. EM:
Another major pop in the shares today, bringing the price back within roughly 10% of its all-time high. I think I'm going to use TSLA as my personal gauge of whether a major market correction is imminent – as long as the Greater Fools leap at every piece of SciFi inanity (Full autonomy just around the corner! Rocket-powered roadsters to Mars!!) that dribbles from Musk's lips, the everything-bubble remains strong.
Tesla undecimates its workforce but Elon insists everything's absolutely fine The Register (Kevin W)
Class Warfare
Antidote du jour Steve G:
Robins have decided to nest on top of our solar panel disconnect box -one of the kids decided to pose for a portrait this afternoon.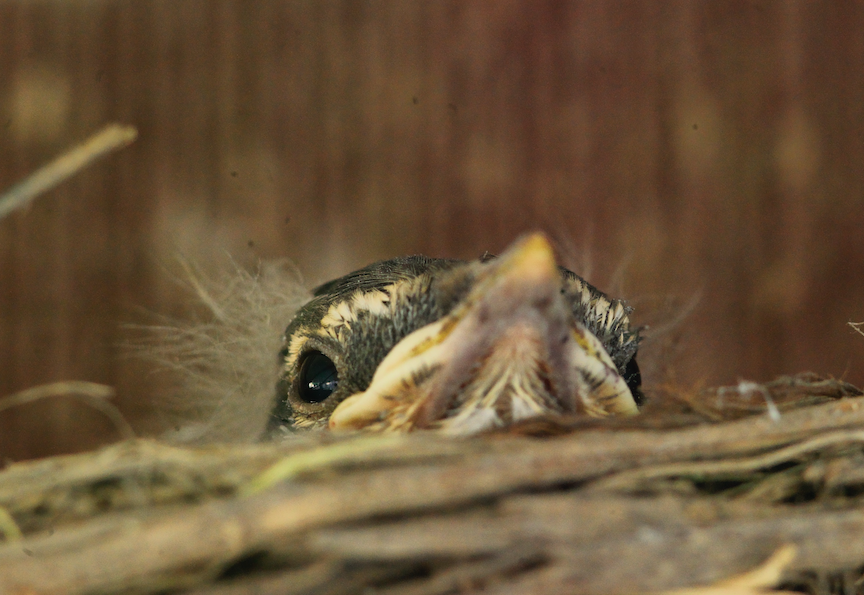 And a bonus from Bob K: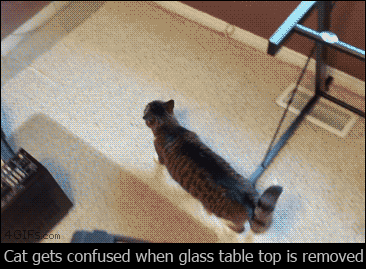 See yesterday's Links and Antidote du Jour here.