Achilles The 'Psychic' Cat Predicts Russia Win In World Cup Opening Match NPR (David L)
Which toxic body trend are you hoping to achieve this summer? Daily Mash
Tiny bug inflicts massive damage year after hail storm Wunderground (Tom K)
Big Oil CEOs needed a climate change reality check. The pope delivered Guardian (David L)
China?
China's Global Electricity Takeover Wolf Street (EM)

China's economy is starting to show its true colors again Business Insider
North Korea
Blackstone Becomes Biggest Hotel & Property Owner in Spain Wolf Street (EM)
Brexit
Brexit: 'call Ireland's bluff' on Border, Rees-Mogg tells May Irish Times (PlutoniumKun). I believe he is so stupid that he believes what he is saying.

Tory rebellion back on after MPs reject May's Brexit amendment Guardian

EU officials claim Brexit postponement may be an option if talks get messier Bloomberg. Note Bloomberg is the only outlet running this story; as of this hour, no one is even re-reporting it. The UK would have to ask, all 27 nations would have to agree, and the most they'd entertain would be a couple of months. No indication that anyone at the Merkel or Macron level is on board. Having said that, if everything has been pretty much sorted out but the two sides need an extension for operational reasons, as in to clean up the draft agreement (which would almost certainly be a very long document) and get all the approvals, that would not be politically controversial. But if the two sides are still far apart, and the UK is still in denial land, that's another kettle of fish. Recall also that there is a history of Barnier offering concessions to the UK that were slapped down by national leaders, so this idea could fall into that category. I think the EU does want to do what it can to look like it has been accommodating within reason, but the UK has been so asinine that at a certain point, one has to let events play out.

Irish economy is growing substantially but Brexit 'poses major threat' The Journal (PlutoniumKun). See underlying report: Central Bank Publishes Macro-Financial Review 2018
New Cold War
Yellow Journalism and the New Cold War Counterpunch
Syraqistan
Amnesty International report finds US guilty of war crimes in Syria World Socialist Web Site

Israel is about to destroy this Palestinian village. Will Britain step in? Guardian
Big Brother is Watching You Watch
Cops Are Confident iPhone Hackers Have Found a Workaround to Apple's New Security Feature Motherboard
Tariff Tantrum
Trump Approves Tariffs on About $50 Billion of Chinese Goods Wall Street Journal

Trump is about to approve $50 billion of tariffs on Chinese goods and take his trade war to a whole new level Business Insider
Trump Transition
In the 1970s, when liberals and Democrats were serious about their fears of an authoritarian presidency, they moved to *limit* the president's ability to deploy troops abroad. Today, they do this. https://t.co/AlvGWPVz91

— corey robin (@CoreyRobin) June 14, 2018
Dems say Obama return from sidelines is overdue The Hill. UserFriendly: "No, it isn't."
Is Government Corruption More Common, or Are We Just Better at Finding It? Governing. UserFriendly's missive to the author:
​No, the Supreme Court legalized corruption in ​McDonnell v. United States making just about everything except explicit quid pro quo totally above board.  And even when we do have explicit quid pro quo, like Sheldon Adelson making his substantantial financial backing of Trump contingent on his agreeing to move Israel's embassy, there isn't a peep out of anyone because they are all just as bought off by various other AIPAC appendages.

Actually, corruption is so pervasive in absolutely every level of US government that it seriously brings the viability of capitalism as a whole into doubt.  You have a citizenry who get to select which of the 5 billionaire owned media conglomerates will be delivering their oligarch friendly messaging to them; which has been curated over years of hiring and firing any staff that look mentally capable of threatening the status quo.

There is a big reason that just about every pundit was oversure Clinton was going to win; passionate corporate friendly centrism is a defacto job requirement to have your voice amplified in the contemporary US.

That is why inequality is sky high and growing, that is why most of the country is still much worse off financially than they were in 2007.​  That is why the jobs that are available are demeaning, underpaid and precarious.  That is why wages aren't increasing significantly.  That is why more Americans choose to kill themselves, in one way or another, every year than died in the Vietnam and Iraq wars combined.

The only question posed to voters every November is would you like us to completely ignore you in favor of Wall Street and the donor class with or without a side of LGBTQ rights?  It is no wonder people have stopped voting, no matter who gets elected it's always the billionaires who win.

​The fact that you would even consider the absence of evidence, evidence of absence in such a time honored and lucrative past time as graft is quite jaw dropping.
Supreme Court strikes down ban on political apparel at polling places The Hill
Dollar's Eroding Purchasing Power Inflates Retail Sales Wolf Street (EM)
Top bank regulator 'not aware' of 'old boys' club' in industry Politico
United States, Saudi Arabia and Russia Find Agreement on Oil Policy New York Times (Kevin W)
Glencore DRC judgment will jack up metals prices John Dizard, Financial Times
Musk's Boring Company wins bid to build high-speed system in Chicago Reuters (EM)
Class Warfare
Antidote du jour. Bill B on Biggie Mayor's Town Hall:
Hooray, Biggie overcomes his claustrophobia.

Look closely and you'll notice that Biggie's girth fills up his new digs. Leading to the following question: did he enter head first or simply back in?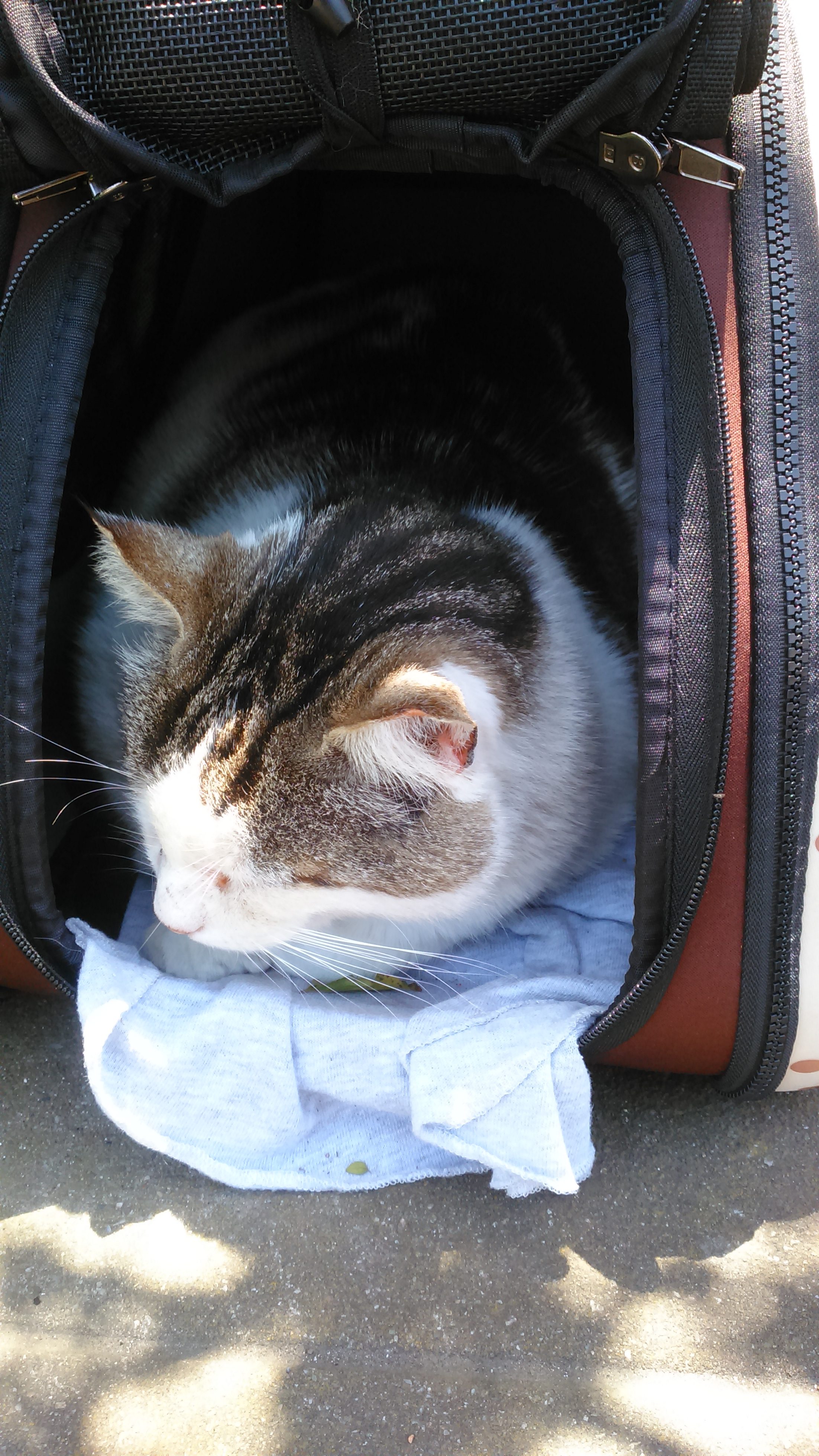 And a bonus video from Gary P: "Taken from my riverbank deck, earlier today. The pelicans spooked, because one of them noticed me watching."
See yesterday's Links and Antidote du Jour here.