Peregrine Falcon Wild Bird Fund. On peregrines in NYC.
The revolutionary sex Aeon (Chuck L)
Former Aspen climber Charlotte Fox, survivor of Mount Everest disaster, dies in home accident, friends say Aspen Times (Robert R). The disaster was the climb described in the Jon Krakauer book, Into Thin Air.
Bananas have died out once before – don't let it happen again Aeon (Chuck L)
A gene for our big brains was rescued from the DNA garbage bin CBC (David L)
Hawaii volcano: What in the world are vog, laze and Pele's hair? USA Today (Chuck L)
Five people die in US romaine lettuce E. coli outbreak BBC
Ambien defence: the real side effects of sleeping pills Financial Times
Domestic Violence's Overlooked Damage: Concussion And Brain Injury Kaiser Health News
North Korea
Trump says summit with Kim is back on BBC

North Korea and US ramp up talks in three locations Asia Times

Prim Jong-un! North Korean dictator's VERY tidy Pyongyang residence is revealed in never-before-seen photos Daily Mail. French rather than English style garden
Italy
Italy's new government: Europe on edge after palace takeover Financial Times
Pedro Sanchez seizes historic opportunity to become Spain's prime minister DW
George Osborne's London Evening Standard sells its editorial independence to Uber, Google and others – for £3 million openDemocracy (Chuck L)
How Greece's Busiest Port Reveals the Perils of Privatization Nation (furzy)
New Cold War
Ukraine – The Babchenko Hoax Was Part Of A Corporate Raid Moon of Alabama (Chuck L)

Amid 'Russiagate' Hysteria, What Are the Facts? Nation (Norman Solomon)
Syraqistan
Hillary Clinton's 'ass-covering' on bin Laden raid 'rattled' Biden The Hill (UserFriendly)
Big Brother is Watching You Watch
Tariff Tantrum
We've enraged the Canadians. Just think for a second about how hard that is to do.

— Ben White (@morningmoneyben) June 1, 2018
Trump Transition
LOL, 'critics accuse him of subverting the rule of law', and apparently do so with straight faces even after Obama's mass immunization of the Wall Street fraud cartels and shredding of most of the remaining tattered remnants of the Bill of Rights. And Martha Stewart's 'crimes' were no worse than certain anomalously profitable cattle-futures trades by Trump's opponent in the 2016 election. You can't subvert what is already dead and buried.
It's a Jungle in California's Primary US News (Kevin W)
Congressional Candidate In Virginia Admits He's A Pedophile Huffington Post. Chuck L: "Another charming fellow running for Congress."
Pressure mounts on MSNBC, Joy Reid after old blog reveals attack on Wolf Blitzer, AIPAC The Hill (UserFriendly)
Missouri Student Banned From Graduation After Putting School Up For Sale On Craigslist Jonathan Turley
Police State Watch
The Coming Urban Terror City Journal. Chuck L: "It's disturbing to see the term 'productivity' used in the context of terrorism."

Badge of Impunity Counterprunch
Puerto Rico sues to obtain data on deaths from Hurricane Maria Guardian
Airline 'asks mother to prove' relation to mixed-race son BBC (Chuck L). Lousy response by Southwest. An apology isn't adequate. They should have given her a freebie too.
The Tesla Model 3 cost $28,000 to build, German engineers say—and it still may not be profitable Quartz (Kevin W)
Guillotine Watch
US millionaire charged with labourer's nuclear bunker death BBC
Class Warfare
Student loan debt and the cost of college are out of control and climbing The Hill (UserFriendly)

US vs China Housing…and Those Millennials Michael Hudson, Counterpunch

We need a new kind of HGTV Curbed. FWIW, my Alabama dentist (who is very good, Birmingham has the best medical school in the South, so you can find high caliber service providers if you know where to go) always has HGTV on, and since I have pre-flouride era teeth, I spend more time in the dentist's chair than most people and have wound up unduly familiar with HGTV offerings. I've long considered it to be real estate porn.
Antidote du jour. Tracie H: "Anybody got a nail file?" Moi: I've always had a soft spot for collies, no doubt due to having been conditioned by Lassie, but they seem like sweet, unassuming dogs.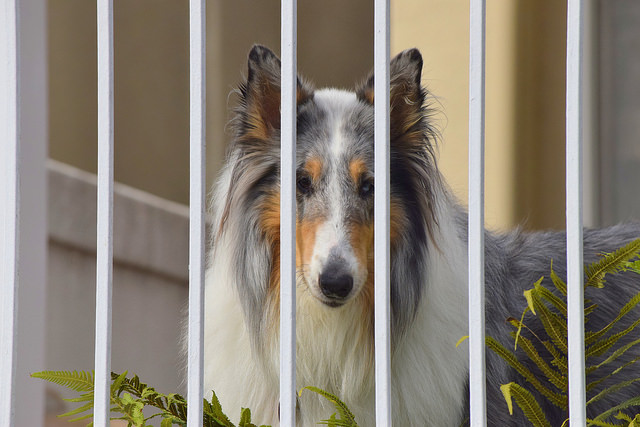 And a bonus video from Joel P: "'It was the best day of my life.' Sam Ellis spent 76 days with Mad Max in the Yukon wilderness."
See yesterday's Links and Antidote du Jour here.