The CDC deemed suicide to be a public health crisis in 1999. Every state save Nevada has seen an increase in the suicide rate since then.
A new CDC study plumbs some of the dimensions of this development:
Suicide has become the second highest cause of death for the 18 to 34 year old age group

The female rate of suicide, which historically has been lower than that of men, has risen to approach the male level. But white males showed the biggest increase of any gender or racial cohort

Gunshot is far and away the most common method

In the states that track the data, more than half the suicides were of people who has not been diagnosed with a mental health issue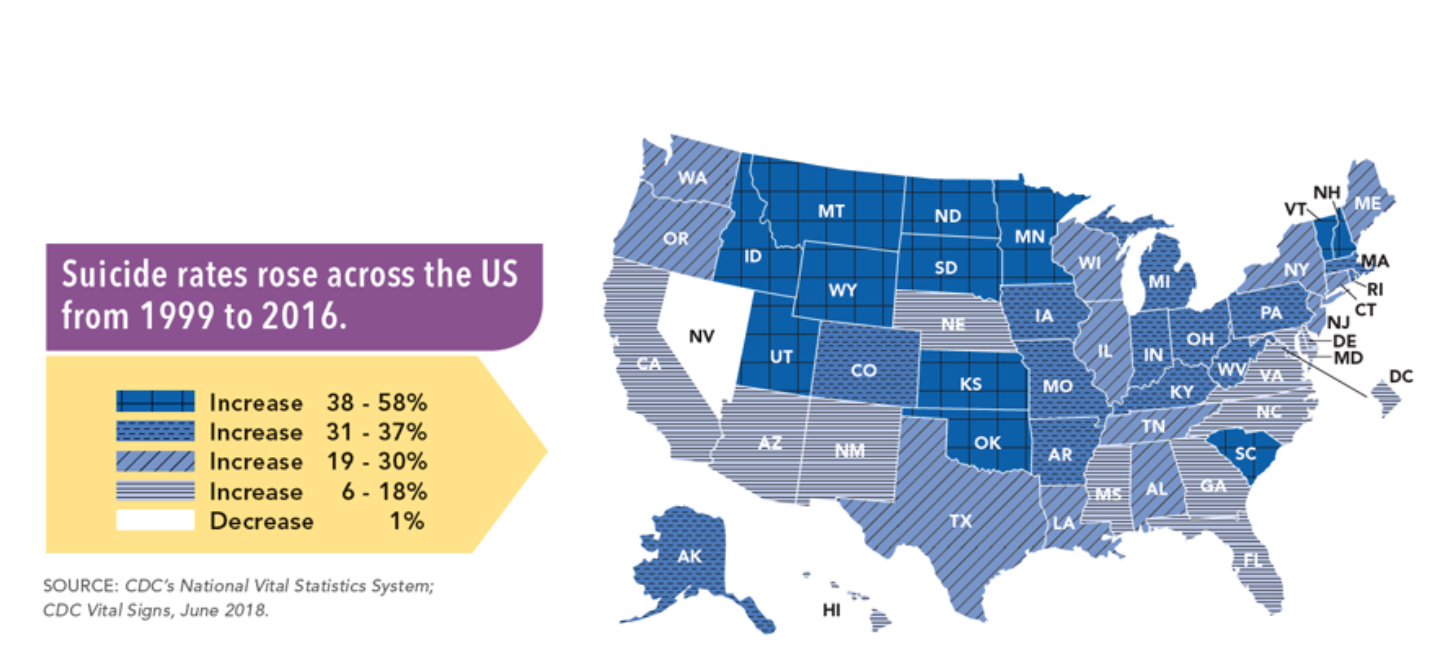 The Washington Post report on the CDC study awkwardly acknowledged that the rising suicide rate was a symptom of broader social ills:
"Research for many years and across social and health science fields has demonstrated a strong relationship between economic downturns and an increase in deaths due to suicide," Sarah Burgard an associate professor of sociology at the University of Michigan, explained in an email on Thursday.

The dramatic rise in opioid addiction also can't be overlooked, experts say, though untangling accidental from intentional deaths by overdose can be difficult. The CDC has calculated that suicides from opioid overdoses nearly doubled between 1999 and 2014, and data from a 2014 national survey showed that individuals addicted to prescription opioids had a 40 percent to 60 percent higher risk of suicidal ideation. Habitual users of opioids were twice as likely to attempt suicide as people who did not use them…

The problems most frequently associated with suicide, according to the study, are strained relationships; life stressors, often involving work or finances; substance use problems; physical health conditions; and recent or impending crises. The most important takeaway, mental health professionals say, is that suicide is an issue not only for the mentally ill but for anyone struggling with serious lifestyle problems.
"Lifestyle problems"? Being broke or having serious physical problems (which then can create serious financial problems) are "lifestyle problems"? The CDC's little graphic shows financial or health issues playing a role in over 40% of suicides: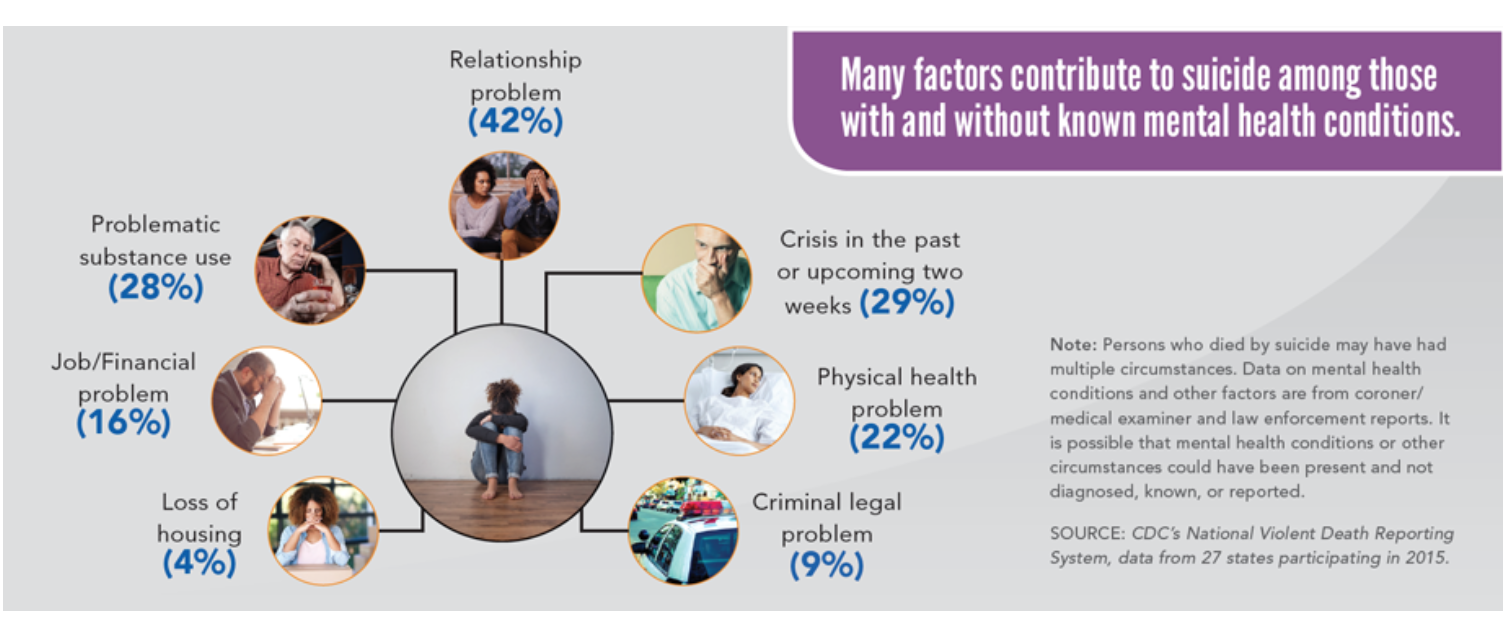 Even though suicide is almost always an individual act, the researchers seem to have difficulty seeing the increase not simply as (at least in part) due to financial stress, but in large measure to the way society has been restructured under neoliberalism, with most people having smaller and shallower personal networks, job tenures being shorter, community organizations being hollowed out, and social safety needs shredding. And as we've written virtually from the inception of this website, highly unequal societies are unhappy and unhealthy. If you lose your position on the social/economic ladder, the fall is sharp. Even people at the top recognize how a big loss could upend how they live.
Some comments to the Washington Post article acknowledged these issues. For instance, from desertbloom:
There's no therapy cure for a chronic pain patient re-assigned from being a supervisor to unloading heavy boxes on the dock.

He then loses his job, defaults on his mortgage, gets left by his wife and kids, then gets denied visitation and loses his insurance.

Can you find an extended family member somewhere to take in someone broken by the system – a boss who wants to see someone fail?

Those of us who see dignity and courage in those who see everything they worked for disappearing cannot even provide treatment for a reduced fee or run a tab that we know will never be paid.

There is no tax write-off for this sort of charity provided by individual doctors for the uninsured. There are no rehabilitation residential treatment programs for body, mind and soul….

As a first-year doctor there were 28 of us in the emergency room in the poorest hospital in one of the poorest states of the nation. Everyone who came in the door was seen within five minutes.

Now people who are suffering wait 24 hours to be seen and are often sent out without any treatment at all.

The message is clear: mental suffering and pain is no longer the responsibility of the health system.
Now a Stoic or a Buddhist would probably see attachment to one's social position as flaw in one's perception that needed to be addressed. But how many people have the energy and intestinal fortitude to restructure their life after a major setback? And worse, in America, being social seems to require money: driving in a car to see other people, being expected to be able to pay for a drink or a meal. One of the amenities I recall in Italy was that a hillside town had a social center for older people where they could hang out. It had a little library and games tables and I assume a TV. America is poor in that sort of thing.
I wish there were better answers. The CDC stresses more access to mental health treatment, and while that would help in many cases, it strikes me as addressing only the most extreme symptoms of increased alienation and desperation.