There are tons of reasons not to like Trump's trade games of chicken. First is that it isn't clear what he is trying to accomplish, save the pleasure he gets from poking people in the eye with a stick and some talking points for upcoming elections. Second is that even though there is a case to be made for the US becoming more of an autarky, whether to increase national security or domestic employment, merely changing some trade rules of the road won't get us there. The US has ceded too many critical skills, like operational know-how, that technocrats and MBA undervalue. Trump would need to engage in industrial policy when the both parties, but particularly Republicans, are allergic to that.1
Third is that Trump has not thought through the implications of succeeding, were he manage to radically reduce the US trade deficit. The willingness to run trade deficits is what assures the dollar its role as reserve currency. That confers the US a great deal of soft power, witness our ability to impose sanctions. Is the US ready to give that up?
However, most of the criticisms of Trump trade moves focus on different complaints: that Trump is threatening the architecture of trade rules and may kick off a trade war; that even though there is some merit in trying to rewrite the rules with China, the US should be focusing on industries of the future and not old economy ones like steel; and that Trump's first trade salvos, his tariffs on steel and aluminum, are alienating our allies like Canada and Europe and not having much impact on China.
The Wall Street Journal, which like the rest of the business press, has been making unhappy noises about Trump's trade brinkmanship, published a story tonight that shows that the conventional wisdom about China's production is inaccurate. How China Skirts America's Antidumping Tariffs on Steel explains how China, facing antidumping tariffs on steel that can top 200%, have already been moving production offshore: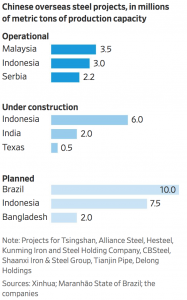 China's steel-production boom took off around the turn of the century as Beijing threw its support behind a sector seen as vital to the nation's emergence as a global economic power. The 2008 financial crisis prompted Beijing to undertake an economic stimulus program that included the construction of hundreds of new steel plants. Chinese steel production rose sevenfold between 2000 and 2013, when it accounted for half of all global capacity.

By 2013, China's domestic economy was slowing, leading Chinese steel and aluminum producers to flood global markets and drive down prices. The average price of Chinese steel exports fell by about 50% between 2011 and 2016.

Governments around the world responded by imposing more than 130 antidumping tariffs against Chinese metals manufacturers, mostly on steel, depriving the domestic market of an important outlet.

Beijing responded by ordering capacity cuts: a net of 150 million tons of annual steel capacity is slated to be shut between 2016 and 2020, as are aluminum plants that were built without government approval. At the same time, in 2014, the government launched a plan, called International Capacity Cooperation, that enlisted Chinese state financial institutions to help manufacturers add production overseas…

In northern Brazil, a Chinese consortium is expected to break ground later this year on an $8 billion project to build one of the world's biggest steel plants, expanding Brazil's potential steel output even though the industry there operates at less than 70% of capacity.

"This is total nonsense, with all the idle capacity that we have," says Alexandre Lyra, chairman of the Brazilian Steel Institute, which represents Brazilian producers.
The article recounts at length how government officials from Heibei province went shopping abroad for their biggest local employer, Hebei Iron & Steel Group. They found a mothballed steelmaker in Serbia, which the state had bought for $1 in 2012 from US Steel and had been keeping on life support at considerable cost. Again from the article:
During the talks with the Serbians, Hesteel pledged to invest at least $300 million in the plant over the next three years. Beijing touted the €46 million ($54 million) acquisition as one of China's flagship overseas investments…

Hesteel executives have said that they quickly turned around the money-losing plant after taking control in June 2016. Serbian corporate records show an operating loss of $34 million over the next six months. Records for 2017 aren't yet available.

"This is all part of a huge political initiative," says Markus Taube, professor of East Asian economic studies at the Mercator School of Management in Duisburg, Germany. "They are extremely insensitive to losses."

The EU for years has applied tariffs to low-price Chinese steel exports. Now, Hesteel's Serbian plant can export tariff-free into the 28-nation bloc.

"We feel like the Serbian plant is a Trojan horse," says Sonia Nalpantidou, a trade-policy expert with Eurofer, a trade association representing EU steel producers…

After purchasing the plant in Serbia, Hesteel began selling its output, including a sheet-steel product called wide hot-rolled coil, onto the U.S. market through Duferco, a Swiss trading company in which it owns a 51% stake.

Since 2001, China's domestic producers of that product have faced antidumping tariffs of more than 64% at U.S. borders.
So even 25% tariffs that strike European and Canadian producers as offensively high are trivial compared to the tariffs imposed on steel made in China. Moreover, both experts and foreign officials say that these offshore Chinese manufacturers are heavily subsidized. For capital intensive industries like steel, getting subsidies to set up operations means they can keep aggressively undercutting their competitors.
And China is moving to subsidized offshoring to evade anti-dumping tariffs across a spectrum of basic industries. Again from the article:
"China is just moving whole industrial clusters to external geographies and then continuing to overproduce steel, aluminum, cement, plate glass, textiles, etc.," says Tristan Kenderdine, research director at Future Risk, a consulting firm that tracks China's overseas investments. "None of this is economically viable under a supply-demand regime without state subsidies."
I don't see how this can possibly end well. The Chinese are setting out to bankrupt entire industries overseas. But those industries employ people who create end demand for its products. And none of these countries embrace MMT/Job Guarantee principles whereby if the private sector fails to create enough employment, the government has plenty that can be done to take up the slack. Another way to think of this is that China is exporting deflation in a world that is already heavily burdened with private and non-soverign-currency-issuer debt. As the example of Italy is showing, deflation (or merely super low inflation) and GDP shrinkage with an existing high level of debt leads to defaults, bankruptcies, and banking crises. So China will kill its end markets. Perhaps it doesn't care, if its end game is subjugation, but turing the world into an open-air prison camp does not sound like a realistic end game.
Another conundrum is that even though it is easy to paint Trump as a reckless ignoramus who is threatening to upend a well-functioning order, the fact is that China has been flagrantly violating the rules and no one has wanted to do much about it. For instance, quite a few years ago, the US filed, and then withdrew, a case against Chinese and Indonesian coated paper makers for heavily subsidizing factory construction. Note that these would not have been classic dumping cases, since "dumping" is selling below cost, and cost as defined for dumping cases does not include the cost of the capital investment. After some years of to-ing and fro-ing, the US finally imposed countervailing duties, but not very significant ones. So with the West so slow and hesitant to act, no wonder the Chinese have felt free to take so much ground.
In other words, Trump's ham-handed efforts to deal with China's many forms of trade cheating may have the unfortunate effect of distracting attention from the fact that the problem he is trying to address is real and not easy to remedy.
______
1 Mind you, the US already has industrial policy by default. Just look at the industries that are heavily subsidized, explicitly and/or by tax policy: the military/surveillance complex, housing, banking, health care…