By Lambert Strether of Corrente.
Trade
"Will the U.S. and EU Revive the Damaging Pro-corporate, Anti-people TTIP Agenda?" [Eyes on Trade]. "Trump promised a new approach on trade policy that would fix past damage to working people. But what his administration and European Union officials said this week in their joint statement after European Commission President Jean-Claude Juncker's visit to the White House sure sounds like a revival of the status-quo, pro-corporate agenda that Trump railed against in his campaign…. The statement calls for "zero non-tariff barriers." "Non-tariff barriers" is trade-speak for any domestic policy or regulation that can affect multinational corporations' ability to move goods or services across borders. Many consumer, health, or environmental safeguards we rely on to protect people and the environment are considered "non-tariff barriers" by business interests. Given that, does inclusion of this clause mean that the goal of these negotiations will be zero domestic safeguards on either side of the Atlantic – such as European GMO standards or U.S. financial regulations post-crisis – that might inconvenience a multinational corporation? That would be an even more radical pro-corporate plan than what was tried (and failed) in the TTIP negotiations." • Justifiably paranoid, i.e., with real enemies…
"U.S., MEXICO NEAR AN AUTOS DEAL IN NAFTA: The United States and Mexico are in the final stages of reaching a deal on the automotive rules of origin section of NAFTA, two sources close to the talks told Morning Trade. Agreement on auto rules, a policy area that has been among the most contentious issues being renegotiated under the pact, would move the two countries forward significantly in their quest to wrap up talks by the end of next month so that current Mexican President Enrique Peña Nieto would be able to sign the new deal before he leaves office in December" [Politico].
Politics
2020
"Eric Holder: 'Yeah, I'm interested' in White House bid" [The Hill]. • Maybe readers can help Holder out with some slogans. How about: "Eric Holder: America's Second Bank President!" Too long for a bumper sticker?

"True Blue" (interview with Eric Holder, Columbia grad) [Columbia College Today]. "[HOLDER:] The thing that worries me most is that a lot of the norms that govern our society are being either challenged or discarded. I think our legal system is holding, and I think ." • BWA-HA-HA-HA-HA-HA-HA!!!!! Holder actually says this with a straight face. It's GENIUS!
2016 Post Mortem
"The Democratic Party in Crisis" [Democratic Autopsy]. "In the wake of the November 2016 election, the Democratic National Committee chose not to do a public "autopsy." Overall, the party's national leadership has shown scant interest in addressing many of the key factors that led to electoral disaster. Instead, the main emphasis has been on matters that the Democratic Party and its presidential nominee had little or no control over — an approach that largely obscures the party's role in its own defeat… The task force of political organizers and research analysts who conducted this Autopsy was coordinated by longtime Democratic activist Karen Bernal, who chairs one of the largest caucuses in the California Democratic Party, the Progressive Caucus, and by RootsAction.org co-founder Norman Solomon, a Democratic National Convention delegate in 2008 and 2016 who was the national coordinator of the independent Bernie Delegates Network." • Churchill said: "History will be kind to me for I intend to write it." Apparently, liberal Democrats refuse to learn that lesson, along with so many others. From the executive summary, which has plenty of linky goodness:

First, it's important to debunk some facile media myths about Donald Trump and "the working class." The bulk of Trump's support is still from well-off whites who have always composed the core of the Republican Party funding and much of its voting base, and one should work hard to not feed into the easy media trope that Trump is overwhelmingly popular among "blue collar" or working-class voters. Nor should one fall into the trap (as some pundits have) of using "working class" and "white working class" interchangeably. Aside from erasing working people of color, this trap overlooks the fact that Hillary Clinton in fact won the working class across races, if one uses those making less than $50,000 a year as a proxy for the label.

What did happen — and what ought to deeply worry Democrats moving forward — is the massive swing of white working-class voters from Obama in 2012 to Trump in 2016 and the depressed turnout of black and Latino voters for Clinton relative to 2012 Obama. There was a 16-point swing across all races (though this is overwhelmingly due to whites) for those making less than $30,000 from the D to R column and a six-point swing for those making between $30,000 and $50,000. Turnout among African Americans and Latinos was also far lower than many expected, which represents an ominous trend for the party moving forward. To put it in marketing terms: the Democratic Party is failing, on a systemic level, to inspire, bring out, and get a sufficient majority of the votes of the working class.

The Democratic Party, as pollster Stanley Greenberg emphasizes, doesn't have a "white working-class problem" — it has a working-class problem. "If there was one area where Democratic turnout was undeniably weaker in 2016 than 2012 it was among African Americans," Patrick Ruffini wrote in FiveThirtyEight. Black turnout, especially in key swing states, was 14.1 percent less than election models predicted — far more than the 3.2 percent decline among whites. While it's important to note the damaging effect of Republican Party attempts at minority voter suppression through gerrymandering and voter ID laws, the Democratic Party has failed to give many of those who can vote a reason to do so.

UPDATE At this point, let's remember that "Failure to Learn" is one of Cohen and Gooch's categories for "pathways to misfortune" in their book Military Misfortunes. I used their methodology to diagnose Democrat failure in 2016, and it looks like I'll have to use it again.
The Liberal Democrats Have Lost Their Minds
Parody Is Not Dead (1):

Time to fight back!

PRESIDENT DRUMPF is maligning Brutalism. But a blue wave ? is coming.

WE BELIEVE the style is defined not by its shabbiest examples but by its most audacious and elevated forms!

RT to show these buildings THEY ARE NOT ALONE!#RESISTANCE #VOTETHEMOUT pic.twitter.com/2BXmjFS4O2

— chris hooks (@cd_hooks) July 30, 2018

(Keying off this story). Hooks: "If you hate brutalism now you're a Trump supporter."

UPDATE Parody Is Not Dead (2):

Colorado billboard replaces "O" in GOP with Soviet hammer and sickle https://t.co/AjoxoPhg7N pic.twitter.com/1oa5qWJJFU

— The Hill (@thehill) July 29, 2018

Historically ignorant and politically ineffective! It's a dessert topping! It's a floorwax!

UPDATE Parody Is Not Dead (3):

Steve Mnuchin. Useful tool of Putin. Corrupt plutocrat. Worst Treasury Secretary ever. https://t.co/MV3PxvzeVa

— Norman Ornstein (@NormOrnstein) July 29, 2018

Worse than Paulson? Worse than Geithner? Heck, worse than Andrew Mellon? Really?
New Cold War
"Manafort trial to focus on lavish lifestyle, not collusion" [Associated Press]. "The trial of President Donald Trump's onetime campaign chairman will open this week with tales of lavish spending, secret shell companies and millions of dollars of Ukrainian money flowing through offshore bank accounts and into the political consultant's pocket. What's likely to be missing: answers about whether the Trump campaign coordinated with the Kremlin during the 2016 presidential election, or really any mention of Russia at all." • Wait, what?
Realignment and Legitimacy
"In a divided U.S., therapists treating anxiety are hearing the same name over and over: Donald Trump" [CBC]. "[P]olitically induced anxiety [Elizabeth] LaMotte is hearing about from her clients certainly is [in earnest], says the founder of the D.C. Counselling and Psychotherapy Center. She refers to it as a 'collective anxiety' among patients who feel on edge about how potentially dire the president's decisions could be… In a 2017 essay for a book co-edited by psychiatrists from Harvard Medical School and the Yale School of Medicine [Ooooh! Lanyards!], clinical psychologist Jennifer Panning of Evanston, Ill., called the condition 'Trump Anxiety Disorder,' distinguishing it from a generalized anxiety disorder because 'symptoms were specific to the election of Trump and the resultant unpredictable sociopolitical climate.'" • Let's contextualize this a bit, shall we? Let's start with the idea that one of the indicators of membership in the 9.9% professional classes is client (as opposed to wage) relations. A quick search of the "D.C. Counselling and Psychotherapy Center" reveals Elizabeth LaMotte's hourly rate for clients: "Individual Therapy: " (there is no mention of a "sliding scale" on the site). So a cynical person might infer from the CBC article that: (1) "Trump Anxiety Disorder" is prevalent in the Beltway, and (2) limited to the 9.9% on up, and that (3) gaslighting in the (9.9%) media creates a virtuous cycle for the (9.9%) therapists. Trump Anxiety Disorder is, then, a self-licking ice cream cone, or, to pick a more childish trope suitable for both LaMotte's clients and LaMotte as a political analyst, a Woozle (see, e.g., A.A. Milne, Winnie the Pooh, Chapter Three):

Pooh and Piglet are, of course, following their own tracks round the tree in the snow, and becoming more and more anxious about what's ahead of them. A less childish trope might be that after hubris comes nemesis, with the transition punctuated by anagnorisis, the tragic recognition, in this telling Trump's election as a consequence of the last forty years of policy (e.g., deindustrialization) supported and implemented by the same 9.9% now prostrate on LaMotte's couch. Speculating freely, LaMotte's role as a therapist would then be to prevent anagnorisis, and hence catharis. ("Yes, the causes of your anxiety are all external to you. See, your fellow professionals have even given your disorder a name. Now you have a diagnosis, so there's really nothing worry about.") NOTE * The D.C. Counselling and Psychotherapy Center takes insurance, so those of her clients with excellent plans aren't actually paying much out-of-pocket. That's nice.

"139 House Democrats Join GOP to Approve $717 Billion in Military Spending" [Common Dreams]. • No anxiety there!

"Charles Koch Says He Could Work With Democrats if Ideals Align" [Slate]. • No anxiety there, either!

"Schumer plays long game, avoids hardball with centrist Democrats over Supreme Court pick" [WaPo]. • Or here!

No anxieties about the "intelligence community"!

The same is true of the newfound reverence for the CIA, FBI, NSA and prosecutors. There are a huge number of people paying attention to politics for the first time because of Trump, and these are the political values, institutions and people they're being taught to venerate: https://t.co/8xQoEk2vW6

— Glenn Greenwald (@ggreenwald) July 29, 2018
Stats Watch
Pending Home Sales Index, June 2018: "After several months of flat to negative results, existing home sales finally look like they may be on the rise" [Econoday]. But: "The rolling averages remain in negative territory. The data is very noisy and must be averaged to make sense of the situation. There is no signs of a surge in home sales despite the headline growth, and the long term trends continue to be generally downward" [Econintersect].
Dallas Fed Manufacturing Survey, July 2018: "Energy prices are strong and the Dallas manufacturing sector shows it" [Econoday]. "Showing outright acceleration is the production index… And despite delivery snags being reported across the manufacturing sector, shipments also accelerated… Other readings include rising strength in employment and rising hours worked. Price and wage pressures remain highly elevated." And: "This survey remains in positive territory with new orders improving and unfilled orders significantly improving – and both in positive territory. Even though this survey declined, our opinion is that this was a stronger report than last month" [Econintersect].
GDP: "So the savings rate puzzle, where consumption was exceeding income, has now been reconciled with large upward revisions in personal income. And looks like the credit expansion that supplied the income and drove the spending was from non-residents" (via "credit expansion for the rest of world") [Mosler Economics]. Hmm.
Shipping:"Walmart stumbles with its 'last mile' package delivery plan" [Reuters]. "Walmart's own store employees would bring online orders directly to shoppers' homes after completing their usual shifts of up to nine hours on the sales floors. Aiming to lower the retailer's shipping costs by tapping its massive workforce, the program was part of a multi-pronged strategy to boost its $11.5 billion U.S. ecommerce business and tackle one of the biggest challenges in retail: the so-called "last mile" of delivering goods to online customers…. But months later, Walmart quietly retreated from its original vision for the pilot program – launched in New Jersey and Arkansas – and ended it altogether in January, according to company documents obtained by Reuters and interviews with more than two dozen Walmart employees…. Here in New Jersey, Walmart started the program with the idea that store employees could courier all items that would fit in a car. But the initiative failed to gain traction with skeptical employees who had to use their time after work, according to sixteen workers who participated in the trial." • I can't imagine why Walmart employees would be skeptical, though perhaps they'll be less skeptical when the economy collapses again.
Shipping: "Morningstar thinks Uber Freight has huge upside but questions remain" [Freight Waves]. "In sum, while freight brokerage in North America is a large and still quite fragmented business, we think that the weaknesses of Uber Freight's technology, the significant network effects already exploited by the largest incumbents, and the as-yet extremely limited market penetration of digital apps all place strong barriers to what Uber Freight wants to achieve."
The Bezzle: "How to Sign Away the Rights to Your DNA" [The Outline]. It wouldn't be Silicon Valley without a Privacy Statement where you sign away privacy….
The Bezzle: "This co-op lets patients monetize their own health data" [Fast Company]. "Savvy [is] a platform to bridge the gap between patients and practitioners. The platform officially launched in the fall of 2017, and recently became a public benefit corporation…. Savvy also tackles another imbalance in the patient-practitioner relationship. Whenever a patient is seen by a doctor, or enters their information into a medical app or platform, they're providing the health community an invaluable resource: their data. But they're not getting compensated for it. To ensure that patients participating in Savvy get something in return, [founders] Horonjeff and Sharpe set their platform up as a cooperative, owned collectively by the patients that contribute to it. Any patient who wants to become a Savvy member pays a buy-in fee of $34, which establishes them as a member of the co-op (the fee is waived for patients who cannot afford it, and some other members give more than the base membership fee to subsidize others). 'When people become members, they have a voice in what we do, and they also share in our profits,; Horonjeff says."
The Bezzle: "Big Short's Eisman Is Shorting Tesla for 'Execution Problems'" [Bloomberg]. Execution problems, management turnover. (Interestingly, Eisman is also shorting Zillow: "Its decision to start flipping homes means it's entering a 'terrible business' that's cyclical in nature and generates low margins." • Maybe I shouldn't file this under "The Bezzle" if it's a co-op. Readers?
Tranportation: "Munro & Associates finish Tesla Model 3 teardown, come away impressed" [CNET]. "The big shocker here is that Munro goes on record to say that the Model 3 is a profitable car. He estimates that Tesla has more than a 30 percent profit margin on it, while other EV's are struggling to see anywhere near the 30 percent mark. Considering the widespread speculation over Tesla's profitability, perhaps the Model 3, manufactured and sold in significant numbers, is a way out of the red and into profitability for the company." • Beating down the workers would help with that, of course.
Transportation: "Tesla's Model 3 Teardown Shows It Is Already Profitable – Really Profitable" [The Street]. "Tesla is achieving those margins through deep levels of systems integration. By relying on in-house technology to do more work, Tesla is able to keep the costs of its third-party components low. For example, Munro estimates the cost of Tesla's rear-view mirror at $29.48. Meanwhile, his firm estimates that the rearview mirror from the Chevy Bolt costs $164.83. The difference comes from the fact that the Bolt puts electronics and a backup camera display in the mirror, while Tesla uses its custom-designed onboard computer and large central display to perform the same functions. There's a similar story throughout the car." • Tossing the automotive supply chain, and its markups, aside is interesting.
Rapture Index: Closes down 1 on earthquakes. "The lack of activity has downgraded this category" [Rapture Ready]. Record High, October 10, 2016: 189. Current: 180. Will 175 be the new floor?
Our Famously Free Press
"News Counts is a collaborative project to protect the 2020 Census (and help journalists get the best stories out of it)" [Nieman Labs]. "News Counts' ambitious goal is to build a network of partnerships around the country, bringing together local news outlets, local computational or statistics groups, and social scientists and demographers to tell data-inspired stories around the census."
"Why your city government should buy your local newspaper" [The Week]. "Journalism is not that expensive. Even small cities could easily muster up enough cash to get a municipal paper started…. Here's how it could work: A municipality would set up a public journalism corporation operating on an independent, nonprofit basis, and seed it with some public revenue… For obvious reasons of journalistic independence, we wouldn't want this under the direct management of the city government. Overall control could be in the hands of an independent board, perhaps half appointed by the government and half elected by the paper's employees; or perhaps elected by the general citizenry, or some other method. The point is that the city would own the paper, but not control it directly, to avoid the appearance (or reality) of political influence. Funding would be locked in over a long period, and the city government would be legally forbidden from pulling funding over unfavorable coverage. Ideally, revenues from subscriptions and advertising would cover ongoing expenses. It might take a couple years of subsidies to reach that point, but it's not impossible. Many local papers cored out by capitalists were funding themselves easily — the owners just preferred to take a quick one-time payout and destroy the business rather than collect 1 percent profits over time."
Gaia
"In Appalachia's 'Alcohol Alley,' booze purveyors say a pipeline is threatening their industry" [Belt Magazine]. "Bold Rock is part of "Alcohol Alley," a local nickname for the stretch of Route 151 that cuts through the northeastern edge of George Washington & Jefferson National Forest on or near which dozens of breweries, wineries, cideries, and distilleries have sprung up in recent years…. According to Nelson County's office of economic development & tourism, the alcohol beverage industry employs 425 locals directly, and helped power almost $200 million in tourism expenditures in the county in 2016 (the most recent year for which data is available)…. [Dominion Energy, a Richmond-based power & utility company] is spearheading the Atlantic Coast Pipeline: a 42″-diameter, 600-mile-long, $6-billion natural gas conduit that it claims is needed to serve increasing natural gas demand throughout the region…. In the middle of the ACP's proposed path from West Virginia shale to North Carolina power plants sits Alcohol Alley." • Do everything right, and what happens…
Black Injustice Tipping Point
"Black Caucus members eject protesters from fund-raiser, call themselves 'gangsters'" [Chicago Reader]. "'They must not know we got gangsters in here,' 20th Ward alderman Willie Cochran chimed in, egging on the crowd. Last year Cochran—a retired police officer who's been indicted on fraud, bribery, and extortion charges—announced he wouldn't be running for reelection. 'If anybody else wanna protest you better take it outside,' Austin said, laughing. 'Cause I guarantee you ain't seen no gangsters like this city's aldermen.'" • I bet those protesters aren't even Democrats.
Health Care
"States sue Trump administration over expansion of skimpy group insurance plans" [The Hill]. "Democrats strongly oppose the rule as allowing for 'junk' insurance that will not meet people's needs and that will cause premiums to rise for those remaining in ObamaCare plans, once some healthier people are siphoned off into the new plans." • Seven years after the Democrats took single payer off the table…
Guillotine Watch
"'Lopping,' 'Tips' and the 'Z-List': Bias Lawsuit Explores Harvard's Admissions Secrets" [New York Times]. "Generations of high school students have applied to Harvard thinking that if they checked all the right boxes, they would be admitted." • I'm sure someone, someday will give an account of how incentivizing generations of vulnerable young people to tick identical boxes engendered the herd-like behavior and hysterical tendencies of today's 9.9%, but that's not me, not today. However, Thomas Frank — I'm too lazy to find the link or podcast — has an interesting riff comparing decisionmakers in the Obama and the FDR administrations. Obama's lanyard-wearing box-tickers were all from the Hahvahd/Yalie monoculture — as was George W. Bush, come to think about it. But FDR's hires were from all over the place, including obscure state schools (like, say, the University of Missouri at Kansas City, or Fordham). Which system of personnel choices had better outcomes?
Class Warfare
"UPS Teamsters Take On Two-Tier" [Labor Notes]. "There are no flashy special effects in Tyler Binder's 12-minute video, "Why the UPS 2018 contract sucks!" No stirring soundtrack, no animation, no laugh track. It's just him and his whiteboard, explaining in plain language how the tentative agreement would affect every group of workers. But the video went viral. Just two weeks after he uploaded it, it had 90,000 views on Facebook and 50,000 on YouTube…. What's so bad about this pact? For starters, it would undercut the full-time drivers who deliver packages by allowing UPS to create a second tier of drivers at a much lower wage. UPS is forecasting $6 billion in profit this year. Already a vast underclass of low-paid part-timers do much of the inside work—sorting, loading, and unloading parcels. But till now, package delivery jobs have been sacrosanct." • This is awful; it's the worse sort of "I've got mine, now let's pull up the ladder" thinking. We should also abolish "two-tier" Social Security; I can't imagine why this isn't an issue. Of course, liberal Democrats are brain-dead, but even the left ignore this.
"Why Women Volunteer for Tasks That Don't Lead to Promotions" [Harvard Business Review]. "Our studies demonstrate that although neither men nor women really want to volunteer for thankless tasks, women volunteer more, are asked to volunteer more, and accept requests to volunteer more than men. These differences do not appear to result from gender differences in preferences, but rather from a shared understanding that women will volunteer more than men."
"Why Salt Was So Important Throughout History" [Bookworms Club]. "Mild shock: humans don't like it when their governments try to restrict access to resources that they need to survive. Many famous rebellions and revolts were partly caused by citizens reacting against governments that were too stingy with the salt. Early American settlers had vast amounts of fish that they could potentially export, but not enough salt to preserve them with, because the British imposed salt quotas on them. In the century leading up to the French Revolution, the burden of salt taxes fell disproportionately on Parisians, who would later become the major drivers of the revolution. In 1680 the Paris region was one-third of the total population, used one-quarter of the total salt, yet paid two-thirds of total salt taxes."
News of The Wired
"Closed Loophole Confirms the Unreality of the Quantum World" [Quanta]. • Unless we accept retro-causality. Which is absurd. Right?
"Veterans Speak Out Against The Militarization Of Sports" [WBUR]. • And high time.
"A HISTORY OF INDIVIDUALLY WRAPPED PROCESS CHEESE SLICES" (PDF) [Marshall Italian and Speciality Cheese Seminars] (from 1979, still germane). "Imagine, if you will, all present packers of individually wrapped slices (IWS) being ordered to cease and desist in the use of mold inhibitors, and then getting the news that K-film*, Mylar*, coated polypropylene, and all co-extruded films would have to undergo safeness tests that would not be completed for periods of 3 to 10 years. Now to really stretch your imagination. Assume no IWS machinery and no housewife who has even seen a slice of process cheese in its own wrapper. As far as process cheese products are concerned, we are now back to the conditions that prevailed in the U.S. and I daresay, the world, 30 years ago." • So you're saying The Jackpot has a bright side?
* * *
Readers, feel free to contact me at lambert [UNDERSCORE] strether [DOT] corrente [AT] yahoo [DOT] com, with (a) links, and even better (b) sources I should curate regularly, (c) how to send me a check if you are allergic to PayPal, and (d) to find out how to send me images of plants. Vegetables are fine! Fungi are deemed to be honorary plants! If you want your handle to appear as a credit, please place it at the start of your mail in parentheses: (thus). Otherwise, I will anonymize by using your initials. See the previous Water Cooler (with plant) here. Today's plant (TH):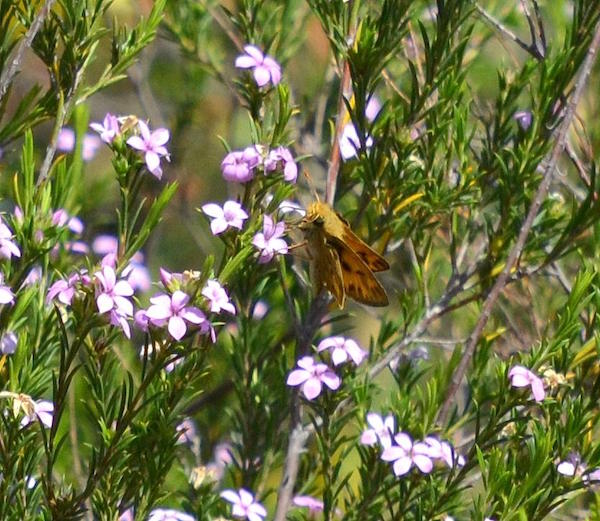 TH writes: "This is our 'Breath of Heaven' accessorized by a skipper butterfly. I read somewhere that back when ladies wore long flowing dresses, this plant was often placed near the entrance of the home so that the sweeping skirts brought in the scent, which, at least to my senses, is a cross between wild mustard and juniper." • I recall one reader who was looking for lawn substitutes. Some say breath of heaven would work for that. Sadly, it seems not to be invasive…
* * *
Readers: Water Cooler is a standalone entity not covered by the annual NC fundraiser. So do feel free to make a contribution today or any day. Here is why: Regular positive feedback both makes me feel good and lets me know I'm on the right track with coverage. When I get no donations for five or ten days I get worried. More tangibly, a constant trickle of small donations helps me with expenses, and I factor that trickle in when setting fundraising goals. So if you see something you especially appreciate, do feel free to click the hat!

To give more, click on the arrow heads to the right of the amount.
If you hate PayPal — even though you can use a credit card or debit card on PayPal — you can email me at lambert [UNDERSCORE] strether [DOT] corrente [AT] yahoo [DOT] com, and I will give you directions on how to send a check.