By Lambert Strether of Corrente.
Trade
"Agriculture remains a key sticking point in newly reinvigorated EU-U.S. trade negotiations. Over the weekend, officials on both sides traded rhetoric over the issue as they highlighted agriculture's role in the discussions. But beyond a few easy points of agreement, like increasing the volume of soybean trade between the two, agriculture is poised to remain a contentious issue throughout negotiations, especially where GM crops are concerned" [Stratfor]. "The French, in particular, have been vocal about their opposition to a trade deal with the United States that includes agriculture. Given those limits, it's easy to see how disagreements over agriculture could lead to a collapse of the broader conversation between the European Union and the United States, inviting the return of a cycle of tariff threats and retaliation. In the long term, the fundamental disagreements on the future direction of agricultural technology — particularly the development and use of genetically modified organisms — could create even more barriers to a trade deal between the two."
Politics
2020
"Sanders Institute has little to show for first year and $500K" [VT Digger]. "The Sanders Institute website launched on June 7, 2017, with 29,000 unique page views, according to IRS documents obtained by VTDigger. In the first two months of its existence, the site saw 126,000 visitors. With irregular updates and limited original content, traffic has taken a dive. The Sanders Institute saw roughly 12,300 unique page views in June 2018, according to Semrush, a website analytics company."
2018
"99 Days to Go, and the Midterm Elections Battleground Is Not What Was Expected" [New York Times]. "The battleground in the fight for control of the House is starting to come into focus with 99 days to go until the November election. It's not exactly the battleground that analysts expected. It's not dominated by well-educated, suburban districts that voted for Hillary Clinton. Instead, the battleground is broad, and it includes a long list of working-class and rural districts that voted for Donald J. Trump in 2016…. [T]here aren't many polls showing Democrats excelling in the well-educated districts where Mrs. Clinton won. Polls sponsored by Democratic groups have shown Republicans leading in Illinois's Sixth, Pennsylvania's First, Washington's Eighth and California's 39th. Even in the well-educated districts where Democrats lead in recent polls, like Virginia's 10th or California's 48th and 49th, the polls show Democrats merely running even with Mrs. Clinton. Individual House polls are never much better than a rough indicator, and this is an early stage of the race. But the overall pattern is fairly clear, and a similar pattern shows up in the special election results of the last year. Democrats have run far ahead of Mrs. Clinton in white working-class areas that backed the president by a wide margin, including Conor Lamb's victory in Pennsylvania's 18th District in March. They haven't run so far ahead of Mrs. Clinton in the areas where she excelled, like Georgia's Sixth or Northern Virginia."

NY Governor: "Cynthia Nixon Endorsed by Indivisible, a National Grassroots Group" [New York Times]. "Cynthia Nixon's insurgent bid to unseat Gov. Andrew M. Cuomo got a lift on Monday: The national arm of Indivisible, the liberal grassroots network that following the election of President Trump, endorsed her." • "Sprang up."

NY Governor: "Emails, records raise questions on Cuomo donations, donor's dividends" [Times-Union]. "Hal Teitelbaum needed quick action from New York's government: the approval of an application allowing one of New York's fastest-growing health care companies, Crystal Run, to keep expanding. In the fall of 2011, Crystal Run's CEO was facing what's often a lengthy, bureaucratic process. His path, however, smoothed out considerably after the CEO wrote a $25,000 check — drawn from Crystal Run's corporate funds — to Gov. Andrew Cuomo's re-election campaign. Teitelbaum soon had a direct line to one of New York's most powerful people, top Cuomo aide Joe Percoco, who according to emails obtained by the Times Union quickly helped solve the problem."

NY Governor: A gentle reminder on Nixon endorsements:

Just a timely visual reminder that New York State is home to more than just one DSA chapter. In fact, we have 10 DSA chapters and 3 YDS chapters! We didn't all get together to endorse someone for Governor. Most of us didn't endorse anyone, actually. pic.twitter.com/BZ4ZNIcyK5

— Suffolk County Democratic Socialists of America? (@SuffolkDSA) July 30, 2018

IA-01: "This Might Be the Most Important Swing District in the Country" [New York Magazine]. "The district's centrality to the national political discussion was clear as early as 2016, when industrial parts of the northeastern Iowa district — like the Dubuque area, which the president visited Thursday — abandoned their reliable Democratic hue to flip to Trump. Its position as a potent symbol was even more obvious when it became clear that the midterm race there would pit second-term Republican Rod Blum against Abby Finkenauer, an embodiment of multiple national trends working in Democrats' favor: a 29-year-old local legislator with her own student loans and a union emphasis reminiscent of Conor Lamb's. The race is a toss-up…."

VA-05: "Cockburn calls out Riggleman's Bigfoot posts" [Daily Progress]. • So, if your feeds are full of Bigfoot posts, this is why. Interestingly, Cockburn was not the DCCC-backed candidate. This seems like a standard establishment tactic — a sophisticated variant of the losing but oft-repeated liberal Democrat talking point that they're smarter than everybody, and in particular all their opponents — but I do understand why tagging one's opponent as a purveyor of Bigfoot erotica (!!) is too tasty an opportunity to pass up….
2016 Post Mortem
Life's little ironies:

— corey robin (@CoreyRobin) July 30, 2018

Shows the Clinton campaign did not invent the "Pied Piper" strategy, interestingly. (More on that White House Correspondents dinnner here.)

"Precinct Data Shows Rich, White Neighborhoods Flipping Democratic in 2016. Will It Last?" [New York Times]. "Hillary Clinton won the nation's richest and most exclusive neighborhoods by a wide margin in the 2016 presidential election, according to an Upshot analysis of election results from Ryne Rohla of Washington State University and census data…. The precinct-level data, which is far more granular than the county-level data available immediately after the election, complements a growing body of evidence that is forcing a re-evaluation of some of the initial views of the 2016 presidential election. It appears that Mrs. Clinton succeeded at winning over many rich and well-educated Republicans, perhaps by an even wider margin than pre-election polls implied, just as Mr. Trump made big gains in the poorest white communities compared with Mr. Romney. But there were more not-so-affluent white voters without a college degree in the battleground states, and Mr. Trump's success with them was enough to give him the edge in the Electoral College." • That's cool. Liberal Democrats are repeating the strategy in 2018 that they announced and carried out in 2016, losing while doing it.
Obama Legacy
Dodged a bullet:

More Obama Memoirs… 1 of 5 pic.twitter.com/Qfs6Nh5Z7Z

— corey robin (@CoreyRobin) July 30, 2018
New Cold War
"Why Are So Many Leftists Skeptical of the Russia Investigation?" [Jonathon Chait, New York Magazine]. "A theme of their skepticism is a sense of frustration with the way the Russia investigation cuts across the electorate, and especially the political intelligentsia, in a way that frustrates their ideological project. While some leftists have disdained the Mueller investigation, many centrists and even some conservatives have supported it. By expanding the Democratic coalition into the center, at least temporarily, the Russia issue runs counter to their goal of repositioning the party to the left." • I think it's a lot simpler. One word: Iraq. For those who came in late, Operation Mockingbird. It's entirely normal — and by "normal," I mean, in this case, "fringe" — to treat the work product of the intelligence community, especially when leaked anonymously to the press, using a hermeneutic of suspicion (especially when the stakes for the intelligence community are enormous). Show me the evidence, show me the provenance.
The Liberal Democrats Have Lost Their Minds
Has the word "pleasant" lost all meaning?

One of the pleasanter aberrations of the Trump Era is the emergence of Robert Mueller as a fashion icon: https://t.co/aZavrpgoCZ pic.twitter.com/CbOgKVF9Mr

— The New Yorker (@NewYorker) July 28, 2018

(I call Mueller an "entrapment artist" stories like this, from 2013; and this admittedly speculative story from 2016. And then there's the Whitey Bulger thing, which is possibly not an invention of the conservative fever swamp.)

"Illiberal Values" [Walter Kim, Harpers]. "Coming of age in the Seventies as a Midwesterner, a Mormon, and a resident of a town of about five hundred people, I didn't get to meet a lot of outspoken liberals, but those I did meet made strong impressions on me. I was too young to understand the intricacies of their politics, but I liked how they approached the world. Compared with the dry, judgmental people at church who feared a communist plot against America, worshipped the military and law enforcement, and seemed obsessed with hygiene, health, and thrift, the liberals I knew were a refreshing change of pace: open, adventurous, questioning, and fun." • Yeah, what happened to those liberals, anyhow?
Realignment and Legitimacy
"Directional Clues" [Hannah Blog]. "Using a directional descriptor (left, right, east, west, up, down) for a moral or philosophical belief system suggests an inability to understand the difference betwwen a symbol and the thing it represents. Direction is a physical reality related to movement from a fixed point. Most dogs seem to have a sense of direction, which is how they find their way home. Many humans don't…. Why would one follow a guide who does not know where he is going?"

"Party Unity is for Rubes" [Current Affairs]. "[T]he two-party system in the U.S. forces each party to build ideologically diverse coalitions of interest groups. Those interest groups are held together not by mutual love and fellow-feeling but by raw political need: none of the coalition partners can attain a majority by itself, so their only road to power is by staying in the coalition. But naturally each faction would like to see the whole coalition prioritize its own interests over the others; the question of which groups get legislation passed to their liking and which merely provide the foot soldiers for the larger whole is a vitally important one. So the normal condition of U.S. political parties is faction war, with each faction attempting to seize power within the coalition and the whole coalition held together by the need for alliance against the other party." • As Obama understood when he stood up Perez to screw over Ellison. No point fussing about norms; that is the norm!

"There's Still No Evidence That the 'Radical Left' Is Helping Trump" [New York Magazine]. "[O]ne month after voters in the South Bronx put 'democratic socialism' in the headlines, real America has registered its outrage at the Democrats' hard-left turn — by giving the party a larger lead in the generic congressional ballot… Social democracy might allow Sweden to provide its people with longer lives, a lower poverty rate, cheaper health care, more retirement security, better educational outcomes, and higher levels of self-reported happiness than Americans enjoy. But American capitalism provides U.S. citizens with something even better than all that: total immunity from the threat of banking crises produced by housing bubbles. People used to know this stuff." • Averages conceal, as with the generic ballot. Notice also the denaturing of "democratic socialism" into "social democracy." Social democracy, the new centrism? Not such a bad thing, perhaps…

"Opening Statement BSA Meets Alexandria Ocasio-Cortez" (PDF) [Black Socialists of America]. "Workers democratically controlling the means of production, and democratically controlling the surplus value (or profits) that their hard work produces. Here in the US, we can make ground on this, and we at BSA feel this is something you can speak to in a way that isn't dishonest or misleading. However, when you imply that the ideal state is Social Democracy, as you do on your website and in your interviews, or as your public "definition" of Socialism implies, it doesn't make us feel confident that Democratic Socialism is something that you actually advocate for. We don't know if you're advocating for Social Democratic policy as a gateway to full worker control of the economy, or whether you're advocating for Social Democracy as an end." • They certainly come prepared to their meetings…

"Why the argument for democracy may finally be working for socialists rather than against them" [Corey Robin, Crooked Timber]. "What strikes me about the current moment is how willing and able the new generation of democratic socialists are to go on the offensive about democracy, not to shy away from it but to confront it head on…. [By constrast, you] have the Democratic Party. Massively dependent in its nomination process on super-delegates. Massively dependent in its district-level wins on low voter turnout, in districts where the party structure resembles the Jim Crow South, as described by V.O. Key. You have incumbents like Joe Crowley who've not had to face a primary challenge in so long that, as we saw in the case of Alexandria Ocasio-Cortez, they don't even know how to wage much less win electoral campaigns… I can imagine the Democratic Socialists of America (DSA) folks saying to these Dems: you really want to have a debate with us about democracy? Bring it on."

"A New Party of a New Type" (Interview) [Seth Ackerman, Jacobin]. "I want to see the Left organize to the point that it can strategically and consciously exploit the gaps in the coherence of the system in order to create the equivalent of a political party in in the key respects: a membership-run organization with its own name, its own logo, its own identity and therefore its own platform, and its own ideology…. I think what we're seeing now with Ocasio-Cortez and so many other candidates at the state and local level, are attempts, especially by members of Democratic Socialists of America, to take the first steps of having candidates operating under an alternative banner — somewhat tangentially, but still pretty palpably….. Every article about Ocasio-Cortez mentioned that she's a member of the Democratic Socialists of America, that she's a democratic socialist." • Or is she… a social democrat? Is social democracy The New Centrism?

"The American Two Party System is Actually Pretty Great" [Benjamin Studebaker]. "The main obstacle in our system is not the party system or the electoral system, it's the sheer number of offices there are to win. The House, the Senate, the state legislatures, the governorships–you need piles and piles of them to overcome the federal system's checks and balances and push cool new stuff through. That's not going to change anytime soon. We have to work with what we've got. But at least we have something to work with. Many Europeans are stuck with proportional representation, and they'll keep electing the same collections of misfit toys over and over again. And we've seen that it is possible to win powerful, dominant majorities in America with the right message at the right time. Roosevelt had 75 Democrats in the senate out of 96. Did the New Dealers do enough? No."

"Amid push from younger progressives, how much socialism are Democrats willing to embrace?" [Virginia Mercury]. "[Lee]. Carter said he was well-received in Virginia's legislature, despite a few jokes from other delegates. Almost all of his proposed bills, some of which focused on workers' compensation and studying the cost of universal health care in Virginia, were left in committees, though that's not uncommon for freshman lawmakers in the minority party." • This is a reasonably balanced roundup.

"Voting systems in Wisconsin, a key swing state, can be hacked, security experts warn" [Wisconisin Watchdog]. "[M]unicipal and county clerks interviewed by the Center say they are not worried about a cyberattack, citing the fact that voting in Wisconsin is not centrally coordinated but conducted on a local level by 1,854 communities, large and small. They also note that the voting machines are not connected to the internet. As a result, many clerks resist proposals to conduct post-election audits, saying they have no resources for such efforts, which they consider unnecessary." And here is the mention of paper ballots: "But in interviews with the Center, leading national experts said that keeping the paper trail is not enough. They said robust post-election risk-limiting audits are a crucial tool to ensure accurate results." • No no no no no. The "audit" concept is rather like "access" to health care: It's a jobs guarantee for 9.9%ers, in this case security consultants — obviously talking their book in this article. (It's also an artificially created market for electronic voting machine vendors.) Don't audit. Keep it simple, and eliminate the digital layer of complexity altogether, exactly as eligibility determination should be eliminated from the health care system, and for the same reasons. Deploy hand-marked paper ballots, hand-counted in public, and all the problems created by digital go away. (You can skip the Russia hysteria at the start of the article. I mean, does anybody seriously believe that had more impact than Clinton never campaigning in the state?)w
Stats Watch
Personal Income and Outlays, June 2018: "Easing inflation pressure along with healthy consumer vital signs is the message from the personal income & outlays report for June' [Econoday]. "Personal income rose…. with the wages & salaries component. The savings rate was shifted sharply higher in last week's benchmark GDP revisions in what is a very fundamental sign of health…. The consumer didn't dip into savings to keep up spending." And but: "June 2018 Headline Personal Income And Spending Completely Revised" [Econintersect]. "Consumer income growth is higher than spending growth year-over-year (flip flop by annual revision). The backward revisions this month were relatively significant."
Chicago Purchasing Managers Index, July 2018: "The Chicago PMI continues its torrid pace" [Econoday]. "Rising costs and capacity stress aside, the Chicago sample's confidence is strong with over half expecting third-quarter orders to exceed those of the second quarter." And: "The results of this survey continue to correlate to district Federal Reserve manufacturing surveys – and generallly aligns with the overall trend of the ISM manufacturing survey" [Econintersect].
Employment Cost Index, Q2 2018: "Slowing in wage costs kept down the employment cost index in the second quarter" [Econoday]. "This is a mixed report but the slowing in quarterly wages is a tangible positive and complements the modest inflation readings in this morning's personal income & outlays report."
Consumer Confidence, July 2018: "Consumer confidence is steady and strong. It's hard to make further upward movement in this report given its enormous strength, right at nearly 20 year highs. But the kicking in of inflation expectations is something new and does coincide with very clear inflation pressures being reported by manufacturers all year" [Econoday]. "It's hard to make further upward movement in this report given its enormous strength, right at nearly 20 year highs. But the kicking in of inflation expectations is something new and does coincide with very clear inflation pressures being reported by manufacturers all year." And: "Consumer confidence has been on a multi-year upswing – and this upswing is roughly correlating with increases in consumer spending" [EconIntersect].
S&P Corelogic Case-Shiller Home Price Index, May 2018: "Weakness in the major cities in the Northeast and Midwest is offsetting price strength in the West" [Econoday]. "Despite the strength in the West, both this report and the FHFA house price index have visibly slowed the last several reports, in line with what has proven, in contrast to all the strength in the labor market and the health in consumer spending, to be a downshift in this year's home sales." But: "Many pundits believe home prices are back in a bubble. Maybe, but the falling inventory of homes for sale keeps home prices relatively high. I continue to see this a situation of supply and demand. It is the affordability of the homes which is becoming an issue for the lower segments of consumers" [Econintersect]. And: "According to the data, prices increased in 18 of 20 cities month-over-month seasonally adjusted" [Calculated Risk].
State Street Investor Confidence Index, July 2018: "Accumulation of equities by global institutional investors slightly increased in July" [Econoday]. "The regional breakdown suggests that while Europe remains firmly entrenched in risk-off territory amid political uncertainty and lagging growth in the region, trade war fears among North American investors especially may have tamed risk appetites since April's higher levels of accumulation to a few points above the neutral mark."
Tech: @jack:
How about "in the order in which the people who I follow tweeted"? Can I get that? Because I'd really like that. I am the filter. I am an adult. https://t.co/yRl0Gpm3li

— Kevin in ABQ (@KevinInABQ) July 26, 2018
Since Twitter, et al, make their money on the algos, they actually profit by removing functionality. It's an amazing business model!
Tech:
The moral arc of the universe is long, but it bends towards justice https://t.co/XJGQoL89nZ

— Pinboard (@Pinboard) July 29, 2018
"Seamlessed." Love verbing start-up branding. Juiceroed. Googled.
Tech:
— Vødalus (@BFomebranch) July 31, 2018
Correct.
Thai Cave Rescue
A society with the capacity to mobilize. Imagine that. Some of the people who showed up with trucks and water pumps and started to empty the cave:
ด.ช.พชร นักเรียนชั้น ม.3/1 ร.ร.บ้านเชิงดอย ดอยสะเก็ดศึกษา บุตรชายของ นายสุรทิน นายกสมาคมน้ำบาดาลไทย ได้ร่วมเป็นจิตอาสาช่วยชีวิตนักฟุตบอลทีมหมูป่าฯ ที่ถ้ำหลวง น่าชื่นชมความมีน้ำใจ #ลูกไม้หล่นไม่ไกลต้น#ThaiCaveRescue #ถ้ำหลวง #ส่งหมูป่ากลับบ้าน #หมูป่าอะคาเดมี pic.twitter.com/EeGVrI8qHS

— ❤รักนะคะ❤ (@Eang_mu) July 24, 2018
"Thai cave rescuers, who sedated boys, coach to get them out, describe harrowing moment when first boy started to come to during rescue" [ABC]. "Australian diver and anesthesiologist Dr. Richard Harris also injected the boys with the sedative Ketamine to knock them unconscious for their protection and the protection of the divers. British divers said if they were to attempt this rescue, the sedation was non-negotiable. 'I can't have him [one of the boys] twitching around,' [British Cave Rescue Council diver Jason Mallinson] said. 'He could have harmed himself. He could have ripped his face mask off and then he was dead. It was much better for me to sedate him and keep him under, in my opinion, for him [not] to harm himself or me.'"
Here is Harris presenting:
"Ignorance was bliss" for the boys facing this perilous rescue.
Australian anaesthetist tells @RACSurgeons how he managed the #ThaiCaveRescue. #SwanTrauma https://t.co/nM7tRLdQDX

— Jacqueline Tate (@JacquelineTate_) July 28, 2018
Reaction:
Delegation of responsibility + Empower others to autonomy in their own decisions + Trust yr trained team + Take responsibilty (for both good/bad outcomes) + Humility with success = True Leadership

Some on Twitter talk about leadership but examples like this speak volumes to me.

— Keith Greenland (@french9a) July 28, 2018
Allow me to underline that word "humility," which seems to be in short supply, here in the heartland of Empire.
Big Brother Is Watching You Watch
Word of the day:
What do you call that area just past airport security where you put your shoes back on and collect your x-rayed bags? I never knew until I flew out of Milwaukee's Mitchell Airport yesterday. pic.twitter.com/5hv3Pl3Z40

— Tom McGinty (@mcgint) July 30, 2018
Gaia
"The rise and fall of bees" [The Economist]. "Bees are wasps that went vegetarian. This was a brilliant evolutionary move: they now outnumber wasps by around three to one. Instead of hunting creatures that would rather not be eaten, they turned to living things that offered themselves on a plate. Bees and flowers evolved together in a gorgeous spiral of mutual dependence. Nectar and pollen feed the bees; in return, the plants get to procreate… Mr Hanson cites an authoritative survey showing that around 40% of bee species globally are in decline or threatened with extinction…. Why? Diana Cox-Foster, an entomologist, offers [author Thor] Hanson the theory of the four Ps: parasites, poor nutrition, pesticides and pathogens. Widespread culling of flowers is a particular problem. '," she says." • Or a lawn. Plant flowers! Especially pollinator-friendly wildflowers!
Class Warfare
The road not taken:
This here is an amazing lecture by #StraffordBeer about #Cybersin – the Cybernetics project brutally suppressed by #Pinochet . At a glance it might look complicated, but you are going to find it easier to deeper you go on. Cybernetics is about creativityhttps://t.co/YJoK1SFOxr

— Diego Ramiro Lattes (@JStockDesign) July 24, 2018
"Does economic inequality breed political inequality?" [Democratization]. From the abstract: "This study argues that economic inequality should decrease political equality through multiple mechanisms: (1) it increases the resources of the rich relative to the poor; (2) it widens the gap in policy preferences across income groups; (3) it reduces participation; and (4) it depresses support for democracy. Using three measures of inequality and data on more than 140 countries between 1961 and 2008, it was found that economic inequality tends to increase political inequality, even when one controls for the level of democracy. Results hold when the sample is restricted by regime type."
News of The Wired
"How to Fall Asleep in 120 Seconds" [Medium]. "The U.S. Navy Pre-Flight School developed a scientific method to fall asleep day or night, in any conditions, in under two minutes. After six weeks of practice, 96 percent of pilots could fall asleep in two minutes or less. Even after drinking coffee, with machine gunfire being played in the background. Which means if you follow these steps, falling asleep will be a piece of cake." • I count backward from 400….
"Don't Throw It Away—Take It to the Repair Cafe" [City Lab]. "It's that throwaway culture that former sustainability journalist Martine Postma—now the founder of the Repair Cafe Foundation—aimed to tackle in October 2009 when she created the first of such cafes in Amsterdam… . From that first cafe in Amsterdam grew nearly 1,600 more across the globe, including 82 within the U.S…. She now sells a digital starter kit for €49 (about $58) that includes a manual, permission to use the foundation's official logo, and communication access to all the other cafes out there."
"The ethics of computer science: this researcher has a controversial proposal" [Nature]. • Love the Nature-style clickbait headline ("this researcher," "controversial"). More:
If the peer-review policy only prompts authors to discuss negative consequences, how will it improve society?

Disclosing negative impacts is not just an end in itself, but a public statement of new problems that need to be solved. We need to bend the incentives in computer science towards making the net impact of innovations positive. When we retire will we tell our grandchildren, like those in the oil and gas industry: "We were just developing products and doing what we were told"? Or can we be the generation that finally took the reins on computing innovation and guided it towards positive impact?
Combine this with the precationary principle?
Kids these days:
I legit just saw an 8 year old at the school get their phone confiscated and they waited until the coast was clear, pulled an iPad mini from a schoolbag pocket, retrieved a sim from a ziplock bag, installed it, then resumed their conversation.

— Gordy Pls (@GordyPls) July 24, 2018
* * *
Readers, feel free to contact me at lambert [UNDERSCORE] strether [DOT] corrente [AT] yahoo [DOT] com, with (a) links, and even better (b) sources I should curate regularly, (c) how to send me a check if you are allergic to PayPal, and (d) to find out how to send me images of plants. Vegetables are fine! Fungi are deemed to be honorary plants! If you want your handle to appear as a credit, please place it at the start of your mail in parentheses: (thus). Otherwise, I will anonymize by using your initials. See the previous Water Cooler (with plant) here. Today's plant (Henry Moon Pie):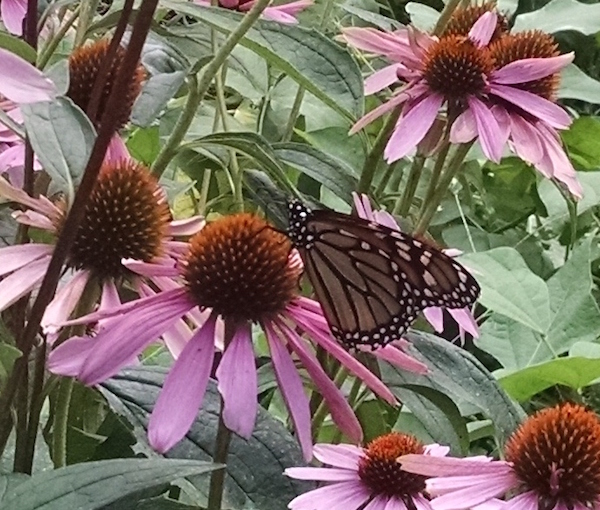 Henry Moon Pie writes: "My patches of cone flowers draw lots of bumble bees and even monarchs." Pictures of plants + pollinators are now starting to arrive in my Inbox, and I find them really encouraging. The subject is technically challenging, too, for the photographer: The pollinators are always in motion, and flowers seem designed to catch the slightest breeze…
* * *
Readers: Water Cooler is a standalone entity not covered by the annual NC fundraiser. So do feel free to make a contribution today or any day. Here is why: Regular positive feedback both makes me feel good and lets me know I'm on the right track with coverage. When I get no donations for five or ten days I get worried. More tangibly, a constant trickle of small donations helps me with expenses, and I factor that trickle in when setting fundraising goals. So if you see something you especially appreciate, do feel free to click the hat!

To give more, click on the arrow heads to the right of the amount.
If you hate PayPal — even though you can use a credit card or debit card on PayPal — you can email me at lambert [UNDERSCORE] strether [DOT] corrente [AT] yahoo [DOT] com, and I will give you directions on how to send a check.