By Lambert Strether of Corrente.
As readers know, I deprecate the (informal: disparaging and dffensive) noun "illegals," not only because it's a slippery slope to "frugals," "orals," "regals," and so forth, but because I can't think of a good reason to insult people who are, often courageously, trying to improve their own lives and those of their families. ("Scab," of course, is another pejorative for people with similar motives. So, for that matter, is "banker." It's complicated!) In any case, it's these migrants[1] presence that's illegal, not they themselves, so, heck, maybe it's all just an innocent case of metonymy…. In this post, I want to straighten out not these, but another small kink in our political discourse, which shows up when you read this story from the Times carefully. The headline:
An ICE Raid Leaves an Iowa Town Divided Along Faith Lines
Parenthetically, and just for the record, allow me to insert this photo of a church congregation that became a crossroads for families and supporters of the men detained in the workplace raid in that small town: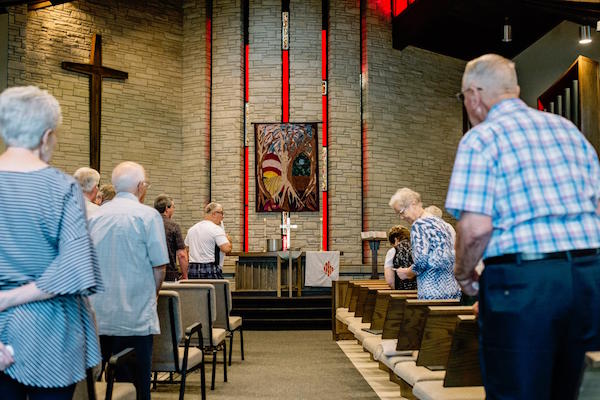 I can't quite put my finger on it, but I have the nagging feeling there's something about that picture inconsistent with an important liberal Democrat construct, identity politics. Close parenthesis.
Immediately I asked, as one should ask, why is faith the chosen dividing line? After all, you can slice and dice a human population as many ways as you can a pineapple, or a cake. Could it be that there's another, more interesting "divide" that the reporter's choice elides? Why, yes. Yes, there is. The lead and the next three paragraphs set up the conflict the reporter wishes to highlight:
In the days after immigration agents raided a dusty concrete plant on the west side of town, seizing 32 men from Mexico and Central America, the Rev. Trey Hegar, pastor of the First Presbyterian Church, got into an impassioned argument on his Facebook page.

"The Bible doesn't promote helping !!!!" a Trump supporter [here a novelist like Sterne would add "for a Trump supporter it was"] wrote.

Mr. Hegar answered with Leviticus: "When a stranger resides with you in your land, you shall not do him wrong. The stranger who resides with you shall be to you as the native among you, and you shall love him as yourself, for you were aliens in the land of Egypt."

The Trump supporter came back with the passage in the Gospel of Mark about rendering unto Caesar the things that are Caesar's, and added for good measure: "Immigration are good and Godly! We elected our leaders and God allowed it."
Leaving aside the idea that Leviticus is a good guide to public policy on immigration, any more than it's a good guide to public policy on gender issues, and leaving aside a brain-bending theodicy which posits that [The] God[(ess)(e)(s) Of Your Choice, If Any] doesn't allow evil in this world, I've underlined salient topics: "criminals", "laws." The reporter, slicing the pineapple by faith, ignores the question of law. We know who is subject to the law: The migrants, caught up in the raid. Is there anybody in the story who is not subject to the law? Why, yes. Yes, there is:
of the Midwest Precast Concrete plant in Mount Pleasant that was raided. An ICE spokesman declined to comment, citing a continuing investigation.
So, the elite have impunity when they break the law; et in Mount Pleasant ego. We know this, of course, from the Crash, so no surprises here. Oddly, or not, the reporter, when interviewing business owners, doesn't raise this point:
The view that immigrants take jobs from citizens or depress wages was a common one, but it was disputed by local business owners. The unemployment rate in Henry County is 2.9 percent, and many factories display "Hiring" signs.

Gary Crawford, who owns Mt. Pleasant Tire ("We keep you rolling"), said he paid tire installers $16 to $24 an hour, with full benefits. "I know most of the people who run the factories," he said. "."
It's illegal to hire illegal immigrants. Would it have been so hard for the reporter to ask "Should the business owners who hire illegal immigrants be arrested too?" Apparently the answer — "Hell no!" — is so obvious that the question doesn't need to be asked. After all, they need "help." The pineapple (or cake) is sliced along faith lines, not along class lines. Just to ram the class perspective home, the reporter, in the final paragraph, consults a professional:
Her father was released on bond in early June to await a deportation hearing in immigration court, which has a five-year backlog of such cases, according to Bram Elias, at the University of Iowa. "By doing this raid," he said, "the federal government has turned two dozen folks who were undocumented and living in the shadows into people definitely safe from deportation for five years, and possibly able to work lawfully."
Unexpected consequences aside, would it really have been so hard for the reporter to ask — as long as he had the good professor on the line — "Should the business owners who hire illegal immigrants be arrested too?"[2] It seems so. Oddly, employers are never "illegals." Perhaps, of course, the reporter, a fully paid-up member of the 9.9%, has just as much reason to seek impunity from prosecution as the 0.1% do. We'll look at the question of nannies in our next post. Meanwhile, it's almost as if "illegals" are only to be found in the working class, isn't it? Why not slice the pineapple upside-down cake along class lines, besides faith lines? A question that answers itself, once asked.
NOTES
[1] Yes, with "migrants," just like everybody else, I'm glossing over the differences between "asylum seeker" (displaced person), "refugee" (displaced person granted state status) and "economic migrants" (living standards). The global human supply chain is complicated! For example, into which bucket do you throw people fleeing to the United States because of terrible conditions that the United States itself created? None, apparently, or any; the categories themselves seem designed to obscure this question. Anyhow, whoever said avoiding torture or death didn't constitute an improvement in living standards? For some definition of "living," of course.
[2] One might almost think that the reporter was as slavish in their devotion to the existing order as the Trump supporter, whose name the Times originally misspelled, and had to correct.
UPDATE Today's story from the AP on the same topic fails to ask the same thing. Even though hiring illegal immigrants is illegal, there is no such thing as an "illegal" employer.