By Diligens, a member of the Establishment not loyal to his class
Educational privilege promotes and perpetuates inequality in the U.S.. One factor in preserving that privilege is superior access by elites to the Ivy League and other highly selective universities. Recently, public attention has turned to the question of how members of the top echelons maintain this superior access to elite universities. It's no secret that admissions departments often prefer children of alumni, a policy that explicitly transmits privilege across the generations.
However, numerous other policies also support elite access to the most selective universities, some of which are well-known, like preference for donor children, others of which are effectively hidden, like the enormous information advantage in college applications conferred to elites by a web application called Naviance.
Sold only to schools and purchased largely by private schools, Naviance gives students and their parents a frank, realistic understanding of their true odds of admission at competitive universities, thereby allowing them to focus their application energy on the highest prestige colleges where they also stand a realistic chance of admission.
The Naviance app is quite simple. A school subscribes to the Naviance service and, in doing so, commits to turning over to Naviance at the end of each college admission season an anonymized dataset containing key information about each college applicant from the school: where did they apply, where were they accepted, where were they rejected, where were they wait-listed, along with each applicant's GPA and SAT scores.
Naviance uses this information to provide each student from a subscribing high school with a snapshot of the admission success and failure experience of all of her predecessors from the last five years applying from her high school to any particular university. This last point is crucial: For any university a student is contemplating applying to, Naviance allows that student to see how her GPA and SAT credentials measure up against the prior successful applicants from her high school over the past five years. Here's an example of Naviant output: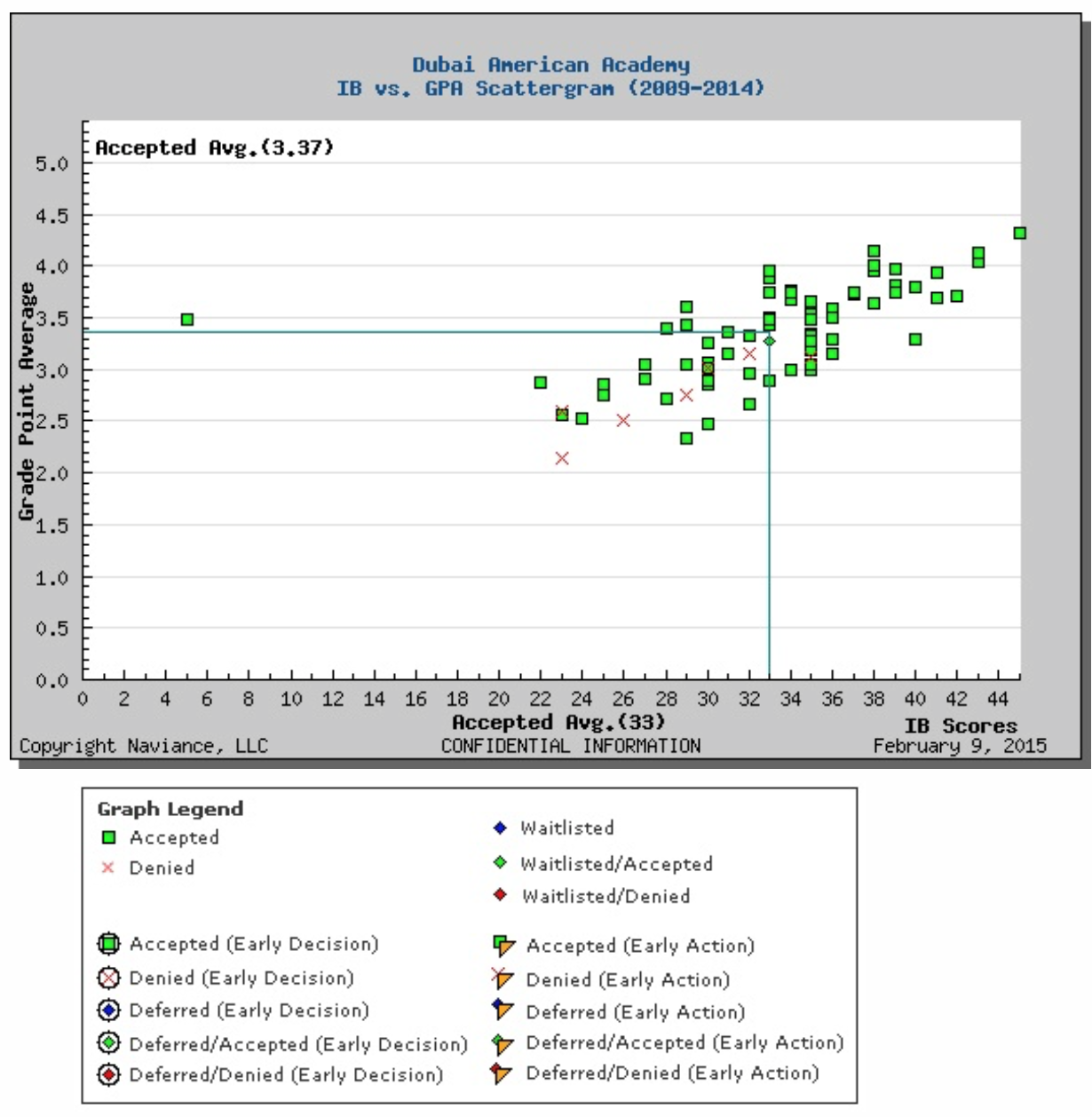 Here is a link to a guide that gives more detail on the various queries a student can run on the Naviance database to help them target their application process.
This Naviance data overcomes a key blind spot in the information that elite universities release to prospective students about the credentials of successful applicants, which is that the public numbers aggregate the experience of students at marginal high schools with that of the most academically elite high schools, public and private, whose graduates are consistently over-represented at the most selective colleges.
To understand the enormous value of the Naviance service, it is important to recognize that most ambitious high school students wildly overestimate their likely chance of admission to an elite university. The reality of this statement is evident in the rejection rates at places like Harvard or Stanford or Amherst College, all of which reject close to 95 percent of applicants, the vast majority of whom presumably thought they had a decent shot of admission.
Several factors have conspired to make the admission process opaque to most applicants. The most important factor is grade inflation, which at most U.S. high schools has reached absurd levels. It was recently reported that 40 percent of graduating seniors in the U.S. had an A- or better average. As a result, elite colleges heavily discount high GPAs and give them very little weight, other than at the relatively small number of elite public and private high schools that send a lot of students and are therefore well-known to elite college admissions officers.
A similar situation exists for SATs, where the scoring system was "re-centered" in 1995. This had two important effects: first, average scores went up approximately 80 points per test (on a 200-800 scale); second, the number of students receiving very high scores increased dramatically. In the early 1980s, for example, just a handful of students nationally would receive a perfect 800 in a given sitting of the SAT (and sometimes the 800 score was not even available if more than a handful of students would have received an 800, in which case the top score would be reduced to 780). Today, around one percent of test takers receive an 800.
As a result of GPA and SAT grade inflation, it is much harder than it once was for colleges to identify academically gifted students, and it is equally hard, if not harder, for the students themselves to assess how they measure up. For the students, this problem is made worse by our society's lagging understanding of these numbers' signaling value. For example, aunts and uncles who are unaware that the SAT has adjusted scores upward since they took the test may praise scores as "Good enough to get you in anywhere," which they would have been 30 years ago, even though the scores are relatively mediocre by today's standard.
This problem of confused standards plays out most tragically for ambitious students applying to elite universities from the many average or worse high schools that infrequently send students to highly selective colleges. One sees a common pattern, where the senior class standard bearer is encouraged by teachers and counselors to believe that a perfect academic record will sway elite university admission officers. Such students are offered admission from time to time, but it is almost always because of a compelling personal story about overcoming adversity. Almost never is it because of their academic record, which elite college admissions officers tend to view as almost meaningless.
It's also important to understand how the admissions arms race has fueled a response whereby students apply to an ever larger set of universities, with 12 being a standard number for ambitious students competing at the very top echelon. While the effort to apply has been reduced somewhat by the nearly universal adoption of a common application among colleges, the elite schools each continue to have particular, usually non-overlapping essays that they require. As a result, it is especially advantageous to such students that they apply to the right mix of twelve schools, some that are a "reach" but not out of their league, plus a bunch that are more than just plausible yet still demanding, and a few that are almost guaranteed to admit. So, You can see how Naviance enables its users to fine tune their line-up of schools to apply to in a way that maximizes the likelihood of admission at the most elite possible college.
Obviously, these schools aren't for everybody, and there is an reasonable response that amounts to, essentially, "Who cares?" Nevertheless, there is a reality that access to elite universities confers a major, lifelong economic, social, and political power benefit from those who receive it. One could argue that, in theory, a service like Naviance serves a useful purpose in helping its users to focus their college applications on schools that are a good match for their academic abilities. The problem, however, is that, like so many neo-liberal institutions, Naviance is offered only to those who can pay, which has the effect of perpetuating the superior access of the already-economic-elite to the institutions of higher learning that perpetuate that status.