By Lambert Strether of Corrente.
One of the talking points deployed against a Jobs Guarantee[1] is "make-work."[2] (I'm not proffering a complete sentence because deployment, in form of a jerking knee, is so fast that complete sentence cannot be emitted in time). This makes me crazy, because I was taught about FDR's Civilian Conservation Corps (CCC) back in grade school, and while the CCC was not "A job for everyone who wants one," the work the millions employed by CCC did was most definitely not "make-work." So in this post, I want to take a quick look at the CCC, because not all readers may be familiar with it, and then take a quick look at what a modern CCC might do. (In other words, I'm recapturing a little history here — even perhaps doing a little bit of a rant — not doing serious policy analysis.)
Let's start with a photograph of a Vermont park picnic shelter built by the CCC. From Northern Woodlands: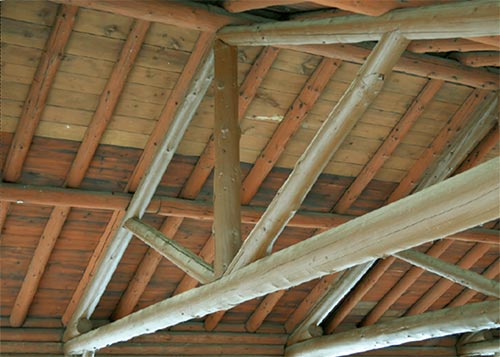 The two Vermont park administrators[3] who observed the shelter write:
"It's a truss structure with purlins, as well," said John Medose, looking up at the rafters of the Osmore Pond picnic shelter in Vermont's Groton State Forest. "The purlins – long beams paralleling the ridgepole – provide an extra layer of support. Most buildings have just one type of support, not two."

"
No crapification, then, as we might expect from a "make-work" project. More:
Back at Osmore Pond, Whipple and Medose remarked at the craftsmanship of the picnic shelter. The logs are notched and carefully fitted together at the corners of the building. Two-thirds of the structure is open-sided with railings; a stone fireplace and chimney stand at one end. A third of the building is enclosed and used for restrooms. The concrete floors were poured by CCC workers (and have since been restored by the State). The picnic tables inside include four made by the CCC, with a design distinct from the modern tables nearby. The Corps followed plans provided by the National Park Service, but with a different foreman for each crew, each building is a little different. "CCC architecture is now the brand for Vermont's State Parks," said Whipple. "It's . We're trying to replicate it in new construction….As we rehab park infrastructure, we're taking extreme care of CCC-built structures. We work closely with the Vermont Division of Historic Preservation. ."
Since (as we shall see), the CCC operated on an enormous scale, I could probably just stop right here on the stupid "make-work" point.[4] But before moving on to the CCC, I want to make one additional point: The dignity of labor, which I really believe in. It's not just a hackneyed phrase. There is dignity in the work of creating of a shelter that's "built to last," and that is "used today by hundreds of thousands of people." The work may not require credentials, and maybe the people who do it aren't "smart," but there's dignity in the work all the same. To me, work is about "the augmentation of the complexity and intensity of the field of intelligent life," as Ursula LeGuin puts it, although there are times when the confusion of "work" and "job" make the augmentation problematic.[5] These are my joules, as Cornelia Africana, mother of the Gracchi brothers, did not quite say.
And now to the CCC itself. (The most amazing factoid I found was that the CCC planted 3 billion trees, as part of its reforestation project. "Make-work" my sweet Aunt Fanny.) From the CCC Legacy Site:
President Roosevelt promised if granted emergency powers he would have 250,000 men in camps by the end of July, 1933. The speed with which the plan moved through proposal, authorization, implementation and operation was a miracle of cooperation among all branches and agencies of the federal government. It was a mobilization of men, material and transportation on a scale never before known in time of peace. From FDR's inauguration on March 4, 1933, to the induction of the first enrollee on April 7, only had elapsed.
Here I pause to contrast the speed and effectiveness of FDR's administration to the sad farce of the Obama administration's response to the Great Recession, let alone the Trump administration's infrastructure omnishambles. More:
The administration of the CCC was unprecedented. Executive Order 6101 dated April 5, 1933, authorized the program, appointed Robert Fechner as director and established an Advisory Council. Representatives of the Secretaries of War, Labor, Agriculture and Interior served on the Council for the duration of the program.

All four agencies performed minor miracles in coordination with the national Director of ECW, Robert Fechner, a union vice-president, personally picked and appointed by FDR. There was no book of rules. There were none. Never before had there been an organization like the CCC. It was an experiment in top level management designed to prevent red tape from strangling the newborn effort. Fechner, and later James J. McEntee, would have their differences with the Council, but unquestionably, each contributed greatly to the success of the CCC.

Logistics was an immediate problem. The bulk of young unemployed youth was concentrated in the East while most of the work projects were in the West[6]. The Army was the only department capable of merging the two and they quickly developed new plans to meet the challenge of managing this peacetime mission. The Army mobilized the nation's transportation system, and moved thousands of enrollees from induction centers to working camps. It used regular and reserve officers, together with regulars of the Coast Guard, Marine Corps and Navy to temporarily command companies.

The Army was not the only organization to evoke extraordinary efforts to meet the demands of this emergency. The Departments of Agriculture and Interior were responsible for planning and organizing work to be performed in every state of the union. The Department of Labor was responsible for the selection and enrollment through state and local relief offices.
Again, one pauses to admire the ability of government to act in the public interest, way back in frontier days. (Reminds me of how LBJ's administration rolled out Medicare in a year, back in the days of steam-driven, punchcard-controlled computation). From Robert Fechner, "My Hopes for the CCC," 1939:
Altogether, some 4,500 CCC camps of 200 men each have been established in national, state and private forests, on the public domain and on wildlife refuges in various parts of the country. At the present time more than 1,500 camps, including those on Indian reservations and in Alaska, Puerto Rico, the Virgin Islands and Hawaii, are in operation. Out of these camps each day go some 300,000 enrollees to plant trees, build truck trails, erect fire detection towers, lay telephone lines, improve grazing conditions in national forests and on the public domain, rehabilitate reclamation projects in the west and drainage ditches on farm lands, build check dams and plant quick growing trees and vegetation to protect private farm lands from soil wastage, to conserve water and prevent floods, to conduct campaigns against the white pine blister rust, the gypsy moth, bark beetles and rodents, to improve living conditions for wildlife ["Make-work." Faaaugh!] and to do a host of other jobs related in a greater or lesser degree to the national task of conserving and rebuilding America's natural resources wealth.
In other words, the CCC operated at scale. Are the JG's detractors really saying that today's political economy is unable to operate at the same scale, or to deliver equivalent results? Fechner summarized the CCC's goals as follows:
In reviewing the past five years of the Corps, and looking into its future, it is well to recall its original purpose and scope. The original CCC Act of March 31, 1933, sets up pretty clearly the two main purposes of the Corps, unemployment relief and "restoration of the country's depleted natural resources." Later wording amplifies the first statement and refers to "forestation" of federal and state "lands suitable for timber production, protection or prevention of forest fires, floods and soil erosion, insect and fungous attacks, and the construction, maintenance and repair of paths, trails and fire lanes within national forests and parks."
And here is today's equivalent of Fechner's purpose and scope. Partially quoting from Wray, et al., "Public Service Employment: A Path to Full Employment." to make the parallel between their JG and the CCC crystal clear:
We propose a revival of FDR's Tree Army and the creation of a 21st century version of the Civilian Conservation Corps (CCC) that creates PSE [Public Service Employment] jobs in every community. Since all communities have acute environmental needs, the camp-based CCC model from the New Deal era [see above] is not what we propose. Instead, jobs will be created where the workers live. The Community Jobs Banks will include a list of monitoring, rehabilitation, and public investment programs. The jobs will tackle: .
Let me single out just one of the possibilities listed: "species monitoring." From Nature:
The global biodiversity crisis has driven the development of increasingly sophisticated databases, such as the Living Planet Index1 and the IUCN Red List for Threatened Species, which require reliable baseline information on species, habitats and population trends. Although monitoring data are of increasing value to conservation managers, population and status assessments are currently limited by the , resulting in poor evidence for conservation practitioners.
A Jobs Guarantee program could provide that data. (When you think for a minute, it's absurd that we have enormous "Big Data" projects focused on the minutiae of people's Facebook clicks, and no equivalent projects for the natural world!) "Make-work," forsooth!
NOTES
[1] ]L. Randall Wray, Flavia Dantas, Scott Fullwiler, Pavlina R. Tcherneva,
and Stephanie A. Kelton, "Public Service Employment: A Path to Full Employment," Levy Institute, April 2018 (PDF):
The authors propose the creation of a Public Service Employment (PSE) program that would offer a job at a living wage to all who are ready and willing to work. Federally funded but with a decentralized administration, the PSE program would pay $15 per hour and offer a basic package of benefits. This report simulates the economic impact over a ten-year period of implementing the PSE program beginning in 2018Q1.

Unemployment, hidden and official, with all of its attendant social harms, is a policy choice. The results in this report lend more weight to the argument that it is a policy choice we need no longer tolerate. True full employment is both achievable and sustainable.
Dunno about "Public Service Employment" (PSE) rebranding; it reminds me of the permathread on "single payer" vs. #MedicareForAll. That said, this is a lengthy worked proposal, well worth a read if you have the time.
[2] The Economist, "Make work can't work. "Matt Bruenig, "Some Notes on Federal Job Guarantee Proposals." Weirdly, Bruenig throws out "ecological restoration" as "too vague to assess," which would, I suppose, apply to the CCC's goal of "reforestation." Annie Lowry, "A Promise So Big, Democrats Aren't Sure How to Keep It," The Atlantic. "[A] jobs guarantee would mean the government hiring tens of thousands of bureaucrats to locate make-work." David Graeber has a perspective much like Lowry's, except it's the bureaucrats who do the make-work:
yes let's employ EVERYONE in bullshit jobs the government made up to guarantee full employment so the government can also continue to maintain a vast bureaucracy to see if we're capable of work & force us to do it if we are. Much better. pic.twitter.com/Ml21ciZiz7

— David Graeber (@davidgraeber) November 24, 2017
Both the focus on overhead and "Force us to do it if we are" comes, I imagine, from Graeber's anarchist perspective. At some point in the future, when humans give work instead of being rented (or sold) to do it, Graeber's perspective will be relevant.
[3] Not all administrators are bad!
[4] Speaking of shelters, there are between 200,000 and 500,000 homeless people in the United States. We could just build them houses.
[5] It's almost as if something was holding back people's ability to work productively.
[6] Current Jobs Guarantee programs, including that by Wray, et al. in footnote [1], envision JG (PSE) work being done locally. There are advantages to the CCC's approach. From the National Park Service:
Many CCC enrollees were relocated to camps at a considerable distance from their homes. Regardless of their regional and ethnic background, enrollees experienced considerable change. New attitudes, values, and beliefs emerged and were carried back to their home towns. Some enrollees never returned to their home towns; rather, they selected a community of new residence near their forest camp.

Communities near CCC camps, of course, received new cultural stimulus from the "immigration" process. Many communities were resistant to this program, whereas others welcomed it. The financial profit realized by these communities was often significant, not only because of monthly spending by enrollees, but also CCC hiring of local labor for camp construction.