By Lambert Strether of Corrente.
Trade
"A new study shows Trump's trade war probably won't achieve one of its biggest goals" [Business Insider] (original study). "A new report from the New York Federal Reserve's Liberty Street Economics blog shows that Trump is unlikely to get the targeted reduction using his favorite trade tool: tariffs. According to the New York Fed economists, while the new duties on goods coming into the US will lead to a decrease in the amount of imports — as Trump intends — the value of exports sent out of the US will also come down."
Politics
2020
"Dems ready to move past Michelle Obama's 'go high' message" [The Hill]. "[Michael Avenatti], said former Rep. Steve Israel (D-N.Y.), is 'tapping into a Democratic rage that Trump must be defeated and it doesn't matter how.' 'They think the low blow beat the high ground in 2016,' Israel said, adding that Trump has created 'an electorate that is angrier, nastier and more desperate.' That likely means more attacks and a pugnacious 2020 primary season, say Democrats. 'We have no other choice,' said one political strategist who has been having preliminary conversations with candidates about running for the presidency. 'You can't kill him with kindness. That doesn't work. So you have to go the other way.'" • (Sanders supporters smeared by liberal Democrats as racist and sexist bros may be dubious about liberal Democrats' professed reluctance to take the low road.) Let's remind ourselves that Steve Israel, during his tenure at the DCCC, was the architect of the Blue Dog-centric strategy that lost the Democrats 1000 seats and all three branches of government; see Down with Tyranny for a fun post on "The Steve Israel effect." So Israel's a loser, and probably any strategy he recomments will be a losing one. Then, two solid years of RussiaRussiaRussia! was treating heck, not Trump, but the entire country, with kindness?

Donning my tinfoil hat: We might ask ourselves to whom this signal, if indeed it is a signal, is being sent, given the enormous investment by both the political class and the politicized factions of the intelligence community in RussiaRussiaRussia. Sounds to me if RussiaRussiaRussia is all that liberal Democrats have going for them — the donor class certainly won't let them do anything halfway decent on policy, even if they were so inclined — then RussiaRussiaRussia will have to be intensified. Maybe, after the big reveal, we'll be arguing about fonts, or today's digital equivalent, all over again, for most of 2019…. A pleasing prospect, and all, if Israel is in form, for nothing. Fortunately, there aren't any major players in the controversy with the operational capacity to fabricate evidence. Oh, wait….

"Estrich: Donald Trump numbers not as bad as some believe" [Susan Estrich, Boston Herald]. "The big problem on my side of the aisle these days is that so many people hate Trump so much that they cannot acknowledge his strengths among voters and simply cannot believe he could possibly win. And in this, they are sadly wrong. Not only could Trump win; he probably will if Democrats remain locked in a state of denial. Trump has at least three big advantages… First and foremost, it's the economy, stupid…. Second, as my father used to say at the track, you can't beat a horse with no horse…. That brings me to the third reason, which my friends just hate. I'm sorry, Donald Trump may be many things, but he is not stupid. He is not in over his head; he's been swimming along just fine. He is shrewd. You don't get to be president without being shrewd. Blame former FBI Director James Comey, but Trump took some hard hits, too. Looking forward, you might try to convince yourself that the problem was Hillary Clinton, that she lost. I don't see it that way. Clinton fought hard. Trump won. And he could do it again." • Estrich was Michael Dukakis' campaign manager….
2018
"Over 50 Democratic candidates say they would oppose Pelosi as House speaker" [NBC]. "At least 42 of the party's nominees for House seats have declared they will not back Pelosi and nine incumbent Democratic lawmakers are on the record opposing her, bringing the total to 51." • Assuming the opposition isn't tactical…

"Pelosi Might Not Be A Great Leader Any Longer But Most Of The Members Who Want Her Position Are FAR Worse" [Down With Tyranny]. "There are plenty of ambitious, far less talented, far more conservative Democrats who [see] themselves as speaker." • Hard to believe, but true. Interesting for the circumlocutions all candidates, including those on the left, must use to keep their options open. Oh, and: "We have a Republican Party controlled by conservative billionaires; we don't need a Republican-lite party controlled by conservative billionaires on top of it." • Billionaires as such, surely?

"Tracking the House Races to Watch in the 2018 Midterm Elections" [New York Times]. They use the Cook Political Report's districts and ratings:

But compare the original Cook Political Report map:

The Times omits Cook's classification of districts ("Trump Surge zones," etc.). Perhaps the Times didn't like those categories much, either?

MO: "Wesley Bell's Win Surprised Everyone — Except His Campaign" [Riverfront Times]. "A generation of St. Louis County voters had returned McCulloch to office again and again, and some observers speculated that Bell's campaign would turn those voters off with talk of bail reform and respect for protesters. In reality, though, Bell didn't need McCulloch's voter base. He had his own… 'People are waking up,' [ActionSTL leader Kayla Reed] says. 'They always try to say that the 'Ferguson Effect' is a bad thing. This is the good part of the Ferguson Effect, this is what it's all about. Making sure that we elect people that represent people's interests, the people's morals. Young people running for office, changing the guard in these officers that have been held by the same person for decades.'" • For anybody who remembers Ferguson, this is a big, big deal.

MO: "The historic election of Wesley Bell, movement-building, and a few essential lessons we learned in this groundbreaking race" [Medium]. "At first I didn't quite get what [Philadelphia DA] Larry [Krasner] meant, but he unpacked it, and so did the other brilliant panelists. Electing radical reformers as district attorneys is HUGE. It's essential. It's a BFD. But it's not everything — if you have a great DA, but horrible judges, you are still jammed up. If you have an amazing DA, but a horrible police chief, problems will continue. If you have an amazing DA, but the House, Senate, Presidency, Supreme Court, and most state legislatures are working against you, you simply don't have enough. What Larry was saying is that if we turbo-charge our local, regional, and national organizing we can not just elect great district attorneys, we can change the whole game. And to have the results we really need, we have to change the whole game." • Yep.
NY Governor: "Letitia James Has Embraced Andrew Cuomo. Is It Worth It?" [New York Times]. James: "It's really, critically important that I not be known as the 'Sheriff on Wall Street.'" • Oh.
New Cold War
"Meet the Indiana dad who hunts Russian trolls" [CNN]. "Russell is part of a growing network of online sleuths using public information to conduct open source investigations into Russian accounts posing as Americans. Officially, their work is called open-source intelligence, or OSINT, and it often identifies trolls before the platforms do. Russell's work in particular has helped journalists at CNN, NBC News, The Daily Beast, and other outlets cut through the lies and disinformation." • Never any problems with that, no no…

"The handwritten notes exposing what Fusion GPS told DOJ about Trump" [John Solomon, The Hill]. • I don't have much to say about this, except to note that Obama's intelligence community is treated as being a remarkably passive player in the whole RussiaRussiaRussia narrative. So it's good to see some, er, dots connected between (Democrat vendor) Fusion and Obama's Justice Department (plus the FBI) [hums "Moody Richard"…].
Realignment and Legitimacy
Reader Query: I'm trying to remember the name of the Kos employee who invented the business model of taking a commission on click-throughs for online petitions; this probably would have been after the Dean campaign in 2004. But I can't. The name was well-known in the blogosphere of the time. Can any readers help out?

* * *

"Advocates Say Paper Ballots Are Safest" [Bloomberg]. And the deck: "They're also the cheapest and fastest way to address vulnerable systems before the midterms" (!!). More: "Voting security advocates want paper ballots and scanners. 'It's absolutely the safest way,' Richard DeMillo, a cybersecurity professor at the Georgia Institute of Technology in Atlanta, says of using paper. 'All this fancy stuff—you are talking to a computer scientist, and it breaks my heart to say this—but it just drives up the cost and doesn't add anything.'" • Good to see this issue break through at Bloomberg. And you've gotta wonder why both major parties cling to the digital…

* * *

"White supremacists' D.C. rally fizzles, drowned out by counterprotesters" [MarketWatch]. "What was promoted as a 'white civil-rights rally' held near the White House on Sunday appeared to be a bust, with fewer than 20 attendees, while thousands of counterprotesters gathered nearby. Jason Kessler, the white nationalist who organized the rally, told the National Park Service he expected 100 to 400 attendees… The rally marked the anniversary of last year's mayhem in Charlottesville, Va., in which white nationalists and their supporters clashed with counterprotesters."

Taking credit (1):

"The white nationalist rally, which was expected to last two hours, finished before it was even scheduled to begin"

In America, hatred will always be defeated. https://t.co/wHSeSsoCfM

— DCCC (@dccc) August 13, 2018

Taking credit (2):

A year ago this rally drew hundreds of open neonazis. Today it drew twenty. They admit it's because they don't feel safe.

This victory is due to militant and occasionally violent antifascist organizing. This proves, concretely, that antifa tactics work.

— Comrade El*n H*sk ? (@Alysonesque) August 12, 2018

The claim that "antifa tactics work" depends on where you think facism is to be found (and what it is). If you think that fascism in America is a Mussolini-style marriage of corporations and the state, then you might want to think about the implications of Jeff Bezos — also the owner of the Washington Post — getting a $10 billion contract from the Pentagon for data storage. Of course, the streets do involve that adrenaline rush, described vividly by David Graeber here (page 420 et seq).

Power lying in the street?

Good luck taking these guys down @mutehornsection pic.twitter.com/WdlwkDW6vv

— Jonathan Cromwell (@36placebo) August 14, 2018

Nobody seems to remember Obama's 17-city crackdown on Occupy. Or the National Guard in Ferguson, either. Oh, and let's drop the fig-leaf that black bloc is just a tactic, mkay?

* * *

"A Community-Run ISP Is the Highest Rated Broadband Company in America" [Vice]. "[Consumer Reports] surveyed 176,000 readers on their experience with their pay TV and broadband providers, and found that the lion's share of Americans remain completely disgusted with most large, incumbent operators…. One of the lone bright spots for broadband providers was Chattanooga's EPB, a city-owned and utility operated broadband provider we profiled several years back as an example of community broadband done well. The outfit, which Comcast attempted unsuccessfully to sue into oblivion, was the only ISP included in the study that received positive ratings for value." • If the liberal Democrats wanted to appeal to rural voters, and weren't owned by the donor class, and had any stones, they'd run on this. Of course, none of that is true, but we can dream….
Stats Watch
Business news is quite light today, because there were so many political topics I wanted to write about. I'll have a pantry clear-out tomorrow.
NFIB Small Business Optimism Index, July 2018: "The Small Business Optimism Index rose by 0.7 points in July to 107.9, the second highest level in the survey's 45-year history" [Econoday].
Import and Export Prices, July 2018: [Econoday].
The Bezzle: "Tesla investigates why bumper broke off two Model 3 vehicles after 'heavy rain'" [Electrek]. • The teardowns mean that a Tesla car can be profitable. That's not the same thing as saying Tesla can manufacture cars for profit.
Tech: "Banks and Retailers Are Tracking How You Type, Swipe and Tap [New York Times]. "The way you press, scroll and type on a phone screen or keyboard can be as unique as your fingerprints or facial features. To fight fraud, a growing number of banks and merchants are tracking visitors' physical movements as they use websites and apps. Some use the technology only to weed out automated attacks and suspicious transactions, but others are going significantly further, amassing tens of millions of profiles that can identify customers by how they touch, hold and tap their devices." • Because of course they are.
Health Care
"Donald Trump is making Medicare-for-all inevitable" [Matthew Yglesias, Vox]. "Medicare-for-all — a government-run insurance program that everyone is either covered by or at least eligible for — is unequivocally the future of progressive health care policy…. [W]hether the Democratic Party should pursue it is no longer in doubt [lol]. That's in part thanks to the work of activists and organizers who've been working in the single-payer trenches for years." • You're welcome.
"Sorry, Bernie Is Right" [Matt Bruenig, Jacobin]. "But [the] initial success [of their propaganda campaign] slipped away from Mercatus because folks like myself quickly noticed that, buried in the report's tables, the author had actually found that Sanders's plan would save $2 trillion. That's right: the same estimate with the scary $32.6 trillion figure they were promoting to all the journalists in the country also said that the US could insure 30 million more Americans, virtually eliminate out-of-pocket expenses, and cover dental, vision, and hearing care for everyone — all while spending $2 trillion less over the next ten years. After this was pointed out, the coverage of the report changed dramatically, and Bernie Sanders put out a video thanking the Koch brothers for their positive study…. Needless to say, Mercatus was not thrilled that its attempt to torpedo Medicare for All had become one of the leading talking points in its favor, and so it badly wanted a do-over. The preferred theater for their do-over was gullible and biased fact-checkers who they successfully coached into declaring that Bernie Sanders is lying using their inane truth-o-meter and Pinocchio-based measures." • This is an excellent takedown of the Mercatus report, although I must say I prefer Yglesias' "thanks to the work of activists and organizers" to "folks like myself." Single payer has enormous intellectual capital, the result of a collective effort by many unsung heroes.
"The tale of two Medicares: Canadian and American" [STAT]. "Contrary to popular opinion, it's not that Americans get more tests or procedures, or even enjoy the ability to exercise more freedom of choice within the health care system. They are just paying staggeringly higher prices for the exact same things."
"Fearing 'blue wave,' drug, insurance companies build single-payer defense" [The Hill]. "Health insurance and drug companies, who are often at odds on policy issues, banded together to form the [Partnership for America's Health Care Future], which lobbyists say could run advertisements against single-payer plans and promote studies to undermine the idea…. Industry groups are worried that support for single-payer is quickly becoming the default position among Democrats, and they want to push back and strengthen ties to more centrist members of the party to promote alternatives. 'Their worry is about 2020 and it's becoming the litmus test for Democrats,' said one insurance industry source familiar with the plan to create the new partnership." • Not to worry, dudes. The liberal Democrats have got you covered. The DCCC is running enough Blue Dogs to make sure that single payer "never, ever" comes to pass, for at least one election cycle. And since the "Blue Wave" is going to break on the shore and, in due course, roll back without changing a thing, remind me why it's important?
A liberal Democrat reacts:
The American public does not want our health care system decided by Pharma & insurance lobbyists or invisible insiders.

Americans need to participate in and lead the conversation about our future. Not getting involved surrenders it to the lobbyists. /end

— Andy Slavitt (@ASlavitt) August 13, 2018
(For more on Slavitt, see "Andy Slavitt's United States of Care: A Second 'Undertaking' (and It's Bipartisan!)" at NC). Note the tell: "Conversation," for which the operational definition is a bunch of "town halls" with NPR tote bag-carrying consultants using whiteboards to carefully guide a hand-picked audience to a predetermined market-based solution. And of course funding for focus groups, pollsters, strategists, video producers, as well as, these days, a troll army.
"A New Threat to Immigrants' Health — The Public-Charge Rule" [New England Journal of Medicine]. "[T]he Trump administration is drafting a rule on "public charges" that could have important consequences for access to medical care and the health of millions of immigrants and their families… A draft rule from the Department of Homeland Security (DHS) would substantially expand the definition of a public charge to include any immigrant who "uses or receives one or more public benefits." Not just cash assistance but nearly all public benefits from federal, state, or local governments would be considered in public-charge determinations…. ne estimate suggests that nearly one third of U.S.-born persons could have their use of public benefits considered in the public-charge determination of a family member… Notably, unauthorized immigrants are not the primary target of the draft rule, since they are already ineligible for most federally funded public assistance. Instead, lawfully present immigrants would bear the brunt…. We believe that the draft public-charge regulation represents a substantial threat to lawfully present immigrants' access to public programs and health care services." • Epidemics don't care about whether your papers are in order…
"An analysis of out-of-network claims in large employer health plans" [Health System Tracker]. "Almost 18% of inpatient admissions by enrollees in large employer health plans include at least one claim from an out-of-network provider… Given these additional potential costs, why do enrollees receive care from out-of-network providers? In some cases, they may prefer a provider outside their network, maybe due to reputation, familiarity, or convenience. Sometimes, provider networks may have few in-network options for certain types of services, such as for mental health care. In other cases, patients may not be in a position to select a network provider, for example in emergencies or urgent care situations. Other instances of out-of-network service use may be inadvertent, such as where an enrollee encounters an out-of-network provider (maybe an anesthesiologist) in the course of treatment at an in-network hospital or surgical center, or when their in-network provider refers them to an out-of-network provider for services such as laboratory testing or radiology. These latter situations are sometimes called "surprise medical bills," because patients may not have been aware that they were exposing themselves to the potentially large cost sharing and balance bills for out-of-network services. A 2016 KFF survey of medical debt found that among individuals who faced out-of-network bills they could not afford to pay, nearly 7 in 10 did not know the provider was out of network at the time they received care." • Everything is fine. We have the best health care system in the world.
Class Warfare
"Austerity kills: this week's figures show its devastating toll" [Guardian]. From last week, still germane.
"Just Released: Cleaning Up Collections" [Liberty Street Economics]. "Between June 2017 and June 2018—the time period during which the [National Consumer Assistance Plan (NCAP)] was implemented—the number of individuals with a collections account on their credit report fell from 33 million down to 25 million. The number of collections accounts reported also dropped substantially… All in all, the changes in credit reporting prompted by the National Consumer Assistance Plan have resulted in an $11 billion reduction in the collections accounts balances being reported on credit reports. A total of 8 million people had collections accounts completely removed from their credit report. However, collections accounts do indeed align with other negative events and the cleanup of collections accounts had the largest impact on the borrowers with the lowest scores."
News of The Wired
"When Protomammals Ruled Earth" [Scientific American]. "[T]he Carboniferous rainforests didn't truly collapse. These lush, swampy habitats either moved or were replaced. It was a matter of turnover rather than a last stand of forest patches separated by inhospitable land. " • Good news!
Gary Gulman's "Abbreviating the States":
* * *
Readers, feel free to contact me at lambert [UNDERSCORE] strether [DOT] corrente [AT] yahoo [DOT] com, with (a) links, and even better (b) sources I should curate regularly, (c) how to send me a check if you are allergic to PayPal, and (d) to find out how to send me images of plants. Vegetables are fine! Fungi are deemed to be honorary plants! If you want your handle to appear as a credit, please place it at the start of your mail in parentheses: (thus). Otherwise, I will anonymize by using your initials. See the previous Water Cooler (with plant) here. Today's plant (Samuel Connor), close up: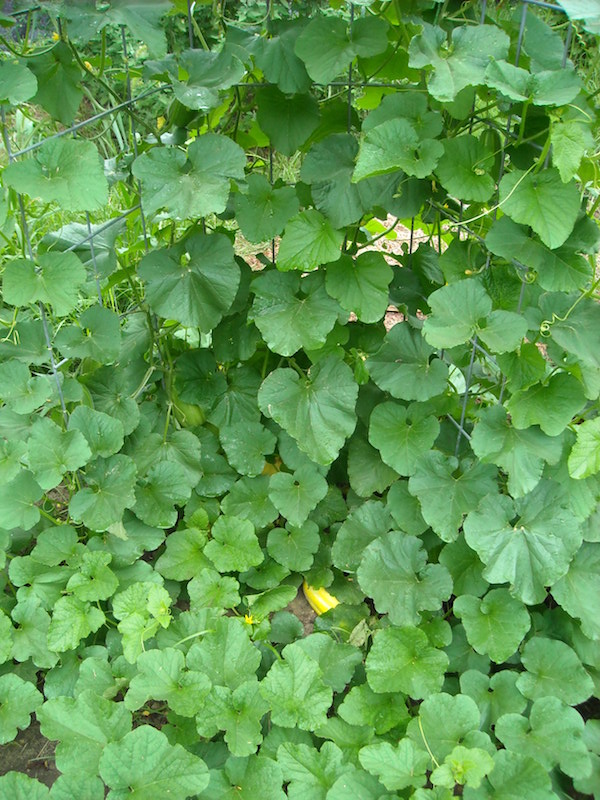 And from farther away: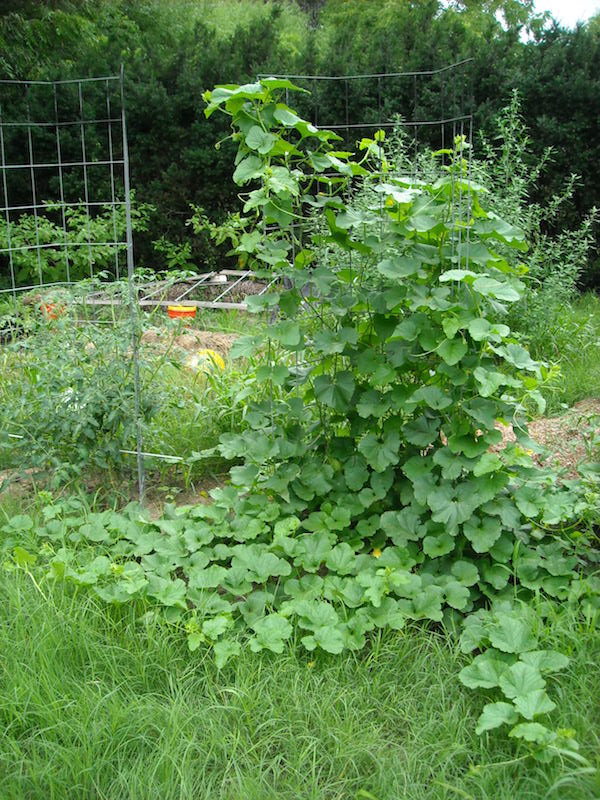 Connor writes:
Two photos of the Chamoe vine at day 43 from planting. The first photo has roughly the same scale as the original. The plant has taken over; I gave up trying to train it about a week ago when the rains started. It had been growing steadily during the preceding multi-week drought, but really took off with multi-inches of rain over a week. The first-fruit is visible toward the bottom of the photo, a yellow melon gleaming out from among the leaves.

To get a sense of the scale of the plant, a second photo is attached. It has burst out of the intended trellis/cage and is spreading aggressively in all directions. I expect that it will overwhelm the cherry tomato vine (Riesentraube) to the left; I'll have to decide whether I want tomatos or more melons. Perhaps I can guide the vines around the tomato.

Given how aggressively this spreads, it might make a good shade cover over weedblock cloth to suppress the weed grass that is obvious at the bottom of the 2nd photo. I don't know whether this is quack or bermuda but, whichever, it is getting the better of me. I expect that I will be digging the rest of the Summer, and into the Autumn and Winter. But at least I'll have dug beds for timely planting in Spring 2019. And a stronger back.
My quack grass has totally gotten the better of me. There comes a point, every summer, when I simply give up (generally because I've started projects that are more interesting than weeding). That point has now come.
Also, I like photographs of projects. I'm running a bit short, so if you've got photos of a garden project, do send them in! Pollinators are good, too; so hopeful!
* * *
Readers: Water Cooler is a standalone entity not covered by the annual NC fundraiser. So do feel free to make a contribution today or any day. Here is why: Regular positive feedback both makes me feel good and lets me know I'm on the right track with coverage. When I get no donations for five or ten days I get worried. More tangibly, a constant trickle of small donations helps me with expenses, and I factor that trickle in when setting fundraising goals. So if you see something you especially appreciate, do feel free to click the hat!

To give more, click on the arrow heads to the right of the amount.
If you hate PayPal — even though you can use a credit card or debit card on PayPal — you can email me at lambert [UNDERSCORE] strether [DOT] corrente [AT] yahoo [DOT] com, and I will give you directions on how to send a check.