By Lambert Strether of Corrente.
Patient readers, yesterday I promised more business news, which is here today, but I got wrapped round the axle on a household issue, so I didn't cover as much politics as I'd like. I'll add some material, so please check back. –lambert UPDATE 3:15PM All done!
Trade
"Trump's Tariffs Are Changing Trade With China. Here Are 2 Emerging Endgames." [New York Times]. "[B]eneath the acrimony, two potential paths for China seem to be emerging, according to participants in the trade negotiations and their advisers. Both would deliver trade wins for President Trump and his more moderate advisers, while also letting President Xi Jinping of China push ahead with his ambitious industrial plan to build national champions in cutting-edge technologies. A stalemate appears the most likely endgame…. A negotiated truce is also possible."
Politics
2020
"Companies Shouldn't Be Accountable Only to Shareholders" [Elizabeth Warren, Wall Street Journal]. "That's where my bill comes in. The Accountable Capitalism Act restores the idea that giant American corporations should look out for American interests. Corporations with more than $1 billion in annual revenue would be required to get a federal corporate charter. The new charter requires corporate directors to consider the interests of all major corporate stakeholders—not only shareholders—in company decisions. Shareholders could sue if they believed directors weren't fulfilling those obligations…. My bill also would give workers a stronger voice in corporate decision-making at large companies. . At least 75% of directors and shareholders would need to approve before a corporation could make any political expenditures. To address self-serving financial incentives in corporate management, directors and officers would not be allowed to sell company shares within five years of receiving them—or within three years of a company stock buyback." • Only 40%? I'm sure we'll have more to say about this, but here is my hot take: Warren is, in essence, outflanking Sanders from the left (which is not necessarily a bad thing; my touchstone for the left is putting the working class first as a governing principle, which isn't implementation). Recall the current branding confusion between social democracy (left policies like #MedicareForAll, which put the working class first by conveying universal concrete material benefits) and democratic socialism (harder left policies that allocate capital democratically, which puts the working class first by allowing them to own and control, in the jargon, "the means of production"). Employees electing 40% of directors is not control or ownership of the means of production — Warren, being Warren, stops far short of that — and Warren's bill is not universal, but it's certainly more than Sanders has offered. Interesting!

"Elizabeth Warren has a plan to save capitalism" [Matthew Yglesias, Vox]. "[P]roposals to overhaul corporate governance poll well — almost shockingly well, in fact, for an idea that's had no organized advocacy community or high-profile champions until extremely recently."

UPDATE "Sen. Sanders refuses to rule out 2020 presidential run" [The Hill]. • Imagine my surprise.
2018
"Ahead of the Midterms, Some Free Advice for Republicans and Democrats" [Charles Cook, Cook Political Report]. "For all of the hyperventilating Tuesday night and Wednesday, we really didn't learn much from this week's special elections that we didn't already know. It had been obvious for some time that Republicans were struggling to hold onto seats that should have been slam-dunk wins….. Republicans are going to lose between a dozen and 20 seats no matter what. The question is whether they can keep it under 23 losses and retain their majority, or if not, keep within striking distance of retaking the House in 2020 or 2022. Losses of 40 to 60 seats are not out of the question, which makes the decisions made over the next 90 days utterly critical. At the same time, Democrats are hardly in a position to break out the champagne and begin the high-fives. The fact is that the Democratic Party's poll numbers, and those of their leadership, are awful—just marginally better than Republicans'. Candidates in competitive districts are still in a position to seize defeat from the jaws of victory. Republicans are going to lose between a dozen and 20 seats no matter what. The question is whether they can keep it under 23 losses and retain their majority, or if not, keep within striking distance of retaking the House in 2020 or 2022. Losses of 40 to 60 seats are not out of the question, which makes the decisions made over the next 90 days utterly critical. At the same time, Democrats are hardly in a position to break out the champagne and begin the high-fives. The fact is that the Democratic Party's poll numbers, and those of their leadership, are awful—just marginally better than Republicans'. Candidates in competitive districts are still in a position to seize defeat from the jaws of victory."

* * *

IA: "Part 1: How to corrupt a school district" [Bleeding Heartland (part 2)]. "Let's say you are a corrupt school administrator, and you want to accept kickbacks from vendors, manipulate time cards, and/or take school property. If you work in Waukee, just go ahead and do it. In this instance, crime really pays. Based on what happened with the the district's current chief operating officer Eric Rose, here's what you can expect: Even if the police find probable cause to support an arrest, the county attorney will decline to prosecute. In addition, the school board will give you a 6 percent raise followed by an additional 2 percent raise…." • Is everything really like CalPERs? Readers? Similar stuff going on in your districts?

KS: "Kansas governor concedes, says he will endorse GOP nominee" [Associated Press]. "Kansas Gov. Jeff Colyer says he will endorse Republican nominee for governor Kris Kobach after conceding in the state's GOP primary in a surprise announcement a week after their neck-and-neck finish threatened to send the race to a recount. Colyer accepted defeat Tuesday evening after a review of some provisional ballots from most Kansas counties failed to find enough votes for him to overcome a deficit of 110 votes." • 

MD: "A surprising grass-roots upheaval is shaking Maryland's Democrats" [WaPo]. "Primary victories by progressives in three premier races — governor and county executive in Montgomery and Baltimore counties — have created a prominent testing ground for a new brand of Democratic politics, featuring ambitious and potentially expensive policy proposals and greater outreach to the working class. Fueled by anger at President Trump and a sense that Democrats have lost touch with their base, the insurgency is stirring strife within the party, with some moderates already abandoning ship." • But wait! What about party unity? "Party Unity is for Rubes."

UPDATE MI: "Keith Ellison Easily Wins Primary for Minnesota AG Despite Abuse Allegations" [Roll Call]. "Ellison also serves as vice chairman of the Democratic National Committee." • Perez is part-time, so presumably Ellison can keep that job?

UPDATE NY Governor: "Government for Sale" [Indypendent]. "Real-estate groups have given Cuomo $$12.3 million since 2010, including $1.9 million so far this election cycle, according to an open-source data analysis conducted by The Indypendent. They give it through their political action committees, firms, employees and limited liability corporations. LLCs are shell companies commonly used to shield a company's holdings from the financial liabilities of one property — but in what is called the "LLC loophole," state campaign-finance laws let landlords game the system: they can donate the maximum amount permitted for an individual business from multiple LLCs."

PA: "PA Democratic Socialists Look To 'Radicalize Rust Belt' And Nudge Dems Left" [NPR]. "This weekend, Pittsburgh hosted around two dozen DSA chapters from in and outside of Pennsylvania, in a gathering of members called the Rust Belt Conference." • Interesting, though the writer seems to think DSA supports "Medicaid for All."

VT: "Transgender Candidate Makes History in a Year of 'Firsts' for Women" [Governing]. "Hallquist's win is the latest in a series of "firsts" for women running for governor. In earlier primaries this year, Democratic voters in Georgia, Texas and Idaho became the first ever to offer major-party gubernatorial nominations respectively to black, Latina and Native American women." • Not a word on policy! So when a trans former "Daughter of the Confederacy" joins the "Sons of Confederate Veterans," runs for office, and wins on a platform of "redeeming" the Slave Power, that would be good? Just?

UPDATE WI: "Randy Bryce, a.k.a. 'Iron Stache,' Wins Democratic Primary for Paul Ryan's Seat" [Roll Call]. "The union ironworker will now have to determine whether his hard-scrabble profile that brought him national recognition and a fundraising boom will help him win what has been a reliable Republican seat — or whether the GOP will adeptly use his legal troubles against him, and energize the conservative base in the southeastern Wisconsin district…. With 76 percent of precincts reporting, he led [Cathy] Myers 61 percent to 39 percent when The Associated Press called the race. Bryce will next face former Ryan aide and University of Wisconsin Board of Regents member Bryan Steil, who won a six-way contest on the GOP side. With 80 percent of precincts reporting, Steil had 51 percent of the vote."
New Cold War
UPDATE Ka-ching (1):

Fired FBI agent Peter Strzok has increased his GoFundMe goal to $500,000 from $350,000, which was an increase from the original $150,000. People have donated $333,760 in a day.

— Daniel Dale (@ddale8) August 14, 2018

Nice work if you can get it, this #Resistance thing.

UPDATE Ka-ching (2): "#Resistance Twitter Star Seth Abramson Wants to Turn His Threads Into a Book" [Daily Beast]. "And now, following in the footsteps of other #resistance heroes, he's looking to leverage his Twitter fame to get into a new line of business. In his case, he's shopping a book." • Grifters gotta grift.

UPDATE Ha ha only serious:

Shout out to whoever created the WiFi network called "FBI SURVEILLANCE VAN" near the Virginia court where dozens of journalists have descended for Paul Manafort's criminal trial.

— Marshall Cohen (@MarshallCohen) August 14, 2018
Realignment and Legitimacy
Reader Query: Again, I'm trying to remember the name of the Kos employee who invented the business model of taking a commission on click-throughs for online commissions; this probably would have been after the Dean campaign in 2004. But I can't. The name was well-known in the blogosphere of the time. Can any readers help out?

* * *

UPDATE "Democrats Must Reclaim the Center … by Moving Hard Left" [Nick Hanauer, Politico]. Hanauer is a squillionare, so beware of his bright ideas. Nevertheless: "This is not mere wordplay. Over the past several decades, Democrats have allowed a mistaken and self-destructive definition of centrism to become party orthodoxy… In fact, there are two kinds of political centers: There's the ideological center—the one that Democrats are waging a civil war over. And there's the majoritarian center—the one where most of the people are. If Democrats hope to be a majority party, it's the majoritarian center they need to embrace… .a centrism that seeks to balance the interests of capital is a centrism that seeks to balance the interests of the very wealthiest Americans against those of everybody else." • Well worth a read, and connects neatly to Warren's proposal above.

UPDATE "The treachery of Tom Perez" [The Week]. Fun piece, also well worth a read. There's quite a bill of particulars, but here's the last sentence: "It takes a special kind of incompetence to sell out the party's activist base and not even be able to raise good money off it." • Thanks, Obama!

"Omarosa's Unhinged is an unconvincing mess of a book" [The Week]. • Fun!

"How trustworthy are electronic voting systems in the US?" [Significance (Flora)]. "My statistical analysis shows patterns indicative of vote manipulation in machines. The manipulation is relatively small, compared with the inherent variability of election results, but it is consistent. These results form a pattern that goes across the nation and back a number of election cycles. I've downloaded data and verified the results from several states for myself. Furthermore, the manipulation is not limited to a single powerful operator. My assessment is that the data reveals multiple (at least two) agents working independently to successfully alter voting results." • Given the source, I assume the methodology is sound, but can readers comment?
Stats Watch
Productivity and Costs, Q2 2018: "Growth in output jumped at the same time that hours worked slowed, making for a very strong… rate for second-quarter nonfarm productivity that is right at the top of Econoday's consensus range" [Econoday]. "Wages aside, this is a very strong report that speaks to the robust health right now of the business sector." • Other than that, Mrs. Lincoln, how was the play?" And: "Productivity in US Climbs 2.9%, Fastest Pace in Three Years" [Industry Week]. "Improved gains in efficiency would support faster economic growth without generating higher inflation, a development that could suggest a slower pace of Federal Reserve interest-rate hikes than otherwise warranted."
Industrial Production, July 2018: "A respectable… rise in manufacturing volumes is the takeaway from a deceptively soft industrial production report" [Econoday]. "Capacity utilization was unchanged in July at 78.1 percent which is a moderate rate that points, despite all the warnings of stress in regional and private reports, to spare capacity still remaining in the industrial sector, a factor that will help limit goods inflation." And: "July 2018 Industrial Production Improved" [Econintersect]. "There was significant upward revision to last month's data. So industrial production improved from last month. The best way to view this is the 3 month rolling averages which declined. Industrial production is in a long term upward trend."
Empire State Manufacturing Survey, August 2018: "The heat isn't letting up at all for Empire State's manufacturing sample where the general conditions index rose" [Econoday]. "New orders continue to pour in…. Employment is strong…. Price readings remain elevated." And but: "I am not a fan of surveys – and this survey jumps around erratically – but has been relatively steady for the last year. This report was weaker than last month" [Econintersect].
Business Inventories, June 2018: "[A]s-expected but still marginal" [Econoday]. "[T]he slight build in inventories is actually very positive for the economy given the strength of business sales… As inventories are built, production and employment should get a lift." And: "Inventories remain elevated this month. Our primary monitoring tool – the 3 month rolling averages for sales – improved and remains in expansion" [Econintersect].
Atlanta Fed Business Inflation Expectations, August 2018: "Despite tariffs and high input costs, inflation expectations among businesses are not accelerating" [Econoday].
Housing Market Index, August 2018: "Rising construction costs tied in part to tariffs are holding down builder confidence" [Econoday]. "[B]uilders are increasingly concerned about affordability which reflects a lack of skilled construction labor, buildable lots and rising lumber costs."
MBA Mortgage Applications, week of August 10, 2018: "[posted] the fifth consecutive weekly decline in a row" [Econoday].
Retail Sales, July 2018: "Demand for autos has cooled but not overall retail sales" [Econoday]. "[R]estaurant sales, which like autos are a discretionary category, rose…. Also very strong are sales for e-commerce….[T]his report is not about negatives but positives — and that is strength in the central driver of the economy which is consumer spending and which is getting a major boost from strength in the labor market." And but: "The year-over-year growth rate in inflation adjusted retail sales and retail employment have diverged" [Econintersect].
Retail: "NRF raises its 2018 retail sales forecast" [Logistics Management]. "In the beginning of 2018, the [National Retail Federation (NRF)] said it expected retail sales for the year, excluding automobiles, gas stations, and restaurants, to increase between 3.8%-4.4% annually. But that number is now at 'a minimum of 4.5% over 2017….' The intersection of tariffs and retail sales is a bit fluid, to be sure, at the moment, but things appear to be solid on the retail sales front, at least in the short term. A year from now or so, though, it could be quite a different story. Stay tuned." • And in the short term, we're all alive!
Retail: "Bribes, Backdoor Deals, and Pay to Play: How Bad Rosé Took Over" [bon appétit]. "We call it pay to play, and it's caused an outbreak of shitty rosé on wine lists everywhere. Specifically on by-the-glass lists, which sell the highest quantity and where diners are more likely to order based on name-brand recognition…. As a sommelier, I know I am spoiled, but when I see big-brand pink swill on otherwise nice restaurant menus, I get furious. You might know which brands I am talking about, the ones that sponsor huge parties in the Hamptons. They masquerade as luxury goods, with fun bottle shapes and cutesy names, but are simply bulk wines." • I wonder if they served rosé at Kamala's fundraiser and, if so, what brand?
Commodities: "Agriculture supply chains across a wide swath of Australia are drying up. A region more than twice the size of Texas is in the grip of drought that's lasted six years and shows no signs of abating" [Wall Street Journal]. "Experts say the drought is likely to worsen a global grain shortfall and lower beef prices, as a heat wave ravages crops in Europe and North America. Australia is the world's No. 4 wheat exporter and the No. 2 beef exporter, and agriculture accounts for 3% of its economy."
Labor Power: "Stewards at UPS' largest local vote to reject labor contracts" [DC Velocity]. "Shop stewards of the largest Teamster union local representing UPS Inc. small package and freight workers have voted overwhelmingly to reject the tentative collective bargaining agreement covering both groups, the Louisville, Ky.-based local said yesterday. The action, taken by more than 70 shop stewards who represent about 10,000 UPS workers at Local 89, increases the already strong possibility that the local's rank-and-file will vote down both contracts…. Perhaps the most controversial provision is the creation of a full-time hybrid driver classification whose work schedules could extend into the weekends. The new drivers would make, on average, about $6 an hour less than the traditional UPS driver, who typically works a Monday through Friday schedule." • Two-tier contracts aren't exactly a shining beacon of solidarity.
Infrastructure: "Recognizing Infrastructure's Role as a Local Economic Anchor" [247 Wall Street]. From the Brookings Institution. "As our recent report on the U.S. water infrastructure workforce shows, water utilities embody these anchor-like roles. They act as a key hub for jobs, training, and environmental stewardship at a local and regional level. On the lookout for a new generation of workers to construct, operate, and maintain pipes, plants, and numerous other water systems, utilities offer long-term, well-paid positions for workers across all skill levels. And the fact that they do so in some of the most disadvantaged areas nationally speaks to their unique role in expanding economic opportunity in their backyard."
The Bezzle: "The downfall of Elon Musk" [FreightWaves]. "The current pickle Musk is in has two outcomes: either he has engaged in obvious stock manipulation to avoid retiring $920M in debt by knowingly disseminating false information, or the Saudis end up gaining control of Tesla with very favorable terms. Other institutional backers of Musk's enterprises are checking out: Fidelity, which in addition to being one of Tesla's largest shareholders also has a $436M stake in SpaceX, sold off about 20% of its TSLA shares yesterday." • Well worth a read, especially for Musk fans and detractors.
The Bezzle: "Tesla's Musk may have to justify SolarCity deal in court" [Francine McKenna, MarketWatch]. "Elon Musk will likely have to prove his offer for Tesla Motors to buy SolarCity in court, experts say. Musk is taking the "moral high ground", he said on a call with analysts early Wednesday, but as the largest shareholder of both companies it won't be easy to prove the deal is fair, experts say…. 'In the end, what's more important to shareholders for both companies than the price paid is whether they trust Elon Musk,' says Ludomir. 'Is this a strategic move or just him bailing out an investment?'"
The Bezzle: "Want a lower tax bill? So do Apple and Genentech" [San Francisco Chronicle]. "In one appeal filed in 2015, Apple said that a cluster of properties in and around Apple Park in Cupertino that the assessor valued at $1 billion was worth just $200. In another, property that the assessor valued at $384 million was, in Apple's view, worth $200, according to an appeal application." • Sounds legit.
The Bezzle: "Tech Startup Had 'Designated' Masturbation Zone: Lawsuit" [Daily Beast]. • Let's look on the bright side; at least there wasn't a cuddle puddle.
The Bezzle: "Fintech Frenzy: Hype or Reality? A Closer Look at 6 Key Sectors" [Fortune]. "[T]his whole "fintech" thing is kind of a charade. As I shared with attendees last month during our annual Fintech CEO Summit, co-hosted together with Nyca Partners, the CEOs in our portfolios don't actually run 'fintech businesses.' They run a payments business or a lending business, or they build investing technologies, or they sell to banks or insurance or real estate companies. Regardless of what VCs tell limited partners, or how media cover the industry, these businesses don't necessarily have much to do with each other (besides the obvious of moving money around)." • Film at 11. But not news to Clive, I am sure.
UPDATE The Bezzle: "The end of MoviePass as we know it" [The Week]. "The promise of MoviePass was always borderline ludicrous: For a relatively small monthly fee, which fluctuated over the years, you'd get the 'Netflix of movie theaters,' allowing you to go to an unlimited number of films with the only restriction being that it was limited to one screening a day… It was a better ride than we ever could have imagined, but at last, as we always knew they would, the lights have come up."
UPDATE The Bezzle: AirBnB epic. Thread:
Omg you guys. My boyfriend has been renting his house on @Airbnb and has a group of 4 people this weekend. Except 25 people showed up. Twenty fucking five

— Mary Numair (@MaryNumair) August 4, 2018
Mr. Market: "Tencent Sends Emerging-Market Shares to Third-Worst Day of Year" [MarketWatch]. "Investors were looking for contagion in all the wrong places. The travails of Chinese internet giant Tencent Holdings Ltd. matter more to emerging-market equities than Turkey's turmoil, with hints that technology stocks stateside won't be immune from this storm. Tencent's unexpected drop in quarterly profit and reports that Chinese regulators have frozen approval of game licenses sent the MSCI Emerging Market Index tumbling 2 percent, on track for its third-worst day of the year. The move is less than Friday's, when Turkey's crisis roiled markets."
Gaia
"Scorching Summers Melt Away America's Growth" [Bloomberg] (original). "Researchers from the Richmond Fed think the fallout of global warming in the U.S. could be worse than expected, potentially cutting growth by up to a third by the start of the next century. Every 1 degree increase in summer temperature cuts the gross state product growth rate by 0.154 percentage points, Riccardo Colacito and co-authors find in a study. That reduction could come as people stay indoors rather than engaging in economic activity (think home-buying), and as labor productivity takes a hit."
Net Neutrality
"Congress is set to grill the FCC's chairman for falsely claiming his agency was hit with a cyberattack — here's how it could affect the war over net neutrality" [Business Insider]. "Pai's expected grilling comes as a result of his and his agency's response to the FCC's server outage last year. At the time, the FCC was soliciting public comments for Pai's proposal to repeal the agency's net-neutrality rules…. Immediately after the episode aired, the FCC's comment system saw a spike in traffic, with the site unavailable to many users in the wake. To outside observers, it seemed clear that the site's unavailability was likely a result of "Last Week Tonight" directing its viewers to the FCC's site for the purpose of registering their objections to the net-neutrality repeal effort…. Immediately after the episode aired, the FCC's comment system saw a spike in traffic, with the site unavailable to many users in the wake. To outside observers, it seemed clear that the site's unavailability was likely a result of "Last Week Tonight" directing its viewers to the FCC's site for the purpose of registering their objections to the net-neutrality repeal effort."
Class Warfare
"How economic anxiety could help reshape America for the better" [Guardian]. "Trump has naturalized all kinds of outrageous or regressive behavior but, at the same time, innovative and progressive ideas that once seemed far-fetched are being normalized as well. We're used to thinking of social change as something that happens very slowly, incrementally, but sometimes change can happen more rapidly than we expect. When we decide the operation of the machine has simply become too odious, to remix the famous line from activist Mario Savio, we can and sometimes do throw ourselves swiftly on its gears, in new and surprising ways." • Volatility!
UPDATE "Latitudes not Attitudes or 'Maps not Chaps'" [the HipCrime Vocab]. "But what really got me thinking about this was looking back at the history of financial innovations. It makes sense that these all began in places which had to have expansive trade by necessity. These were places that were rich in some resources, but poor in other critical ones, and so trading became a necessity. That's why it is in such places that we must look to find their origins. You'll find that in history, things are invented out of necessity when and where they need to be. Ian Morris articulates this as his 'Morris Theorem': 'Change is caused by lazy, greedy, frightened people looking for easier, more profitable and safer ways to do things. And they rarely know what they're doing.' The Tigris-Euphrates valley is the major case in point. The well-watered flat river valleys produced lots of raw materials, but not much in the way of stone, gems, or precious metals. So it was here that the first trading "innovations" began such as writing, double-entry bookkeeping, bonds, insurance, tradeable debt, and the like. By contrast, the Nile region was much more self-sufficient. It's trading was command-and-control, organized through the Pharaoh's household which owned the major national resources, such as mines and the shipping fleet." • The Atlantic slave trade, I believe, produced a good deal of financial innovation….
UPDATE "See No Evil" [Logic]. "The industry of supply-chain management (or SCM, to its initiates) is both vast and secretive. It's one of the most rapidly growing corporate fields, and the subject of reams of books, journal articles, and blog posts…. We call them 'supply chains,' but that image is misleading. They really look more like a network of waterways, with thousands of tiny tributaries made up of sub-suppliers trickling into larger rivers of assembly, production, and distribution…. By the time goods surface as commodities to be handed through the chain, purchasing at scale demands that information about their origin and manufacture be stripped away… To be traded as a commodity, in other words, gold must be gold." • As opposed to, say, gold produced by slaves.
UPDATE "My Great-Grandfather, the Nigerian Slave-Trader" [Adaobi Tricia Nwaubani, The New Yorker]. "Nwaubani Ogogo was a slave trader who gained power and wealth by selling other Africans across the Atlantic. 'He was a renowned trader,' my father told me proudly. 'He dealt in palm produce and human beings.'… . In the late nineteenth century, he carried a slave-trading license from the Royal Niger Company, an English corporation that ruled southern Nigeria. His agents captured slaves across the region and passed them to middlemen, who brought them to the ports of Bonny and Calabar and sold them to white merchants. Slavery had already been abolished in the United States and the United Kingdom, but his slaves were legally shipped to Cuba and Brazil. To win his favor, local leaders gave him their daughters in marriage." • So, a supply chain. We don't hear a lot about the sell side (though I remember a discussion of this supply chain in Graeber's Debt).
News of The Wired
"The easiest way to keep your web apps accessible: Just use text" [LogRocket]. "[T]ext is still the way to build the web. Even as more content is delivered via images, videos, and audio, text is the single best way to keep that content accessible to the widest range of users." • Has a product plug at the end, but still useful.
The war on cash:
PEAK SAN FRANCISCO:

$5 for a small coffee without Apple Pay, $1 with Apple Pay pic.twitter.com/BImtUw53WO

— Dr. Data&Politics&?&?️‍? (@dataandpolitics) August 10, 2018
* * *
Readers, feel free to contact me at lambert [UNDERSCORE] strether [DOT] corrente [AT] yahoo [DOT] com, with (a) links, and even better (b) sources I should curate regularly, (c) how to send me a check if you are allergic to PayPal, and (d) to find out how to send me images of plants. Vegetables are fine! Fungi are deemed to be honorary plants! If you want your handle to appear as a credit, please place it at the start of your mail in parentheses: (thus). Otherwise, I will anonymize by using your initials. See the previous Water Cooler (with plant) here. Today's plant (TH):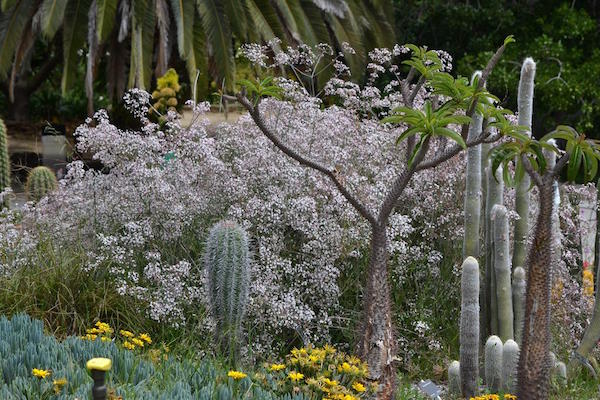 Also, I like photographs of projects. I'm running a bit short, so if you've got photos of a garden project, do send them in! Pollinators are good, too; so hopeful!
* * *
Readers: Water Cooler is a standalone entity not covered by the annual NC fundraiser. So do feel free to make a contribution today or any day. Here is why: Regular positive feedback both makes me feel good and lets me know I'm on the right track with coverage. When I get no donations for five or ten days I get worried. More tangibly, a constant trickle of small donations helps me with expenses, and I factor that trickle in when setting fundraising goals. So if you see something you especially appreciate, do feel free to click the hat!

To give more, click on the arrow heads to the right of the amount.
If you hate PayPal — even though you can use a credit card or debit card on PayPal — you can email me at lambert [UNDERSCORE] strether [DOT] corrente [AT] yahoo [DOT] com, and I will give you directions on how to send a check.