By Lambert Strether of Corrente.
I just noticed the Water Cooler odometer ticked over to 1001. Getting up there on the mileage! –lambert Adding, whoopsie, I got interested in reading a story and didn't press Submit in time! Plus I had to do some household work in the midst of writing, so Politics is a bit sparse. I'll add a bit more… UPDATE 2:45PM All done!
Trade
"Trump Says He'll End Nafta After Reaching New Deal With Mexico" [Bloomberg]. "President Donald Trump said the U.S. is signing a new trade accord with Mexico to replace the North American Free Trade Agreement and called on Canada to join the deal soon or risk being left out. Trump announced the agreement with Mexico in a hastily arranged Oval Office event Monday with Mexican President Enrique Pena Nieto joining by conference call. Pena Nieto said he is "quite hopeful" Canada would soon be incorporated in the revised agreement, while Trump said that remains to be seen. The U.S. and Mexico agreed to increase regional automotive content to 75 percent from the current 62.5 percent in Nafta, with 40 percent to 45 percent of production by workers earning at least $16 an hour, the U.S. Trade Representative's office said in an emailed statement. They agreed to review the deal after six years, softening a demand by the U.S. for a clause to kill the pact after five years unless it's renewed by all parties. Duty-free access for agricultural products will remain in place, USTR said." • As usual — see North Korea — we should wait for details.
"This NAFTA 'Deal' Is So Stupidly Complicated" [Jalopnik]. Headline refers to this article from April: "[Trump is] proposing a system that would require a certain proportion of auto parts to be made by workers earning certain wages…. If it sounds like an aggressively complicated proposal to you, our neighbor to the south and some unnamed auto executives agree." • So we'll see.
"Trump hails new trade deal with Mexico and discards Nafta name over 'connotations'" [MarketWatch]. "President Donald Trump said Monday the U.S. has reached an agreement with Mexico to enter into a new trade deal, calling it the U.S.-Mexico trade agreement. Speaking in the Oval Office, Trump said he wanted to drop the name 'North American Free Trade Agreement,' but added 'we'll see if Canada can be part of [a] deal.' He said that talks with Canada will begin soon. Details of the agreement were not immediately available." • Rebranding? Public relations? Well, it worked for Obama, whose base is as "sticky" as Trump's….
"The White House battle over U.S. Postal Service pricing is going international. President Trump is directing the agency to get rid of decades-old discounts on cross-border shipments that were established by the Universal Postal Union under the United Nations banner. The WSJ's Heidi Vogt reports that Mr. Trump wrote in a memo that the system "distorts the flow of small packages" with its "artificially low" rates. Those discounts were set up years ago to help people in developing countries afford international mail. Now they mean a Chinese company may be able to ship an order to the U.S. for a fraction of the cost paid by a shipper in New York. The chairman of the Postal Regulatory Commission says that's become a problem as cross-border e-commerce has shifted the retail and distribution landscape" [Wall Street Journal].
"Sun Tzu and the art of fighting a trade war" [Pepe Escobar, Asia Times]. "So, how to fight a cage match with no referee? Enter Sun Tzu, China's legendary military strategist who wrote The Art of War. The first rule is simple: "All warfare is based on deception." As in Beijing gearing up to negotiate both as a partner and a threat." And this: "Xi cannot possibly risk losing his de facto power base, which is not the Chinese proletariat, but the rising middle class on a frenetic consumption and global tourism binge. Add to that, the relentless working-class anger, already in full effect, according to the University of Utah's Minqi Li. After all "Socialism with Chinese Characteristics" is hardly Marx." • So — projecting and speculating furiously — Xi's base is China's 10%. Too funny. Worth a read!
Politics
2020
"Elizabeth Warren Could Make a Great Run for President as an Anti-Corruption Crusader" [The Nation]. "Campaigning against corruption is as honorable an American political tradition as you will find. Teddy Roosevelt ran more than a century ago as a fierce anti-corruption crusader…. If Elizabeth Warren does decide to run on an anti-corruption platform, that would be terrific." • Warren is school-marmish, and the personification of the credentialed professional, so not necessarily an appealing political personality (exceot for those who make her such an enormously successful fundraiser). Nevertheless, if she manages to skin the hide of a banker, salt it, dry it, and nail it to the barn wall, I think her defects of personality would turn into virtues. Still, she'd need to do more than have a plan to skin the banker; she'd need to do it. Orange jumpsuit, perp walk, the whole deal. Not easy, but doable with adroit staffing and the right sort of moral panic.

UPDATE "Is capitalism losing or socialism gaining? Yes." [CNN]. "Sen. Bernie Sanders calls himself a democratic socialist. Sen. Elizabeth Warren says she is a capitalist to her 'bones.' And yet, the pair are widely viewed to be competing for the same territory in a potential 2020 Democratic presidential primary. Not that anyone should be surprised. Both Sanders and Warren made their names railing at the excesses and failures of an increasing unequal economy — one that voters across the ideological spectrum routinely describe as unfair or, in many cases, 'rigged.'" • Sort of amazing even to see such a headline.
2018
70 days until Election Day. 70 days is a long time in politics.

"1 big thing … Scoop: Republicans secretly study their coming hell" [Axios]. "Axios has obtained a spreadsheet that's circulated through Republican circles on and off Capitol Hill — including at least one leadership office — that meticulously previews the investigations Democrats will likely launch if they flip the House…. The spreadsheet — which I'm told originated in a senior House Republican office — catalogs more than 100 formal requests from House Democrats this Congress, spanning nearly every committee." • It's quite a grab-bag, most of it familiar. Oddly, or not, impeachment isn't on the list. "Trump's dealings with Russia," however, is, suggesting, oddly, or not, that the matter is not resolved? Another item is "Hurricane response in Puerto Rico." Not sure why this needs a House victory to become an issue, particulary given liberal Democrats professed affinity for Latinx people, PoC, migrants, etc.

"Steve Bannon's message to Trump voters: It doesn't matter if your congressman is a 'RINO' — vote for them, or else Trump gets impeached" [Business Insider]. "Bannon said the Trump base must acknowledge that the left is fired up and going to turn out this fall. 'People can't sit here and think that they're not motivated because they are and they're energized,' he said. 'And so that's what we have to go up against. And for people to think that left is not energized to impeach Trump are kidding themselves. They are not out there to work with Trump post-November 6."

"It Is the Era of Trump': How the President Is Remaking the Republican Party" [Wall Street Journal]. "After more than two decades of tension within the GOP between a restive base and its traditional establishment, Trumpism, the archetypal grass-roots movement, is winning. With the 2018 primaries about to end, all but two of the 37 Republicans Mr. Trump has endorsed for House, Senate and governor during their primary campaigns have won. Mr. Trump has abandoned or undercut the party's traditional commitment to free trade, fiscal conservatism and a hawkish foreign policy." • Not so sure on the hawkish foreign policy. But on the rest: "Dance with the one that brung ya…"

NY Goveror: New York Spy claims another victim: "Ratface Andy":

Source passes along this paragraph from a book on Spy magazine, that's another entry in the history of @realDonaldTrump and @andrewcuomo https://t.co/dBQ6R6zmKN pic.twitter.com/UuVva02jIy

— Shane Goldmacher (@ShaneGoldmacher) August 26, 2018

(For those who came in late, Spy successfully tagged Trump with "short-fingered vulgarian," back when Trump was a boorish real estate developer from Queens.)

NY Governor: "The Country's Top LGBT Group Is Campaigning Against A Queer Democratic Woman, And Some People Are Pissed" [Buzzfeed]. "[Human Rights Campaign's] views reflect a more established faction of the LGBT movement, which has invested in career politicians who know how to pull the levers of power. This thinking tends to relegate more populist activism to the province of naive dreamers. Yet, this centrist approach to LGBT rights is tied to a dream of its own: that advocates will be able to rely on the Democratic Party's moderate factions to deliver LGBT equality long-term." • "Equality" for which members of the LGBT constituency? I mean, come on.
New Cold War
The rule of law:

Manafort juror, who supports Trump, says she wishes Manafort was convicted on all counts, add POTUS ought not to extend a pardon:

"I feel it would be a grave mistake for Pres. Trump to pardon Manafort. Justice was done. The evidence was there, and that's where it should stop." pic.twitter.com/0RmR5MyiBv

— Anderson Cooper 360° (@AC360) August 25, 2018
Realignment and Legitimacy
UPDATE "What to do if you get push-polled or message-tested (2018 edition)" [Bleeding Heartland]. • Gather data! This is very informative, and, readers, if any of you are push-polled or message-tested, I'd love to hear about it.

"AP-NORC Poll: Few Democrats favor liberal cry to abolish ICE" [Associated Press]. "The rallying cry from some liberals to abolish Immigration and Customs Enforcement isn't a likely winner this election year, as a new poll finds only a quarter of Democrats support eliminating the agency that carried out the Trump administration's policy of separating immigrant children from their parents… But even as they don't want to fully dismantle ICE, 57 percent of Democrats view the agency negatively, including nearly three-fourths of those who describe themselves as liberal, according to a poll released Monday by The Associated Press-NORC Center for Public Affairs Research. The findings demonstrate tension among Democrats about how to address the crisis at the border that intensified in June when the Trump administration instituted a family separation policy to deter illegal immigration. Some potential Democratic presidential contenders, such as Sen. Kirsten Gillibrand of New York, backed getting rid of ICE in response to the separations. Others, including Sen. Kamala Harris of California, urged a rethinking of the agency, but stopped short of calling for its abolition." • So, and as usual, Democrats generate an enormous exercise in moral panic and virtue signaling, and then are institutionally unable to produce a coherent policy response. Then again, they did manage to get a good number of no doubt well-meaning DSA chapters to buy into global labor arbitrage as a good thing, so there's a bright side.

Trump's black support, according to the NAACP:

Who the hell are these people?! https://t.co/UI3MrUp98B

— Charles M. Blow (@CharlesMBlow) August 27, 2018

I don't know who they are either!

"A record-breaking market doesn't matter to most Americans" [WaPo]. • Purely speculative, but IMNSHO for most Americans (the 90%) a "good economy" means that disaster isn't looming before next month's rent check is due. Rather different from the 9.9% + 0.1%, for whom the economy is indeed good.

"Senators Demand Voting Machine Vendor Explain Why It Dismisses Researchers Prodding Its Devices" [Bleeping Computer]. "Four US senators, members of the US Senate Select Committee on Intelligence, sent a letter on Wednesday to Election Systems and Software (ES&S), the largest voting machine vendor in the US, asking for clarifications on why the vendor is trying to discourage independent security reviews of its products.:" • And if hearings are ever held, you can bet that hand-marked paper ballots, hand-counted in public, won't be on the agenda. Because both party establishments hate the idea. For some reason.

"'Libtard' in the Chinese style" [Popula]. ""Left" (左) in Chinese is a tricky word. Chinese will sometimes refer to themselves as 'left' when they mean 'patriotic' or 'nationalistic'; someone might say, 'I've been very leftist since I was a kid,' when they actually mean 'I've been very patriotic since I was a kid.' More than one self-identified Chinese leftist will feel the need to clarify that 'By leftist, I mean I identify with the Western left, not the Chinese left,' to explain that they are not Chinese nationalists. 'Baizuo' (白左)—literally 'White Left'—is one of the stranger insults arising on the Chinese internet over the last two years. Equivalent to something like 'libtard,' 'leftard,' or maybe even 'Social Justice Warrior' in English, it scoffs at those who are too concerned with the environment, rights for ethnic minorities, immigrants, or the LGBTQ community. As in the U.S., the insult indicates a too-narrow focus on 'bleeding-heart' issues, to the exclusion of larger, more salient questions, such as those of the nation-state." • So, either the US political spectrum isn't as portable as we mght think, or it's moreso…
Stats Watch
Dallas Fed Manufacturing Survey, August 2018: "Steady at a very high rate of growth is the ongoing message from the Dallas Fed's manufacturing survey" [Econoday]. "Dallas is getting a fundamental boost from strength in the energy sector and its results for August contrast with slowing seen in both the Philadelphia Fed and Kansas City reports." And: "This survey remains in positive territory with new orders improving and unfilled orders significantly declining – and both in positive territory.This was a slightly weaker report than last month" [Econintersect]. And: "Dallas Fed: "Robust Expansion in Texas Manufacturing Continues" [Calculated Risk]. "The regional surveys for August have mostly indicated somewhat slower growth as compared to July."
Chicago Fed National Activity Index, July 2018: "The month of July proved less strong than expected" [Econoday]. "The slowing in production following a one-time spike in June is distorting the overall reading for July downward, yet the weakness in the personal consumption & housing component is a negative to watch."
Housing: "Weakness abounds in the housing market as building, sales have stalled" [Freight Waves]. "A package of weak data on both housing starts and home purchases indicates that housing and construction remains one of the few areas of weakness in the economy in the 3rd quarter. This has put some downward pressure on freight demand, as the movement of building materials, furniture, and appliances is influenced by the strength of the housing market…. Activity in the housing market plays a key role in overall freight demand in the economy. Construction materials account for approximately 5% of all ton-miles in the economy, and the disappointing results from home building will reduce the demand for flatbed carriers and other modes of transporting construction materials." • Worth a read; it's a useful run-down of the housing market and its ills since the Crash.
Housing: New Home Sales: "Heading lower from already depressed levels" [Mosler Economics]. Existing Home Sales: "Housing is the one sector of the economy not showing any life."
Shipping: "Executive Insights: FreightHub Co-Founder Michael Wax on online freight forwarding" (interview) [Shipping and Freight Resource]. FreightHub Co-Founder Michael Wax: "FreightHub is a full-service, vertically integrated freight forwarding platform. We see ourselves as a technology company offering logistics services. Our strong belief is that over the next years the freight forwarding market will see a strong consolidation leaving the market with companies that managed to successfully digitize their services…."
Shipping: "DDC pilots the drive for more drone delivery trials in Canada" [The Loadstar]. "Transport Canada gave the green light to Drone Delivery Canada (DDC) test flights 'beyond visual line of sight' in the province of Quebec…. Taking supplies to remote communities is a key element of the push for drone deliveries in Canada. Many of these communities currently receive supplies by airfreight or via winter roads, uusable during the summer months. There are about 1,000 such communities across the Canadian North."
The Bezzle: "Airbnb Takes NYC to Court on Data Demand" [Courthouse News]. "Swinging back at a data demand it calls unprecedented, Airbnb claims in a federal complaint Friday that the New York City Council authorized warrantless searches of its private business records…. The city council passed the ordinance in question last month. In addition to mandating that Airbnb disclose the names and addresses of all its hosts in the Big Apple, the bill requires data on Airbnb's users, like the rental listing URL, the number of days the unit is rented and how much the platform collects in fees." • Since AirBnB is in the hotel business, it should be regulated like the hotels are. The flip side: Silicon Valley is in the regulatory arbitrarge business; a ruling that the State needs a warrant to collect ordinary business information for public benefit would certainly make that an even better business than it already is, besides inducing a Silicon Valley glibertarian squillionaire cuddle puddle…
The Bezzle: "Could Airbnb Take To The Air?" [Safe Haven]. "After years of rapid growth and regulatory battles, Airbnb's management announced recently that company will be ready to go public as soon as 2019 but not later than late 2020."
The Bezzle: "Video: Airbnb's European Boss on the Clash With Online Travel Giants" [Skift]. Jeroen Merchiers, Airbnb's managing director for Europe, Middle East and Africa: "I think our community can help us solve overtourism by one allowing a broader range of the population to participate in the wealth that is being generated and also some of the decentralization that is happening and that… social connection that travel is missing a little bit, coming back to that." • I can't translate that, though I think what "over-tourism" means is millions of selfie-stick bearing tourists descending on a single location… But whether spreading the load to numerous locations is a good thing — good for the locals, I mean — I can't say.
The Bezzle: "Intelligently developing and testing the AI safety case" [Automotive IQ]. "Illustrating the rapid progress, the clear leader in highly automated (Level 4) driverless vehicles, Waymo, is about to increase its number of self-driving Chrysler Pacificas from about 600 to 62,600!… Because interest in AVs is being driven in part by a desire to reach zero fatalities worldwide, automated driving must be safer than human driving if the technology is to reach critical mass. That's a tough task…. The rapid development in machine learning and self-learning neural network AIs, in particular, is seen as way to improve functionality and cut development times in several key areas. However, there are growing concerns over the integration of human factors and software failures into the qualitative and quantitative risk assessments that underpin safety-critical systems development…. According to Phillip Koopman, a computer scientist at Carnegie Mellon University who works in the automotive industry "."* When designing the objective function for an AI system, the designer specifies the objective but not the exact steps for the system to follow. This allows the AI system to come up with novel and more effective strategies for achieving its objective**. But if the objective function is not well defined, the AI's ability to develop its own strategies can lead to unintended, harmful side effects. Koopman is one of several researchers who believe that the nature of machine learning makes verifying that these autonomous vehicles will operate safely very challenging." NOTE * You sure can if you're a venture capitalist with squllions of dollars in stupid money and immunity from all consequences by virtue of having relocated to New Zealand, or Mars, or the umptieth floor of some bulletproof glass-walled Manhatttan pied de terre, as the scooters debacle proves. For pity's sake. Why don't engineers see this stuff? NOTE ** Who said driving had a single "objective function"? I'm sure if you told that to any marketer, they'd laugh.
The Bezzle: "People Are Now Taking Placebo Pills to Deal With Their Health Problems—And It's Working" [Time]. "In a 2016 study published in the journal Pain, researchers including [Ted Kaptchuk, a professor of medicine at Harvard Medical School]t randomly assigned 83 people with chronic low back pain at a hospital in Lisbon to either continue taking their pain medication as usual or start taking honest placebo pills with their typical treatment. Before the start of the study, the men and women filled out questionnaires about the intensity of their pain and how much disability it was causing them. After that, people treating their pain as usual continued to take their nonsteroidal anti-inflammatory drugs, while the people taking placebos were given bottles labeled placebo pills with instructions to take the pills twice a day. After three weeks, the people in the study rated their pain and disability levels again. The researchers found that, on average, the group taking painkillers reported a 9% reduction in usual pain, a 16% reduction in maximum pain and no reduction in disability. But the people knowingly taking placebos experienced a 30% reduction in both usual and maximum pain and a 29% drop in disability." • So, we can gut Big Pharma, then? Worth a read, but — because? — the author doesn't understand the placebo effect. Doctors don't. I don't. Nobody does! Readers?
Manufacturing: "The Real State of American Manufacturing" [Industry Week]. "In many ways, this is probably one of the most exciting, turbulent, and opportunity-rich times manufacturing has seen since the end of World War II. At the heart of it is a movement matching two equal-but-opposite forces simultaneously stymieing and bolstering the industry. On one side, we have innumerable headwinds ranging from skilled worker shortages to long overdue capital investments and digital overhauls, complicated further by new tariff threats, looming trade wars, and governmental uncertainty clouding everything. On the other side, we have an economy far healthier than any of us could have possibly imagined a decade ago when the auto industry was on life support and needed a government bailout. Now the Big 3, and the rest of U.S. manufacturing, is supplemented by a tax overhaul designed to prop up American businesses plus a deregulation streak intended to accelerate growth and investment." • Worth a read for the speculation on political economy, despite the cheerleading tone.
Mr. Market: "Wall Street rallies as U.S.-Mexico reach trade deal" [Reuters]. "'I think the question most people have is can the markets go higher? The answer is yes, earnings drive markets and this season has been an incredible one,' said JJ Kinahan, chief market strategist at TD Ameritrade in Chicago. Also helping sentiment was Washington pressing the European Union to speed up trade negotiations." • Talking his book…
The Fed: "Flattening Yield Curve in One Picture" [MishTalk] • More inversions than downturns, I would say.MR SUBLIMINAL You mean there's hope?
The Fed: "What Has Happened to the Yield Curve Since Liftoff?" (video) [Federal Reserve Bank of St Louis]. "What has happened with the yield curve since the Federal Reserve started raising its policy rate from near zero in December 2015 (so-called liftoff)?" Quote: "Our main job… is inflation."
Rapture Index: Closes up 1 on Earthquakes. "There has been a huge spike in the number of large quakes" [Rapture Ready]. Record High, October 10, 2016: 189. Current: 181. Seems that 180 is a floor?
Gaia
"The Bayou Bridge Pipeline's Entangled Hierarchies of Power" [Counterpunch]. All pipeline politics is local. The whole piece is good, but I'm going to pull out one incident: "[The Louisiana House of Representatives] this past spring introduced and then passed legislation that criminalizes the activities of groups that protest the extraction, transport, and burning of oil and gas. This legislation they adopted specifically to quash [Bayou Bridge Pipeline (BBP)] resistance. Three anti-BBP activists have just been charged under this law. While protesting in Louisiana's public waterways, they were "abducted" by ETP's private security, which then turned the activists over to police. Lest the gravity of this isn't clear: the company's private security abducted citizens who were lawfully exercising their First Amendment rights in a public space. Rather than questioning the abduction, the police charged the activists with violating Louisiana's new anti-First Amendment rights law. This abduction should remind us of the fact that ETP used TigerSwan, a private security firm, to oversee protection of the Dakota Access Pipeline." • Yikes.
"How Energy Companies and Allies Are Turning the Law Against Protesters" [Inside Climate News]. "In at least 31 states, lawmakers and governors have introduced bills and orders since Standing Rock that target protests, particularly opposition to pipelines…. In addition to Oklahoma's infrastructure bill and similar legislation enacted in two other states, these bills would expand definitions of rioting and terrorism, and even increase penalties for blocking traffic. At the same time, law enforcement and private companies have conducted surveillance on campaigners, while some federal and state officials have suggested pipeline protesters who break laws be charged as terrorists. Corporations have hit landowners and environmental groups with restraining orders and hundred-million-dollar lawsuits."
Food
"We already know climate change will make our crops less nutritious. Now we know how that will impact our health" [The New Food Economy]. "But a growing body of research is starting to show that, beyond the droughts and floods we already expect from climate change, we're also in for a change in the nutrient content of the food crops we rely on every day. Increased levels of carbon dioxide in the atmosphere will affect plant growth and suppress the levels of zinc, iron, and protein in staple crops…. [T[his nutrient decline will mean that, by 2050, an additional 175 million people worldwide will be deficient in zinc, and 122 million more won't be eating enough protein. Worse, 1.4 billion women and children under the age of five, who are living in countries with increased rates of anemia, stand to lose an additional 4 percent of their dietary iron intake."
"Mainers Look to Farms to Boost Scallops, a Wild Staple" [NECN]. "The Atlantic sea scallop is a New England mainstay, but unlike oysters and mussels, they're almost exclusively harvested from the wild on the East Coast. A loose consortium of aquaculture businesses off the Maine coast is looking to change that by making scallop farming a viable option here. It's one of the first serious attempts to farm Atlantic sea scallops in the United States."
Water
"Flood thy neighbor: Who stays dry and who decides?" [Reveal News]. "When rivers flood now in the United States, the first towns to get hit are the unprotected ones right by the river. The last to go, if they flood at all, are the privileged few behind strong levees. While levees mostly are associated with large, low-lying cities such as New Orleans, a majority of the nation's Corps-managed levees protect much smaller communities, rural farm towns and suburbs… The Army Corps of Engineers has a huge, complex job – reducing flood risk across the nation's rivers and coasts and a requirement to do it in a way that benefits the country economically. To prioritize its resources, the Corps uses cost-benefit calculations. In practice, those formulas determine who gets flooded and who gets saved. They're intended to bring some dispassionate reason to a contentious process. But the calculations favor highly valued property over less-affluent communities."
Health Care
"Complete care: Hospitals tackling social determinants set the course" [Modern Health Care]. "the concept of addressing social determinants of health sweeps the industry. Income, education, employment, food security, housing stability and violence are all targeted factors to help improve patient health… Individual behaviors are the largest contributors to premature death, accounting for 40%, according to a 2007 New England Journal of Medicine story, while healthcare made up just 10%… [T]he ultimate goal of social programs is to reform healthcare into well care that changes both the health and economic outlooks of an entire community for generations to come. That's not a small or easy task." • Challenging even accepting the assumption that elites are benevolent and wish for such changes to occur; perhaps I should have filed this under class warfare.
Class Warfare
"Why Missouri 'Right to Work' Went Down in Flames" [Labor Notes]. "Labor's win in Missouri defies current wisdom about the decline of unions. We won with an even greater percentage of no votes than in the celebrated 1978 defeat of right to work in Missouri—despite the fact that union density has fallen by two-thirds since then. Amazingly, even if none of Missouri's quarter-million union members had voted, right to work would still have been defeated. Given the number of ballots cast in the Republican primary, at least a third of the no votes must have come from Republicans. Only four counties favored Clinton over Trump in the last presidential election. Yet 100 of Missouri's 115 counties voted no on right to work." • That's amazing. It's almost like Missouri working class voters didn't think Clinton was on their side. The temerity!
"A Red State Raises Its Workers' Minimum Wage to $15" [Governing]. "In one of the most surprising legislative twists in state government this year, North Carolina became the first state to implement — and the first red state to approve — an increase in the minimum wage for state workers to $15 an hour, or $31,200 a year. California, Massachusetts, New York and Pennsylvania have passed legislation that puts them on a path to reach a $15 minimum wage for state employees, but none have reached that goal yet. Deepening the intrigue, the state's Republican-controlled legislature achieved this practically-overnight minimum-wage hike with no formal testimony or hearings, and with little support from Democratic legislators or the state's Democratic governor, Roy Cooper, who opposed other aspects of the budget in which it appeared…. [Republican Senate President Pro Tempore Phil Berger] stresses that the $15 wage doesn't betray conservative beliefs because it doesn't impose on the private sector." • Sounds like we should to directly to NHS and make all health care workers government employees, then. I mean, if we want the support of principled conservatives. That said, never underestimate how flexible, feral, and effective conservatives are….
"A bride has absolutely LOST IT at her wedding guests in the greatest rant of all time." [MamaMia]. • Funny and sad; I was unsure where to file this, but it seems to fit into the "Aspirational" bucket, and the increasing distance between aspirations — ideologically governed does not imply a lack of deep feeling, and in fact the two may overlap — and, well, reality.
News of The Wired
My messy office:
I was annoyed that a book I needed was checked out from the library, and had been for a long time. I finally got fed up and bought a copy online. Organizing my office a bit this morning I realized that I was the one who checked it out from the library.

— George Hawley (@georgehawleyUA) August 24, 2018
"Platform capitalism" (1):
Adventures in platform capitalism: Twitter is hiding my tweet about Amazon's army of paid trolls because it's considered "potentially sensitive content." pic.twitter.com/R84RNWmPHg

— Ben Tarnoff (@bentarnoff) August 24, 2018
"Platform capitalism" (2): Entertaining thread:
I wonder how disappointed the people in 1994 who thought we'd be able to make phone calls to domain names by now are

— Gravis McElroy (@gravislizard) August 25, 2018
It's almost as if… As if the forces of production have come into conflict with the relations of production, isn't it?
A multidimensional snowclone spotted in the wild (Twitter is very good at this):
I made a book review bingo card. Critics are hailing it as 'a remarkable achievement'. pic.twitter.com/n9Td7jgTNR

— Paraic O'Donnell (@paraicodonnell) August 25, 2018
* * *
Readers, feel free to contact me at lambert [UNDERSCORE] strether [DOT] corrente [AT] yahoo [DOT] com, with (a) links, and even better (b) sources I should curate regularly, (c) how to send me a check if you are allergic to PayPal, and (d) to find out how to send me images of plants. Vegetables are fine! Fungi are deemed to be honorary plants! If you want your handle to appear as a credit, please place it at the start of your mail in parentheses: (thus). Otherwise, I will anonymize by using your initials. See the previous Water Cooler (with plant) here. Today's plant (ChiGal):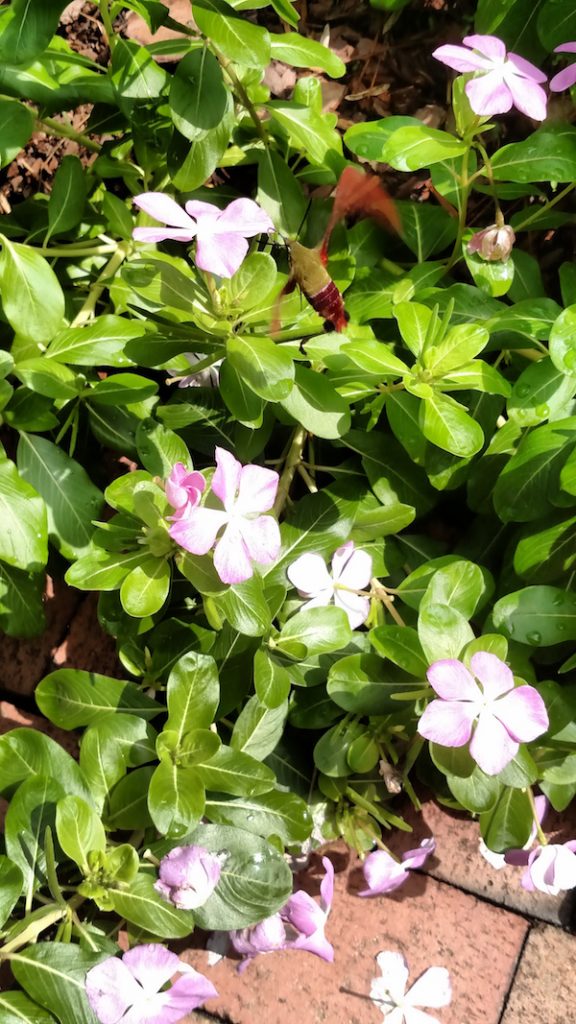 ChiGal writes: "Not native wildflowers sadly, but a pretty cool beastie: a hummingbird moth."
* * *
Readers: Water Cooler is a standalone entity not covered by the annual NC fundraiser. So do feel free to make a contribution today or any day. Here is why: Regular positive feedback both makes me feel good and lets me know I'm on the right track with coverage. When I get no donations for five or ten days I get worried. More tangibly, a constant trickle of small donations helps me with expenses, and I factor that trickle in when setting fundraising goals. So if you see something you especially appreciate, do feel free to click the hat!

To give more, click on the arrow heads to the right of the amount.
If you hate PayPal — even though you can use a credit card or debit card on PayPal — you can email me at lambert [UNDERSCORE] strether [DOT] corrente [AT] yahoo [DOT] com, and I will give you directions on how to send a check.