Over a series of posts, we will discuss how CalPERS' Marcie Frost, who joined the pension system as CEO in October 2016, even on paper was not qualified for the job. She was only a high school graduate. And even putting that aside, her experience was also wanting. The Washington agency she headed prior to joining CalPERS, the Department of Retirement Services, is essentially a pension back office plus a call center, vastly smaller and less complex than CalPERS.
But it turns out the papers Frost submitted were not all that they were cracked up to be either.
Frost made significant misrepresentations and omissions in the hiring process, in her resume, and in the resume search firm Heidrick & Struggles prepared based on information she provided. Frost may also have made false statements on her employment application, a document filed under penalty of perjury. Implausibly, CalPERS claims not to possess any of the pages from it that show her education and work history.
Frost told her biggest whopper to Heidrick & Struggles by inflating her educational status, apparently to obscure that she was only a high school graduate 1. She doubled down on the fabrication in the press release announcing that she was joining CalPERS and on an ongoing basis.
Specifically, Frost has repeatedly claimed she is actively enrolled in dual bachelor's/master's degree program at The Evergreen State College. Yet Evergreen has never had a dual undergraduate-graduate degree program of any kind. Even worse, Frost was never enrolled in any degree program whatsoever at Evergreen.
Frost has never made a serious effort at getting a college degree. At Evergreen, the only post-secondary institution she has ever claimed to have attended, Frost was only a "non-admitted student" who took a writing course for two quarters in 2010.
Frost also omitted an employer on her resume, which has been found to be a serious misrepresentation in employment-related lawsuits, and made false claims about her accomplishments in some of her roles.
Moreover, not only did Frost make false statements to CalPERS, but also to the Governor of Washington prior to being appointed Director of Washington Retirement Systems on a questionnaire filed under penalty of perjury.
Bear in mind that Chief Financial Officer Charles Asubonten was dismissed from CalPERS recently,
based on our investigation into his own inflated resume claims. From CalPERS' statement of the reasons for his being rejected during his probationary period (emphasis original):
…you are rejected during your probationary period for reasons relating to your qualifications, the good of the service, and failure to demonstrate merit, efficiency, fitness, and moral responsibility….because of misrepresentations you made regarding your work history prior to and after your hire at CalPERS…you made false, incomplete, incorrect, and misleading statements as set forth below….

Title 2 of the California Code of Regulations, Section 324 states "If the conduct, capacity, moral responsibility, or integrity of the probationer is found to be unsatisfactory, it shall be the duty of the appointing power to reject that probationer from the position." (Emphasis added.) As described in detail above, you repeatedly provided false, incomplete, incorrect, and misleading information about your work history as it pertains to Transmax/RSA Capital, and failed to be forthright during the investigation
CalPERS cited falsehoods on Asubonten's resume to support their dismissal. As the text above indicates, Asubonten was on probation, so the bar for his removal was low. Frost is effectively in the same position, since as CEO she is a permanent at-will employee.
As we will discuss in a later post, CalPERS claims it cannot find the pages of Frost's employment application that required her to certify her educational and work history under oath. That suggests that someone at CalPERS has destroyed documents to hide evidence of Frost having committed perjury.
This post will review:
Frost's misrepresentations about her educational status

Frost's other omissions and misrepresentations during CalPERS' hiring process
The later posts in our series will cover:
How Frost attempted to cover up for the most glaring falsification, that of her educational status

How Frost's resume as a stand-alone document raises red flags about her competence

How Frost, even leaving aside her educational background, is not even remotely qualified for the role of CEO of CalPERS
Neither Frost nor the chairmen of the two state public pension committees, Dr. Richard Pan in the California Senate and Freddie Rodriguez in the Assembly responded to our request for a comment on our findings.
We did not go looking for this story. A CalPERS insider pressed us to make a Public Records Act request for Frost's resume and employment application. That was based on the concern Frost had personal reasons for her reckless defense of resume fabricator and now departed Chief Financial Officer Charles Asubonten, specifically of not wanting to set the precedent of pushing an executive out over resume misrepresentations. That hunch looks to be accurate.
Frost's Misrepresentations About Her Educational Status
We made a Public Records Act request seeking Frost's employment application, all versions of her resume, and all e-mails, including attachments, with the word "Frost" in them from shortly after former CEO Anne Stausboll announced her departure in early 2016 through July 14, 2016, when CalPERS issued a press release saying the system had hired Frost as CEO.
We have embedded Frost's resume at the end of this post. You will note that it is completely missing a section on "Education." We will discuss its other considerable shortcomings in a later post.
Frost represented to Heidrick & Struggles that she was a "matriculated student" in a "dual degree program":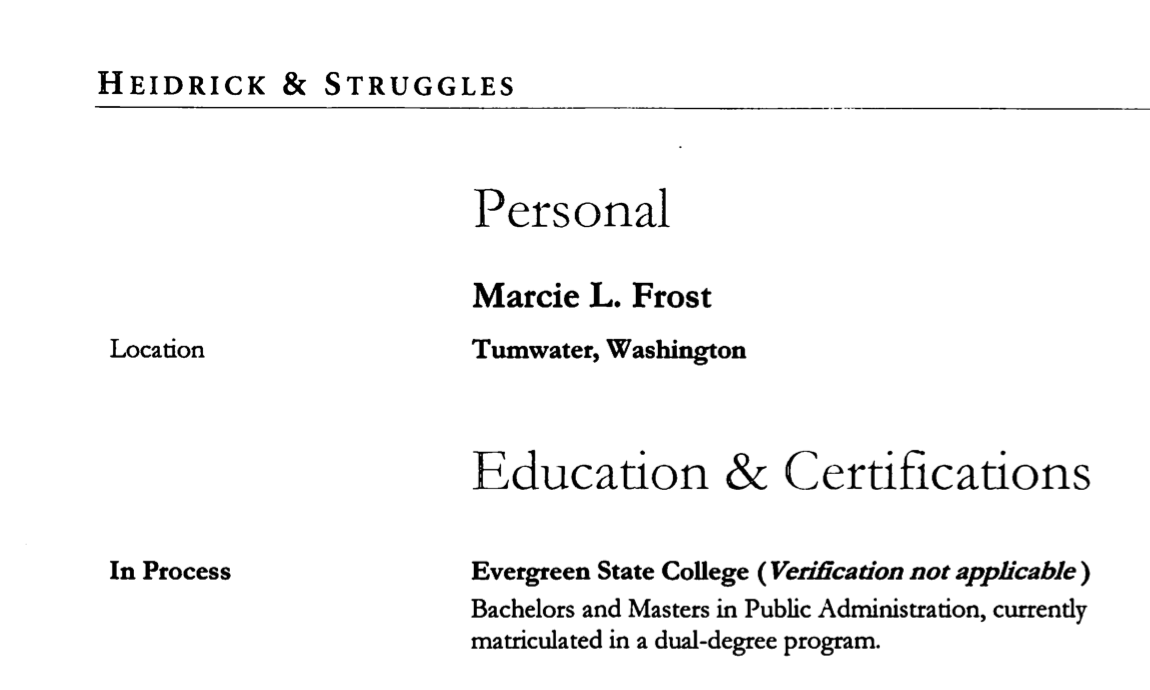 CalPERS' July 16, 2016 press release announcing Frost's hiring, which would have been subject to her review, states2:

Frost's alleged enrollment at Evergreen was picked up by Bloomberg, Chief Investment Officer, Wealth Management, and other specialist publications.
On a SecuriCheck release form signed 6/15/16, embedded at the end of the post, Frost describes herself as having last attended Evergreen in 2014 and "not degreed yet," implying she was in the process of obtaining a degree.
On November 4, 2016, after Frost had joined CalPERS, I asked the head of communications Brad Pacheco via e-mail:
A reader informed me that [Investment Committee Chairman] Henry Jones had told external parties that Marcie Frost was to be awarded a college degree by the end of October [2016]. If that is the case, can you please tell me the name of the school and the degree awarded (such as AB, BA, BSc)?
Pacheco replied:
Ms. Frost is still pursuing a degree so your post remains accurate. I'll correct with Henry.
Frost's official biography, published on March 17, 2017, courtesy the Wayback Machine, has this statement at the end:

Frost represents on her most recent LinkedIn profile, which she appears to have put up in August 20183, that she has studied "Business Administration and Management":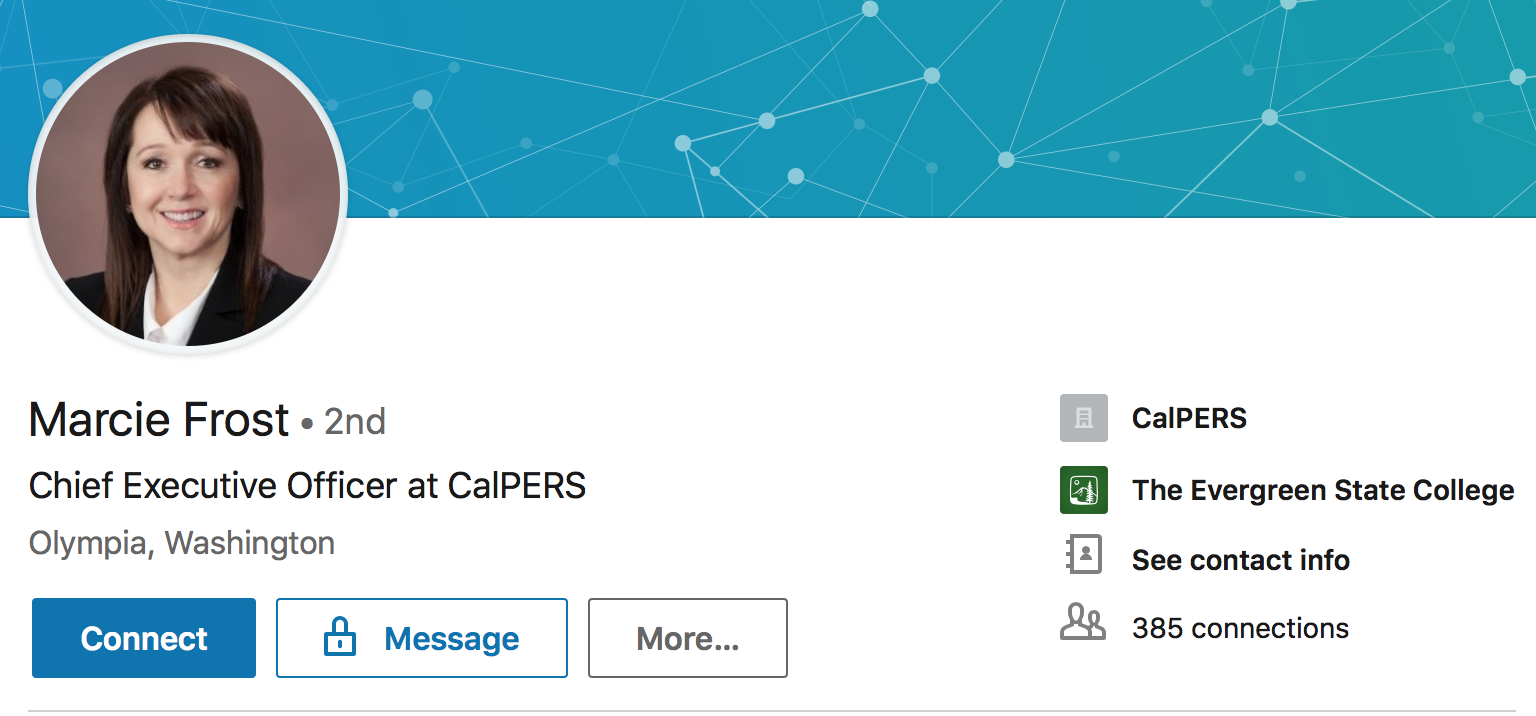 All of this is false and all came directly or ultimately from Frost.
We obtained records of Frost's enrollment at the Evergreen State College from the National Student Clearinghouse, which is contracted by Evergreen to provide definitive verification of student enrollment and degrees awarded. We have embedded a screenshot at the end of this post.
We also spoke at length, and in some cases multiple times, to four senior officials at Evergreen, a professor and three senior administrators. Among them, we received multiple confirmations of every statement listed below:
Evergreen has never had a dual bachelor's/master's program of any sort. The only dual degree program Evergreen offered was for a dual undergraduate degrees, a bachelor's of art and a bachelor's of science. That was discontinued in 2014.
Frost was never enrolled in any degree program at Evergreen. She never applied to be admitted as an undergradute and only took courses as a "special student". She therefore was never a "matriculated student" nor pursuing a degree4.
Frost attended Evergreen for only two quarters in 2010, not 2014.
Frost never studied business or management at Evergreen. The Evergreen sources took exception to how Frost characterized her course work. The only course Frost took was a four credit "experiential writing course." She was also conferred eight credits for "prior learning experience" as in her work experience. She did not have to do any course work for those eight credits.
Even if Frost had been a matriculated student in 2010, which she was not, that status would have lapsed at the beginning of 2012. Evergreen's policy is that students in degree programs can only take a one-year leave of absence. If they have been un-enrolled for longer than that, they need to reapply and hopefully be re-accepted.
On top of that, CalPERS posted an updated bio for Frost on May 23, 2018, shortly after Asubonten was dismissed for lying during the hiring process. The new version makes no statement whatsoever about Frost pursuing degrees. This change looks an awful lot like an admission of guilt.
Frost made similar misrepresentations to the State of Washington in a Gubernatorial Appointment questionnaire filed under the penalty of perjury. Unlike CalPERS, the State of Washington makes these records public without redactions. We have embedded the document at the end of this post.

Notice how calculated this lie is. The claimed enrollment dates, and especially the use of the dash in "2009-" effectively assert that Frost has been actively studying at Evergreen every year from 2009 through the date Frost signed the form, 1/31/13. As we have shown, Frost was not enrolled in 2009 at all, took non-degree classes only for only two quarters in 2010, and was never enrolled thereafter.
The form contains a second misrepresentation. The certification language over the signature line states: "I certify under penalty of perjury under the laws of the State of Washington, that the information above is true, complete, and correct to the best of my knowledge."
The information is not complete. Frost skipped this section:

Frost's maiden name was Bowen. Her first husband was Lamb. Internet records show Frost has used the name Marcie Lamb, so she should have answered this question in the affirmative. Why the erasure? We can only speculate.
Frost's Other Omissions and Misrepresentations During CalPERS' Hiring Process
We will focus on two additional clear misrepresentations and discuss a probable third one.
Omission of Frost's job at the credit union WSECU. Both the resume below, and the version prepared by Heidrick & Struggles, show an apparent period of unemployment from May 2008 to March 2009. This is consistent with what she showed on the Washington questionnaire. (Note that she was not required to show a full employment history there, but the same gap shows in the jobs she did present in that document.) Before and after, Frost worked for the Department of Retirement Services.
Yet Frost's latest LinkedIn profile, which she put up in August, and an older one both show her working at the Washington State Employees Credit Union, or WSECU, and the more recent one shows dates from 2009 to 2010.
One of our Evergreen sources is a member of the credit union and volunteered that, "Even though it has a lot of branches, it is a rinky-dink operation. They must outsource almost everything they do."
This is from Frost's new LinkedIn profile:

Curiously, she seems to have gotten a retroactive promotion. This is from an older profile that appears to date from when she was at WSECU:

Note that the dates that Frost now shows for her time at WSECU are for different years than the employment gap on her resume. It seems more likely that the dates on LinkedIn are the correct ones. First, a BizJournals story states that she re-joined the Department of Retirement Services in 2010, not 2009:
Frost began working with the Washington pension system in 2000, and served as a leader in several departments, including human resources, information services and operations. She worked for a year in information technology with the Washington State Employees Credit Union, before being named deputy director of Washington's state retirement system in 2010. She was appointed director of the state pension system in 2013.
Second, LinkedIn also shows that Frost's son Ryan Frost had a summer job at WSECU in 2009. That would be consistent with our understanding of when she worked at the credit union, and her having helped him get the position while she was there, even though WSECU has an anti-nepotism policy (summer jobs may be seen as too inconsequential to enforce it for them).
Moreover, Frost admitted to having worked at WSECU only when she filled in the SecuriCheck form for her credit check, when she was at CalPERS on the day of her interview with the board on June 15. This means the existence of that job was apparently only disclosed for purposes of the credit check, not as part of the hiring evaluation process. It would have been logistically impossible to get the new information in that form to board members for their consideration, even assuming Frost filled out the form before, rather than after the interview.
In addition, as you can see if you look at the form and at the resume, the information she provided to SecuriCheck was false. She said she "held position at WSECU between two employers listed above." But Frost's resume says she went from the first employer she had listed on the form, the Department of Labor and Industries to the Department of Retirement Services in November 2000, with no gap in employment. In fact, she went to WSECU from the Department of Retirement Services and then returned, and not between employers as she lied to SecuriCheck and therefore to CalPERS.
If Frost indeed was at WSECU from 2009 to 2010, that means her resume is false in another regard, by giving inaccurate dates for the jobs she held at the Department of Retirement Services. Her resume shows her as being the Deputy Director of the Department of Retirement Services from March 2009 through January 2013, when her newest LinkedIn (which we have downloaded) shows a shorter tenure, of May 2010 to January 2013. And that is consistent with the BizJournal article, which was presumably based on information from CalPERS and/or the Department of Retirement Service's press office.
It is also worth noting that Board President Rob Feckner sent Frost a written job offer and Frost accepted the offer in writing on June 24, before CalPERS had received the results of the credit check.5
Note also since the form itself was released to me, any e-mails or further discussions about it would have been subject to disclosure. The only ones provided were of discussion of lower-level staff about the delay in getting the credit information. So this falsehood about her work history apparently never reached any decision-makers.
Omitting an employer from a resume is such a serious breach that it has been used by employers as "after acquired evidence" to argue that the employee engaged in a fraud in the hiring process and a termination is warranted on those grounds.
Frost wildly exaggerated her accomplishments at the Department of Labor and Industries. This is from Frost's description of a job she held from 1997 to 2000:
Implemented the first human resource technology systems for the State of Washington.
Anyone over 50 who has been in a large organization and is moderately observant would recognize the implausibility of claiming that large state agencies didn't use computers as part of human resources systems prior to the turn of the millennium. And indeed, her claim is false. Washington State records show the use of computers in human resources dating back to the 1970s.
From the State of Washington's Department of Personnel, Human Resource Management System (HMRS):
HRMS is the primary focus of this document. As the enterprise HR and payroll system for Washington State government, HRMS captures and distributes a wide variety of financial and HR data. System data and functionality support state HR practices, central services (such as employee benefits, labor management, and financial management), and strategic planning across state government….

Summary

In 2002, the Washington State Legislature funded a modern enterprise-wide payroll and HR management computer system to replace the state's 30-year-old mainframe system (PAY1).
So the current Washington system (HRMS) is 2002-vintage. The state's own records document that there has been a human resouces technology system since the 1970s. This is what you'd expect; government was either the first or a very early adopter for computerised replacements of paper-based systems.
Frost made implausible claims about her accomplishments in working on Washington's adoption of "hybrid" pension plans. Washington states that it was the first pension system to institute "hybrid," meaning joint defined benefit/defined contribution plans.
Here is Frost's description of her role as Project Manager, her first position at the Department of Retirement Services. Note that she was in this position only for seven months, from November 2000 to June 2001:
Responsible for delivering high impact projects across the organization within scope, budget and schedule. Implemented new hybrid retirement plans and large technology projects including a comprehensive imaging management system that had two components, business process workflow and back file. Managed vendor deliverables in accordance with delivery-based contracts. Created a project management framework with associated course certification materials. Prepared and conducted change management sessions to transition people from old processes to new. Developed expert level skills in contract negotiation and management and subsequent escalation management.
As anyone in IT land will tell you, seven months is barely enough time to put out a contract for bid and then negotiate it and sign it in the private sector, and the timetables are almost without exception longer for government contracting. It is simply impossible for a system of this type to have been contracted for, coded, debugged, gone through the inevitable user change orders, and have been rolled out in this time frame. Yet if you read the text carefully, that is precisely what Frost claims: that she negotiated the contract, oversaw the vendor, got the project done within budget, and trained employees on the new system (which cannot be done until the development is complete).
Also bear in mind that Frost went from this position to be head of Human Resources. Had she been doing something essential on the hybrid pension system develoment/rollout project, she would have had to stay in the IT Department to see it through.
But if this claim is miraculously true, Frost has a different problem, that she looked the other way while the Department of Retirement Systems was defrauding retirees.
The system had a known issue about how it calculated beneficiaries' interest. If Frost was as deeply involved in this hybrid development project as she says she was, she either ignored or did not follow through in response to concerns from a member or members of the DRS staff on that issue. Benficiaries who enrolled in the hybrid plans before 2002 entered into a class action lawsuit against the Department of Retirement Services that was eventually settled for $5.5 million after an appellate court ruled against the pension system. From that ruling (emphasis ours):
In 1992, in conjunction with developing a new database system, the DRS considered whether to continue using its quarterly interest calculation method. The agency considered ​ alternatives including continuing its existing practices or moving to one of several methods for ​ compounding interest monthly. In evaluating this decision, the agency recognized that the ​ quarterly interest calculation method was unfair because an employer's late transfers to the DRS​ could lead to the employee being denied interest, a similar problem to the denial of interest that ​ later occurred with transfers to Plan 3. Despite this problem, the DRS elected to continue using ​ the quarterly interest calculation method. Nothing in the record shows that the DRS considered ​ any advantages in continuing the quarterly calculation method; rather, the DRS elected to ​ continue using the existing method despite the recognized unfairness it created.​
Moreover, it is hard to imagine that Frost in her next position in HR didn't hear about the objections made to the interest calculation:
Furthermore, in 2002, a DRS employee raised concern that the quarterly interest ​ calculation method did not conform to industry standards. The record reflects that a DRS ​ manager agreed that the matter should be considered. But the record does not show that the ​ DRS undertook any consideration of the benefits and drawbacks of retaining the quarterly ​ calculation method.​…

The ​decision to continue using the quarterly interest calculation method was therefore undertaken in ​
wilful and unreasoning disregard of the facts and circumstances, making it arbitrary and ​ capricious.
This lawsuit also gives a window into the culture of the Department of Retirement Services:
Ignore any issues which are in the Sounds Hard box

Fob staff off when they raise concerns

Don't do anything to address problems even when the warnings pile up

Dig your heels when the dirty laundry gets aired in even if it involves expensive and futile litigation
So is this who CalPERS wants as CEO? Someone who puts public relations for the employees and board over performance of fiduciary duty on behalf of beneficiaries and ultimately California taxpayers? Worse, someone who lied to the State of Washington under penalty of perjury and told repeated and not even consistent lies to CalPERS? How can the board, employees, beneficiaries and the legislature put an iota of trust in Frost when she can't even tell the truth on a sworn document when she has big promotions at stake?
CalPERS needs to launch an investigation of Frost's apparent misrepresentations and omissions during her hiring as it did with Asubonten. She is already damaged goods by virtue of her extensive lies. CalPERS cannot afford to make the bad optics even worse by treating a white woman more leniently than it did a black man.
_____
1 Frost's maiden name was Marcie Lynne Bowen. She graduated from Forks High School in 1982. Her first husband was Mitchell C. ("Mitch") Lamb and her second husband was Robert Frost.
2 The CalPERS site was down on an unscheduled basis starting on Saturday late afternoon PDT. The error pages said it would be back up on Monday August 27, 2018 at 6:00 AM PDT. We have a screenshot of the press release. The site was back up on Sunday, but if it has another seizure, you can also view the press release on the Wayback Machine.
3 We started looking into Frost's history when we received a response to our Public Records Act request on August 6. When we first earched for a LinkedIn profile, we found two sketchy ones for Frost with hardly any followers. A colleague we contacted said that was not unusual, that there were actually quite a few half-hearted profiles on LinkedIn. As far as we can tell, the profile for Frost as CalPERS CEO was published in the first half of August.
4 Officials at Evergreen stressed that they have a robust student tracking system so as to assure that students who have changed their name or made other personal changes have all their information associated with a single student number. I had three independent checks made of the records made to be absolutely sure that the information provided by the National Student Clearinghouse was accurate and complete. The only way Frost could have taken classes at Evergreen and not have them included in the enrollment records would be if she received a grade of "Incomplete" and did not satisfy the class requirements in the next quarter.
5 CalPERS was not completely reckless. It did not announce that Frost had been hired until it received the results from the credit bureaus.
00 Marcie Frost Resume

00 Marcie Frost SecuriCheck Release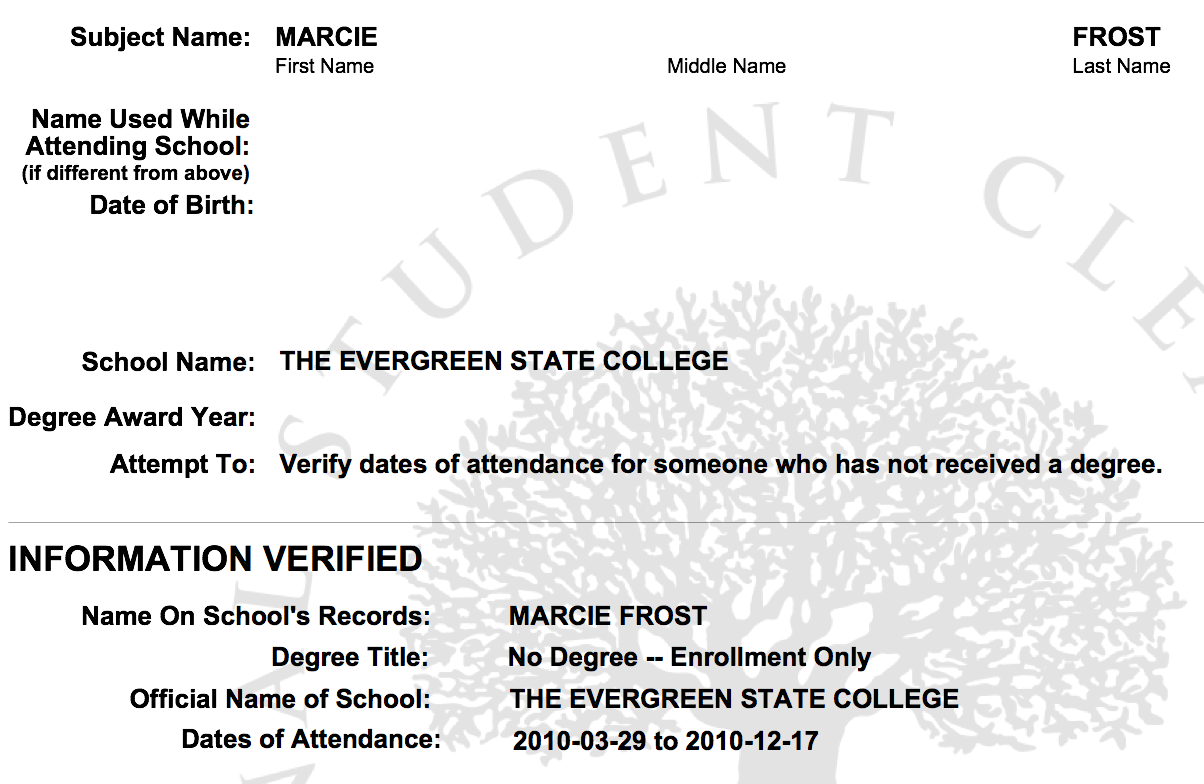 Frost Governor of Washington questionnaire