By Lambert Strether of Corrente.
Very patient readers, this is a initial cut. Now I'm going to go back and finish up my post on the NHS by trashing squillionaire Richard Branson's Virgin, among other thing. Also, my "n" key is still differently abled, causig me screamig, tooth-gridig frustratio. "" has a letter frequecy of oly 6.749% ad it feels like fifty [sarl]. –lambert UPDATE 5:45PM The final cut. A bit thin still, the best I can do, today. Now to urse my ijured idex figer.
* * *
Trade
"US slaps export controls on dozens of Chinese firms over 'threat to national security' as trade tensions escalate" [South China Morning Post]. I suppose, if it comes to that, I'd rather send my personal data to China's organs of state security, via Huawei, than our own, if only because the Chinese have to reason to exploit it.
Politics
2020
"Joe Biden visit attracting more interest than expected" [Chicago Sun-Times]. • Oh.

RussiaRussiaRussia:

Russia attacked our country during the 2016 election and it's clear they are continuing to attack us today. These attacks not only harm one of our most sacred democratic values, which is a free and fair election, but also our American identity. It must be taken seriously.

— Kamala Harris (@KamalaHarris) August 2, 2018

Anybody who experienced the 2016 Democratic primary has to snicker at "our most sacred democratic values, which is a free and fair election." And what's with this "our American identity" thing? Sounds like a new buzzword.
2018
Thanks, Obama:

Less than two weeks after it was discovered that @BuffyWicks has avoided paying taxes at her business in Oakland she lands an endorsement from @BarackObama.

These are the values of the Democratic establishment

— San Francisco Berniecrats-Our Revolution (@sfberniecrats) August 1, 2018

Once again, the horrid Buffy Wicks. It's no coincidence that Obama endorsed Wicks and not AOC. He is — hold on to your hats, here, folks — kicking the left again. Party unity is for rubes!

BFFs (Timotheus):

Ka-ching. Ka-ching. And ka-ching.

UPDATE "Gen X and Millennials Unite" [Counterpunch]. "Whereas then-Senator Obama promised a post-baby boomer presidency, Senator Kamala D. Harris will in fact deliver it." • What does that even mean? Here's what it means in the Harris/Brown administration visioned by the author: "If floating Governor Hickenlooper as Chief of Staff helps to secure his purple mountains majesty, then Harris does it. If prominent House Dems, like Schiff or Castro, want the U.N. or National Security Advisor, done. If rational Republicans like Corker and Flake want ambassadorships, then Berlin and Madrid await. The mix of personnel is secondary to the larger aim: government that functions to address, analyze, and effectively pursue solutions to a panoply of vexing problems. Bold, probably experimental, solutions." • Adam Schiff and, well, Raytheon. But Beyoncé. So it's pragmatic.

HI-01: I'm liking this guy:

If Democrats agree that Trump is a dangerously unfit Commander-in-Chief, then why in God's green Earth did some Democratic Congressmembers vote to boost his military might by $600b?

We must lead with moral clarity.

— Kaniela Ing (@KanielaIng) August 1, 2018

OH-12: "Ohio's 12th District Race Tightens in Final Stretch of Special Election" [Roll Call]. "But all eyes are on the suburbs of Columbus, Ohio, for the next few days ahead of the last special election before the November midterms…. This race for Ohio's 12th District has followed the trajectory of other Trump-era special elections, with Democrat Danny O'Connor, the Franklin County recorder, steadily closing the gap with the Republican nominee, state Sen. Troy Balderson…. Republicans are pulling out all the stops here. Outside groups such as the Congressional Leadership Fund have been propping up the GOP nominee, as it has in other recent special elections. And the district has seen a steady stream of national GOP surrogates, to be capped off this weekend with President Donald Trump…. After initially staying out of the race, Ohio Gov. John Kasich — who used to hold this seat — endorsed Balderson last week and cut an ad for the CLF backing him."

OH-12: "'The Most Accurate Bellwether:' GOP fears mount over Ohio special election" [McClatchy]. "A special election next week in Ohio's 12th Congressional District is the last big electoral test before November's election, a showdown in a once deep-red suburban House seat that Donald Trump won just two years ago by 11 points. Now, however, both parties view the race between GOP nominee Troy Balderson and Democratic nominee Danny O'Connor as a toss-up — and that's a warning sign for GOP candidates already bracing for a difficult election environment, especially in suburban districts that will help determine control of the House this fall."

MI Governor: "Sanders to Rally for Abdul El-Sayed as New Poll Shows Tightening Democratic Primary Race in Michigan" [Common Dreams]. "On the heels of poll results showing progressive candidate Abdul El-Sayed is pulling ahead in Michigan's Democratic gubernatorial primary race, Sen. Bernie Sanders (I-Vt.) announced he would rally voters in the state in support of El-Sayed this weekend…. Sanders will speak at two rallies in Detroit and Ypsilanti on Sunday, promoting the former Detroit health director's support for a state-level Medicare for All program, promise of free college tuition for most state residents, and pledge to invest in renewable energy and green jobs. Sanders is the only U.S. senator who's endorsed El-Sayed ahead of the August 7 primary election." • Don't get excited by one poll, though, especially one from an organizatio called Change Research. Could be a late rally by El-Sayed, but….

NY Governor: Cuomo gives zero [family blogs]:

This is what corruption looks likehttps://t.co/O5PQP5rb2o

— People For Bernie (@People4Bernie) August 3, 2018

My satrapy, leftist dogs! Down! Down!

https://www.yahoo.com/news/senate-reelection-bid-heidi-heitkamp-lonely-north-dakota-democrat-charts-path-174242416.html
The Liberal Democrats Have Lost Their Minds
Presented without comment pic.twitter.com/C8GsAP07Zy

— Michael Tracey (@mtracey) August 2, 2018

Another liberal Democrat woman comedian follows Samantha Bee's royal road to wealth and fame:

To be clear: I like a lot of things about Bernie. But he brings out our worst 2016 selves, which was my point. Every dem I know wants single payer and loves AOC. Let's focus on moving forward. Also Bernie likes it in the box. I got him a heat rock and feed him lettuce

— Melinda Taub (@MelindaTaub) July 30, 2018

Again, party unity is for rubes.
Squillionaires with bright ideas:
Tom Steyer just told the crowd at #NN18 that he believes Democrats will win in Nov.

An hour ago one-on-one he told me he was "absolutely not" confident the House would flip.

— MaryAlice Parks (@maryaliceparks) August 2, 2018
On the Koch Brothers v. Trump feud:
A few observations about the Koch-Trump feud. /1https://t.co/XUDh0Pr8Zn

— Daniel Schulman (@DanielSchulman) August 2, 2018
Kayfabe? If so, who's the Face, and who's the Heel? I'm not strong on conservative factions, so I'd be interested in reader thoughts on this thread.
"Here's Why Marijuana Will Play a Major Role in the Next Two National Elections" [Alternet]. "Michigan will vote on a legalization initiative in November, and there will be efforts in Arizona and Ohio in 2020, the panelists said. But grassroots initiatives could also bubble up in places like North Dakota and Oklahoma, both of which saw serious efforts this year that will almost certainly not make the November ballot but do lay the groundwork for the next cycle. Vermont became the first state to free the weed via the legislative process (although it does not allow retail sales), but [National Cannabis Industry Association (NCIA) director of governmental relations Mike Correia] sketched out how the next couple of years could see Connecticut, Delaware, Illinois, Maryland, New Jersey, New York, and Rhode Island fall in line behind it. By the time November 2020 rolls around, most of New England and the mid-Atlantic states could be legal, with Illinois and Michigan creating a major toehold in the heart of the Midwest."
"Donald Trump and the American Left" [Rob Urier, Counterpunch]. "As widely loathed as the Democratic establishment is, it has been remarkably adept at engineering a reactionary response in favor of establishment forces. Its demonization of Russia! has been approximately as effective at fomenting reactionary nationalism as Mr. Trump's racialized version. Lest this be overlooked, the strategy common to both is the use of oppositional logic through demonization of carefully selected 'others.' This points to the most potent fracture on the Left, the question of which is the more effective reactionary force, the Democrats' neoliberal nationalism or Mr. Trump's racialized version? As self-evident as the answer apparently is to the liberal / Left, it is only so through abandonment of class analysis. Race, gender and immigration status are either subsets of class or the concept loses meaning. By way of the reform Democrat's analysis, it was the shift of working class voters from Barack Obama in 2012 to Donald Trump in 2016 that swung the election in Mr. Trump's favor. To the extent that race was a factor, the finger points up the class structure, not down. This difference is crucial when it comes to the much-abused 'white working-class' explanation of Mr. Trump's victory."
"The Hunger for a Bold Socialism" [Conor Friedersdorf (BWA-HA-HA-HA-HA-HA!!!!), The Atlantic]. The conclusion: "For now, their posture suggests a catchy counterargument for a market-oriented system with better checks on rent seeking and a strong safety net: 'Capitalism: Making people's lives materially better is enough.'" • Which, in all fairness, is exactly the distinction between social democracy and democratic sociailism. Still, this whole "unnaccountable bureacy" thing. Verizon? The Pentagon?
"Will Tribalism Trump Democracy?" [Patrick Buchanan, The American Conservative]. "Today, a large share of the American people loathe who we were from the time of the explorers and settlers up until the end of segregation in the 1960s. They want to apologize for our past, rewrite our history, erase our memories, and eradicate the monuments of those centuries. The attacks upon the country we were and the people whence we came are near constant. And if we cannot live together amicably, secession from one another, personally, politically, and even territorially, seems the ultimate alternative." • "We" is doing a lot of work here, but as far as outcomes, the reactioary mossbacked reprobate is onto something. One wonders if Buchanan could be converted to slicing things by class, rather than tribes….
"A Census Question That Could Change How Power Is Divided in America" [New York Times]. "Republicans officials, red states and conservatives behind a series of recent court cases have argued that districts historically allotted based on total population unfairly favor states and big cities with more undocumented immigrants, tilting power from states like Louisiana and Montana to California and New York. Congressional seats and state legislative districts should equally represent citizens or eligible voters, they say, not everyone. Until now, their arguments have faced a logistical challenge. The government doesn't currently count citizens as thoroughly as it does the total population, tallying every person on every block."
Stats Watch
Employment Situation, July 2018: Below consenus. "Slowing job growth may be a welcome outcome given the risk that economic activity may be pressing up against capacity limits" [Econoday]. "The payroll breakdown is led by temporary help services…. which indicates employers, stacked up with orders and backlogs, are scrambling to meet demand. Construction payrolls also stand out…. Manufacturing payrolls rose… more than double Econoday's consensus with trade & transportation, reflecting strong activity in the supply chain Weakness in payrolls comes from mining… and also government payrolls…. Though the headline is softer than expected, this is yet another positive employment report that speaks to the strength of the labor market and the success, so far, of Federal Reserve policy." And: "The internals generally look good, and the pace of year-to-date growth exceeds last year" [Econoday]. "The household and establishment surveys were not in sync. The year-to-date employment is running above the pace of last year. There were significant employment declines such as sporting goods stores."
International Trade, June 2018: "The nation's trade deficit proved a little deeper than expected" [Econoday]. "Country data show a deepening deficit with China…. Though deeper than expected in June, the nation's trade deficit has been improving though the outlook, given tit for tats on tariffs, is uncertain."
Purchasing Managers Services Index, July 2018: "[B]elow expectations" [Econoday]. "[S]lowing in order growth may be a positive for this sample which appears to be approaching capacity limits. Business activity is at one the strongest rates in three years yet employment growth is being limited by lack of skilled labor." And: "Both [PMI and ISM] services surveys are in expansion – and their intensity of growth and general trends are similar this month" [Econoday].
Institute For Supply Management Non-Manufacturing Index, July 2018: "slowing is clearly the theme" [Econoday]. "Slowing is not only the theme of today's service reports but was also the theme of ISM's manufacturing report on Wednesday. The economy may have taken a breather in July which, given what appear to be approaching limits on capacity, could prove a long-term plus for the economy." • Cheerleading?
https://www.businessoffashion.com/articles/intelligence/the-startups-behind-new-yorks-retail-reawakening
Retail: "The Start-Ups Behind New York's Retail Reawakening" [Business of Fashion (J-LS)]. "Rebag is one of a number of small, online brands taking their place alongside the luxury establishment in haute shopping districts like Fifth Avenue and Melrose Avenue in Los Angeles. Until recently they would have been priced out of these areas. But landlords, who have seen vacant storefronts proliferate as the rise of online shopping triggers wave after wave of store closures, are increasingly willing to cut deals on even the most tony real estate." • Both Yves and I have remarked on Manhattan's vacant storefronts. Perhaps landlords threw in the towel?
The Bezzle: My sentiments exactly;
please just let me die pic.twitter.com/B4BdEqO14R

— Irene (@irene_koo) August 1, 2018
Will there be miniature submarines?
UPDATE The Bezzle: "MoviePass Played by Silicon Valley's Insane Rules" [The New Republic]. "MoviePass, whose subscribers pay a monthly fee to see an unlimited number of movies in most theaters in America, appears to be circling the drain. On Friday, the service temporarily shut down after the company ran out of cash… MoviePass' demise seemed inevitable, if only because of simple math. The company paid theaters full price for the tickets, but subscribers only paid $9.95 a month, so anyone who used MoviePass even once a month was costing it money…. But MoviePass is not an anomaly. Many of the largest tech companies employ a similar strategy of burning cash in pursuit of rapid growth that could, theoretically, eventually be turned into profit. As the New York Times's Kevin Roose argued earlier this year, only somewhat hyperbolically, the 'entire economy is MoviePass now.' Looking at tech peers in Silicon Valley (particularly Netflix, to which it was inevitably compared) it should be no surprise that MoviePass settled on a simple formula: Take money from venture capitalists, provide a below-market price for a popular service, and profit." • Leaving open the question of why stupid money stays stupid for some firms, and not for others. Nice paper there for somebody….
UPDATE The Bezzle: "Blue Apron Shares Tumble on Decline in Revenue, Customers" [Bloomberg]. "The New York-based company said customers fell 24 percent in the second quarter, reversing gains made in the previous period. The number of people purchasing its signature boxes of food to make home-cooked meals dropped 9 percent from the first quarter to 717,000. The average order value also dipped from a year earlier to $57.34. Fewer customers led to a 25 percent decrease in revenue for the period ending June 30." • Idea: Deliver on free scooters?
UPDATE The Bezzle: "The New Economy's Old Business Model Is Dead" [Foreign Policy]. "The titans of the new economy are different from their predecessors in one very important way: They aren't job creators — at least not on a scale to match their dizzying growth in value…. But the exponential difference between technology companies' revenues and their payrolls probably won't last. The fact that they can have billions of users but only tens of thousands of employees is in part thanks to algorithms and machine learning, which have taken the place of many ordinary workers. It is also the result, however, of political decisions made back in the 1990s that freed these companies from regulation — and those political decisions probably won't withstand increased scrutiny. As politicians and citizens get more worried about the behavior of technology giants, these companies are going to have to shoulder new regulatory burdens — and will then have no choice but to hire many more people to manage them. In other words, the new economy's old business model might be about to come to an end." • "I want to grow up to be a Moderator!" (which is not such a bad ambition, especially as compared to "I want to grow up to grow up to be a Regulatory Arbitrageur!"
Tech: Also my sentiments:
Why Apple is worth $1 trillion pic.twitter.com/LuO4Tz5aKF

— Sophia (@SophiaCannon) August 3, 2018
UPDATE Tech: "Yay Capitalism" [No Mercy/No Malice]. "According to a University of Chicago study, an iPhone was the single most accurate predictor of wealth. There is a positive correlation between your income and the likelihood you have an iPhone. So, just as driving a Ferrari says you're killing it, or have your priorities totally fucked up, or both, owning an iPhone is the easiest way to communicate your sexual strength. This ability to communicate better status is how a product that costs $370 to build sells for $999… which is amazing. Apple's move from the tech sector (brain) to the luxury sector (genitals) has enabled it to reap unthinkable margins for a computer company." • So Apple's dongles are what? A return of the repressed, except in reverse?
Gaia
"Index of all Iowa wildflower Wednesdays" [Bleeding Heartland]. • Lots of pictures by a very strong state-level blog.
"New study linking warming with disrupted Atlantic flow has scientists "grumpy"" [Ars Technica]. "Last week, Nature published a climate science study that reached a very surprising conclusion—one that other climate scientists are taking issue with. Two other scientists penned a critical response and posted it at Real Climate the same day, outlining their issues with the study's findings. This kind of argument could be left to play out among scientists, but the BBC News covered the study without skeptical counterweight, so we thought it would be worth explaining what the arguments are about." • Infinite are the arguments of mages…. Even real mages!
Our Famously Free Press
Journalism unions:
A statement from the Onion Inc. Union: pic.twitter.com/1cGsqz2DJZ

— Onion Inc Union (@OnionIncUnion) August 1, 2018
News of The Wired
"How the Keller Administration is Catalyzing Change in the Economy" [City Alive (DK)]. From an interview with Sarita Nair, Chief Administrative Officer at the City of Albuquerque: "Albuquerque can use our buying power to ensure local businesses are the providers of goods and services for the City, which will replace the millions of tax dollars currently sent to out-of-town vendors… To increase access to these opportunities, all City community centers and will have someone on staff who is trained on the process and is there to walk you through getting set up as a city vendor." • The whole article is worth a read.
The idyllic world of Farmer's Markets. Thread:
This is my 8th week repping the library at my town's farmers market and I've picked up on an insane amount of vendor market drama/gossip. The politics, you guys!

— Tirzah Price (@TirzahPrice) August 3, 2018
Actually, I kinda like the picture of people of a gift economy where people are really passive-aggressive with each other. As opposed to a political economy where people go postal and start shooting everybody in sight….
"Genome Study Upends Understanding of How Language Evolved" [Scientific American]. "The evolution of human language was once thought to have hinged on changes to a single gene that were so beneficial that they raced through ancient human populations…. the 2002 study has never been repeated. It was based on the genomes of only 20 individuals, including just a handful of people of African ancestry, says Atkinson: most came from Europe, Asia and other regions. She and her team have now re-examined the gene's evolutionary history using a larger data set and a more diverse population….. They found that the signal that had looked like a selective sweep in the 2002 study was probably a statistical artefact caused by lumping Africans together with Eurasians and other populations." • Piltdown Man in modern dress?
* * *
Readers, feel free to contact me at lambert [UNDERSCORE] strether [DOT] corrente [AT] yahoo [DOT] com, with (a) links, and even better (b) sources I should curate regularly, (c) how to send me a check if you are allergic to PayPal, and (d) to find out how to send me images of plants. Vegetables are fine! Fungi are deemed to be honorary plants! If you want your handle to appear as a credit, please place it at the start of your mail in parentheses: (thus). Otherwise, I will anonymize by using your initials. See the previous Water Cooler (with plant) here. Today's plant (Lee):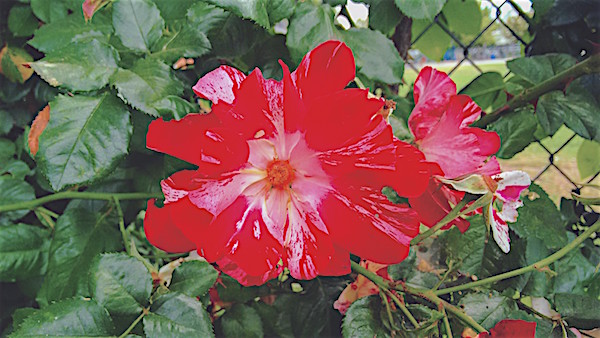 Lee writes: "This eye-catching bloom from a local park where I walk the dogs. I don't much about roses so I have no idea as to what variety this might be."
* * *
Readers: Water Cooler is a standalone entity not covered by the annual NC fundraiser. So do feel free to make a contribution today or any day. Here is why: Regular positive feedback both makes me feel good and lets me know I'm on the right track with coverage. When I get no donations for five or ten days I get worried. More tangibly, a constant trickle of small donations helps me with expenses, and I factor that trickle in when setting fundraising goals. So if you see something you especially appreciate, do feel free to click the hat!

To give more, click on the arrow heads to the right of the amount.
If you hate PayPal — even though you can use a credit card or debit card on PayPal — you can email me at lambert [UNDERSCORE] strether [DOT] corrente [AT] yahoo [DOT] com, and I will give you directions on how to send a check.