By Lambert Strether of Corrente.
In our last post on international health care systems, we looked at the neoliberal assault on Canadian Medicare using the "wait times" talking point (a talking point you will hear in this country when the Canadian system is attacked, and which has been successfully used to privatize some services in our Veterans Administration). In this post, I'll look at the neoliberal assault on the United Kingdom's (UK) National Health Service (NHS)[1]. Let me caveat at the outset that the NHS is 70 years old and has a legislative history that's much more complicated than Canadian Medicare. It hasn't been easy to get control of the material, and so I hope our UK readers will call attention to any howlers I make (but in as kindly a fashion as possible). First, I'll present a timeline of the highlights of NHS history, including the neoliberal assaults on it. Second, I'll contextualize today's assaults at a high level using our familiar model of the neoliberal playbook. Third, I'll look at two such assaults, first, Virgin's, and then a complicated piece of wreckage involving "clinical commissioning groups." (Both assaults were enabled by legislation that the Tories passed. I'm sure Tony Blair's Labour did their own little bit to degrade and destroy the NHS, but I simply didn't encounter it in my searches. Possibly the Blairites were subtler.) To the history:
NHS History
The NHS in a nutshell, from the NHS:
On 5 July 1948, the NHS was launched by the then Health Secretary, Aneurin Bevan, at Park Hospital in Manchester (known today as Trafford General Hospital).

For the first time, hospitals, doctors, nurses, pharmacists, opticians and dentists were brought together under one umbrella to provide services for free at the point of delivery.
The "umbrella" is the state; it's a national health service.[2] And from a useful timeline on NHS "Reform" produced by the Nuffield Trust, the 1942 White Paper led to the NHS's founding in 1948: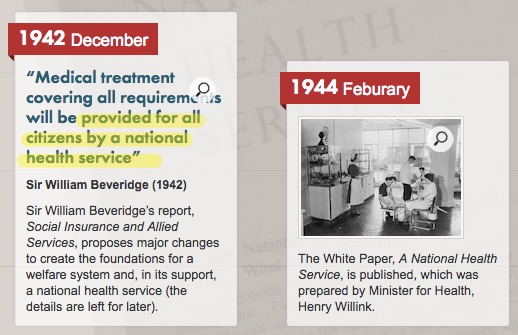 (This is back in the day, when the UK had a functioning Civil Service capable of doing work of national scope.) I like to think of the NHS as the compensation extracted by the UK's working class for the elite's slaughter of them, in their millions, in World Wars I and II[3].
The first neoliberal assault, by Maggie Thatcher's Tories; the "National Health Service and Community Care Act" (NHSCCA), to which we will return. Note the highlighted "internal markets":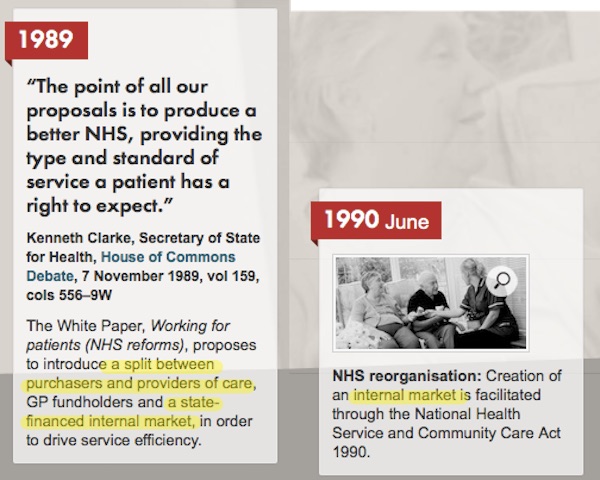 The second neoliberal assault, by David Cameron's Tories with Nick Clegg's Liberal Democrats helping; the "Health and Social Care Act" (HSCA), to which we will also return. Note the highlighted "competition":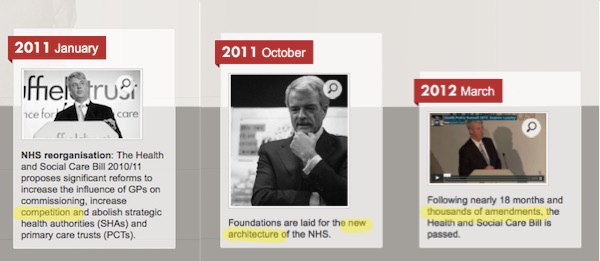 Finally, this screen came up when I was doing my searches:

How a search for "National Health Service" ended up producing a clutch of (poorly cropped, Google programmers, poorly cropped) corporate logos — including Virgin's, which is why I decided to look into them — is in many ways the theme of this piece.
Underfunding and Predictable Crisis
Readers will recall the neoliberal playbook: "[1] Defund [or sabotage], [2] claim crisis, [3] call for privatization… [4] Profit!" (rinse, repeat as necessary). The UK is clearly undergoing both steps [1] and [2].
Step [1]: Defund and sabotage. From Laurie Macfarlane at Open Democracy, a handy chart: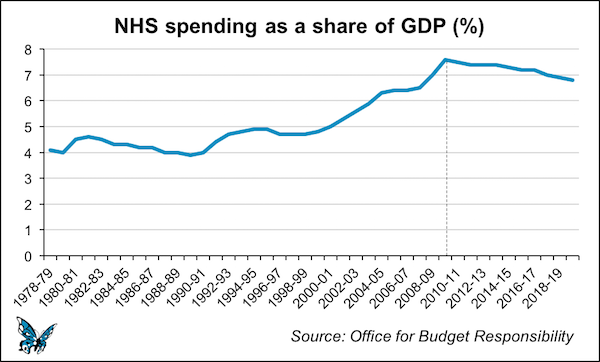 Macfarlane writes:
In recent decades spending on the NHS has indeed increased: since 1948, spending has risen by 3.7% each year on average (adjusting for inflation). Spending relative to the size of the economy – the most effective way to evaluate trends in health spending – increased from 4.1% of GDP in 1978/9 to 7.6% in 2009/10.

Since 2010, however, this trend has reversed. As the Kings Fund has reported, we are now experiencing an unprecedented sustained decline in NHS spending as a share of GDP.

The NHS is a complex beast, but as usual it helps to follow the money. There are good reasons why spending on health should be expected to increase over time: an ageing population means that demands on health services rise since older individuals on average consume more, and more expensive, healthcare. Demand will also increase over time as a result of the rising prevalence of some chronic conditions, improvements in access to care, and improvements in technology.

.
(Rule #2 of Neoliberalism.[3]) The results are entirely predictable.
Step [2]: Claim crisis, especially, of course, if the crisis is real. A sampling of headlines:
(I'm including U.S. sources not only because neoliberal ideologues on this side of the pond like nothing better than to point at problems in the NHS in their battle against #MedicareForAll, but because corrupt behemoths like SERCO benefit from privatization, there and here.)
Amidst all the yammering and moanage, let's not forget that the NHS is a highly successful institution with broad public support:
It's important to look at everything the NHS achieves, too.

Every 36 hours the NHS treats one million patients (according to data from the NHS Confederation).

Over 80% of those who use the NHS say they have a good experience (according to the British Social Attitudes survey, reported by the King's Fund), and more than 63% of the public strongly support the NHS.

This rate of public support and productivity has been hard won by NHS staff, says UNISON head of health Sara Gorton.

It is also the result of financial investments made in the decade between 2000 and 2010. "The last 10 years of under-funding, with no let-up promised anytime soon, is extremely damaging," says Ms Gorton.
Further, the NHS model of care delivery retains popular support despite the (neoliberals' manufactured) crisis. From 2015:
The news that A&E departments have seen their worst quarter for a decade crystallised the phrase that had slowly been coming into focus over the past month: "NHS crisis".
Note the lack of personal or political agency in "crystallised the phrase." More:
One of the key challenges that Labour has faced over the past four years is how to attack the Government over healthcare without attacking their cherished NHS itself. If they criticise the NHS too much they risk harming public support for it and giving oxygen to the case for privatisation. This point has not yet been reached though. Although half the public (49%) don't think the NHS is a well-managed organisation, just one in eight (13%) thinks it is damaged beyond repair and two thirds (65%) actively disagree. It is a political issue rather than one of the NHS model being dead.
(The source, ComRes, is a public relations firm, but given Labour's resurgence with Corbyn, I see no reason for the numbers to have changed.) From The Conversation:
The principles of the NHS are that it offers universal health care coverage, meets the needs of everyone, is free at the point of delivery, and is based on clinical need, not ability to pay.

These principles formed the foundation stones of the NHS when it was created after the desolation of the Second World War, and the British public remains committed to them today.
With this background, let's turn to cases. First, Virgin.
The Neoliberal Assault: Virgin
Let's start with this headline from the Independent: "NHS privatisation soars as private companies win 70% of clinical contracts in England." The deck: "[Grinning, photogenic gasbag enthusiast and squillionaire] Richard Branson's Virgin Care won a record £1bn worth of contracts."
NHS spending on care provided by private companies has jumped by £700m to £3.1bn with non-NHS firms winning almost 70 per cent of tendered contracts in England last year.

Private care providers were awarded 267 out of a total of 386 contracts made available in 2016-17, including the seven highest value opportunities, worth £2.4bn.

Richard Branson's Virgin Care scooped a record £1bn worth of contracts last year, meaning the company now has over 400 separate NHS contracts, making it the dominant private provider in the NHS market.

The extent of Virgin Care's portfolio has angered campaigners, as the company pays no tax in the UK, and its parent company is registered in the British Virgin Islands – a tax haven.

Virgin Care also sued six NHS commissioning care groups (CCGs) last year after it failed to win an £82m care contract, losing out to an NHS provider and two social enterprises.
(The lawsuit ended in victory and damages for Branson, although hilariously "[the controversy] included a petition signed by over 100,000 people addressed to Richard Branson and Virgin Care, demanding that they 'return the NHS's money, and never sue the NHS again.")
As a sidebar, VirginCare gets a one-star (✮) rating at "NHS Choices[4]," a ludicrous Silicon Valley-style attempt to rein in ginormous corporate predators with a Yelp-like web page so, ya know, you can search for the best deal from the comfort of your racing ambulance. There is a grand total of fourteen (14) ratings. Here is VirginCare's response to one complaint on 23 April 2018:
Thank you for sending us your message through NHS Choices. We aim to provide a great experience for everyone who uses our services and we are so sorry that you have not had such an experience. We have passed your comments on to the service manager, particularly the issues you have raised around your cancelled appointment and if you would like the service to contact you to discuss these concerns please contact the Customer Experience Team at customerservices@virgincare.co.uk or on 0300 303 9509.

Thanks again for your feedback. Carol Dale, Lead for Customer Experience.
And here is the response to another customer on 22 March 2018:
Thank you for sending us your message through NHS Choices. We aim to provide a great experience for everyone who uses our services and we are so sorry that you have not had such an experience. We have passed your comments on to the service manager, particularly the issues you have raised around obtaining a suitable appointment and if you would like the service to contact you to discuss these concerns please contact the Customer Experience Team at customerservices@virgincare.co.uk or on 0300 303 9509.

Thanks again for your feedback. Carol Dale, Lead for Customer Experience.
"Your call is very important to us…." Does anybody else get the impression that "Carol Dale" is a bot? Even that there's another bot out there going by the moniker "Dale Caroll"? End sidebar….
Yes, VirginCare's IT is indeed awful. As is much more. Speaking of those star ratings, from Somerset Live:
[A Virgin Care worker staff member,] who wishes to remain anonymous, shared her concerns in an open letter to council and NHS commissioners…

The company's £700 million contract to run community health and care services in the area began in April 2017.

In a damning critique of Virgin Care's first year in charge, the staff member reached for the classifications used by the health watchdog to rate services.

"After all, historically our services were rated good to outstanding in the county and I assumed you wanted to maintain or improve the services to the community", she told B&NES Council and the area's NHS Clinical Commissioning Group who jointly awarded Virgin Care the contract.

Describing her experience of the company over the past year, the employee said that staff have struggled to cope because of "slow and ineffective" recruitment and continuing IT issues, and that their complaints have been "whitewashed", leaving them feeling demoralised and ignored.

"I know of through the head office communication team," she said.

Staff were also asked to without being told why, she claimed….

Among numerous other criticisms levelled at Virgin Care, the employee said the company's IT systems and services were still unsatisfactory, and that staff training in the new systems had been insufficient.

"Services have continued during this turbulent year but in no part due to Virgin Care. , many of which were transitioned with the equipment from one provider to another.
"[C]lose care cases that remained unresolved." Well, I'm sure not very many people died in their beds, waiting for help that never came. And I'm sure the Virgin executives got their bonuses for reducing the caseload, so there's that. More systematically, one can only wonder why VirginCare would wish to demoralize staff, eh? By, for example, screwing up their pensions:
Virgin Care failed to hand over Bath staff pension payments

The "internal administrative error", which has since been rectified, appears to have occurred between April and October of last year.

Staff members in Bath and North East Somerset first realised something was amiss when they received personal letters from their workplace pension fund manager, Aviva, telling them their pensions would be closed due to a lack of contributions.

One employee, who wishes to remain anonymous, said a number of staff approached Virgin Care management to find out what was going on.

The employee said: "Some managers went back to Virgin Care and they said 'oh yes, we haven't been paying.'"

Virgin Care did not answer questions put to it by the Bath Chronicle about how many staff were affected by the glitch, how much of their money and how long it sat in the company's bank account before it was handed to Aviva.
Confidence builder! Maybe Virgin should stick to running trains? Oh, wait…[5]. I grant this is anecdotal (although perhaps knowledgeable UK readers will help me with better sources). However, I would argue that when a ginormous corporation goes bad, it goes bad all the way through; see under Verizon and Comcast, for example. Or Wells Fargo.
Crucially, however, all this Bransonite crapification is down to the architecture of Maggie Thatcher's "National Health Service and Community Care Act," back in 1990. From, of all places, The Spectator (!). Max Pemberton, a doctor:
And here's the rub. There is crippling, shameful waste in the NHS. The kind we hear about are things like missed appointments or doctors prescribing remedies that could be bought over the counter. Equipment such as walking frames that can't be returned. Or health tourism or failure to recoup the cost of treating overseas nationals. Of course, all of these are important. But .

This was first introduced into the NHS in 1990, when .
That is the "split between purchasers and providers of care" found in the timeline in 1990. (Or, one might say, that time when the NHS became no longer "national," and not about "health," and not about "service.") Neoliberals are really good at thinking long term, aren't they? Now let's turn to the wreckage "reforms" introduced in 2012.
The Neoliberal Assault: Clinical commissioning Groups
You may have noticed that the Somerset VirginCare whistleblower sent their letter not only to their local Council, but to the "the area's NHS Clinical Commissioning Group." (Sounds complicated. It is.) The Health and Social Care Act 2012 was also on our timeline; besides the highlighted neoliberal buzzword "competition," note "thousands of amendments" (rather like ObamaCare, or Dodd-Frank. How's all that complexity working out for ya?) The NHS summarizes the goals of the Act:
The Health and Social Care Act 2012 was first published on June 15 2012 and took effect on April 1 2013. The act brought in the most wide-ranging reforms of the NHS since it was founded in 1948.

It puts clinicians at the centre of commissioning, frees up providers to [Hoo boy!], empowers patients and gives a new focus to public health. The act covers the following 5 themes:

strengthening the commissioning of NHS services
increasing democratic accountability and public voice
liberating [from what?] provision of NHS services
strengthening public health services
reforming health and care arm's-length bodies
So, at the purchaser/provider divide, the HSCA tilted the balance even more toward providers. From PloS Medicine, "Association between the 2012 Health and Social Care Act and specialist visits and hospitalisations in England: A controlled interrupted time series analysis," the abstract:
The 2012 Health and Social Care Act (HSCA) in England led to among the largest healthcare reforms in the history of the National Health Service (NHS). It gave control of £67 billion of the NHS budget for secondary care to general practitioner (GP) led Clinical Commissioning Groups (CCGs). An expected outcome was that patient care would shift away from expensive hospital and specialist settings, towards less expensive community-based models. However, . In this study, we aimed to assess the association between the NHS reforms and hospital admissions and outpatient specialist visits.
And what happened?
Our findings suggest that giving control of healthcare budgets to GP-led CCGs was not associated with a reduction in overall hospitalisations and was associated with an increase in specialist visits.
Ka-ching. (That's what they're "liberating"!) And the structure — in the same way that ObamaCare, with its own set of bizarre and artificial complexities, "relentlessly created" second-class citizens — makes the delivery of care a crapshoot. From the Guardian (and note the letters in square brackets):
Psychiatrists claim the [a]small sums being spent by GP-led [b]clinical commissioning groups (CCGs) in England constitute a national scandal at a time when youth self-harm and suicide are rising.

"It is a national scandal that opportunities to prevent mental illness from occurring in childhood are being missed because of unacceptably low investment," said Prof Sir Simon Wessely, the president of the Royal College of Psychiatrists.

Ten CCGs are spending less than £10 a head this year treating the growing number of psychological and psychiatric illnesses which are occurring in under-18s. Twenty-five will spend £25 or less per head….

But research earlier this week by the Education Policy Institute said much of the extra £250m a year which the coalition government pledged to put into CAMHS care during each of the five years of this parliament was [c]not reaching the frontline. Specialist children's psychiatrists in many areas agree.

Berger said that underfunding CAMHS care was "a false economy" because 75% of adults who developed mental health problems first exhibited symptoms in childhood, and problems left unaddressed cost the NHS more.

The [National Society for the Prevention of Cruelty to Children (NSPCC)] said the [d]wide variation in the amounts put into CAMHS care reflected a
Hard to see how a "postcode lottery" "empowers patients," "innovative" though it may be. Granted, this is one example; for all I know, your average CCG is brilliant. But I've helpfully labeled the systemic problems that pertain to the neoliberal playbook: [a] Step one, defund; [b] step one, sabotage (here through complexity) [c] step four, profit: If the money's not reaching the front lines, where is it going? And finally [d], the "postcard lottery" not only creates a constant stream of crises in underserved areas (step three), it undermines belief in the ability of the state to deliver services fairly, or at all. CCGs are a four-fer!
Conclusion
In summary and IMNSHO, there is no "NHS crisis" condition that funding the service according to the historical, er, norm + surgical excision of the "internal market" won't solve. Once again, this entire article article in the Spectator (!!) is worth a read, but here's a summary:
The unintended consequence [oh?] [of the 'purchaser-provider split" has been bureaucracy on a gargantuan scale. And the spiralling cost has no discernible benefit to patients. A recent study from the Organisation For Economic Co-operation and Development (OECD) suggests that about one fifth of spending on health makes no or minimal contribution to improved health outcomes.

Even last June's Conservative manifesto acknowledged this, admitting that the NHS internal market can fail 'to act in the interests of patients and creates costly bureaucracy'. This demonstrates that many within the party have become disillusioned with the free-marketers. And disillusioned they should be. .

We know from other countries, such as the US and Germany, that introducing the market into healthcare results in higher costs. Putting an exact cost on the internal market is tricky, but the Centre for Health and the Public Interest gives a conservative estimate of £4.5 billion. Others have suggested about £10 billion is diverted [ka-ching] away from frontline services to administer the complex negotiations and contract monitoring that the market system requires.

What's more, there are the indirect costs due to inefficiency. In 2010, the select committee on health divulged that even under Labour, the cost of administering the purchaser-provider split was 14 per cent of all NHS spending [ka-ching]. Some have now estimated the cost to be in the region of 25 per cent. It's quite clear that the more providers of healthcare there are, the higher the risk of duplication, confusion and misunderstandings. We were told by the free-marketers that the internal market would push up innovation, reduce costs and result in efficiency savings. The evidence shows this isn't the case. I see this day in and day out in my own practice because I, like every other doctor, has to collect data that is essential to services competing for contracts.
Any truly international left movement — at least, one that's ashamed when it has to handwave over the relation between the current fan fave, "Open Borders," and labor arbitrage — should be looking at health care in the United States, Canada, and the United Kingdom, and defending them from assault by their common enemy. And I would bet that anywhere you follow the supply chain, you'll find the neoliberal playbook in action everywhere I welcome reader suggestions for further avenues of research, in the UK and elsewhere[6].
NOTES
[1] Canadian Medicare is a "single payer" system, where services are (in the main) privately provided but publicly billed and paid for (hence giving the single payer, the state, maximum leverage over prices or, to put this another way, putting prices under a measure of democratic control). Hence, in Canada, neoliberals battle for services to be privately provided and privately paid for. In the UK's NHS, services, at least in principle, are both publicly provided and publicly paid for. In the UK, neoliberals are fighting the same battle as in Canada, but on immensely more complicated terrain and for a longer period of time.
[2] "Free at the point of delivery" is a mantra that U.S. #MedicareForAll advocates should adopt; the complex system of eligibility determination and payment collection and processing (co-pays, and so forth) creates thousands of potential sites for neoliberal infestation; it should be abolished root and branch.
[3] U.S. #MedicareForAll advocates might consider this "payback" framing as well. "You took my house in the Crash; the least you can do is make sure I have health care."
[4] The market provides "choice," except when it doesn't. So "choice" is always good. "Choice" focus groups well.
[5] I knew if I searched on "Virgin train debacle" I'd find something, and sure enough….
[6] For example, I have't looked at trusts, or selling off NHS property. I'm sure there's more. There's a lot of ruin in a National Health Service.